Between all the famous sites to see, food to eat, and culture to absorb, you might wonder how you'll be able to jam-pack everything that Paris has to offer into a weekend. While you realistically can't see all of Paris in two days, you can still spend an amazing time in the city, combining the must-see spots with authentic Parisian food and drink. Follow our weekend itinerary to see how the best way to spend a weekend in Paris.
---
In this blog, we'll explain:
1. The best airports in Paris to arrive to and depart from
2. The best things to do in Paris that you shouldn't miss
3. How we recommend you map out your weekend
Pro Tip: If you're spending only a weekend in Paris, the very best way to maximize your time is to enjoy small group Paris tours guided by local experts like us.
Getting into Paris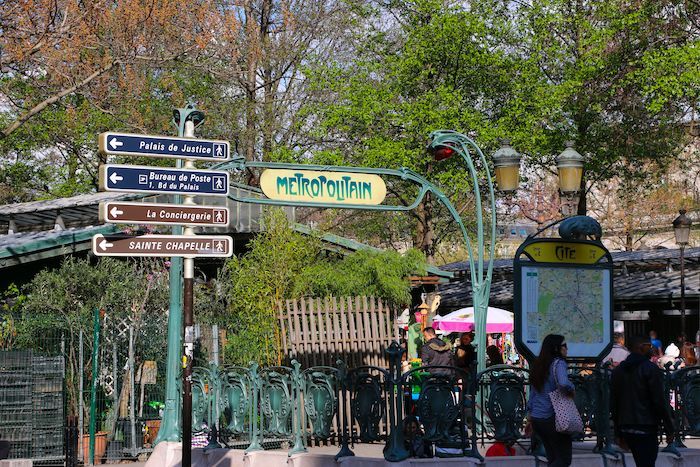 There are three different airports in Paris: Charles de Gaulle (CDG), Orly (ORY) and Paris-Beauvais (BVA). How you get from each one to the city center will depend on many factors, but remember to think about timing and how much heavy luggage you may have.
Charles de Gaulle Airport
Paris's main international airport is CDG. To get from CDG to Paris, you can:
Use the Paris metro system. If you want to go this route, you'll have to take the RER B (blue line), which costs €10.30. Depending on the exact location you're heading to, this will normally take you anywhere from 30-45 minutes to reach your destination

Use

Le Bus Direct

, a direct bus service from the airport to select stops in the Paris city center. While the cost from CDG is a little more pricey than the metro at 17€ one way (30€ round trip), the buses are equipped with free WiFi, USB plugs and comfortable seats

Take a taxi to the Paris city center. Taxis from the airport to Paris are subject to a flat rate and the cost depends on what side of the Seine River you're headed to (50€ if you're headed to the right bank, 55€ for the left bank).

Orly Airport
The city's second largest airport is ORY. To get from ORY to Paris, you can:
Use the metro/train service, using the RER B (blue line). This service is not direct – you'll have to take the "Orlyval" train shuttle from the airport to get to the RER B. Buying a combined RER and Orlyval ticket will cost you €14.

Use

Le Bus Direct

, which costs 12€ one way (20€ round trip).

Take the Orly Bus from the airport, which provides transfers to the Denfert-Rochereau station on the left bank for €8.70.

Paris Beauvais Airport
BVA is the least convenient option, which travelers might use to score a cheap trip on airlines like RyanAir. To get from BVA to Paris, you can:
Take the shuttle to Paris. This will take you about 1 hour and 15 minutes and will cost €15.90 one way (€29 round trip). The shuttle only stops at the Porte Maillot metro station.

Take a taxi, although you'll be looking at a trip around 1 hour and 20 minutes or longer, and prices over €100!
Check Out Our Best Versailles & Paris Louvre Tours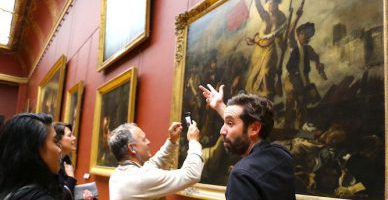 Top-Rated Tour
Royal Louvre Palace Tour with Mona Lisa & Crown Jewels
The Louvre is the largest art museum on Earth and the crowning jewel of Paris, which is why it's on everyone's bucket list. Don't be left out of an incredible opportunity! Join a passionate guide for a tour of the most famous artwork at the Louvre. Skip-the-line admissions included.





See Prices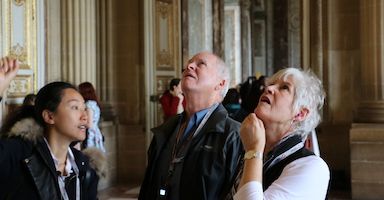 Likely to Sell Out
Skip-the-Line Palace of Versailles and Gardens Tour from Paris
Versailles isn't that difficult to get to by train, but why stress over the logistics? Meet a local guide in central Paris who will purchase your train tickets and ensure you get off at the right stop. Then enjoy a guided tour of the palace and the unforgettable gardens. Skip-the-line admissions included to the palace and gardens.





See Prices
Day 1: Louvre, Lunch, Relax, Eat Dinner
Breakfast
It's your first morning in Paris, and that means you need to try out some French pastries. Make a stop at Les Soeurs Sucrées ("The Sweet Sisters") for your breakfast. If you're a fan of raisins, try a pain aux raisins, sometimes called an escargot – yes, that's right, a snail – for its spiral shape. Think of these delicious pastries as France's version of a cinnamon roll. It will only cost you €1.40 at Les Soeurs Sucrées, which opens at 7am.
Louvre Tour
When you've had your fill of breakfast pastries, you're ready to head to the Louvre. For a skip the line experience with an expert guide, we recommend a guided Louvre tour.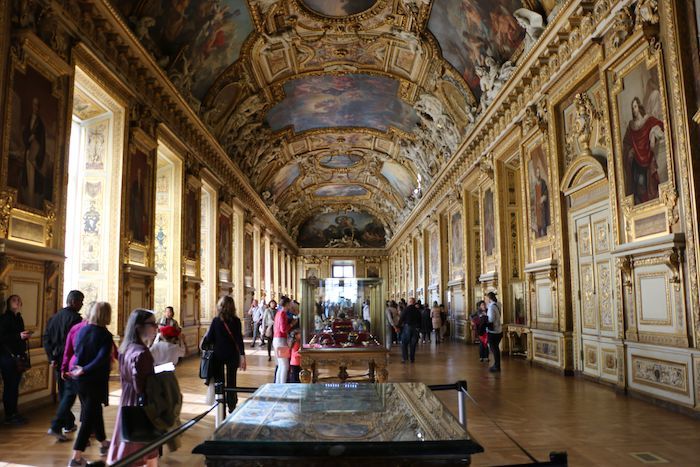 While the Louvre is known as the biggest museum in the world today, it was originally built as a defense fortress and then served as the principal residence of French kings and emperors until it was turned into a museum during the French Revolution in 1793.
If you stopped at Les Soeurs Sucrées, you're only about a 10-minute walk from the museum. Otherwise, the easiest way to get there is to take metro line 1 (yellow line) or metro line 7 (pink line) to the stop Palais Royal-Musée du Louvre. A single metro ticket costs €1.90.
Lunch Near the Louvre
Looking for where to eat near the Louvre? Louise Café at 155 Boulevard Saint-Germain, less than a 10-minute walk from the museum. The café is named after its owner, Louise, who is often inside greeting and serving customers. Plates usually cost about €15, but we recommend you save room for dessert, which are guaranteed hand-made by Louise's daughter. The restaurant is open from 12:30pm-4:30pm for lunch.
Explore Notre Dame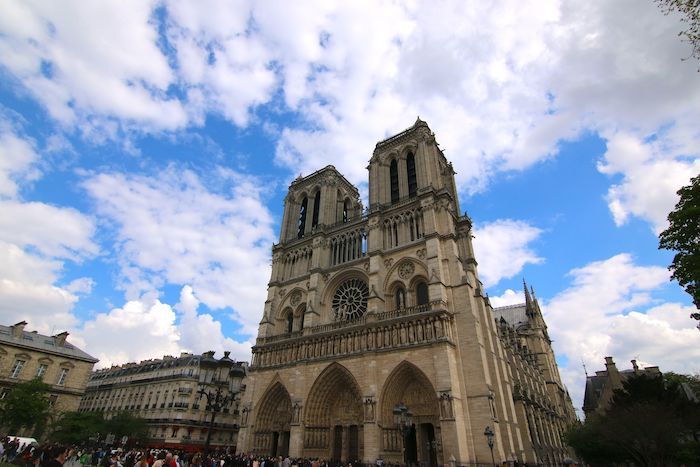 With a full stomach, it's time to see Notre Dame. The best way to get there from Louise Café is to head back to the Palais Royal-Musee du Louvre metro stop. Take line 1 (yellow line) to the stop Hotel de Ville. When you exit the metro, head toward the river and walk for about 10 minutes.
If you just want to check out the inside of the cathedral, though, you'll be able to enter anytime from 7:45 a.m. to 7:15 p.m. on weekends. Pro-tip: Walk around the entire exterior so that you don't miss seeing the flying buttresses up close.
*The interior of Notre Dame will be closed until further notice.
Arènes de Lutèce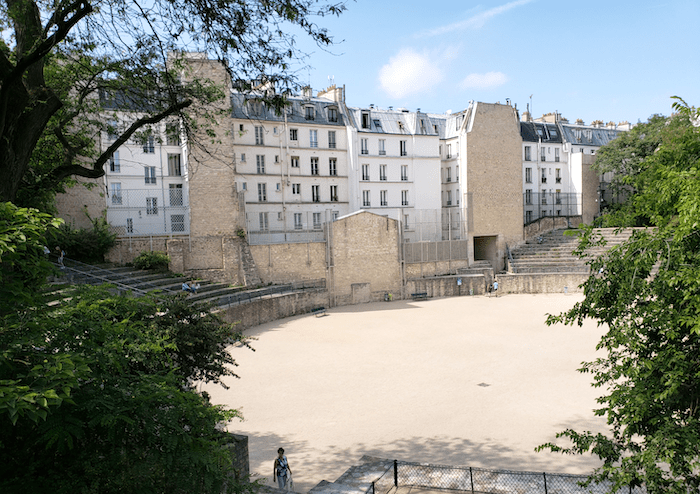 When you're done visiting Notre Dame, head toward the rear end of the cathedral (where the flying buttresses are) and continue until you get to a bridge called Pont de Archevêché. Turn right on the bridge, make your way onto Rue des Bernardins, and after a few minutes turn left onto Rue Monge. You're in the Latin Quarter and are about to discover the Arènes de Lutèce (47 Rue Monge), a Roman amphitheater that is truly one of Paris' hidden gems.
The amphitheater was built between the 1st and 2nd century AD, when Paris was known as "Lutèce". It is one of only two remaining Gallo-Roman period ruins that are still visible in Paris today. The amphitheater is free to visit and opens around 9am (closes between 6pm and 8:30pm, depending on the season).
Stop for a Drink
By this time, you might not quite be ready to eat again yet, but you'll want to be giving your feet a rest. So if you're looking to try a cocktail while you're in Paris, head to Sherry Butt. Named after the barrels used to age whiskey, this cocktail and whiskey bar will give you a sense of what modern Paris is like. It's small, charming, the lighting is a little dim (in a good way), and you'll definitely feel hip sipping a drink on one of their couches.
The bar is about a 20-minute walk from the Arènes de Lutèce, but if you don't feel like walking anymore, continue down Rue Monge (as if you had passed the amphitheater) until you see the metro Place Monge. From there, you can take metro line 7 (pink line) to the metro stop Sully-Morland, and then you'll be less than a 5-minute walk away from Sherry Butt, located on 20 rue Beautreillis.
Dinner in Paris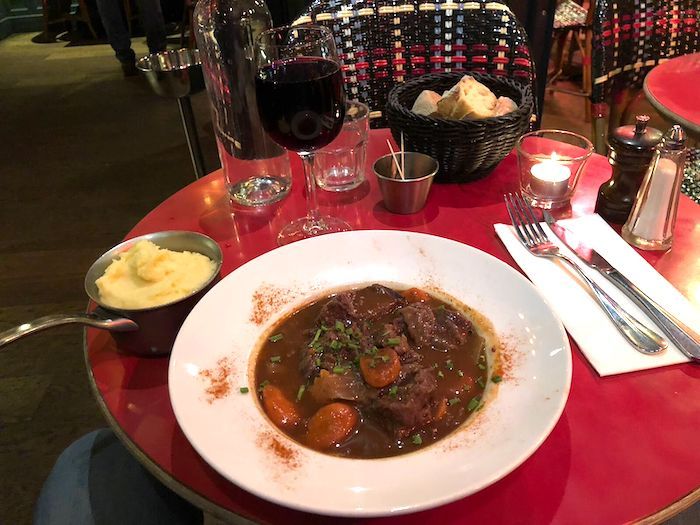 And now, time for dinner! To get the very best selection of Paris foods, we recommend doing our Le Marais Food Tour, which explores a local foodie district of Paris. You'll get to try delicious crêpes, oysters, falafel and more.
If you'd prefer to just go out to dinner, go to Vins de Pyrénées. If you've decided to go to Sherry Butt, look no further than a little down the street to find Vins de Pyrénées at 25 rue Beautreillis. This restaurant has been around since 1905 but was renovated in 2017.
It's a true neighborhood staple – right now you're in the neighborhood known as the Marais, that puts out good, classic French food without outrageous prices (dinner will cost you between €15 and €20 per person, not including drinks). While the restaurant itself has an interesting history, so does the street it's situated on.
Where to Stay in Paris
See here for the best tips on where to stay in Paris.
Our Best Guided Tours of Paris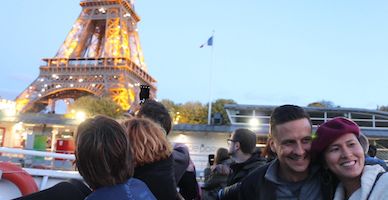 Likely to Sell out
Privileged Access Eiffel Tour with Champagne on the Seine
Sometimes the most amazing moments happen by chance. Other times, they are orchestrated by professionals. Our Eiffel tower tour cruises by the famed monument as it lights up and you drink champagne. After, you'll have tickets to enter the tower and ascend to the 2nd level with an elevator. Admissions included and we'll take care of the details… you simply pay and show up!





See Prices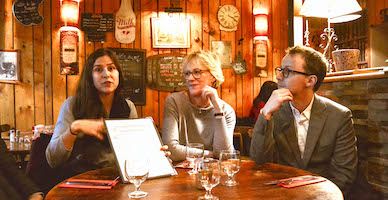 Top Selling
Le Marais Paris Food Tour with Champagne & Local French Food!
Embark on a culinary journey in Le Marais, one of the hippest neighborhoods in Paris. Enjoy a feast of French cheese, street food, boeuf bourguignon and crème brûlée, and more. This three-hour food tour combines the best of Paris' culinary heritage.





See Prices
Day 2: Eiffel Tower and More
Breakfast in Paris
Since you're only in Paris for a weekend, it's a safe bet you want to try out some more French pastries. Start your second day in the city at La Boulangerie des Invalides (14 avenue des Villars, in the 7th arrondissement). This cute bakery has a few tables you can try to snag a seat at, or simply grab a croissant to go.
Hôtel National des Invalides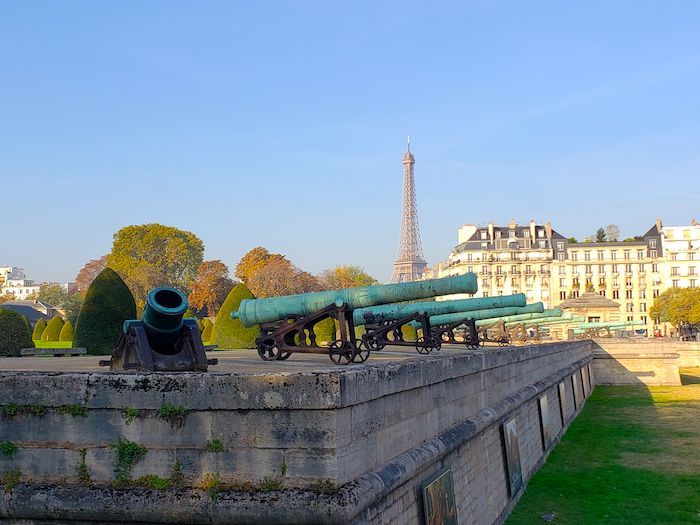 After breakfast, you're about a straight 10-minute walk to the Hôtel National des Invalides. Its gleaming golden dome will be hard to miss. Don't be confused by the word 'hôtel' in its name – this monument was built in the 1670s by Louis XIV to house disabled war veterans ("invalides" in French). Today, it is home to an extensive military museum and the tomb of one of France's most infamous rulers, Napoleon.
Admire the Eiffel Tower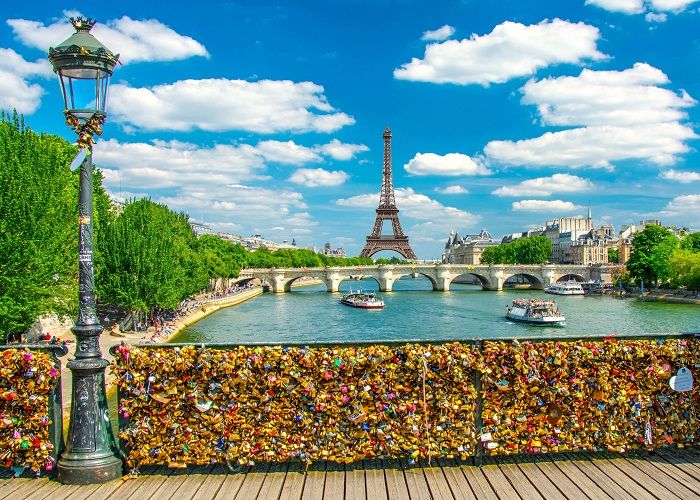 Reading this itinerary, you might have been wondering when the Eiffel Tower was going to pop up. From Napoleon's tomb, you're about a 20-minute walk from the tower (you'll be able to clearly see it, so you can't go too wrong with directions)! One of Paris's suburban metro lines, the RER C (yellow line) can also get you there in about 15 minutes.
You can hop on at the Invalides station and ride until the Champ de Mars-Tour Eiffel stop. The best way to explore the Eiffel Tower is to book our Eiffel Tower and Seine River Cruise tour, where you can leave all of the details to your expert guide.
Lunch at Le Petit Marcel
After the Eiffel Tower, cross the river and head toward the large buildings straight in front of you. These are the Trocadéro buildings, and even though it will take you a few minutes to get there, you won't regret the walk when you see the view of the Eiffel Tower it gives you.
Once you've snapped a few more photos, take the Trocadéro metro (line 9) three stops until you get to the Franklin D. Roosevelt stop. Here, you will switch to line 1 and ride six stops until you reach the Châtelet metro stop. Once there, you'll have about a 5-minute walk to the restaurant Le Petit Marcel (65 rue Rambuteau).
Centre Georges Pompidou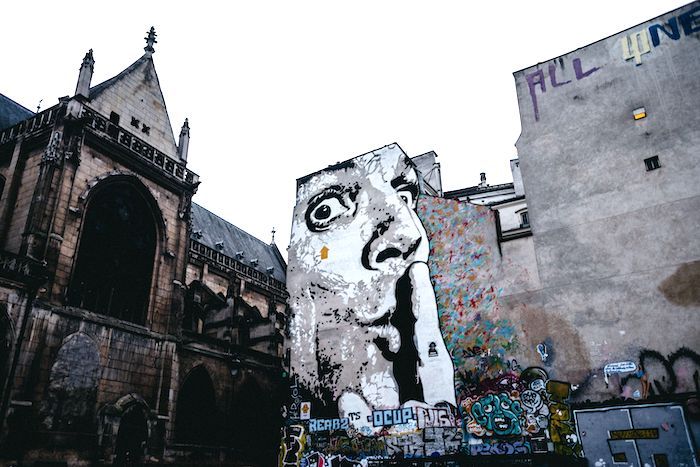 This is one of the most typically French bistros you can find in the city, adorned with picturesque chairs, emblematic French food and reasonably priced plates. When the weather is nice, you can sit on the terrace, and when you've finished eating, don't forget to take the 30-second walk around the corner to see the Centre Georges Pompidou. This modern art museum was controversial when it was first designed and still is to some. Its heating pipes, escalators and steel frame are all visible on the exterior, making it an impressive but somewhat bizarre sight.
The Best Casual Parisian Dinner: C

rêpes!
Head over to Crêperie Bretonne Fleurie, one of the best crêpe spots in town. The word "Bretonne" in the restaurant's name signifies that the crêpes and galettes are made the same way as they are in the Brittany region of northwestern France, where crêpes were originally made.
By the end of this weekend, you'll have experienced some of the top things to do in Paris as well as some of the best cuisine. And now, it's time to see au revoir until next time!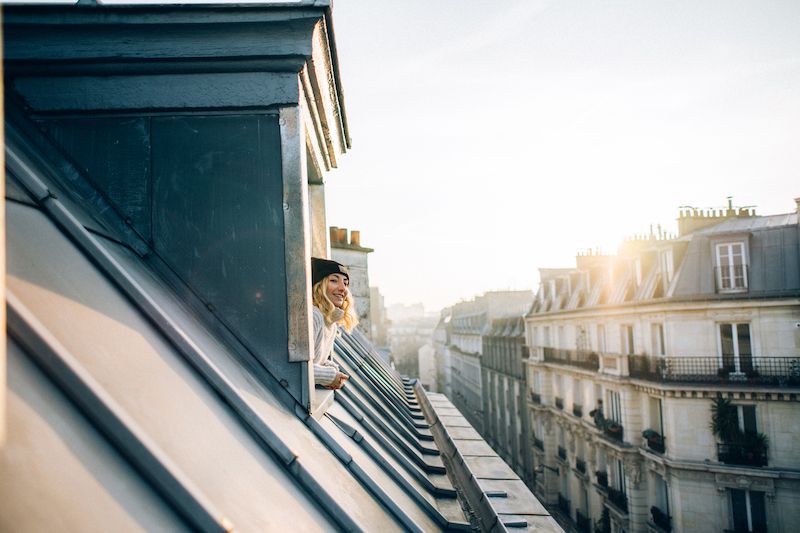 Find the best places to stay
Where to Stay in Paris
With a city as magnificent as Paris, it can be hard to find the perfect hotel at the perfect price. Explore the best hotels and places to stay in these incredible neighborhoods in Paris.
---
I Want More Paris!
Not sure what to do in Paris? Check out our step-by-step guide about how to do Paris in a Day. If you'd rather let us guide you, check out our Paris tours.
Parlez-Vous Francais? Learn some of the most important French phrases before your trip to Paris.