Accademia & Michelangelo's David
Plan the #BestTripEver
The Accademia Gallery in Florence is home to Michelangelo's iconic David statue which literally steals the stage. This tiny little gallery began as a place where local students could come and admire the artwork and excel in their craft. Today, the line to get inside wraps around the building during the high season.
What will you find inside other than Michelangelo's masterpiece? A few $16,000,000 dollar violins, works by Renaissance master Giotto di Bondone, and more.
The Best Articles on Accademia & David
Top Accademia Gallery & Uffizi Tours
Paris is a city of great culture and even greater history. It has long been the capital of France and while Brussels takes the official title, Paris has been and remains the unofficial cultural capital of Europe. A city like this comes to life with local guides. All of a sudden, you know every story, every crossroad, where to eat, and what to do. Museums go from beautiful artwork to stories of the French Revolution. Our tours will elevate your experience in Paris and make your trip more memorable.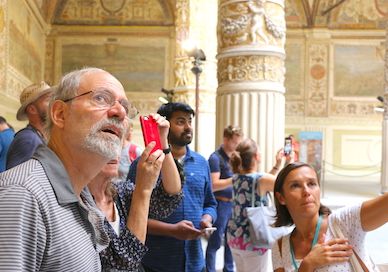 Skip the Line Uffizi Gallery
Remove the guesswork and make your trip more memorable by joining a local guide in Florence. This is our most popular Uffizi tour which hits all the top art and skips the lines!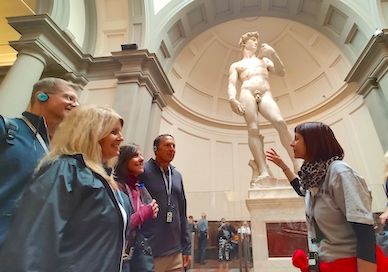 Skip the Line to Statue of David with Florence Walking Tour
Visit Accademia with a guide and see Michelangelo's David without waiting in line. Then move onto the Florence Cathedral, Baptistry Doors, Ponte Vecchio, and more!
Latest Florence Articles