Accademia & Michelangelo's David
See the world's most famous statue and other Renaissance artworks
Get to Know the Accademia & Uffizi Galleries
The Accademia Gallery in Florence is home to Michelangelo's iconic David statue which literally steals the stage. This tiny little gallery began as a place where local students could come and admire the artwork and excel in their craft. Today, the entry line filled with eager tourists wraps around the building during the high season.
What will you find inside other than Michelangelo's masterpiece? A few violins worth $16,000,000 or so, works by Renaissance master Giotto di Bondone, and more.
Top Accademia Gallery & Uffizi Gallery Tours
As you probably know, Florence is the the birthplace of the Renaissance that revolutionized the world of art. Thanks to the prowess and influence of the Medici family, art and culture were fostered here in central Italy and spread across the country and greater Europe. You can see many of the greatest works of art here in the Accademia and Uffizi galleries.
However, viewing art in a museum can either being a boring event or one that changes your life. So how to ensure it changes your life? Book a museum tour with a passionate, local guide who knows the history of the art and artist, not to mention the tragic or funny stories that bring them to life. Reserve your spot on a guided tour to see Michelangelo's David or other works by da Vinci and more.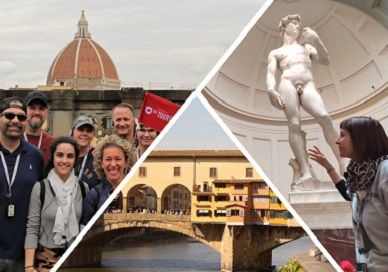 Florence in a Day Combo Tour with David and Uffizi
Remove the guesswork and make your trip more memorable by joining a local guide who will lead you to all the best sites in Florence in just a day!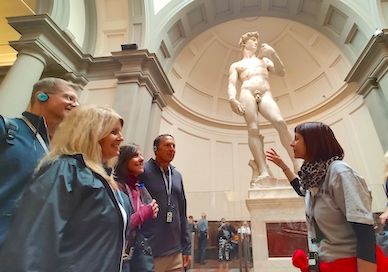 Florence Walking Tour with Statue of David
Visit Accademia with a guide and see Michelangelo's David without waiting in line. Then move onto the Florence Cathedral, Baptistry Doors, Ponte Vecchio, and more!
Latest Florence Articles
Are you interested in seeing Michelangelo's David at Accademia in Florence but unsure if you should do a solo visit or tour? The museum that houses David is tiny, making this a valid question. This article will explain when and how it is worth joining a tour of Accademia to see Michelangelo's David! Pro Tip:…
Continue Reading Is a Tour of Accademia To See David Worth It?