The Uffizi Gallery is Florence's premier art gallery and one of the world's greatest collections of Renaissance artwork. Florence is the home of the Renaissance and much of the reason why Florence was lifted out of the darkness. Europe became a continent known for fine goods, banking, art, and luxury. But is it worth paying for a guided tour of the Uffizi? Keep reading to find out why it definitely is!
---
What Does it Mean to See the Uffizi?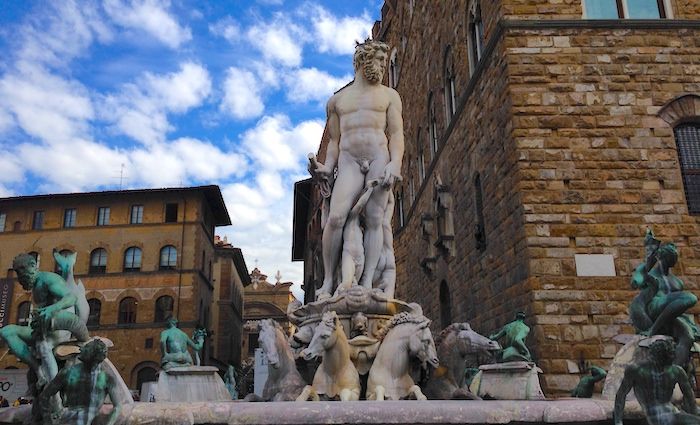 Brief History of the Uffizi
Before deciding if it is worth entering the Uffizi with admission tickets or even a guided tour, you should really understand what the complex entails. The Uffizi Gallery is a stand-alone museum that once functioned as the offices of the Medici family. They were built for that purpose by Giorgio Vasari, and the word "Uffizi" translates quite literally to "offices."
Much of the complex's significance stems from its location, which is connected to Palazzo Vecchio where the Signoria met. The Signoria was the controlling body and government of the former Kingdom of Florence which was heavily controlled by the Medici family for centuries.
The original Uffizi were connected to the Palazzo Vecchio and to the Medici household (the Pitti Palace) by a kilometer-long floating corridor known as the Vasari Corridor.
If you were going to secretly control a free republic as the Medici did, you'd want to be closely connected to the governing body. Nothing says connected like a secret passageway!
Where is the Uffizi?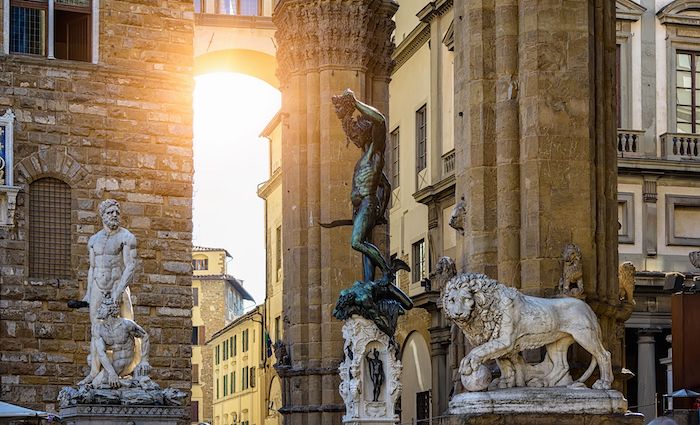 The Uffizi Gallery is right off of Piazza della Signoria, named after the governing body of the Kingdom of Florence. When you enter the square you'll see an equestrian statue of the Medici patriarch, Cosimo de Medici. There's also a large structure with an imposing tower which is Palazzo Vecchio where the Signoria used to meet.
You'll see many statues in the piazza which form an impressive display of different Florentine masters. Many of these statues live in the Loggia di Lanzi which is a covered area with scattered sculptures by art masters such as Donatello.
In between the Loggia di Lanzi and Palazzo Vecchio, you'll find a road that leads to the Uffizi Gallery. It's technically in Piazza degli Uffizi, although it feels and looks connected to Piazza della Signoria.
Is a Tour of the Uffizi Worth the Money?
Short Answer: Yes, if you have a great guide and a small group or private tour.
Imagine you are walking through one of the world's most amazing cities or art galleries. You're in this beautiful place full of wonders and your mind starts buzzing with questions.
In one scenario, you're searching the internet on your phone for scattered answers from dodgy websites written by people who may never have been there. Alternatively, if you go on a small group tour, you have a passionate and entertaining local guide with you who is excited to answer your questions and explain the city's history. That sounds so much better, right?
The Uffizi Gallery tells the story of western civilizations' emergence from centuries of suffering. The art signifies a moment where people began to think about art, poetry, and culture instead of "Where am I going to get my next meal?"
It's hard to conceive given our current level of civilization that has evolved far past survival. That is part of the reason why a guide is so incredibly important. A great guide starts by bringing you back in time so you can think like a 15th-century Florentine.
For example, many people were illiterate at that time which made art so important. What do art and reading have to do with one another? The same reason why children like picture books so much. It helps personify a story for them since they are unable to read.
Art also brought religion to life at this time of difficult living circumstances. You can look at a painting, and through the symbolism, you are able to recognize which story from the scriptures you are looking at.
This and many other interesting details are discussed on a tour of the Uffizi Gallery!
Which Uffizi Tours are Right For Me?
There are a few different ways to see the Uffizi Gallery that you should consider. Here are some of our best-selling tours led by Florence's most passionate guides.
Skip-the-Line Uffizi Small Group Tour
Our skip the line Uffizi Gallery small group tour is easily our best value which makes it a top option for any visitors to Florence. The vast majority of tours on our site are a small group or private tours. Small groups are always fewer than 25 people, but they're usually around 15. This particular tour will have no more than 16 people with one guide.
A passionate guide will take you to the best works of art at Uffizi and explain their importance in a way that is understandable, interesting, and often funny. You're on vacation and the goal is to have fun while you learn!
Private Uffizi Gallery Tour
Our private Uffizi Gallery tour follows the same standard as our small group tour except you'll get more personalized attention from the guide. You'll see a higher price, but for such an important gallery, this is a price worth considering. If you compare this private tour to others in Rome or Paris, the price is actually quite reasonable.
You'll explore the many galleries of the Uffizi with a private local guide covering the likes of Da Vinci, Michelangelo, Raphael, Botticelli, and more!
Florence in a Day Combo Tour with David and Uffizi
The Florence in a day combo tour is a combination of our Uffizi small group tour and our walking tour of the Accademia Gallery, which includes the famous David statue by Michelangelo. It also includes a walking tour of Florence that passes by the Duomo, Ponte Vecchio, and many other important sites.
Looking for more info on what to see at the Uffizi? Read my article on what to see at the Uffizi Gallery.