Are you heading to Barcelona and want to visit the Sagrada Familia but unsure if you should do a solo visit or a tour? The Basilica is one of the architectural wonders of the World, and millions visit each year asking the same question. This article will explain why a tour of Sagrada Familia is worth it.
---
Pro Tip: Planning your visit to Sagrada Familia in Barcelona? Bookmark this post in your browser so you can easily find it when you're in the city. See our comprehensive guide to Barcelona for more planning resources, our top Barcelona tours for a memorable trip, and the top things to see in Barcelona.
What is the Sagrada Familia?
The Sagrada Familia is an iconic basilica located in the heart of Barcelona, Spain. It is a breathtaking emblem of both architectural and religious devotion. Designed by the renowned architect Antoni Gaudí, its construction commenced in 1882 and has been progressively evolving ever since.
The basilica is a harmonious blend of Gothic and Art Nouveau styles, with intricate details and symbolic religious elements integrated into every corner of the design. Though still under construction, with an anticipated completion in 2026, the Sagrada Familia already stands as a majestic testament to Gaudí's innovative genius and the rich spiritual heritage of Spain. Its towering spires, intricate facades, and the mesmerizing play of light through its stained glass windows draw millions of admirers from around the globe, making it one of the most visited and revered landmarks in Spain.
---
Not ready to book a tour? Check out some Amazing Facts About Sagrada Familia
Is a Tour of Sagrada Familia Worth it?

---
Short Answer: Yes, a tour is worth it. Check out our free guide to the Best tours of Sagrada Familia.
While it is entirely possible and enjoyable to visit the Sagrada Familia without a guide, a guided tour can often elevate a visit to another level. The entry fee of 26 euros includes an audio guide, but audio guides are robotic and cannot answer any questions you may have. That is where the advantage lies with an expert licensed guide. Not only do they have the best stories, but they know the best tips and tricks to navigate security lines and large crowds. In terms of context added and time saved, a guided tour is often well worth the extra cost.
---
Skip-the-Line Tickets
Some 5 million visitors pass through the Sagrada Familia each year. In high season, tickets sell out weeks in advance, so having the hassle of organizing entry is always nice. This eliminates the confusion outside if there are lots of people trying to get in the right line. A guide with skip-the-line tickets can make this a smooth and quick process.
---
Small Group Tour
When it is completed in 2026, the Sagrada Familia will be the tallest Basilica in the world. You can easily get lost in its grandeur. We design small group tours so your guide can interact more with each person and take advantage of all of the Basilica's wonders.
---
Private Tours
If you enjoy seeing architectural gems at a pace dictated for you, or you don't play well with others, then our private tours are perfect for you. Our expert guides will tailor an incredible experience for you, providing an unforgettable experience for you and your party.
---
Not ready to book a tour? Check out our guide on How to Visit the Sagrada Familia
If Tours of Sagrada Familia are Worth it, Which is Best for You?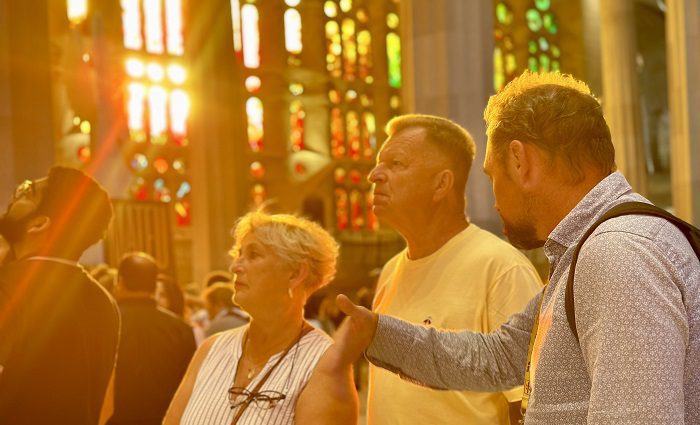 ---
Now that you know a tour of Sagrada Familia is worth it, check out our tours. We run several tours of Sagrada Familia, but each is different. We run tours that explore the interior and those that just admire it from a distance, it all depends on your own desire, though I feel like not going inside is a huge missed opportunity. You'll find some of our top Sagrada Familia tours below, and you can explore our full and free Guide to Barcelona.
This is a perfect tour for anybody wanting to get deep under the skin of Barcelona and the genius of Anonit Gaudí.
Gaudí certainly left his mark on the Catalan capital, and with this tour, you'll explore the imaginative gardens at Park Güell and the incredible Sagrada Familia. Through a stroll around the Gothic Quarter and a few stops for local delicacies, what you have here is a perfect day in Barcelona.
See tour itinerary, price, and description
The Sagrada Família is one of the world's most celebrated buildings. It deserves your undivided attention; with this tour, it will receive it. You'll meet your enthusiastic, expert licensed guide outside of the Sagrada, where they will regale you with stories of its lengthy construction before expertly leading you through the security lines and into one of the modern architectural wonders of the world.
It is a perfect tour for anyone wishing to gain a deeper understanding of Gaudís masterpiece.
See tour itinerary, price, and description
A private tour may be the best option if you prefer group tours. Do you have a young child who loves to ask questions? Have you already been to the Sagrada Familia and want to get answers to some specific questions? Want to customize the tour itinerary slightly to see spots you can't miss? All of this is possible with a private tour.
Not only will your tickets be sorted, but you'll also be able to skip the long lines and be expertly guided through the security lines. While the price is higher, the VIP treatment makes it all worthwhile.
See tour itinerary, price, and description
---
Are you looking for a fun way to familiarize yourself with Barcelona's top attractions? Then hopping on an electric TukTuk with a local guide is a fun and fast way to see the city's highlights.
You won't explore the interior of Gaudi's masterpiece. However, you will learn its history and explore Gaudí's other masterpieces around the city. It's a fun way for the whole family to see large tracts of Barcelona quickly and enjoyably. It's especially useful for any visitors with mobility issues.
See tour itinerary, price, and description
---
Pedal through the Barceloneta and Gothic Quarters with ease, and see La Rambla, the Olympic Village, and much more in just half a day! Head through the Gothic Quarter and see the top works of Gaudi, including the world-famous Sagrada Familia, and take in the rich history and art of the city. Ride along the seaside, taking in the Mediterranean sun and wind that makes Barcelona an amazing place to live and visit. This 4-hour tour will give you the perfect introduction to the magnificent Catalan capital!
See tour itinerary, price, and descriptihttps://thetourguy.com/tours/barcelona/barcelona-bike-touron
Not ready to book a tour? Check out our guide on the Top Things to See at Sagrada Familia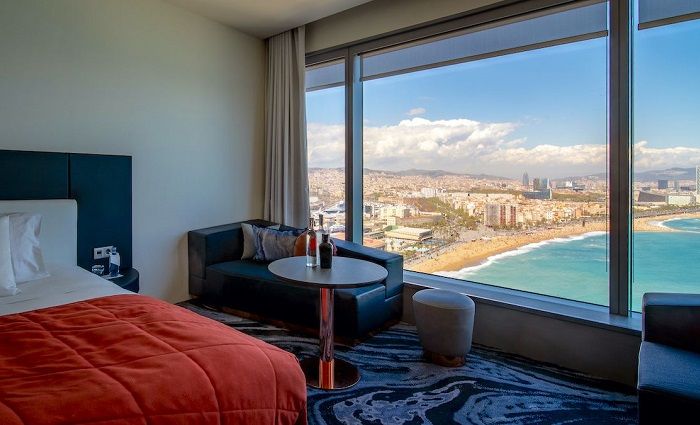 Find the best places to stay
Where To Stay in Barcelona
Barcelona has a small historical center packed with iconic landmarks to explore. Plan where to stay in the best neighborhoods in this beautiful city.
Explore More of the Blog