Heading to Barcelona and wondering how you are able to get Sagrada Familia tickets or even visit the unfinished church? The genius and masterpiece of Antonio Gaudì draws visitors from near and wide but if you play your cards right you'll be fine.
Gaudí designed one of the most unique churches the world has ever seen and this article will explain exactly how you can visit Sagrada Familia on your next trip to Barcelona.
---
Pro Tip: Bookmark this article and our page dedicated to planning your trip to Barcelona in your internet browser. This way you can circle back to and making planning your trip to Barcelona easy. Also, check out our tours in Barcelona. They have thousands of five-star reviews from customers that loved our tour guides because a great guided tour makes a trip more memorable.
What We'll Cover
This article will explain everything you need to know to enter Sagrada Familia from the hours, getting tickets, where to eat nearby and joining a guided tour.
Sagrada Familia Ticket & Admissions Cost, Hours, and Location
Top 9 Things to See
Tour Options
Where to Eat Nearby
Getting to Sagrada Familia
In a nutshell, the best thing you can do to ensure a great visit to Sagrada Familia is plan ahead. Purchase tickets far in advance put it on your schedule. Antonio Gaudi's church sells out quick and lines are long to get inside but don't worry because we have you covered.
Admission Price, Hours & Locations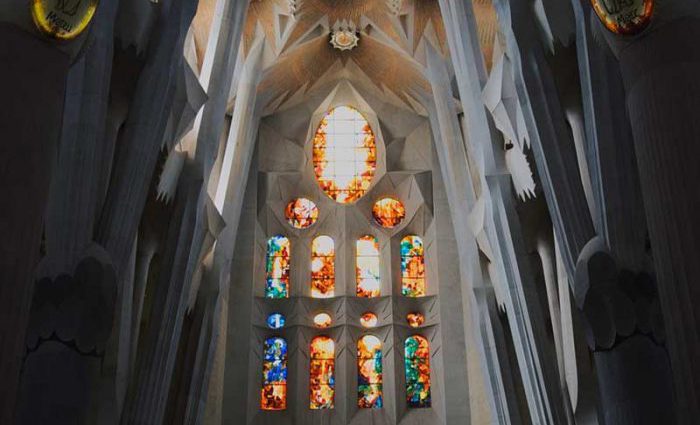 Getting tickets to Sagrada Familia is your first step and as long as you plan ahead you will be fine.
Admission Cost: 20€
Visiting Hours:
November to February: Mon – Sun | 9am – 6pm
March & October: Mon – Sun | 9am – 7pm
April to September: Mon – Sun | 9am – 8pm
25th & 26th Dec, Jan 1st & 6th: 9am – 2pm
Location: Carrer de Mallorca 401
Top Things to See at Sagrada Familia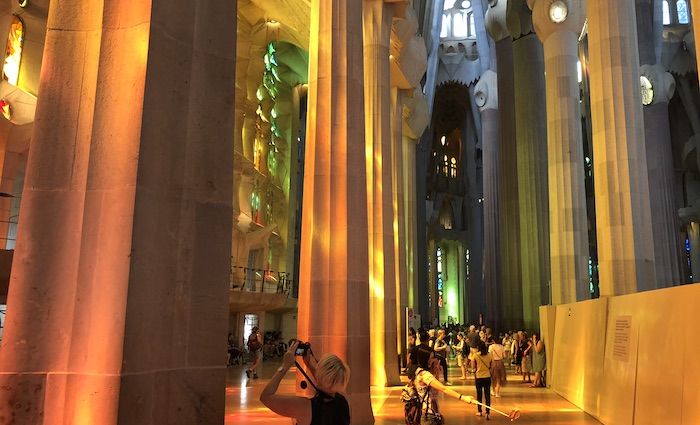 Here is a list of the top things to see inside. For a longer and more comprehensive list with descriptions, you should see our article, "The Top 9 Things to See in Gaudí's Unfinished Church."
The Nativity Facade (Eastern Side)
Passion Facade (Western Side)
The Facade of Bliss
The Towers
Inside Nave/Vaul
Illuminated Christ on Cross (Gloria A Deu, A Dalt Del Cel)
Stained Glass Windows
Jesus Presented to the Crowd by Pontus Pilate
Buttresses and Flying Buttresses
Tour Options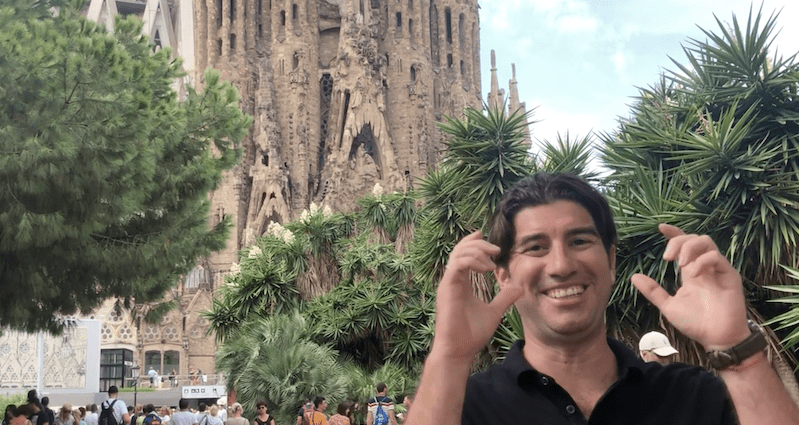 Without a doubt the best way to visit Sagrada Familia is with a tour guide for many reasons. First, the cathedral is a complicated masterpiece that has been designed by a genius with many layers of meaning. A local guide and historian is the absolute best way to elevate your visit and make it more memorable.
1) Barcelona in a Day Tour Including Sagrada Familia, Park Güell & Casa Batlló
This tour is a great way to see many of Barcelona's top attractions in one full day of tour which customers love. They love it because it simplifies the experience since we arrange the admission, getting from place to place, and organizing the tour guide – the best tour guides too! We recommend this tour by far for anyone looking to visit Sagrada Familia while in Barcelona. It is an amazing way to see the city and you will accomplish so much that your sangria will taste even better at the end of the day!
2) Antonio Gaudi Virtual Guided Tour with Live Guide
This is an excellent tour option for those of you who are unable to get to Barcelona due to disabilities or for those of you who are going but may choose not to do a tour for whichever reason. This and our other virtual guided tours have also had a lot of popularity with businesses as corporate events. Regardless, it is an amazing and inexpensive 60-minute experience with a live guide in Barcelona over video conference. The guide has tons of photos, videos, Q&A, and polls/quizzes throughout. We have had nothing but great reviews and the price is unbeatable.
Where to Eat Nearby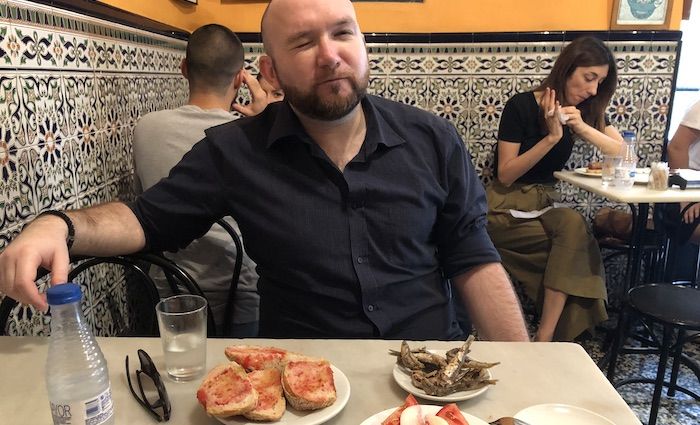 While eating is not a quintessential part of getting into Sagrada Familia it will almost definitely be the first thing you think of when getting out. I can't tell you how many times I have sacrificed a good meal for the most convenient meal when near a major monument and it is just a waste. You see those golden arches or sit down at a restaurant with waiters ushering you in and you know what you're going to get.
With a little more planning, you can have an amazing meal to compliment your amazing visit to Sagrada Familia.
Zed – Diverse healthy options cooked with seasonal products from the local markets. Always use fresh food on this amazing menu which adapts to seasonal produce.
Address: Carrer de Valencia, 399
La Ramona € – Great place to get tapas in a friendly environment. They continuously adapt the menu with new creative dishes which is why they get such great reviews.
Address: Roger de Flor, 262
Restaurante Seoul €€ – If you are looking for something not so Spanish, Seoul is an excellent Korean restaurant near Sagrada Familia that has been serving food to locals for 15 years.
Address: Avinguda gaudi, 70
For more restaurants recommendations check out our article on the best restaurants near Sagrada Familia.
Getting to Sagrada Familia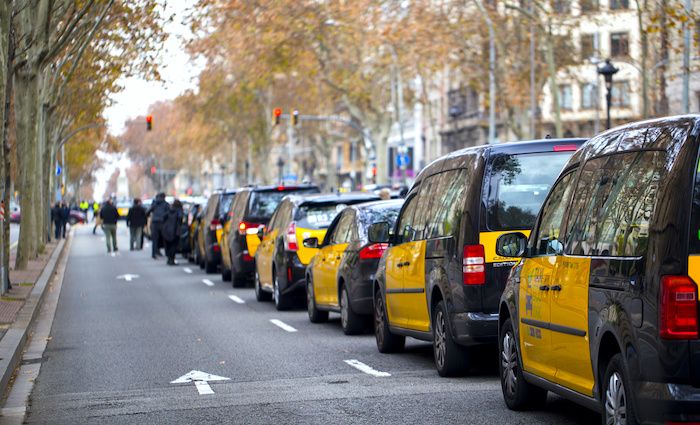 There are plenty of ways to get around in Barcelona which can often make the choice more difficult. We'll explain how to get there using Subway (metro), bus, and taxi and list them in order of preference. The first option, a taxi, is our preferred method.
Subway
A single-use subway card in Barcelona is 2.40€ in 2021. That is relatively inexpensive for a subway system as comprehensive as that in Barcelona. It is very likely you are going to Sagrada Familia from one of our recommended areas to stay in Barcelona which are El Raval, Bari Gothic, or Eixample. If that is the case, you will likely not even have to change lines on the subway. The L2 (purple) and L5 (blue) lines go straight to the "Sagrada Familia" subway station. If you are not near either of those lines, the L1 (orange) or L3 (green) may be nearby and they connect with the L2 & L5.
Metro Stop: Sagrada Familia (couldn't be any more clear!)
Lines: L2 (purple) & L5 (blue)
Cost: 2.40€ each way
Taxi
Using an online taxi calculator, a taxi from the Barcelona Cathedral in Bari Gothic to Sagrada Familia would cost between 12€ and 22€ depending on if you can hail a taxi or if you have to call one. For me, this is the best route if you are not very close to a metro station but taxi fares can add up quickly.
Bus
Taking a bus to Sagrada Familia is also an option. The fare costs 2.40€ and you won't have to go down into a metro station but I always have issues on buses in foreign cities. It is less clear if you are headed in the correct direction until you can see the attraction you are headed too. Unless you are afraid of a subway, I recommend you forgo the bus and use the subway.
For more information on getting around Barcelona including rent-a-bike options check out our dedicated article on mass transit in Barcelona.
---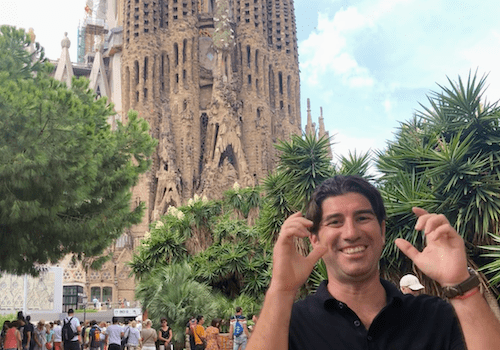 ---
Where to Stay in Barcelona Video
By now you know how to get Sagrada Familia tickets, where it is, how to get there, and what tours to take. If you don't know where to stay in Barcelona the below video and article will help. Enjoy!