Montserrat is one of the most astonishing places to see when visiting Barcelona. This abbey built within the mountain range of Montserrat ("serrated mountain" in Catalan), offers a unique environment where history, religion, and nature interact to provide a rich Catalan cultural experience. The very distinctive shape of this mountain range is the main element that attracted devout and pious people to build shrines, churches, and abbeys since the late 9th century. The legend explains that at that time, a group of kids discovered the image of the Virgin at the "Holy Cave", and to protect and host this holy carving, the abbey was built. Montserrat provides entertainment and services to spend a day outside Barcelona to enjoy culture and nature!
---
How to get to Montserrat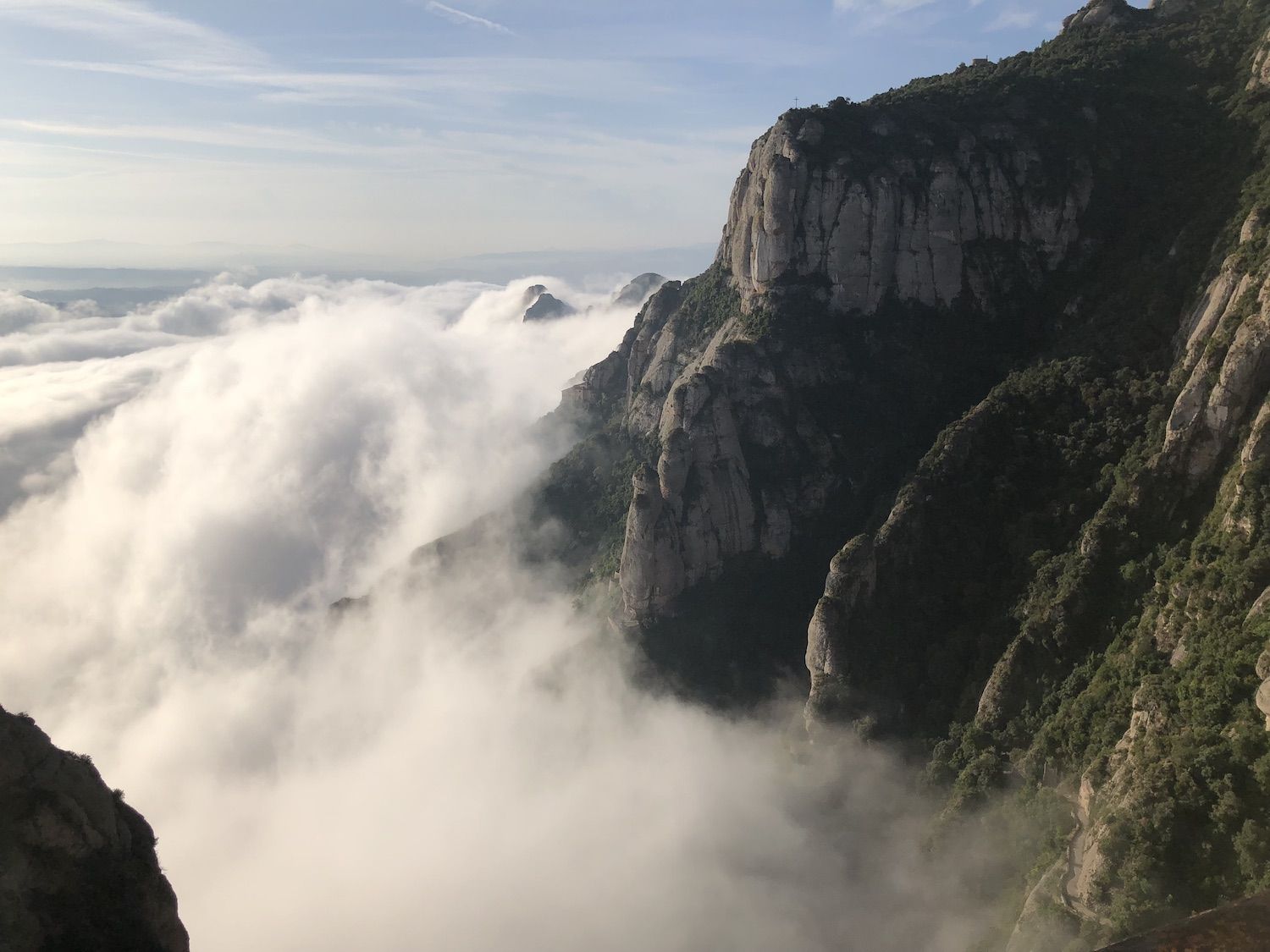 The monastery is more than 60km away from Barcelona, and getting there is not easy if you don't have your own car. There are a series of public transport combinations that take you to Montserrat, taking first a train from Barcelona into a nearby town, and afterward, take the famous funicular of Montserrat. This combination can be expensive and time-consuming, so we offer a simple and direct way to get to Montserrat. Either route you choose, your day in Montserrat will be a memorable one.
Check Out Our Best Montserrat Tours from Barcelona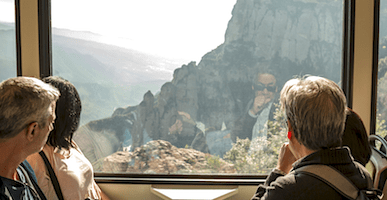 Top Rated Tour
Montserrat Day Trip with Tapas & Organic Vineyard
Visiting the Montserrat Monastery is one of the top sites to see when coming to Barcelona. What better way to enjoy than with tapas & wine? Make your trip more memorable by joining our small group tour with a licensed tour leader for the day. After the monastery, visit a vineyard for wine tastings and tapas! Admission & tapas Included.





Starting at €89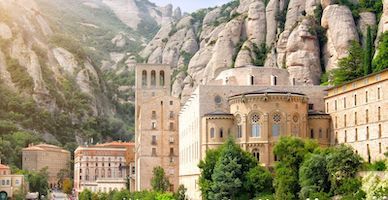 Top Rated Tour
Montserrat Full-Day Trip with Monastery & Organic Winery
Visiting the Montserrat Monastery is one of the top sites to see when coming to Barcelona. This magical place is nestled on a mountain top above the clouds. Make your trip more memorable by joining our small group tour with a licensed tour leader for the day. After the monastery, visit a vineyard for wine tastings and lunch! Admission & Lunch Included.





Starting at €99
What to see at Montserrat
As you will spend a day in Montserrat, here are recommended monuments you can visit before leaving this holy mountain.
Once the luxury bus of our tour program leaves you at the entrance of Montserrat Abbey's facility you will be meters away from the main buildings of this sanctuary. Within this religious complex, you will find different buildings that are part of the Benedictine order of Montserrat, the keepers of this holy place.
Monks historical residences, religious courtyards, altar boy residences (altar boys are one of the main elements that compose Montserrat, who are locally known as escolanets), a school of music, a museum, and other facilities are all located here, creating a unique atmosphere.
Within the church of Santa Maria de Montserrat, you will find the famous carving of la Moreneta, which is open to the public. To see this holy figure, you will have to access the church through a door on the right side, and cross the entire church through a baroque-style corridor. Then, you will reach the small room where "la Moreneta", The Virgin of Montserrat, is placed, through unique stairs that will take you this holy figure. Local and visitors are allowed to touch the sphere she holds on her right hand and blesses all her devouts. Interestingly, the room where you can find this figure is part of the apse of the church. Not many churches in the world have a design like this one, demonstrating the uniqueness this abbey, as well as the importance of "la Moreneta" for its worshippers.
After visiting the church, you will be able to enjoy different services provided at this abbey, such as cafeterias and restaurants. You will also have time to visit the shop of the abbey, perfect to buy a souvenir to remember this unique mountain when you return home.
With the hour of free time built into our tour, you will have the chance to keep exploring the abbey and the surrounding areas. Given the holy nature of this mountain, there are other sacred places all across this mountain, some with astonishing views.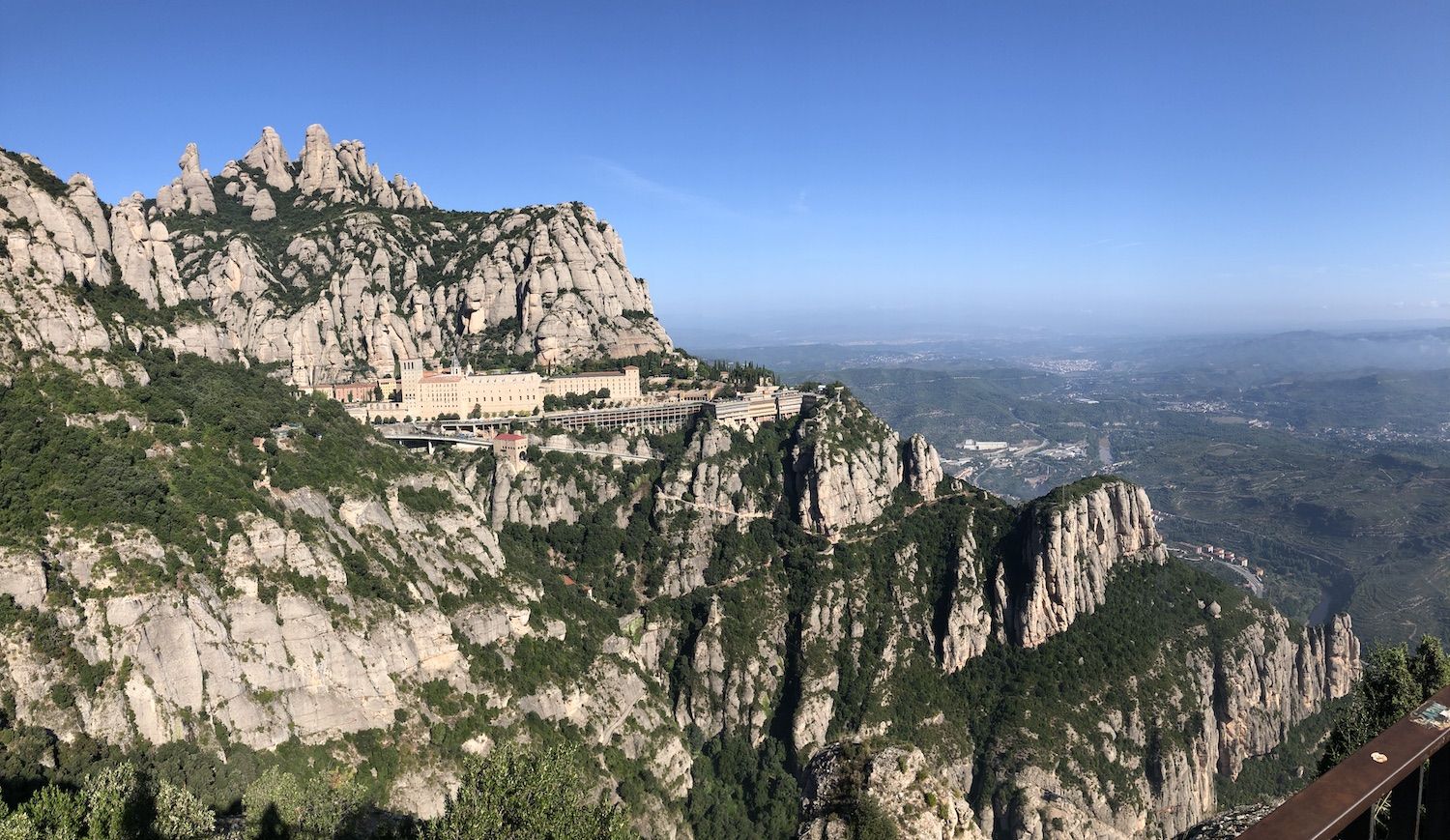 There is a funicular that takes you to the Chapel of Saint John, located on one of the highest hills of Montserrat. From the funicular stop, there are several routes to different places of the natural park attached to the Monastery of Montserrat. These routes are not for professional hikers, although if you want there are several areas for professional climbers that guarantee you an unforgettable view! Besides professional climbers, regular visitors can walk these routes that bring you to beautiful places, no more than a 40 to 50-minute walk.
There is also a second option with another funicular that takes you from the abbey of Montserrat to the "Holy Cave" (Santa Cova) where the figure of "la Moreneta" was found!
No matter which path you choose while exploring this mountain, your day trip to Montserrat will be awe-inspiring and memorable.
---
I Want More Barcelona!
If you want us to arrange the entertainment in Barcelona (and beyond!), contact our Trip Planning Team to coordinate an unforgettable Italian experience.
Check out our step-by-step guide about how to do Barcelona in a Day. If you'd rather let us guide you, check out our guided Barcelona tours.