Montserrat is one of the most astonishing places to see when visiting Barcelona. This abbey was built within the mountain range and has captivated visitors for years, though getting there takes some effort. In this article, find out how to do a day trip to Montserrat from Barcelona on your own or with a guided tour (the easiest way).
---
Pro Tip: It's easier to organize your trip when you have all your resources in one place. Bookmark this post along with our Montserrat guide for more planning resources, our top Montserrat tours for a memorable worry-free experience, and the top things to do in Montserrat.
How To Get To Montserrat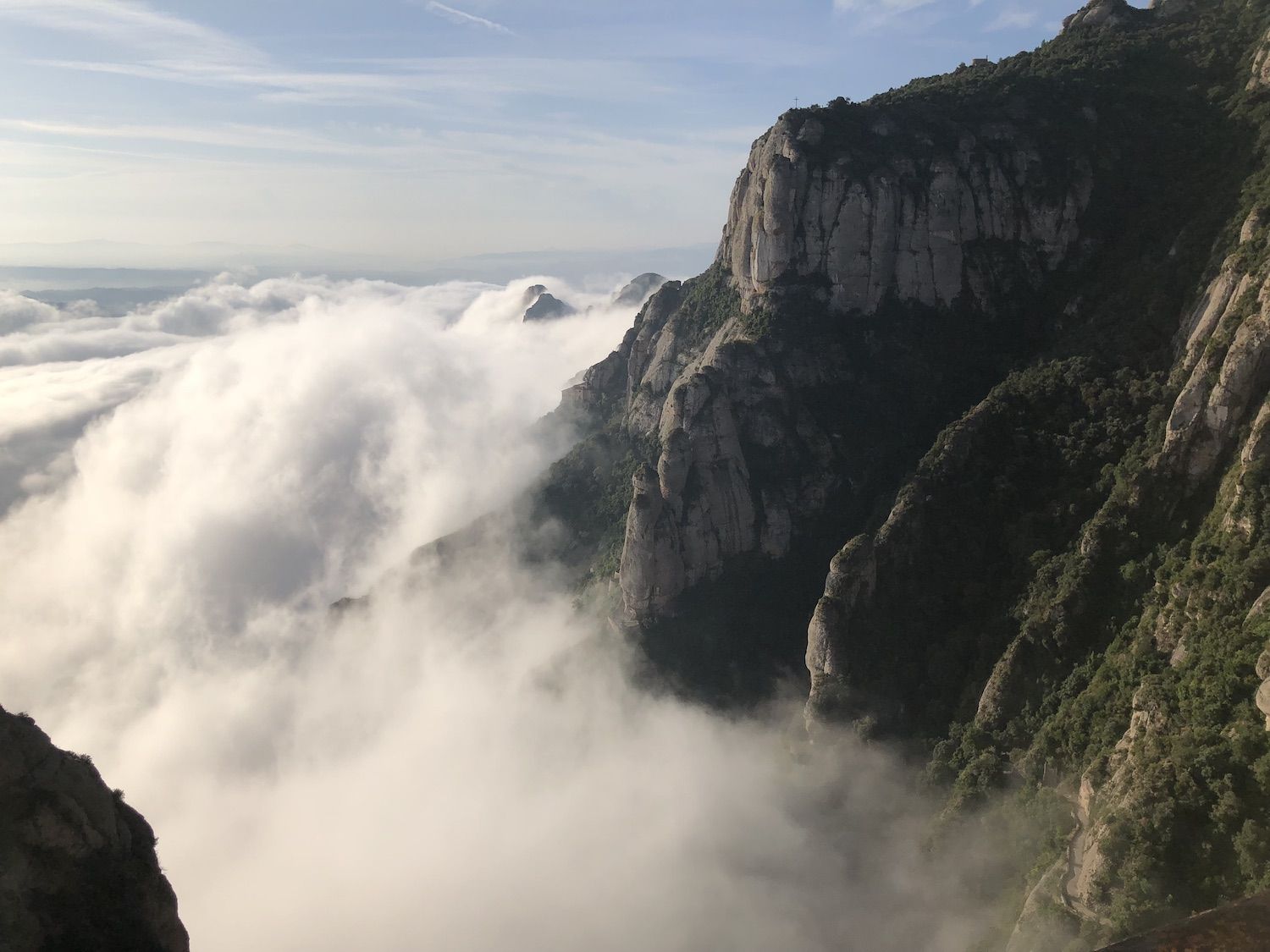 The monastery is more than 60 kilometers from Barcelona and getting there will take some planning if you don't have your own car. There are a series of public transport combinations that will get you to Montserrat as well. Here's how you can get to Monserrat from Barcelona:
By Train
There's a train that runs from Plaça Espanya in Barcelona to Aeri de Montserrat. Take the R5 line and you'll get to the town below the monastery in an hour. Round-trip tickets cost €11.50. Then, you'll need to purchase a round-trip ticket for the cable car that takes you to the monastery up on the mountain, which costs €12.
You can also take the train from Plaça Espanya in Barcelona to Monistrol de Montserrat for €11.50. From there, you'll have to book the Cremallera or cogwheel train to get to the monastery. Round-trip tickets are usually €12.
By Car
If you're comfortable driving yourself from Barcelona into the mountains, you can also opt to rent a car and drive to either Aeri de Montserrat or Monistrol de Montserrat. From there, you'll still have to book a ticket on either the cable car or the train to get up to the monastery on the mountain.
Guided Tour
Booking a guided tour from Barcelona to Montserrat is the most convenient option since you don't have to stress about arranging your own tickets and transportation. All tickets are included, and you get to sit back, relax, and enjoy the scenery while your tour guide entertains you with fascinating commentary.
Not ready to book a tour? Check out our best Barcelona tours to take and why.
What To See at Montserrat
As you'll be spending a day in Montserrat, here are recommended monuments you can visit before leaving this holy mountain. Within this religious complex, you'll find different buildings that are part of the Benedictine order of Montserrat, the keepers of this holy place.
The Monks' historical residences, religious courtyards, altar boy residences (altar boys are one of the main elements of Montserrat, who are locally known as escolanets), a school of music, a museum, and other facilities are all located here, creating a unique atmosphere.
Within the church of Santa Maria de Montserrat, you'll find the famous carving of la Moreneta, which is open to the public. To see this holy figure, you'll have to access the church through a door on the right side and cross the entire church through a baroque-style corridor. Then, you'll reach the small room where la Moreneta, The Virgin of Montserrat, is found.
Locals and visitors are allowed to touch the sphere she holds in her right hand to bless all her devotees. Interestingly, the room where you can find this figure is part of the apse of the church.
Not many churches in the world have a design like this one, demonstrating the uniqueness of this abbey, as well as the importance of la Moreneta. For a more in-depth list with descriptions, read the top things to do in Montserrat.
If you need a snack or a meal, you'll find cafeterias and restaurants near the abbey. We also have a list of the best restaurants in and near Montserrat if you're looking for more options. You can also visit the shop of the abbey and get a souvenir of this unique mountain.
Check Out Our Best Montserrat Tours from Barcelona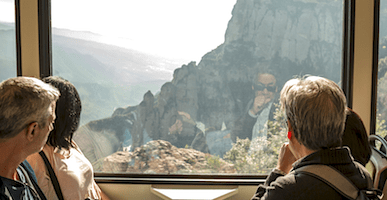 Top Rated Tour
From Barcelona: Day Trip to Montserrat with Tapas & Wine
Take the day and head to Montserrat with a small group and local guide who will make sure all the transportation details are taken care of. Explore this charming town from the market to the scenic views before enjoying a tapas and wine tasting at an organic vineyard.





See Price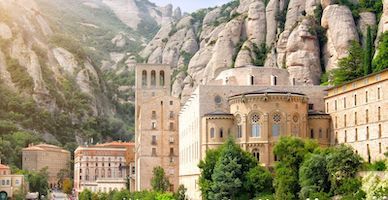 Likely to Sell Out
Full Day Trip to Montserrat from Barcelona with Winery & 3-Course Lunch
Visiting the Montserrat Monastery is one of the top sites to see when coming to Barcelona, and we make it easy with all details arranged for you. This longer tour gives you extra time to spend at the monastery in case you want to hike, see the Black Madonna, or ride the second funicular. Best of all, you get a 3-course lunch with wine at an organic vineyard.





See Price
Not ready to book a tour? Check out our best Barcelona tours to take and why.
The Montserrat Funicular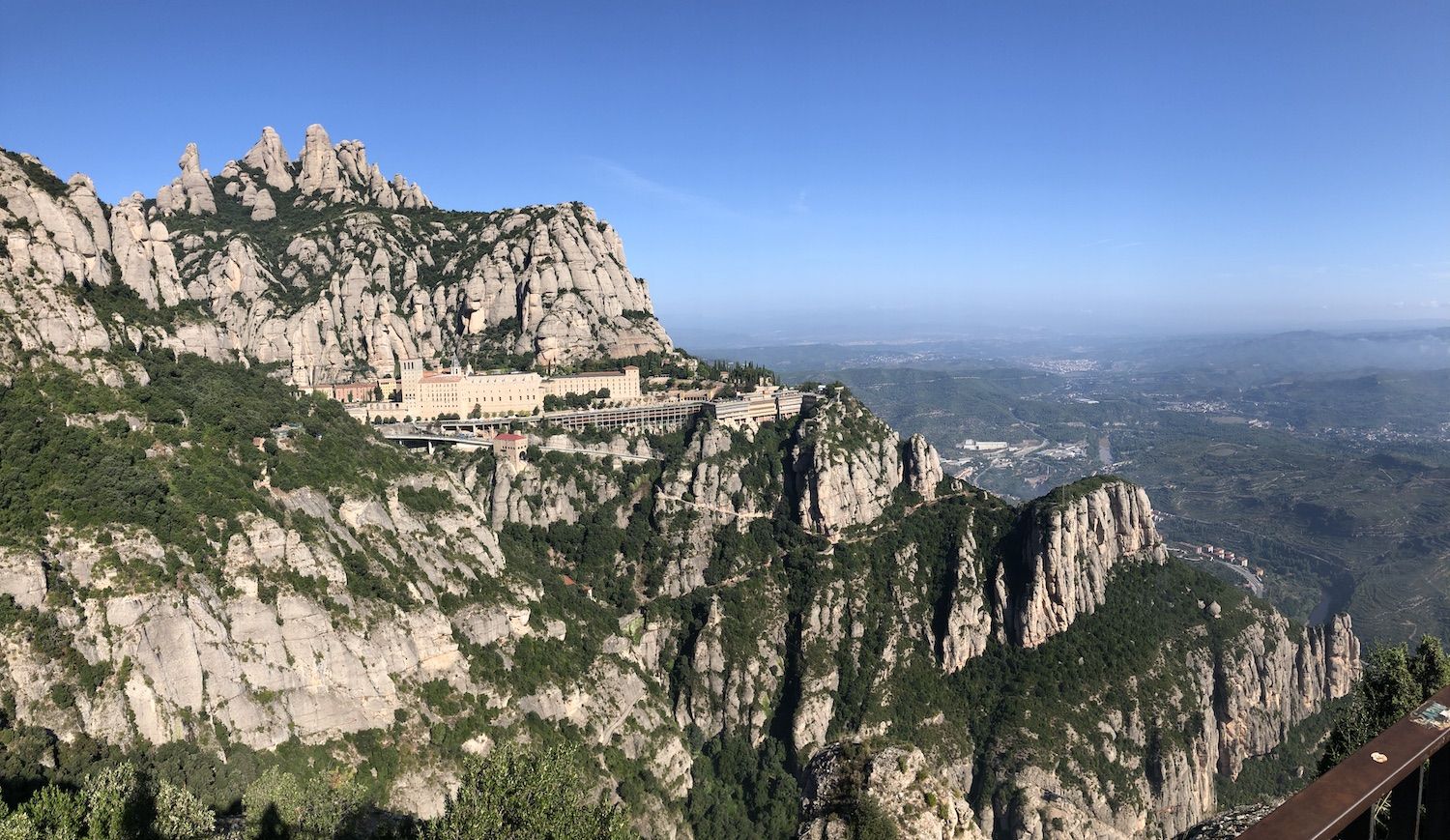 There is also a funicular that takes you to the Chapel of Saint John, located on one of the highest hills of Montserrat. If you want to ride it, you'll need to purchase another ticket for it while at the monastery. From the funicular stop, there are several routes to different places in the natural park of the monastery.
These routes are not for professional hikers, although if that's your style, there are several areas for professional climbers that guarantee you an unforgettable view! Besides professional climbers, regular visitors can walk these routes that bring you to beautiful places, which are no more than a 40 to 50-minute walk.
There is also a second option with another funicular that takes you from the abbey of Montserrat to the Holy Cave (Santa Cova) where the figure of la Moreneta was found. No matter which path you choose while exploring this mountain, your day trip to Montserrat will be awe-inspiring and memorable.
Not ready to book a tour? Check out our article on the best Barcelona tours to take and why.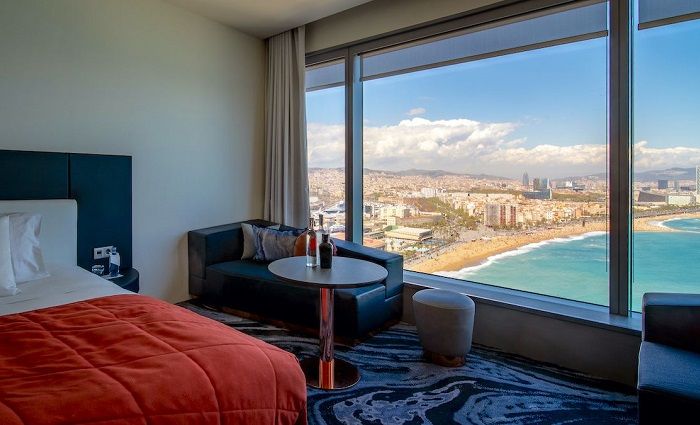 Find the best places to stay
Where To Stay in Barcelona
A great hotel at a great price has become the norm in this internet era. Our article explains what areas are the best in Barcelona so you can get a great deal on the perfect location!