St. Mark's Basilica
Tools for the #PerfectTrip
St. Mark's Basilica is the patron saint of Venice but wasn't always that way. In the late 9th century AD the remains of St. Mark were stolen from Alexandria and brought to Venice. At that point, St. Mark became the patron saint and everything changed.
You could say that "stealing relics" is a very dark way to start such a marvelous city but this is the way of Venice. It is a wonderful place that I adore and love visiting but is no less guilty of corruption than any other kingdom.
Thee Doges (Dukes) tortured their adversaries and imprisoned them until they got their confessions. They hid the secrets of glass blowing and would not let the glass blowers leave the kingdom to keep the price of Venetian Glass high. They even sacked Constantinople even though it was a fellow Christian state.
Learn more about Venice and what you need to know to plan your visit by reading through the articles below.
Articles on St. Mark's Square & Basilica
Venice is such an interesting and unique city that it makes sense to get the inside info from a local guide. Our passionate guides make the experience much more memorable and ensure you see everything you are supposed to. Navigating Venice can be difficult, even with GPS, and a guide will help you get your bearings while adding to your experience. Not to mention, they skip the lines!
Top St Mark's Basilica & Venice Tours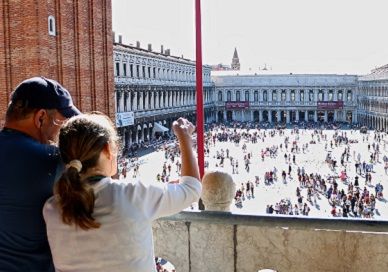 Skip the Line at St. Mark's with Terrace, Doge's Palace, and Gondola
Explore the top two sites in Venice with a local guide. You get skip-the-line entry to both St. Mark's Basilica and the Doge's Palace to ensure you're not wasting any time. Plus, you get access to the terrace for a picturesque view of the famous St. Mark's Square!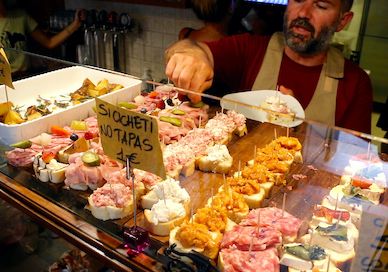 Venice Locals Evening Food Tour in Cannaregio
People who say Venice is too touristy have not done enough research. Cannaregio is an amazing break from the crowds and our food tour is the most authentic way to experience it. Taste cicchetti and other Venetian specialties with wine included! You'll leave with a full stomach!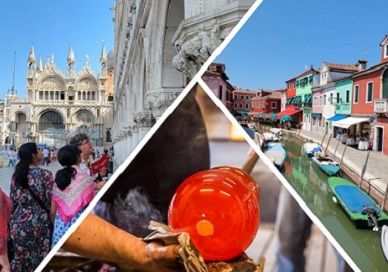 Venice Day Tour of St. Mark's, Doge's Palace, Murano & Burano, with Gondola
The ultimate tour of Venice. You'll get skip-the-line access to the most important buildings in Venice, plus a gondola ride, and private transportation to the islands of Murano and Burano. It's a full day of touring that will make for the best memories in Venice ever.
Latest Venice Articles
It's one thing to stand in front of St. Mark's Basilica and stare in awe at the intricate details, but it's another to step inside and see why it's nicknamed the Church of Gold. And while you're here, you may as well head inside the Doge's Palace around the corner. However you like to travel,…
Continue Reading The Best Tours of St. Mark's Basilica and Why