The Paris Catacombs
The City of the Dead Beneath the Living
All About the Paris Catacombs
What could be more interesting than 6,000,000 skeletons buried underneath the streets of Paris? In the late 18th century, Paris had a major problem with its growing number of dead which were literally piling up everywhere. In 1776, Louis XVI (yes, the Louis who died by guillotine), put a project into motion that would solve the problem.
Two years prior, the ground had caved in, which reminded Parisians of a few hundred-year-old abandoned tunnel systems near the city limits. This system was created as early as the 14th or 15th centuries A.D. and was used to store the dead.
Louis XVI decided that they could solve two problems at once. Move the bodies underground in an existing system and reinforce that system so it would not collapse again. A trip to the Paris Catacombs is unlike any other adventure. Our guide to the catacombs will help you be prepared for the legends and reality of these underground caverns.
The interesting part about this entire project has to do with the Catholic Church. Tampering with the dead is a real "no-no". According to dogma, your body is extremely important to your journey into the after-life. Bodies had to be moved from Saint-Innocents cemetery to the underground ossuary under cover of darkness not to upset the community and church.
Imagine you went to visit Grandma one day and her grave was gone with a note that said, "We've moved locations! You can find us stacked up with millions of other bodies in the Municipal Ossuary." It would be quite upsetting but the powers at be needed to take action. The graves in Paris were overflowing and the city was growing. There's so much to learn about as you explore beneath Paris and the best way is with a local guide who knows all about these famous catacombs.
Top Catacombs & Paris Tours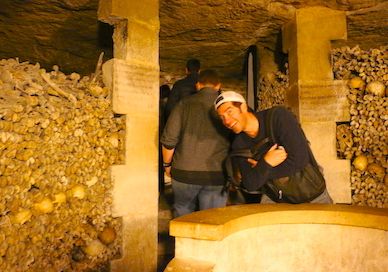 Likely to Sell Out
Privileged Access Paris Catacombs With Secret Rooms & Privileged Access
Discover the darkness beneath the city of light. Leave the crowds behind and let your guide enlighten you with the mystical folklore surrounding the medieval tombs.





See Prices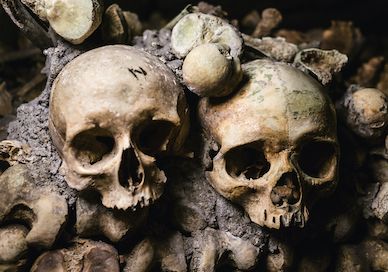 Likely to Sell Out
Skip the Line Paris Catacombs Tickets
While we recommend a guided tour, our goal is to provide customers with as many options as possible. Skip the line Paris Catacombs tickets are a great value!





See Prices
Latest Paris Articles