Heading to Paris and want to see the darker side of the City of Light? We've got you covered. Here is everything you need to know to visit the Paris Catacombs. Tickets, Hours, Tours, and More!
The largest necropolis in the world, the Paris Catacombs house the remains of more than six million bodies. To reach this iconic holder of bones, you must first descend over 100 steps and 65ft (20 m) underground.
---
Pro Tip: Bookmark this article in your browser if you are planning a trip to the Paris Catacombs… it could come in handy! Check out also our 11 outdoor monuments in Paris. For a tour check out our Privileged Access Paris Catacombs Tour with Secret Rooms.
Overview of the Paris Catacombs
Hours & Admissions
Tour Options
How Long to Budget for Your Visit
Tips for Visiting the Paris Catacombs
Top Things to See at the Paris Catacombs
Places to Eat Nearby
Chronological History of the Paris Catacombs
How to get there
Paris Catacombs Hours
Hours: Tuesday – Sunday | 10:00 AM until 8:30 PM.
Closed: Mondays, January 1st, May 1st, January 25th
Note: The ticket window closes at 7:30 PM so make sure if you are going late to get there before then.
Overview of The Paris Catacombs
Imagine you are walking down a street in a metropolis like New York City and everywhere you go, there is this putrid smell in the air. This is what life was like in Paris back in the mid 18th century. The reason? The main cemetery in the city was overflowing with dead bodies.
The main cemetery was called the Holy Innocents Cemetery and had been in use since the Middle Ages. Various attempts had been made to move the bones and burials, but stiff opposition was brought against these measures by the church. The church didn't want the existing bones to be moved, because of its sacred character and didn't want to stop putting bodies in the cemetery, because they charged a burial fee.
As a result, burials persisted there until finally in 1780 the cemetery was closed due to desperation and also for a more practical and hygienic reason. The cemetery was right next to the biggest food market in the city Les Halles. In 1788 they started to move the bones to subterranean tunnels that were located below the city, which became known to us as Catacombs.
Here are some numbers to take into consideration before you visit to the Paris Catacombs:
They are located 65ft ( 20m) below ground
243 steps during your trip ( 131 going down, 112 coming back up)
4,921ft ( 1500m) of tunnels that you will be walking during your visit
Tips for Visiting the Paris Catacombs
Consider that a normal visit will take around one hour. Some people are more fascinated than others about looking at bones, but the actual set up is quite interesting.
It's important to keep in mind that the Catacombs have been open to the public since 1809. That is over 200 years of people walking around the tunnels and so they built them in a way to make it as a form of entertainment as well. As a result, you will see various formations of bones put together in strange, but amusing piles at certain points.
Purchase your ticket in advance:
As you can imagine, there is a limited amount of space underground so the Catacombs only allow a certain amount of people per day. Moreover, it is slow going since you have to walk down 131 steps. This is why a huge line develops and wraps itself around the square.
Be a smart tourist and book your ticket online in advance so you can show up five minutes before your slotted time and enjoy it!
Wear comfortable shoes and clothes:
Paris is definitely one of the most glamorous cities in the world. However, trying to enter the Catacombs with high heels or your new Ferragamo's would be a huge mistake. You are going to be walking in an underground tunnel and there will be loose earth, dirt, and even some wet spots from time to time.
You don't need to go full-on off-road style with massive boots, but I would wear my sneakers or some comfortable footwear for your adventure underground. Also, underground the temperature is a constant 57.2 ºF (14ºC), so if you are super cold-blooded, bring something to wear on top.
Avoid the crowds:
Since it doesn't open until 10 am, most people will try and get there around this time. I highly recommend that you go as late as possible because it will be around dinner time. The last entrance is around 7:30 PM, so aim to get there around 7 PM and you might be surprised to find yourself inside with only a few other people!
There are custodians down there, so don't worry about being too alone!
Prepare yourself to see bones… A lot of bones!
Paris Catacombs Tours
We are a tour company so we obviously will recommend a tour. We started in this business for two reasons. First, we love history and learning about our world and culture. Second, we wanted to rid the world of boring tours. We believe that art is an expression that is more than "oil on canvas". It is about the life of the artist and how they were effected by the dramatic changes of their time period.
Join one of our tours and you will not be let down! Admissions are always included and we always skip the lines for admissions.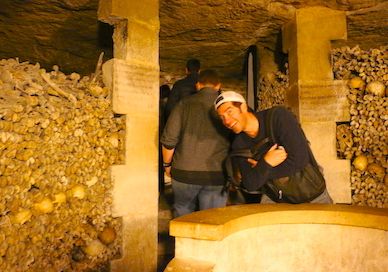 Likely to Sell Out
Privileged Access Paris Catacombs Small Group Tour
Discover the darkness beneath the city of light. Leave the crowds behind and let your guide enlighten you with the mystical folklore surrounding the medieval tombs.





See Prices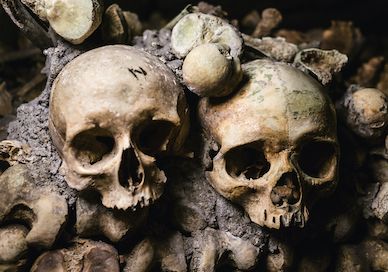 Likely to Sell Out
Skip the Line Paris Catacombs Tickets
While we recommend a guided tour, our goal is to provide customers with as many options as possible. Skip the line Paris Catacombs tickets are a great value!





See Prices
Paris Catacombs Tickets
Paris Catacombs tickets are incredibly expensive in respect to other museums which is something to consider and most of the reason why tours tend to be priced closer to 100€ per adult. That said, it is a really cool experience well worth the money. How often do you get to see millions of skeletons? We all have a dark side!
Admissions:
Adult- 29 euros
Reduced ( 18 years old and under) 5 euros
Note: They also sell tickets the day of for a reduced price of 14 euros for adults, but they don't last long so you need to be fast in the morning. Under 18 years old stays the same.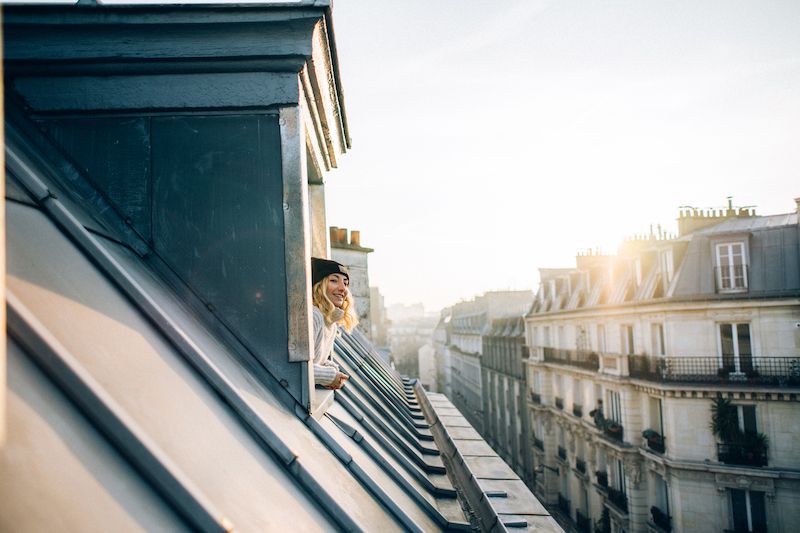 Find the best places to stay
Where to Stay in Paris
With a city as magnificent as Paris, it can be hard to find the perfect hotel at the perfect price. Explore the best hotels and places to stay in these incredible neighborhoods in Paris.