Want to see the darker side of the City of Light? Head to the Paris Catacombs. You'll descend over 100 steps and 65 feet (20 m) underground into the largest necropolis in the world housing the remains of more than six million bodies. Here's everything you need to know to visit the Paris Catacombs from tickets to guided tours and more.
---
Pro Tip: Planning what to do on your trip to Paris? Bookmark this post in your browser so you can easily find it when you need it. Check out our Paris Catacombs guide for more planning resources, our privileged-access Paris Catacombs tour for a memorable trip, and the top things to do in Paris.
Visiting the Paris Catacombs: What We'll Cover
Imagine you're walking down a street in a metropolis like New York City and everywhere you go, there's a putrid smell in the air. That's what life was like in Paris back in the mid-18th century because the main cemetery in the city, the Holy Innocents Cemetery, overflowed with dead bodies. Thus, the catacombs project was born and legends created.
Before you visit the Paris Catacombs, here are some numbers to consider: You'll be descending 65 feet (20m) below ground, your visit will involve 243 steps (131 going down and 112 coming back up), and you'll be walking 4,921 feet (1,500 m) of tunnels. Here's what else you need to know about visitng the Paris catacombs:
Paris Catacombs Opening Hours and Tickets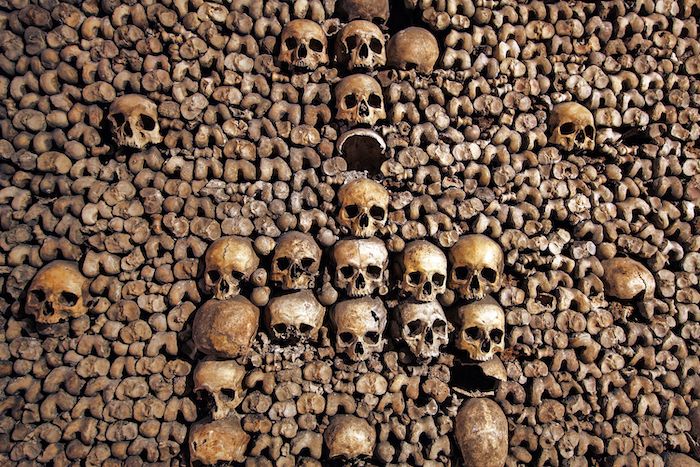 Opening Hours:
Open: Tuesday – Sunday, 9:45 am to 8:30 pm, last admission is at 7:30 pm.
Closed: Mondays, January 1st, May 1st, January 25th
Note: The ticket window closes at 7:30 pm, so make sure you get there before then if you decide to go in the evening.
Pro Tip: Since it doesn't open until 9:45 am, most people will try and get there around this time. I recommend that you go as late as possible, or join a tour that skips the line. The last entrance is at 7:30 pm, so aim to get there around 7 pm and you might be surprised to find yourself inside with only a few other people!
Tickets:
You can buy your Paris Catacombs tickets on-site or online in advance. It's also possible to buy last-minute tickets (on the day of your visit) online for a reduced price (except in summer): €15 for adults and free for under-18s, but they don't last long so you need to be fast in the morning.
Adult tickets: €29
Reduced tickets: €27
Children under 18: €5
Pro Tip: The catacombs only allow a certain number of visitors per day. There can also be up to a 3-hour wait to get in. We recommend you buy your tickets in advance and show up five minutes before your allotted time and enjoy it! Even better, buy skip-the-line tickets in advance.
Address: 1 Av. du Colonel Henri Rol-Tanguy
Popular Paris Catacombs Tours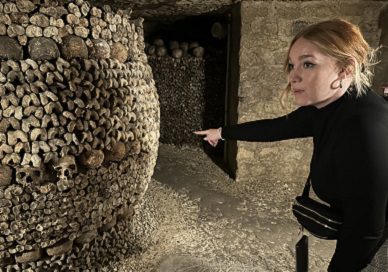 Likely to Sell Out
Paris Catacombs Tour with Secret Rooms & Privileged Access
Explore the deep history of tombs, executions, and legends here with our English-speaking guide who will make it an experience of a lifetime. Skip-the-line admissions and access to exclusive areas that the public can't access make this the best tour of the Paris Catacombs.





See Prices
Not ready to book a tour? Find out if a Paris Catacombs tour is worth it.
How Long To Spend at the Paris Catacombs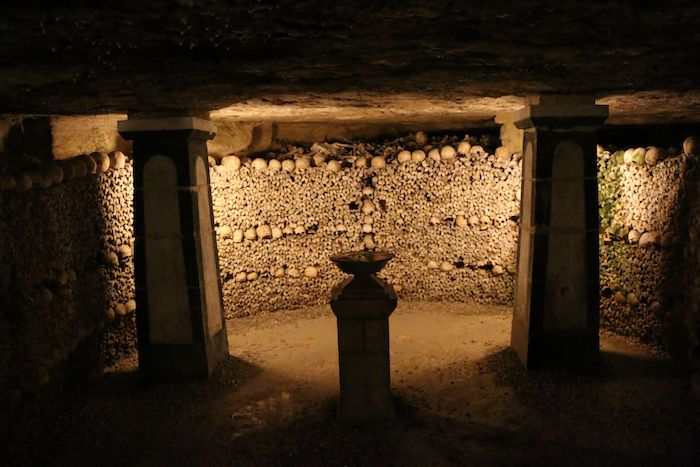 Short answer: 1 hour
Visiting the Paris Catacombs is a really cool experience. How often do you get to see millions of skeletons beneath the streets of Paris? Plan to spend around an hour in the catacombs. Some people will be more fascinated than others, but the actual setup is quite interesting. It can be slow going with the steps and the 1.5-kilometer one-way circuit of the catacombs.
It's important to keep in mind that the catacombs have been open to the public since 1809. That's over 200 years of people walking around the tunnels! So, they built them in such a way that they're a form of entertainment as well.
As a result, you'll see various formations of bones put together in strange, but amusing piles at certain points. If you think you'd enjoy spending a bit longer in the catacombs and seeing some areas off-limits to the general public, join our privileged-access Paris Catacombs tour.
Pro Tip: Wear comfortable shoes and take a sweater or light jacket. You may be tempted to dress up on the day of your visit—it's Paris after all! However, trying to see the catacombs in high heels or your new Ferragamos would be a huge mistake. You'll be walking in an underground tunnel with loose earth, dirt, and even some wet spots. Also, the temperature underground is a constant 57.2 ºF (14ºC), so if you get cold easily, bring something warm to wear.
What To See at the Paris Catacombs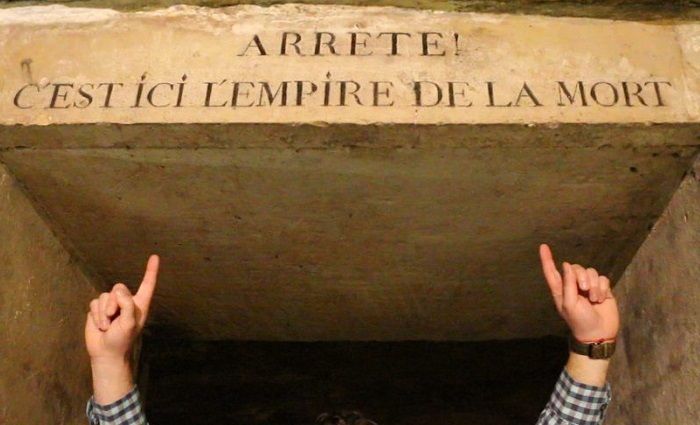 As you make your way down into the Paris Catacombs, keep an eye out for these interesting sights. For more in-depth descriptions, related stories, and images, see our article on the top things to see in the catacombs.
This cemetery had been in use since the Middle Ages and various attempts had been made to move the bones and burials. The church opposed moving the existing bones due to the sanctity of burial but also didn't want to stop burials in the cemetery, because of the burial fee they charged.
Burials continued there until the cemetery was finally closed in 1780 out of desperation—and for the important reason of hygiene. The cemetery was located right next to the biggest food market in the city, Les Halles. In 1788, they started to move the bones to subterranean tunnels located below the city, which became known as the Catacombs.
"Stop, This Is Death's Empire" sign
The tunnel names
The well
Rendering of Citadel De Mahon
Cross-Roads with the Lower Catacombs
The Barrel of Passion
Paris Catacombs Tour Options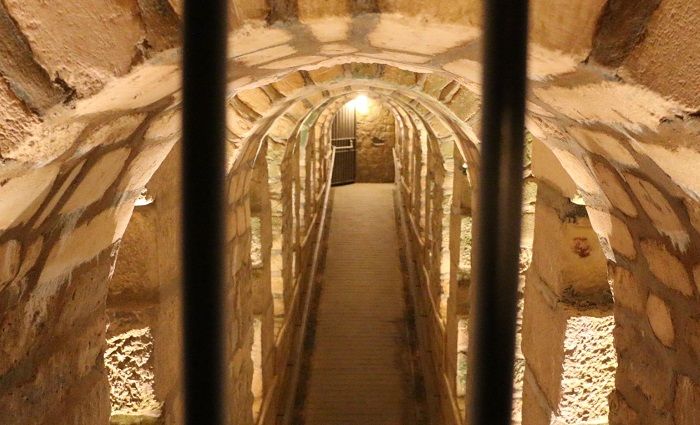 In use since 1788 and open to the public since 1809, the Paris Catacombs have a long history and many bone-chilling legends to show for it. If you're interested in hearing the creepy stories of those that were lost to the catacombs and exploring special-access areas, a guided Paris Catacombs tour is definitely for you.
Your cataphile guide will reveal the dark folklore of this mysterious underground world, guide you through a labyrinth of tunnels, and make sure you find your back to the surface. Here are our best-selling catacombs tours and tickets with skip-the-line access.
Looking for a unique experience that's off-the-beaten-track? Discover the darkness beneath the City of Light as you skip the lines and avoid getting lost in this labyrinth by following a local guide. You'll have access to areas restricted from the general public as your guide enlightens you with the mystical folklore surrounding the mysterious and paranormal tombs.
See tour itinerary, price, and description
If you just want to have the benefit of skipping the line, then consider booking a ticket with us. While we recommend a guided tour to help you understand what you're seeing and gain access to restricted areas, skip-the-line tickets are a good option if you've been to the Paris Catacombs before or are familiar with the history of these tombs. You'll see key rooms, crypts, and bone displays that are available to the public.
See tour itinerary, price, and description
Not ready to book a tour? Find out if a Paris Catacombs tour is worth it.
Places To Eat Nearby
Here are a few recommendations for great places to eat near the Paris Catacombs. For more options, see our article on the best restaurants nearby.
La Coupole: €€€ | French Brasserie—A great place with lots of history and Art Deco decor. Since it's always very busy, La Coupole is not the place to go if you're in a rush. Sit back and soak up the atmosphere while enjoying French classics.
Au Petit Marguery: €€ | Fantastic Soufflé—Amazing french restaurant with delicious frog leg appetizers and large portions. Make sure to leave room for dessert—the soufflé is out of this world!
La Closerie Des Lilas: €€€ | Terrace—Located in a beautiful neighborhood, the food, wine, staff, and ambiance are great at this restaurant. Listen to live music while enjoying our favorite—shrimp risotto!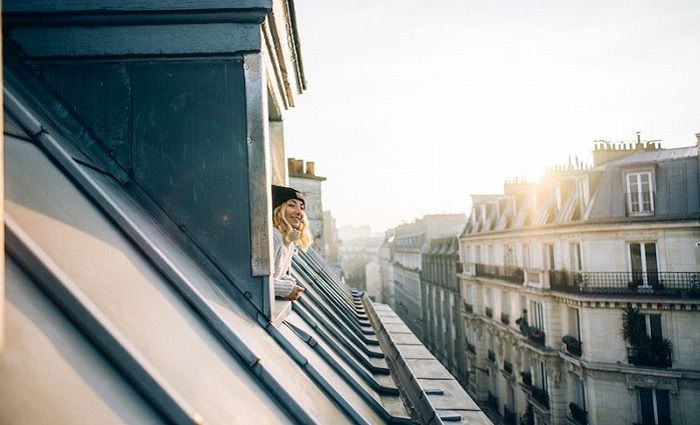 Find the best places to stay
Where To Stay in Paris
With a city as magnificent as Paris, it can be hard to find the perfect hotel at the perfect price. Explore the best hotels and places to stay in these incredible neighborhoods in Paris.