\Near the Paris Catacombs and looking for a great place to eat? We know the feeling. That's why we deployed our local experts who made this list of the best restaurants near the Catacombs in Paris. Nothing creates an appetite like walking past millions of skeletons, am I right?
---
Travel Tip: If you are planning ahead for your trip to Paris, bookmark this post in your internet browser on your phone. This way you can circle back to it easily.
Also, if you are planning to see the Paris Catacombs, do so with a local expert or catophile! We have small group tours of the Paris Catacombs that will bring the ossuary to life! Figuratively speaking… hopefully!
Top 5 Places to Eat Near the Paris Catacombs
Visiting the Pairs Catacombs is a treat for a few reasons. First off, they are really cool and creepy. Secondly, it's a little bit outside the immediate center of Paris and the city gets a little more residential. That means great restaurants, boulangerie, and places to eat. We asked our locals guides in Paris where they would break bread in the area and they came back with this list. These are the best restaurants near the Paris Catacombs.
Le Zeyer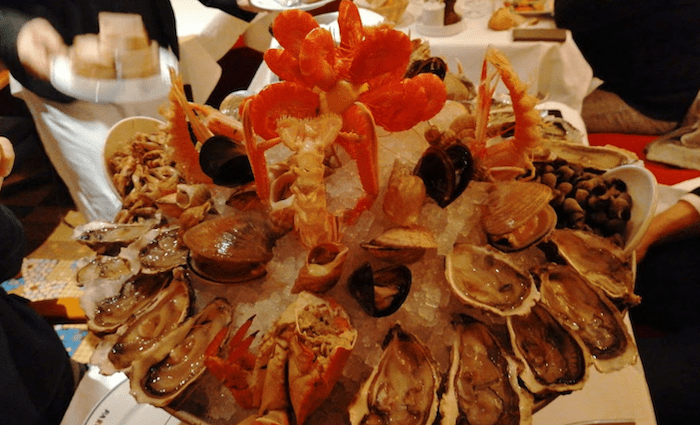 Address: 62 Rue d'Alésia, 75014 Paris
Hours: Saturday – Sunday: 12 p.m. – 12:15 a.m., Monday – Friday: 8 a.m. – 12:15 a.m.
This is a fantastic choice of tradition mixed with excellent service. The decor has a '50s vibe with wooden carved panels and art deco light fixtures. Le Zeyer is a very authentic restaurant situated on a busy roundabout near the center of Paris.
We recommend the bavette steak or seared sea-bass for the main course. Save space for a crème brûlée dessert! Le Zeyer is the perfect brasserie vibe with a covered and heated patio wrapping around the entire exterior of the restaurant. Great for enjoying a cocktail!
La Closerie des Lilas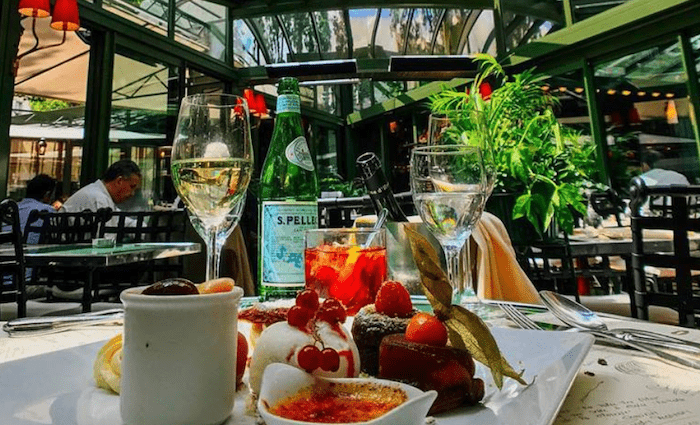 Address: 171 Boulevard du Montparnasse, 75006 Paris
Hours: Monday – Sunday: 12 p.m. – 1 a.m.
Located in a beautiful neighborhood with traditional french cuisine oozing from the kitchen. The food, wine, staff, and ambiance are great. The prices of dishes here are a bit steeper, but it's worth every penny. The dining room has a lovely piano which is played throughout the evening by a talented pianist. Listen so some live music while enjoying our favorite – shrimp risotto! For dessert, the Cafe Gourmand is superb every time. Take your time and fully get your money's worth with a long dinner in this classic location.
Paris Tours
Tours are one of the best ways to get to know the true history and secrets of major cities and attractions. Why? Local tour guides share a wealth of stories that will make your experience more memorable—often with skip-the-line access!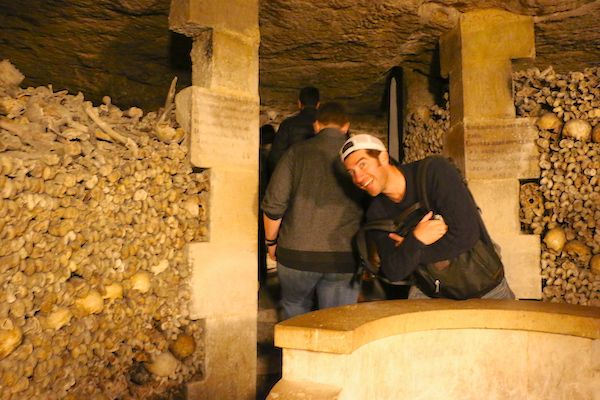 Best-Selling Tour
Privileged Access Paris Catacombs Tour with Secret Rooms
The Paris Catacombs are unlike most attractions you can visit since it's an underground burial ground with 6 million skeletons adorning the walls. Learn the deep history here with our English-speaking guide for an experience of a lifetime. Skip-the-line admissions included.





See Prices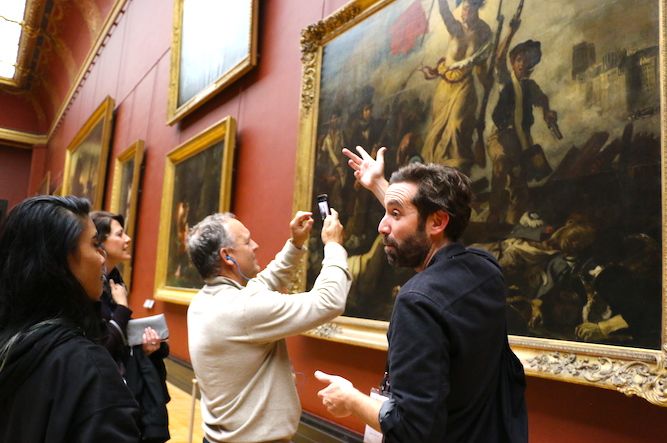 Top-Rated Tour
Royal Louvre Palace Tour with Mona Lisa & Crown Jewels
The Louvre is the largest art museum on Earth and the crowning jewel of Paris. It embodies the French vigor for life. Join a passionate, English-speaking guide for a tour of the most famous artwork. Skip-the-line admissions included.





See Prices
Au Petit Marguery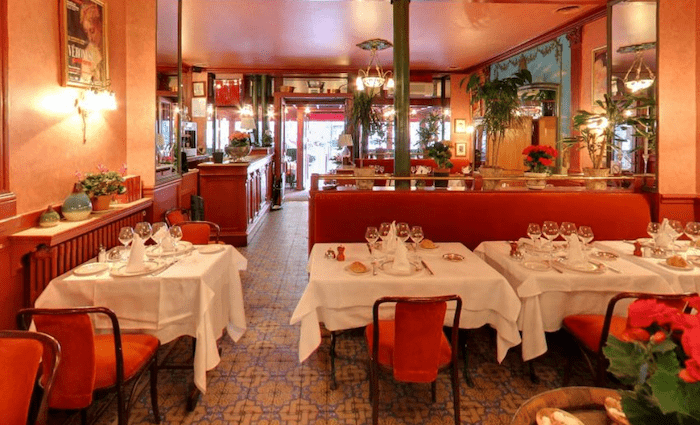 Address: 9 Boulevard de Port-Royal, 75013 Paris
Hours: Monday – Sunday: 12 p.m. – 2:15 p.m. | 7:15 p.m. – 10:15 p.m.
Amazing french restaurant with delicious frog leg appetizers and large plate sizes. The staff is extremely welcoming with great humor. The prices here are reasonable and every item of food is homemade with fresh and local ingredients. For a main, the pan-browned veal sweetbreads, eggplant and tomato gratin and shrimp tagliatelle are exceptional. Make sure to leave room for dessert – the soufflé is out of this world!
Cave La Bourgogne
Address: 144 Rue Mouffetard, 75005 Paris
Hours: Monday – Sunday: 7 a.m. – 2 a.m.
Cave La Bourgogne serves amazing confit du canard with garlic potatoes and a salad, and why not also try the beef bourguignon while you're at it. All of the meals are very comforting, delicious, and reasonably priced (you can usually eat and drink for under 20 euros per person). The atmosphere is very friendly, even for kids, and welcoming with many locals randomly encountering friends.
La Coupole
Address: 102 Boulevard du Montparnasse, 75014 Paris
Hours: Sunday – Monday: 8 a.m. – 11 p.m.
A great place with lots of history and Art Deco decor. Since it's always very busy, La Coupole is not the place to go if you're in a rush. Sit back and soak up the atmosphere while enjoying French classics. They offer tasting platters that range in size and price. There's also an oyster bar, elegant french onion soup, roasted duck breast, mussels and fries, chocolate lava cakes, crêpes and millefeuilles.
Check Out Our Best Versailles & Paris Louvre Tours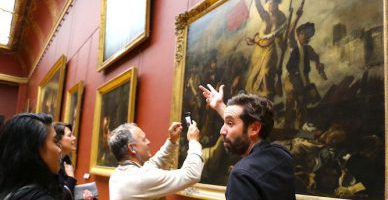 Top-Rated Tour
Royal Louvre Palace Tour with Mona Lisa & Crown Jewels
The Louvre is the largest art museum on Earth and the crowning jewel of Paris, which is why it's on everyone's bucket list. Don't be left out of an incredible opportunity! Join a passionate guide for a tour of the most famous artwork at the Louvre. Skip-the-line admissions included.





See Prices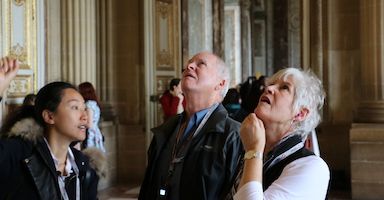 Likely to Sell Out
Skip-the-Line Palace of Versailles and Gardens Tour from Paris
Versailles isn't that difficult to get to by train, but why stress over the logistics? Meet a local guide in central Paris who will purchase your train tickets and ensure you get off at the right stop. Then enjoy a guided tour of the palace and the unforgettable gardens. Skip-the-line admissions included to the palace and gardens.





See Prices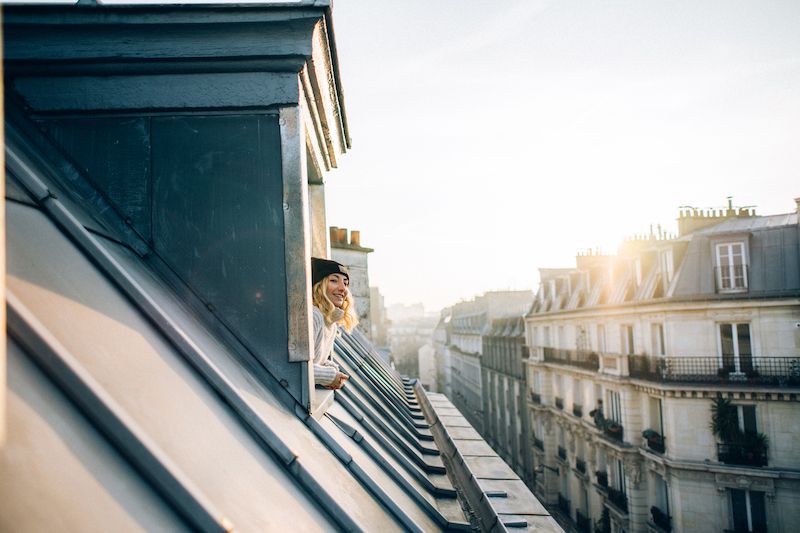 Find the best places to stay
Where to Stay in Paris
With a city as magnificent as Paris, it can be hard to find the perfect hotel at the perfect price. Explore the best hotels and places to stay in these incredible neighborhoods in Paris.