Westminster Abbey
Explore England's most historic church
Get to Know Westminster Abbey
A visit to Westminster Abbey is almost obligatory when you vacation in London. This stunning church's origins date back to 1066 A.D., though the current structure is more recent. Most people are probably familiar with this building as the site of three key events: the coronation of Queen Elizabeth, the funeral of Princess Diana, and the wedding of Prince William and Kate Middleton.
However, as you'll learn on a guided tour, there's much, much more to this ancient building. Over 3,000 people of note are buried here and you can explore many of the tombs, effigies, and sarcophagi. Famous scientists, composers, writers, nobles, kings, and queens are peacefully laid to rest here. Find out how to visit, what to see, and what tours you should take of the abbey!
Top Westminster Abbey Tours
Tickets to the abbey are available throughout the year, but the lines to enter can grow long, even in the morning. So, your best bet to visit Westminster Abbey is to join a guided tour with skip-the-line access. This gets you into the remarkable church before the public makes it inside, so you can have some quiet time with your guide in the nave. There's more to see at Westminster Abbey than you think, so seeing it with a guide ensures you'll leave with stories and facts that are worth sharing with family back home.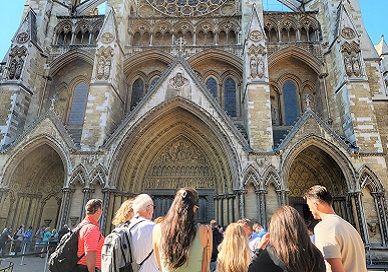 London Walking Tour with Westminster Abbey and Changing of the Guard
Hit up two popular destinations in London at once! Follow your guide through England's most famous church, then through St. James' Park to see Buckingham palace and the Changing of the Guard.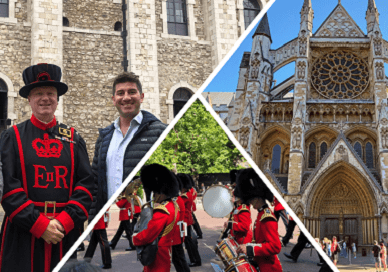 London in a Day Tour with Westminster Abbey and Tower of London
You really can see the most popular locations in London in a day like Westminster, Trafalgar Square, Buckingham Palace, and Tower of London! With skip-the-line tickets and an expert guide to teach you the backstories, tragedies, and crazy events, you'll fall in love with this old gem of a city.
Latest Westminster Abbey Articles
Either you've been living under a rock, or you know that King Charles will be the first British monarch crowned since 1953. This historic occasion will be filled with pomp and circumstance, but what should you know, and how can you experience it? Find out all about King Charles' coronation below, including how to get…
Continue Reading What You Should Know About King Charles III's Coronation