London is easily one of the World's greatest cities and often times that is proven by its annual visitors. It often ranks among the top 3 to 5 most visited cities with 20M+ visitors per year! This type of attention is due to how much there is to do in London from food culture to history, and bucket list items. This article details the top things to do in London and we'll break them into categories so they are easy to digest!
---
What is a thing to do anyway? For some, it is visiting a famous museum and for others, it is grabbing a beer in a cool courtyard bar. Both are definitely activities so we broke down these types of things along with others into easy-to-navigate categories so there is something for everything! Check out this mega list!
The 24 Best THINGS TO DO and SEE in London
Here's my list of the coolest and quirkiest things to do while in London. From a hidden cafe in a crypt to a hotel that has Europe's highest swimming pool, you'll agree they all point to a fun-filled day!
24. Don't Eat Fish & Chips
Britain isn't just about fish and chips. Gone are the days when they were proudly served in old newspapers – yes they actually were! But today most of the 'chippies', as they are nationally known, have been transformed into more multi-cultural or healthier eating options. Others have become tourist attractions in locations such as Tower Hill. So broaden your horizons and embrace the variety!
23. Walk the Queen's Walk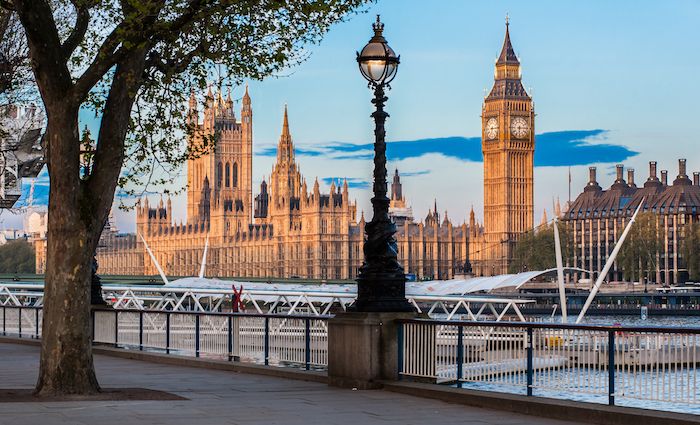 You'll be spoilt for choice for tourist hotspots along this stretch of river from Lambeth Bridge to Tower Bridge. Along the Lambeth Pier section, there are great views of the Houses of Parliament and a number of places to stop off for food and drink – including the previously recommended Riverside Cafe. Just after Westminster Bridge, you'll also pass the London Eye and London Aquarium. It's quite a walk, with attractions such as the BFI Southbank and the National Theatre along with South Bank. Admire South Bank's unique brutalist architecture without missing a stride!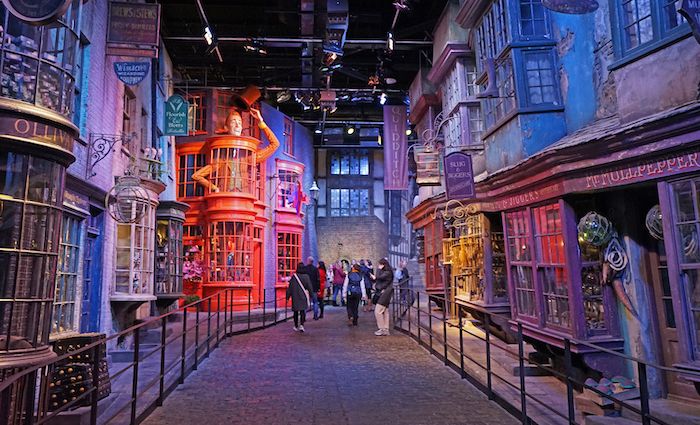 Film fans in general and Harry Potter fans, in particular, will relish the opportunity to see the Warner Bros film studio where all the films were made. You get to walk through the Forbidden Forest, Diagon Alley, and Great Hall. Also, visit Platform 9-3/4 to board the self-same Hogwarts Express from the movie. And no visit would be complete without checking out the movie magic of the special effects department and other behind-the-scenes attractions. It's confusingly called the Warner Bros Studio Tour London but the studios are in Leavesden, Watford 20 miles outside London. Studio tour tickets start from £47.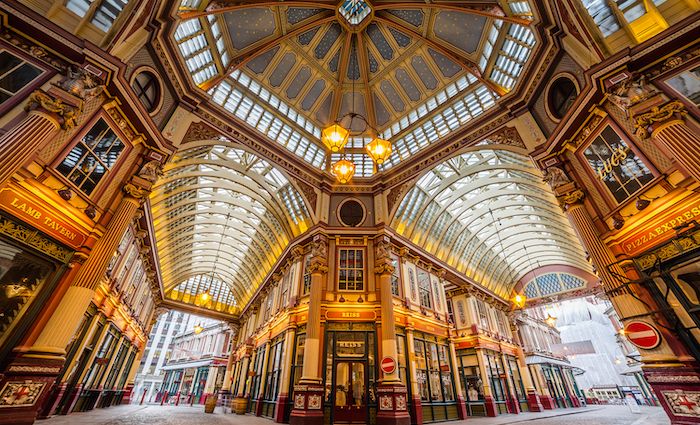 2021 is the 700th anniversary of Leadenhall Market! The market site dates back to Roman times but the current market was built there in the 14th century. So it's one of London''s oldest! The Victorian architecture and stunning arches are so quirky that scenes from Harry Potter and the Philosopher's Stone were filmed here. It inspired the look of the movie's Diagon Alley. This mix of movie magic and rich culture make it a must-visit for those looking for somewhere special to drink and eat. Also, there's the option of shopping at its boutiques, jewelers, and bookshops before or after your drink.
20. Visit Stonehenge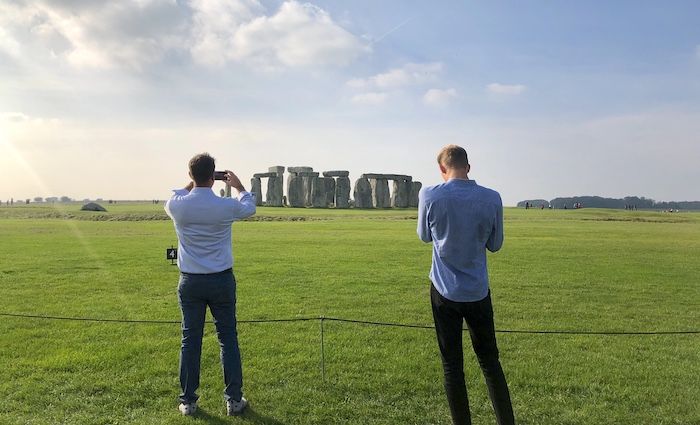 If you are the type of person that is interested in your origins then Stonehenge is a must. The structure was constructed and added on over the course of a thousand years between 3000 to 2000 B.C. at the beginning of the Bronze era. You could describe it as a pile of rocks, which it is, or as a glimpse of our origins as Homo sapiens.
It is also larger than life and belittling to witness. The stones were dragged from Wales down to the south of England to create this impressive structure. They are definitely not "just" piled onto one another as there is an impressive system of joints. You can read about it in our article on the history of Stonehenge including tales of pot-smoking hippies and also join one of our tours from London!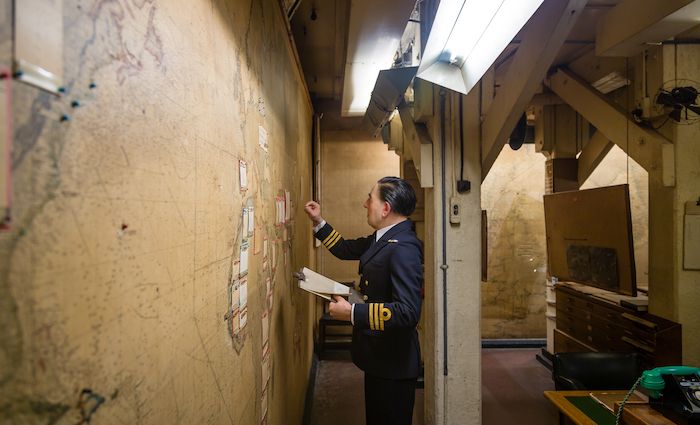 It is on the actual site in King Charles Street, Westminster where Winston Churchill, Britain's greatest Prime Minister, led the allied response to Hitler. Explore its secret underground halls and corridors. Also, there's a Churchill Museum where you can learn little-known facts about his remarkable leadership. There's even a BBC Broadcast Room where the speeches from the War Room were broadcast to the nation. Churchill was known for his stirring speeches which raised the nation's spirits during the war.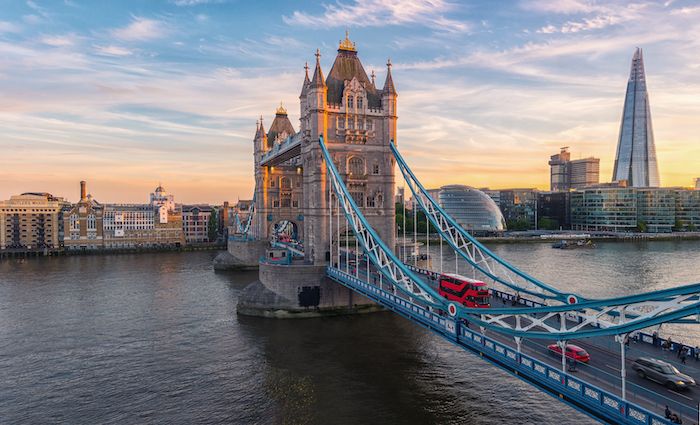 The stretch of Tower Bridge close to City Hall where the Mayor of London is based is dotted with eateries and buzzing with joggers and visitors. You can also pay to enter the bridge itself and enjoy views from its glass walkway known as the Glass Floor. Also, there are the Engine Rooms just under the bridge where the history of its Victorian-era engineers and workers are documented.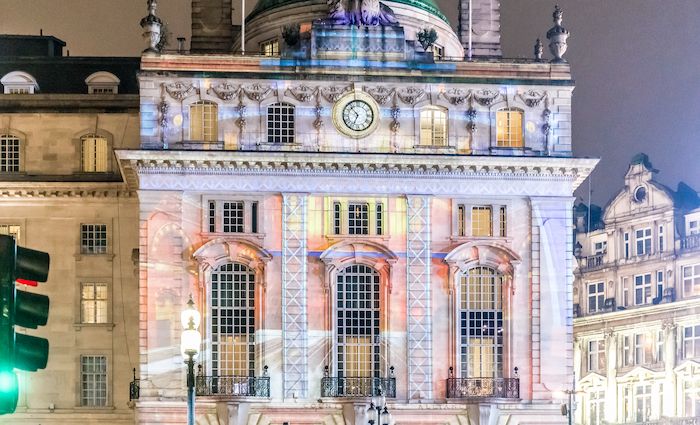 Piccadilly has retained its reputation as a classy district since the 17th century. Back then, it was named after the fancy lace collars called Piccadills that were sold there. Some of the shops on the adjoining stretch of road called Piccadilly still have Georgian-era fronts including Hatchards which is London's oldest bookshop, established in 1797. My recommendation is to start your day chilling out on the steps around the statue of Eros, as it is commonly known. It is a popular gathering place for tourists and street performers. From there, most of your options are within eyesight, including the Piccadilly Lights and the West End's Theatreland.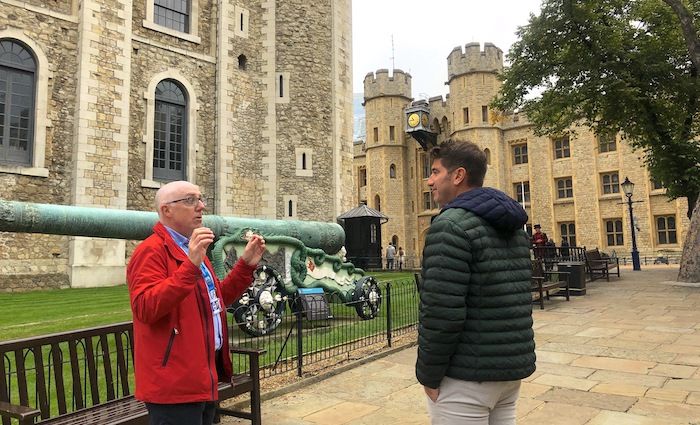 The Tower has a gruesome history. The UK's political prisoners and the monarch's enemies were imprisoned and tortured here centuries ago. Its most famous prisoner was Guy Fawkes, a zealous Catholic who almost succeeded in blowing up the Houses of Parliament in 1605. He is commemorated by Guy Fawkes Night (Bonfire Night) every November 5th. The Crown Jewels, the monarch's most valuable jewels of state, are also kept here. Its official protectors, the Yeoman Guards are better known as Beefeaters. They still dress in the distinct 16th-century red uniform. Look out for the ravens that are kept on the grounds. Their care and presence is to appease a Tudor-era omen that if ever the ravens left the Tower the monarchy would be doomed.
Your best bet for curries is Brick Lane in London's East End. It's away from the bright lights of the city center but bustling with its own energy. The curry houses are more or less next door to each other all the way along the street! They proudly display their numerous national and local catering awards to drive customs their way. With that high level of competition, you can understand why it's necessary for them to use friendly street staff who try to gently tempt you with food and price incentives.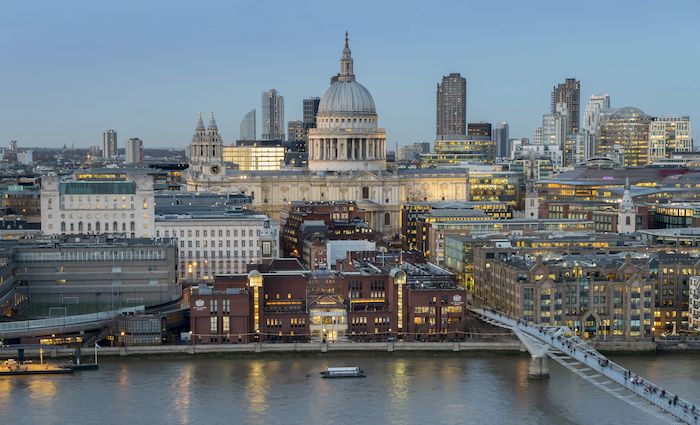 This magnificent building is not only a historic landmark but a buzzing gathering place for tourists. They can be found sitting on the steps around the entrance and lunching and lazing in its surrounding gardens. The awesome baroque architecture is the work of Britain's greatest architect Sir Christopher Wren. Many famous people have been baptized, married, and buried here, including Wren himself who was buried in 1723. Prince Charles and Lady Diana and also David Beckham and Posh Spice (Victoria) from the Spice Girls were married here. Tickets can be purchased for a sightseeing tour of the ornate crypt, galleries, and dome. The Whispering Gallery is famous for carrying voices around the walls in a spooky way!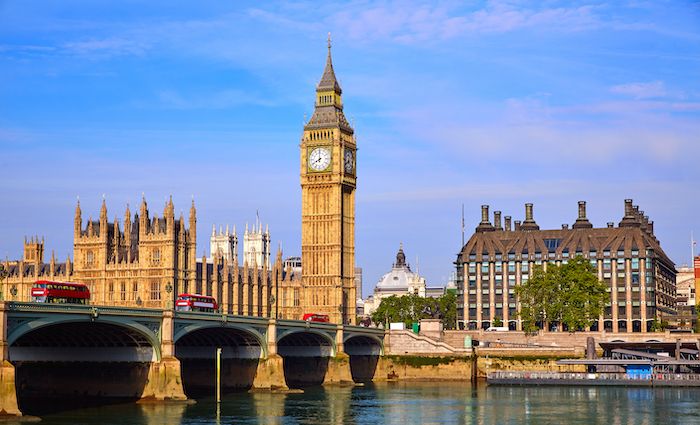 Unfortunately, Big Ben is still covered in scaffolding so you won't see the structure in its full glory. However, the repairs will be complete by the summer of 2022 and you will also get to hear its world-famous chimes for the first time since 2017. The bell and tower have undergone numerous repairs but this is by far the most lengthy and extensive conservation project.
12. See London from the Thames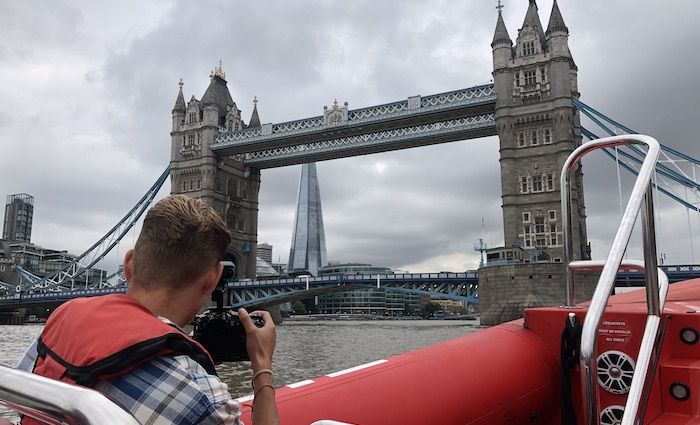 The Thames runs through London and offers a whole new perspective on the city which is why it is nice to see by boat. Granted, the city can get a bit cold so you'll have to prepare ahead, but there is a speed boat company named Thames Rocket which offers tours of the city from a super-fast red boat!
It's not just about going fast, which they do go fast, they stop and describe different parts of the city and interject a lot of that British dry humor we all love. Another experience you won't soon forget!
11. Stay at a Fancy Hotel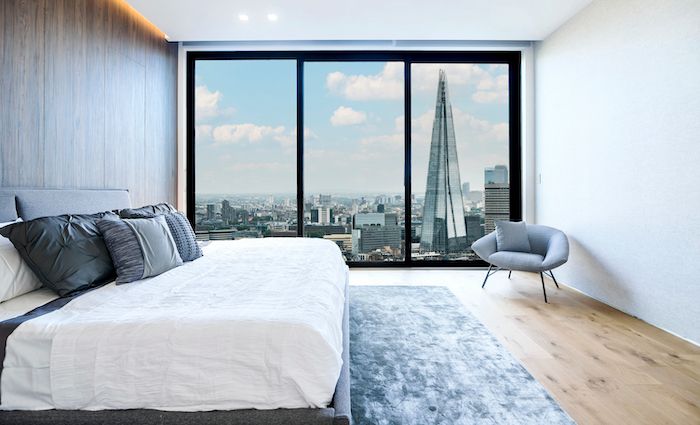 The Ritz and Claridges, both in Mayfair and the Savoy in the Strand, are London landmarks and have the grandeur and illustrious history to demand the highest prices. So if you have the bank balance to back it up you can be pampered like a prince, president or rock star for a few weeks. At the Savoy Restaurant, you can also dine like one, as this Michelin-starred restaurant has celebrity chef Gordon Ramsay at the helm. But if you prefer a hotel experience beyond these historic institutions, try Shangri La at the Shard. It only opened in 2014 and has incomparable views of London as it's the capital's tallest building. It also has a Sky Pool, which is Europe's highest hotel pool with views across London that are similarly unmatchable.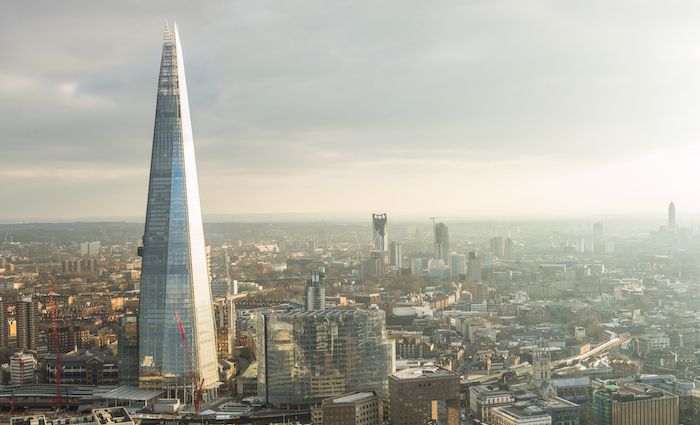 This is the UK's tallest building so expect stunning views of the capital from the upper floors. Hey, perhaps the architects deliberately constructed it as a glass pyramid knowing it would double up as a visually appealing viewing platform. Their highest viewing platform has open-air panoramic views. There are also restaurants and bars to enjoy the cityscape in a more chilled-out mode.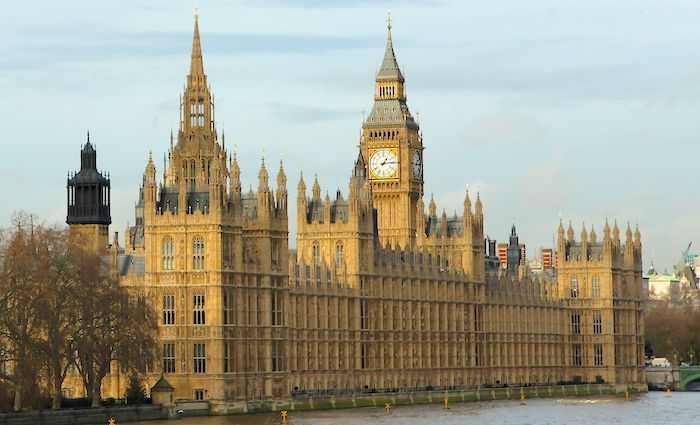 The Houses of Parliament are located in Westminster, the UK's political center. Members of Parliament, legislators, and the Prime Minister gather here to debate policy and pass laws. On Wednesday or Thursday morning you may even catch the Prime Minister arriving at the Cromwell Green entrance opposite Parliament Square with his security entourage. Tourists often gather at a patch of green called Parliament Square to admire the statues of political greats such as Winston Churchill, Nelson Mandela, and Gandi. Campaigners and political protestors also meet here so it can get a bit noisy and heavily policed. If you're looking for quieter green, try Victoria Tower Gardens a nearby park where you'll also find a landmark bronze statue called the Burghers of Calais, by Auguste Rodin.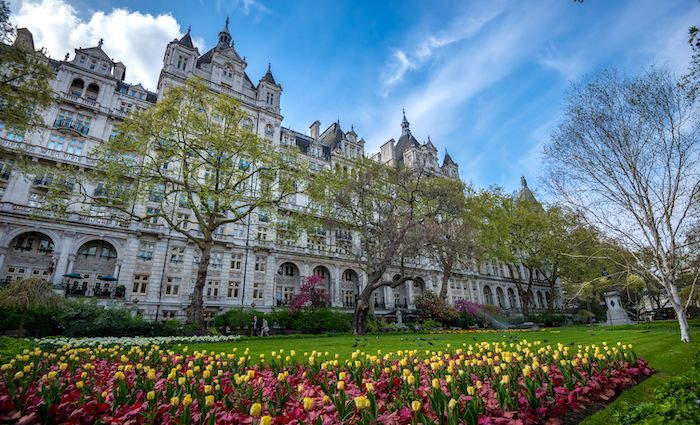 This is a welcome and pleasant patch of green in an area with a concentration of government ministry buildings. You'll find construction workers and government civil servants alike having their lunches here. It's the ideal walk before planning the rest of your after-lunch visits. Fortunately, The Strand is ten minutes away and South Bank and Westminster are within easy reach.
7. Visit Windsor Castle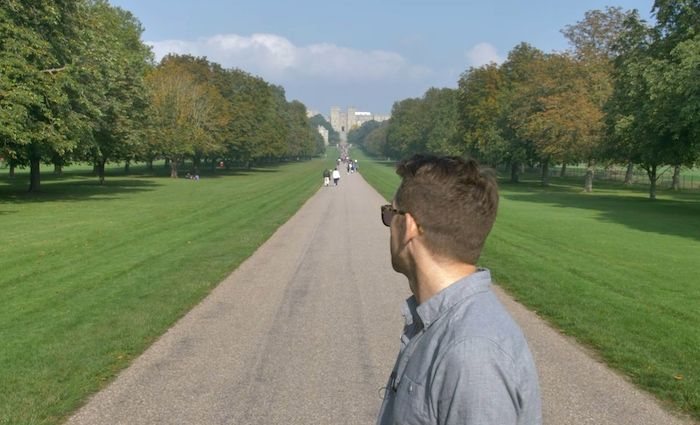 Windsor Castle is an epic site just over one hour from London which makes it great for a day trip. The town feels like a medieval village, which it basically is, and is centered around the castle and a large restaurant and shopping area with tons of restaurants.
The entire experience of visiting the home of this historic family is something you won't forget. We walked into one of the largest "halls" I have ever been in only to find out it was where Megan and Harry had their wedding reception. The idea of walking on the same floors as the Queen of England was powerful.
6. Westminster Abbey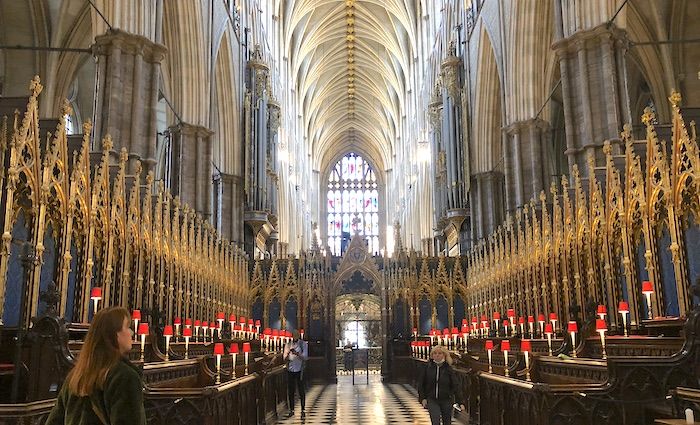 This 750-year-old, gothic place of worship is one of the most famous attractions in the UK, if not the world. The nation's greatest monarchs, prime ministers, and celebrated scientists, playwrights, poets, and authors are either buried inside the Abbey or within its grounds. Inside there are also statues and plaques honoring historical figures buried elsewhere. The illustrious list includes Charles Dickens, Stephen Hawking, and Winston Churchill.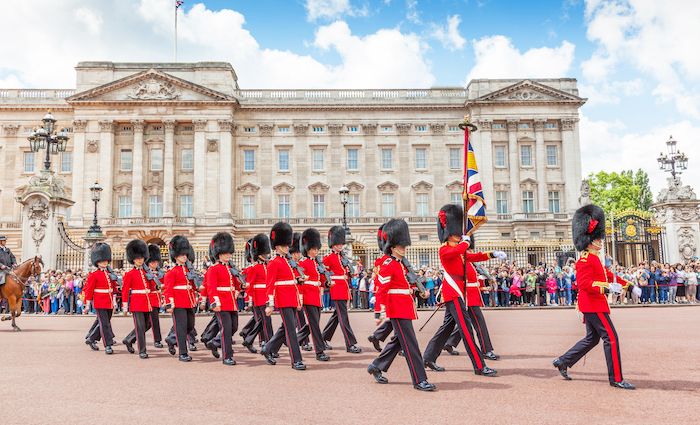 The famous red-tarmacked road leading to the palace is known as the Mall. It will prove to be a memorable and uplifting stroll, with St James Park, a royal park, also along this stretch of road. The palace is popular in any season but particularly in spring-summer when tourists congregate around the Victoria Memorial statue opposite the palace and chill out on the steps. After your palace visit, you can also check out another Royal Park right next door – Green Park.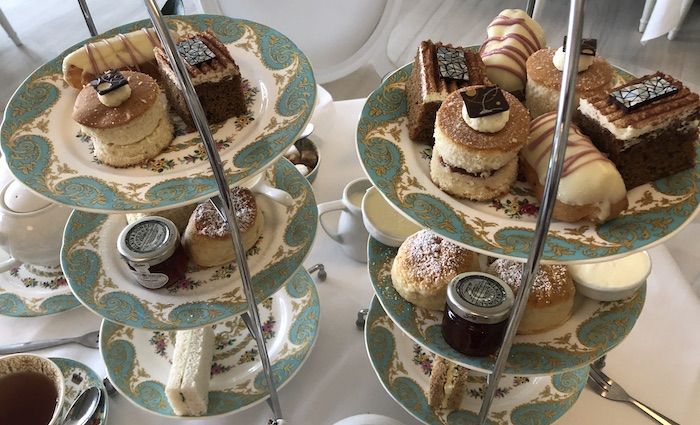 My recommendation for a 'cuppa' as it's often called in the UK is a cafe in a very public place (the West End) but with a very secretive, understated vibe. You could almost walk past Cafe In The Crypt because from the outside it doesn't look anything like one! The glass cylindrical front is more like the entrance to a fancy public toilet. But once inside you'll discover this is a purpose-built cafe like few others in the capital. There are authentic tombstones inside the cafe but hopefully, they won't put you off your food and drink.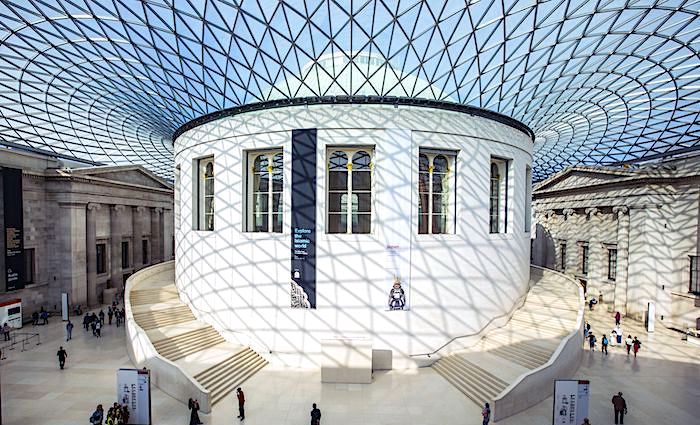 This museum has vyed with the Tate Modern as the UK's top tourist attraction over the years. The sprawling neoclassical architecture is a tourist attraction in itself. But once inside you'll want to visit the collections in the Enlightenment Room, which is full of quaint English curiosities and inventions from the Victorian age when England led the scientific Enlightenment.
This is the largest and most famous of the Royal Parks. Much frequented by joggers, it comes alive like no other in summer when tourists flock to the Serpentine Lake to hire boats or soak up the English sun. You can also visit the Diana Memorial Fountain. There's usually a summer gathering of hippy drummers whose numbers grow considerably as the rhythmic beats drift around the park and attract spontaneous dancers. Woodstock vibes in the summertime!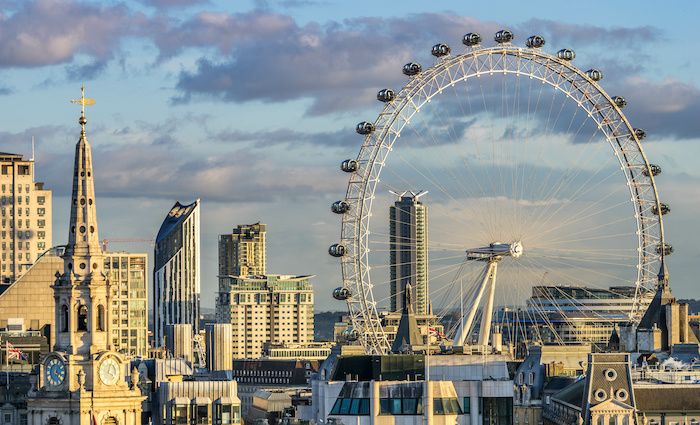 What a turnaround! When it was first opened it received criticism from many who questioned its purpose and they were all proven wrong. Well, now they know it's a cantilevered observation wheel – and the world's tallest. It's situated along Westminster Road which is a vibrant area full of attractions that light up at night. The dazzling lights on the wheel stand out most amongst these. From those dizzy heights, you can enjoy panoramic views of landmarks such as The Houses of Parliament and Big Ben.