There are 1000 years of British history in Westminster Abbey and it's arguably the nation's most historic place of worship. It has been the coronation place for the UK's monarchs since 1066. Many of the nation's royals, prime ministers, and celebrated writers, actors and scientists are buried or commemorated here. 
I'll make it easier for you to get around the Abbey by giving you up-to-date ticket info and what-to-see tips. You can also read our brief history section for more on its fascinating history. As you'll see, we cover more than enough for your solo visit or guided tour of Westminster Abbey.
---
Pro Travel Tip: It might be a good idea to bookmark this article in your browser. This way you can circle back to it when you are getting ready to book your trip. Also, check out our dedicated page on London and our tours of London!
What We'll Cover
Opening Hours and Tickets/Admissions
Opening Hours & Admissions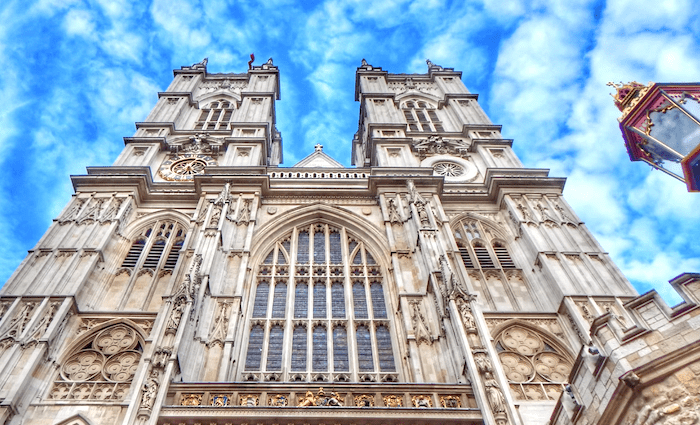 Westminster Abbey is open every day but access to some spaces may be restricted if there are church services. Also, hours may be reduced accordingly.
Monday to Friday: 9.30 am – 3:30 pm
Saturday: 9.00 am – 1.00 pm
Sunday: Church Services
Admissions
Adults £24
Seniors £21
Students £21
Child (6-17 years) £10
Child (0-5) Free
Families ( 1 adult, 1 child) £24
Looking for all the hairy details about Westminster Abbey? How about the 3000 bodies under the floor? Check out our local-led tours!
How Much Time Will You Need To See The Abbey?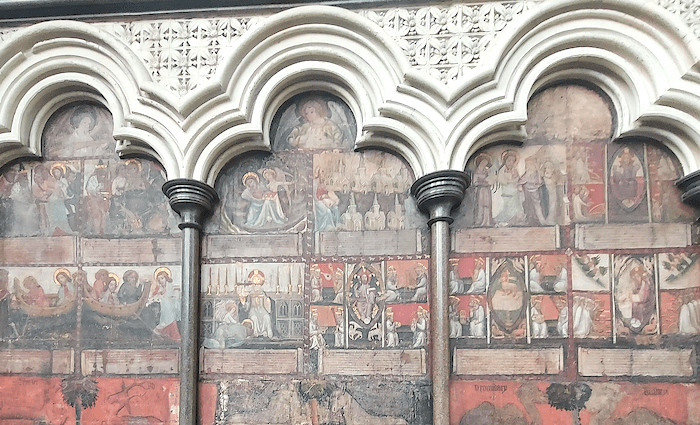 Short answer: 2 hours
If you include sit-downs and cafe breaks, it'll take you the full two hours. Bear in mind, there are over 3,000 public figures buried in this sizeable church. Also, you have to factor in many more memorials honoring important figures from British history. Moreover, some hallways are lined on both sides with statues and tombs. Although not all are recognizable names, the craftsmanship of the lavish tombs will have you lingering longer than expected. Actually, a number of the less well-known tombs are so large and grand you often get drawn towards them, expecting a historic figure to be buried there. Figuring it all out and identifying the historic Britons will take up time.
Audio Guide
The audio guide which is available for free on entry will help you map the areas better and also you can learn about its history. At the same time, it will encourage you to spend more time in each section. If you are short on cash definitely take an audio guide, but we highly recommend a guided tour.
Seating
There's lots of seating close to the main entrance. Here you can take breaks or even make notes if doing research. Note, the seating is found near the following Abbey hotspots: The Choir, The High Altar, and Poets Corner. There's also seating in an area of the Abbey called The Nave. But it would be impractical to have seating in other areas because of how close they might be to these highly valued and, in some cases, fragile memorials.
Westminster Abbey Gardens
Another feature that might slow your visit is the Abbey gardens. But that's not such a bad thing. It's an ideal stop-off for some quiet reflection. Although not an essential part of the visit, many choose to check out this historic enclosed garden with views of the parliament buildings, fountain features, and a bronze statue of the Crucifixion. Interestingly, centuries ago, only monks were allowed here and grew fruit, vegetables, and healing herbs.
10 Highlights of Westminster Abbey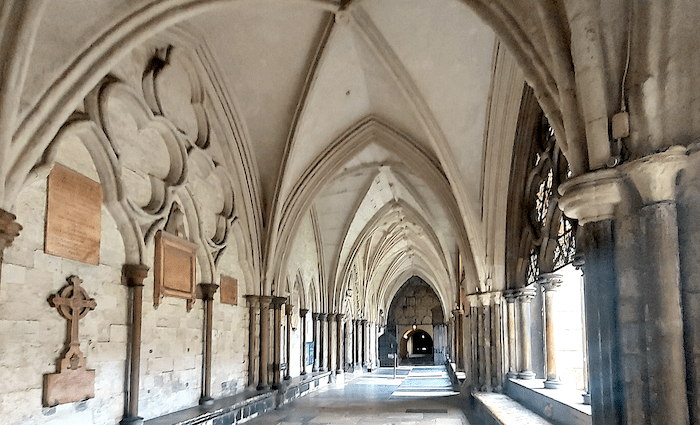 The Grave of the Unknown Warrior
Coronation Chair
Poets Corner
The Queen's Window, by artist David Hockney
The Quire Screen
Tomb of Elizabeth I and Mary I
Pyx Chamber
Chapter House
Queen's Diamond Jubilee Galleries
The Lady Chapel
Tour Options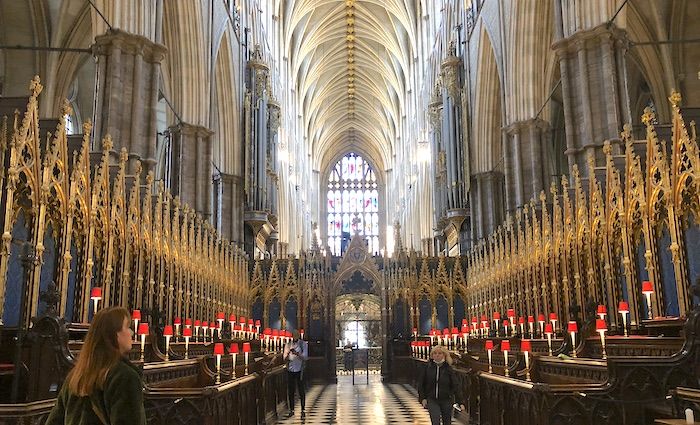 When I first planned my visit to the Westminster Abbey I thought, "do you really need a tour for one church?" Then, a friend told me the structure has been used for a thousand years to coronate kings and that basically every important Britt that has ever lived is buried inside.
I decided to go with a tour and I was absolutely buzzing afterward. I had this energy about me that I could not kick for hours. The guide walked us through English history and the monarchs while bringing the structure to life. It was one of the most memorable experiences of my life.
Looking for all the hairy details about Westminster Abbey? How about the 3000 bodies under the floor? Check out our local-led tours!
Places to Eat Inside & Nearby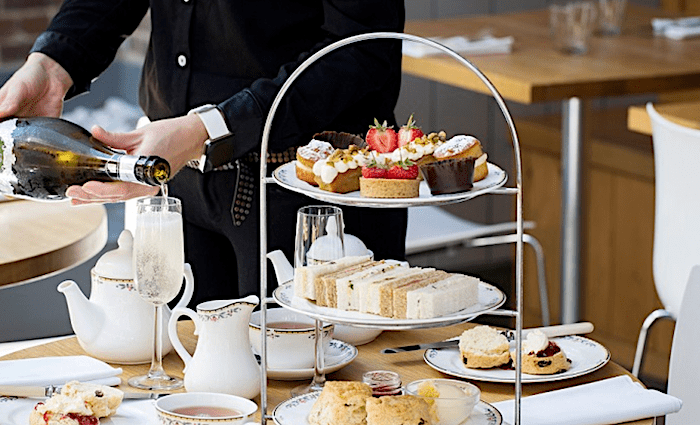 At some stage, you'll probably need a longer break and something to eat. For your information, you'll find the Cellarium Cafe at the furthest end of The Cloisters section of the Abbey. In keeping with the architecture of the Abbey, it has ancient-looking oak doors but is a modern space with a light, airy feel. There is a selection of loose leaf teas, coffee, light lunches and meals.
Inside The Abbey
Cellarium Cafe & Terrace – The furthest end of The Cloisters.
Traditional English breakfast and snacks, light lunches and main meals with a distinctly English touch. The Afternoon Tea with scones is a very 'English' option but alternatively, coffee, cappuccinos, lattes, and expressos.
Outside The Abbey
Westminster Abbey Kiosk – As you'd expect, they sell lighter snacks than those found in the Cellarium Cafe. Mainly, sandwiches, hotdogs, cakes, and waffles. Also a selection of loose-leaf teas, coffee, cappuccinos, lattes, expressos.
Address: Directly outside Westminster Abbey's west doors on a small stretch of road called The Sanctuary. It's easy to find, next door to the Westminster Abbey shop.
Storey's Gate Cafe – Similar food selection as the Cellarium Cafe but more of a green focus towards health and sustainability. There's also the added perk of a pleasant outdoor area overlooking St James Park. The cafe building has historic links with King Charles II (1630-1685).
Address: Birdcage Walk, London SW1A 2AE
See our best restaurants near Westminster Abbey.
Facts & History Of Westminster Abbey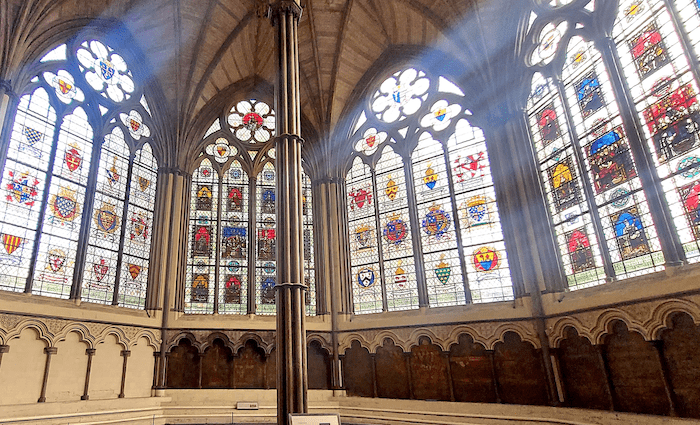 Since 1066, all Britain's monarchs have been coronated here.
The UK's current queen Elizabeth II was coronated here in 1953. Over 8,000 guests attended.
It has the oldest door in England, built in 1050.
The Pyx is the oldest room in London and was built in 1070. Later, it became the royal treasury.
Between 1245 and 1272, Henry III had his architects restructure the Abbey to what it looks like now. He favoured a French gothic style.
Author Charles Dickens, scientists Sir Isaac Newton and Stephen Hawking and actor Sir Laurence Olivier are amongst the prominent figures buried here.
The Grave of the Unknown Warrior is the only grave that visitors are not allowed to walk on.
The John the Baptist Chapel contains the tallest memorial.
Oliver Cromwell was buried here then dug up and and hung from Tyburn gallows in the London area now known as Marble Arch.
The Westminster area is named after the Abbey and not the other way round. A minster is a monastic church and this abbey was in the west – therefore, Westminster