Did you know that approximately 4 million people visit the Statue of Liberty every year? It can get pretty hectic but there are some ways around the crowds and by reading this article you are planning ahead! We'll explain how to get tickets, the hours, the best Vatican tours, and more!
---
Pro Travel Tip: Ever read something helpful only to lose track of the article? Bookmark this article in your browser so you can circle back to it when you're ready to book. Check out our History of the Statue of Liberty. Also, check out our New York City Tours. Seeing the city with an awesome guide makes it a more memorable experience!
What This Article Covers
This is a very extensive article filled with helpful information. Click the links in the list below to get you where you need to go without leaving this page.
Planning a trip to see the Statue of Liberty in NYC? Skip the research and book a tour that will take the guesswork out. See our incredible tours and experiences including Lady Liberty by clicking the button below.
Statue of Liberty Facts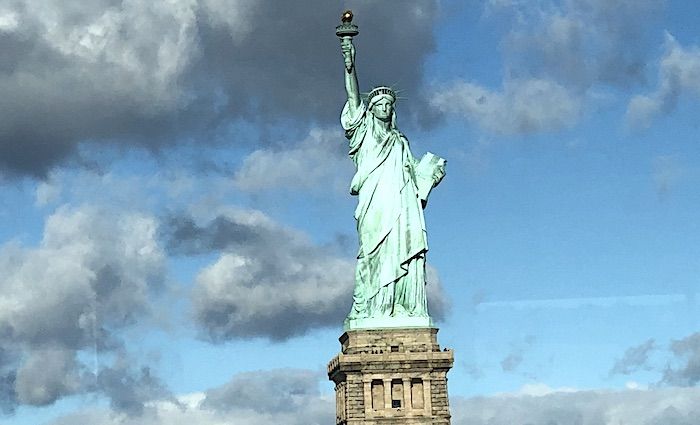 The Statue of Liberty has some impressive numbers. Here is are some cool numbers about this amazing statue:
Amount of Copper used: 62,000 lbs. ( 31 tons)
Weight of concrete foundation: 54,000,000 lbs. (125 tons)
The thickness of copper sheeting: 3/32 of an inch, the thickness of two pennies placed together
Wind Sway: 50 mph winds cause the statue to sway up to 3 inches and the torch up to 6 inches
Direction: It is facing southeast so people could see the Statue while entering the harbor
The Tablet: It reads the date July 4th, 1776- the date of American Independence
The Torch: Is a 1986 replacement. It is copper, covered in 24k gold leaf.
Height of the Statue of Liberty: 154ft
Statue of Liberty History
The Statue of Liberty was a gift from France. In 1865, Edouard de Laboulaye, an important French political thinker and supporter of Abraham Lincoln during the American Civil War proposed to create a monument for the United States. His reasoning was that the victory of the Union in the Civil war reaffirmed the United State's ideals of freedom and democracy. As a result, honoring the United States, would at the same time strengthen the causes for Democracy in France.
The Design
Frédéric-Auguste Bartholdi was the man that made it happen. Bartholdi was a famous French sculptor, most known for his work on the Statue of Liberty. He was elected by Edouard de Laboulaye as the sculptor to build a monument that could commemorate the kinship between France and the United States as well as the appreciation for President Abraham Lincoln's work.
Bartholdi previously worked with Laboulaye in the designing of his bust and was excited to work on the project that came to life over the span of a few years. Thus, the Statue of Liberty was born.
How was it Built?
The construction of the statue began in France in 1876. Bartholdi enlisted a number of French craftsmen to help in the process of transforming his unique ideas into reality. The various parts of the statue were created separately and were shipped to the United States for assembly in 1885. Upon visiting New York City, Bartholdi chose Liberty Island as its home because of the high level of visibility, which he described as the "gateway to America". Most of us can agree that the location was a perfect choice, not only is the statue a signature attraction of the city, it's a symbol of America and its core ideals.
Once the statue arrived, assembly began very quickly along with the construction of the pedestal upon which it still stands tall today. The process was officially completed in 1886 and celebrated with a large dedication ceremony that was held shortly after. Around a million New Yorkers came out to revel in the unveiling of the statue, a part of a grand history that was yet to fully unfold.
Hours, Ticket Prices, and RSVP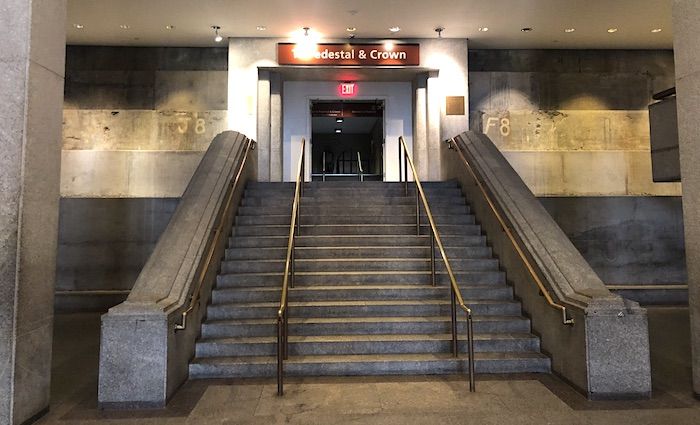 The Statue of Liberty is on an island, therefore you need to first get there by ferry. When you purchase your ticket for the Statue of Liberty it includes the ferry ride and also access to the Ellis Island Museum.
Ticket Types & What you Get
Reserve Ticket: With this ticket you have access to the grounds and Audio Guide. You cannot go inside the Statue of Liberty
Adult: $19.25
Senior 62+: $14
Child 4-12: $9
Child 0-3: Free
Pedestal Reserve Ticket: Includes everything with Reserve ticket plus access to Fort Wood Section of the Pedestal
Adult: $19.25
Senior 62+: $14
Child 4-12: $9
Child 0-3: Free
Crown Reserve Ticket: Includes everything with Pedestal Reserve Ticket plus access to the Crown and Pedestal
Adult: $22.25
Senior 62+: $17
Child 4-12: $12
Child 0-3: Free
Ferries
There are two departing ports to arrive at the Statue of Liberty. One is Battery Park in New York and the other is Liberty State Park in New Jersey. Statue City Cruises is the only authorized concessioner for ferries.
Ferry Hours in Battery Park
9:30am- 3:30pm- Every 30 minutes
How Long to Budget for your Visit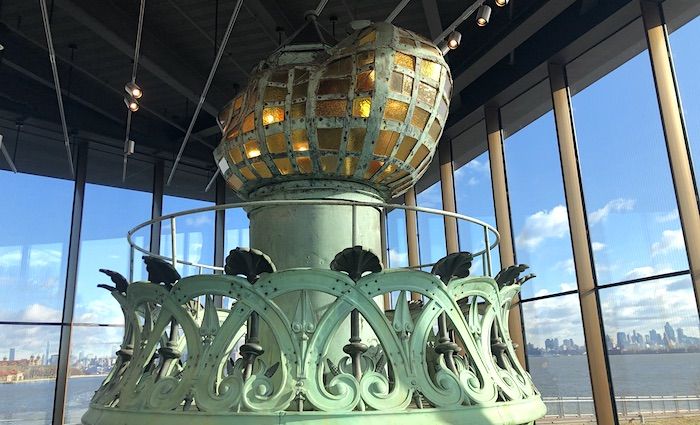 Short Answer: 3-4 Hours
When you purchase a ticket to see the Statue of Liberty, you are actually buying three items: A ferry ride, Statue of Liberty Access, Access to the Ellis Island Museum. Therefore make sure to keep that in mind!
The Ferry Ride
You will start your adventure at either Battery park in NYC or Liberty State Park in New Jersey across the Bay. The ferry works like a hop on, hop off bus with stops at Liberty Island ( Where the Statue of Liberty is) and Ellis Island before returning to the port.
It takes around 15-20 minutes to arrive at each destination. Therefore it is just enough time to enjoy some views at sea without it being too long.
Liberty Island
Once you arrive at Liberty Island it is about a 10-minute walk to arrive at the Statue of Liberty. Depending on the ticket you have ( Read above), you will either just walk around the island or climb up the statue itself.
I visited the area in May of 2021 last and I would say if you are not climbing up to give yourself about 2 hours. Why so long? You will want to enjoy the various views from different vantage points. There is also a cool little museum to visit where you can see the original torch that Lady Liberty held. There is an audioguide included in the ticket, but you know how that goes… listen for 5 minutes before you put it in your pocket. We recommend taking a guided tour of the Statue of Liberty and Ellis Island which will make your time more memorable and definitely elevate your experience.
Ellis Island
If you are thinking to skip this section and just head back to the city, I strongly urge you to reconsider. I was very unprepared when I arrived at Ellis Island as to the emotional aspect of the visit. My only exposure to the area previously was from the film The Godfather. I honestly found Ellis island to be just as compelling as the Statue of Liberty!
Considering the size of the museum I would allocate 1.5 hours for your visit. The main area you will be visiting is all in one building, but it is quite big and it's on two floors.
You will learn all about the influx of immigrants from all over the world ( but mostly European) who were searching for a better life in America.
Top Things to See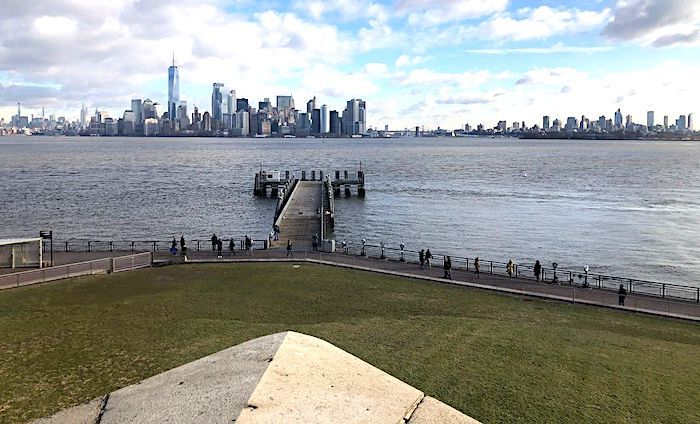 Once you are on liberty island, there are a few spots that you should definitely visit. Some of these will depend on the ticket you purchased in advance, so keep reading to get an idea. For a more detailed explanation of each area, read Top Things to See at The Statue of Liberty ( Coming Soon)
Statue of Liberty Exhibit
Statue of Liberty Museum
Statue of Liberty Pedestal
Statue of Liberty Crown- Get ready to walk up 190 stairs!
Where to Eat Nearby & Inside
There a limited options to eat when you depart for the Statue of Liberty. If you go in the morning, then I suggest eating back in the city when you return. A picnic is also a great idea.
On the Ferry– There are snack stands where you can purchase refreshments and healthy snacks
Crown Cafe- This is the only place on Liberty Island where you can actually get food.
Ellis Cafe– Same as the Crown Cafe, but on Ellis Island
Have a Picnic– Liberty Island is actually considered a park, so there is lots of open areas. Grab some food from a local gourmet grocery store in New York and have a leisurely lunch in the sun.
Near the Statue of Liberty
Hotdog Truck- Quick & Easy and eat like the locals. I have eaten from them hundreds of times and have never gotten sick. Go for it!
Address: All over the place!
The Dead Rabbit- Great pub food and strong drinks. What else could you ask for after sightseeing all morning long?
Address: 30 Water St
Gigino Wagner Park– Great Italian restaurant with outdoor seating. You can sit right on the waterfront with great views of the beautiful statue you just visited ( or will visit after you eat).
Address: 20 Battery Pl
How to Get to the Statue of Liberty
Traveling to the Statue of Liberty is pretty simple, you'll be departing from either one of the ferry points that are located in Battery Park and Liberty State Park. Before you leave, you should plan your journey to these locations, this way you'll be sure to get to Liberty Island early and avoid any unnecessary travel complications or stress along the way.
Battery Park
Battery Park is in Manhattan, at the southern tip of the city. It's surrounded by New York Harbor and the Hudson River as you'll see when you arrive. There are various forms of transportation that will bring you to the park. The subway, bus, and train are the main ones, they're super easy to access from different points around the city and even out of state.

If you head to the MTA website, you can set the destination as Battery Park and add your current location for a display of the best route to take as well as how to purchase those tickets for your transportation (they can be purchased online or at the station kiosks). For a point of reference, from Times Square in New York City you can take the train southbound from Times Square Station (1, 2, or 3) to the South Ferry Stop.

From there you'll make a quick 5-minute walk, then, you've arrived at Battery Park. The bus is another good option, from near Times Square you can take the bus from the 5 Av/W 41 St Stop to the South Ferry stop as well. The MTA website also provides a detailed schedule of the bus routes and times from several different points around the city. Some other commonly used stations to get to the ferry at Battery Park include Penn Station,

Liberty State Park
Liberty State Park is the other popular point of departure for the ferry that arrives at Liberty Island, where the wonderful Statue of Liberty resides. This park is located in Jersey City, New Jersey and similar to Battery Park in NYC, it is easily accessible via public transportation that's provided throughout the state of New Jersey. Newark Penn Station is one of the most frequently used stations in the state and if you leave from there you'll have a relatively simple journey to the destination.

As suggested on the Liberty State Park Website, take the PATH subway to the Exchange Place stop in Jersey City. Then from there, you'll take the Light Rail to Liberty State Park, followed by a short trip on the shuttle bus to the ferry slip. In addition to Newark Penn Station, you can also embark from Hoboken Station and Journal Square in Jersey City. If you're interested in learning about alternative departure points, the New Jersey Transit website is a great resource to plan your route with ease.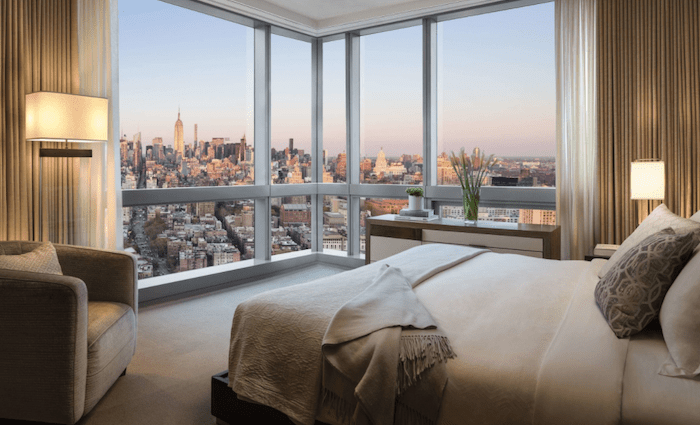 Find the best places to stay
Where to Stay in NYC
A great hotel at a great price has become the norm in this internet era. Our article explains what areas are the best in NYC so you can get a great deal on the perfect location!