Located just southwest of the southern tip of New York City, Ellis island is a popular tourist destination for visitors and locals alike. But since it's an island, you might need help understanding how to get there. Here's how to plan a perfect visit to Ellis Island, plus all the important details about tickets, hours, and more!
---
Pro Tip: Planning your trip to NYC? Bookmark this post in your browser so you can easily find it when you're in the city. See our guide to New York City for more planning resources, our best NYC tours for a memorable trip, and the top things to do in NYC.
Visiting Ellis Island: What We'll Cover
Though it's only 27.5 acres in size, Ellis Island has played a huge role in American history. During its time as the nation's major immigration center on the East Coast (from 1892 to 1954), Ellis Island processed over 12 million immigrants, according to the National Park Service.
Many visitors have family members who passed through this famous island to begin their dream of living in America. Even if your family didn't immigrate through Ellis Island, it's a remarkable place to visit. Here's what we'll cover in this article that's all about how to visit Ellis Island.
Ellis Island Opening Hours and Tickets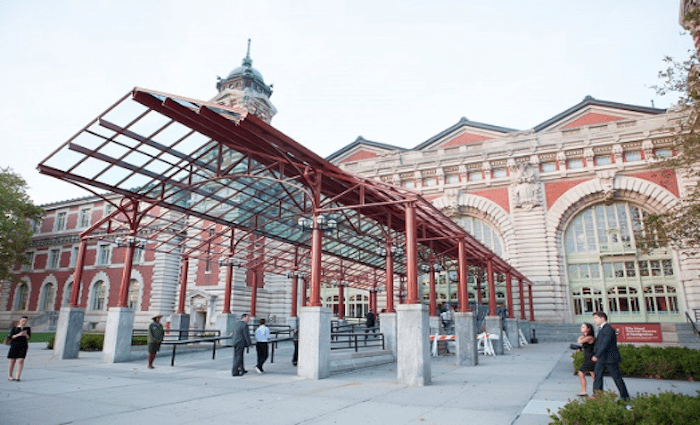 Opening Hours:
Open Sunday – Monday, 9:30 am to 4:30 pm. The History Center on Ellis Island is also open during the day from 10 am to 3:30 pm. The Statue of Liberty and Ellis Island are only closed on Thanksgiving Day and Christmas Day.
To purchase ferry tickets, you can buy them either in-person at box offices located within Castle Garden at Battery Park, online, or by booking with a tour agency.
Pro Tip: Ferry tickets can be purchased up to 6 months in advance, so save yourself time waiting in line and make sure you can visit when you're here!
Tickets:
Did you know tickets for admittance to Ellis Island or Liberty Island (and on-site attractions) are not required? Tickets are required, however, for the ferries that transport tourists to and from both sites. Ferries depart every 20 to 30 minutes, though timetables change depending on the season. 
General Admission: $23.50 per adult, $12.00 Children 4-12, $18.00 for seniors (62+)
Other ticket options that offer special tours are also available at a higher price. These include a hard hat tour of Ellis Island and access to the Statue of Liberty pedestal.
Departure address: Castle Clinton National Monument, Battery Park – Liberty Island, New York, NY
Not ready to book a tour? Check out our New York Guide for more resources.
How Much Time To Budget For Ellis Island
Short Answer: 2 to 4 hours for both islands and their museums. This includes the ferry ride and time spent on the island.
Pro Tip: If you have the time, you should see Ellis Island and the Statue of Liberty together. The ferry lines and scheduling make it easier to group the two together, and the history of the two places comes alive when seen as a pair. If you opt for both, we advise you budget at least 3 hours for the entire round-trip experience. Of course, if you've bought tickets ahead of time that let you skip the line, you'll save time on the front end too!
Most Popular New York Tours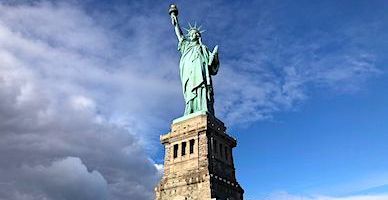 Best Selling Tour
Before the Crowds Statue of Liberty and Ellis Island Tour
Join us on an epic journey through American history! On this tour you will visit the Statue of Liberty and Ellis Island with roundtrip ferry transport included all with a local guide who will describe the city's amazing history as you visit the picturesque monument.





See Prices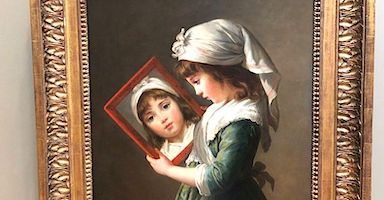 Top Rated Tour
Skip the Line Metropolitan Museum of Art Tour with Expert Guide
Visit the most visited art museum in America! You will find artwork from all the world from amazing sculptures to emotional paintings. Your local tour guide will also unveil the secrets of the artists themselves!





See Prices
Not ready to book a tour? Check out how to spend 3 days in New York.
How To Get to Ellis Island From New York City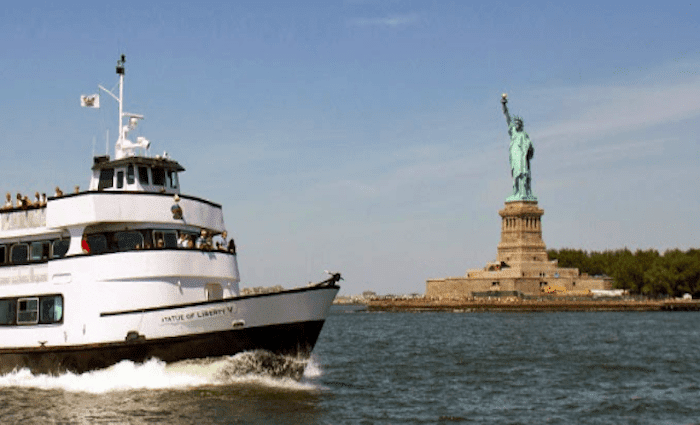 As its name might suggest, Ellis Island is only available by ferry. There are two ferries that transport visitors to and from both Liberty and Ellis islands, one leaving from Jersey City, NJ, the other from Battery Park in downtown NYC. However, getting to the ferry also takes advance planning, and there are several ways to do so.
By Subway:
There are multiple trains that can take visitors down to Battery Park to grab the ferry. Options include taking Local 1 (7th Avenue Line on New York's West Side) to the last stop, which is South Ferry; grabbing the Express 4 or 5 trains (Lexington Avenue Line on the East Side) to Bowling Green; or the Local R/W train from Brooklyn/Queens (Broadway Line) to Whitehall Street.
By Bus:
Take the M1, M6 or M15 bus lines to South Ferry. It's the last stop on all three routes, so you can't miss it!
By Car:
If you're coming from the east side, take the FDR Drive South to Exit 1, South Ferry/Battery Park. If coming from the west side, take the Westside Highway South (Route 9A) to Battery Park.
Pro Tip: Parking is always a challenge in NYC. Save yourself the headache and opt for public transportation to and from the ferry docks.
What to See and Do At Ellis Island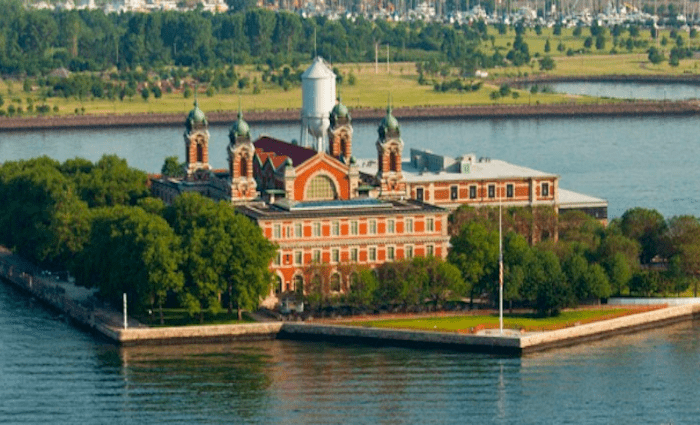 Once you're on Ellis Island, there are a few must-visit sites. For more in-depth descriptions, history, and images, check out our article on the top things to see at Ellis Island.
Ellis Island Immigration Museum
The Wall of Honor
The Family History Center
Contagious Infectious Disease Hospital of Ellis Island
Enjoy views of downtown NYC & Liberty Island
Ellis Island and Statue of Liberty Tour Options
If you're planning a trip to Ellis Island, you should consider one of our guided tours. This is an easy solution when considering how to visit Ellis Island. As the island is one of the more popular tourist spots in New York City, lines can get very long.
We offer skip-the-line rides at the Statue of Liberty and the Ellis Island ferry line. Our local guides will not only illuminate the history of the place but make the trip smooth and easy.
Join us on an epic journey through American history! On this tour you'll visit the Statue of Liberty and Ellis Island with roundtrip ferry transport included all with a local guide who will describe the city's amazing history as you visit the picturesque monument.
See tour itinerary, price, and description
Not ready to book a tour? Check out our New York Guide for more resources.
Facts and History Of Ellis Island
To get you excited about your trip, here are some interesting facts about Ellis Island and its history, thanks to the official Statue of Liberty and Ellis Island website. You can also read more about the important history of Ellis Island in our article.
Ellis Island was originally only 3 acres in size but was expanded through land reclamation projects to its current area of 27.5 acres. 
Ellis Island is named for Manhattan merchant Samuel Ellis who was the original owner in the 1770s.
The island was owned by the state of New York until 1808 when it was sold to the federal government for immigration purposes.
During its 62 years of operation, Ellis Island welcomed more than 12 million immigrants into the United States.
A massive fire in June of 1897 burned the immigration station to the ground. No lives were lost, but immigration records dating back to 1855 were lost. 
Contrary to popular belief, only 2% of arriving immigrants were denied entry to the U.S. at Ellis Island. The main reasons for exclusion were contagious disease diagnoses or concern about an immigrant's likelihood of becoming a public charge.
Ellis Island's busiest year was 1907 when it processed 1.25 million immigrants.
After World War I, Ellis Island became used as a detainment center for displaced persons, war refugees, or immigrants with paperwork issues.
In 1954, the US government officially closed Ellis Island after the release of the last remaining detainee, a Norwegian merchant seaman named Arne Peterssen.
Not ready to book a tour? Check out our New York Guide for more resources.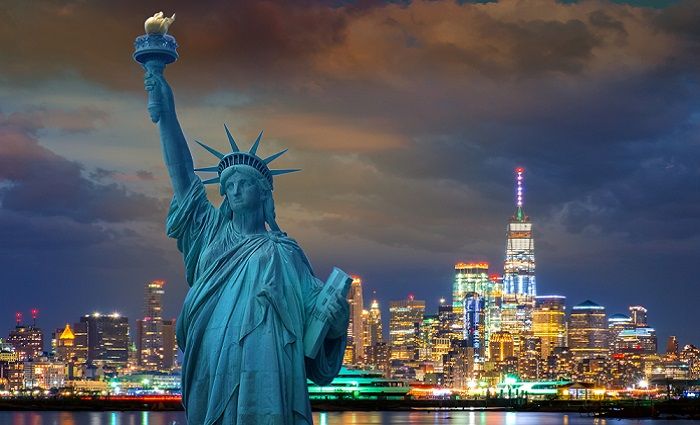 Find the best places to stay
Where to Stay in NYC
New York City is the center of the universe to those who adore this iconic city. Choose the best neighborhood to stay in as you plan your upcoming trip to the Big Apple.