Alcatraz Island is almost synonymous with San Francisco. Due to the island's immense popularity, it can be hard to plan your visit. Never fear! That's what we are here for. Here's how to visit Alcatraz Island, plus all you need to know about tickets, hours, and more!
---
Pro Tip: It's easier to organize your trip when you have all your resources in one place. Bookmark this post along with our San Francisco Guide for more planning resources, our best San Francisco tours for a memorable trip, and the top things to do in San Fran.
Alcatraz Island Hours, Tickets, Tours, And Facts: What We'll Cover
Alcatraz Island housed the most infamous prison in the United States: the Alcatraz Federal Penitentiary. Since shutting down in 1963 and sending its prisoners elsewhere, both the prison and the island have become one of the most popular tour destinations in San Francisco.
It's also in the middle of the scenic San Francisco Bay, making it even more of an iconic place to visit to get some of the best views of the Golden Gate Bridge and San Francisco. You can learn more about the history of Alcatraz Island here!
Not ready to book a tour? Find out if San Francisco tours are worth it.
How to Visit Alcatraz Island: Hours and Info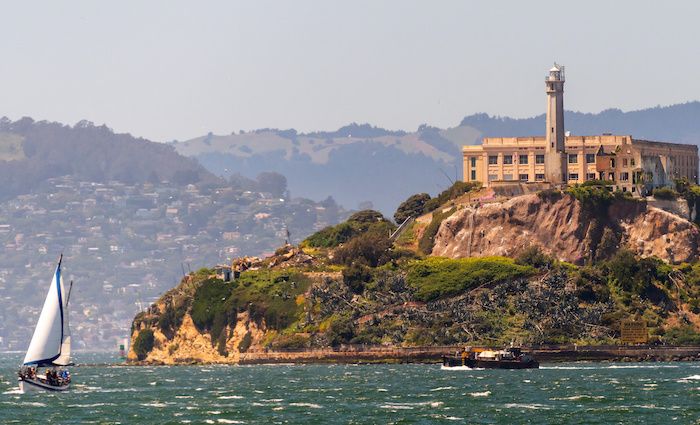 Hours: Monday – Sunday, from 10 am until 9 pm.
Alcatraz Island is closed on the following days:
January 1
Thanksgiving (4th Thursday of November)
December 25
There are also various portions of the island that are closed off at certain times of the year to allow the island's resident sea birds to nest.

Alcatraz Island has been known to have special events, such as art exhibits, although there have not been any such events since 2019. If they resume events again, their events page can be found here. Currently, the island is hosting community building days to restore the the gardens on the island.
Tickets and Pricing for Alcatraz Island
Since Alcatraz Island is, you know, an island, it's only accessible via a ticketed ferry. Due to the popularity of Alcatraz, we strongly recommend booking your tickets to Alcatraz Island at least a few weeks ahead of time! Especially during the summer and other high tourist times during the year, Alcatraz tickets can sell out even months ahead of your tour date!
Every ferry ride to Alcatraz Island departs from Pier 33 near Fisherman's Wharf. The ferry ride from Pier 33 to the island typically takes around 15 minutes. Make sure you arrive at least 45 minutes before the ferry is scheduled to leave. There's a lot to explore and views to take in from the island, so we recommend spending at least three hours there.
You can purchase your tickets online or in person at Pier 33, which is where the ferry departs. If buying directly from Alcatraz Island, they offer a day tour, a night tour, and also a behind-the-scenes tour. The prices listed below are for the daytime tour, as that is the most common option.
Admission: $41 for adults, $25 for children (5-11 years), $41 for juniors (12-17 years), $38 for seniors (62+ years)

Family Pricing: $119.60 total for 2 adults + 2 children 5-11years
Address: 31 San Francisco Pier 33 – Alcatraz Island, San Francisco, CA
Pro Tip: Skip the line by booking your ticket online ahead of time or getting more out of your visit by joining our San Francisco in a day tour! The tour includes a full access ticket to Alcatraz Penitentiary and Island, as well as a 4-hour guided tour of San Francisco in an open-sided van. The tour also stops by the famous Golden Gate Bridge, and includes pickup at your hotel!
Not ready to book a tour? Read more in our San Francisco Guide.
How To Get to Alcatraz Island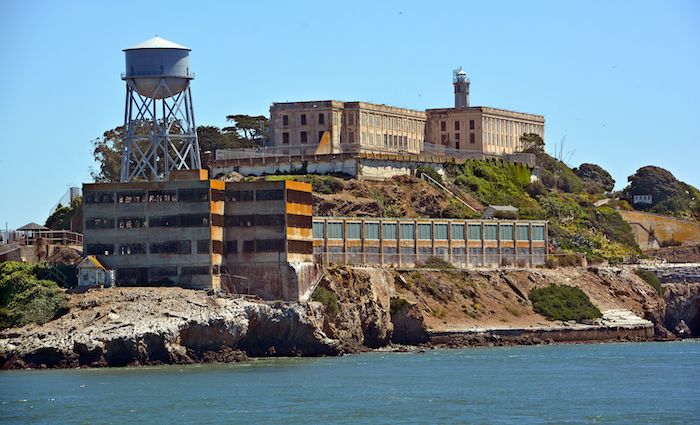 Please note that there is no parking available at Pier 33 (or the island) as you plan how to visit Alcatraz Island. The ferry landing dock at Pier 33 is about a 7-minute walk or a 5-minute drive from Pier 39, otherwise known as Fisherman's Wharf.
Like most of San Francisco, parking is almost impossible to find at Pier 39. For this reason, finding another way to Alcatraz Island is advised. That's a big part of the reason why we recommend booking our San Francisco in a day tour that includes Alcatraz. All logistics and tickets are included so you can enjoy your day without stress.
Here are a few transportation options to get to your Alcatraz ferry departure at Pier 33:
Trolley
Bus
Car/Rideshare Services
Bicycle
On Foot
The exact timing of your journey to Pier 33 to pick up the ferry for Alcatraz Island depends on which hotel you are staying at, of course. Since most of our picks for the best hotels in San Francisco are near the Embarcadero waterfront, we calculated the times from there. We also calculated some times from Union Square, as that is another popular area to stay in San Francisco.
By Trolley:
We don't mean the cable cars when we say trolley. Although it looks similar to a cable car, the F Market & Wharves trolley is a MUNI bus that runs from Castro St. Station to Fisherman's Wharf. Standing for San Francisco Municipal Railway," the MUNI system is San Francisco's bus and underground train system.
From the Embarcadero, it takes around 8 minutes to get from the trolley stop to Pier 33. From Union Square, it takes around 24 minutes. A ride on the F trolley costs $3. You can pay by cash with exact change, or on the MuniMobile app. For more information about transportation in San Francisco, check out our helpful article about getting around San Francisco!
By Bus:
If you're staying by the Embarcadero, the F trolley is your only public transportation option to get to Pier 33. If you are staying by Union Square, you can take the 8 MUNI bus. It takes around 24 minutes, and costs $3.
By Car/Uber:
It takes 10 minutes to drive from Union Square to Pier 33 and around 5 minutes or less to drive from Embarcadero. Since parking is next to impossible near the piers, if you need to drive, we suggest taking Lyft, Uber, or a taxi. With all 3 options, the one-way fare for a standard car fitting 3-4 passengers is likely between $10 and $12.
By Bike:
It takes less than 10 minutes to bike from both Union Square and the Embarcadero area to Pier 33. There are bike rentals all over the city, including handy electric bikes. Bay Wheels, an e-bike sharing program managed by Lyft, offers bike rentals through the Lyft app. For single rides, you will be charged an unlock fee of $3 and charged 30 cents a minute. So, a 10-minute bike ride would about cost $6.

Despite being a difficult area to park in, there are frequently a lot of cars and traffic in this area, so watch out for cars if you are biking!
On Foot:
If you are staying near Union Square or the Embarcadero, it might be easiest to simply walk to Pier 33 to catch the ferry if you and everyone in your group is up for a walk. Walking from the Embarcadero Area will take around 15-20 minutes, depending on which hotel you are staying in, and walking from Union Square will take around 30 minutes.
What to See and Do on the Island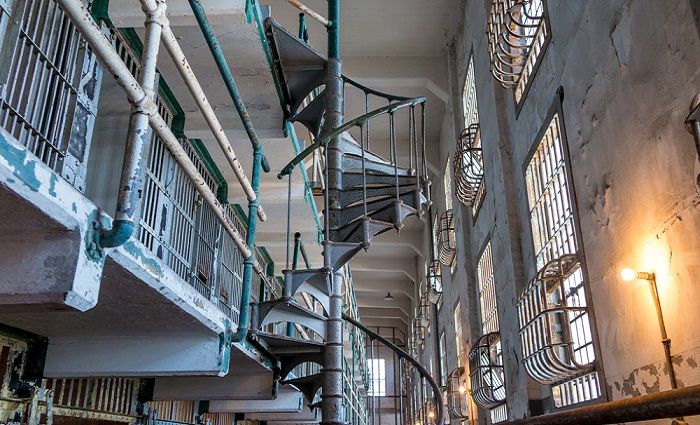 Throughout your exploration of the buildings left standing on Alcatraz, you'll find hundreds of photographs and memorabilia from the time of its use. Some areas are off limits to tourists as they are unstable from neglect. The walkways are also quite steep in some areas, so wear sturdy shoes!
The cellhouse and infamous escape room
The gardens
The courtyard or playground
View of the bay and the city
Alcatraz Island Tours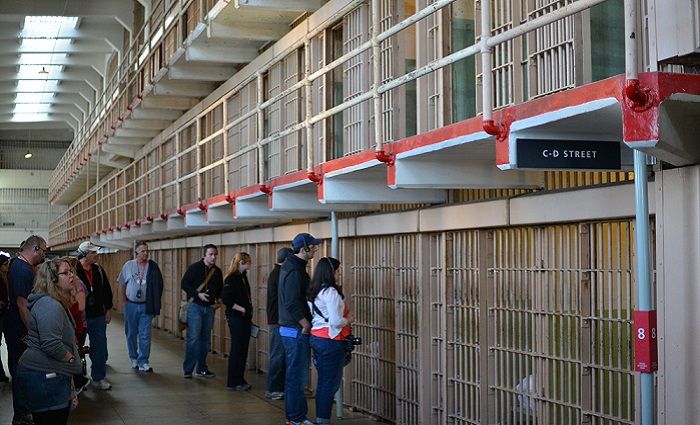 A trip to Alcatraz Island is only possible by purchasing a ferry ticket to the island. The National Park Service has jurisdiction over the island, so you'll find park guides available to help you explore the island. It's a mostly self-guided tour, but there are also several tour options available throughout the day.
The most popular tour option is the Alcatraz day tour, but there are also night tours, behind-the-scenes tours, and combination tours with Angel Island and Alcatraz Island.
Since it's extremely difficult to get tickets during peak tourist months, booking a combination tour with a local guide is a popular option. Most tourists prefer booking both Alcatraz Island and the Golden Gate Bridge to see both of the top San Francisco attractions in one day.
Not ready to book a tour? Find out if San Francisco tours are worth it.
Facts and History of Alcatraz
To get you excited about your trip to Alcatraz, here are some interesting facts about the history of Alcatraz from authors and eyewitnesses mentioned in our other article here.
Alcatraz Federal Penitentiary housed prisoners during the Civil War.
The army left Alcatraz in 1934, but it was only empty for a few weeks before the Bureau of Prisons put the most dangerous criminals here.
Most of the criminals at Alcatraz had committed violent crimes or tried to escape their previous prisons.
Famous Alcatraz inmates included Al Capone (for tax evasion) and "Machine Gun" Kelly (not the singer) convicted of kidnapping.
Although the prison took up most of the island, there were also barracks, apartments, and a recreation hall, and at least 60 families with children lived there full time.
The families who lived there called it  "the poor man's Hawaii."
In 1972, the island became a part of the National Park Service, and it has been home to beautiful gardens since 2003.
Currently, many species of animals call the island home, such as salamanders and cormorants.
It's referred to as "The Rock" because it is made up of mostly rock, and dirt was hauled in to make it livable.
So far, it has appeared in 10 movies and TV shows, including the 2010 movies The Book of Eli and the 2006 movie X-Men: The Last Stand.
Not ready to book a tour? Read more in our San Francisco Guide.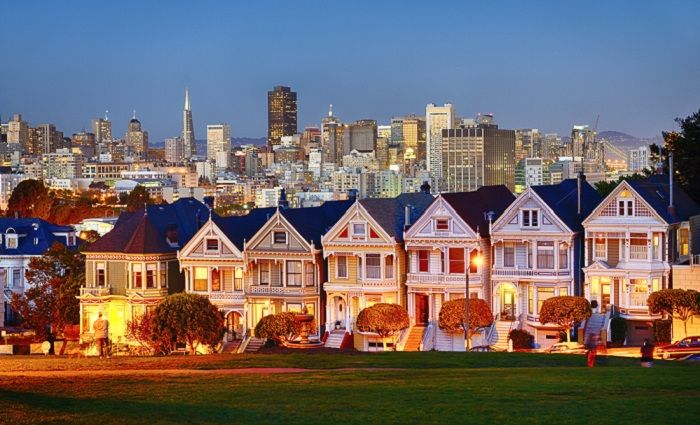 Find the best places to stay
Where To Stay in San Francisco
Make the most of your visit to San Francisco by choosing to stay in the best neighborhoods for seeing all this iconic city has to offer. You'll love our hotel recommendations.