Since San Francisco, California, is one of the most popular vacation destinations in the U.S., this city is full of countless hotels ranging from high-end luxury to cool boutiques. Figuring out which one to stay at can be a daunting task, but that's why we're here to help! Check out our list of the absolute best hotels in San Francisco for your upcoming trip.
---
Pro Tip: It's easier to organize your trip when you have all your resources in one place. Bookmark this post along with our San Francisco Guide for more planning resources, our best San Francisco tours for a memorable trip, and the top things to do in San Fran.
The Top 11 Hotels in San Francisco
Known for its skyscrapers, iconic bridges, and hilly landscape, this "City by the Bay" has no shortage of great places to stay. Although San Francisco is only 7 miles by 7 miles, it packs in many different types of accommodations, from luxurious hotels to quirky bed and breakfasts.

One thing that's important to note is that San Francisco is not a super easy city to navigate or park a rental car. The city has strict parking laws, making parking tickets very common (and good parking spots hard to find!). Because of this, you may want to consider getting a hotel close to where you'll be for the majority of your trip. Then opt to use the easy public transportation, e-bikes, or a rideshare service to get around.

If you're looking for a list of just luxury hotels in San Francisco, check out this article. Otherwise, let's explore our overall picks for the best hotels in San Francisco!
Our Partnership with Booking.com. If you like our content, please book by clicking on our Booking.com links. The price is the same for you, and we get a small commission that helps support our blog. We've partnered with Booking.com because they have the most options, great prices, and a solid loyalty program. Just about every hotel is on Booking so our recommendations are not incentivized.
Four Seasons At Embarcadero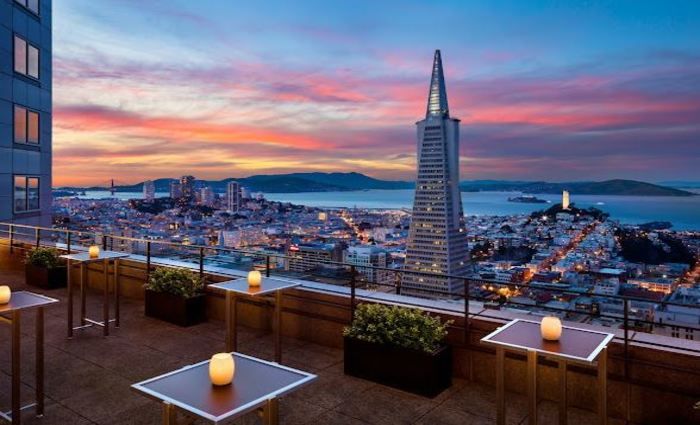 $$$$ | 5 Star | Fantastic Views | Great Location | Spacious Rooms
Close to the Financial District and the Chinatown neighborhood, the Four Seasons at Embarcadero is a luxurious choice for your San Francisco trip. Since this hotel occupies the last 11 stories of a 48-story building, every room has an amazing view overlooking the city.
You'll even be able to see the famous Golden Gate Bridge from a distance—fog permitting, of course! Some other cool things about this hotel is the room service and in-room massages that bring relaxation to you.
Hyatt Regency San Francisco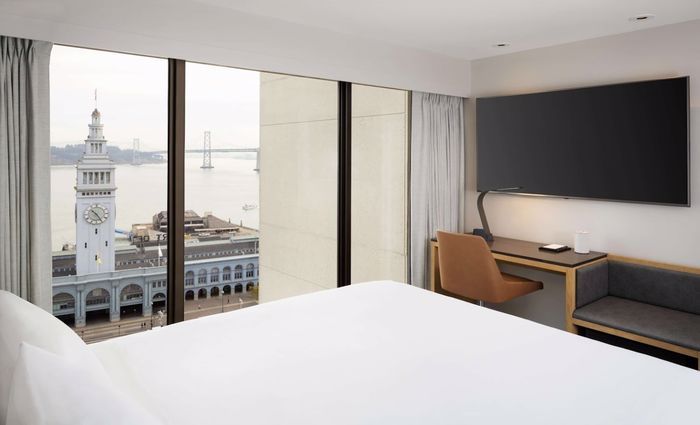 $$$ | 4 Star | Over-the-Bay Views | Surprisingly Affordable
It might not be as luxurious as the Four Seasons, but for a little cheaper price, you can see the famed Embarcadero Waterfront and the Ferry Building literally outside your front door. This four-star hotel is located less than a mile from the San Francisco Bay Bridge—not to be confused with the Golden Gate Bridge!
The rooms are spacious and modern here. You can enjoy the Eclipse Restaurant and Lounge if you prefer fine dining on-site. This is an ideal hotel pick for staying close to downtown on the waterfront.
Not ready to book a tour? Find out if San Francisco tours are worth it.
Phoenix Hotel San Francisco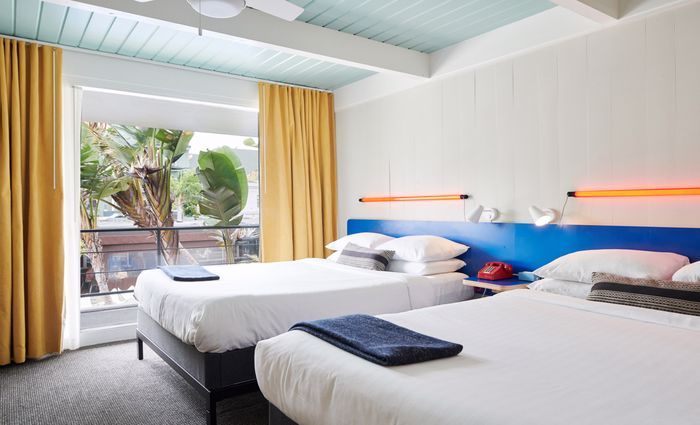 $$ | 4 Star | Lively Atmosphere | Fun & Funky | Off the Beaten Path
If you're looking for a fun hotel with events and an upbeat atmosphere, the Phoenix Hotel is a perfect choice. This boutique hotel was once home to Neil Young and frequented by rockstars such as Kurt Cobain. The Phoenix Hotel keeps their rock 'n' roll history alive with their retro artwork and decor and by hosting concerts at their outdoor heated pool.
Please note that the Phoenix Hotel is located in San Francisco's Tenderloin district, which is very central to downtown San Francisco, but is not an area for the faint of heart. If you're used to cities and tend to stray from the beaten path a little, the location likely won't bother you.
The Ritz-Carlton, San Francisco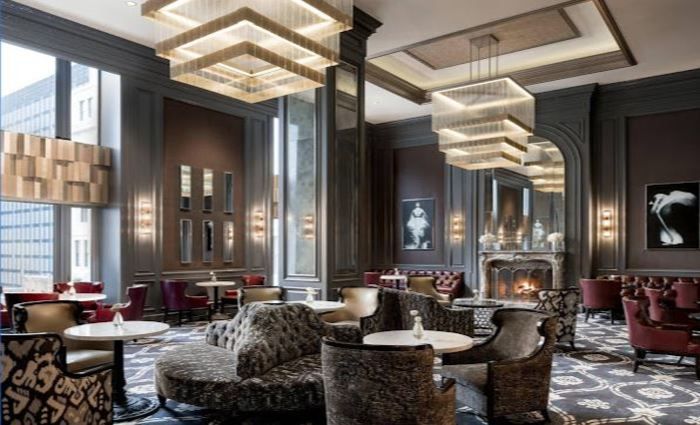 $$$$ | 5 Star | Exclusive Amenities | Incredible Architecture | Excellent Service
You'll get a five-star experience at this hotel that's just five minutes from the Powell Street BART Station and close to all the action of downtown San Francisco. However, because it's located at the top of Nob Hill, it is a bit more removed, which provides a little more tranquility than some of the other downtown hotels.
Some rooms have amazing views of the city skyline, but not all of them do. There are a few dining options and tasting lounges to sample here as well.
Petite Auberge San Francisco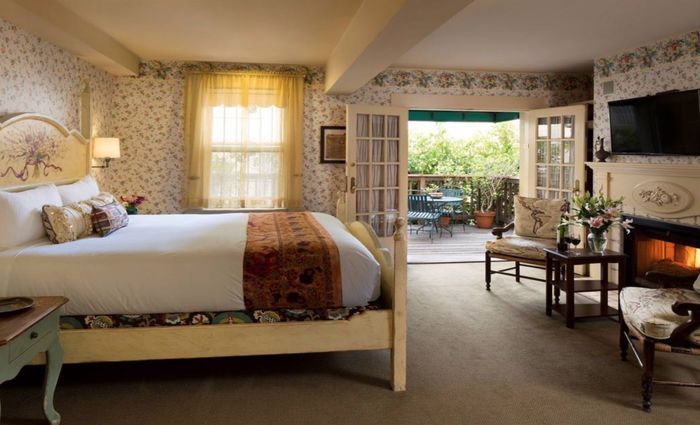 $$ | 4 Star | Bed and Breakfast | Quirky but Elegant | Evening Wine Tasting
Located in San Francisco's Nob Hill district, this unique bed and breakfast not only includes breakfast (as the name would suggest), but also a complimentary, wine happy hour every evening. It also features an adorable back patio, which is perfect for relaxing with a book after a long day.
This quaint inn really is petite. Only 26 rooms are available for guests. Petite Auberge offers several booking packages, including the "get out and explore package," which includes a scavenger hunt for their guests to explore San Francisco. Guests who complete the scavenger hunt can even win prizes!
The Fairmont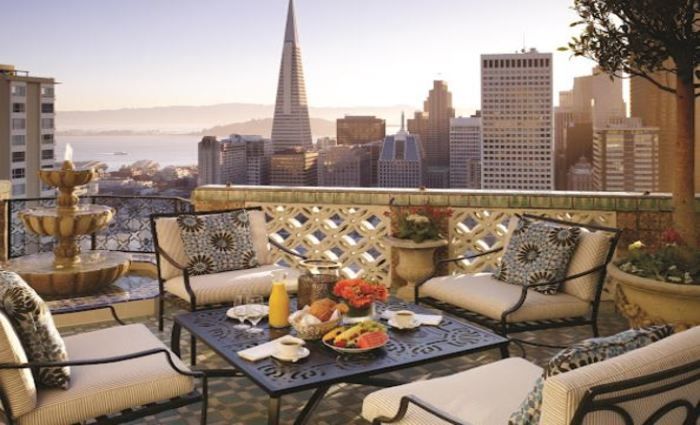 $$$$ | 4 Star | Tropical Bar | Rooftop Culinary Garden | Huge Property
The Fairmont has a couple claims for fame. It's positioned in the only spot in the city where all of the city's cable car lines meet. How's that for a fun fact? The Fairmont is home to more than 600 rooms, and all of the suites come with either a city or a bay view that includes the Golden Gate Bridge.
Also, the Tiki-themed bar and restaurant Tonga Room & Hurricane Bar is also inside the Fairmont. It's a fun spot that offers tropical drinks while the band floats on the moat in the middle of the restaurant. Go for the bridge views at the Fairmont, stay for the pineapple drinks at the Tonga Room.

Location, photos, and booking
Hotel Drisco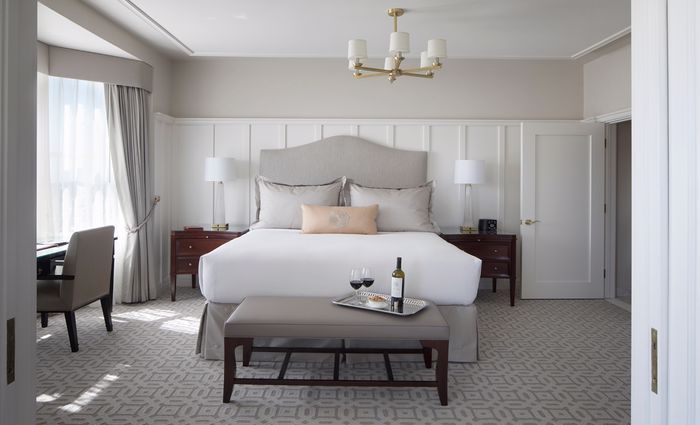 $$$ | 4 Star | Modern Boutique | Excellent Amenities | Two Blocks from the Presidio
Located in the family-friendly Pacific Heights neighborhood, Hotel Drisco is an Edwardian building from the early 1900s. Located less than 10 minutes from Powell Street by car, Hotel Drisco is well-known for its gourmet continental breakfast, afternoon wine and cheese tasting, and highly attentive staff who strive to make your stay as amazing as possible.
And since it's close to the Presidio, they also offer bike rentals for your convenience. But you might love the ultra-comfy rooms the most: pillow selection, goose down comforters, and even a sleep machine if needed.
Not ready to book a tour? Read more in our San Francisco Guide.
Hotel Kabuki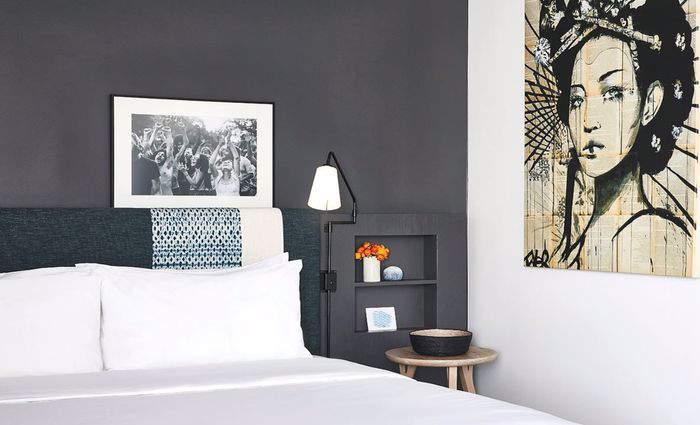 $$ | 4 Star | Contemporary Vibes | Trendy & Cozy | Zen Garden
As part of Hyatt's JdV hotel collection, Hotel Kabuki features an upscale gym and a yoga studio, as well as awesome views from some of the rooms. Hotel Kabuki is located in San Francisco's cool Japantown neighborhood. It's close to a shopping center with restaurants, clothing stores, and the popular Japanese dollar store Daiso.
The Nari restaurant is an acclaimed dining experience mixing California ingredients with Thai flavors. The rooms are tastefully contemporary with cool Japanese art and photography, mini fridges, and walk-in showers with optional rain showers.
W San Francisco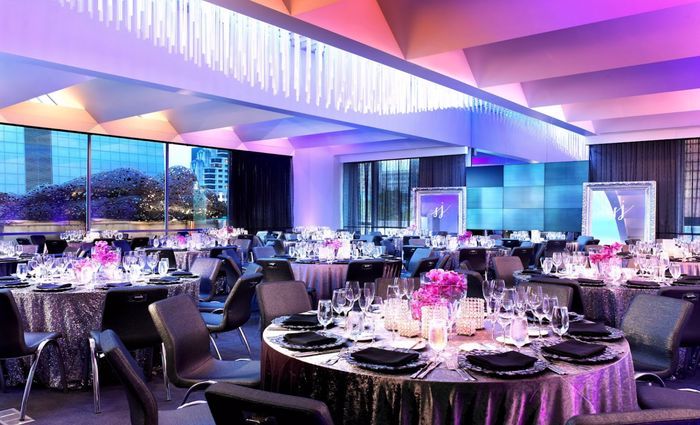 $$$ | 4 Star | Upscale Hotel | Sleek & Modern | Pet Friendly
The W San Francisco is known for its modern interior and ideal city location. If one of the main reasons you're going to San Francisco is to scope out the museums, this is where you want to stay. The W San Francisco is located just one minute away on foot from both the Museum of Modern Art (MoMa) and the Yerba Buena Center of the Arts.
Doesn't get much better than that! As for the hotel, you'll love the ultra-contemporary rooms that have cool pops of color everywhere and luxury bath amenities. And don't skip dinner at their farm-to-table restaurant!
Hotel Zeppelin San Francisco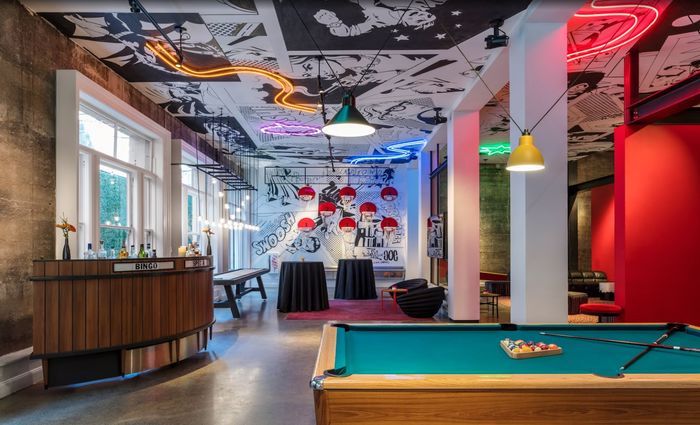 $$ | 4 Star | Bohemian and Avant-Garde | Cool & Hip | Fun Amenities
A short four-minute walk from San Francisco's famous Union Square, Hotel Zeppelin is a fun hotel with a game room where guests can play pool and shoot hoops. They also have a large TV in the common area for sports or movies. The rooms and suites smack of avant-garde vibes with custom-made furniture and even vinyl record players in some rooms.
Conde Naste awarded it as one of the top 15 hotels in San Francisco for 2021. If you're coming to San Francisco to do a lot of shopping, ride some cable cars, and see those iconic Union Square heart statues, you can't beat this location.

Location, photos, and booking
Chateau Tivoli Bed and Breakfast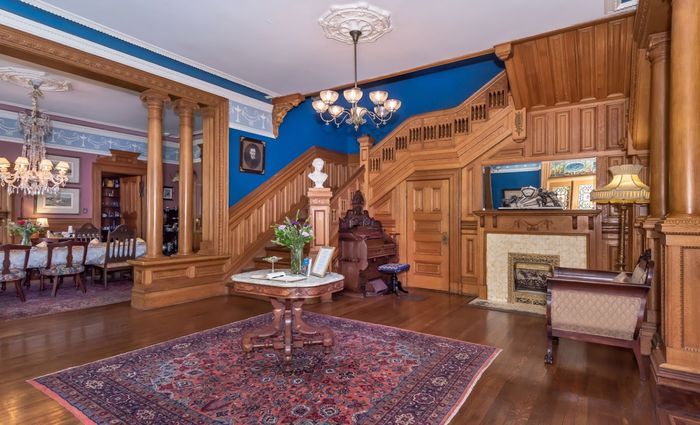 $$ | 4 Star | Bed and Breakfast | Classy Inn | Ideal for Couples
This charming bed and breakfast is located in a Victorian mansion in an ideal location. Praised for their delicious breakfast offering and weekend champagne brunch, Chateau Tivoli is right next to Alamo Square, which is the home of the famous "Painted Ladies" houses. It doesn't get more classic "San Francisco" than that!
Don't wait to book one of these nine cozy rooms available here. You might book a room with a four-poster bed, a claw-foot tub, or a private parlor with dining in the turret. It's so charming, you'll want to extend your stay.
Not ready to book a tour? Find out if San Francisco tours are worth it.