San Francisco is only 7 miles by 7 miles, so there can't be that many different restaurants to choose from, right? Wrong! San Francisco has one of the most diverse collections of restaurants in the United States. Sounds intimidating? Never fear! We've compiled a list of the 11 best restaurants in San Francisco to help you choose where to eat.
---
Pro Tip: It's easier to organize your trip when you have all your resources in one place. Bookmark this post along with our guide to San Francisco for more planning resources, our best San Francisco tours for a memorable trip, and the top things to do in San Fran.
The Best Places To Eat During Your San Francisco Trip
San Francisco is home to almost any cuisine you could possibly think of. The iconic "city by the bay" contains many different neighborhoods, each with a very different vibe. From an upscale multiple-course meal to a quick slice of pizza, the San Francisco food scene truly has something for everyone.
This list contains an eclectic assortment of the best restaurants in San Francisco for all of your different culinary moods. Make sure to bookmark this page for your next trip to one of California's most famous cities!
If you love food and travel, you'll love going on a food tour! Check out our local food tours in San Fran—they're a great way to explore a new city and eat good authentic food.
Not ready to book a tour? Find out if San Francisco tours are worth it.
Limón
$$ | Peruvian | Classy Dinner
Toeing the line between casual and classy, Limón is a great place for a birthday dinner or any fun celebration. Although it's best known for their rotisserie chicken, Limón's menu is also full of classic Peruvian dishes like empanadas and ceviche.
They also have a full bar with handcrafted cocktails, sangria, and pisco sours (Peruvian brandy cocktails) that make for a relaxing way to end your long day.

Address: 1001 S Van Ness Avenue, San Francisco
Golden Boy Pizza
$ | Pizza | Quick and Casual
Available in either slices or full sheets, Golden Boy is often hailed as the best pizza in San Francisco. This does mean that you'll often see a long line down the block, but we think it's well worth the wait.
This casual hole-in-the-wall does not have any seating. Instead it's simply a window you can approach and order from. Many Golden Boy patrons opt to enjoy their Sicilian slices on the curb outside of the restaurant.
Address: 542 Green Street, San Francisco
Popular San Francisco Tours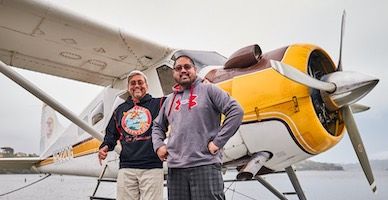 Best Selling Tour
Morning in Marin: Muir Woods, Seaplane, and Sausalito Ferry Tour
A VIP experience with a local storytelling guide. With hotel pickup included from San Francisco, begin your day in style. Head to the Muir Woods before the crowds and spend an hour amongst thousand-year-old Giant Sequoia trees. Next, hop onto a seaplane, take in the beauty of the bay, and see the top sights from above. Once landed, enjoy a locally-sourced lunch in Marin. The day ends in Sausalito for free time to explore before ferrying back to San Francisco.





Starting at $449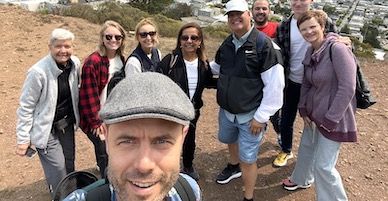 Likely to Sell Out
San Francisco in a Day Tour with Golden Gate Bridge and Alcatraz
In a small group, hop on board and see San Francisco with a local expert. Visit the Golden Gate Bridge, the Twin Peaks, and countless hidden gems on this full-day exploration. The last stop of the day is Alcatraz. Embark the ferry and see the stunning surroundings of San Francisco Bay before reaching the infamous prison. Once you disembark, enjoy the famous Cellhouse Audio Tour where you can explore the entire prison and island. Hotel Pickup Included.





Starting at $179
Not ready to book a tour? Find out if San Francisco tours are worth it.
Osha Thai
$$ | Thai | Contemporary Thai

Located near San Francisco's bustling Embarcadero area, Osha Thai serves Thai food with a twist. Known for its classy, fun vibe, the interior of the restaurant feels like a lounge, and their outdoor patio is equipped with heat lamps.
If you go for dinner, don't forget to ask about their happy hour—you can't go wrong with their $1 oysters! Then after you're full of drunken noodles or pad thai, take a stroll along the nearby Embarcadero waterfront to take in the sunset.
Address: 4 Embarcadero Center, San Francisco
Sorrel
$$$ | Upscale American and Italian | Prix Fixe Menu
If you're looking for a dining experience that's simultaneously creative and upscale, Sorrel is the place for you. This Pacific Heights restaurant has a prix fixe menu featuring mind-blowing entrees, appetizers, and desserts.
We didn't know what cucumber granita was before it was on our plate, and now we never want to forget. Sorrel also offers a seasonal wine pairing option for an additional cost. Both indoor and outdoor seating is available. Make sure to make a reservation before you go to one of the best restaurants in San Francisco!
Address: 3228 Sacramento Street, San Francisco
Sweet Maple
$$ | Breakfast and Brunch | Classy and Lively
Two words: Millionaire's Bacon. This popular brown-sugar-glazed, cayenne-pepper-sprinkled dish is the reason you can always expect a long line at Sweet Maple. We are here to report that the bacon is worth it.
For non-meat eaters, Sweet Maple also has a wide selection of other breakfast items, such as French toast, omelets, and their popular eggs Benedict dishes. If you prefer your bacon with a side of bubbly, then you'll love that bottomless mimosas are available on the weekends.

Address: 2101 Sutter Street, San Francisco
La Taqueria
$ | Mexican | Quick Taqueria
Mexican food is a San Francisco staple, and the Mission district is the absolute best place to get it. Located in the heart of the Mission district, La Taqueria has won multiple awards for the best burrito in San Francisco.
They're also known for their tacos and their signature green sauce. There's usually a line forming by the time they open at 11 a.m., but once you place your order, the service is relatively quick.
Address: 2889 Mission Street, San Francisco
Keeva Indian Kitchen
$$ | Indian | Cozy and Classy
San Francisco's Clement Street is known for its many restaurants, each offering a different type of cuisine. Keeva Indian Kitchen offers a classy, creative take on traditional Indian food. Just look at that picture!
Have you ever seen Indian food like that before? Exactly. We are happy to report that it tastes just as amazing as it looks! This cozy Richmond district restaurant is perfect for date night or simply catching up with an old friend.
Address: 908 Clement Street, San Francisco
EPIC Steak
$$$ | Steakhouse | Upscale Dinner with a View
We love the steak, we love the cocktails, but what we love the most is the epic view! (Pun very much intended.) Epic Steak is located on the Embarcadero waterfront with an incredible view of the Bay Bridge.
The bridge lights up and twinkles at night, making it an amazing dinner view. Epic is a short walk from Oracle Park, so it's also a great dinner choice if you're in town catching a Giants game. They also have happy hour every weekday afternoon for snacks and cocktails.

Address: 369 The Embarcadero, San Francisco
Hawker Fare
$$ | Laotian | Street Food
Hawker Fare offers Laotian street food in a lively atmosphere. The owner also owns other Michelin-star restaurants, but Hawker Fare's atmosphere is casual. Their cocktail menu is extremely popular, making them a good spot for both diners and drinkers.
They also have an unbeatable location in the Mission district—a stone's throw from many bustling bars. Hawker Fare is a great place for a fun dinner with friends and maybe a little Mission district bar crawl when you're done.

Address: 680 Valencia Street, San Francisco
Tacolicious
$$ | Mexican and American | Tacos and Tequila
While priced a little higher than your typical taqueria, Tacolicious is a fun place to grab tacos and a margarita pitcher with friends. As the name suggests, the tacos are, well, delicious—especially after a few customary tequila shots.
This American/Mexican fusion spot has multiple locations in San Francisco, but the menus are the same. Both the Chestnut Street and Valencia Street locations are located in popular, bustling areas.
Address: 2250 Chestnut Street, San Francisco
Saucy Asian
$ | Korean Fusion | Quick and Casual
Saucy Asian is Korean food like you have never tried before. This laid-back restaurant combines typical Korean dishes with American and Mexican influences. Think: kimchi burrito!
With lots of options for both meat eaters and non-meat eaters, Saucy Asian is a casual place for a quick bite. Located between the Mission and Castro districts, Saucy Asian is perfect after a day spent at Dolores Park. If you are looking for Korean fusion food on a moderate budget, you've found it!

Address: 3801 17th Street, San Francisco
Not ready to book a tour? Find out if San Francisco tours are worth it.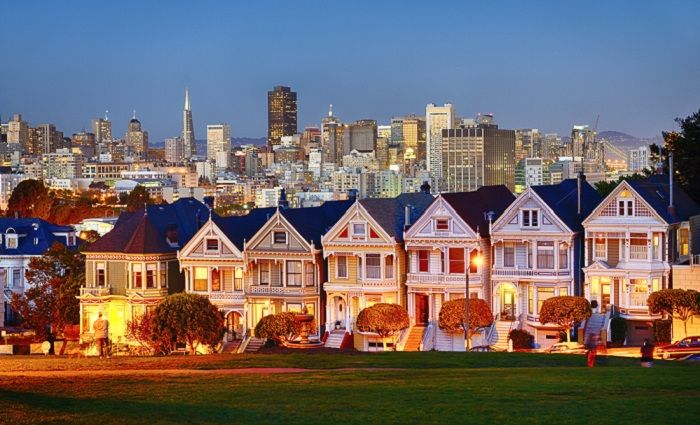 Find the best places to stay
Where To Stay in San Francisco
Make the most of your visit to San Francisco by choosing to stay in the best neighborhoods for seeing all this iconic city has to offer. You'll love our hotel recommendations.