No matter what you want to do, we can almost guarantee you can find it in San Francisco. This unique city is home to famous museums, great restaurants, and beautiful viewpoints. But did you know that there are also many other fun places to go within a few hours of San Francisco? If you want to see more of what California has to offer, consult this list for the best day trips from San Francisco!
---
Pro Tip: It's easier to organize your trip when you have all your resources in one place. Bookmark this post along with our San Francisco Guide for more planning resources, our best San Francisco tours for a memorable trip, and how to spend 3 days in San Fran (with itinerary).
Fun Day Trips to Take from San Francisco
Whether you're checking out the Golden Gate Bridge or taking a tour of Alcatraz, there is no shortage of things to do in San Francisco. But California offers so much natural beauty and fun activities for tourists and locals to discover within just a couple hours of the busy city. Soak in mineral pools, hang out with rescued animals, and even go on a safari!

One of the best things about San Francisco is that it's close to many other wonderful things to do in Northern California. We suggest you make San Francisco your home base for a couple of days, and take one or more of these cool day trips to take advantage of the awesome places around you. Read on to discover our picks for the best day trips from San Francisco!
Pro tip: We've estimated approximate travel times to each destination from Union Square. Traffic conditions can get heavy throughout the day, so plan ahead if you book a tour so you have plenty of time to get there!
Not ready to book a tour? Find out if San Francisco tours are worth it.
Our Partnership with Booking.com. If you like our content, please book by clicking on our Booking.com links. The price is the same for you, and we get a small commission that helps support our blog. We've partnered with Booking.com because they have the most options, great prices, and a solid loyalty program. Just about every hotel is on Booking, so our recommendations are not incentivized.
13. Go to the San Jose Museum of Art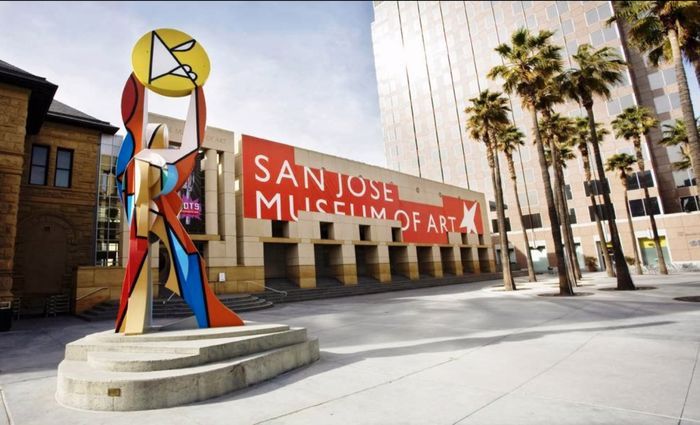 1 hour and 9 minutes (55.3 miles) | Award-Winning Art Museum | Family Fun | Good for Art Lovers
The San José Museum of Art is a modern art museum full of 20th and 21st century art. This museum is on the smaller side, but that doesn't mean that it lacks things to see! As well as the art collections, it's also full of educational tech and science exhibits.
People love taking their kids here, and they agree that it's ideal for a half-day trip. There's an entire tech section of the museum which is just for children to learn and engage with. While visiting this museum, you can also check out the Downtown San Jose Art Walk – a nearby collection of outdoor art!

How to get to San Jose Museum of Art
12. Check out the Apple Park Visitor Center in Silicon Valley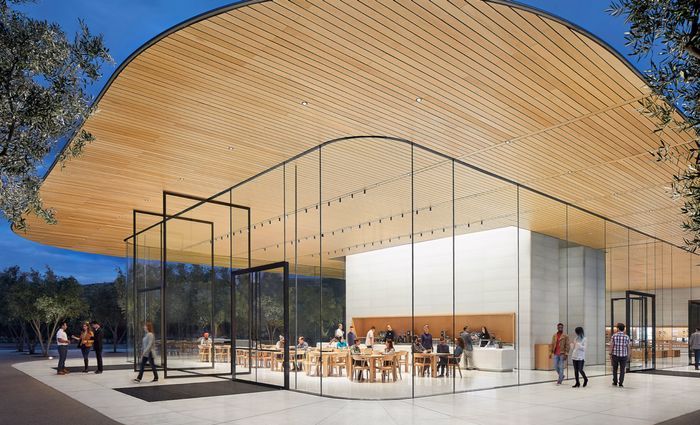 1 hour (49 miles) | Trendy | Great Views | Good for Tech Lovers
If you're looking for one of the trendiest places in Silicon Valley, you've found it! The Apple Park Visitor Center in Cupertino is, yes, an Apple store. However, it includes awesome modern architecture, as well as a cafe and an observation deck with great views. Apple lovers can check out the latest tech gear here and rub elbows with other Apple-loving people.

While you're in the area, you can also pay a visit to Hanna House at Stanford University. It's a bit of a drive from Apple Park, but it's known to be one of the best pieces of architecture in Silicon Valley. Also known as the Hanna-Honeycomb House, this house was designed by famous architect Frank Lloyd Wright. The claim to fame? It's his first masterpiece made with no rectangular structures!

How to get to Apple Park Visitor Center
Popular San Francisco Tours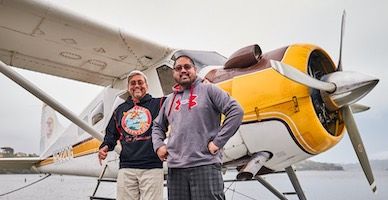 Best Selling Tour
Morning in Marin: Muir Woods, Seaplane, and Sausalito Ferry Tour
A VIP experience with a local storytelling guide. With hotel pickup included from San Francisco, begin your day in style. Head to the Muir Woods before the crowds and spend an hour amongst thousand-year-old Giant Sequoia trees. Next, hop onto a seaplane, take in the beauty of the bay, and see the top sights from above. Once landed, enjoy a locally-sourced lunch in Marin. The day ends in Sausalito for free time to explore before ferrying back to San Francisco.





Starting at $449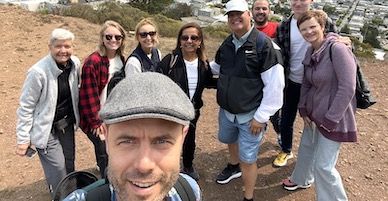 Likely to Sell Out
San Francisco in a Day Tour with Golden Gate Bridge and Alcatraz
In a small group, hop on board and see San Francisco with a local expert. Visit the Golden Gate Bridge, the Twin Peaks, and countless hidden gems on this full-day exploration. The last stop of the day is Alcatraz. Embark the ferry and see the stunning surroundings of San Francisco Bay before reaching the infamous prison. Once you disembark, enjoy the famous Cellhouse Audio Tour where you can explore the entire prison and island. Hotel Pickup Included.





Starting at $179
Not ready to book a tour? Find out if San Francisco tours are worth it.
11. Meander Around Lake Merritt and Jack London Square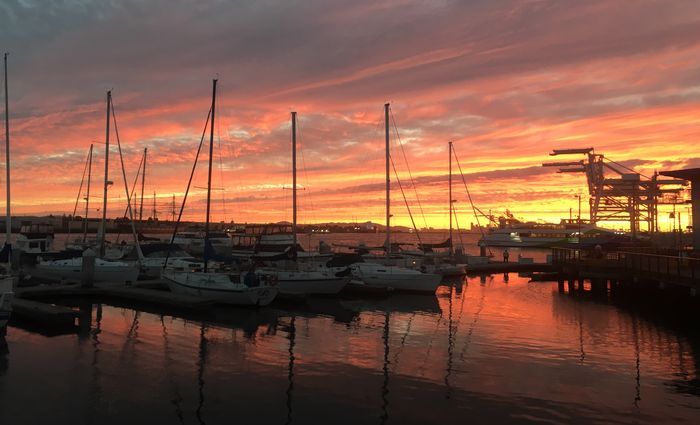 26 min (10.7 miles) | Awesome Restaurants & Bars | Sports & Games | Picnic Spot
Jack London Square in Oakland is home to many great restaurants of all different cuisines. You can eat pizza, Thai food, ramen, and more while gazing at the awesome waterfront views. We also like to have a drink at Heinold's First and Last Chance Saloon, which is a bar themed from the 1800s. Our top favorite activity to do at Jack London Square is to visit Plank. It's a bar and restaurant that also has bocce ball, a bowling alley, and an arcade!

After you've played a few games at Plank, you can drive the 8 minutes to Lake Merritt. This popular lake is great for picnics and walking along the water. On nice days, there are frequently events going on such as drum circles or local markets.

How to get to Jack London Square
10. Meet Rescued Animals in Sonoma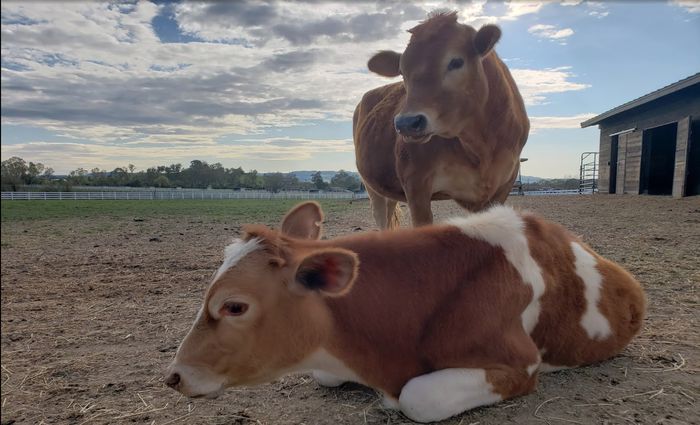 1 hour 24 minutes (37 miles) | Animal Lovers | Kid Friendly | Local Business
Animal lover shouldn't miss this unique day trip! Escape the city to visit Charlie's Acres Farm Animal Sanctuary, a farm in Sonoma where all of the animals were rescued and given a forever home. Take a tour to learn about all the different species of animals and get up close and personal with baby cows, pigs, and goats! You'll probably get to feed the cows, which is an unforgettable experience. You might even see some animals you've never seen before! (Ever seen a mangalitsa pig?!)

This is the ideal day trip for families and animal enthusiasts who want to experience a peaceful day trip from San Francisco. If your party is adults only, you can also combine your farm tour with an afternoon of wine tasting! After all, that's what Sonoma is famous for!
How to get to Charlie's Acres Farm Animal Sanctuary
Not ready to book a tour? Find out if San Francisco tours are worth it.
9. Explore the Botanical Gardens at UC Berkeley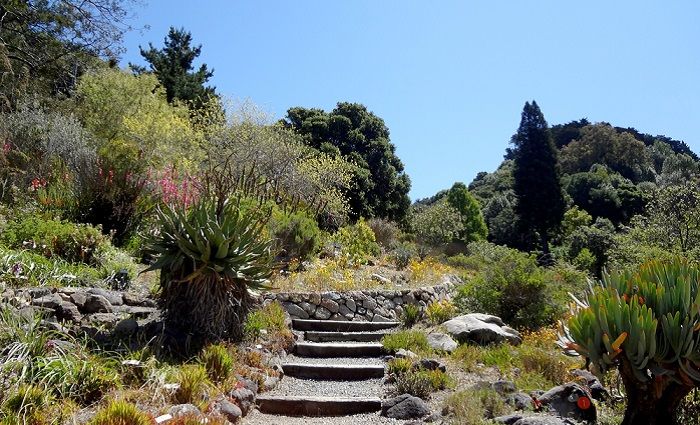 36 min (14.1 miles) | Family Fun | See Global Plant Species | Great Date Spot
Berkeley is known for being a university town, but it has so much to offer students and non-students alike! Downtown Berkeley is full of lots of different awesome restaurants, and you could easily spend a full afternoon just checking out Telegraph Avenue and Ashby Avenue.
However, you would be remiss to visit Berkeley and not check out the University of California Botanical Garden! Across the 34 acres, you'll find over 12,000 different species of plants from all over the world! See not only flowers, trees, and plants that are native to California, but also those from Asia, South Africa, the Mediterranean, and more.

How to get to University of California Botanical Garden
8. Shop for Quirky Souvenirs in Port Costa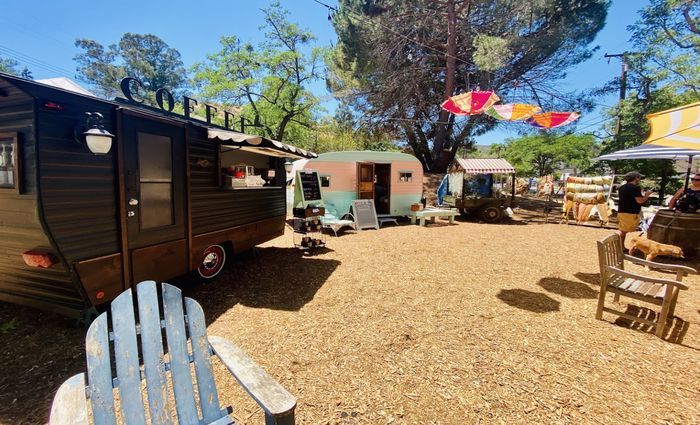 1 hour 30 minutes (29.9 miles) | Hidden Gem | California History | Quirky Excursion

Port Costa is a unique town that was a major port for wheat shipping following the Civil War. Today, it is full of warehouses, quirky shops, and places to eat that are off-the-beaten path. Hailed by Bay Area locals as a hidden gem, Port Costa is also home to the Burlington Hotel which is said to be haunted! It's temporarily closed, but we anxiously await the doors to open soon.

While in Port Costa, we love to go shopping for unique souvenirs for friends and family back home at the many unusual shops. One of our favorites is Trailer Park Treasures, a pop-up shop that is reminiscent of being at an art fair. It also features food stands where you can refuel yourself for the rest of the day's adventures.

How to get to Port Costa
7. Ride a Beachside Roller Coaster in Santa Cruz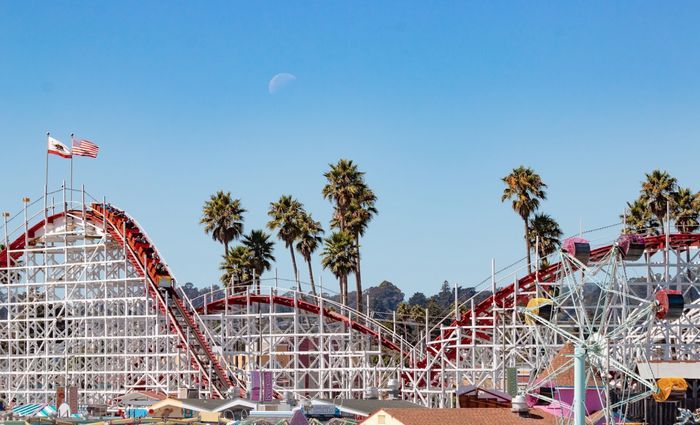 1.5 hours (76.1 miles) | Summer Vibes | Amusement Park | Family Fun
You've probably heard of Santa Cruz, California from Beach Boys songs or maybe you've seen it in movies. This beautiful town is full of beaches and hiking trails, and it also has an amusement park right on the beach! Gaze at the sparkling ocean as you ride any of the famous rides at the Santa Cruz Beach Boardwalk.
The most iconic ride here is the Giant Dipper. Not to be confused by the one in San Diego with the same name, this historic wooden roller coaster has been a Santa Cruz institution since the 1920s. The historic, beachy feel of Santa Cruz makes it a popular day trip from San Francisco.

Escape the city for a day for sun, sand, and screams on the Giant Dipper. While at the Boardwalk, don't forget to indulge in any of their fair food stands (corn dogs, anyone?) We also love to check out the arcade for classic fun.

How to get to the Santa Cruz Beach Boardwalk
6. Visit Shark Fin Cove in Davenport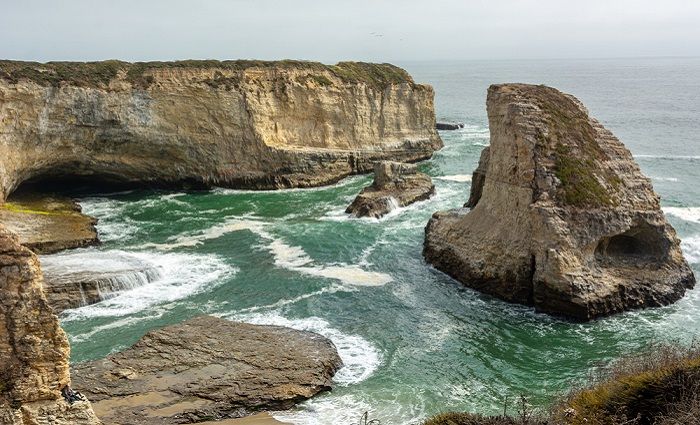 1.5 hours (67.5 miles) | Great for Photos | Sun and Sand | Beautiful Views
Known as one of the best beaches in Northern California, Shark Fin Cove gets its name for the large rock jutting out of the sea that looks like – you guessed it – a shark fin! Since it's a popular spot for pictures, visitors love this beach either for playing in the sand or just admiring the view from the top of the cliff.

Shark Fin Cove is about 20 minutes from the Santa Cruz Beach Boardwalk, so you can easily visit Davenport and Santa Cruz in the same day. If you're hoping for a very "California-style" day trip with beach views, Santa Cruz and Davenport is the day trip for you!

How to get to Shark Fin Cove
5. Go on a Safari in Santa Rosa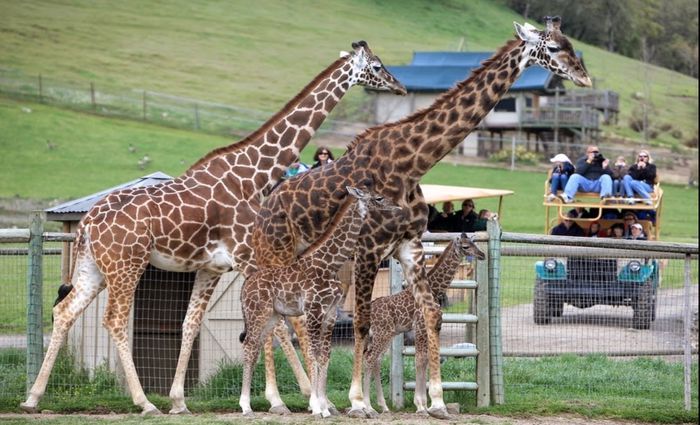 1.5 hours (66 miles) | Opportunities to See Wildlife | Photo Op | Unique Excursion
Known as the Sonoma Serengeti, Safari West in Santa Rosa gives visitors the chance to see African safari animals up close! Safari tours are offered on the 400-acre wildlife preserve, which is dedicated to conservation. You can see giraffes, monkeys, lemurs, and more on this unique adventure. True to the Sonoma county spirit, Safari wine tours are also available for wine enthusiasts!

While you're in Santa Rosa, cartoon lovers should also make sure to visit the Charles M. Schulz Museum and Research Center. Dedicated to Charles M. Schulz, the creator of the famous Peanuts comic strips, this museum provides visitors with the chance to see art, make crafts, and even meet professional cartoonists!

How to get to Safari West
Not ready to book a tour? Read more in our San Francisco Guide.
4. Take a Seaside Hike at Point Reyes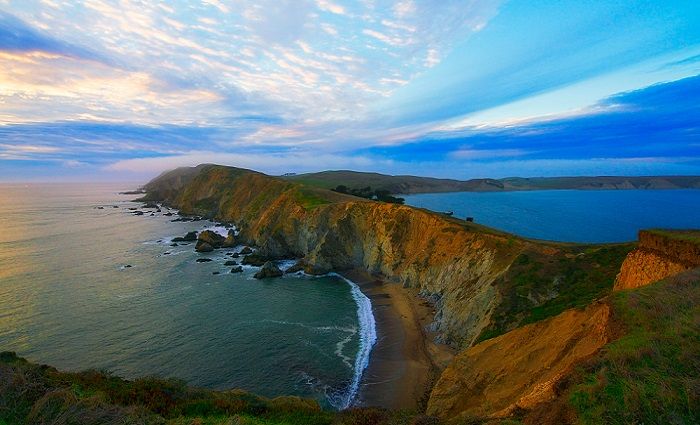 1 hour 22 minutes (37 miles) | Hiking Trails | Campsites | Beautiful Beaches
Point Reyes National Seashore is a gorgeous nature preserve filled with hiking trails that you can meander as you take in the beautiful ocean views. It's a sanctuary for many different species of plants and animals, and therefore popular among nature photographers. If you're a hiking enthusiast, and would also love to take in great views of the ocean, this is the day trip for you!

A popular trail at Point Reyes is the Tomales Point Trail. This is a hiking trail that spans almost 10 miles round trip and offers breathtaking views of Tomales Bay and Bodega Bay, plus the Pacific Ocean. An easier trail for kids is Chimney Rock trail, which is less than 2 miles round trip and boasts views of Drakes Bay. We highly recommend this as a top day trip from San Francisco.

How to get to Point Reyes National Seashore
3. See Gigantic Trees in Muir Woods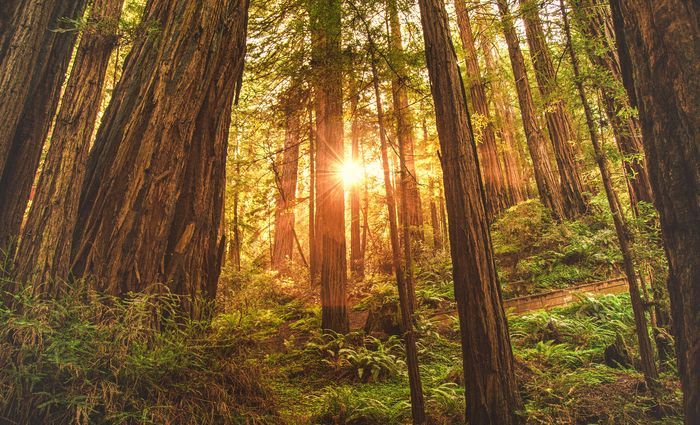 40 minutes (16.8 miles) | Hike Among the Tallest Trees | Stunning Views
Muir Woods National Monument is home to 240 acres of old-growth coastal redwood trees, which stand around 258 feet tall. This is one of the last places in the Bay Area where you can see these types of trees, so it's truly special! Please note that you likely won't have cell reception, and it's pretty hard to get to without a tour.

Once you are there, you can admire the tall, beautiful trees, bask in the tranquility, and go hiking along the many trails. We suggest the Muir Woods Fern Creek Loop if you want an easier trail, as it is only about a mile long. If you have all day, we suggest taking the Dipsea Trail, which is just under 10 miles.

How to get to Muir Woods National Monument
Not ready to book a tour? Find out if San Francisco tours are worth it.
2. Take Pics of California's Most Famous Bridge in Big Sur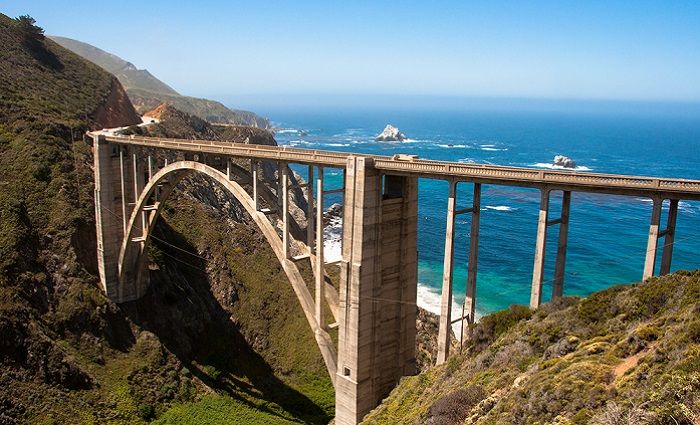 2.5 hours (133 miles) | Scenic Drive | Hiking Trails | Excellent Photo Spot
Big Sur is a beautiful spot for hiking and gazing upon the ocean. Located between Carmel and Hearst Castle, Big Sur spans 90 miles. It includes several state parks, beaches, and waterfalls. Among our favorite things to do in Big Sur are hiking through Andrew Molera State Park to the Big Sur River and checking out Pfeiffer Beach. We also suggest taking the short hike to go admire McWay Falls.

However, if you're heading to Big Sur with a camera, our top recommendation is seeing the Bixby Creek Bridge. Because of its unique design and jaw-dropping location, this is one of the most-photographed bridges in all of California, and an absolute best day trip from San Francisco. Don't forget to take pics for the 'Gram!
How to get to Bixby Creek Bridge
1. Wine and Dine at the Mineral Pools in Napa Valley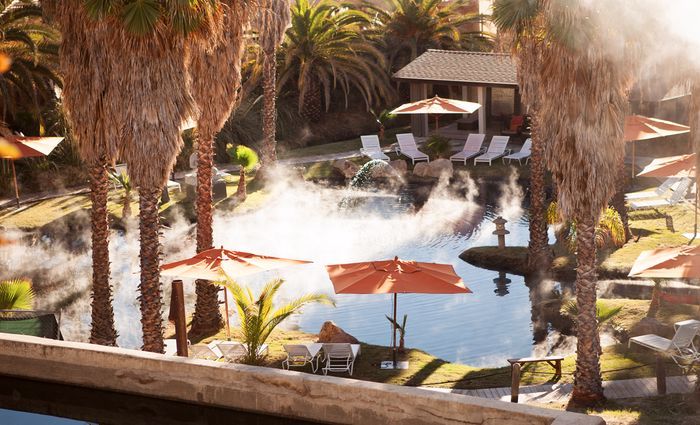 1 hour 39 minutes (75 miles) | Wine Tasting | High-Class Relaxation | Epic Date Activity
Napa is a well-known day trip from San Francisco. But did you know that California's most famous wine country also contains mineral pools? 40 minutes north of downtown Napa lies Indian Springs Resort in Calistoga. Sip on wine while enjoying natural mineral baths in a high-class resort!
Calistoga has been a top-notch a premier wellness destination for Bay Area locals since the 1920s. You may just enjoy it so much that you don't want to go back to San Francisco when you're done. The thing is, it's also a hotel, so you don't necessarily have to leave if you'd rather make your San Francisco day trip an overnighter. You won't regret it.
How to get to Indian Springs Resort for the day, plus location, photos, and booking
Not ready to book a tour? Find out if San Francisco tours are worth it.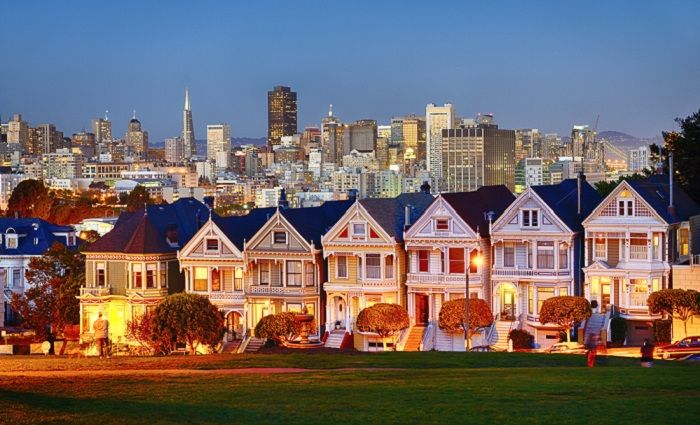 Find the best places to stay
Where to Stay in San Francisco
Make the most of your visit to San Francisco by choosing to stay in the best neighborhoods for seeing all this iconic city has to offer. You'll love our hotel recommendations.