If you've been to San Francisco before, you know it can get foggy, and we know that fog isn't ideal weather for hanging out at rooftop bars. However, because of its famous hills, San Francisco has many amazing views best seen from rooftops. It's not foggy all the time, so some days are perfect rooftop bar weather. Just remember to bring a jacket! Here are our top picks of the best rooftop bars in San Francisco.
---
Pro Tip: It's easier to organize your trip when you have all your resources in one place. Bookmark this post along with our guide to San Francisco for more planning resources, our best San Francisco tours for a memorable trip, and how to spend 3 days in San Fran (with itinerary).
The Top 8 Rooftop Bars in San Francisco
Two of the things San Francisco is best known for are its steep hills and stunning views. What better way to see these views than from a rooftop? Luckily, San Francisco has a few rooftop bars that provide excellent views, as well as drinks to clink as you gaze upon them. Just like the neighborhoods of San Francisco, the rooftop bars are all different with varying vibes and ambiance.

As we previously mentioned, San Francisco can get cold! It can also get so foggy that locals even named the fog—his name is Karl, and he even has a Twitter account. Because of this, most of the rooftop bars in San Francisco have heat lamps. Wear layers just in case! Keep reading to learn all about our favorite rooftop bars in San Francisco.
If you love food and travel, you'll love going on a food tour! Check out our local food tours in San Fran—they're a great way to explore a new city and eat good authentic food.
Not ready to book a tour? Find out if San Francisco tours are worth it.
The View Lounge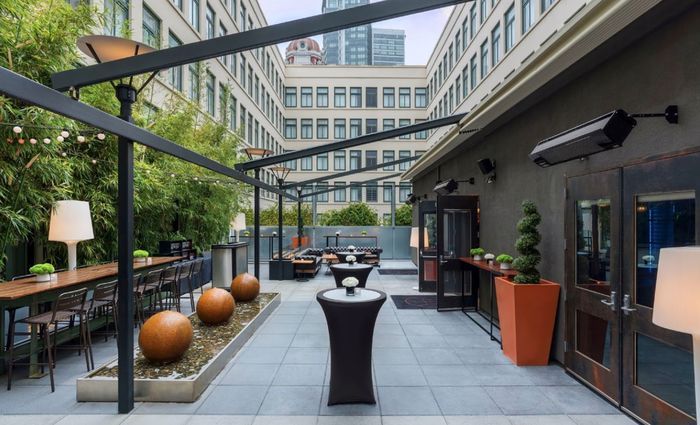 $$$ | Swanky Vibes | Dress To Impress | Cocktails and Small Bites
Located on the 5th floor of Hotel Zelos, Dirty Habit is a popular spot for an upscale date night. Guests love the outdoor deck with fire pits which can help keep you and your group warm on a foggy night. You can also enjoy sitting inside at the classy bar.

Although Dirty Habit serves food, the cocktails are definitely more popular. This is more of a place to come for appetizers and not somewhere to have a big dinner. In terms of cocktails, patrons love the espresso martini. People come to Dirty Habit dressed to impress, so if that's your vibe, this is the spot for you!

Address: 12 4th St, San Francisco
Rooftop 25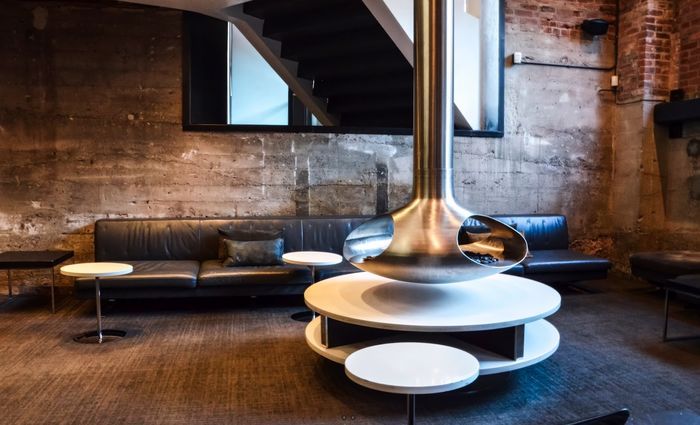 $$ | Fun Atmosphere | Casual and Modern | Bites and Brews
Guests love Rooftop 25 for its modern architecture and casual vibes. It also has heat lamps, which is a huge plus! Located in San Francisco's SoMa neighborhood, Rooftop 25 boasts a decent-sized beer list, but only has 4 different cocktails to choose from.
Their wine list is short but full of California wines, which is popular among patrons. We recommend the Spicy Passionfruit Margarita cocktail, as well as the tasty bar food—especially the pizza.

To avoid reservation confusion, please note that Rooftop 25 is under the same address as the trendy restaurant 25 Lusk! Also, Rooftop 25 is not super high up and does not have an amazing view of the city, so keep this in mind if you're hoping for an epic view. However, it's one of the best rooftop bars in San Francisco in terms of a chill vibe, cool modern layout, and tasty bar bites.

Address: 25 Lusk St, San Francisco
Top San Francisco Tours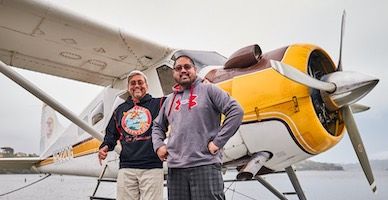 Best Selling Tour
Morning in Marin: Muir Woods, Seaplane, and Sausalito Ferry Tour
A VIP experience with a local storytelling guide. With hotel pickup included from San Francisco, begin your day in style. Head to the Muir Woods before the crowds and spend an hour amongst thousand-year-old Giant Sequoia trees. Next, hop onto a seaplane, take in the beauty of the bay, and see the top sights from above. Once landed, enjoy a locally-sourced lunch in Marin. The day ends in Sausalito for free time to explore before ferrying back to San Francisco.





Starting at $449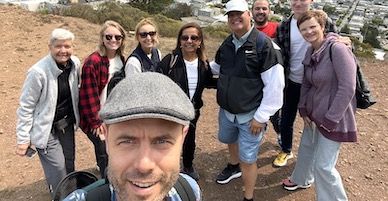 Likely to Sell Out
San Francisco in a Day Tour with Golden Gate Bridge and Alcatraz
In a small group, hop on board and see San Francisco with a local expert. Visit the Golden Gate Bridge, the Twin Peaks, and countless hidden gems on this full-day exploration. The last stop of the day is Alcatraz. Embark the ferry and see the stunning surroundings of San Francisco Bay before reaching the infamous prison. Once you disembark, enjoy the famous Cellhouse Audio Tour where you can explore the entire prison and island. Hotel Pickup Included.





Starting at $179
Not ready to book a tour? Find out if San Francisco tours are worth it.
Top of the Mark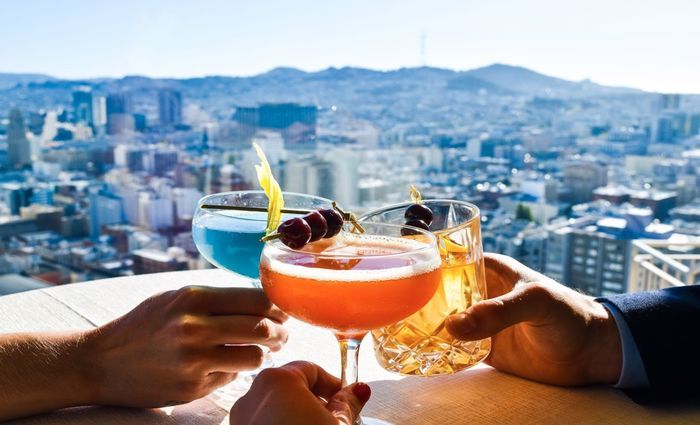 $$$ | Breathtaking City Views | Great for Photos | Good For a Celebration
As the name would suggest, Top of the Mark is located, well, at the top of the Intercontinental Mark Hopkins Hotel. This spacious bar is well-known city-wide for its incredible view! We suggest going at sunset for unforgettable city views and awesome pictures.
Although we haven't been able to confirm the rumor that Top of the Mark is the home of the martini, they certainly do make a great one here! They are also popular for their beef sliders.

The drinks and food are a little pricey here, but we think it's a perfect place to go for a big birthday, anniversary, or work milestone. Please note that it is very popular, so reservations are definitely recommended!

Address: 999 California St, San Francisco
CityScape Lounge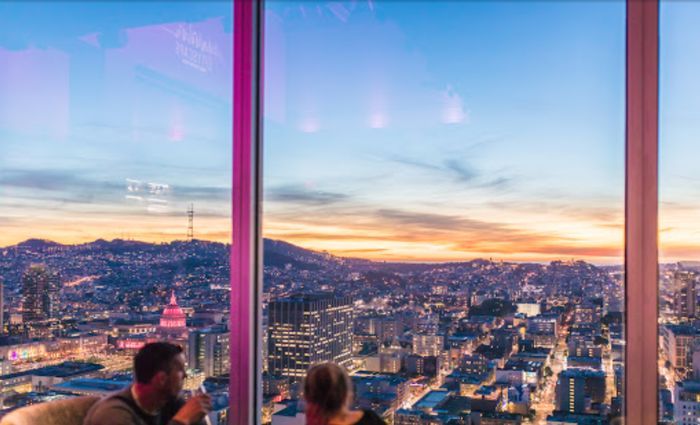 $$ | Classy Atmosphere | Inventive Cocktails | 360° City View
CityScape lounge boasts incredible 360° views of the whole city! Located inside the Hilton San Francisco Union Square, CityScape is known for its great-tasting bar bites and inventive drinks.
They make their potato chips in-house, which is unusual but gives delicious results. They also boast a selection of interesting cocktails. One of the most popular is the Buzz Sparkle Pop. It's made with sparkling wine and has an alcoholic popsicle inside!

Although the drinks and food can be on the pricier side, many guests feel that a trip to CityScape Lounge is worth it because of the jaw-dropping views. Seating is first-come first-serve, so we suggest arriving when they open to make sure you get a good seat.

Address: 333 O'Farrell St, San Francisco
620 Jones
$$ | Heated Terrace | Great Happy Hour | Fun Atmosphere
This spacious bar is popular because of its upbeat atmosphere. The crowd is fun, and the patio is full of plants, which patrons love. On select Sundays, 620 Jones also hosts a "drag brunch," so don't miss that if that's your thing. The food here is also very popular, especially the mushroom pizza!
Although the prices can be a little steep here, they do have an affordable happy hour. The happy hour features a rotating $8 cocktail, as well as their popular wine and sangria for only $5. Call ahead to confirm the happy hour times on the day of your visit!
Address: 620 Jones St, San Francisco
Not ready to book a tour? Read more in our San Francisco Guide.
The View Lounge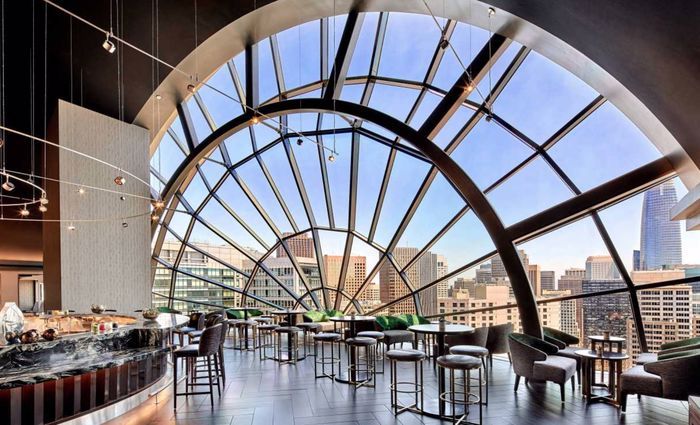 $$ | Amazing Views | Sunset Spot | Popular Specialty Cocktails
Located inside the Marriott Marquis San Francisco, The View Lounge is popular for its specialty cocktails like the Sutro Splash. The views are amazing, especially at sunset! They don't accept reservations, so it's best to go when they open so you can grab the ideal spot.
This does mean that it can get pretty crowded, but one huge plus is that this lounge is all indoors to avoid foggy weather. You'll love being able to gaze at the beautiful city views outside while still staying warm indoors. If you're in San Francisco on a colder day, but still want to sip some cocktails with a sunset view, this is a great pick.

Address: 780 Mission St, San Francisco
Charmaine's Rooftop Bar and Lounge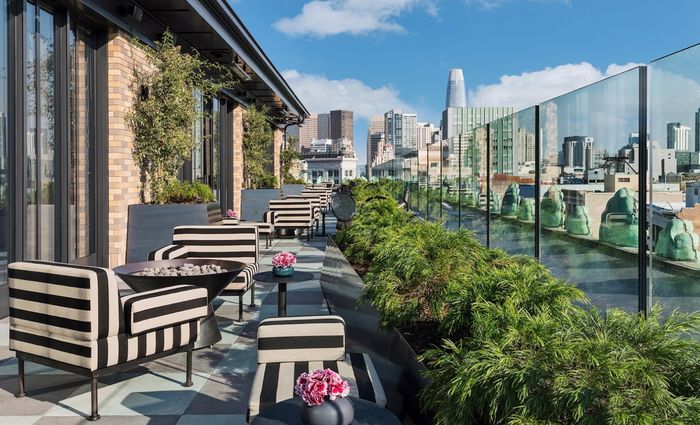 $$$ | Outdoor Fire Pits | Instagram Worthy | Cozy Vibes
Charmaine's offers both indoor and outdoor seating, and the outdoor portion features cute furniture and a fireplace! Aside from the stunning view, the second-most popular thing about this rooftop bar are the chic drinks. Gin fans love the Proper Cup, both for how it looks in photos and also for its unique, delicious taste! In addition to its cute, yummy drinks, Charmaine's also offers bar bites, such as sliders and tempura mushrooms.

Adorable drinks and amazing city views are enough to keep this place pretty busy, so make sure you make a reservation ahead of time. Please note that there may be a $75 person minimum depending on the day, so we suggest calling ahead to ask.
Address: 780 Mission St, San Francisco
Not ready to book a tour? Find out if San Francisco tours are worth it.
El Techo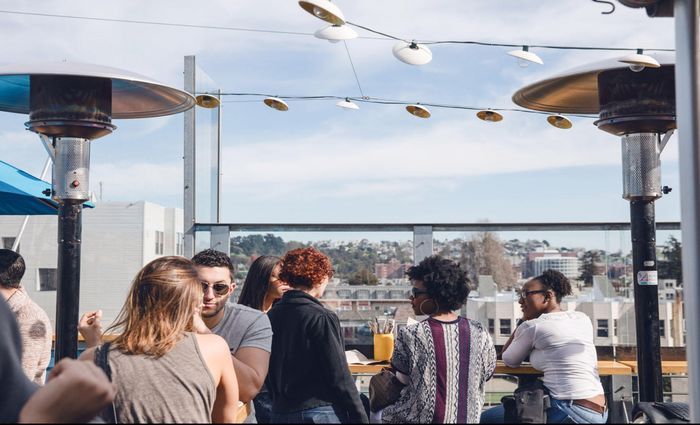 $$ | Mexican Food | Lively Atmosphere | Good Happy Hour
If you want to sip margaritas with a view, look no further! This Mission District rooftop bar is extremely popular for both its margaritas and food. We think the guacamole is amazing too!
On weekdays, El Techo opens at 4 pm, and the line starts to form before that. It's best to go as early as possible. Also, 4 to 6 pm on weekdays is their popular happy hour, where you can get a $5 beer (unusual for San Francisco) or a $7 margarita. Call ahead to make sure their happy hour times are the same when you come to SF. We suggest being here around sunset for those epic views.
Address: 2516 Mission St, San Francisco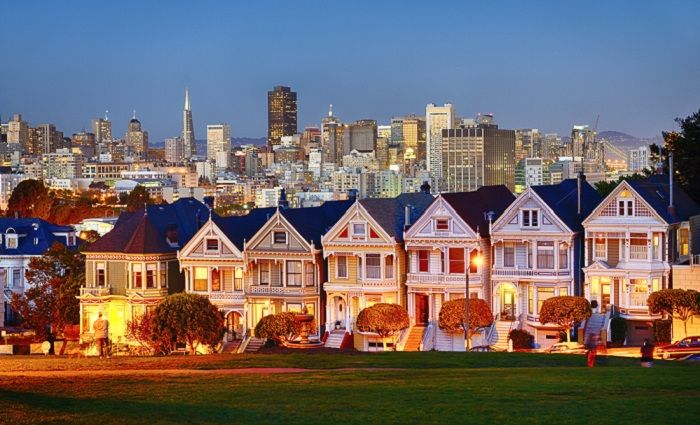 Find the best places to stay
Where To Stay in San Francisco
Make the most of your visit to San Francisco by choosing to stay in the best neighborhoods for seeing all this iconic city has to offer. You'll love our hotel recommendations.