There's a good chance you've heard about some of San Francisco's biggest attractions. You've seen photos of the Golden Gate Bridge, and you know what Fisherman's Wharf is. However, there are so many wonderful things to do in San Francisco aside from the most popular activities you may have heard of. We've planned out the most epic San Francisco weekend itinerary (with hotel and restaurant recommendations too!) to help you have the best time in this iconic City by the Bay. Read on!
---
Pro Tip: It's easier to organize your trip when you have all your resources in one place. Bookmark this post along with our San Francisco Guide for more planning resources, our best San Francisco tours for a memorable trip, and the top things to do in San Fran.
First Time Visiting San Francisco? Here Are Our Tips
So, all of California is warm and sunny all the time, right? Sadly, no. San Francisco is often so foggy that locals gave the fog a name! His name is Karl, and he has a Twitter account! In addition to Karl, the weather in San Francisco can go from chilly to warm and back again very quickly. Therefore, we suggest packing lots of layers for your weekend getaway to San Francisco!
As you probably know, San Francisco is full of hills. Some of the hills are so steep they are almost vertical! Travelers with limited mobility should look into booking a tour and limiting the hill climbing as much as possible. In addition, all visitors to San Francisco should make sure to wear comfortable walking shoes.

San Francisco is known for its food scene. If you're planning on eating at a nice restaurant while you're in San Francisco, you may want to make a reservation so you don't have a long line or get turned away. And make sure to try at least some of these iconic San Francisco dishes.

Perhaps one of the most important San Francisco tips is this: parking is almost impossible here. Not only that, but the city has many parking laws that can result in tickets or towing. To avoid this, we strongly suggest walking, taking public transportation, or taking a ride share service to get around the city. And that brings us to…
Not ready to book a tour? Find out if San Francisco tours are worth it.
Getting Around San Francisco:
Yes, this is worthy of its own subsection. Especially in popular areas, parking is scarce, complicated, and expensive. If you absolutely have to have your car, we suggest finding a hotel with a nearby parking garage (extra fees may apply). However, it is better to rely on public transportation or another mode of getting around like a city tour.
San Francisco's transit system is called MUNI, and you can get a 2-hour pass for just $2.50. Their app is called MuniMobile, and they offer a day-long pass for $5! This is worth it if you'll be taking the bus or train a lot. Please note that the day-long pass does not work for the cable cars.

Speaking of, contrary to popular belief, the famous cable cars are not a typical way to get around San Francisco. They stop between several popular destinations, such as Fisherman's Wharf. However, each time you get on a cable car, it costs $8 one way, so it's not exactly cost-effective. Despite this, it makes for fun photos and an iconic memory for first-timers to San Francisco.

Read our article about getting around San Francisco for more transportation tips!
Our Partnership with Booking.com. If you like our content, please book by clicking on our Booking.com links. The price is the same for you and we get a small commission that helps support our helpful blog content. We've partnered with Booking.com because they have the most options, great prices, and a solid loyalty program.
San Francisco Itinerary: Day One
Morning
We will assume you are boarding your Friday morning flight. Safe travels! Don't forget your jacket and walking shoes!
Afternoon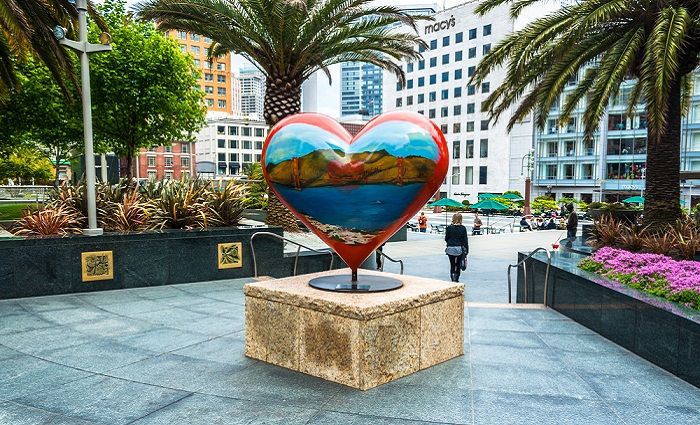 Drop your bags off at your hotel before exploring the city. The good thing is that San Francisco is only 7 miles by 7 miles. Therefore, no matter where your hotel is within San Francisco, it should not be difficult to stick to this plan if you use public transportation or ride shares.

You're probably hungry after your flight, so we suggest grabbing a tasty bite to eat. We like Tacorea on Bush Street—a casual Korean and Mexican fusion spot! This restaurant is close to Union Square, so we suggest strolling around the Square after lunch. It's lined with iconic shops such as Neiman Marcus, if shopping is your jam.
Don't forget to take photos with the famous heart statues at Union Square!
Evening
If you love doing iconic things in major destinations, then you'll want to hop aboard one of the famous cable cars. Depending on which cable car stop you choose, this may also be a good opportunity to check out Lombard Street. This street is famous for being the most crooked street in the world.
Note that cable cars don't drive down Lombard Street (just next to it), but you can book a ride share to do it or drive it yourself. Here's more information about where to find the cable car stops.
Fisherman's Wharf is one of the most popular places that the cable cars stop at. Once there, we suggest walking around and looking at the street performers. If you have kids in tow, take them down to the carousel for a ride. Usually, there's a free magic show at the stage next to the carousel. A few steps away, there's a dock in the harbor where sea lions famously hang out and push each other into the water. It's fun to watch their antics!
For dinner, we suggest visiting Boudin and trying their famous clam chowder bread bowl. Check out our favorite Fisherman's Wharf restaurants here.

Please remember that the cable cars are not hop-on, hop-off. You'll have to buy a new ticket every time you board the cable car. Alternatively, you can book a tour on a hop-on, hop-off bus to explore the city instead! It's a great way to kick off your San Francisco weekend getaway.
Places to eat (lunch or dinner):
San Francisco Itinerary: Day Two
Morning:
After grabbing coffee and a bite to eat at your hotel, it's time to spend the day exploring some of San Francisco's most world-famous landmarks! We highly recommend taking a city tour that includes the Golden Gate Bridge and Alcatraz since we've already mentioned that it's not easy driving and parking in San Francisco.
What's more, you'll take some epic photo stops along the way of this tour (think: Victorian houses and Twin Peaks). You'll also stop by a market for a picnic lunch at Alamo Square while taking in the famous Painted Ladies.
City tours often pick you up from your hotel, so you won't have to plan any of the attractions or try to reserve tickets yourself. Please note that if you opt for a full San Francisco tour, you'll spend most of the day on this epic trip, which might be exactly what you were looking to do.
If stunning views and famous landmarks aren't your thing, you can spend your morning at the Museum of Modern Art instead. We love all the unique exhibits inside this museum in the South of Market neighborhood.

We've also put a few other top tour recommendations later on in this article in case something else catches your eye. But really, seeing Alcatraz and the Golden Gate Bridge up close should be at the top of anyone's San Francisco itinerary since they are such iconic attractions here.
Not ready to book a tour? Read more in our San Francisco Guide.
Afternoon: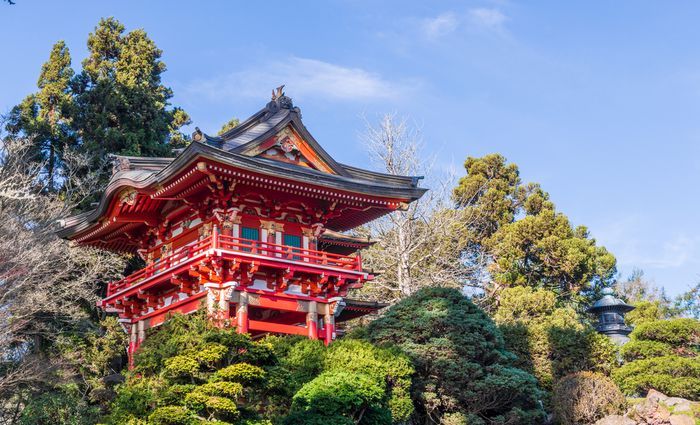 If you don't opt for the Alcatraz and Golden Gate Bridge tour, then your afternoon is free to explore other areas of San Francisco. Another amazing place that's fun for adults and kids is the California Academy of Sciences. One of the biggest natural history museums in the world, this museum is home to more than 46 million different species of plants and animals! It also includes a planetarium, an aquarium, and the famous rainforest exhibit!

You could easily spend an entire day inside of the California Academy of Sciences. But when you're ready to leave, make sure to take in awesome city views from the top of the new SkyStar Wheel! For lunch, stop at Marnee Thai or Burma Superstar.

And if a museum trip isn't your jam, then definitely explore Golden Gate Park instead. This massive park is home to many museums, including the two we mentioned. In addition, the Japanese Tea Garden is located here. You can meditate and enjoy a cup of tea in the tea house, hang out in the pagoda, or take pictures on the drum bridge.

Also inside Golden Gate Park is the idyllic Stow Lake. Full of turtles, fish, and ducks, the lake is a great place to rent a paddle boat for an hour! If the lake isn't up your alley, we suggest taking a Segway tour of the park instead.
Evening:
At the end of your full day in San Francisco, we recommend stopping at a rooftop lounge like Top of the Mark to watch the sunset. Please note that it is a popular location, so reservations are definitely recommended!

Alternatively, if you are staying near Fisherman's Wharf or the Embarcadero Waterfront, you can take a stroll along the Embarcadero and looking at the twinkling lights on the cables on the Bay Bridge. They really are a sight to see and worth a few photos!

If city views and bridge lights don't float your boat, we suggest visiting North Beach for Italian cuisine and good vibes. This lively neighborhood has a good bar scene as well.
Places to eat:
San Francisco Itinerary: Day Three
Morning:
If your flight is in the afternoon, check out of your room, and then grab a hearty breakfast to start your day. We suggest Mama's On Washington Square. From here you will have time to explore the nearby Chinatown before departing. Make sure to grab a photo with the iconic Dragon's Gate archway!
Afternoon:
If your flight is in the evening, you're lucky enough to have a little more exploration time! We suggest you head over to the iconic Haight and Ashbury neighborhood and get lunch at Zazie. It's a vibrant neighborhood with shops and markets to explore, not to mention the iconic Victorian houses.

Alternatively, if you need a little more time outdoors, then take a nature walk through Lands End instead! It's free to enter, and this beautiful area is open for visitors to walk through the woods and arrive at a beach. If it isn't too foggy, you will be able to see the Golden Gate Bridge.
Also, there's a labyrinth at Land's End you can explore. See if you can find it! Then grab a late lunch at Beach Chalet or the popular Chinese restaurant Hunan Cafe #2 before heading to the airport.
Or, if the weather is extra nice, we suggest stopping at a corner store to pack a picnic and take it to Baker Beach. The Golden Gate Bridge is visible from the beach as well!
Places to eat:
Best Weekend Getaway Hotels in San Francisco
Of course, you'll need some ideas for where to stay during weekend in San Francisco. We've put together a few of our favorite hotels that cover a range of budgets and vibes. Find one below or use even more of our suggestions of the best hotels in San Francisco!
Hyatt Centric Fisherman's Wharf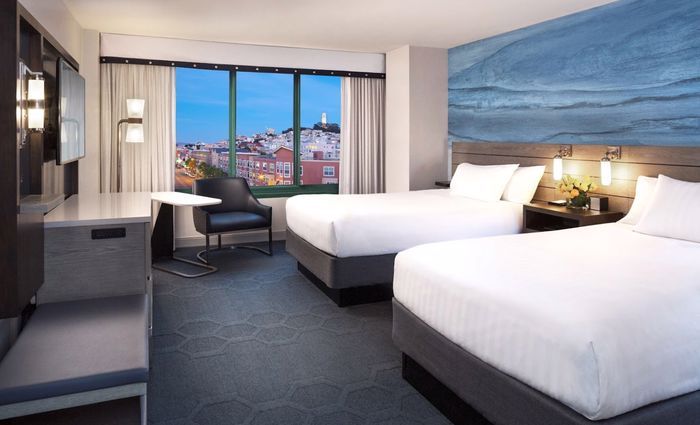 $$$ | 4 Star | Heated Pool | On-Site Restaurant
Hotels with pools are hard to come by in San Francisco, so the heated pool at Hyatt Centric Fisherman's Wharf is a great feature! What's more, there are many restaurant options nearby, but there's also a restaurant on-site. As for the rooms, they feature comfortable beds, and some have a good view. The location is also amazing!
The Argonaut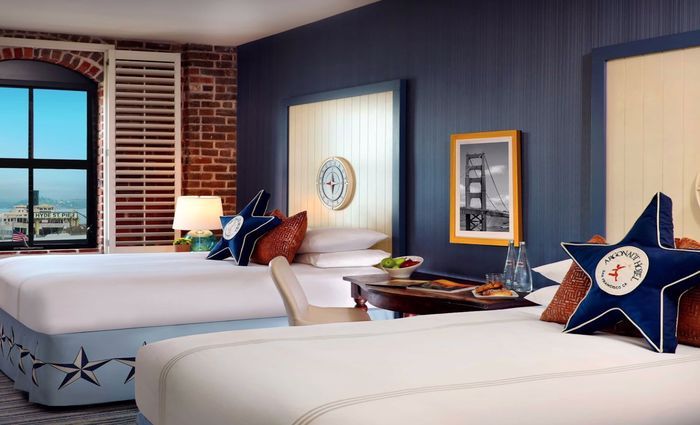 $$$ | 4 Star | Nautical Themed | Free Bike Rentals
The Argonaut is a cute, nautical-themed hotel by Fisherman's Wharf. Many of the rooms come with a great view as well. What's more, there's a seafood restaurant on site, the Blue Mermaid! However, the best part of the The Argonaut is that it provides complimentary bike rentals!

Location, photos, and booking
Four Seasons At Embarcadero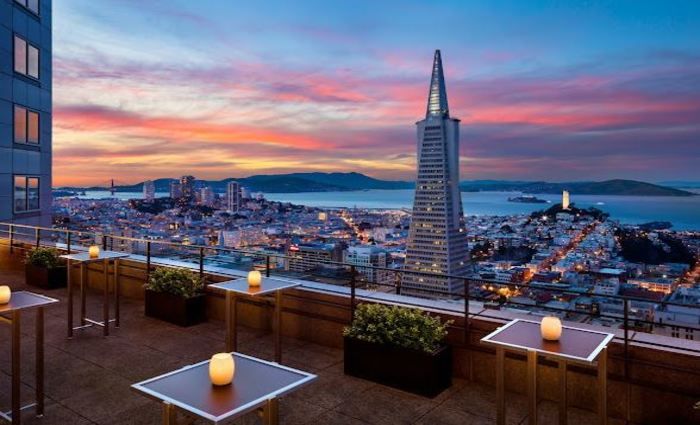 $$$$ | 5 Star | Fantastic Views
This hotel occupies the last 11 stories of a 48-story building, so every room has an amazing view overlooking the city. You'll even be able to see the famous Golden Gate Bridge from a distance—fog permitting, of course! Some other cool things about this hotel is the room service and in-room massages that bring relaxation to you.
The Westin St. Francis San Francisco On Union Square
$$$ | Fantastic Location | Surprisingly Affordable
You can't miss The Westin! This massive, iconic hotel is located right on Union Square. If you splurge, you can grab a room with awesome views of all the activity going on below. This is a beautiful hotel and more affordable than many other big-name chains. Definitely worth looking into!
Hotel Nikko San Francisco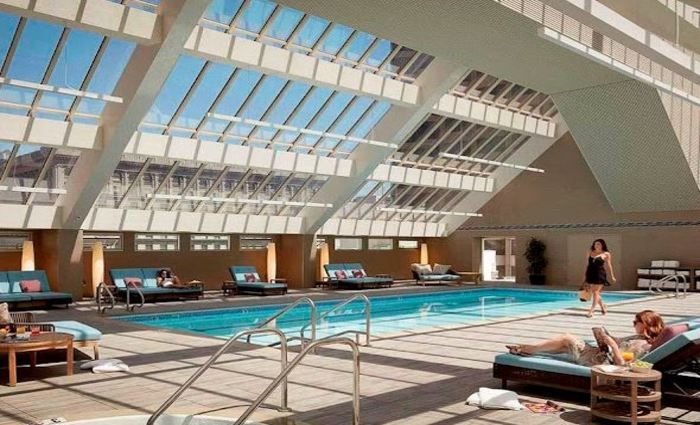 $$$ | 4 Star Hotel | Indoor Pool & Sauna
This is a beautiful, modern hotel with an upscale Japanese restaurant on site (Azu). Hotel Nikko's swimming pool, sauna and hot tub are also big plus. And there are bath robes and slippers provided in each room! You'll also find a fire pit on the fifth floor for maximum coziness. What's more, this hotel is near Union Square, a great location.
Petite Auberge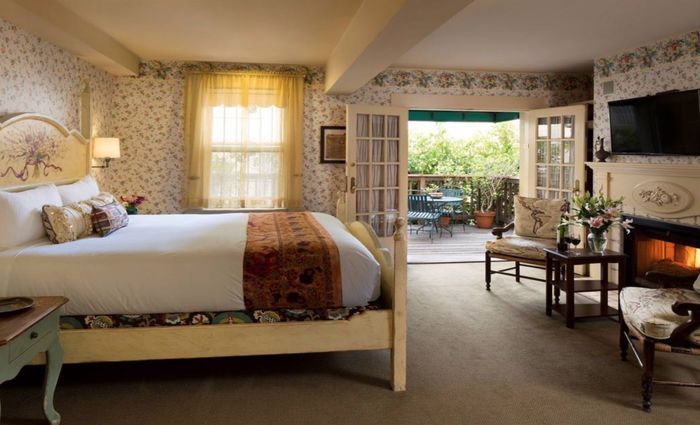 $$ | 4 Star | Bed and Breakfast | Evening Wine Tasting
Located in Nob Hill, this unique bed and breakfast includes a complimentary wine happy hour every evening, as well as an adorable back patio, which is perfect for relaxing with a book after a long day. Each of its 26 rooms are quaint, clean, and spacious. Petite Auberge offers several booking packages, including the "get out and explore package," which includes a scavenger hunt and prizes!
Guided Tours for the Perfect San Francisco Itinerary
Guided tours are one of the best options for seeing more of your favorite destinations. Many tourists miss out on understanding what famous landmarks and attractions have to offer, but with the help of a passionate local guide, they can explore even more and make long-lasting memories. Here are some of our favorite tours of San Francisco for your weekend getaway.
Exploration Tours:
Food and Drink:
Not ready to book a tour? Find out if San Francisco tours are worth it.