Madrid is a fantastic city where every neighborhood has a different vibe. But where should you choose to stay if you don't know the city? As a long-time resident of Madrid, I know every corner of this beautiful old city. To take the guesswork out of your planning, use this guide for where to stay in Madrid on your upcoming trip. You'll also get nearby restaurant and attraction recommendations!
---
Where To Stay in Madrid: Best Hotels and Neighborhoods
History has been so generous and rich in Madrid that it has shaped every neighborhood in a unique way. Distances are pretty short, and it is easy to explore on foot if you don't want to miss out on anything. However, if you prefer to stay in the immediate surroundings of the attractions you most want to see, or you're short of time, Madrid's metro quickly connects every corner of the city. You don't have to worry about renting a car here in Madrid!
I have listed the best six neighborhoods to stay in, along with all the best attractions and restaurants you'll want to add to your trip itinerary. The first five areas are in the city center, and the last one is located a little further north.
---
Our Partnership with Booking.com. If you like our content, please book by clicking on our Booking.com links. The price is the same for you and we get a small commission that helps support our blog. We've partnered with Booking.com because they have the most options, great prices, and a solid loyalty program. Just about every hotel is on Booking so our recommendations are not incentivized.
---
Royal Palace and Plaza Mayor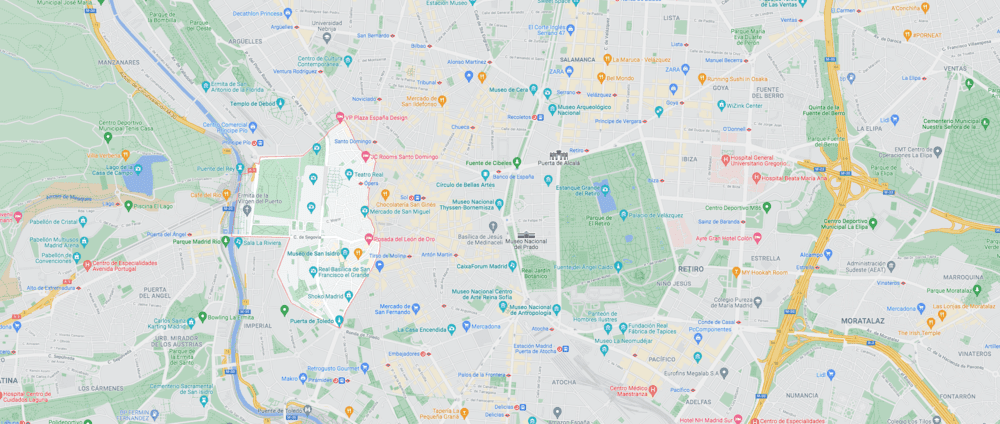 Enjoy the old city center experience! Within one-square mile, you will live the splendor of imperial Madrid and the roads from the Middle Ages around Plaza Mayor. This neighborhood is the perfect choice if you never get tired of historic buildings, which is why it's first on our list of where to stay in Madrid.
The weather is usually great in Madrid, so you'll love eating al fresco at its traditional bars. And don't miss the Rastro flea market that's close to Plaza de Cascorro. It happens every Sunday and is a fantastic way to get to know locals and the cultural feel of Madrid.
---
Why I Love the Area Near the Royal Palace and Plaza Mayor
Pedestrian areas to enjoy the monuments without worrying
Breathtaking sunsets from the Royal Palace (the viewpoint opened in 2021, and it is a big WOW!)
Plenty of old bars in hidden squares to enjoy traditional food
Quiet vibes even though it's popular among tourists and locals
---
Attractions Near the Royal Palace and Plaza Mayor
Royal Palace
Royal Opera Theater
Almudena Cathedral
Sabatini Gardens
Plaza Mayor
San Miguel Market
Royal Basilica of Saint Francis the Great
Rastro flea market (Sundays)
The Pasadizo de San Ginés book shop (one of the oldest in Spain)
---
Best Restaurants Near the Royal Palace and Plaza Mayor
---
Best Hotels Near the Royal Palace and Plaza Mayor
Have a look at these great hotels next to the Royal Palace and Plaza Mayor.
---
Palacio de los Duques Gran Meliá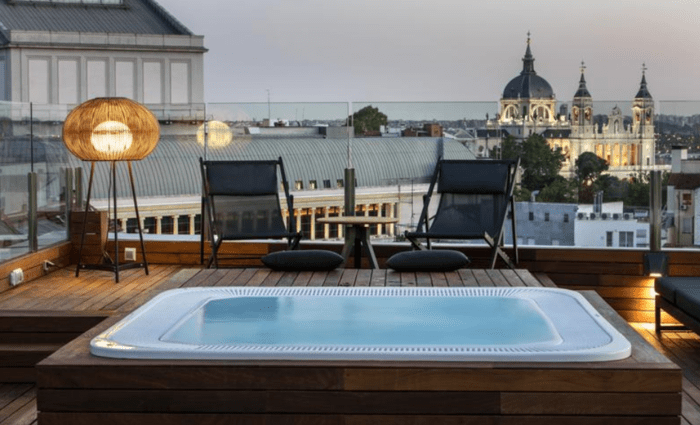 €€€€ | 5 Star | Sophisticated | Rooftop Pool and Spa Bath
Imagine spending the night in a magnificent 19th-century Spanish villa. How cool is that? At the Gran Meliá, you can have dinner in a historic garden or enjoy the rooftop pool and the spa bath. You'll have unparalleled views of the Royal Palace hotel on the rooftop at this iconic hotel.
Pestana Plaza Mayor Madrid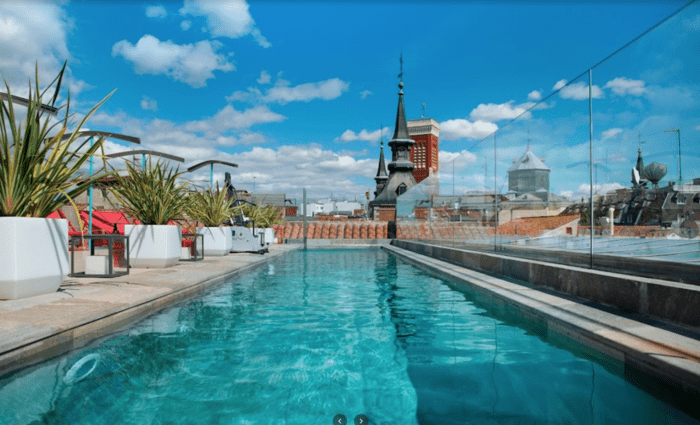 €€+ | 4 Star | Modern Interiors in a Baroque Building | Indoor Pool & Spa
Located in the heart of medieval Madrid with a pool and a spa, Pestana has all you can desire. Wake up looking over Plaza Mayor and relax in the sauna after a long day of exploring the city. Not to mention the restaurant on the glass-covered patio and the outdoor cafe in the square makes for a real Castilian experience.
Francisco I Boutique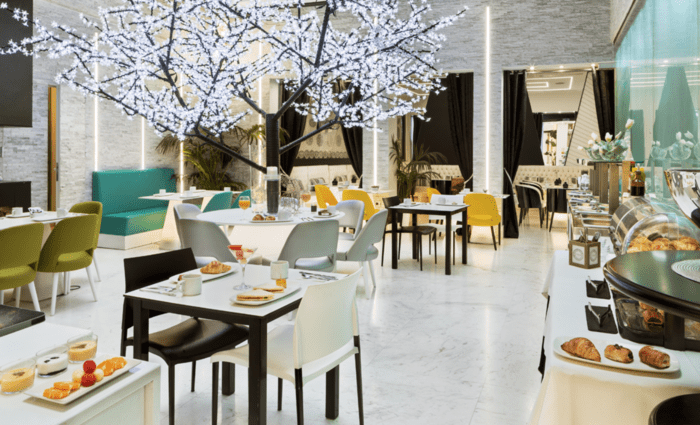 € | 4 Star | Family Friendly | Suites & Accessible Rooms
The location here is just unbeatable. It's close to the main attractions and located in a pedestrian street, making it safe if traveling with kids. Also, adults and little ones will love the delicious buffet breakfast. It has rooms and suites for tourists who love convenience and space. And the price is perfectly affordable!
Paseo del Prado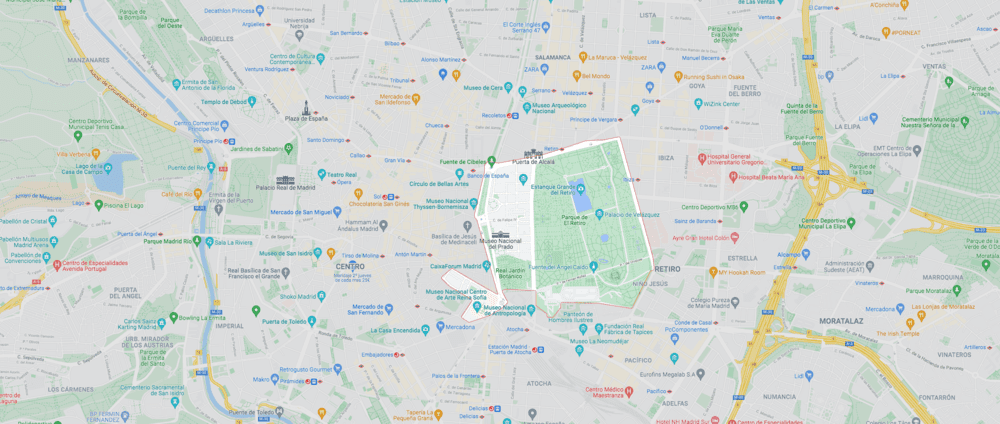 The Triangle of Art quarter is home to the city's most important museums. Also, UNESCO listed it as a world heritage site in 2021. Art, science, and nature: you will fill your soul with beauty because here, beauty is everywhere. It's the perfect location when you're wondering where to stay in Madrid, and you love to explore the arts and museums in a city.
---
Why I Love Paseo del Prado
It is the best area for art and architecture lovers
Lovely nature walks in the Retiro park. Kids will have fun seeing the peacocks or crossing the Retiro lake with the rental rowboats
Not many know it, but the 360° view from the Cibeles Palace tower is unforgettable
---
Attractions Near Paseo del Prado
El Prado National Museum
Reina Sofia National Museum
Thyssen-Bornemisza National Museum
Retiro Park, Palacio de Cristal (Glass Palace)
Royal Botanical Garden
Cibeles Palace, square and fountain
Fountain of Neptune
Puerta de Alcalá
Cuesta de Moyano book stalls
---
Best Restaurants Near Paseo del Prado
---
Best Hotels Near Paseo del Prado
Here are the best hotels when deciding where to stay in Madrid near Paseo del Prado.
Mandarin Oriental Ritz Madrid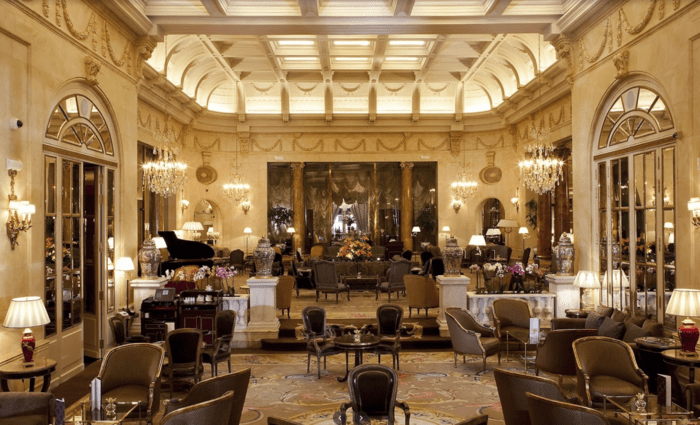 €€€€€ | 5 Star | Luxury | Fitness & Wellness Center | Michelin Star Restaurant
The Mandarin Oriental Ritz is luxury at its finest. Recharging in one of its Belle Époque suites and booking a treatment at the Wellness Center will make your stay in Madrid unforgettable. Rooms are spacious and elegant with lots of windows to view the city. And one of its five fine restaurants, Deessa, was awarded one Michelin star in 2021.
The Westin Palace, Madrid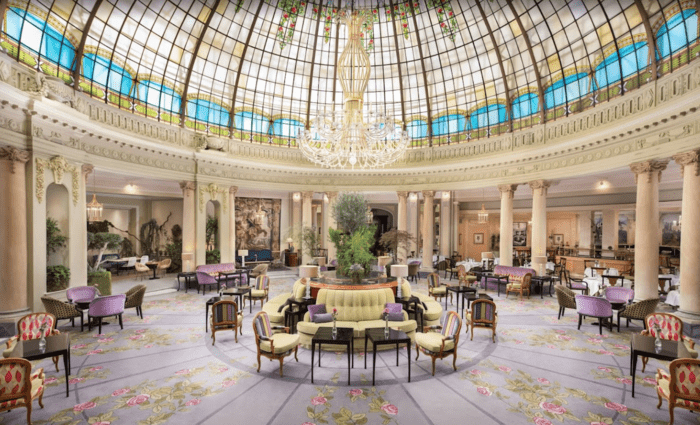 €€€ | 5 Star | Posh Design in a Historic Hotel | Brunch & Live Opera on Sundays
The balance between the classic and the modern of this hotel is just perfect. I am sure that the restaurant under the crystal dome will leave you speechless, so don't skip a meal here. Little secret: they organize a brunch with a live opera show every Sunday!
Vincci Soho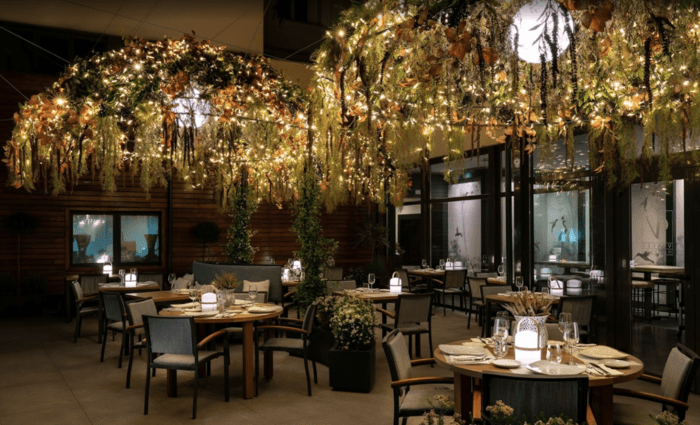 €€ | 4 Star | Evocative Decor | Bohemian & Instagramable | Gluten-Free Breakfast
I can't get over the design and the eye-catching decoration of this hotel. At the Vincci Soho, every spot is a piece of art. This spirit makes it one of the most original hotels in Madrid, from the black and red rooms to the charming terrace bar. For gluten-sensitive travelers, the breakfast includes menu options to enjoy.
Gran Vía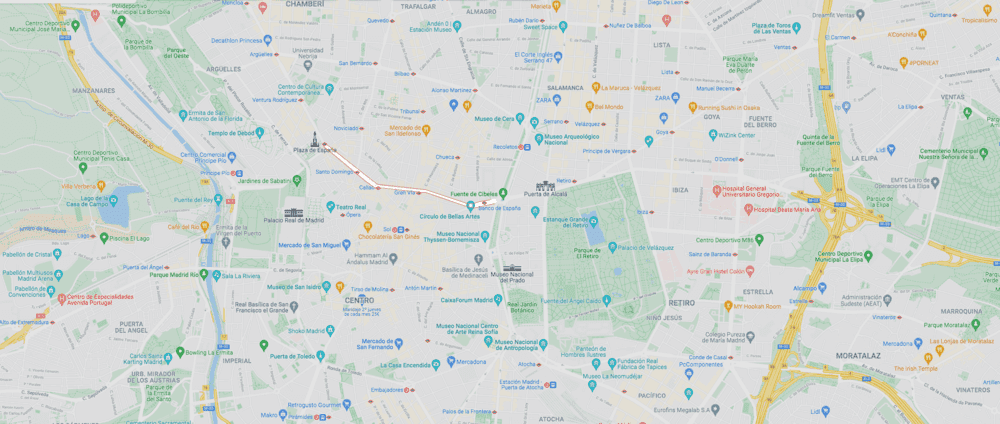 Remember when you were a kid and every building looked massive? Prepare to feel like this again in Gran Vía. Its revival architecture and rooftop statues were the first attempts to turn Madrid into a modern metropolis at the beginning of the 20th century.
Nowadays, Gran Vía is a famous shopping boulevard. But it still keeps the fascination of being Madrid's original main street, la gran vía in Spanish. Staying here means you'll be at the center of everything, which makes it an ideal place to stay in Madrid.
---
Why I Love Gran Vía
The architecture is stunning
Plenty of rooftop bars to enjoy a drink looking at the sunset
You can find great shopping deals
---
Attractions Near Gran Vía
Historic buildings and rooftop statues
Plaza de España
Department stores shopping
---
Best Restaurants Near Gran Vía
---
Best Hotels Near Gran Vía
Here are the best hotels for where to stay in Madrid near Paseo del Prado.
---
Iberostar Las Letras Gran Via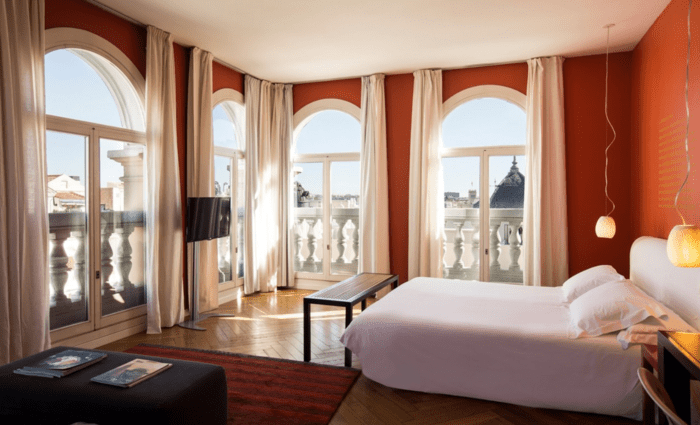 €€ | 4 Star | Comfy & Colorful | Gym | Rooftop Pool & Lounge
If comfort is your priority, this is your stop. You'll find colorful and functional rooms, a 24-hour gym, and a pool on the rooftop for epic city views. And for an extra luxurious experience, book the suite with the terrace jacuzzi then enjoy tapas and vermouth at the 7th-floor restaurant.
Dear Hotel Madrid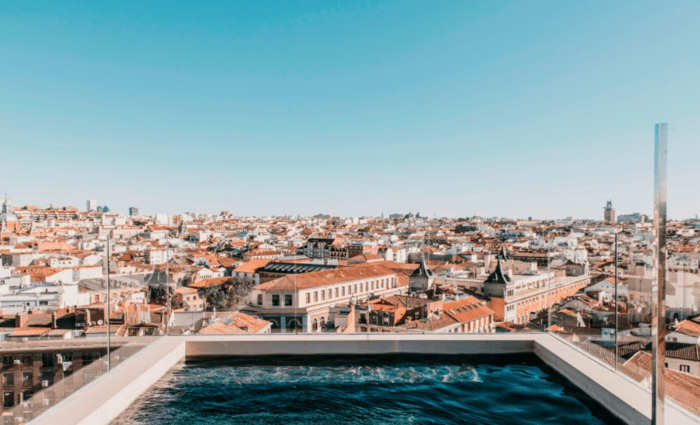 €€ | 4 Star | Romantic Suites | Adjoining Rooms | Sky Pool & 360°-View Terrace
A young, modern hotel with luxury services. Dear Hotel is a good option for a romantic stay or even a trip with friends and family since they offer adjoining rooms upon request. And don't miss the city view from the pool and their terrace lounge bar and restaurant. It is stunning up there!
VP Plaza España Design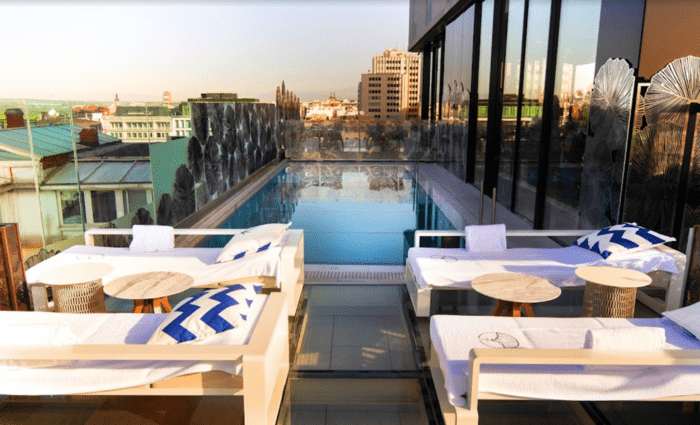 €€€ | 5 Star | Ultra-Exclusive Vibes | Spa | Terrace Pool & Bar
This hotel is all about exclusivity; you can even design your breakfast menu! They have nine types of rooms and a 1,200-square-foot suite with all the comforts. Discover the sky bar and restaurant plus the transparent-floor rooftop pool. You will feel like a star as you lounge in modern luxury in Madrid.
Chueca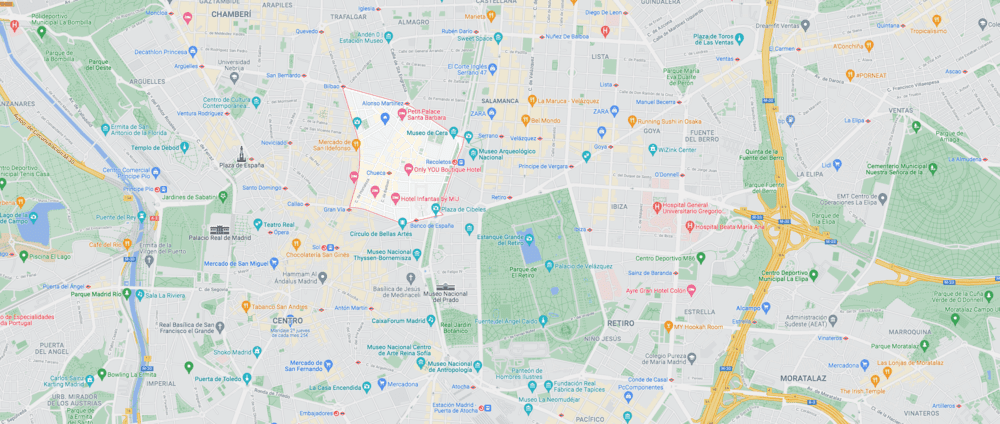 Young, inclusive, and simply beautiful – that's Chueca. It is also the famous gay quarter of Madrid. The LGBTQI+ community revived this beautiful residential area after it deteriorated in the '80s. In this neighborhood, you'll find lots of custom options like vegan restaurants, boutiques, and even a couple of museums. The relaxed and friendly mood that you will find in Chueca is unique, perfect for a heartwarming stay.
---
Why I Love Chueca
Plenty of art galleries to discover new artists
Welcoming and inclusive mood – freedom here is a must
There are lots of cozy cafes and a great variety of restaurants for vegans or people with food intolerances
Small shops to find unique design clothes and accessories
---
Attractions in Chueca
Chueca square
Museum of Romanticism
Museum of History
Amazing nightlife and inclusive mood
Madrid Pride Parade (June/July)
---
Best Restaurants in Chueca
---
Best Hotels in Chueca
Chueca is a tourist location but also quite residential. There are just a few hotels, and these two are amazing!
Only YOU Boutique Hotel Madrid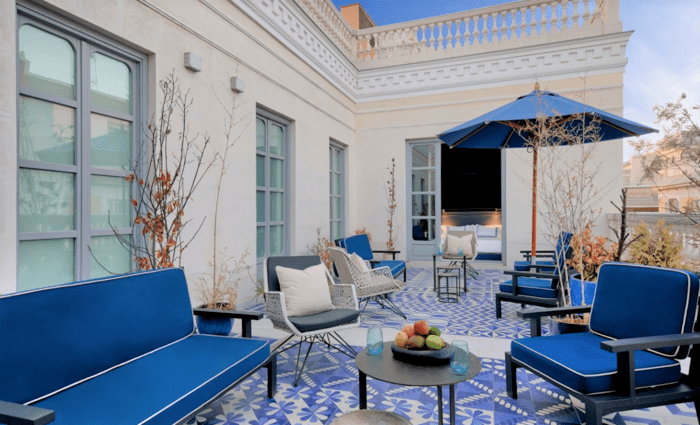 €€€ | 4 Star | Eye-Catching | Gym | Thai Wellness Room | Gluten-Free Bakery
You won't be able to stop taking pictures here – the decor is stunning! The hotel has a restaurant and a lounge with outdoor seating. And if you are a foodie like me, you will love the culinary concept of seasonal traditional dishes with a contemporary twist. They also host a gluten-free bakery and all-day, al a carte breakfast. Yum!
Room Mate Oscar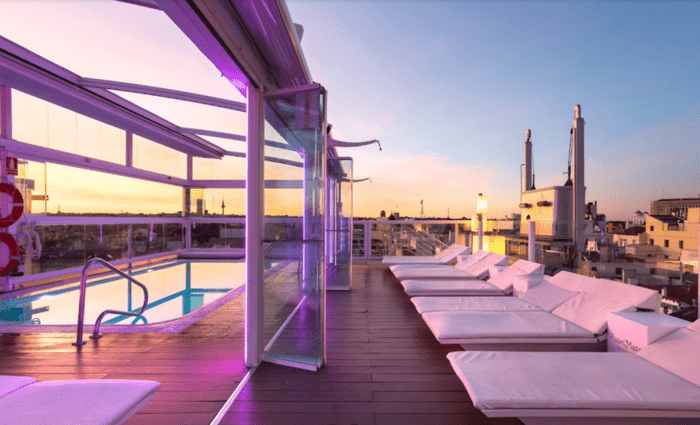 €€ | 3 Star | Avant-garde Decor | Trendy | 360°-View Terrace Bar with Pool
Oscar's rooftop is a pit stop for the Madrileños (Madrid natives). It has all you can desire: a 360° city view, cocktails, music, and a seasonal solarium and pool. The rooms are fairly spacious and finely decorated – perfect for couples or groups of friends.
Malasaña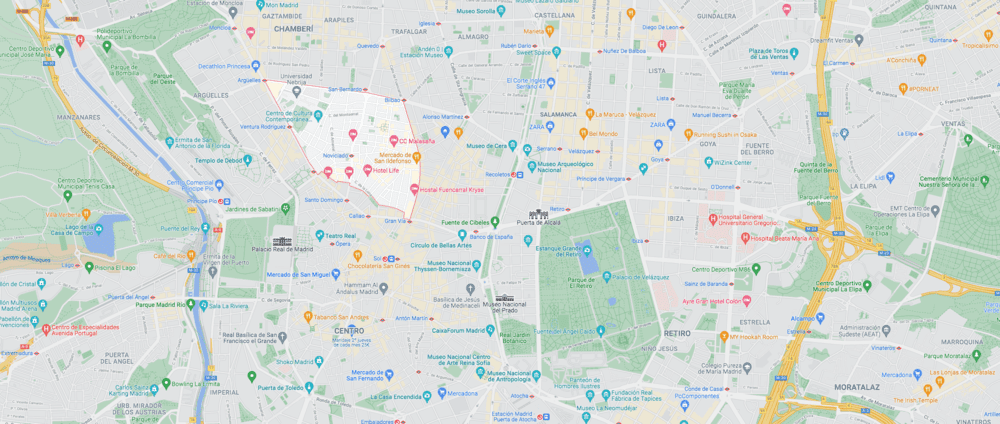 Can't resist indie movies? Are you always looking for places with hipster allure? Then the Malasaña neighborhood is where to stay in Madrid. It is beside Gran Vía and Chueca, but it has a unique character. Here you will find lots of small restaurants, pubs, and trendy shops.
There aren't a lot of hotel options here, but Malasaña is the best place to stay in Madrid if you want to stay around the youngest spirit of the city where there are also lots of students near the university. Slow days and never-ending nights must be your thing.
---
Why I Love Malasaña
The nightlife here is very cool
Indie mood and exciting people
Best place if you enjoy international cuisine with a local twist
---
Attractions in Malasaña
Plaza del Dos de Mayo
San Antonio de los Alemanes Church
Liria Palace
---
Best Restaurants in Malasaña
---
Best Hotels in Malasaña
Malasaña may not have many hotels, but here are two gems.
---
7 Islas Hotel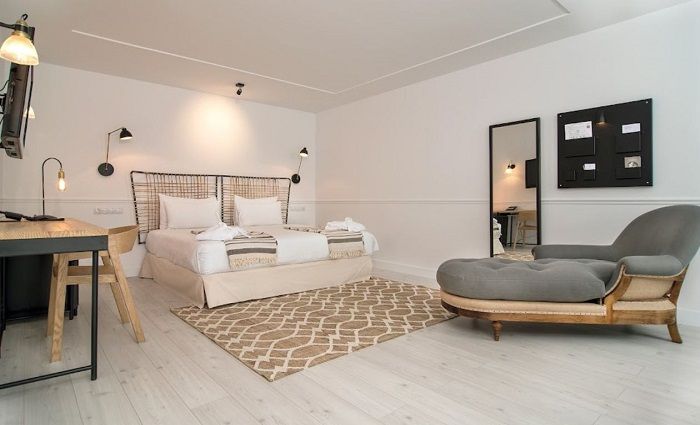 €€ | 4 Star | Cool European Design | Art Gallery | Eco and Artisanal Gastronomy
7 Islas Hotel will make you feel good. The lobby hosts an art gallery to nourish your senses. And for the body, the restaurant uses local and seasonal products, while the cocktail bar serves its artisanal beer and on-site macerated cocktails. So good! The rooms are minimalist, but they feature handcrafted decor like custom rugs.
Sonder Malasaña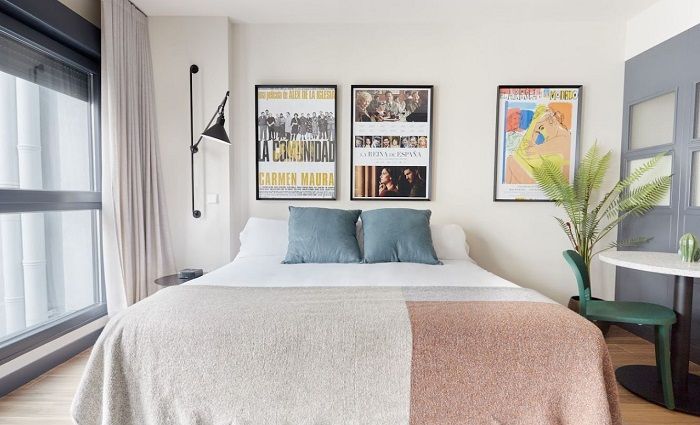 €+ | 3.5 Star | Full Kitchens in Apartments | Spacious | Modern and Trendy
For a super affordable option, try Sonder Malasaña. You'll have your choice of a suite or a one- or two-bedroom apartment here with all the amenities and space you need. The area is ideal and you'll be close to great restaurants and bars, not to mention the Conde Duque cultural center if you're here for indie films.
Santiago Bernabeu Stadium Area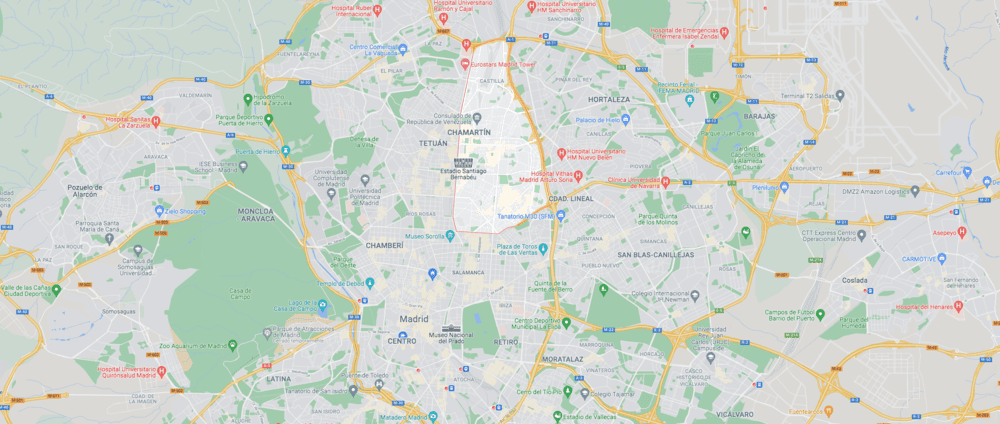 To all my fellow travelers who love football (ok, American soccer), the famous Santiago Bernabeu Stadium is waiting for you. This area will help you get to know a different Madrid full of ample avenues and skyscrapers. Take a tour of the stadium and visit the Real Madrid museum. Or even buy a ticket to enjoy a football match – why not?
The Santiago Bernabeu is about 3 miles from the city center and connected by subway and train. It is also safe to move by car in this area.
---
Why I Love the Santiago Bernabeu Stadium
The big-city feeling is unique here
Great restaurants and outstanding views from the tallest buildings
---
Attractions Near the Santiago Bernabeu Stadium
Santiago Bernabeu Stadium
Plaza de Castilla
Torre Picasso (Yamasaki Tower)
Four Towers Business Area
---
Best Restaurants Near the Santiago Bernabeu Stadium
---
Best Hotels Near the Santiago Bernabeu Stadium
Business and luxury define the hotels in the Chamartín quarter.
H10 Tribeca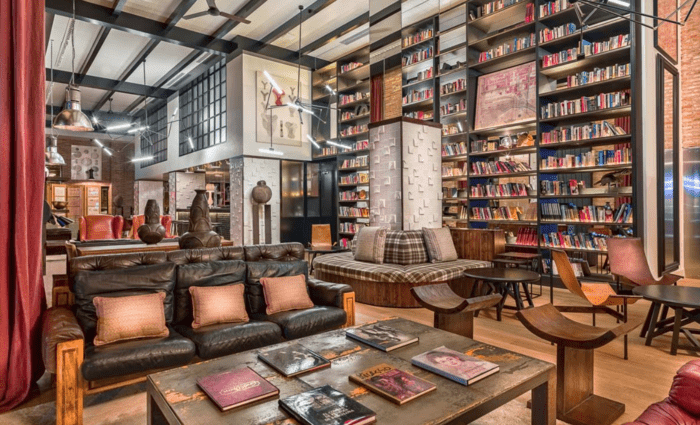 €€€ | 4 Star | Trendy Industrial Design | Mediterranean Cusine
Very cool NY-inspired hotel that sits just 1,300 feet from the stadium. It is the perfect stay if you want to explore other Madrid surroundings by car. Travelers who like a little space will enjoy the contemporary rooms here, and the Mediterranean restaurant is worth trying.
Canopy by Hilton Madrid Castellana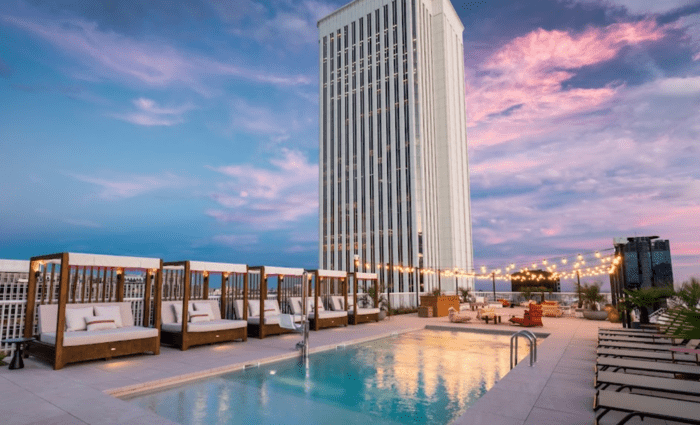 €€€€ | 4 Star | Posh | Pet Friendly | Rooftop Pool
Stay in Madrid without compromising. At Canopy, you have a gym to train in and a fantastic rooftop pool to swim in. The glamour here goes side-by-side with convenience since the stadium is just across the street, and a shopping center and public transportation are nearby. Feel free to bring your pet to this hotel!
Eurostars Madrid Tower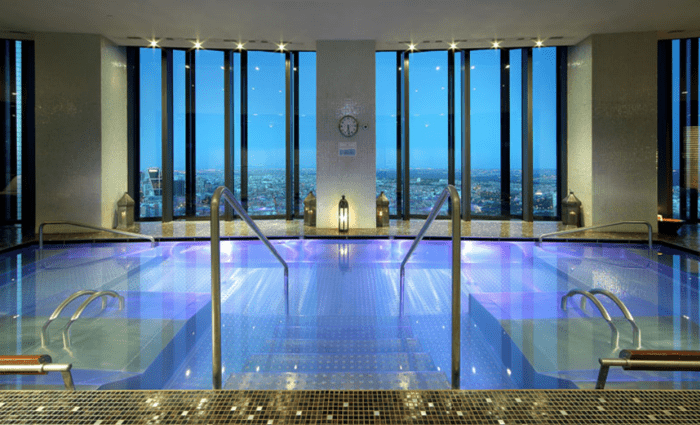 €€€€ | 5 Star | Luxury Hotel | Thermal Spa | Contemporary | Panoramic View
Want to see Madrid from great heights? No other hotel has as high of a view as the 30 floors of the Eurostars Madrid Tower. Every room faces a different landscape from the city center to the Sierra mountains. The hotel also has a panoramic restaurant, a gym, and a thermal spa.