Tower of London
Discover London's darker history at the infamous fortress
Explore the Secrets of the Tower of London and the Crown Jewels
The Tower of London has a bloody history full of tragedy, intrigue, and legends. Dating back to 1066 A.D., this ancient fortress began under the rule of William the Conqueror and evolved over the centuries. You can even find ancient Roman walls here!
With 1,000 years of history to uncover here, you might want to read up on the Tower of London to prepare for your visit. From the ravens to the British crown jewels, London's oldest fortress holds a lot of tradition and culture that still exists today (think: Beefeaters).
Top Tours of Tower of London
18 acres. That's how much space the infamous Tower of London takes up in this bustling city. It sits along the River Thames, so a great way to get here is on a river boat. And it's right next to another iconic monument: Tower Bridge.
There's so much history contained within these ancient walls and remnants exist like original rooms where King Edward I lived and the famous Bloody Tower and White Tower. And of course, we can't forget the Jewel House where the actual collection of British crown jewels are kept safe. Make your trip easier to manage with a helpful guide and guaranteed tickets to the Tower of London.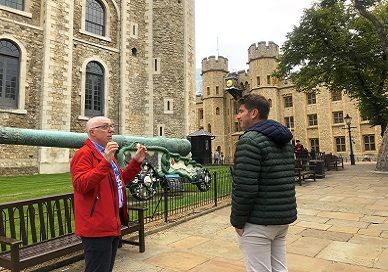 Tower of London Storytelling Tour with Thames River Cruise
Arrive in style—sort of—at the Tower of London by disembarking from a river boat where you saw London's sites and skyline from a unique perspective. Then follow your guide through a story of London's grisly history before being dazzled by the crown jewels.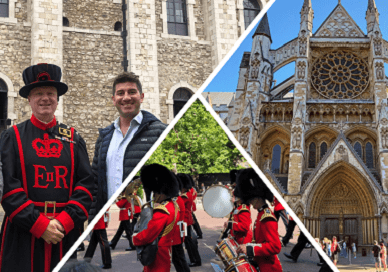 London in a Day Tour with Westminster Abbey and Tower of London
You really can see the most popular locations in London in a day like Westminster, Trafalgar Square, Buckingham Palace, and Tower of London! With skip-the-line tickets and an expert guide to teach you the backstories, tragedies, and crazy events, you'll fall in love with this old gem of a city.
Latest Tower of London Articles
Planning to visit London and want to know if city sightseeing tours are worth it for you? In this article, we'll go over the different ways you can explore London, what to expect from guided tours, and their benefits. That way, you can decide if London tours are worth it for you and which ones…