When in London, you can't miss the Tower of London. Its fascinating and macabre history as a royal residence, fortress, royal treasury, and prison has many mysterious twists and turns, which will be a lot easier to understand with this visitor's guide put together by a London expert. Whether you're going solo or taking our recommended guided tour of the Tower of London, here's how to visit the Tower of London.
---
Pro Tip: Planning what to do on your trip to London? Bookmark this post in your browser so you can easily find it when you're in the city. Check out our guide to London for more planning resources, our best Tower of London tours for a memorable trip, and the top things to do in London.
Visiting the Tower of London:
What We'll Cover
The Tower of London is a large complex with a long and often grisly history dating back to the 11th century. This must-see London attraction has been a fortress, a prison, a palace, an arsenal, a museum, and even a zoo with a bizarre collection of animals.
As such, the site comes with lots of interesting legends and folklore you're not going to want to miss. In this guide, find out how to visit the Tower of London, from tickets to the best guided tours, what to see, and where to eat nearby. Here's what we'll cover:
Tower of London Opening Hours and Tickets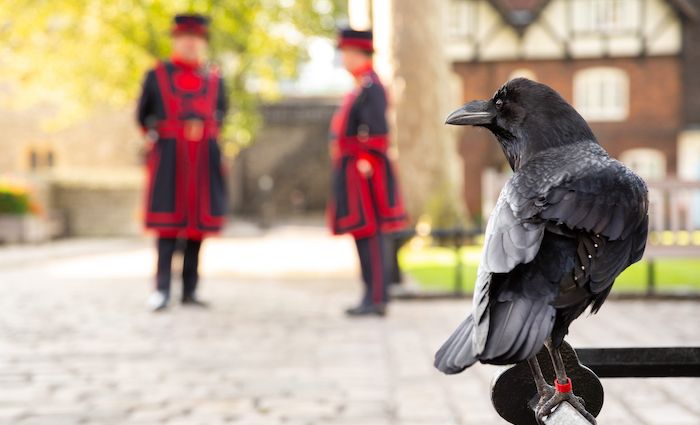 Opening Hours:
The Tower of London is open seven days a week but admission times change according to the season. During the summer season (March 1 – October 30) the visiting hours are Tuesday to Saturday, 9 am to 5:30 pm; Mondays and Sundays, 10 am to 5:30 pm. Final entry is at 4.30 pm.
Tickets:
Adult tickets cost £29.90 but conditions such as Peak, Off-peak, or Concessions must also be considered. There are also family deals.
Adult: £29.90 Peak | £28.90 Off-peak.
Child (Aged 5-15): £14.90 Peak | £14.40 Off-peak.
Child (Under 5): Free entry.
Concession: £24.00 Peak | £23.20 Off-peak.
Family Saver 1 (One adult with a maximum of three children): £52.20 Peak | £50.50 Off-peak.
Family Saver 2 (Two adults with a maximum of three children): £82.10 Peak | £79.40 Off-peak.
Address: Tower of London
Not ready to book a tour? See the best Tower of London tours to take and why.
How Long To Spend at the Tower of London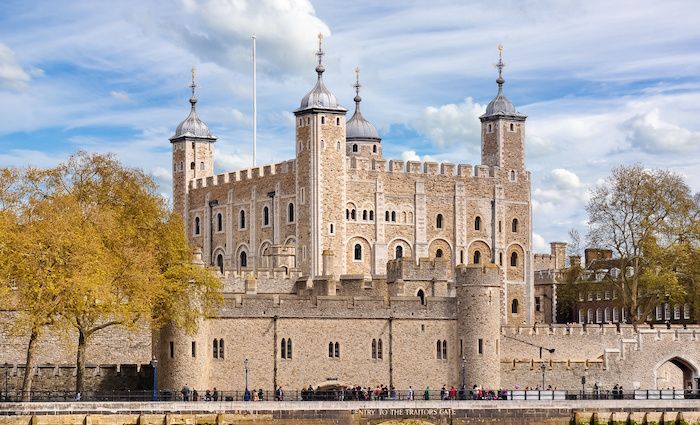 Short Answer: 3 hours
Firstly, it has several ticket offices which help reduce lines. But there are occasions when you could spend 10-15 minutes in the queue. Secondly, there may be more queues inside for attractions that are particularly popular—such as the Crown Jewels—especially during peak hours. However, if you buy your tickets online this can save you both time and money.
A guided tour by an expert takes at least an hour, but more is better. If you do not require a guide for your visit, it will take 3 hours minimum to figure out where to go and what you're looking at. This will give you time to see everything in the Tower in a comfortable and leisurely way.
What To See in the Tower of London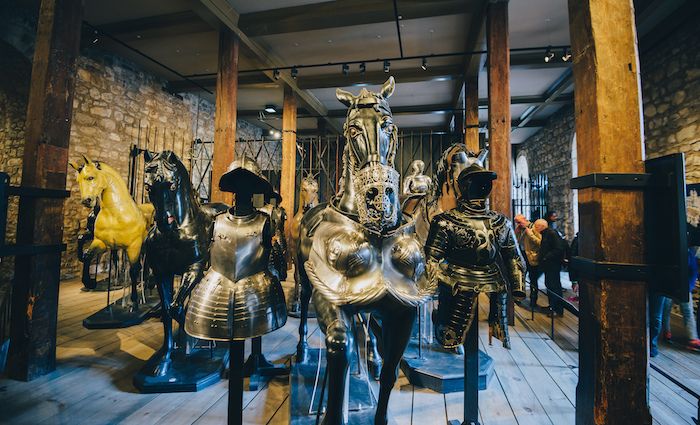 When you're in the Tower of London's massive complex, make sure you see these top sights. For a more detailed list with in-depth descriptions and images, check out our article on the top things to see in the Tower of London.
The Crown Jewels
Tower Green
The White Tower & the Line Of Kings
The Bloody Tower
The Medieval Palace
Armoury in Action
The Torture at the Tower Exhibition
The Fusilier's Museum
The Ravens
Tower of London Tour Options
If you're planning a trip to the Tower of London, you should certainly consider our guided tours. You don't want to leave this site underwhelmed because there was so much to see without knowing all the gruesome tales and fascinating history!
We have hand-picked expert guides who can walk you through the tower's magnificent history and you can learn about the British kings and queens who lived here and were executed here! Also, many enemies of the state and crown were imprisoned here and the history lesson about them will be easier to digest under our expert guidance.
Did you know most executioners were drunks and often missed their target—for better or worse? Would you rather have an axe to your shoulder or neck? Learn more gruesome facts on these Tower of London guided tours.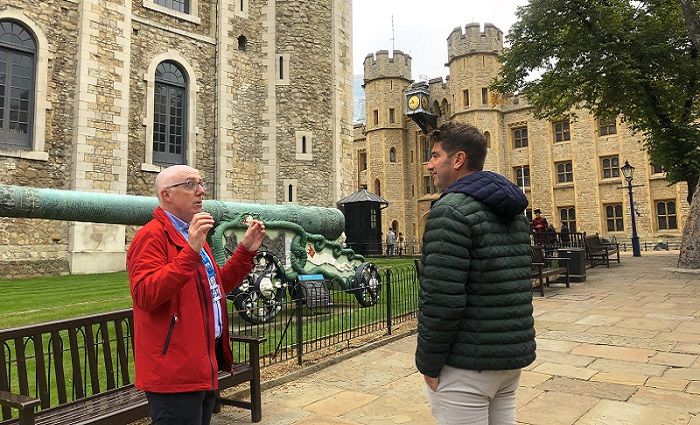 Looking for a guided tour of London's oldest fortress? Our passionate London guides are ready to take you! This tour starts with a gentle cruise on a River Thames taxi boat where you'll see London's iconic skyline and Shakespeare's Globe Theater from a new perspective.
Then dive deep into history at the Tower of London where your guide makes your trip easy by explaining what you're seeing in this massive complex. Legends of the ravens, stories of the Beefeaters, a visit to the crown jewels, and much more are included!
See tour itinerary, price, and description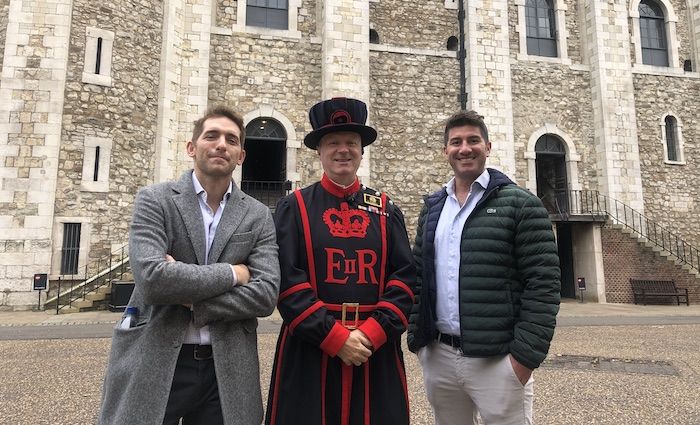 Looking for that ultra-exclusive experience at the Tower of London? It doesn't get much better than this! You get an exclusive, private meeting with a famous Beefeater guard in a room inside the Bloody Tower. These guards know how to entertain you with stories and jokes, and they're happy to answer your questions too!
After your one-on-one time, the rest of your guided tour of the Tower of London will feel even more enthralling as you hear more tales, truths, and debunked myths about prisoners here at the Tower. Plus, you'll have a chance to see the collection of the British crown jewels that have no comparison in the world!
See tour itinerary, price, and description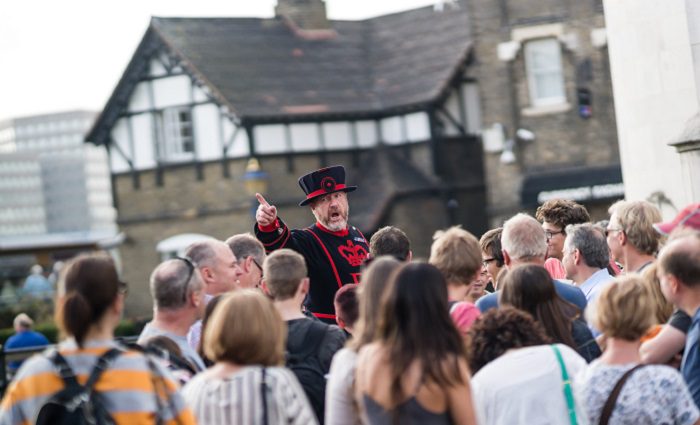 There's something special about witnessing a time-honored ceremony that's happened for hundreds of years. This tour gives you exclusive entry to the tower before the crowds as you watch the Beefeaters open the gates. They'll tell tales and read a royal proclamation at this entertaining event that overshadows how important the tradition actually is.
Then, since you've entered before the crowds, you'll have a chance to explore some of the 18 acres of grounds here as your guide leads you to the most fascinating places at the Tower of London. Step inside a re-created king's bedroom, see Traitor's Gate, and enter the Jewel House to see what's probably the most expensive collection of jewelry and valuables on Earth.
See tour itinerary, price, and description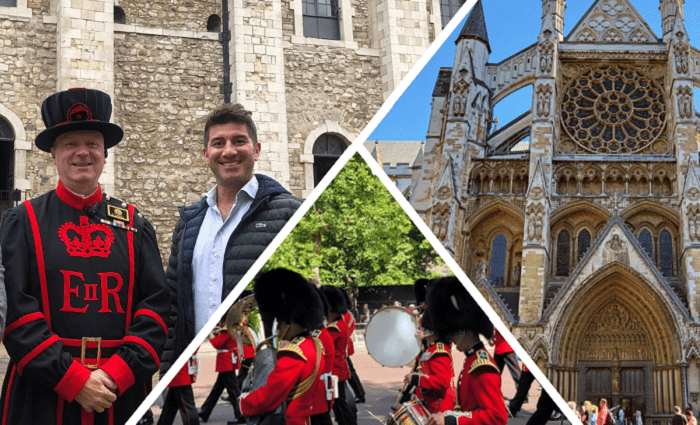 Our top-selling London tour is a must-do when you're traveling to the heart of the United Kingdom. Your local guides are highly qualified and can share an unreal amount of cool facts and stories about London's iconic sites and history. Starting at Westminster Abbey, you'll be amazed at just how much of London you can see on foot and on a Thames river cruise.
Your skip-the-line tickets help you maximize your time, and your guides know where the best spots to see the Changing of the Guard are found. Your final stop at the Tower of London brings London's more grisly history to life. It's the perfect place to end your busy day tour of London!
See tour itinerary, price, and description
Not ready to book a tour? Check out our best Tower of London tours to take and why.
Facts and History of the Tower of London
The Tower of London was built by William the Conqueror around A.D. 1070, a few years after his warriors from Normandy, France conquered Britain.
At first, it consisted of just the White Tower, but Henry III (1216-72) and Edward I (1272-1307) added substantial new structures.
It is one of the few remaining 11th-century European fortress palaces.
The enemies of both the monarchy and state were imprisoned and executed here.
Two English queens, Anne Boleyn and Catherine Howard, were executed here on the orders of Henry VIII who constantly sought to replace his wives and remarry.
England's kings and queens lived here but also kept their treasures and money here knowing this fortified palace was the safest place in Britain.
The Beefeaters who guard the Tower wear an easily recognisable red uniform. They were once the monarch's official bodyguards, known as the Yeoman of the Guard or Yeoman Warders. They are known as Beefeaters because the king permitted them to eat as much beef from his table as they could manage.
Such are the high levels of security, the Tower was once regarded as impossible to enter illegally. But in 1381, protestors walked in through the gates during the Peasant Rebellion.
Places To Eat Nearby
The Tower of London has its own restaurant, which is just one minute away if you're looking for a place to eat with a relevant connection. Here are a few more suggestions for places to eat nearby. For more options, check out our guide to the best restaurants near the Tower of London.
New Armouries Restaurant: ££ | Quick Snack—This is the Tower's official eatery and both hot and cold refreshments are sold here, including snack options and more substantial meals. Of course, you can have fish and chips but also soups, sandwiches, salads, and sweets.
Cento Alla Torre: £££ | Italian Cuisine—This restaurant is affordable yet has noticeable sophistication. They serve Italian cuisine such as homemade pasta and meat and vegetarian dishes with an artisanal touch.
La Dame De Pic: ££££ | French Cuisine—This is a classy French restaurant run by the world's number one female Michelin chef Anne-Sophie Pic. It has two Michelin stars and although expensive, it's a worthy choice after the comparative grandeur of your Tower of London visit.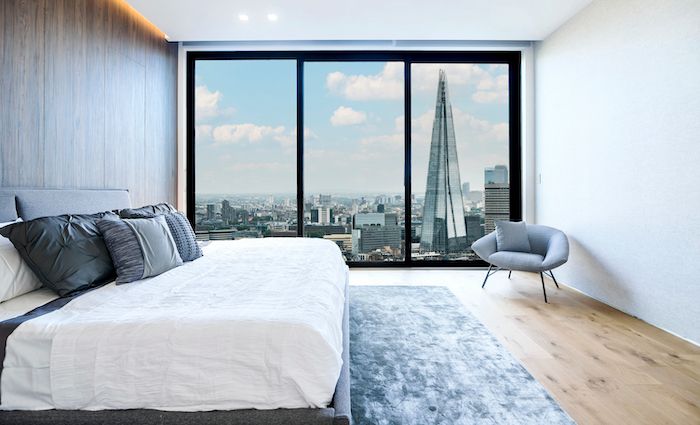 Find the best places to stay
Where To Stay in London
Deciding where to stay at a great hotel in London can take some effort since it's a massive city. Make your decision easier with our list of the best neighborhoods and hotels in London.
Recent Articles From the Blog