London is one of Europe's largest cities and the choice of hotels is similarly expansive which makes it difficult to pick an area to stay. Therefore, only true Londoners know the distinct features of each area. East, West, South, and North are all so different! It all depends on whether you're looking to be near to cultural centers with trendy shops, historic sites, or attractions. But to help with your choices, this article will cover which areas are the best in London for each different type of traveler, all written by a local.
---
Our Partnership with Booking.com. If you like our content, please book by clicking on our Booking.com links. The price is the same for you and we get a small commission that helps support our blog. We've partnered with Booking.com because they have the most options, great prices, and a solid loyalty program.
WHERE TO STAY IN LONDON
So where do you start? Firstly, it's important to grasp that London is a massive city with diverse areas that offer completely different things to each traveler. Therefore, it follows that this contributes to it being one of the most popular cities on Earth!
LONDON districts we'll cover:
Leicester Square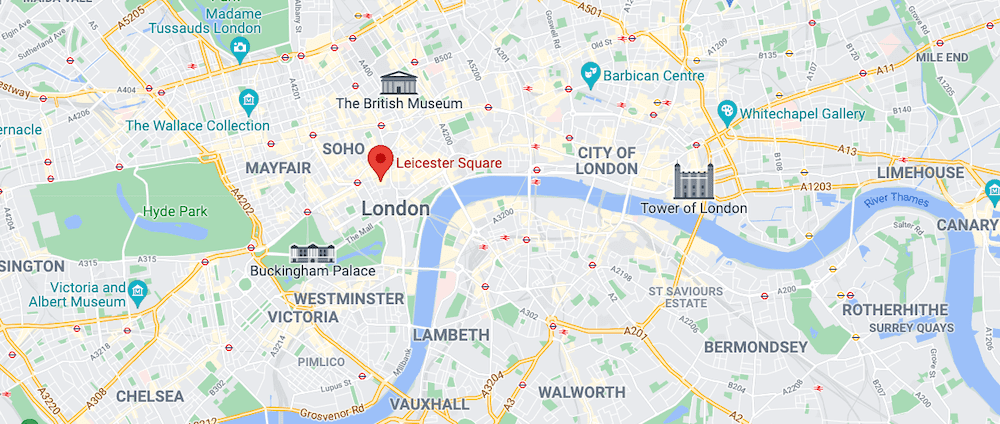 Tourist Attractions | West End Shopping | Trafalgar Square
Leicester Square is, arguably, the UK's no.1 tourist hotspot – and here's why. Firstly, it's where you'll find magnificent and historic art galleries and museums like the National Gallery and the National Portrait Gallery. Secondly, Trafalgar Square is a world-famous gathering place for sightseers and travelers. Therefore, regular seasonal pop-up markets capitalise on the constant flow of people.
Thirdly, Theatreland is the UK's largest concentration of major theatres – and all of them are within walking distance of Leicester Square tube station. Also, the bars and clubs in this locality are also globally known. So I'd advise you to look out for venues like Ronnie Scott's jazz club and the Hippodrome casino and bar.
Importantly, the district of Piccadilly is right next door. So your hotel stay in Leicester Square will mean you get to savor its unique shopping and entertainment options. Interestingly, some of the shops along a stretch of road actually called Piccadilly have retained their quaint, authentic Tudor era look. For example, some of the shops date back to the 1700s.
Attractions Include:
Best Hotels in Leicester Square:
Club Quarters Hotel
$$$ | 4 Star | Business-Friendly | Free Parking
Even their lowest-priced rooms have all the modern appliances a business traveler would need so expect super fast free wifi. Also, it's in a prime spot in Trafalgar Square close to the National Gallery, the National Portrait Gallery, and Nelson's Column.
The Piccadilly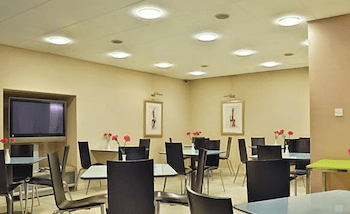 $$$$ | 5 Star | En Suite Bathroom | Fitness Centre
The stylish rooms are a match for the classy area. That is to say, it has soft furnishing and velvet look bedding. Above all, it's on Shaftesbury Avenue in the heart of the West End's Theatreland.
Thistle, Trafalgar Square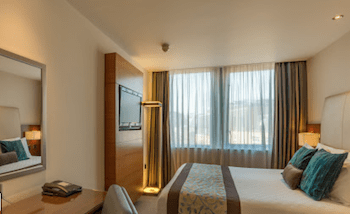 $$$$ | 4 Star | Excellent Location | National Gallery & National Portrait Gallery
Firstly, there's a comfortable, homely feel about the decor. Secondly, it's right in the heart of Trafalgar Square so next to the national galleries and Nelson's Column. It's an enjoyable walk if you decide to head for either Piccadilly or Westminster.
The Resident, Covent Garden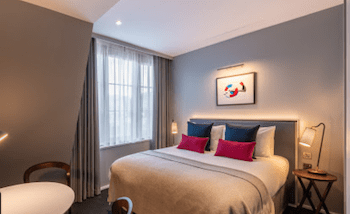 $$$$ | 4 Star | Kitchenettes | Covent Garden Piazza
The rooms are spacious and there's the added luxury of kitchenettes. Also, it's located in Covent Garden so you are right next to the Covent Garden Piazza and the West End's Theatreland.
Westminster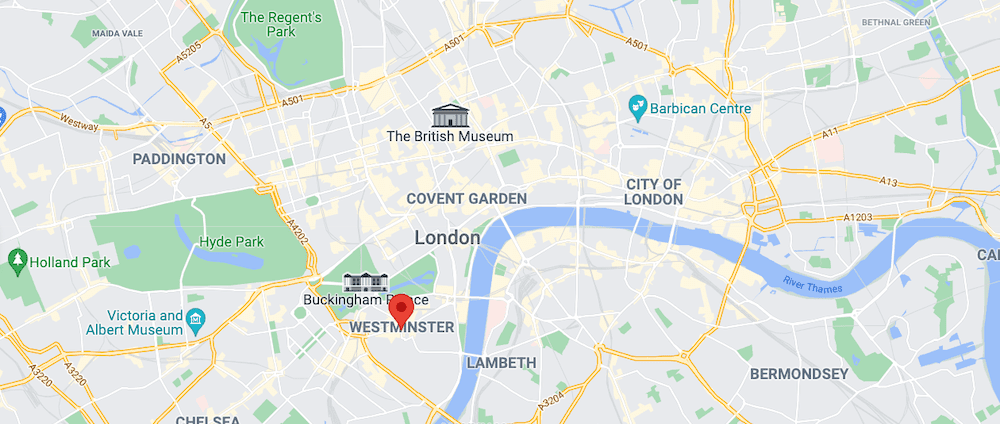 Political Centre | Historic | Westminster Abbey
Westminster is the political heart of the UK so, of course, you'll find the Houses of Parliament there as well. Also, the government ministry and civil service buildings in Whitehall. Certainly, Parliament Square, opposite the parliament buildings, is a tourist favourite and also attracts lively political protests. Also, in the Square, you'll find statues of social movement leaders and statesmen, including many British prime ministers. Winston Churchill has pride of place.
Likewise, the magnificent gothic architecture of Westminster Abbey is unmissable. Additionally, the equally stunning Westminster Cathedral is only two train stops away.
Similarly, St James Park is a must-visit picturesque royal park next to Buckingham Palace. So you can enjoy both attractions by taking a walk down The Mall, the grand red tarmac road leading to the palace.
Attractions Include:
Best Hotels In Westminster:
The Sanctuary House Hotel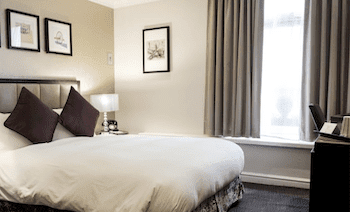 $$$ | 3 Star | 19th-century Hotel | Ancient Street
It's located in one of Westminster's oldest streets. Moreover, the hotel is from the 19th-century. Therefore, the architecture is distinct and grand. Luxury bedding and spacious rooms.
The Royal Horse Guards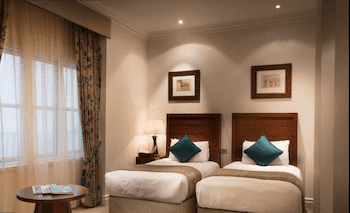 $$$$ | 5 Star | Central Location | Elegant | Luxury | Alfresco
The rooms have a historic, elegant, and distinguished feel, so in keeping with the posh area! Certainly, this is definitely at the luxury end and for those with bigger bank balances. Also, alfresco dining and river views.
St James Court ( A Taj Hotel)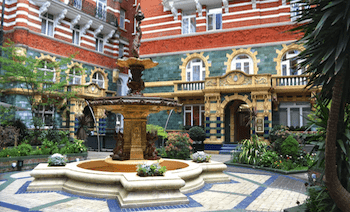 $$ | 4 Star | Classy | Spa | Wellness
Indeed, such is the classy feel, the luxury touches stand out in the decor and design. There's also a spa available. This a business-friendly hotel, therefore, has a conference suite.
The Westminster London, Curio Collection by Hilton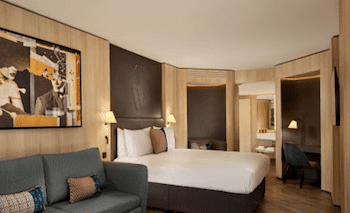 $$$$ | 4 Star | Central Location | Fitness Center
Certainly, modern and stylish with stand-out window features. Location-wise, the hotel is close to Big Ben and the Houses of Parliament.
The Guardsman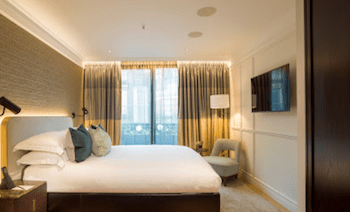 $$$$$ | 5 Star | En Suite Bathroom | Fitness Centre
Expect to be spoilt with luxury beds and a personal bar. Firstly, there are chic and spacious rooms with a real quality atmosphere. Secondly, you're not far from Buckingham Palace but have a mini palace of your own. Thirdly, there's even a private chef at your disposal.
Kensington & Chelsea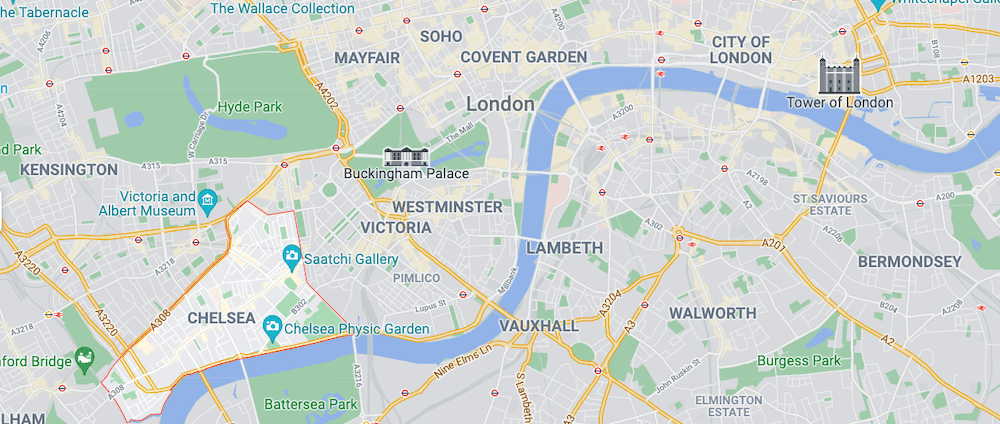 Museums | Art Galleries | Kings Road Shopping
Kensington and Chelsea are amongst the wealthier districts in London. In South Kensington, you'll find the largest number of museums in the UK. Although there may be clusters of museums in other areas of London, none match the magnificent standing of the likes of the National History Museum, the Science Museum and the Victoria and Albert Museum to name just a few.
Likewise, for a great visit, check out the attractions of Sloane Square, Chelsea. Because there you'll find the Saatchi Gallery and Kings Road, famous for its classy, upmarket boutiques and exclusive bars. Moreover, just outside Sloane Square station is the Royal Court Theatre, a landmark theatre of significant standing.
While the West End has an edgier, tourist-focused energy aimed at nightlife, shopping, and attractions, in comparison, Kensington and Chelsea are classier. That is to say, you can almost feel the wealth dripping off the posh shop fronts.
Attractions Include:
Best Hotels In Kensington & Chelsea:
Exhibitionist Hotel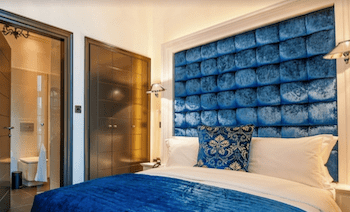 $$$ | 5 Star | Design Detail | Luxury
Luxury bedding and plush, soft furnishing. Indeed, the quality is such that the bespoke designed rooms are immediately eye-catching and striking.
100 Queen's Gate Hotel
$$$ | 5 Star | 24 Hour Gym
Firstly, this luxury hotel is close to the Natural History Museum, Science Museum, and Victoria and Albert Museum. And secondly, keep fit types will love the 24-hour gym. To sum up, two great reasons to check it out.
The Rembrandt Hotel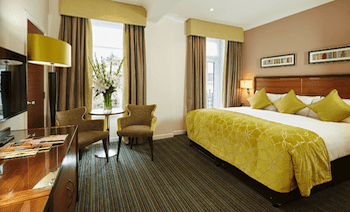 $$$$ | 4 Star | Edwardian | Swimming pool and sauna
The hotel's distinct architecture is from the Edwardian period. So you'll find sophisticated and spacious rooms. There are also spa baths available.
Draycott Hotel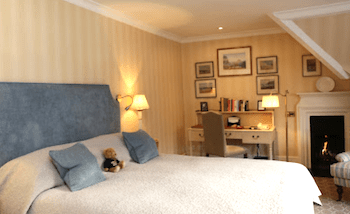 $$$$ | 5 Star | Antique-furnished | Afternoon Tea
There's a distinguished English chic so you'll feel a bit special. Also, it's close to Sloane Square so the Royal Court Theatre and the Saatchi Gallery are within walking distance.
Sydney House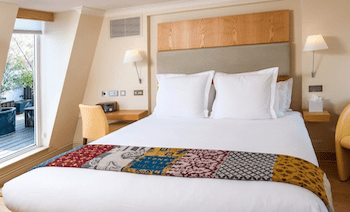 $$ | 4 Star | Georgian Townhouse |Rooftop Views
Modern and cosy but decent at the price. Also, if you book the 'Room At The Top' there's a private rooftop with amazing views of West London.
South Bank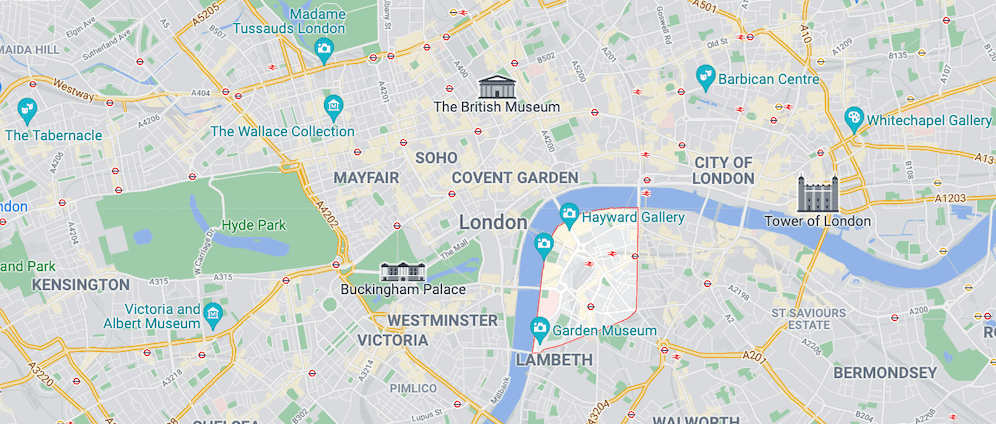 Riverside Cultural Hub | Brutalist Architecture | Theatres & BFI Film
South Bank is a buzzing arts and cultural hub with stunning views of the River Thames. Certainly, the blocky, futuristic-looking brutalist architecture is a unique sight in the capital. Indeed, its riverside attractions are its biggest appeal and it's a destination for lovers seeking a romantic walk at night.
During your stay, you may notice a few red carpet film premieres at the BFI, which is perhaps the biggest cinema institution in the UK. It holds a film festival once a year. Also, next to it is the National Theatre and there are numerous galleries along this stretch of the river. But a slightly longer riverside walk will take you to the Tate Modern, which competes with the British Museum as the UK's biggest tourist attraction.
Indeed, South Bank is ideally situated for you to head for attractions in either direction. You can walk Bankside towards the Tate Modern or in the direction of Westminster Bridge where the London Eye, Aquarium, and the Dungeons are just minutes away.
Attractions Include:
Best Hotels In South Bank:
Sea Containers London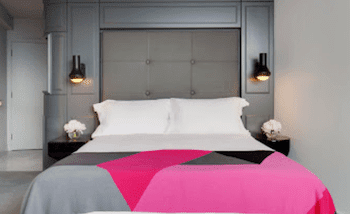 $$$+ | 5 Star | Riverside Views From Balcony | Rooftop Bar
This hotel capitalizes on the stunning riverside location. Firstly, it has a rooftop bar with panoramic views of the River Thames. Secondly, its look is inspired by the interior of 1920s ships.
London Marriott County Hall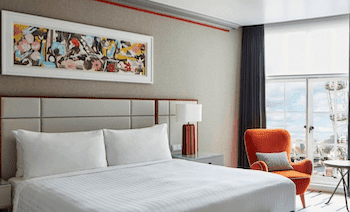 $$$$ | 5 Star | Luxury | River View | Free Fitness Classes
An elegant hotel with a distinguished English character. That is to say, the rooms have a refined, luxurious touch, with marble bathrooms. and Egyptian cotton sheets. Also, riverside views of Big Ben.
Park Plaza London Waterloo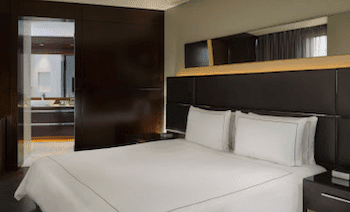 $$ | 4 Star | Italian Cuisine and Coffee | Fitness Centre
To sum up, all the essential amenities are included in their cozy and functional rooms. Moreover, there's Florentine cuisine served in the restaurants and Italian coffee as well.
Bankside Hotel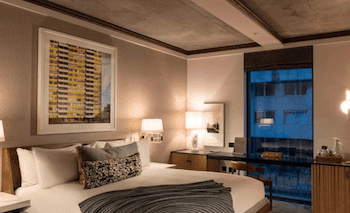 $$$$ | 3 Star | Compact | Extra Sofa Beds | Fitness Centre
This hotel has an attractive ultra modern-looking exterior. Also, there's an emphasis on art – with artworks prominently displayed and an artist in residence. For example, even their bar is called the Art Yard Bar!
Point A Hotel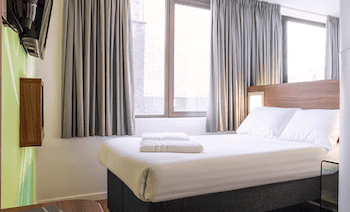 $ | 3 Star | Compact | Clean
Compact, tidy, functional rooms with all the amenities. The London Eye is within walking distance.
London Bridge & Borough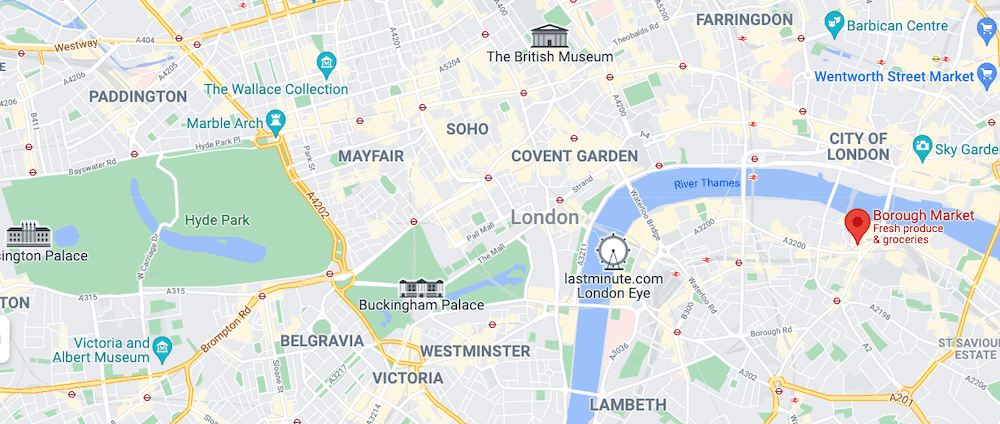 Riverside Attractions | Historic | Cultural
London Bridge/Borough is a good choice for cultural experiences and a heritage-rich environment. The districts of London Bridge and Borough are right next door to each other. A hotel in London Bridge or Borough will mean you are within walking distance of a tight cluster of attractions as well as Borough Market.
The riverside vibe around London Bridge/Borough differs from the arty energy of riverside South Bank, for example. But there is a distinct cultural, heritage and historical emphasis. There is a tight cluster of cultural attractions which are literally minutes away from each other.
Likewise, Southwark Cathedral is a historic building worth a visit. Significantly, it was first mentioned in the Domesday Book in 1086 AD. In addition, a timber replica of navigator Sir Francis Drake's galleon Golden Hinde is just opposite. The ruins of the medieval Winchester Palace are facing the Golden Hinde so you won't have to walk far. Again, Britain's medieval prison The Clink, which is now a museum, is a short walk from Winchester Palace.
And if you're feeling a little hungry, Borough Market is located next to all these cultural attractions. Therefore, you'll be spoilt for choice at the selection of international food stalls selling everything from street food to quaintly English butternut spreads!
Attractions Include:
Best Hotels In London Bridge & Borough
Shangri-La The Shard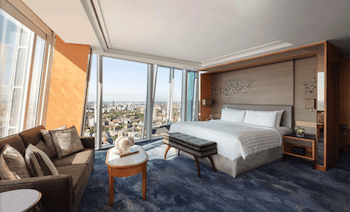 $$$$$ | 5 Star | Stunning Glass Structure | Highest Views | Skypool
This spectacular London landmark has the best (and highest) views of London. Their perfectly named SkyPool also offers swimmers the highest views in the UK. and is the highest hotel pool in Europe.
Ibis Styles – London Southwark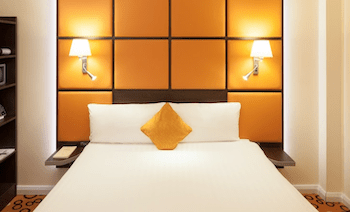 $ | 3 Star | Onsite Parking
To sum up, a budget hotel that is situated right next to the Tate Modern and Shakespeare's Globe Theatre. There's also onsite parking.
LaLit London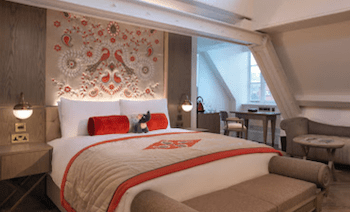 $$$ | 5 Star | Bespoke Design | Quirky & Exotic
A former Victorian Grammar school but now a mixture of the exotic and the quirky. For example, the bed linen has Indian fabric themes. As an added perk, the rooms come with a minibar.
Camden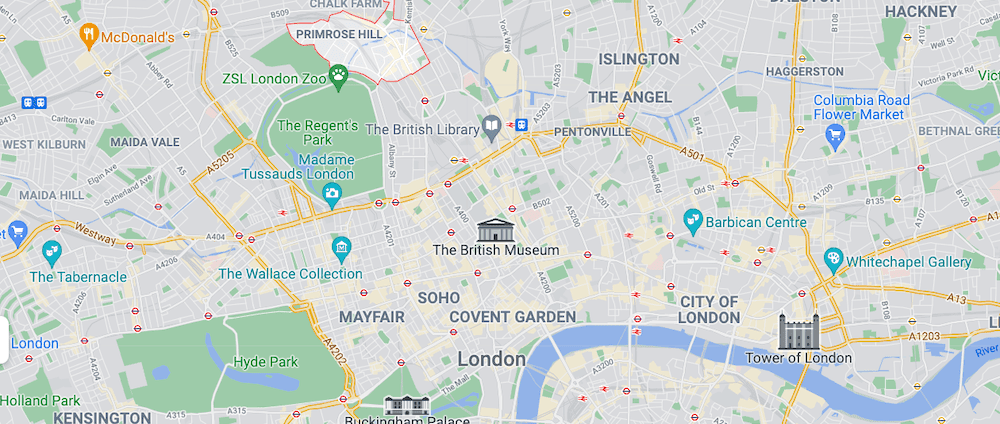 Clubs & Bars | Rock Gigs & Live Venues | Canalside Restaurants | Arty Vibe
Shoppers might also prefer Camden because its independent traders offer a refreshing contrast to the West End. So you might opt for their handmade, quirky alternatives.
Also, there's Camden's famous nightlife! Camden is London's independent rock music heart, so there are lots of live gigs and clubs that cater for rock fans. It also has one of London's biggest pubs, the Worlds Ends.
Moreover, the pub has a basement club for live gigs. But Camden has a broader live music scene which includes jazz and blues clubs. The nightlife is a decent match for London's West End. – or certainly an alternative. Likewise, there's a noticeable concentration of nightclubs in the area.
You'll soon pick up on Camden's unique arty, unconventional vibe. Especially when you see the independent traders with shops selling everything from eclectic fashion to healing crystals and tarot cards. Certainly, the district went through a hippy/earth mother phase years back and has retained a lot of that energy today.
Indeed, Camden's canalside is a buzzing place that attracts creatives, graffiti artists, joggers, and spontaneous gatherings that often spill into the roads. So it's the place for entertainment-seekers and nightlife lovers. Moreover, there's a broad selection of restaurants and bars along a canalway known as Camden Lock.
To sum up, in many ways, it's incomparable with other canalside districts of London. This is because a lot of Camden's qualities are opposites yet they blend seamlessly into one. So this odd but attractive combination of urban hip and arty hippy makes it a must-visit during your stay.
Attractions Include:
Best Hotels In Camden Town
---
Holiday Inn London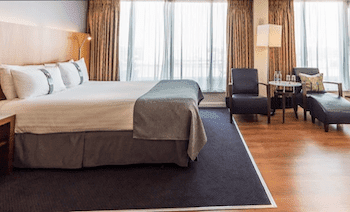 $$ | 4 Star | Stunning Views Of Canalside | Excellent Central Location
Camden Lock is the canalside area of the district and this hotel overlooks the Lock. Certainly, the modern and vibrant exterior and decor fit the arty vibe of the area.
York & Albany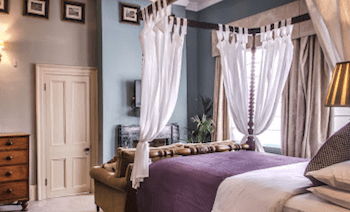 $$$ | 4 Star | Excellent Location | Gordon Ramsay Hotel
To sum, up, this Gordon Ramsay hotel decorated with antiques was once an 1820s coach house. The Parkway area of Camden is a stretch of road with the area's iconic live music venues, including the Jazz Cafe and the Dublin Castle (rock music). Regents Park is very close and similarly, London Zoo is a ten-minute walk away.
Camden Enterprise Hotel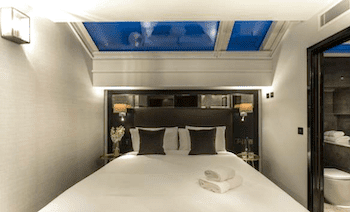 $ | 3.5 Star | Near transport links | Pets
Spotless, well-maintained, comfy, and inviting. Some of the rooms have floor-to-ceiling windows with London views. Although it's in Chalk Farm, Camden, this is only one train stop away from the creative, entertainment, and shopping hub.
Selina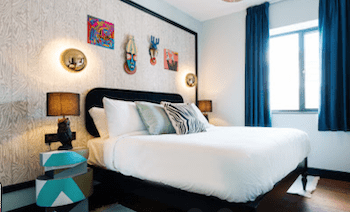 $$ | 3 Star | Bright & Light Design | Yoga | Balcony Views
Bright and uplifting hotel room interiors and distinct design elements. Also, you can join in the morning yoga. Above all, the Camden Town creative, entertainment, and shopping hub is a 10-minute walk away.