London is one of Europe's largest cities, making it one of the more difficult places to pick an area to stay on your next trip. Each area of the city has distinct features that only locals will know. Whether you're looking to be near cultural centers with trendy shops, historic sites, or top attractions, this article will help you choose where to stay in London.
---
Pro Tip: It's easier to organize your trip when you have all your resources in one place. Bookmark this post along with our guide to London for more planning resources, our top London tours for a memorable trip, and how to see London in a day.
The Best Hotels in London at a Glance
---
---
Where to Stay in London: Best Hotels and Neighborhoods
London is one of the world's most popular cities for a reason. It's got a lot going on, plenty to see, and diverse areas each offering visitors completely different experiences of the city. The best place for you to stay in London will depend on your interests and what you plan to do. Don't expect cheap prices though we've found a few for you—it's a metro city, after all.
In this guide, we'll break down the different areas of London to help you choose where to book your accommodation. We'll share some local knowledge about each area, what to see and do there, and recommend some great places to stay. These are the areas we'll cover:
Our Partnership with Booking.com. If you like our content, please book by clicking on our Booking.com links. The price is the same for you and we get a small commission that helps support our blog. We've partnered with Booking.com because they have the most options, great prices, and a solid loyalty program.
Not ready to book a tour? Find out if London tours are worth it.
Kensington, Chelsea & Earl's Court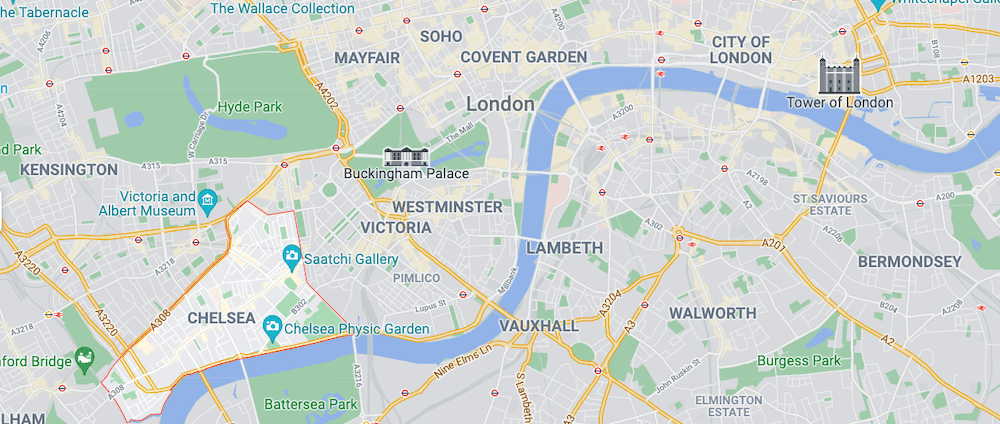 Museums | Art Galleries | Kings Road Shopping
I love recommending the Kensington and Chelsea areas for friends who come to visit as there are some good hotel deals to be found. Technically, Kensington and Chelsea are amongst the wealthier districts in London. But if you stay in a smaller neighborhood of Earl's Court, you'll find good hotel deals for families or groups. It has a more local vibe despite being surrounded by posh spots.
In South Kensington, you'll find the largest number of museums in the UK. Although there may be clusters of museums in other areas of London, none match the magnificent standing of the National History Museum, the Science Museum, and the Victoria and Albert Museum, to name just a few. Not to mention the upmarket boutiques and exclusive bars on Sloane Square in Chelsea.
Stay here if you want to be close to great transportation, out of the city center, but in a safe area of the city. Not to mention you might find celebrities around this area!
Attractions Near Kensington, Chelsea & Earl's Court:
Best Hotels In Kensington, Chelsea & Earl's Court:
The Exhibitionist Hotel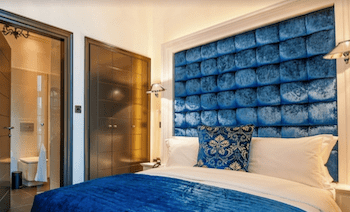 ££+ | 5 Star | Design Detail | Luxury
Enjoy the luxury bedding and plush, soft furnishings. The bespoke designed rooms are immediately eye-catching and striking. It's a proper high quality here, which is perfect for couples on a weekend getaway.
The Rembrandt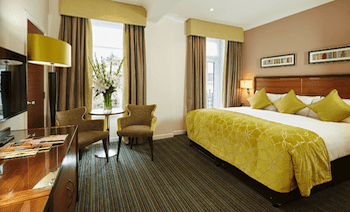 ££+ | 4 Star | Edwardian | Swimming pool and sauna
The hotel's distinct architecture is from the Edwardian period. So, you'll find sophisticated and spacious rooms. There are also spa baths available so adults can enjoy some quiet time without the kids.
The Resident Kensington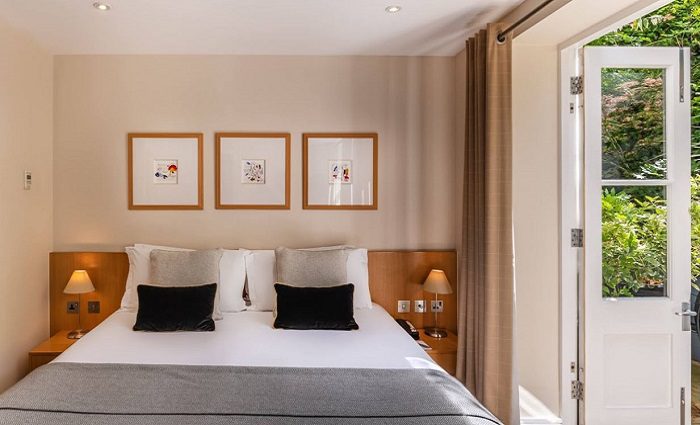 £££ | 4 Star | Bunk Beds Available | Beautiful Building
Coming with kids? The Resident Kensington is your best choice. They have rooms with bunk beds and mini kitchens available to make your trip to London easier. Or book a room with a quiet garden patio for your morning coffee.
The Blackbird, Earl's Court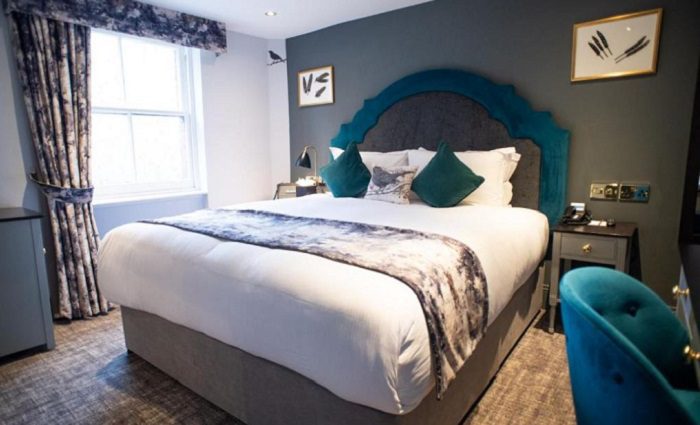 ££ | 3 Star | Sells Out Fast | Cool Vibes
If you want to stay in a cool hotel right near a Tube stop and above an incredible pub, then the Blackbird is for you. Breakfast is amazing here, which makes up for the smaller rooms that are ideal for couples.
Sydney House Chelsea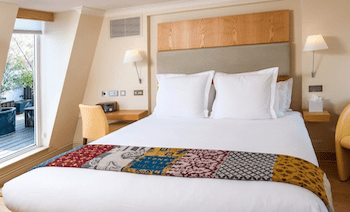 ££ | 4 Star | Georgian Townhouse | Rooftop Views
This hotel is modern and cozy, but decent for the price. Also, if you book the "Room At The Top," there's a private rooftop with amazing views of West London.
Leicester Square & Trafalgar Square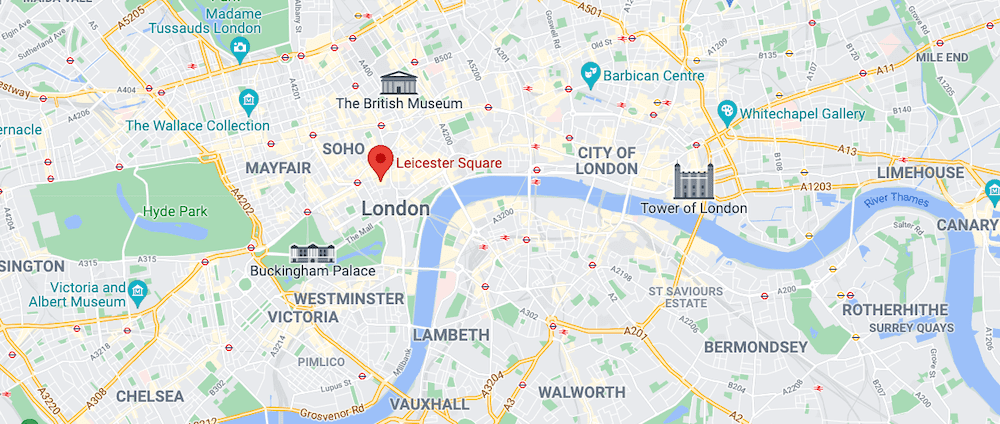 Tourist Attractions | West End Shopping | Trafalgar Square
Leicester Square and Trafalgar Square are, arguably, the UK's number one tourist hotspots. These squares surround the areas where you'll find magnificent and historic art galleries and museums like the National Gallery and the National Portrait Gallery. And Trafalgar Square is a gathering place for sightseers, travelers, and even protests. There are often seasonal pop-up markets making the most of the constant flow of people.
It's also popular for Theatreland, which is the UK's largest concentration of major theatres—and all of them are within walking distance of Leicester Square tube station. Also, the bars and clubs in this area are also globally known. Look out for venues like Ronnie Scott's jazz club and the Hippodrome Casino and bar.
Importantly, the district of Piccadilly is right next door to Leicester. So a hotel stay in Leicester Square or Trafalgar Square is ideal for people looking for nearby shopping and entertainment options. Families, couples, and solo travelers will love this area, but it's less ideal if you're looking for a quieter stay or a cheap hotel.
---
Not ready to book a tour? Find out if London tours are worth it. Hint: Yes, they are!
---
Attractions Near Leicester Square:
Best Hotels in Leicester Square:
Club Quarters Hotel Trafalgar Square
£££ | 4 Star | Business-Friendly | Free Parking
Even their lowest-priced rooms have all the modern appliances a business traveler would need, so expect super fast free wifi. Also, it's in a prime spot in Trafalgar Square, close to the National Gallery, the National Portrait Gallery, and Nelson's Column.
NoMad London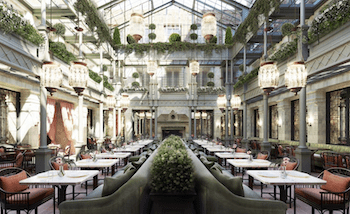 ££££ | 5 Star | Amazing Communal Areas | Hot Newcomer
The first NoMad to open this side of the pond, this venue is currently one of the hottest in London. Situated right in the middle of Covent Garden and directly opposite the Royal Opera House. The restaurants are popular and open to the public, but my favorite space is the library, reserved exclusively for guests, with a great collection of reads and an oasis of calm.
Thistle Trafalgar Square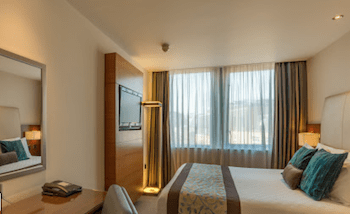 ££££ | 4 Star | Excellent Location | National Gallery & National Portrait Gallery
Firstly, there's a comfortable, homely feel about the decor. Secondly, it's right in the heart of Trafalgar Square, so next to the national galleries and Nelson's Column. It's an enjoyable walk if you decide to head for either Piccadilly or Westminster.
The Resident Covent Garden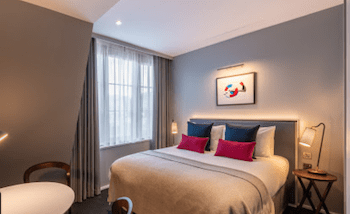 ££££ | 4 Star | Kitchenettes | Covent Garden Piazza
The rooms are spacious and there's the added luxury of kitchenettes. Also, it's located in Covent Garden, so you are right next to the Covent Garden Piazza and the West End's Theatreland.
Whitechapel Near Tower of London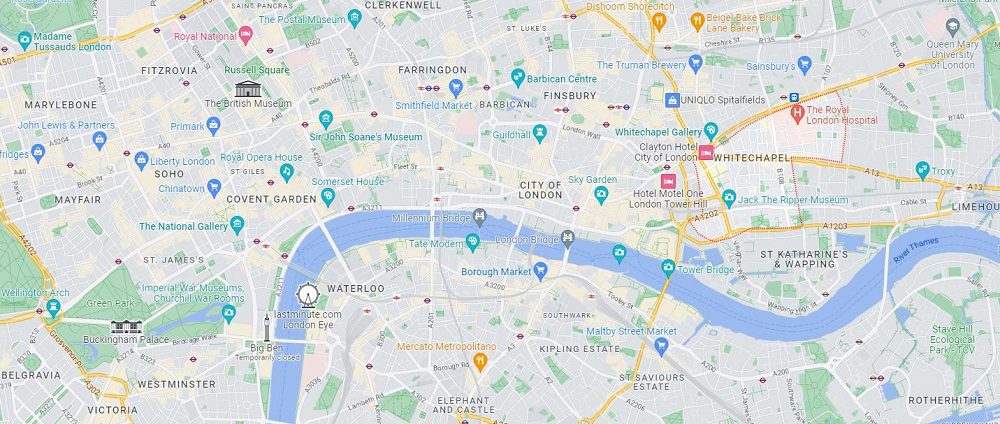 Near Tower of London | Safest East End City | Tons of Ethnic Restaurants
If you prefer to stay in a semi-central area that feels local yet filled with a diverse range of ethnic restaurants, then you should stay in Whitechapel. It's also ideal for travelers who want to stay close to the Tower of London and the famous Tower Bridge. And it's one of the cheaper areas for hotels in the city, yet it also comes with the best skyline views of London!
Whitechapel borders the east side of the City of London and is where a fair amount of Londoners actually live. It's easy to get deeper into London from here since there are three Tube stops nearby. It's considered one of the safest areas for tourists in East London. That means it's perfect for young people, adventurous couples, and especially families who want to be near the Tower of London.
---
Not ready to book a tour? Find out if London tours are worth it. Hint: Yes, they are!
Attractions Near Whitechapel:
Best Hotels In Whitechapel Near Tower of London:
Leonardo Royal London Tower Bridge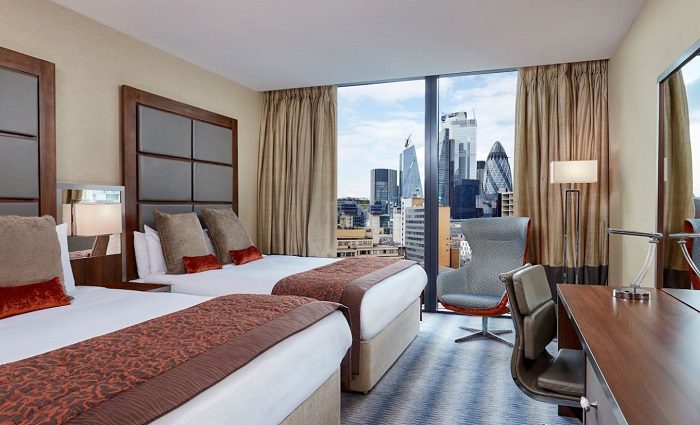 ££+ | 4 Star | Traveler Favorite | Skyline Views
Do you love a room with a view? Then book the Leonardo and ask for a view of London's skyline of St. Paul's and the egg/bullet (Gherkin building). It's pretty iconic which is why so many of our readers book it. Plus it's within walking distance of the Tower of London!
The Gate Hotel – London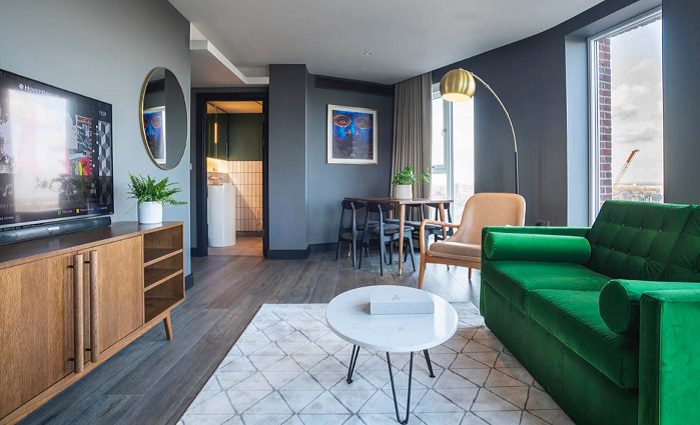 £££ | 4 Star | Apartment/Hotel | Great for Families
It's not fancy on the outside, but if you're here with kids, you'll love their connecting rooms and apartments with kitchens. If you're traveling solo, enjoy time in the lounge sipping free, endless coffee with a view of London.
Clayton Hotel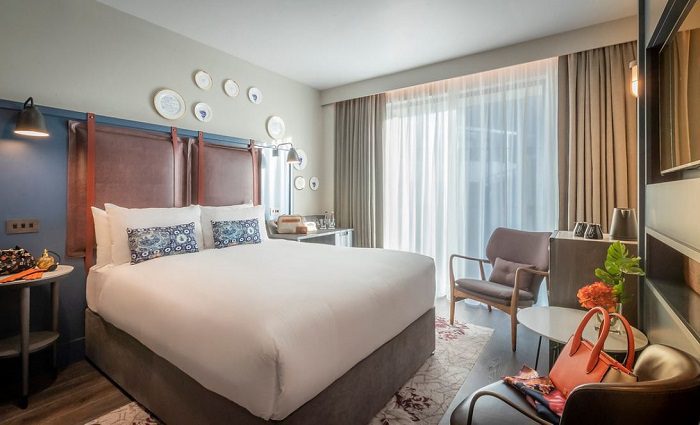 ££+ | 4 star | Modern | Perfect Location
We recommend Clayton Hotel for travelers who want to be in a nice, modern hotel near a Tube stop, and in a nice area. The bonus? There's a small strip of green space behind the hotel for kids to play on if they still have energy!
Wilde Aparthotels by Staycity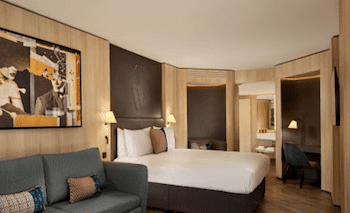 ££+ | 4 Star | Kitchenettes | Family Friendly
Families need options, so we've included another great hotel for families in Whitechapel. You can self-check-in online which is super convenient after a long flight. Plus they have breakfast available if you're in a hurry for your morning tour.
Westminster (and Buckingham)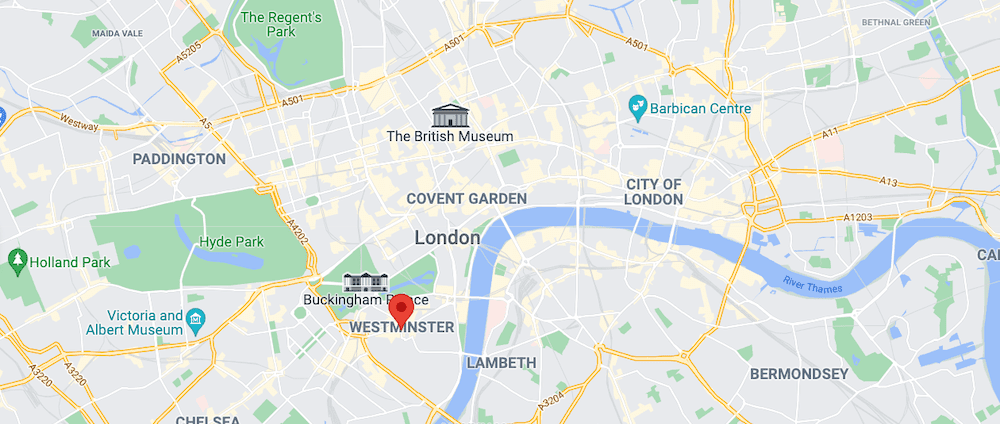 Political Centre | Historic | Westminster Abbey
Westminster is the political heart of the UK so, of course, you'll find the Houses of Parliament and Big Ben here. This is the ideal area for those who want to be closest to Buckingham Palace, Westminster Abbey, and in a super nice area. Business travelers and couples love it here, but expect higher hotel prices that are worth it.
The magnificent Gothic architecture of Westminster Abbey is unmissable, so don't miss a morning tour here, which is extra convenient if you're staying nearby. You'll have the added benefit of the equally stunning Westminster Cathedral just two train stops away.
Similarly, St James' Park is a must-visit picturesque royal park next to Buckingham Palace. So, you can enjoy both attractions by taking a walk down The Mall, the grand red tarmac road leading to the palace. In terms of where you should stay in London, Westminster is hard to beat. Really.
---
Not ready to book a tour? Find out if London tours are worth it.
Attractions Near Westminster:
Best Hotels In Westminster:
St James' Court, A Taj Hotel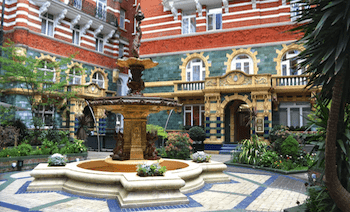 ££ | 4 Star | Classy | Spa | Traveler Favorite
Here, you'll enjoy a touch of class that makes many of our readers book this Westminster hotel. The luxury touches stand out in the decor and design. There's also a spa available for adults to relax at the end of the day. Or beginning. We don't judge.
The Royal Horseguards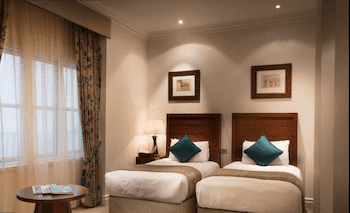 ££££ | 5 Star | Central Location | Elegant | Luxury | Alfresco
The rooms have a historic, elegant, and distinguished feel in keeping with the posh area! This is definitely more luxurious and for those with bigger bank balances. Perks include alfresco dining and river views.
The Resident Victoria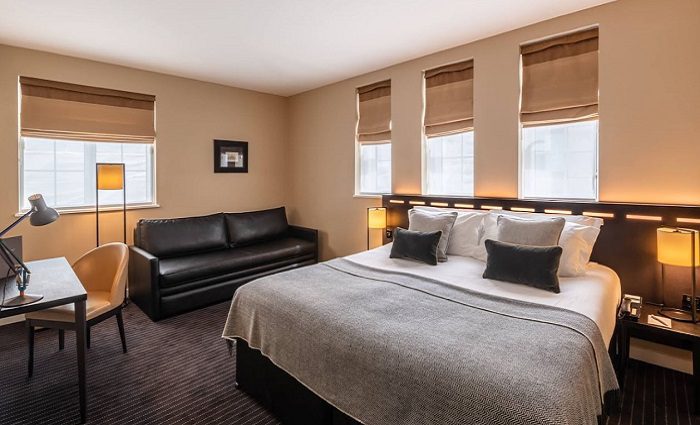 £££ | 4 Star | Various Room Sizes | Steps from Buckingham
Looking for a hotel that's steps from Buckingham Palace and doesn't cost a ton? This is it. You can choose your room size and budget, then enjoy the convenient location as you explore London.
The Westminster London, Curio Collection by Hilton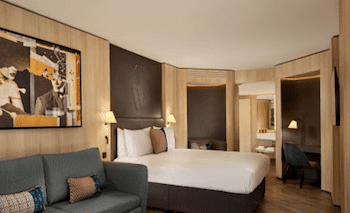 ££££ | 4 Star | Central Location | Fitness Center
You'll love this hotel's modern and stylish design with stand-out window features. Location-wise, the hotel is close to Big Ben and the Houses of Parliament.
South Bank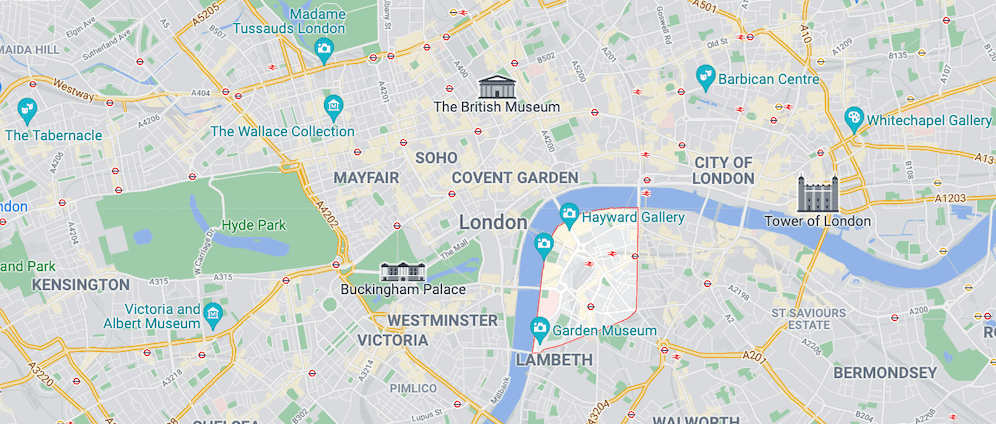 Riverside Cultural Hub | Brutalist Architecture | Theatres and BFI Film
South Bank is a buzzing arts and culture hub with stunning views of the river Thames. The blocky, futuristic-looking brutalist architecture is a unique sight in the capital. Indeed, its riverside attractions are its biggest appeal, and it's a destination for lovers seeking a romantic walk at night.
During your stay, you may notice a few red-carpet films premieres at the BFI, which is perhaps the biggest cinema institution in the UK. It holds a film festival once a year. Also, next to it is the National Theatre, and there are numerous galleries along this stretch of the river.
But a slightly longer riverside walk will take you to the Tate Modern, which competes with the British Museum as the UK's biggest tourist attraction. South Bank is ideally situated for you to head to attractions in either direction.
You can walk Bankside towards the Tate Modern or in the direction of Westminster Bridge toward the London Eye, Aquarium, and the Dungeons, all just minutes away.
Attractions Near Southbank:
Best Hotels In South Bank:
Sea Containers London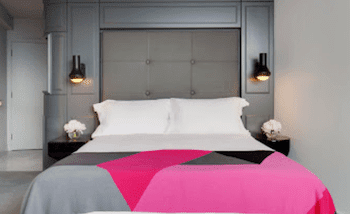 £££+ | 5 Star | Riverside Views From Balcony | Rooftop Bar
This hotel capitalizes on its stunning riverside location. It has a rooftop bar with panoramic views of the river Thames and its look is inspired by the interior of 1920s ships. How cool is that?
London Marriott Hotel County Hall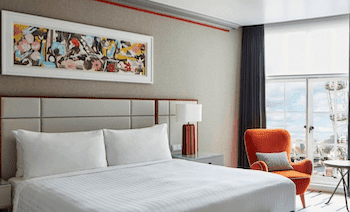 ££££ | 5 Star | Luxury | River View | Free Fitness Classes
This is an elegant hotel with a distinguished English character. The rooms have a refined, luxurious touch, with marble bathrooms and Egyptian cotton sheets. Also, you'll love the riverside views of Big Ben.
Park Plaza London Waterloo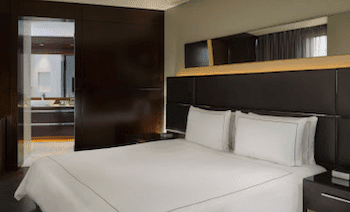 ££ | 4 Star | Italian Cuisine and Coffee | Fitness Centre
You'll find all the essential amenities included in their cozy and functional rooms. Also, they serve Florentine cuisine in the restaurants and Italian coffee as well. Perfect for Italy fans.
Bankside Hotel, Autograph Collection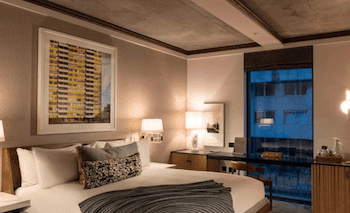 ££££ | 3 Star | Compact | Extra Sofa Beds | Fitness Centre
This hotel has an attractive ultra modern-looking exterior. Also, there's an emphasis on art. They have artworks prominently displayed and an artist in residence. For example, even their bar is called the Art Yard Bar!
Point A Hotel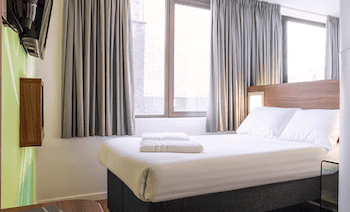 £ | 3 Star | Compact | Clean
What you can count on are compact, tidy, functional rooms with all the amenities. The London Eye is within walking distance and it won't break the bank.
London Bridge and Borough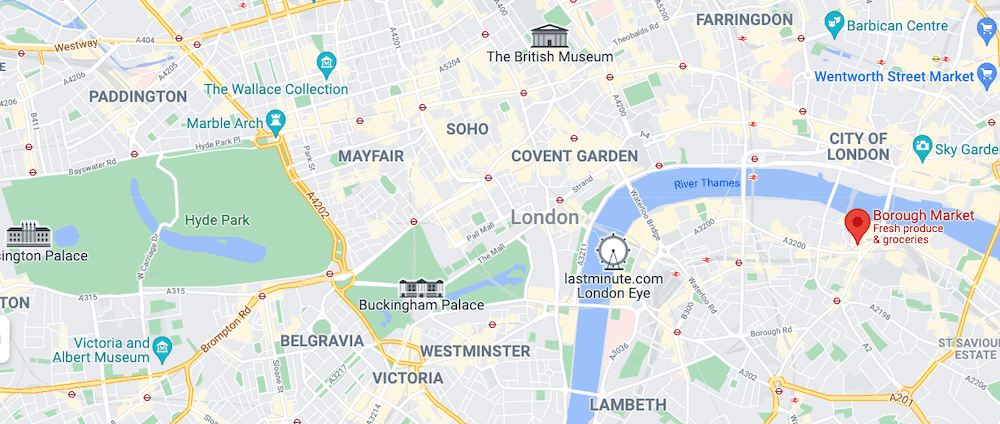 Riverside Attractions | Historic | Cultural
London Bridge and Borough is a good choice for cultural experiences and a heritage-rich environment. The districts of London Bridge and Borough are right next door to each other. A hotel in this area will mean you're within walking distance of a tight cluster of attractions, including Borough Market.
The riverside vibe around London Bridge/Borough differs from the artsy energy of Riverside South Bank, for example. But there's a distinct culture, heritage, and historical emphasis. You'll find a variety of cultural attractions literally minutes away from each other.
Likewise, Southwark Cathedral is a historic building worth a visit. It was first mentioned in the "Domesday Book" in A.D. 1086, which is quite significant. In addition, a timber replica of navigator Sir Francis Drake's galleon Golden Hinde is just opposite it.
The ruins of the medieval Winchester Palace face the Golden Hinde, so you won't have to walk far. Again, Britain's medieval prison, The Clink, which is now a museum, is a short walk from Winchester Palace.
And if you're feeling a little hungry, Borough Market is located next to all these cultural attractions. So, you'll be spoilt for choice at the selection of international food stalls selling everything from street food to quaintly English butternut spreads!
Attractions Near London Bridge and Borough:
Best Hotels In London Bridge and Borough
Shangri-La The Shard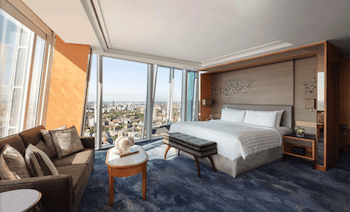 £££££ | 5 Star | Stunning Glass Structure | Highest Views | Skypool
This spectacular London landmark has the best (and highest) views of London. Their perfectly named SkyPool also offers swimmers the highest views in the UK and is the highest hotel pool in Europe.
Ibis Styles – London Southwark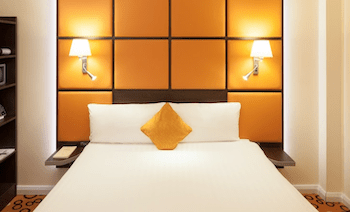 £ | 3 Star | Onsite Parking
This is a budget hotel with a great location—right next to the Tate Modern and Shakespeare's Globe Theatre. There's also onsite parking.
The LaLit London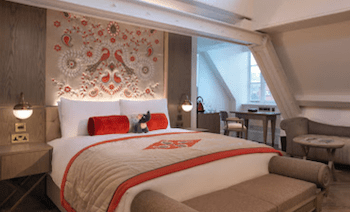 £££ | 5 Star | Bespoke Design | Quirky and Exotic
A former Victorian Grammar school, this hotel is now a mixture of the exotic and the quirky. For example, the bed linen has Indian fabric themes. As an added perk, the rooms come with a minibar.