Heading to Naples but unsure about where to stay? Naples is a large city with many cool neighborhoods, but deciding where it will be best for you can be difficult. Don't worry, we know the best restaurants, attractions, and hotels in each area. In this guide, we'll share our favorite places, so you can decide exactly where you want to stay in Naples for the best trip ever.
---
Pro Tip: Planning your trip to Naples? Bookmark this post in your browser so you can easily find it when you're in the city. Check out our Top Naples Tours for a memorable trip and the Top Archaeological Sites to Visit Around Naples.
The Best Places to Stay in Naples This Year
---
Skip straight to recommendations.

Vedi Napoli e poi muori ("See Naples and then die"). Naples was once considered one of the three great cities of Europe. Comparable only with Istanbul and Paris, so you could die in peace knowing you had seen it.
I first fell in love with Naples twenty years ago. I had just finished my fourth season working as an archaeologist in Pompeii and missed my flight. Taking this as a sign, I stayed and spent the next twelve years living in Italy.
Over the last twenty years, I've eaten great food! I have danced the tarantella (a local dance) in the Piazza Dante at two in the morning, and when I can't get to Naples, I watch HBO's 'My Brilliant Friend.' or Netflix's' 'The Lying Life of Adults. ' to remind myself of the kaleidoscope of life that is Naples.
That said, Naples is not all fairytales and dreams. I have stayed in some awful apartments in less desirable neighborhoods. I created this guide so you don't make the same mistakes and, more importantly, so you fall in love with Naples as I did.
---
Our Partnership with Booking.com. If you like our content, please book by clicking on our Booking.com links. The price is the same for you, and we get a small commission that helps support our blog. We've partnered with Booking.com because they have the most options, great prices, and a solid loyalty program. Just about every hotel is on Booking, so our recommendations are not incentivized.
---
Using Naples as a base to visit Pompeii? Check out our best Pompeii and Sorrento tours here.
Best Neighborhoods For Tourists in 2023
---
I'll divide Naples into three main areas for simple ease of use. They are:
---
Chiaia and Posillipo

Naples has progressed dramatically in the last twenty years, and Neopolitan hospitality is like non-other I have experienced.
The areas of Chiaia and Posillipo are generally considered the safest neighborhoods in the city. For history buffs, Posillipo is the final resting place of the great Roman poet Virgil.
The areas stretch along the waterfront and up the hill. The stunning coastal roads offer beautiful views of the entire Bay of Naples. Travelers can enjoy some of the city's chicest restaurants and shop at some of the city's best boutiques while enjoying the wonderful views.
---
Why I love Chiaia and Posillipo:
Well connected
Great restaurants
Beautiful views
Great shopping
Top Attractions in Chiaia and Posillipo:
Best Hotels in Chiaia and Posillipo:
Grand Hotel Parkers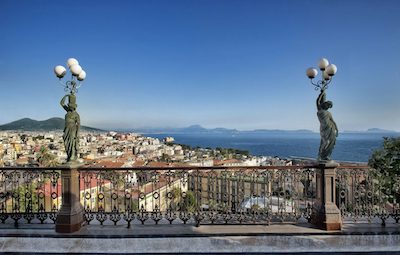 5+ Star | €€€| Old-World Style | Sea Views

The slightly outdated decor of Naples' oldest hotel provides much of the charm. Two internal restaurants provide fantastic fare. Muse serves breakfast and lunch with a panoramic view of Mount Vesuvius, the bay, and Capri. Upstairs at The George, young chef Domenico Candela recently earned his first Michelin star.
The Britannique by Hilton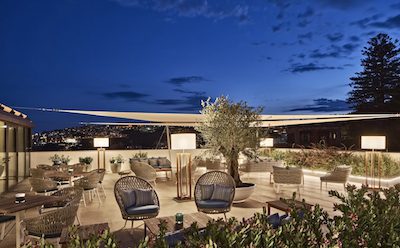 5 Star | €€€ | Sea Views | Spa Facilities | Family Friendly
Built in 1870 but recently renovated in the contemporary style, making spaces modern and spacious. Enjoy an á la carte Italian breakfast at the sumptuous Le Pavillion or dinner at Macphersons. I'll take a glass of the local Greco di Tufo on the rooftop terrace at sunset while looking over the entire Bay of Naples.

Location, photos, and booking
Primo Piano Posillipo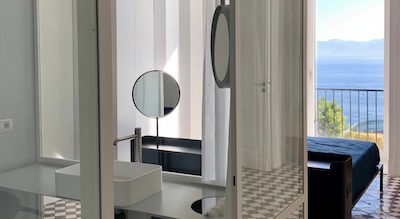 Luxury B&B | €€ | Opulent Boutique | Modern | Couples
This fabulous new B&B blends a mixture of ancient architecture and modern design. With just four suites in the entire property, this is perfect for couples looking for a romantic and quiet spot. Located a couple of miles from the center, it offers an ideal respite for the chaos of Naples.
Not ready to book a tour? Check out our guide to Pompeii Tours
---
Centro Storio and Quartieri Spagnoli

---
The most famous street in Naples doesn't exist on any maps. The spaccanapoli (Napoli Splitter) divides the downtown in two, but its real name is the Via Toledo. On the West, you find yourselves in the Quartieiri Spagnoli (Spanish quarter), named because of the old Spanish barracks. On the East is the Centro Storico, with its twenty-seven continuous centuries of existence.
Life is lived on the streets in Naples, and nowhere is that more true than here. The 'City of 500 Domes' has one or two, or 500 churches for you to explore, some of the most wonderful museums in the world, and the underground caves are one of my favorite experiences anywhere.
And the food? I don't have the superlatives. So stay here if you want a glimpse of the real Napoli, no shine, no polish, just pure unadulterated Neapolitan life. That said, I would avoid staying within a few blocks of the train station
Why I Love Centro Storico:
Super central location
So many wonderful museums
The food
Well connected to the rest of the Bay of Naples
Attractions in Centro Storico:
Best Hotels in Centro Storico and Quartieris Spagnoli:
Artemisia Domus Hotel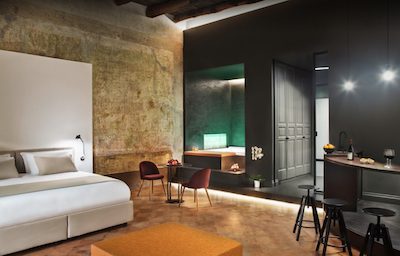 4 Star | €€€ | Private Spas | Romantic

An oasis within the city. This fantastic new addition to the city is quickly becoming one of the city's hottest boutique hotels. With just five bedrooms and four suites, it's worth booking ahead. The rooms are all modern and beautifully designed. But the showstoppers are the four suites, each of which comes with its own private spa facilities.
Hotel Piazza Bellini & Apartments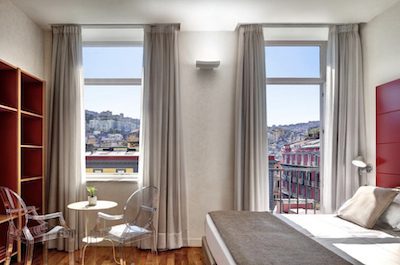 3 Star | €€ | Recently Renovated | Soundproofed | Family Friendly
A perfect spot for families. In the center of everything, the Hotel and apartments are a safe space away from the hustle and bustle of Naples. The Bi-level rooms or recently renovated apartments are perfect for families, offering a kitchenette for those nights when you don't have the energy to drag yourself out again but the kids still need feeding.
The Dante House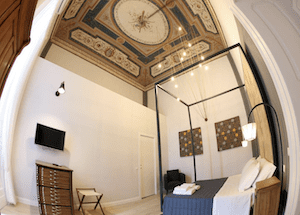 4 Star | €€ | Old World With Modern Twist | Couples or Families
Dante House Mixes original features (like the frescoed ceilings) with crisp modern design. The family suites, split over two floors, offer a kitchenette and a balcony with city views. You could not find a more centrally located apartment. It is just a quarter of a mile from the Museum of Archaeology and the Cappelo Sansevvero. Perfect for getting around on foot.
Rione Sanità & Capodimonte

---
The crossroads between life and death, this region has a strong connection with both. The Greeks and Romans buried their dead outside of the city walls, with the Romans eventually going underground and building vast catacombs (underground burial chambers).
Today the area is alive, but illegal street markets pop up and disappear, fantastic street art appears with startling frequency, and it is never quiet.
While it has a reputation for petty crime, I have never felt anything but welcomed here. But be smart, don't have your camera slung around your neck like a tourist, and opt for that battered old Casio rather than your good watch.
Why I love Rione Sanità:
Great food
Close to everything but far from touristy
Hidden gems
Attractions in Rione Sanità:
Best Hotels in the Rione Sanità:
Atelier Inés Arts and Suites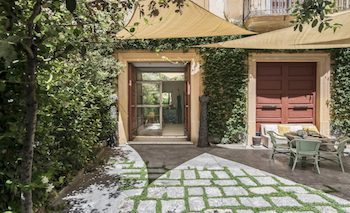 Luxury B&B | €€| Beautifully designed | Art Lovers| Near Metro
Run by Inés and Vincenco Oste. The Hotel is a living museum to Vincenzo's father, the artist Annible Oste. So it is one of the most beautifully decorated hotels in the city. It is perfect for art lovers and central to many museums, and the hosts have regular art classes for guests to join.
Not ready to book a tour? Find out The Top Things to do in Sorrento
The 12 Best Roman Ruins You Can Visit This Year
Where to Stay in Sorrento
The Top 17 Things to Do in Sorrento
10 Best Restaurants in Sorrento
How to Get to Pompeii
The Best Tours of Pompeii and Why