Planning a trip to Italy? Consider adding Pompeii to your itinerary. It's one of the largest and best-preserved archeological sites on Earth where you'll get to walk around an ancient Roman city with an incredible story. But where is it and how do you visit it? In this guide, we cover everything you need to know about how to visit Pompeii.
---
Visiting Pompeii: What We'll Cover
Pompeii was a booming port city in the ancient Roman Empire. But all that changed on August 24th, A.D. 79 when the Mt. Vesuvius volcano erupted. Those who were not killed by the missiles of pumice raining down or the lava were wiped out by the toxic gases.
This disastrous day for the Romans has given us an intimate look into what life was like in an ancient Roman city. The volcanic ash and mud from the eruption encased and preserved the city's artefacts and some of the people's bodies, clothes, and even places of business.
Over 2.5 million people visit the archeological site of Pompeii annually, taking a journey back in time. In this guide on how to visit Pompeii, we'll cover:
Pro Tip: Consider bookmarking this article in a "Pompeii" folder in your browser. This way you can circle back to it while planning your trip. Also, check out our Pompeii day trip from Rome and all our other Pompeii tours. Our guides make archeological sites interesting and tours fun, which will make your experience more memorable.
Opening Hours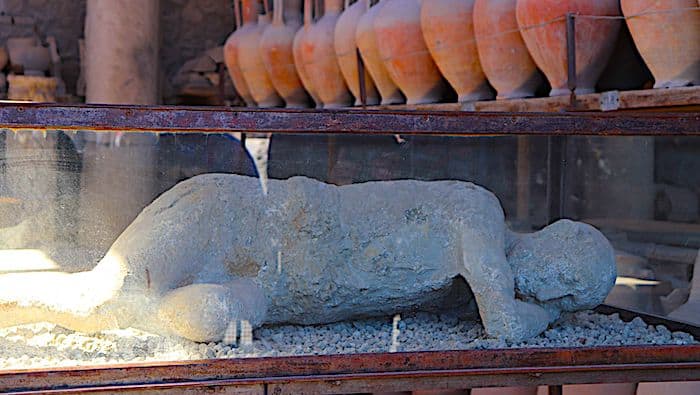 Pompeii is open to visitors every day of the week (with seasonal visiting hours) except on 25th December, 1st May, and 1st January when it is closed—unless otherwise communicated on the website.
Visiting Hours:
From 1st April to 31st October: Opens at 9 am, last entrance at 5:30 pm, and closes at 7 pm.
From 1st November to 31st March: Opens at 9 am, last entrance at 3:30 pm, and closes at 5 pm.
Tickets to Pompeii
You can buy your tickets Pompeii Archaeological Park directly at the entrance. There are three entrances: Porta Marina, Piazza Anfiteatro, and Piazza Esedra. You will most likely be entering through the Porta Marina, which is the entrance next to the train station and main parking area. It is also the main ticket desk, so you can buy your ticket here and begin your adventure.
Admission Cost:
€17.50 from 9 am – 4:30 pm
€11.50 from 4:30 pm – 5:30 pm
Free under 18 years old
While seeing Pompeii on your own is an easy option, it's worth considering booking a guided tour of Pompeii. The guides at Pompeii are experts in archeological history and will help you understand what you're seeing in a way that you can't achieve on your own. What may seem like a pile of rubble will come to life as a former home, kitchen, or shop from the past. Book a guided morning tour with us for a more immersive experience!
Tours of Pompeii & Amalfi Coast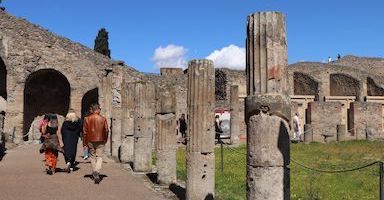 Best Selling Tour
Rome to Pompeii Day Trip with Stunning Sorrento
Join us on an adventure from Rome to Pompeii and stunning Sorrento with comfortable, round-trip transportation. Skip the line access with an expert guide and make the most of your time in Italy and leave all the details to us. All you have to do is enjoy yourself!





See Prices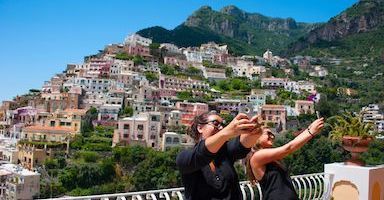 Amazing Experience
Pompeii and Amalfi Coast Tours
There are many options for your trip to the Amalfi Coast, whether you're taking a full trip or just a day trip from Rome. One of the best archeological sites on earth, Pompeii was destroyed by Mount Vesuvius in 79 AD. The combination of plunging cliffs, history, and charm make the Amalfi Coast one of our favorite places in Italy.





See Prices
Not ready to book a tour? Check out our Pompeii Guide for more info.
How To Get To Pompeii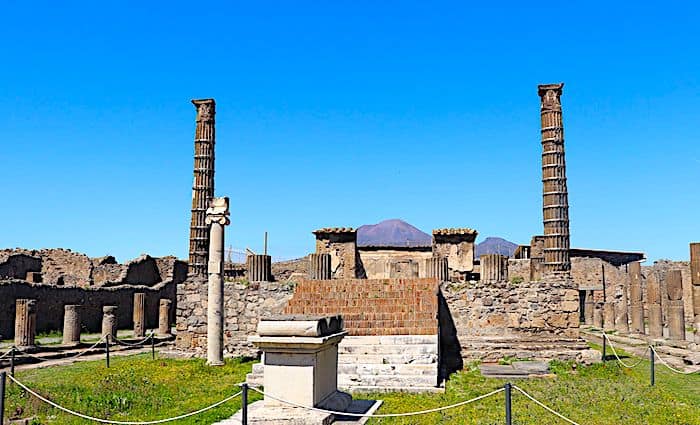 Most people who visit Pompeii come by train from Naples. The good thing is that the train station where you need to get off is right in front of the entrance to the archeological park. It's a quick walk to the entrance and you can't miss it. See the details below to get to Pompeii by train from Rome and the Amalfi Coast and directions for those who have rented a car.
From Rome
By Train:
The high-speed train from Rome to Naples runs every 20 minutes. You can take the train from Roma Termini station to Napoli Centrale in just over an hour. Book on Trenitalia or through Italo. They are two competing train companies. I prefer Italo.
From Napoli Centrale, you can switch to the local train to Pompeii. The local train, called the Circumvesuviana, is located down the corridor in what is technically Napoli Garibaldi Station.
Take the train towards Sorrento and you will arrive at the Pompei Scavi – Villa Dei Misteri station after about 20 minutes. The station is a matter of feet from the entrance to the archaeological area.
If you choose to take the train to Pompeii on your own but are still looking for a guided tour, check out our Skip the Line Pompeii Ruins Tour with Villa of Mysteries.
By Car:
If you've rented a car, it's quite easy. Get on the Grande Raccordo Anulare (GRA) and head onto the A1 highway to Naples. Once you get close to Naples you change to the Motorway A3 Napoli-Salerno (exit Pompeii ovest). Or just add the destination to your GPS.
From the Amalfi Coast
By Train:
Sorrento is the only town close to Pompeii with a train station. If you're not in Sorrento, you'll need to make your way there, jump on the train headed in the direction of Napoli Centrale, and get off at Pompei Scavi – Villa Dei Misteri.
By Car:
For the adventurous souls who rent a car, get to the Motorway A3 Napoli-Salerno (exit Pompeii ovest). Or use your GPS navigation.
Tour Options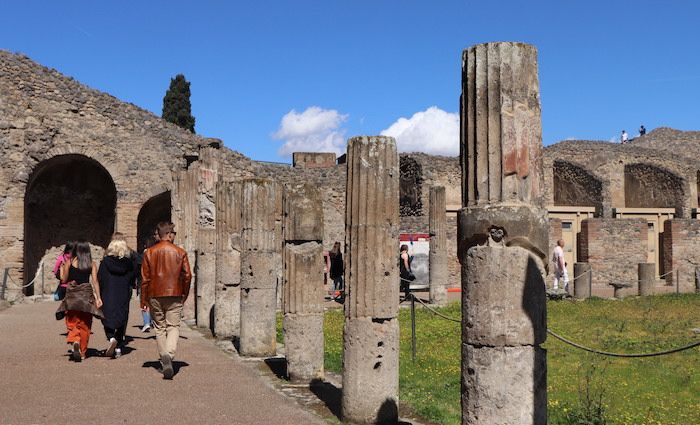 We are a tour company, so we always recommend taking tours because we believe it is the best way to see a historical site. You can certainly DIY Pompeii, but you will definitely get much more out of your time with a local, expert guide who will bring these piles of rocks to life with stories and explanations you can't discover on your own. Check out some options:
This is a 2-hour small-group tour for people who are already in Pompeii or have decided to sort out their own transportation. Let our local, expert guide show you the main sites and learn all the crazy anecdotes and stories from the ancient world.
This is a small group tour with roundtrip transportation from Rome. It includes a tour leader who will be with you for the day. After visiting the ruins (including Villa dei Misteri) with our expert guide, you will then travel on to beautiful Sorrento where you will have some free time for shopping and a meal. A private tour is also available.
This is a private tour for those who are staying in the Amalfi Coast area and don't want to worry about transportation. We also set up local, expert guides for you in Pompeii and Mt. Vesuvius—trek all the way to the top!
Not ready to book a tour? Check out our Pompeii Guide for more info.
What To See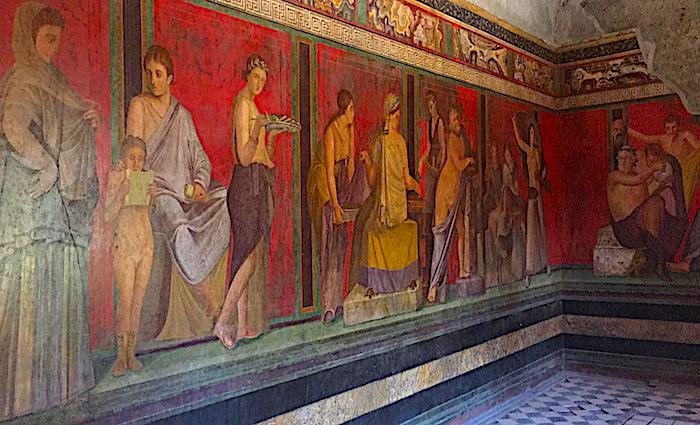 If you're taking a guided tour of Pompeii, you don't need to worry about missing out on any of the important things to see at Pompeii—your guide will take care of that. Here is a quick list of must-see sites at Pompeii:
The amphitheater
The forum of Pompeii and its baths
The brothel
The large theater
The gladiator barracks
The preserved plaster casts
The Villa Dei Misteri or Villa of Mysteries
The Temple of Apollo
The house of Vettii
Mt. Vesuvius
For a more comprehensive list and descriptions, see our guide on the top things to see at Pompeii.
Where To Eat Nearby
Options are fairly limited nearby as far as eating and refreshments go. However, if you're famished or in need of a cup of coffee, here's where to go:
Autogrill Pompeii
Calling it a cafeteria is a stretch, but it is the only place inside the archeological park to get some refreshments. It's located behind the Temple of Jupiter.
Address: Via del Foro, 20, 80045 Pompei
Bar Sgambati
This is the Bar/ Restaurant/ Pizzeria right next to the train station where you get off to visit Pompeii. The food and prices are average, but this is your best bet to get something to eat in the area before or after your trip to the archeological site.
Address: Via Villa dei Misteri, 80045 Pompei
Not ready to book a tour? Check out our Pompeii Guide for more info.