Planning a trip to Venice but unsure where to stay? We're here to help! Venice is a special city divided into neighborhoods that each have a unique character of their own. Whether you want to be in the thick of things or in a quieter area with locals, our local expert has put together this guide to help you find the perfect place to stay in Venice.
---
Pro Tip: Planning your trip to Venice? Bookmark this post so you can easily find it along with our Venice Guide for more planning resources, our top Venice tours for a memorable trip, and how to see Venice in a day.
Where To Stay in Venice at the Best Hotels
Like many great cities, Venice is subdivided into neighborhoods. Once you understand the characteristics of each neighborhood, you'll be able to choose the best one for your vacation in the Floating City.
Venice has areas dominated by narrow streets where things can get a bit tight but it also has lovely open spaces and gardens. You can stay close to the main attractions and the tourists or you can venture to quieter areas filled with locals and authentic restaurants. The choice is yours!
With a rich history and a unique local culture, there's plenty to discover in Venice. In this guide, we'll share our suggestions for great areas to stay, plus the best hotels, restaurants, and things to do in each area. Here are the Venice neighborhoods we'll cover:
Our Partnership with Booking.com. If you like our content, please book by clicking on our Booking.com links. The price is the same for you and we get a small commission that helps support our helpful blog content. We've partnered with Booking.com because they have the most options, great prices, and a solid loyalty program.
Dorsoduro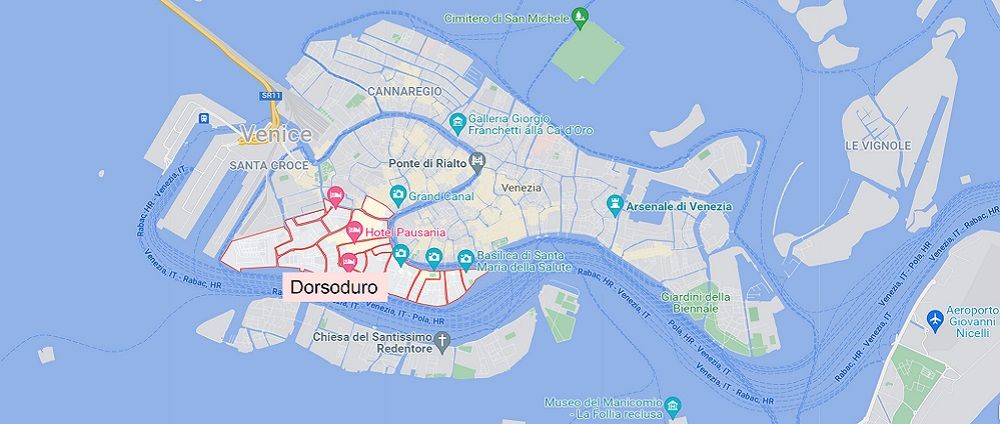 Over the years, Dorsoduro has become one of my favorite–if not my favorite–neighborhoods in Venice. As you walk through the streets, it has an awesome vibe. It's also the university area, so you're likely to find more locals than tourists here.
For art and history lovers, Dorsoduro is rich with museums that most people tend to overlook. I'm talking about amazing collections of artwork in spaces that are practically void of your average tourist. In fact, three of our seven top museums in Venice are in Dorsoduro.
The main square is Campo Santa Margherita, which is a great place to hang out and get a coffee during the day or enjoy a drink in the evening. There are plenty of cool places to eat and drink in the area as well as great hotels. It's also a great place to stay if you have one of those 6 am flights back to the states.
Why I love Dorsoduro:
Borders the Grand Canal on one side
Has a very open feel
High concentration of great museums
Predominantly locals' area
Cool bars and restaurants
Close to St. Mark's Square and other attractions
Attractions in Dorsoduro:
Peggy Guggenheim Museum
Accademia Gallery
Pinault Collection: Punta Della Dogana
Best restaurants in Dorsoduro:
Best hotels in Dorsoduro:
Ca' Pisani Hotel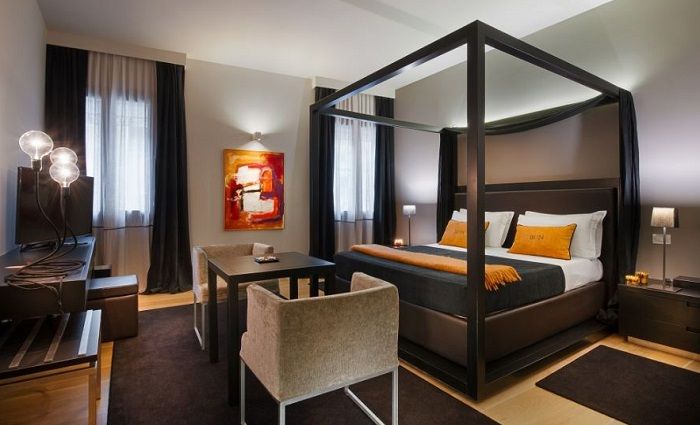 €€+ | 4 Star | Ideal Location | Art Deco | Great Staff
I love the location of this hotel: it's literally steps away from San Marco yet it's still quiet behind the Gallerie dell'Accademia. You'll feel like you stepped back into the 1920s too, which is a fun vibe. Head to the rooftop for an evening sunset to remember.
Hotel Nani Mocenigo Palace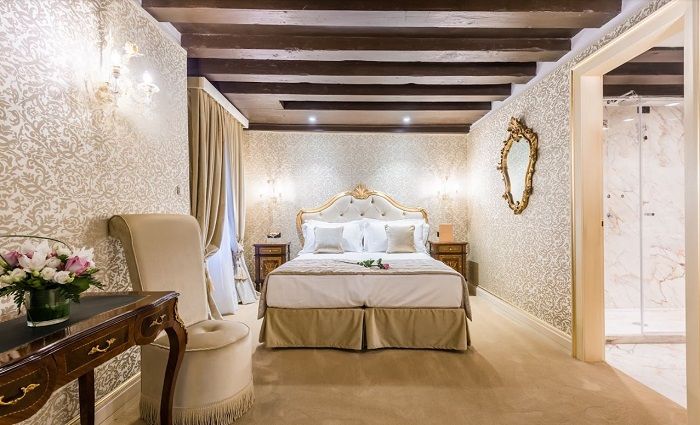 €€+ | 4 Star | Palatial Rooms | Good Location
Treat yourself like royalty by staying at this palace-turned-hotel that's ideal for honeymooners. I love how decadent and spacious the rooms are with their beautiful high ceilings. You're not far from Piazza San Marco, yet just far enough away from too many tourists here.
Il Palazzo Experimental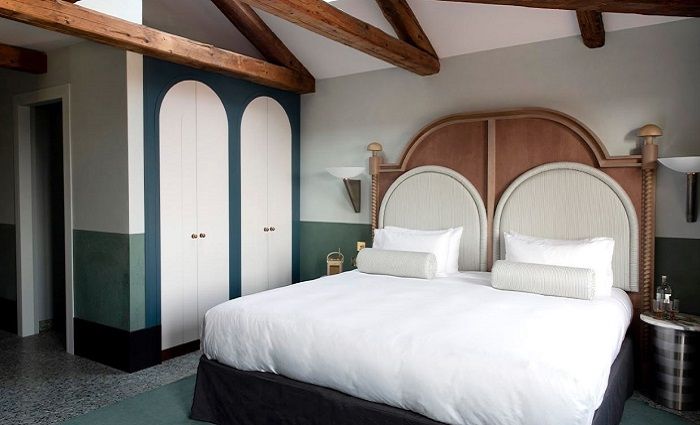 €€+ | 4 Star | Romantic Views | Terrace | Restaurant and Bar
This hotel is in an original centuries-old palace, so every room will be a little different, but they're all impeccably designed. The staff is attentive, the food is delicious, and the location on the canal is supreme. It's definitely a quieter location away from the crowds too, which is nice.
Hotel Palazzo Stern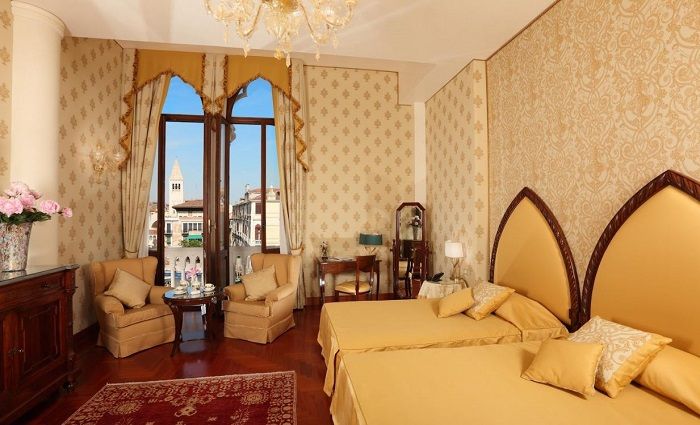 €€€ | 4 Star | Outdoor Patio | Right on Grand Canal
There are several kinds of rooms here, but most of them will be perfect for a romantic stay in Venice. This hotel sits right on the Grand Canal, overlooking the rest of Venice. I like this hotel for the location and ambiance, though it's a bit of a splurge.
Ca' Maria Adele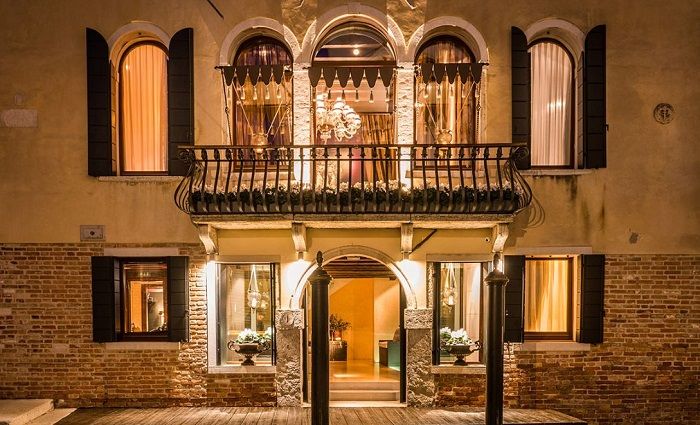 €€€+ | 4 Star | Suites and Apartments | Ultra Luxe
For a truly luxurious hotel with rooms of every rich color and design, you'll love Ca' Maria Adele. I love the rooftop terrace and cozy lounge. It's tucked out of the way but right across from Basilica di Santa Maria della Salute.
San Marco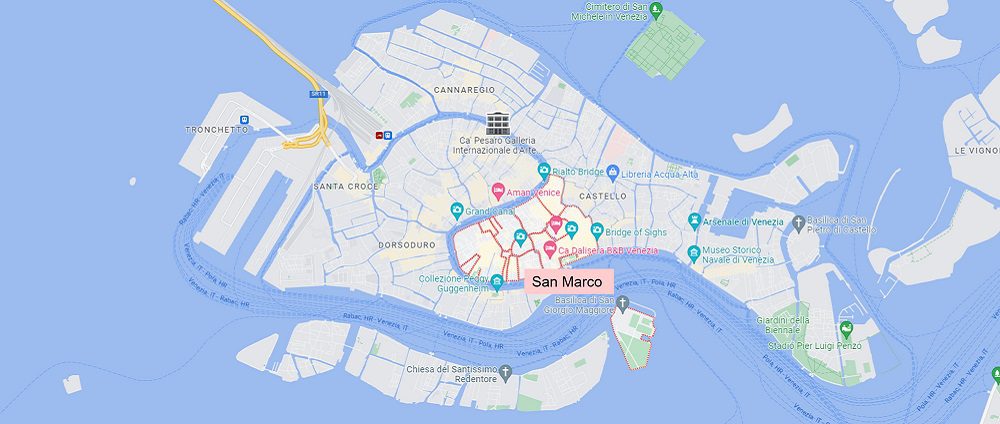 This is where you'll find all the action from tourists to shopping to the biggest attractions Venice has to offer. That means it's only ideal for those who don't mind staying in the busier tourist areas. I personally don't love staying in these kinds of areas, but perhaps you do. And if this is your first time to Venice, maybe you'll love being close to St. Mark's and Rialto.
If that's your vibe, then look for a great place that's not far from Piazza San Marco or that splits the difference between St. Mark's Basilica and Rialto Bridge. Venice isn't a huge city, but San Marco can feel crowded during the busy months. Finding a place on a quieter street is a must.
There are plenty of shops to explore and streets to get lost in (just look up for the street signs!) when you stay in San Marco. So if this is your ideal type of place to stay, check out our recommendations below.
Why I love San Marco:
Closest to St. Mark's Square
Not far from Rialto Bridge
Plenty of shopping
Still some quiet streets to explore
Central to everything
Attractions in San Marco:
St. Mark's Square
St Mark's Basilica
Doge's Palace
Teatro La Fenice
Palazzo Contarini del Bovolo
Bridge of Sighs
Palazzo Grassi
Best restaurants in San Marco:
Best hotels in Dorsoduro:
Hotel a la Commedia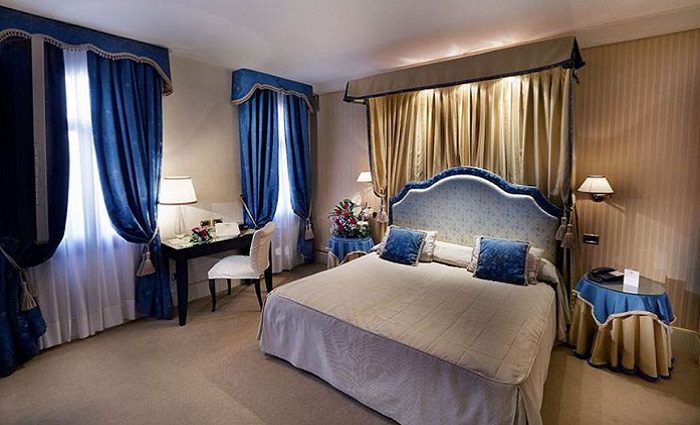 €€+ | 4 Star | Rooftop Terrace | Family Rooms Available | Large Rooms
This is my top pick if I had to stay in San Marco between Rialto Bridge and St. Mark's Square. The hotel has a classy style and larger rooms—something of a luxury in many European hotels. Even the bathrooms are a nice size. But best of all, they have a great rooftop terrace for your evening cocktail.
Hotel Flora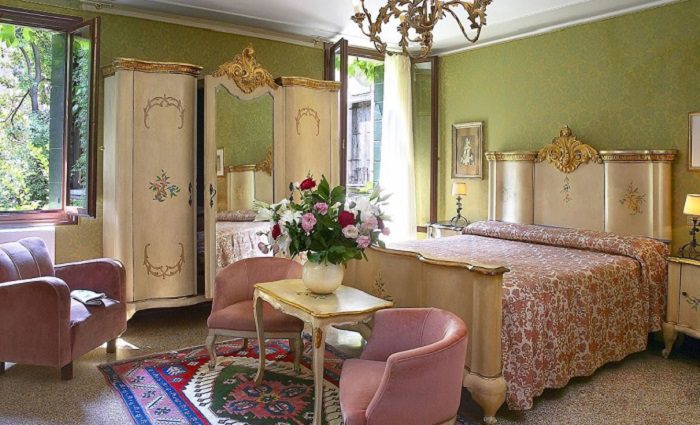 €€€ | 3 Star | Garden Courtyard | Breakfast | Laundry Service
I like Hotel Flora for all that it offers despite being just 3 stars. It's a little oasis of authentic Italian charm in a busy district. Room sizes vary, but the quiet garden is a luxury, especially with your morning coffee and breakfast.
Palace Bonvecchiati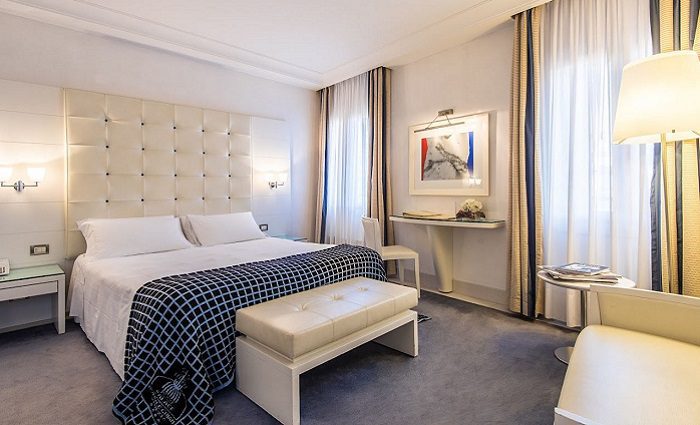 €€€ | 4 Star | Contemporary | Lots of Amenities | Room Service
You get a lot for your money here, and it has similar amenities to a hotel in the states. Think: a gym and nice, modern rooms. They also have a great breakfast, which is handy. It's located right between St. Mark's Square and Rialto which is about as central as you can get.
Palazzina Fortuny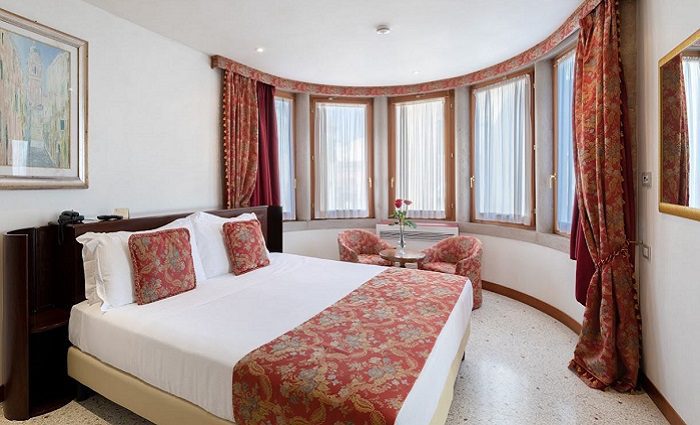 €€ | 3 Star | Basic but Comfy | Breakfast Included | Close to Rialto
This hotel has some good deals sometimes, and it's pretty central in San Marco on a quieter street. They do include a breakfast if you're wanting extra value here. It's a no-frills kind of room, but you aren't going to spend much time in there anyway.
All'Angelo Art Hotel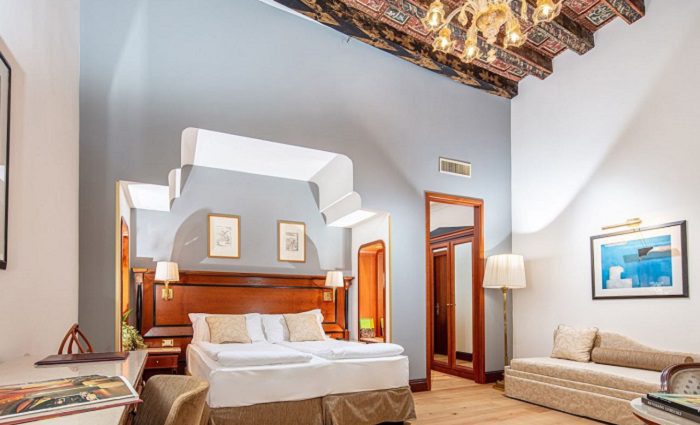 €€+ | 4 Star | Variety of Rooms | Private Dock | Breakfast
I like this hotel since it's actually on the "far" side of St. Mark's, which makes it a little quieter too. Plus they offer my favorite Venetian appetizer, cicchetti with wine, in their café. You might also like that they have a private dock if you're using a water taxi.
Hotel Casanova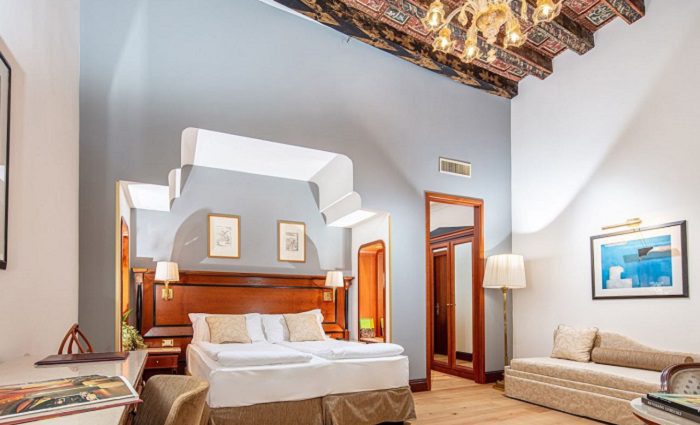 $$$ | 4 Star | Close to St. Mark's | Family Rooms | Elevator
This hotel has rooms for up to 6 people, which means Hotel Casanova is a good choice for families who want prime location. The hotel is lacking extra amenities, but there is an elevator and in-room entertainment and minibar. Its location is almost unbeatable—just around the corner from St. Mark's Square.
Castello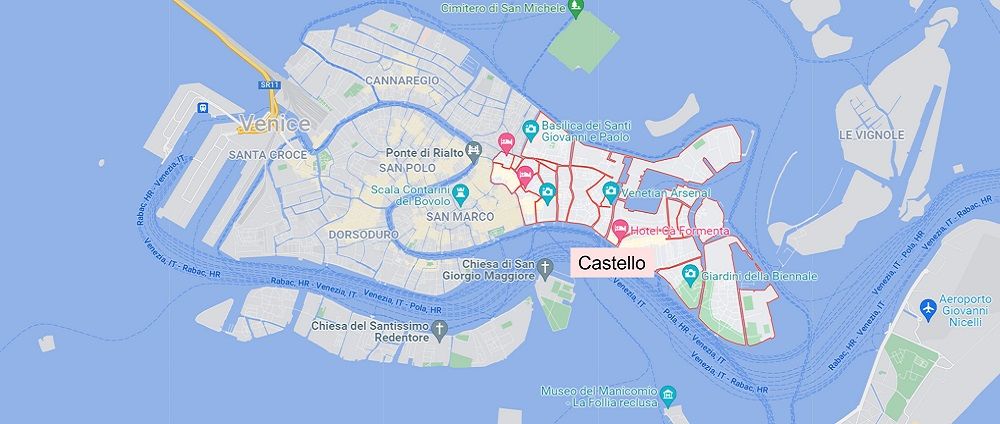 Castello is one of the most authentic and interesting neighborhoods in Venice. It's heavily populated by locals and has a strong concentration of great places to eat. The biggest draw to this area is the annual Biennale Art Festival, a six-month-long modern art exhibit that draws millions of visitors.
In Castello, you'll find some interesting local attractions. One of the world's most beautiful and unique bookstores, Libreria Acqua Alta, is located here. It's also home to the largest green space in Venice: the Giardini della Biennale.
This lovely water-side park is where the city hosts the annual art festival. You'll also find one of the top modern art museums in Venice and, arguably, the world: the Arsenale della Biennale di Venezia. Here, you'll enjoy a local vibe with a great arts and culture scene.
Why I love Castello:
Locals' hotspot
Arts and culture scene
Tons of coastline, making it feel very open
Great restaurants
Close proximity to St. Mark's Square
Easy access to nearby islands.
Attractions in Castello:
Libreria Acqua Alta
Arsenale della Biennale di Venezia (modern art museum)
Giardini della Biennale
Best restaurants in Castello:
Best hotels in Castello:
Hotel Colombina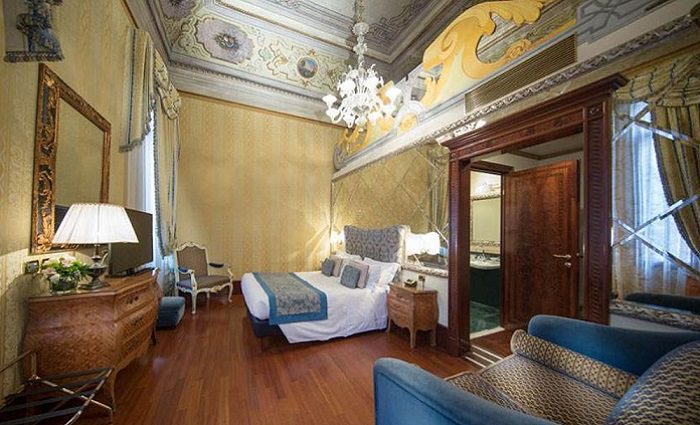 €€+ | 4 Star | Bridge of Sighs View | Vintage Venice
This 18th-century palace is now a wonderful hotel with a great view from certain rooms: the Bridge of Sighs! You can choose from several room types for up to 4 people. There's a decent breakfast available, but you might have better luck at a café with a view. This hotel is right on the border of San Marco, so it's pretty central.
Liassidi Wellness Suites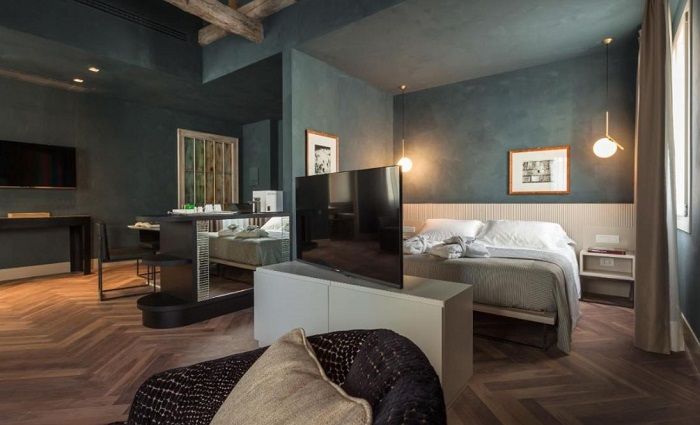 €€+ | 4 Star | Turkish Baths | Personal Butlers | Garden
I think this hotel should be 5 stars since they offer personal butlers, Turkish baths, and a steam room. Oh, and breakfast in your room or in the garden. With only 5 suites in total, don't wait to book this place. It's ideal for couples.
Ca' Dei Dogi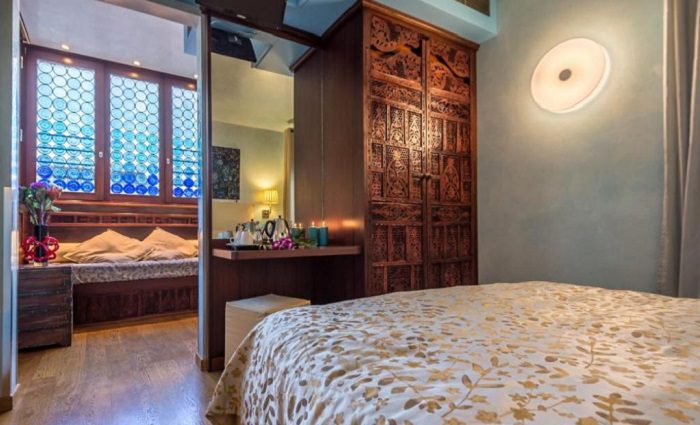 €€ | 3 Star | Rooms and Apartments | 15th-Century Building | Bridge of Sighs
For an even closer view of the Bridge of Sighs (that comes at a great price), opt for this little hotel. You can choose from 6 rooms or 3 apartments if you need extra space. They do have a restaurant onsite, which is helpful.
Hotel Metropole Venezia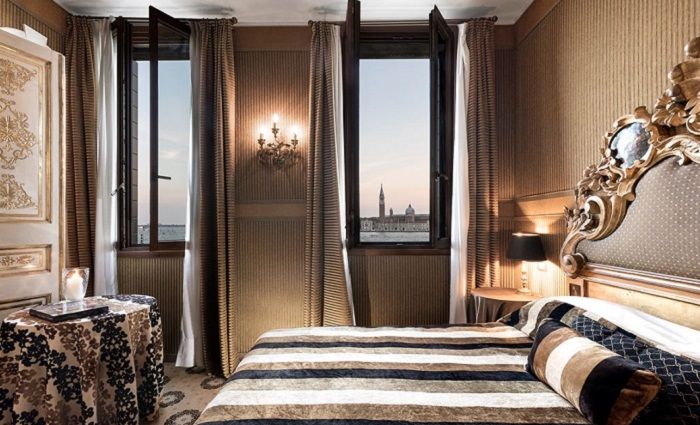 €€€€ | 5 Star | Decadent Decor | Antique Furnishings
If you love the luxury of old Italian vibes, then you'll enjoy this hotel as much as I do. It's richly decorated with no expense spared. If you head to the spa, you'll walk through a hallway full of museum-quality antiques and artifacts. Oh, and the food is impeccable here—it's fine dining done well.
Cannaregio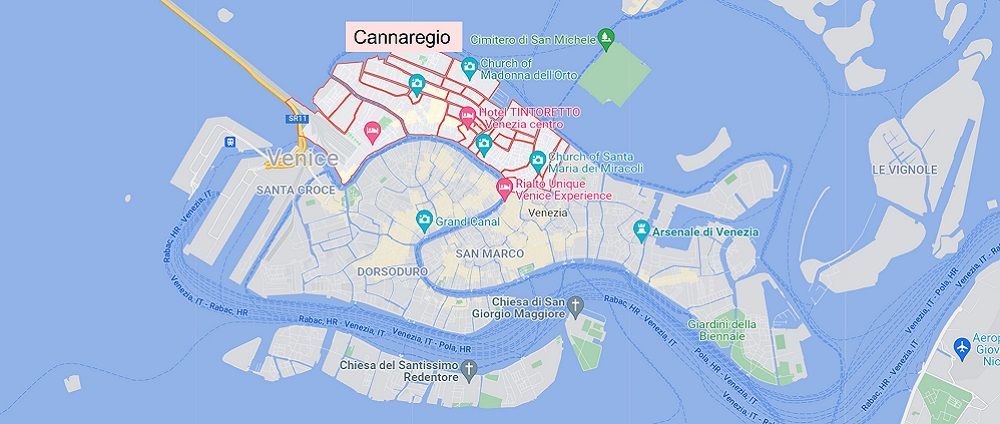 Cannaregio has achieved internet fame as the Trastevere (Rome) or Le Marais (Paris) of Venice. The center of Cannaregio is undoubtedly La Fondamenta Misericordia and a few streets/canals in either direction.
La Fondamenta Misericordia is where you'll find the best restaurants and bars in the area but there are not a ton of hotels. However, we've curated our favorite hotels in Cannaregio for those who prefer this quieter, more authentic area to stay in Venice.
We recommend staying a few blocks south of La Fondamenta Misericordia. You can venture into sightseeing territories like San Marco or San Polo during the day and disappear into Cannaregio at night. It's definitely not the most romantic area of Venice (that would be the south shoreline with views of Giudecca), but it's a super local area.
Why I love Cannaregio:
Most authentic bars and restaurants in Venice
Less tourist traffic than in any other district in the main cluster of Venice
Very local feel
Long, open canals you can walk next to for a casual stroll
Attractions in Cannaregio:
The Jewish Ghetto (Campo del Ghetto Nuovo)
Ca' Pesaro Galleria Internazionale d'Arte
Fondamenta Misericordia (nightlife)
Best restaurants in Cannaregio:
Best hotels in Cannaregio:
Madama Garden Retreat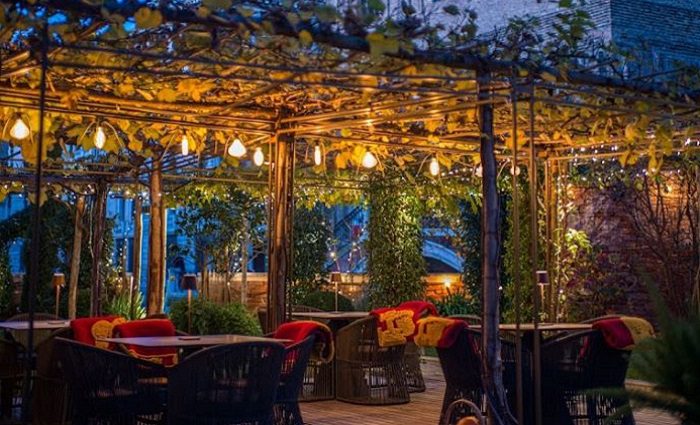 €€€+ | 4 Star | Garden Oasis | Elegant and Refined | Outdoor Terrace
If you've been to Venice, you know there is precious little greenery around, which makes this hotel a welcome retreat. It's my favorite hotel in Cannaregio because it's super nice and in a quiet area. There aren't a ton of amenities, but they do offer room service.
Ca' Sagredo Hotel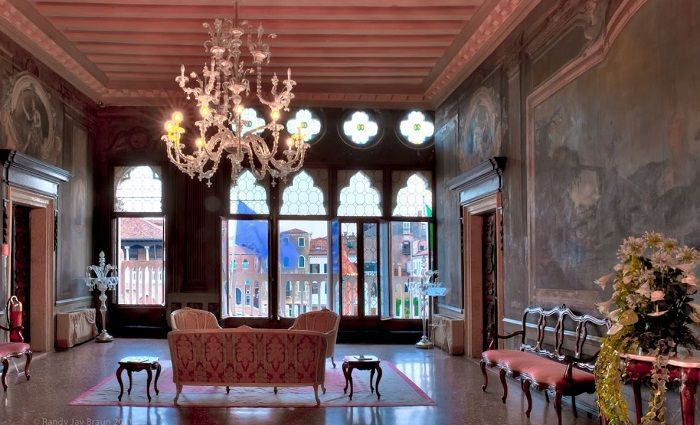 €€+ | 5 Star | Lavish Decor | Award Winning
For a top-of-the-line luxury hotel, the Ca' Sagredo is your choice. It's a 15th-century palace that remains a favorite for guests, especially for weddings. The massive marble staircase is impressive too. It's an excellent luxury option at a great price.
Hotel Palazzo Abadessa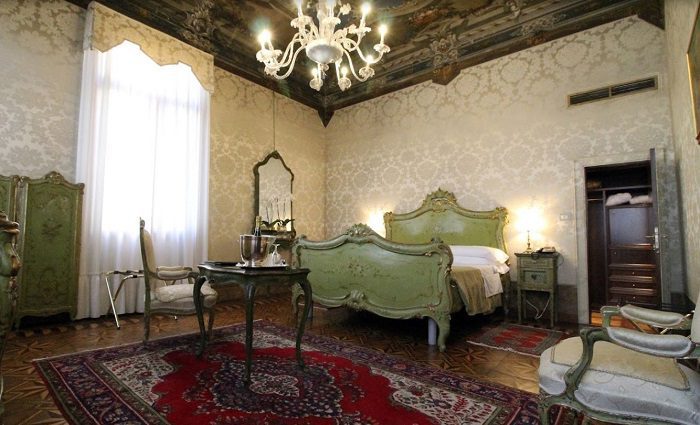 €€+ | 4 Star | Vintage Italian | Private Garden
This hotel is a stunning old building dating back to the early 1500s. That means you'll get spacious rooms here with silk fabric and antique furniture. The hotel even has a private dock if you choose to use a private water taxi to get around Venice. I love this spot for its old world luxury at a great price.
Maison Venezia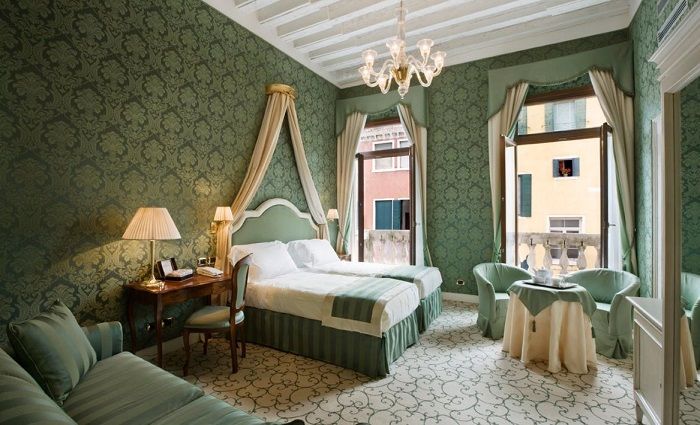 €€€€ | 4 Star | Afternoon Buffet | Beautiful Decor | Babysitting Services
Maison Venezia is a great option for small families since they offer babysitting services for kids who don't want to see another museum. Rooms vary in size here, so check ahead. Every afternoon and evening, they offer a light buffet of snacks and drinks. Super thoughtful.
Eurostars Residenza Cannaregio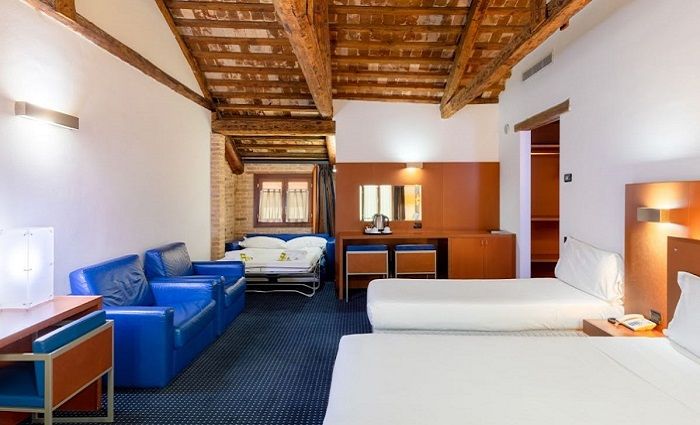 € | 4 Star | Euro-Style Hotel | Great for Groups
If you love the minimalist, modern European style, then opt for this hotel. It's not overly decadent and there are lots of room options for groups and families. This is a great budget option if you need a cheap place to sleep in Venice.
Giudecca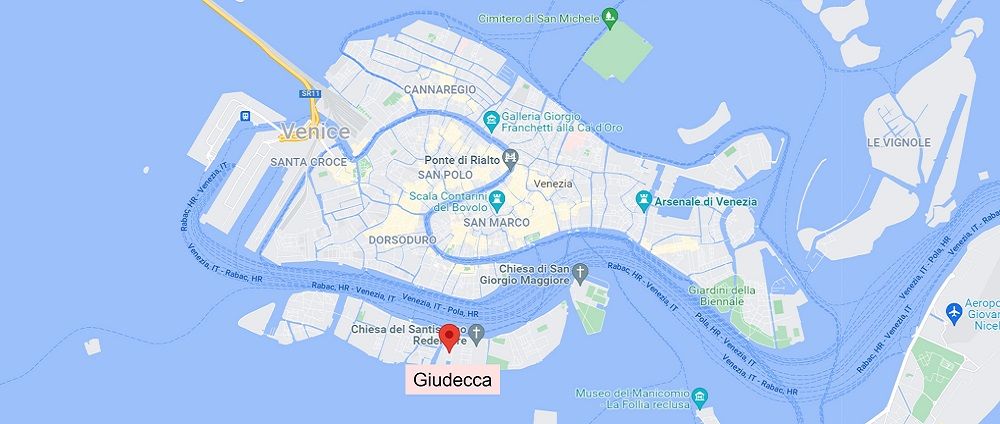 Giudecca has basically become the island in Venice where rich people stay. Rich or not, this area is super nice either way. Places to stay in Giudecca can be expensive, but there are also some budget options to check out.
What can make staying here expensive is the transit back and forth to the island of Venice. There are vaporetto (ferries) that pass through here, but if you have been to Venice before, they're not exactly convenient and the cost does add up.
You have to imagine you will go from Giudecca to the main island cluster at least once per day and many will end up taking a private boat. That will cost you at least €50. Many of the nicer hotels have hotel boats that run back and forth all day. It's a good idea to see if your hotel choice does as it could make the travel better and cheaper.
That said, if you're looking for a unique experience away from the crowds of Venice, this might just be the spot for you. You'll enjoy some stunning views and some well-deserved peace.
Why I love Giudecca:
Giudecca is the island of Venice's remote island. The irony is pretty great.
Amazing views of Venice and St. Mark's
San Giorgio island (detached) is really cool.
Much less crowded than Venice
A truly unique experience.
Attractions in Giudecca:
Chiesa di San Giorgio Maggiore
The hotels with pools are the real attraction here—see below!
Best restaurants in Giudecca:
Best hotels in Giudecca:
Cipriani, A Belmond Hotel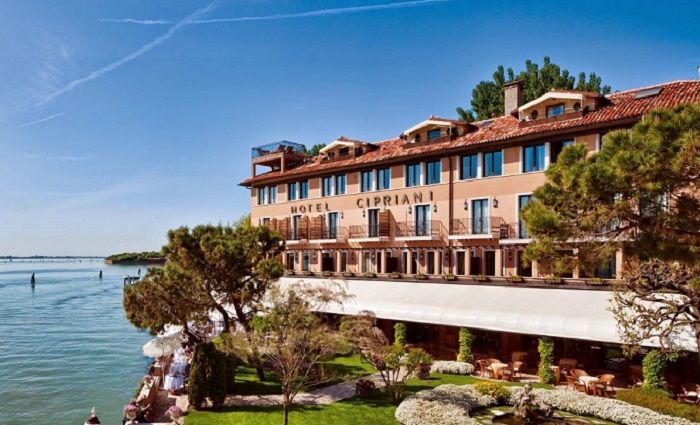 €€€€ | 5 Star | Open Seasonally | Stunning Pool
This 15th century palace is stunning, and the pool is every bit its equal. Rooms have beautiful garden or lagoon views with traditional Venetian decor. Their concierge is a master of secret Venice treasures, so get to know him!
Hilton Molino Stucky Venice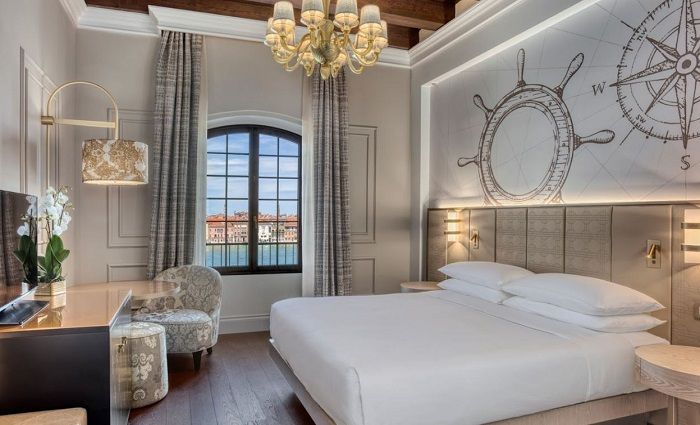 €€€+ | 5 Star | Rooftop Bar and Pool | Spa | Shuttle Service
The rooftop bar and pool make this hotel an excellent option, but the rooms are also spacious. They offer a shuttle (small fee) to Venice that leaves every two hours, which is handy. In the off season, you can get quite a deal at this hotel too.
Hilton Giudecca Venice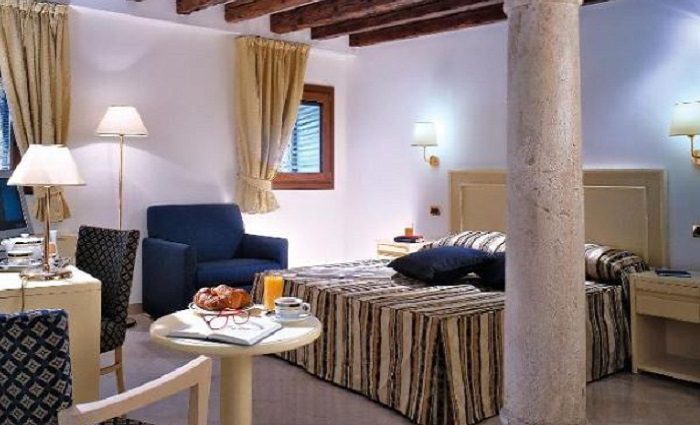 €€ | 3 Star | Breakfast and Lounge Bar | Good Deal
For an expensive island, this hotel actually has some good rates even in the summer. If you want the quieter experience of Giudecca, head here. They even offer room service and they have a concierge onsite.
Not ready to book a tour? See the best Venice tours to take and why.
Popular Venice Tours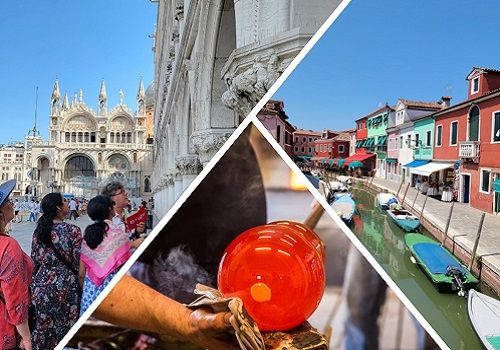 Best Selling Tour
Ultimate Venice in a Day with Murano and Burano
The ultimate tour of Venice. You'll get skip-the-line access to the most important buildings in Venice, plus a gondola ride, and private transportation to the islands of Murano and Burano. It's a full day of touring that will make for the best memories in Venice ever.





See Prices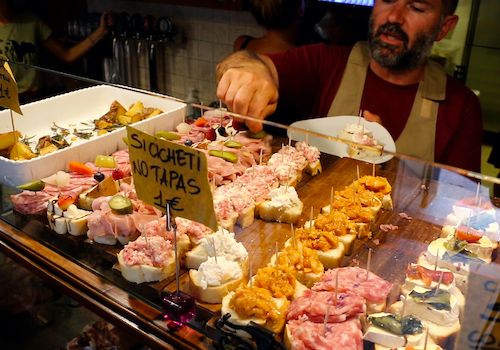 Authentic Experience
Venice Evening Food Tour in Cannaregio District
People who say Venice is too touristy have not done enough research. Cannaregio is an amazing break from the crowds, and our food tour is the most authentic way to experience it. Taste cicchetti and other Venetian specialties including wine. You'll leave with a full stomach and a love for Venetian food!





See Prices
Not ready to book a tour? Check out our best Venice tours to take and why.
Where I Probably Wouldn't Stay in Venice
To start, you shouldn't be upset if you or your travel partner want to stay these areas. I have stayed in all of them. They are all in Venice—and Venice is amazing! I've never had a bad experience in the city personally. Ultimately, you're on vacation so enjoy the adventure no matter what.
That said, I normally don't stay in these areas unless I am filming there specifically, in which case it's a logistic decision. Here's why.
Santa Croce
Overall, it's a nice area, but it's too close to the train station. Being close to a train station normally means crowds, and my travel goal is to avoid massive crowds. It's also where the main Venice parking garage is where day-trippers arrive, not to mention a bus depot (Piazzale Roma). Get my point?
Part of Santa Croce weaves into the very center of Venice, which is nice to walk around, but I don't want to sleep there. The reason is that there's a very defined tourist path in Venice that goes from the train station to St. Mark's Square. My goal in Venice is to avoid it at all costs and sleeping near it would make that more difficult.
San Polo
San Polo is a really cool district since it's home to Rialto Bridge and Rialto Fish Market. This makes it a must-see area, so you should definitely walk through during your visit.
You'll also find the church of San Giacomo di Rialto, which is beautiful. There are tons of great landmarks and you should definitely visit this area. However, I normally avoid sleeping there because, again, it's a busy area with tourists.
Murano or Burano
Murano and Burano islands are very unique places to visit due to their local trades of glass blowing and lace making. That makes them worthy of a day trip while you're in Venice (find out how to visit Murano and Burano). Still, I probably wouldn't recommend you sleep on either island.
My main reason is that the view from Murano is not comparable to Giudecca, so I would rather stay there. There are some really cool restaurants in Murano and even a really spacious 4-star Hyatt, which is well-priced and has far more space in each room than you'll find at many hotels in Venice.
Again, I am definitely going to Murano and Burano for a day trip, but I'll end my day in one of the recommended Venetian districts above. Sorry, Murano!