Whether you're visiting Venice to see the beautiful St. Mark's Basilica, explore the Doge's Palace, or just relax and enjoy a gondola ride, there are a ton of fantastic sights, activities, and dishes to try. In fact, there are so many amazing things to do in the Floating City, it may be difficult to choose. We've put together a guide to our best Venice tours to help you decide which tour is best for you.
---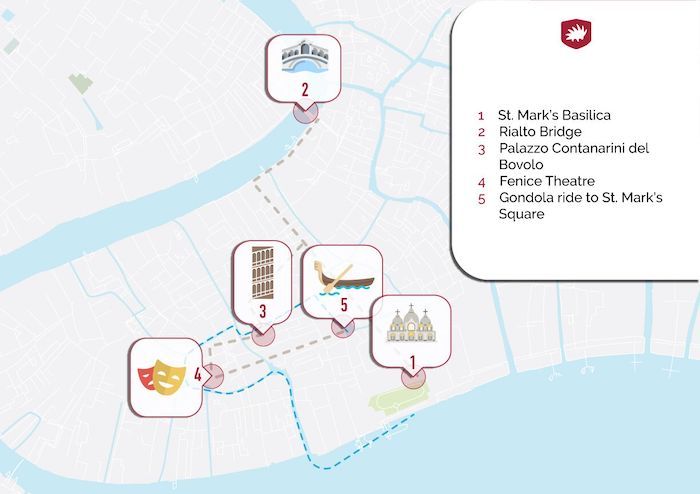 If you're only in Venice for the day and you don't have six hours to spare for the full-day tour, this is your best option for seeing the city's highlights in just two and a half hours and still catch some amazing Venetian scenery with a gondola ride.
You'll see the best of Venice and still have enough time to enjoy plenty of gelato and Spritzes.
This short and sweet tour will take you to St. Mark's Basilica, where you'll skip the line.
The rich decor inside is treasure gained in the conquest of Constantinople and the beautiful, gilded mosaics are the work of eight centuries.
Then you'll see the Rialto Bridge and the surrounding neighborhood, along with some of Venice's hidden gems.
The bridge is the oldest spanning the Grand Canal and, as it stands now, was constructed in the 16th century. On one side you can see the Rialto Market, a centuries-old market full of delicious fresh produce.
Doge's Palace Venice Tour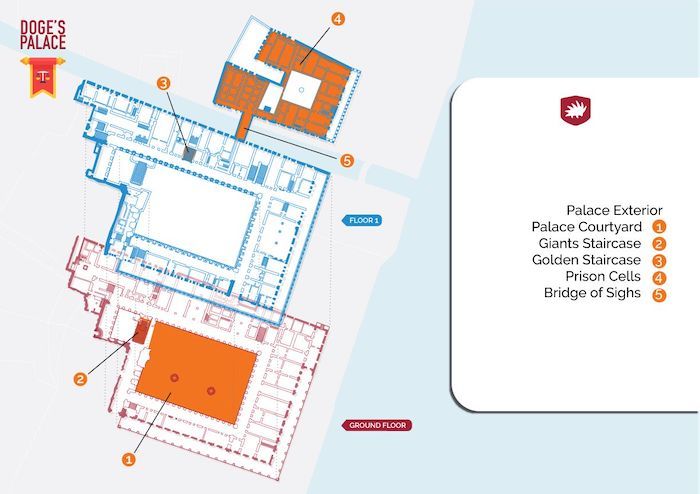 this behind-the-scenes tour of the Doge's Palace, or Palazzo Ducale.
This Venetian Gothic palace is located just next to St. Mark's Basilica in St. Mark's Square.
The palace has a stunning exterior and an even more luxurious interior, filled with marble, friezes and frescoes.
Once inside, you'll see works by Veronese and Titian, as well as the famous Bridge of Sighs and even some prison cells.
Venice in a Day with Gondola Ride
Venice in a Day: Hidden Gems & Top Attractions
If you want to see all the best that the Floating City has to offer, this is the tour for you.
You'll see everything in the Venice Highlights tour and the Doge's Palace tour. Grab your favorite walking shoes and clear your schedule for this six-hour tour, because you're going to see Venice in a day.
Prepare yourself for breathtaking sights like St. Mark's Basilica, also known as the "Church of Gold," and the iconic Rialto Bridge. Your guide will explain the history of these amazing sights and show you hidden gems in the surrounding neighborhood.
You'll also get to skip the line and go behind the scenes at the Doge's Palace, where powerful magistrates ruled until the late 18th century.
You'll get to see the Bridge of Sighs, as well as some prison cells, not to mention the beautiful art and design in the rest of the palace.
Of course, you'll also be able to check a Venice gondola ride off your bucket list.
Afterward, you can ask your guide for some amazing suggestions on where to grab a bite to eat, or just relax knowing that you've had a day full of unrivaled culture and history.
Venice Food Tour with Gondola Ride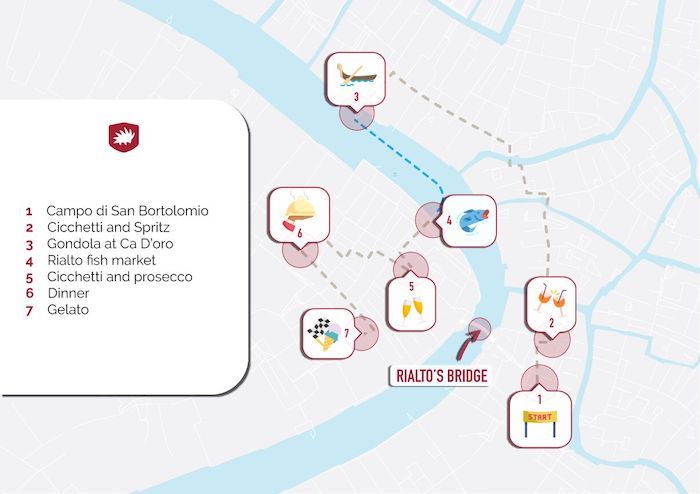 If you want to immerse yourself in Italian culture, food is one of the best ways. On this two and a half hour tour, your English-speaking foodie guide will take you around the city to try authentic and local food and drink.
Enjoy cicchetti (savory snacks) along with a glass of wine at bacari, the local wine bars. The tradition of pairing the two goes back centuries.
People would visit the bacari at all hours of the day and eating cicchetti along with their drinks ensured they didn't get too tipsy.
Cicchetti isn't the only thing you'll try, you'll also enjoy some of the city's best pasta for lunch, along with prosecco, cocktails and gelato. You'll even enjoy a short gondola ride across the canal to the Mercato Rialto, where you can explore the lively fish market that has been there for centuries.
Venice Island Adventure Private Tour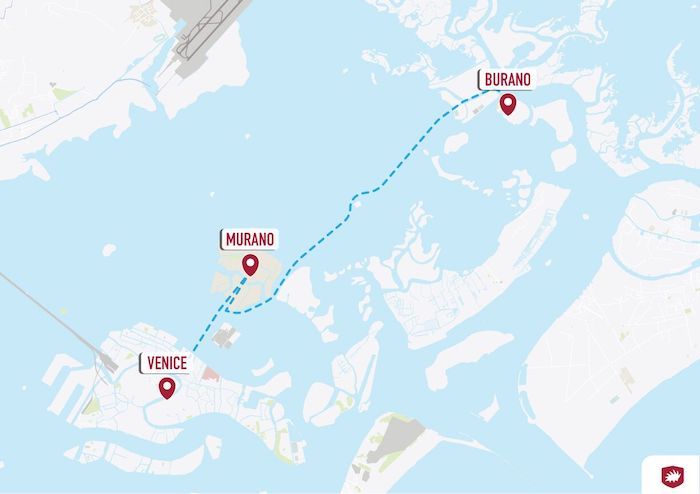 The City of Venice is full of beautiful canals and historical landmarks, but there are even more amazing sights to see if you venture to the surrounding islands.
Set sail on this private tour and visit Murano and Burano, two Venetian islands known for their artisanal glass and lace.
After your short boat trip from Venice, you'll see the colorful, pastel buildings of Murano.
The island is home to many craftsmen specializing in famous Venetian glass. You'll learn about the history with an English-speaking guide and even get to see the glass-blowing techniques for yourself.
Your private boat will take you to your next stop, Burano. This colorful island is known for its beautiful Burano lace. It's also a fishing village, home to around 2,000 people and full of delicious seafood.
On your way back to Venice, you'll pass by St. Michael's Cemetery, a landmark with a long history that your guide will explain as you enjoy the boat ride.
---
I Want More Italy!
If you want us to arrange the entertainment in Venice (and beyond!), contact our Trip Planning Team to coordinate an unforgettable Italian experience.
Check out our YouTube video for a  step-by-step guide about how to do Venice in a Day. If you'd rather let us guide you, check out our Venice tours.