Whether you're visiting Venice to see the beautiful St. Mark's Basilica, explore the Doge's Palace, or just relax and enjoy a gondola ride, there are a ton of fantastic sights, activities, and dishes to try. In fact, there are so many amazing things to do in the Floating City, it may be difficult to choose. In this guide, we share the best Venice tours to help you decide which tour is best for you.
---
Pro Tip: Planning your trip to Venice? Bookmark this post in your browser so you can easily find it when you're in the city. See our comprehensive guide to Venice for more planning resources, our top Venice tours for a memorable trip, and how to see Venice in a day.
Should You Take a Tour in Venice?
Yes, without a doubt! Venice has its well-known sights but it also has a lot of hidden gems to discover that only your knowledgeable local guide will know to show you. Your guide will also bring the city to life with interesting stories and historical facts.
A tour of Venice will certainly elevate your experience as you explore new food in the best places, get to know the city on a deeper level, and maybe even meet new friends on the way. Don't take our word for it. See what our clients have said about taking a Venice tour:


Not ready to book a tour? Check out our Venice Guide for more info.
The Best Tours of Venice To Take
The Italian city of Venice is a popular destination steeped in history. There are plenty of unique things to do, great food to try, and top attractions to explore from St. Mark's Basilica to the Doge's Palace, Rialto Bridge, and the Islands of Murano and Burano. In this article, we share our best Venice tours for an unforgettable experience of the Floating City.
Ultimate Venice in a Day with Murano and Burano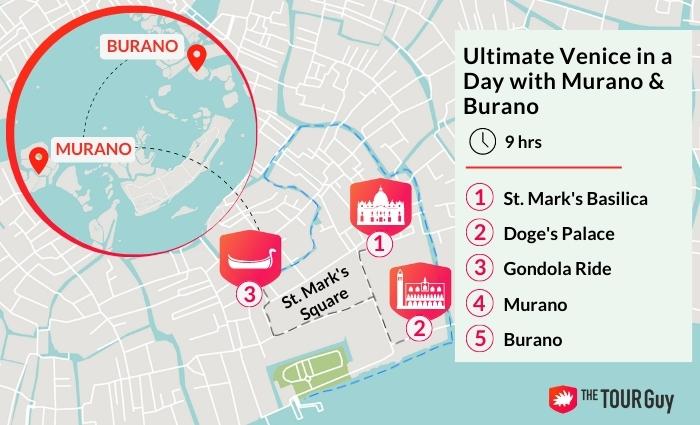 Seeing Venice in a day is a worthy goal, but there's so much to explore beyond the main island. If you want to pack in as much as possible on your trip to Venice, then this 9-hour tour is ideal for you.
Start with a guided tour and skip-the-line access to St. Mark's Basilica, also known as the Church of Gold. You'll see why the moment you step inside! Next, you'll head to the infamous Doge's Palace where you'll also skip the lines to see what is probably the world's most expensive staircase, thanks to the gold ceiling. Learn about the courtroom where verdicts were handed down and see the largest room in Italy.
No trip to Venice is complete without a gondola ride, so we've included that on this day tour as well. And after a break for lunch on your own, you'll then meet up with your small group and guide to take a private water taxi out to the islands of Murano and Burano. This is the most ideal way to see Venice's other islands as the public water bus is hot, crowded, and slow.
You'll see a live glassblowing demonstration up close in Murano, done the same way it's been done for literally hundreds of years. And in Burano, you'll see an intricate lacemaking demonstration before having time to take pics of all the colorful houses here.
Highlights:
9-hour tour
Skip-the-line guided tour of St. Mark's Basilica
Skip-the-line guided tour of Doge's Palace
Go on a traditional gondola ride
Private water taxi to Murano and Burano
Glassblowing and lacemaking demonstrations
Not ready to book a tour? Check out our Venice Guide for more info.
Venice in a Day Combo Tour With Gondola Ride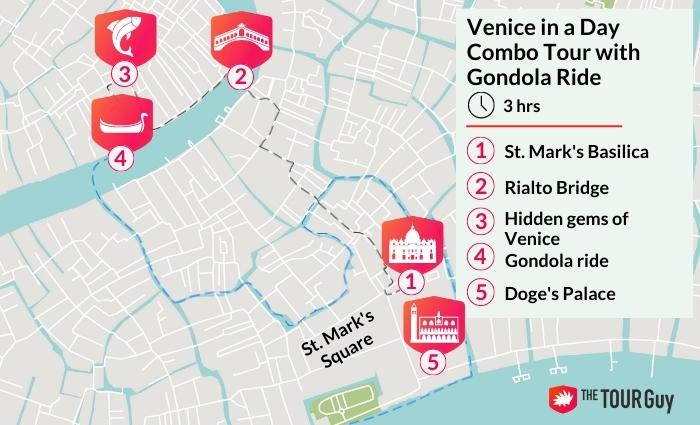 If you want to see the most important attractions in the main city of Venice, this tour is your best bet. You'll see everything from St. Mark's Basilica to the Doge's Palace and areas beyond Rialto Bridge. Grab your favorite walking shoes and clear your schedule for this 6-hour tour, because you're going to see Venice in a day.
Prepare yourself for breathtaking sights like St. Mark's Basilica, also known as the "Church of Gold," and the iconic Rialto Bridge from a few vantage points. Your guide will explain the history of these amazing sights and show you hidden gems in the surrounding neighborhoods.
You'll also get to skip the line and go behind the scenes at the Doge's Palace, where powerful magistrates ruled until the late 18th century. You'll explore the Bridge of Sighs, as well as some prison cells, not to mention the beautiful art and design in the rest of the palace.
Of course, you'll also be able to check a Venice gondola ride off your bucket list. Afterward, you can ask your guide for some amazing suggestions on where to grab a bite to eat, or just relax knowing that you've had a day full of unrivaled culture and history.
Highlights:
6-hour tour
See the highlights of Venice in a day
Skip-the-line guided tour of St. Mark's Basilica and Doge's Palace
Walking tour of Venice's quieter areas and hidden gems
Traditional Gondola ride
Not ready to book a tour? Check out how to see Venice in a day.
St. Mark's Basilica and Doge's Palace Half-Day Tour with Gondola Ride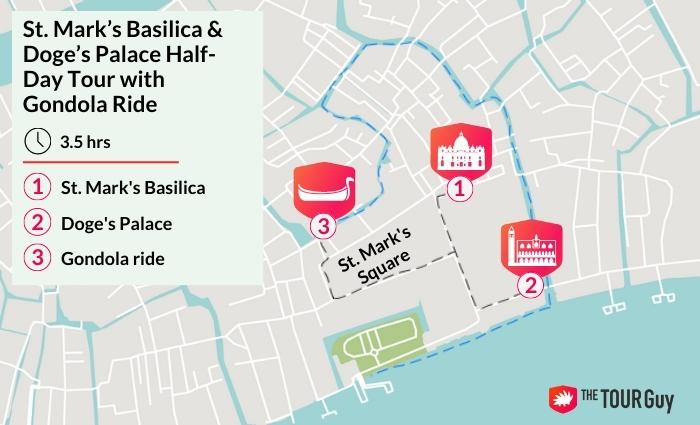 For anyone who only has part of a day in Venice or who prefers shorter guided tours, we've created the perfect tour for you! This 3.5-hour tour gives you skip-the-line entry to both of Venice's top attractions at St. Mark's Square. You'll start at the impressive basilica where you'll see the tomb of St. Mark.
Next, head to the Doge's Palace to explore a little of Venice's darker history. The doges at this palace ruled Venice until the late 18th century and had a reputation of tyranny that helped make Venice the powerhouse of the region. You'll head to the dungeons to see the original cells and the famous Bridge of Sighs.
Along the way, you'll also get to enjoy incredible art and the most famous rooms (and stairs) at this palace. To top it all off, you'll have a 30-minute gondola ride along the Venetian canals. It's the perfect way to end your tour of Venice's highlights.
Highlights:
3.5-hour tour
Skip-the-line guided tour of St. Mark's Basilica
Skip-the-line guided tour of Doge's Palace
Traditional gondola ride
Not ready to book a tour? Check out our Venice Guide for more info.
Venice Local Evening Food Tour in Cannaregio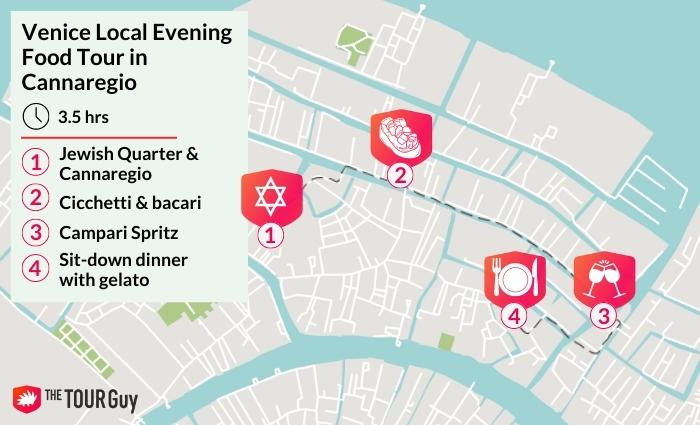 If you want to immerse yourself in Italian culture, food is one of the best ways. On this 2.5-hour Venice food tour, your English-speaking foodie guide will take you around the city to try authentic Venetian food and drink.
Enjoy cicchetti (savory snacks) along with a glass of wine at bacari, the local wine bars. The tradition of pairing the two goes back centuries. People would visit the bacari at all hours of the day and eat cicchetti along with their drinks to ensure they don't get too tipsy.
Cicchetti isn't the only thing you'll try, you'll also enjoy some of the city's best pasta, along with prosecco, Campari spritz, and gelato. This tour also includes a stop at a bacari which is a traditional Venetian wine bar. All in all, you'll learn a lot and taste a lot, and hopefully, make some new travel friends!
Highlights:
2.5-hour tour
Short walking tour of Cannaregio
Sample assorted cicchetti dishes
Visit a bacari wine bar
Enjoy a traditional sit-down dinner
Stop for gelato
Not ready to book a tour? Check out our Venice Guide for more info.
Murano and Burano in a Half-Day Boat Tour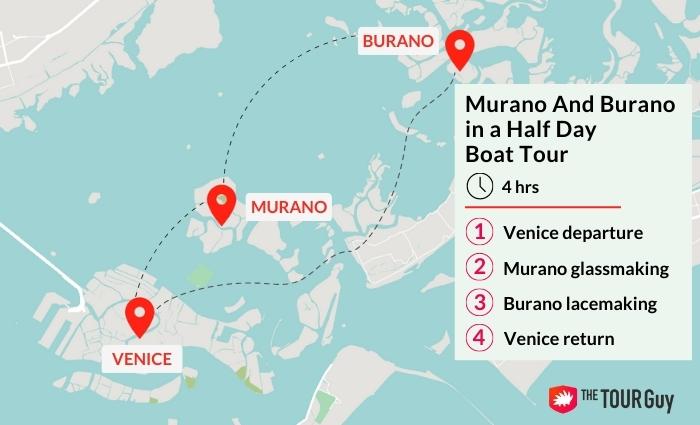 There's more to Venice than just Venice. In fact, there are 118 islands that make up the whole area of Venice. If you're up for an adventure, then head out to Murano and Burano to see some truly historic crafts.
The cheapest way to the islands is to book a ride on the public water bus, but it's slow, and often hot and crowded. For a better experience, you'll appreciate this tour that includes a private water boat to get you to both islands quickly. Best of all, your tour guide will accompany you and tell you all about the islands as you travel.
A stop in Murano will take you to a live glassblowing demonstration. This tradition dates back to the 5th century, but out of concern about fires, these craftsmen were moved from the main island to Murano where they've continued traditions for centuries. Watch them up close and feel the heat from the furnaces!
Next you'll head to Burano. You've probably seen amazing Instagram photos of these colorful houses here. And now you'll get to take selfies of your own! In addition, you'll get an exclusive stop at a lacemaking demonstration that the public doesn't have access to. No doubt that a trip to these islands make up one of the best Venice tours.
Highlights:
4-hour tour
Round-trip transportation on a private water boat
Live glassblowing demonstration in Murano
Live lacemaking demonstration in Burano
Not ready to book a tour? Check out our Venice Guide for more info.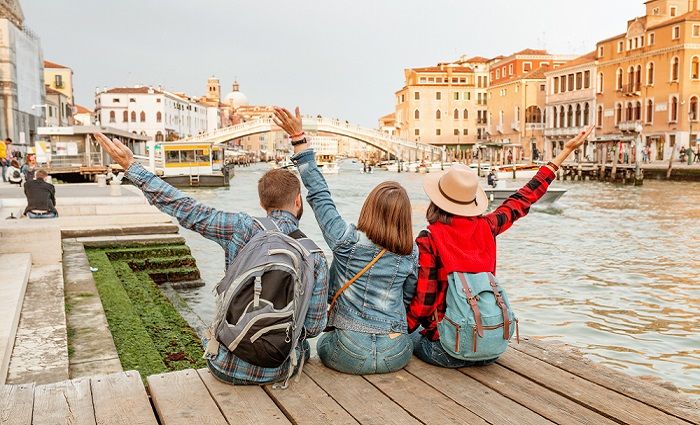 Find the best places to stay
Where To Stay in Venice
Despite the size of this little island, there are endless hotel options to choose from. We've picked the best neighborhoods and hotels to stay in whether you prefer Italian luxury or quiet serenity—or both!