Looking into visiting Athens? Good choice! Athens is home to rich history, culture, and significant contributions to the development of Western civilization, not to mention delicious local cuisine. With so many to choose from, it can be difficult to decide which Athens tours to experience during your visit. In this guide, discover our best Athens tours and pick which one is best for you.
---
Pro Tip: Pro Tip: Planning what to do on your trip to Athens? Bookmark this post in your browser so you can easily find it when you need it. Check out our guide to Athens for more planning resources, our best Athens tours for a memorable trip, and the top things to do in Athens.
Should You Take a Tour in Athens?
Absolutely! Athens embodies a splendid history rich in philosophical, political, and artistic heritage dating back to ancient times. From the cradle of democracy to the towering edifice of the Parthenon, there is so much to explore in Athens.
The most enriching way to delve into this historically profound city is with the assistance of a professional guide who passionately adores their city and has the most engaging anecdotes to share. Trust Us!
The Most Popular Athens Tours To Take
Athens is a treasure chest for any traveler, making it a highly favored destination. It boasts cultural landmarks, magnificent architecture, a lively food and bar scene, along with a beautiful coastline and nearby islands. The Aegean Sea, anyone?
The fantastic news is that this area is perfectly tailored for tourism with numerous innovative tours and experiences. Anticipating the top picks, here are the best Athens tours!
1. Skip-the-Line Acropolis Tour with Parthenon and Museum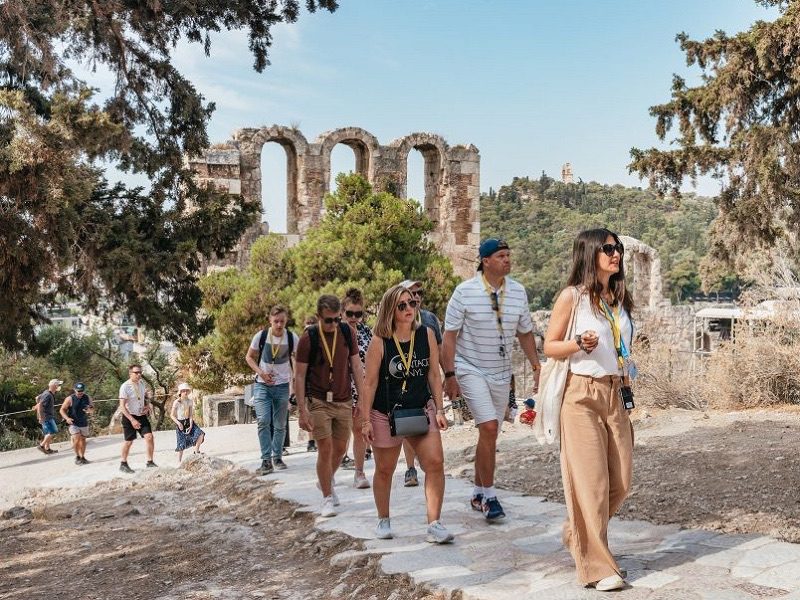 Searching for the prime way to explore the iconic Acropolis during your Athens visit? This half-day guided excursion allows you to tread the paths once wandered by Plato and Socrates, led by a knowledgeable archaeologist guide. Marvel at the emblematic Parthenon and discover the remnants of ancient roads, theaters, sanctuaries, and temples that once constituted this remarkably influential citadel.
Breeze past the lines and travel back over 2,500 years to the heart of ancient civilization!
Highlights:
Skip the Line at the Acropolis
Guided Tour of the Parthenon and Theater of Dionysus
Friendly, English-speaking archaeologist tour guide
See the temples of Athena and Asclepius, the Herodes Atticus theater, and more!
Small Group Size
See tour itinerary, price, and description
Not ready to book a tour? Check out the Top Things to See at the Acropolis.
2. Athens Sightseeing Tour by Golf Cart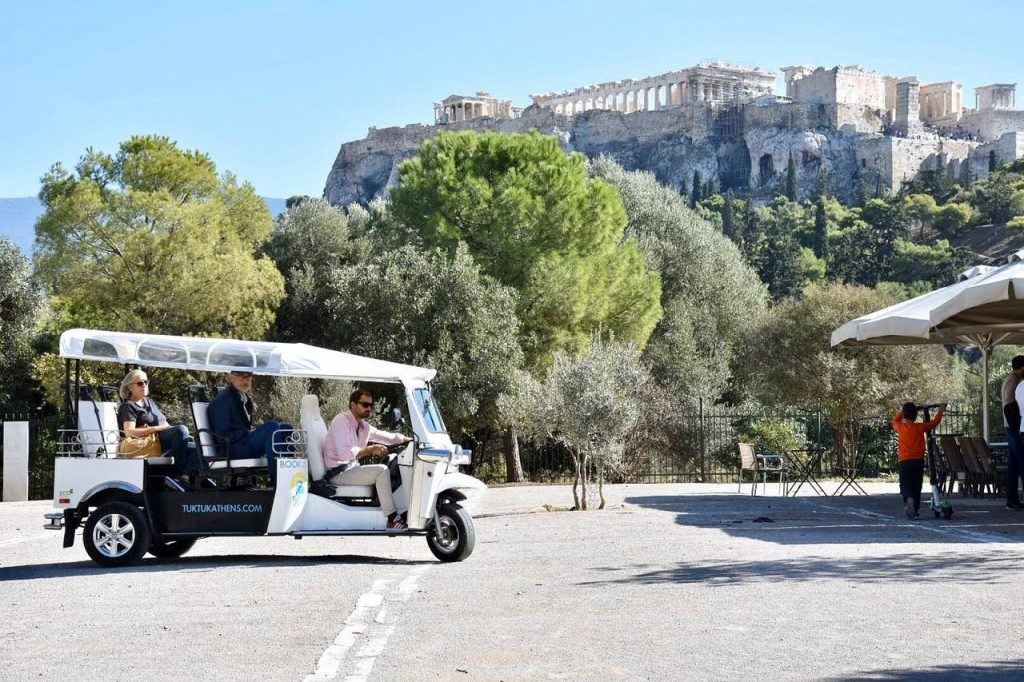 Tired of walking? Athens can get HOT, but don't worry! Embark on this private, invigorating tour, where you'll board a golf cart for a relaxed exploration of Athens over a comprehensive 3-hour journey.
With your private group, delve into the city that nurtured theater and democracy, guided by an expert filled with fascinating tales of ancient and modern-day Athens. Highlights include charming neighborhoods like Plaka and Monastiraki and Athens' mega monuments including the Acropolis, Ancient Agora, and beyond!
Highlights:
3-hour tour
Buzz around Athens in a golf cart
Knowledgable local guide
Stunning 360-degree views
Visit local neighborhoods
See tour itinerary, price, and description
3. Athens Cooking Class with Dinner & Rooftop View of the Acropolis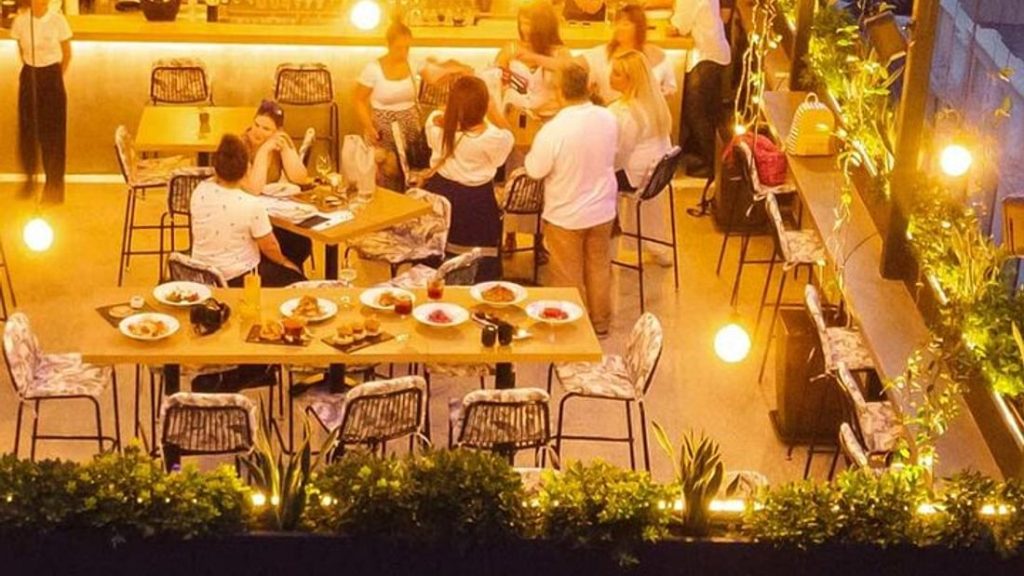 One of our all-time favorite cooking classes! Embark on a culinary journey with this cooking class, where you'll learn to prepare authentic Greek dishes under the guidance of an expert chef. From the crispy spanakopita to the classic tzatziki sauce, get hands-on experience in creating traditional Greek recipes. The session is held in a trendy spot in the Monastiraki neighborhood with stunning views of the Acropolis. After preparing the meal, enjoy a 3-course dinner of your creations on the roof deck, paired with a glass of local Greek wine.
This 4-hour experience is not just about honing your cooking skills, but also enjoying a memorable evening in Athens. You'll not only bring home delicious recipes to recreate but also amazing photos capturing the essence of Greek cuisine against a beautiful Athenian backdrop.
Highlights:
Make spanikopita, tzatziki and more from scratch
Stunning rooftop views
Expert and entertaining local chef
Food and wine included
See tour itinerary, price, and description
---
4. Greek Islands Boat Tour by Wooden Ship from Athens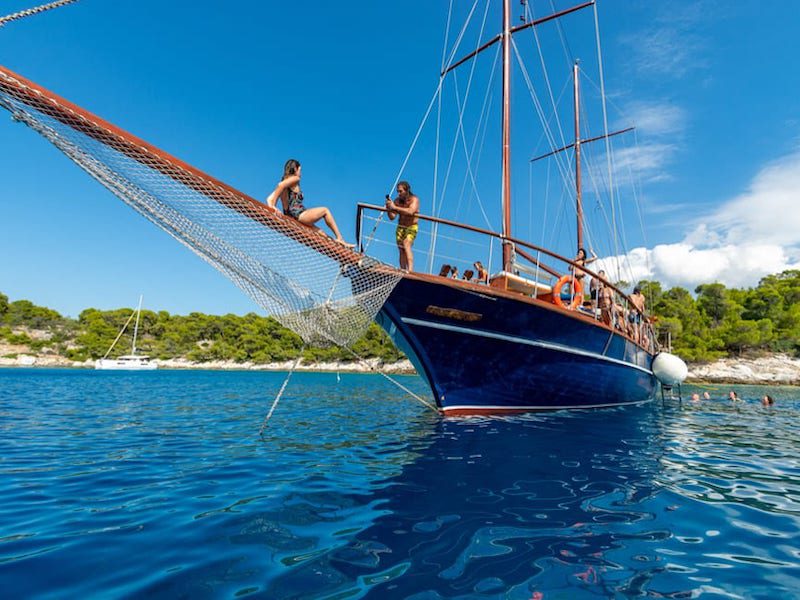 Seeking the quintessential full-day Greek island adventure from Athens? The picturesque Saronic Islands of Aegina and Agistri are calling! With ancient ruins, boutique shops, and untouched local beaches, these islands present a serene escape from the city bustle. Hop aboard a luxury sailboat with a welcoming local crew for a day filled with Mediterranean sunshine, swimming, snorkeling, freshly prepared meals, and unlimited refreshments. It's the epitome of Greek delight!

Upon meeting your cordial crew and English-speaking trip leader at Zea Port in Athens, you'll step aboard your luxury wooden motorsailer, embarking on your Greek Island Odyssey. Enjoy a delicious brunch onboard with unlimited beer, wine, and soft drinks as you mingle with your fellow shipmates. Your first stop is the charming Agistri Island, where you'll have leisure time to roam the cobbled streets, browse through boutique shops, and bask on the pristine beaches, including Aponisos, before casting off for Aegina.
Highlights:
Full-day sailboat cruise to the Saronic Islands from Athens
Traditional Greek lunch with unlimited beer, wine, and soft drinks
Swim, snorkel (equipment included), or just relax
Free WiFi on board
English-speaking crew leader
See tour itinerary, price, and description
5. Classical Athens Bike Tour
This e-bike tour allows you to explore a variety of historic locations around Athens, from the most visited attractions to hidden cobblestone alleys you wouldn't find without your local guide. It's the most efficient and enjoyable way to explore the city!
After meeting your tour leader and getting acquainted with your e-bike, you'll set off for a full day of city exploration. You'll cycle through ancient areas and admire the remains of a great civilization. Continuing through the Psiri district, you'll move into the heart of Athens, the city's most authentic area. Your guide will lead you through cobblestone alleys to discover the hidden side of the city. The tour will wrap up with a visit to the original stadium of the Olympic Games and the impressive Temple of Zeus.
Highlights:
See the top sights of classical Athens
Local, English-speaking guide
Small group size of 10 maximum
Professionally maintained electronic bike
See tour itinerary, price, and description
6. Athens Local Food Tour in Monastiraki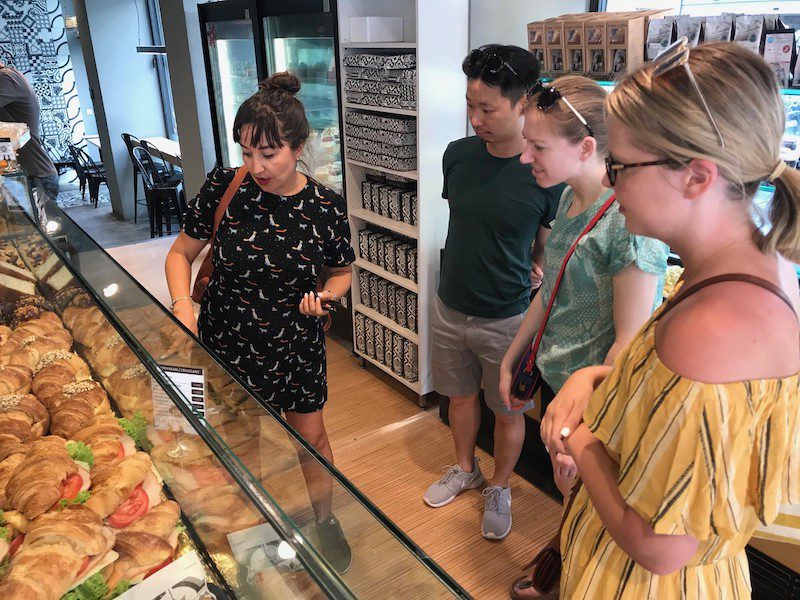 Join this small group culinary tour in the lively Monastiraki neighborhood to find out what the locals really eat. You'll meet your friendly foodie guide and the rest of your small group in Monastiraki Square to kick off your culinary adventure.
Your guide will share insights into Greek cuisine as you head to a local cafe for your first tasting of the day—the famous Greek spinach pie. As your tour unfolds through the neighborhood and into the bustling central market, you'll experience the vibrant Varvakios Agora Market over the next few hours. You'll visit much-loved local shops and market stalls to try the finest coffee, pastries, wine, olive oils, and so much more! Sink your teeth into koulóuria, loukoumades, spanakopita, and get to know Athens through its delightful food while exploring the best spots that only your local guide would know, ensuring a delicious and authentic taste of the city.
Highlights:
4-hour tour
Guided walking tour of the Monastiraki neighborhood
Visit to the vibrant Varvakios Agora Market
Try koulouria, loukoumades, spanikopita and more!
English speaking local guide
---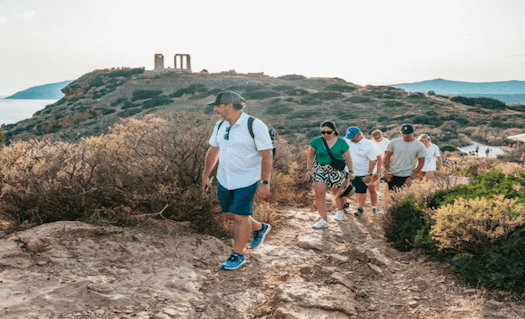 If you are looking for an unforgettable tour outside of Athens, then look no further. On this half-day tour, you'll be picked up from your hotel and driven along breathtaking coastal roads overlooking the Aegean Sea before reaching the gorgeous Cape Sounion.
Stop at Lake Vouliagmeni and relax at a picturesque beach along the coast. Finish off your magical tour as you watch the sunset over the iconic Temple of Poseidon. With jaw-dropping coastal views and a world-famous ancient monument, this is the best way to spend a day away from the hustle of Athens.
Highlights:
Expert, local guide
Roundtrip transportation in minivan with hotel pick-up
Explore beautiful Cape Sounion
Impressive coastal roads and Aegean Sea views
Photo op at famous Lake Vouliagmeni
Sunset at Temple of Poseidon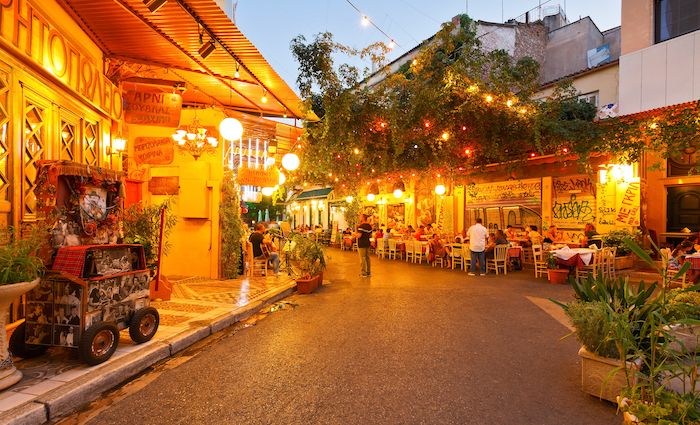 Find the best places to stay
Where To Stay in Athens
Athens boasts a rich historical core brimming with iconic landmarks awaiting exploration. Plan your stay in the best neighborhoods in this captivating city to fully immerse yourself in its ancient charm.