There's much more to Athens than its history, museums, and archaeological sites. This all-time classic destination has interesting neighborhoods, great entertainment, and is close to the Aegean sea. It's a quintessential stop on your island vacation. In this guide, written by a local Athenian, we share our top recommendations of where to stay in Athens.
---
Pro Tip: Heading to Athens? It's easier to organize your trip when all your resources are in one place. Bookmark this post along with our Athens Guide, our top Athens and Acropolis tours, and how to visit the Acropolis.
Where To Stay in Athens: Best Hotels and Neighborhoods
Athens is not a small city, and narrowing down where to stay can be a challenge. In this guide, we've broken the city into three areas—each with its own charms and perfect for different types of travelers. Read on to discover which area is best for you and recommendations for accommodation options in Athens.
Our Partnership with Booking.com. If you like our content, please book by clicking on our Booking.com links. The price is the same for you and we get a small commission that helps support our helpful blog content. We've partnered with Booking.com because they have the most options, great prices, and a solid loyalty program.
The Center of Athens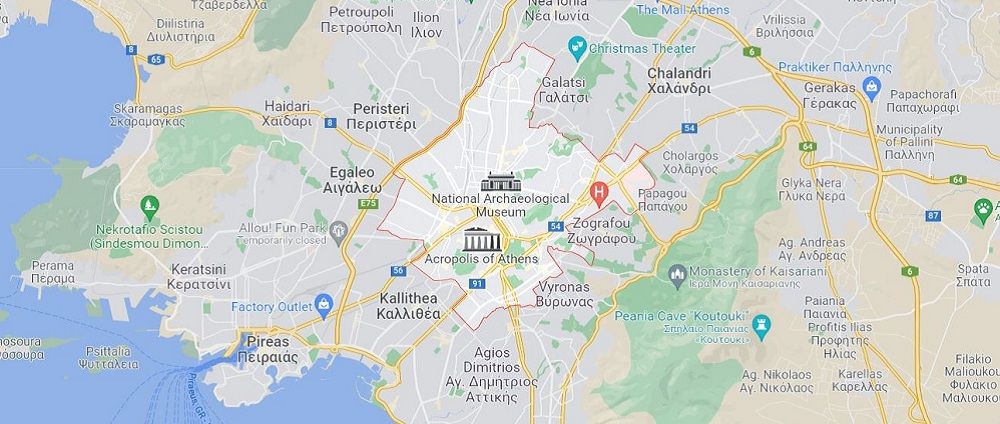 Above all, Athens is known for its ancient history. Thousands of people visit the center of Athens every year to soak up the history of its museums and archaeological sites. But the greek capital is by no means stuck in the past. It's an incredible destination where the past converges with the present.
With modern markets offering you luxury shopping and a nightlife that never stops, this vibrant city has a lot to offer the modern traveler. You just have to know where to go and where to stay. Athens has many beautiful neighborhoods—large and small—that will give you plenty of opportunities to get to know the Greek way of life today.
Of course, don't hesitate to talk to the friendly local people—they will be happy to help you out with any information you may need, even if they can't speak English very well. It's what we call "The Greek Filoxenia" or "friend to a stranger." Without further ado, here are our recommendations for where to stay in Athens' city center.
Why I love the Center of Athens:
It's always really lively
Wherever you are in the center of Athens, you'll see neoclassical buildings and ancient monuments
Wandering cats will certainly steal your heart
There are lots of terrace cafés to enjoy your coffee
Attractions in the Center of Athens:
The Parthenon and the Acropolis Museum
Ancient Agora
Lycabettus
National Museum of Contemporary Art
Best restaurants in the Center of Athens:
See our comprehensive article on the best restaurants in Athens and bookmark it in your browser so you can circle back to it.
Best hotels in the Center of Athens:
Below are the best hotel choices in the center of Athens.
Divani Palace Acropolis
€€€€ | 5 Star | Acropolis view | Classic Decor
This luxury hotel has a prime location close to Acropolis hill with incredible views. Enjoy your breakfast by the pool and indulge in gourmet Greek cuisine. Also, it's really close to the new Acropolis museum and to the Odeon of Herodes Atticus.
Royal Olympic Hotel
€€€ | 5 Star | Decadent Rooms | Traditional Cuisine
At the Royal Olympic Hotel, you can explore traditional Greek dishes in the hotel's roof garden, cool off in the heat of summer in the swimming pool, and retreat to the decadence of your beautiful hotel room. From your room or the roof garden, you'll have a stunning view overlooking the temple of Zeus. It's a luxurious experience of the Greek capital.
NJV Athens Plaza
€€€€ | 5 Star | Modern Decoration | Family Friendly
Opposite Syntagma Square, the NJV Athens Plaza is one of the best luxury hotels. It offers comfortable rooms with cool decor and the chance to taste Mediterranean dishes at breakfast, lunch, or dinner. We love the location in the Kolonaki area where you'll find luxury shopping and delightful cafes.
Divani Caravel
€€€€ | 5 Star | Rooftop Pool | Spa | Three Restaurants and Two Bars
Divani Caravel Hotel offers unique rooms and suites, a spa on the hotel terrace, and a rooftop pool with Acropolis views—you'll be mesmerised by the exceptional views while you enjoy evening cocktails on the rooftop. The hotel is located in a very central part of Athens, just meters away from the National Gallery.
AthensWas Design Hotel
€€€€ | 5 Star | Modern Greek Cuisine | Rooftop Bar
AthensWas Design Hotel is a modern hotel with impeccable design and comfortable suites for both families and couples. Moreover, you have the opportunity to try modern Greek cuisine at the hotel's rooftop restaurant. Every room or suite has a balcony for a relaxing morning breakfast. The hotel is located in the heart of the city—right opposite the Acropolis and the New Acropolis Museum.
Electra Metropolis
€€€€ | 5 Star | Luxurious | Rooftop Pool | Fantastic Views
If you need a luxury vacation right next to the great Parthenon monument, then Electra Metropolis is the place to stay in Athens. You can indulge in spa treatments, cool off in the rooftop pool, or take a sunset yoga session. This hotel is located in the very center of Athens, near the metro station.
The Modernist Athens
€€€€ | 4 Star | Ultra Modern | Urban Club Vibes
Housed in the former embassy of Canada, this urban hotel is one of the most luxurious spots in Athens, near hip Kolonaki. The rooms come in many sizes, including family rooms, and have an urban-club feel with custom lighting and furniture. The hotel has a restaurant and they love to use local goods and food as often as possible too. There is even a 24-hour fitness center for anyone looking to keep up with their workouts on vacation.
Check Out Our Best Athens Tours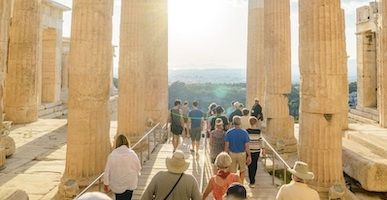 Top Rated Tour
Skip the Line Acropolis Tour with Parthenon and Museum

Towering above the modern city of Athens, explore the ancient forum home to the relics of Classical Greece. From the world's oldest theatre to the iconic Parthenon, the Acropolis is a beacon of civilization and philosophy. Head back in time to the time of Plato and Socrates on this Skip-the-Line tour.





Starting at €80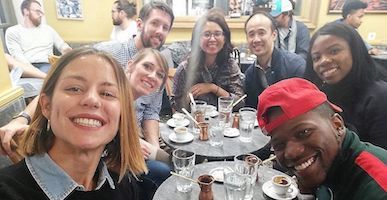 Likely to Sell Out
Athens "Locals" Food Tour in Monastiraki

Explore the gastronomic world of Athens through the city's central market. Enjoy homemade pastries, authentic wines, cheeses, honey-soaked donuts and much more. Your local guide will lead you through the best spots in the lively Monastiraki neighborhood for a delicious experience in Athens.





Starting at €68
Not ready to book a tour? Check out our Athens Guide for more resources.
Plaka District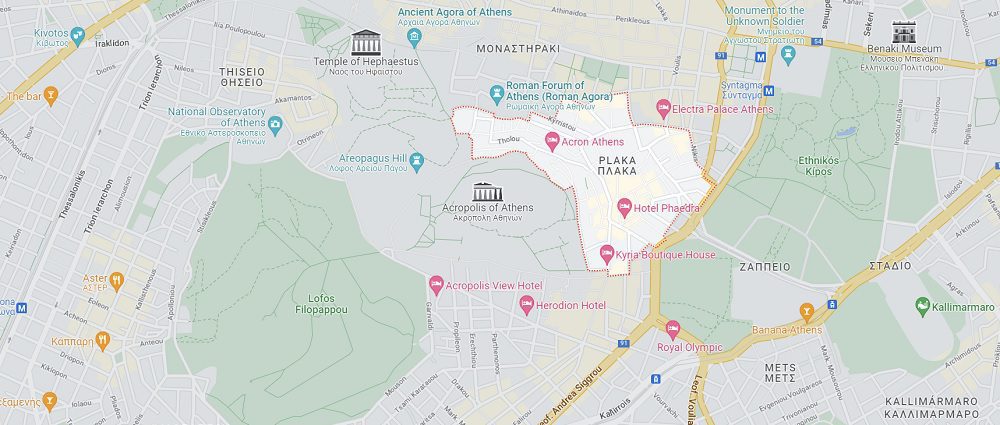 Plaka District is a hip neighborhood in the center of Athens and the place to be. Locals love it for its Greek-island vibes with beautiful cobblestone streets and picturesque alleyways. It's where you'll find some of the city's best restaurants, bars, and affordable hotels, not to mention some of the best views of the Acropolis. Need I say more?
Why I love Plaka:
Trendy local vibe
Great restaurants and bars
Central location near Athens' top attractions
Attractions near Plaka:
Acropolis of Athens
Hadrian's Arch and the Temple of Olympian Zeus
Athens National Garden
Syntagma Square
Roman Forum of Athens
Holy Metropolitan Church of the Annunciation to the Virgin Mary
Best restaurants in Plaka:
Check out our comprehensive article on the best restaurants, cafés, and bars in Plaka.
Best hotels in Plaka:
InnAthens
€€ | 3 Star | Restaurant with Terrace | Bar | Family Friendly
InnAthens has stylish rooms in a variety of configurations, a relaxing interior courtyard, and a fantastic breakfast. It's in the heart of the city but set in a quiet location near the Athens National Garden. It's a great place for a relaxing stay close to the top attractions with great amenities.
A77 Suites by Andronis
€€€ | 4 Star | High End Suites | Acropolis Views
Set in a restored neo-classical building, these high-end suites offer guests a luxurious and modern home away from home in the heart of Athens. The five suites are all different. Fancy a quiet courtyard, a private Jacuzzi, or killer Acropolis views? This is the spot.
Hotel Grande Bretagne, a Luxury Collection Hotel
€€€€+ | 5 Star | Luxury | Great Pool | Rooftop Restaurant | Breathtaking Views
If you're looking for opulence, look no further. This hotel has welcomed stars and it looks the part. You'll enjoy luxurious rooms, incredible views, and world-class amenities. The views from the rooftop Garden Restaurant and the pool are incredible.
Plaka Hotel
€+ | 3 Star | Acropolis Views | Family Friendly | Close to Metro
This simple yet modern hotel gives you bang for your buck. It offers guests a variety of room configurations, making it a great choice for families and solo travelers. You'll love the Acropolis views and central location all at an affordable price.
Not ready to book a tour? Check out our Athens Guide for more resources.
Piraeus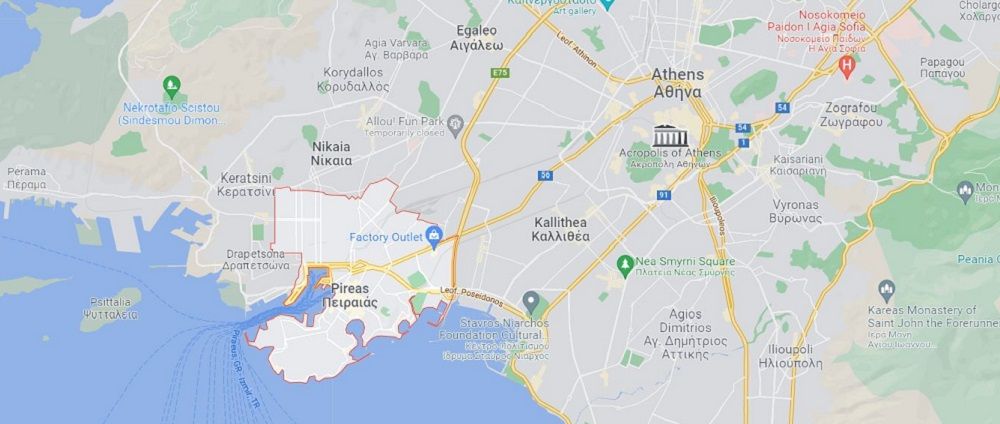 Piraeus is the central Port of Greece. Also, it's at the center of Athens history, having been first inhabited in 3,000 BC! It is amazing to walk in a region with such historical importance. Nowadays, Piraeus is a busy city where you can go shopping, have coffee or lunch, and enjoy its lively nightlife.
If you decide to spend your holidays in Piraeus, you'll have a great time with plenty to do. You'll find the famous Piraeus Municipal Theater—a neoclassical building from 1895, which is the highlight of Piraeus and a popular meeting point. However, if you want to visit some other places, you have easy access thanks to the train station.
Why I love Piraeus:
It is a lively city
Ideal for shopping
A lot of options for lunch, dinner, and a night out
It's next to the sea
Attractions in Piraeus:
Piraeus Municipal Theater
Mikrolimano
Castella
Nautical Museum of Greece
Best restaurants in Piraeus:
Varoulko Seaside Restaurant: €€€ | Michelin Star—Explore a unique Greek seafood culinary experience in a beautiful seaside setting.
Arlekinos Restaurant: €€ | Traditional Food—A popular local spot to stop for a bite to eat while walking around the center. Try some pita bread, tzatziki, and a kebab.
Istioploikos: €€ | Great Location—This casual and hip restaurant right by the water is a great place to spend an evening and try typical Mediterranean cuisine.
Best hotels in Piraeus:
Below are our recommendations for where to stay in Athens in the Piraeus area.
The Alex
€€€ | 4 Star | Modern | À La Carte or Vegetarian Breakfast | Pet Friendly
This modern hotel in Castella Hill is certainly one of the most beautiful hotels in Piraeus. It offers guests a seaside view in a glamorous area. The exterior may not look like much, but the rooms, service, and view make up for it.
Gallery Suites & Residences
€€€ | 3 Star | Modern | Terrace | Fitness Center
This a modern and minimally designed hotel that offers guests the perks of a sauna and gym, as well as a continental breakfast. Above all, it is located close to the center of Piraeus and Mikrolimano and to the port.
Lilia Hotel
€€ | 2 Star | All-Day Bar | Marina Views
We love this hotel in the Mikrolimano area for its warm and friendly environment and beautiful views of the marina. It's located near the shopping center of Piraeus, which is the ideal place to go for a great night out. Every room has a private balcony too.
Scorpios Sea Side Hotel
€€ | 2 Star | Sea View | Budget Friendly
The Scorpios Sea Side Hotel is an ideally-located hotel because it sits on the edge of the Themistokleous coast. It's a great option for anyone who wants to spend their evenings walking along the seafront. It's not the flashiest hotel on our list, but it's great for budget travelers who want a lovely view of the sea.
Not ready to book a tour? Check out our Athens Guide for more info.