Athens is certainly an amazing city either in the summer or in the winter. Above all, Athens is really magical during the Christmas period. Lights, colors, and music create a unique image of the city and offer an unforgettable experience to the visitors and the locals. Therefore, Christmas time is a great period of the year to organize a trip to Athens. So, If you've decided to "do as the Greeks do," this complete guide to spending Christmas in Athens will certainly help you.
---
Pro Tip: Planning what to do on your trip to Athens? Bookmark this post in your browser so you can easily find it when you're in the city. Check out our guide to Athens for more planning resources, our top Athens tours for a memorable trip, and the top things to do in Athens.
Planning Ahead For Christmas In Athens
If you wish to spend Christmas time in Athens, then it would certainly be better to organize and book everything in advance. To clarify, apart from summertime, Christmas through New Year' is the high season. Thousands of people travel in Athens to feel the Christmas spirit. Everything is open and you will enjoy Christmas music everywhere, either in the cafes and restaurants or even on the streets. From Dec 20th until Jan 6th you are looking almost at the same number of visitors as the summer so be prepared for high season rates and book ahead.
Restaurants
Therefore check out our list of the best restaurants in Athens and reserve in advance!
Hotels & Accommodation
Expect to pay almost the same rates as the high summer season in Athens and definitely book in advance. For more information on the best hotels and where to stay, take a look at our articles on Athens accommodation.
Tours & Activities
Same as hotels and restaurants, the best tours sell out quickly. You are going to want to visit at least the Acropolis with the Parthenon and the Acropolis Museum during your visit and a guide is the best way to go. They will elevate your experience and make it much more memorable. So, you can see our Athens Tours.
Not ready to book a tour? Check out our Athens Guide for more resources.
Worship Events On Christmas In Athens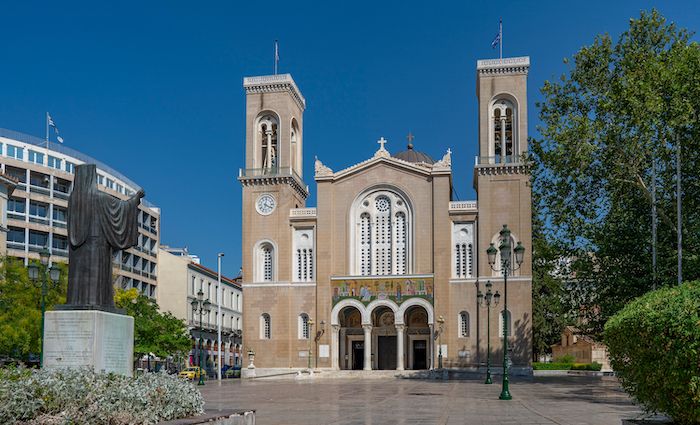 Above all, the Metropolis of Athens is the greatest Orthodox church that numerous people visit every year. It is a majestic temple with unique hagiographies that you will certainly admire. However, at Christmas, so many people choose to visit it and attend the Christmas Liturgy. To clarify, the experience is unique and the place is awe-inspiring.
What you need to know is that on that day, the Metropolis of Athens is really crowded. So, if you wish to attend the Liturgy, it is better to be there early enough, otherwise, you can stay outside the church and enjoy this moment with so many other people; locals and visitors.
What Is Athens Like At Christmas?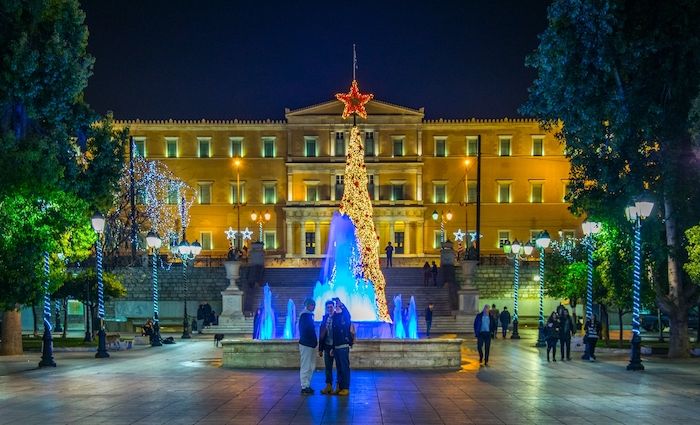 Even some days before the Christmas period, Athens is really crowded. People go for walks, buy presents and get prepared for the festive days. So, if you visit Athens, you will be certainly amazed by how many people live here. To clarify, Christmas is a family celebration. That is to say, even Greeks who live abroad return to Greece to celebrate Christmas with their families.
Moreover, it is amazing how beautiful Athens is during the Christmas period. From the center of Athens to each neighborhood, there are colors, lights, and unique decorations almost everywhere. Christmas trees adorn various parts of the streets and squares. Further, you may find even decorative boats instead of Christmas trees. To clarify, it was a kind of honor and welcome to the sailors returning from their voyages.
Nativity Scenes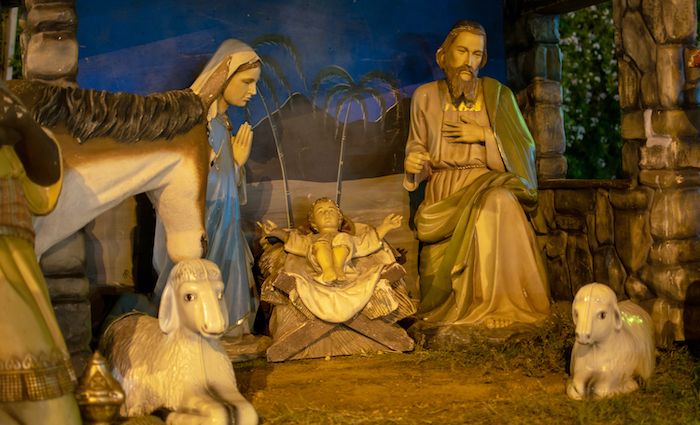 In Athens, there are several spots where you will admire nativity scenes. Starting from Syntagma Square or Panepistimiou Street to the smaller or bigger shops, you will find a beautiful manger with the holy nativity scene. Even in the cafes, there will certainly be such a decoration apart from a Christmas tree.
However, don't expect to find nativity scenes and a manger decoration in or around the orthodox churches. That is to say, in Greek churches, simplicity prevails.
Not ready to book a tour? Check out our Athens Guide for more resources.
Christmas Markets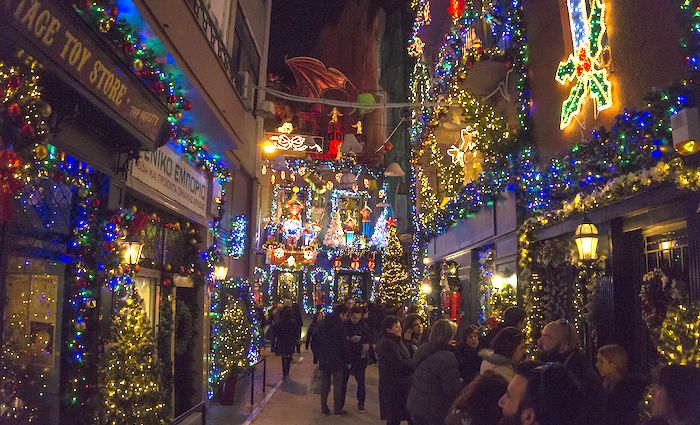 What you will enjoy the best in Athens during the Christmas period are the markets. That is to say, in the very center of Athens, in Ermou Street, you will find numerous shops to buy beautiful presents – mainly clothes – for yourself and for your beloved ones. Moreover, if you want to spend enough money and buy popular brands, then you can visit Voukourestiou Street, in the Kolonaki area, in the center of Athens as well.
Further, you will discover many shops where you can buy Christmas stuff. Moreover, both your kids and you will love and enjoy sweets, lollipops, chocolates, and cotton candy from different shops.
A bit further from the center of Athens, you can also visit Athens Heart Mall where you can do some shopping. Above all, it provides an ice rink where you may want to spend some time doing ice skating.
Christmas Shows
If you love watching ballet or ice skating performances and you are planning to visit Athens for the Christmas holidays, then you are really lucky. To clarify, Every year, during this wonderful period of time, in Athens, many ballets and ice skating shows are organized. Moreover, you may find some interesting music concerts. For example, you may want to listen to a classical music concert or even try attending a Greek musicians concert.
In other words, there are several Christmas shows that you can attend and have fun. Therefore, you can find out all the coming performances and make an early booking in Christmas Theater.
Traditional Christmas Food In Athens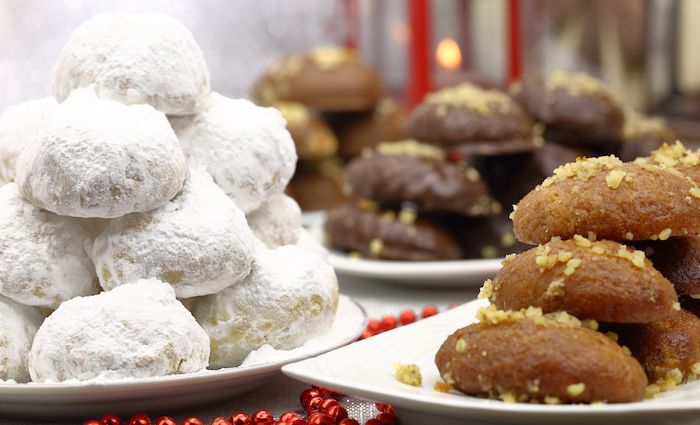 Above all, in Greece, we love eating especially during holidays, like the Christmas period of time. Therefore, when you arrive in Athens, you will notice that all of the traditional taverns and modern restaurants are here to welcome people.
Further, it is important to avoid making a reservation at the tourist restaurants and prefer the local way in the locally approved restaurants in Athens. So, in this way, you will certainly taste traditional and tasty dishes.
On Christmas Eve, we prefer to eat light dishes, while on Christmas Day we traditionally eat lamb or goat cooked in the oven. Most important, don't forget to taste the Greek traditional sweets; melomakarona and kourabiedes.
Things To Do In Athens On New Year's Eve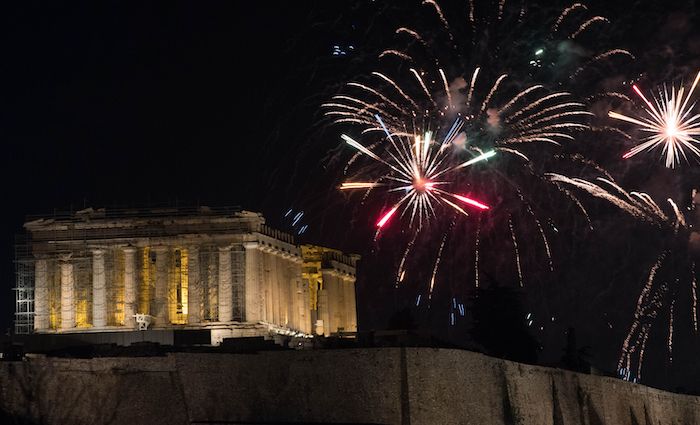 New Year's Eve Celebrations
If you are going to stay in Athens and celebrate New Year's Eve here, then prepare yourself for a unique and fantastic experience. In the morning until early in the evening, a lot of people go for a walk in the center of Athens, doing some shopping and enjoying the last coffee of the year.
At night, in the heart of Athens, in Syntagma Square, a great event starts. Musicians and the Philharmonic Orchestra of the Municipality of Athens play great music in the beautiful Christmas city. So, remember to be there at 10 pm and enjoy the feast.
Returning to the hotel, it is very possible to meet a great party. Champagne and New Year Cake, called "Vasilopita" in Greek, are the main goods for this night.
New Year's Day Activities
On New Year's Day, most people wake up late in the morning. On this day, you will certainly see little children going into cafes and restaurants singing the New Year carols. If you wish, you can give them some pocket money.
Finally, on New Year's Day, shops are closed, but you will easily find cafes and restaurants that are open. Besides, after lunch, locals like to go for walks and drink a hot cup of coffee. Christmas sweets perfectly accompanied our coffee.
Not ready to book a tour? Check out our Athens Guide for more resources.