The Easter holidays are popular in the Czech Republic. There's nothing boring about Easter in Prague—it is full of fascinating traditions you can observe firsthand as you enjoy the beautiful springtime weather. In this article, I'll guide you through spending Easter in Prague so you don't miss any important experiences. Following are the top foods, markets, and events you're sure to encounter in Prague.
---
How To Spend Easter in Prague: Things To See and Do
If you will be in Prague during Easter, you will enjoy the happy atmosphere here. Easter in Prague is charming and filled with colour, fine weather, and painted eggs. The entire week leading up to Easter features cheerful Easter markets and cultural events in the main squares of Prague. It is also a very important time for the faithful of the church. In other words, Easter in Prague is very symbolic for Czechs.
The holiday has become a bit more social and commercial nowadays, but Czechs continue to uphold their special traditions on Easter day. It's a time for family celebrations, observing superstitions, fresh spring weather, and good food.
To know a little more about the Czech culture and how we celebrate Easter, read on for most important traditions and things that you might enjoy if you come to Prague.
When Does Holy Week Start and End in Prague?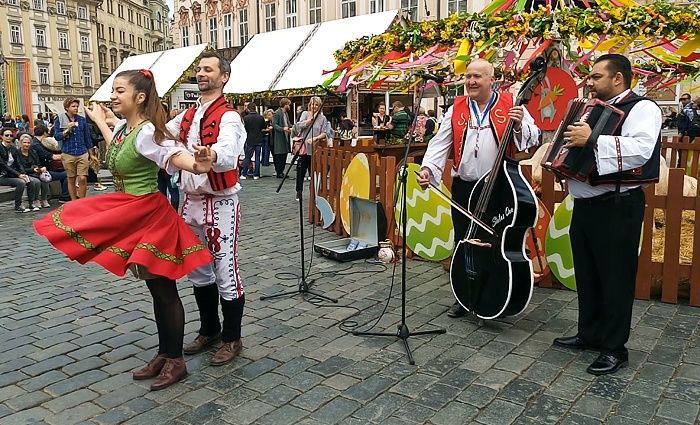 For 2022, Holy Week in the Czech Republic begins Sunday, April 10, and the school holidays start Thursday, April 14. Holy Week ends on Monday, April 18. Easter Monday is celebrated here in Prague.
Good Friday and Easter Monday are both public holidays. Most shops are closed on Good Friday, and Easter Monday is a completely non-working day, so all the big stores will be closed. If you're in Prague on Easter, you won't be left hungry as some restaurants will be open.
A Willow Twig Whipping (Pomlázka)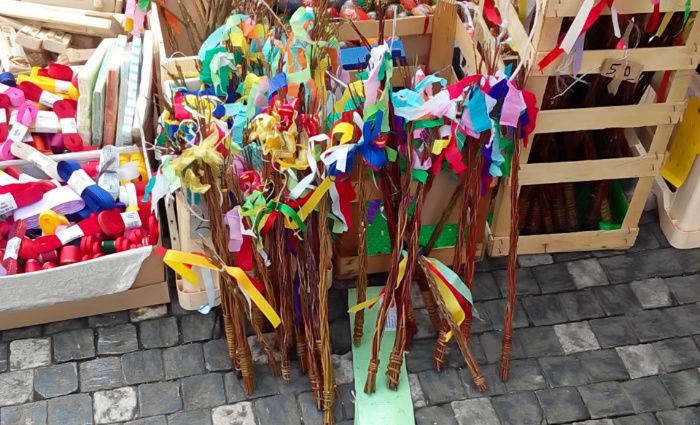 For many first-time visitors to the Czech Republic, this is a very curious tradition. On Easter morning in Prague and throughout the country, something that we Czechs do is to "whip" women with willow twigs. In Czech, it is called pomlázka, and it has a long heritage here that might be difficult for foreigners to understand.
A pomlázka is basically a bundle of willows shaped like a whip. It is made of braided willow twigs and has colored ribbons hanging from it. There is no violence in pomlázka but rather lighthearted silliness now. The superstition is that these willow twigs will bring health, youth, and strength to women. What's more, the men receive colored eggs as a reward from the women whipped with the willow twigs. Nowadays men may also receive a shot of Czech liquor, money, or sweets as well.
So don't be alarmed if you are in Prague and see men or boys singing, reciting rhymes or poems, and running after women to spank them with the willow whip. It's allowed on Easter Monday only!
Paint Eggs and Decorate With Flowers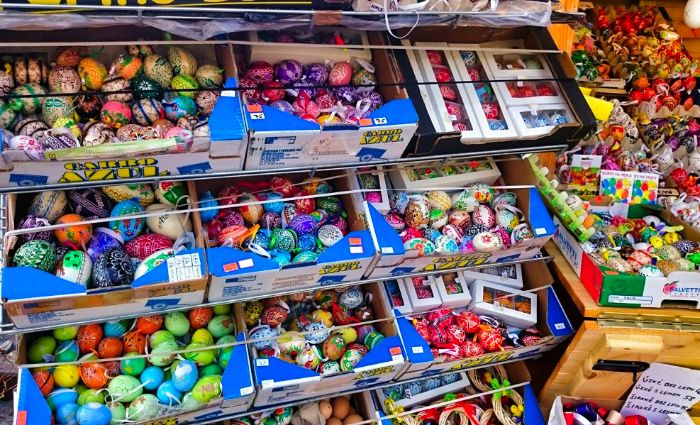 Czechs decorate their houses with flowers that represent the arrival of spring during Holy Week. Colorful Easter eggs are a tradition in Prague and throughout the Czech Republic, representing fertility, new life, and resurrection. Women paint the eggs in a dazzling array of colors and use intricate decorating techniques according to their region in the Czech Republic.
Onion skins, beets, and spinach broth produce brilliant colors for Easter eggs. They can also be hollowed out and used to decorate a house's table and doors.
Eat Lamb and Rabbit Cakes, Judas Bread, and Mazanec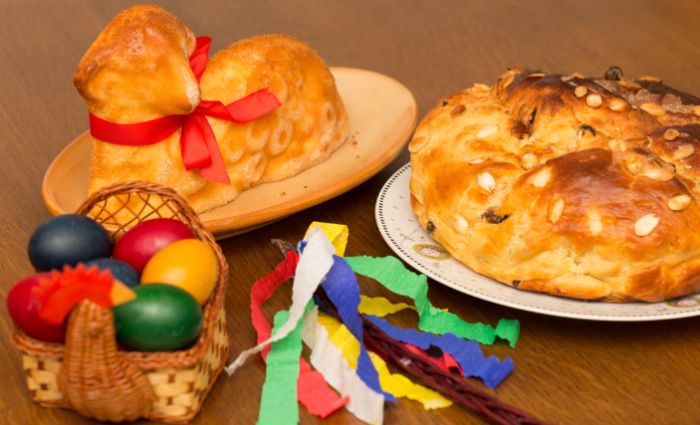 What we always have on our table during Easter in Prague are delicious lamb-shaped cakes. The lamb is a very significant animal for both Christians and Jews; it symbolizes Jesus Christ, purity, and the flock of God.
During medieval times, the lamb was a ceremonial food—and an expensive one. So instead of buying lamb, Czechs baked cakes in the shape of a lamb, and it became a tradition that lasts to this day.
Czechs like rabbit-shaped cakes and chocolates, too. The rabbit represents purity and also the resurrection of Jesus.
Additionally, we eat the bread of Judas, a braided loaf that symbolizes the rope used for the hanging of Judas after he betrayed Christ for a few coins. Another typical Easter bread is the mazanec, a round, sweet, fluffy bun filled with almonds, raisins, or candied fruit.
Splashing With Water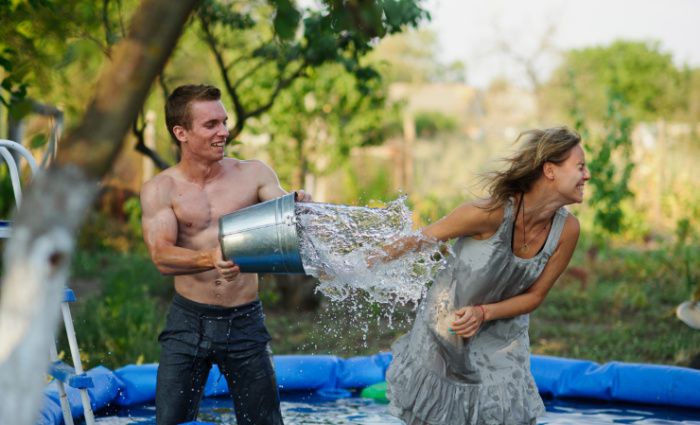 In this tradition, men splash women by throwing a bucket of cold water on them or spraying them with cheap perfume. This supposedly brings women more youthfulness, but it's a light tradition more than anything else.
It's also customary to splash animals on farms with water to give them more strength.
Hop Around the Easter Markets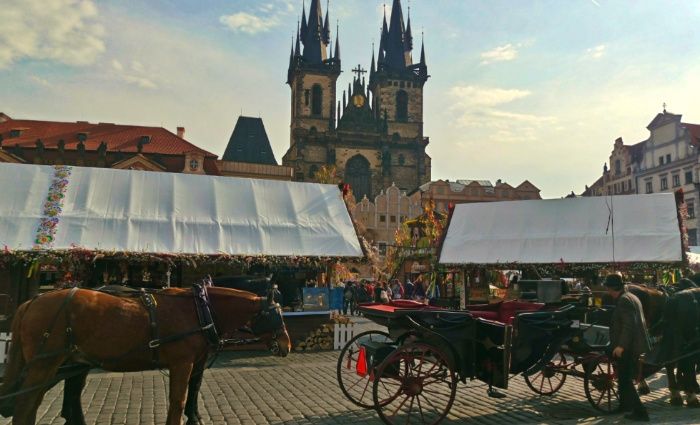 In the main squares of Prague it is common to see many markets decked out for Easter. According to the official page of the Prague markets, as long as it's safe, the Easter markets will be open from April 2 to April 24, 10:00 am to 10:00 pm.
Among the most prominent markets in Prague are:
The most characteristic Easter market is undoubtedly the one in Prague's Old Town Square. Here, you can take in a concert or watch traditional dance performances. You will also find many stalls selling handicrafts, food, and drinks.
What Do Czechs Eat During Holy Week and Easter?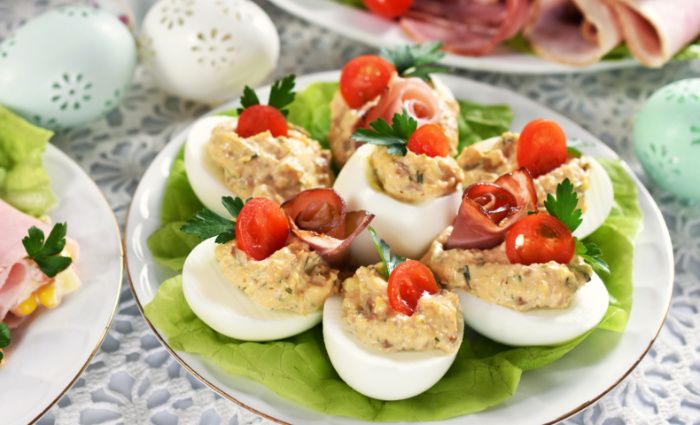 We eat very well, and heartily, in Prague this time of year. During Holy Week—the last week of Lent and the end of 40 days of fasting—we eat varied dishes. For example, on Ugly Wednesday, we eat potato pancakes. On Holy Thursday, it's on to legumes, lentils, and spring soups with mushrooms, peas, or fresh vegetables.
Some people fast during Good Friday, depending on where in the Czech Republic they live. Most people eat fish or potatoes. On White Saturday, you might be served meat rolls filled with vegetables. Czechs also bake Judas bread and other sweet pastries. Sunday is all about meat—lamb and veal—and sweet breads.
Finally, on Easter Monday, you'll find eggs in each and every Czech home. They're prepared countless ways: as egg spreads (pomazánky), salads, stuffed, added to sandwiches, or alongside pork or spinach. All these preparations are accompanied by plates of sausages, cheese, vegetables, and of course, the lamb-shaped cakes and sweet Easter buns. So if you plan to visit Prague at Easter, bring your appetite!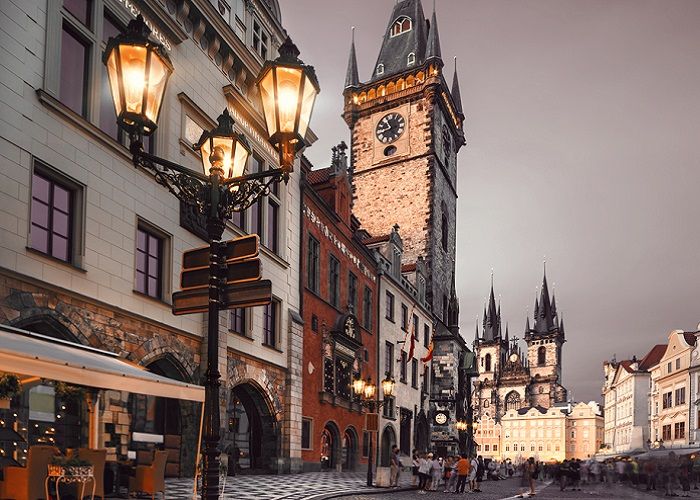 Find the best places to stay
Where to Stay in Prague
Prague has a rich cultural history that is seen in both the Old Town and New Town areas of the city. Plan where to stay in this magnificent old city in the best neighborhoods.