Prague is generally considered one of the most beautiful cities in Europe known as the city of a hundred towers. The historic buildings of many styles surrounding its streets add the right touch of romance and experience the atmosphere of the time of kings. There are many accommodation options, great restaurants with wonderful food and many magnificent bars.
---
Pro Tip: Planning your trip to Prague? It's easier to organize your trip when you have all your resources in one place. Bookmark this post along with our Prague Guide with more planning resources, our best Prague tours for a memorable trip, and the top things to do in Prague.
Where To Stay in Prague: Best Hotels and Neighborhoods
Prague is not a very big city but it offers a lot of places to see or unforgettable experiences. I will share with you the best neighborhood in town to make your stay wonderful.
The best places in the city are located in the districts of Prague 1—the historical center (Old Town, Josefov, Malá Strana, Hradcany). All monuments and attractions are within walking distance, which can save you time and money. Prague 2 (New Town, Vinohrady) and Prague 3 (Zizkov) are also very close.

And if you don't want to walk you can use public transport which is clean, runs very often and on time. Also recommend to use from the airport located in Prague 6 (Ruzyne). A 30-minute ticket costs about €1.50 and an hour and a half €1.80. Here are the neighborhoods we'll cover:
Our Partnership with Booking.com. If you like our content, please book by clicking on our Booking.com links. The price is the same for you and we get a small commission that helps support our blog. We've partnered with Booking.com because they have the most options, great prices, and a solid loyalty program.
Old Town (Staré Město)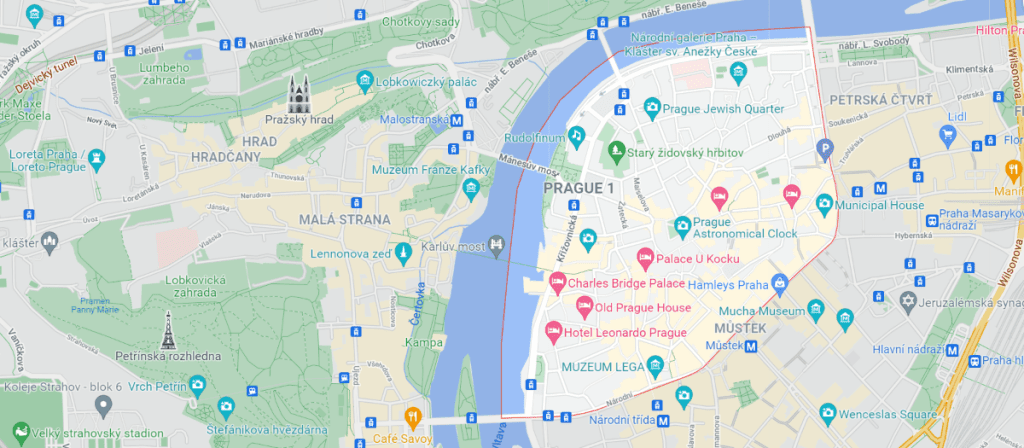 This area is the most desired by tourists in Prague, because here is the old part of the city, as well as an important series of historical and architectural monuments. The old town square is considered today as the center of tourism in the city. The old city is surrounded by Gothic and medieval buildings, many museums, restaurants of different styles, bars, souvenir shops.
It is a pleasure to walk around the square because you will find a lot of variety, here you can also take one of the best photos of the city. On the wall of the old town hall you can find the famous Astronomical Clock, every hour the small windows of the clock are opened and the figures of the apostles move, capturing the gaze of the spectators.
During the Christmas season you can enjoy admiring the giant natural Christmas tree with its light show, also a beautiful market with many local products, typical food, mulled wine and live concerts.
Why I love Old Town:
Historical center
Local food
Great breweries
Attractions near Old Town:
Best Hotels in Old Town:
The Emblem Prague Hotel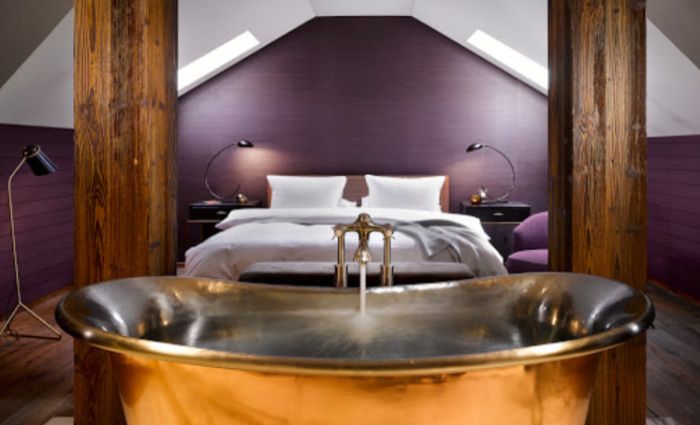 €€€€+ | 5 Star | Relax | Luxurious | Spa
This hotel has luxurious decor, and relaxed atmosphere. After a tiring day of walking around the city, you can enjoy in one of its chill-out rooms as well as in the beautiful living rooms that this hotel has or enjoy a rich massage in the spa along with a beautiful view from the roof terrace.
Moods Charles Bridge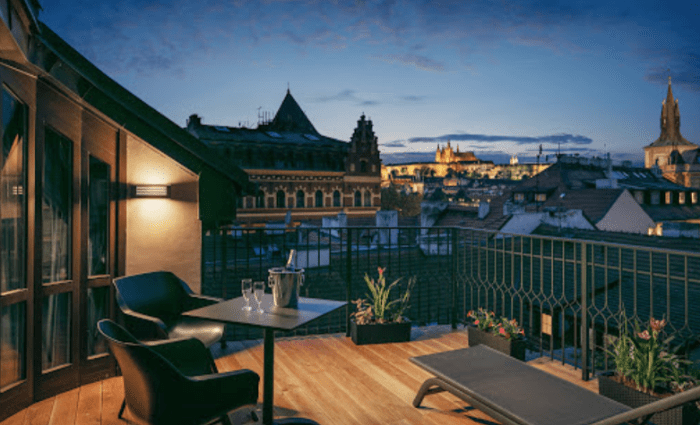 €€€€+ | 4 Star | Castle View | Free Parking
The rooms of this hotel have a sophisticated and romantic atmosphere, it is a boutique hotel with a modern style, within a few minutes walking you will find the old town, the Charles Bridge, restaurants, and many attractions.
Clementin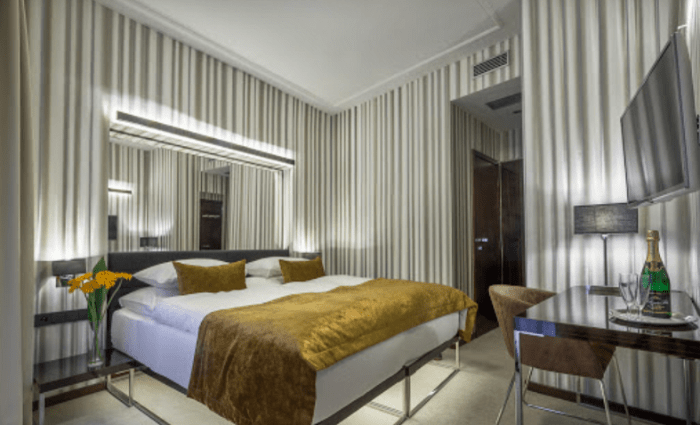 €€€€ | 4 star | Bar | Terrace Café | Center
Surrounded by old buildings and the most important thing is that it is located in the heart of the old town, it has been recently renovated. The hotel service is friendly. It is an ideal option for a tourist trip.
INNSiDE Melia Prague Old Town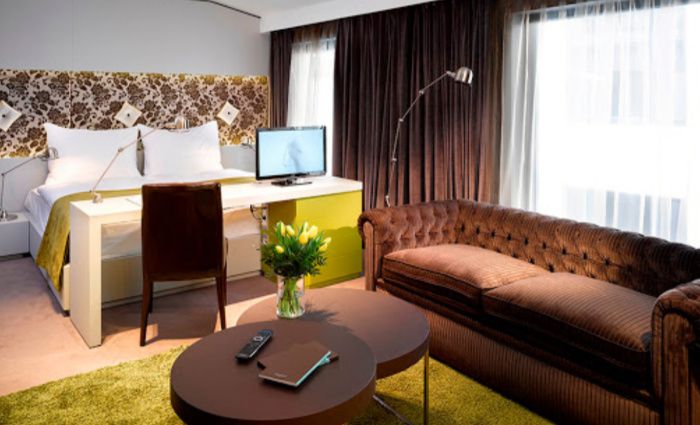 €€€ | 4 Star | Restaurant and Bar With Terrace | Excellent Location
Innside Prague Old Town Hotel is situated in a quiet place and very close to the old town square.The interior spaces of this design hotel are modern and elegant. The rooms and suites are decorated with style. There are also spacious loft-style rooms for families. The hotel has a restaurant and bar with a spacious terrace. During winter you can enjoy the igloos with a cozy atmosphere on the hotel's patio terrace to enjoy the night.
Hotel Residence Agnes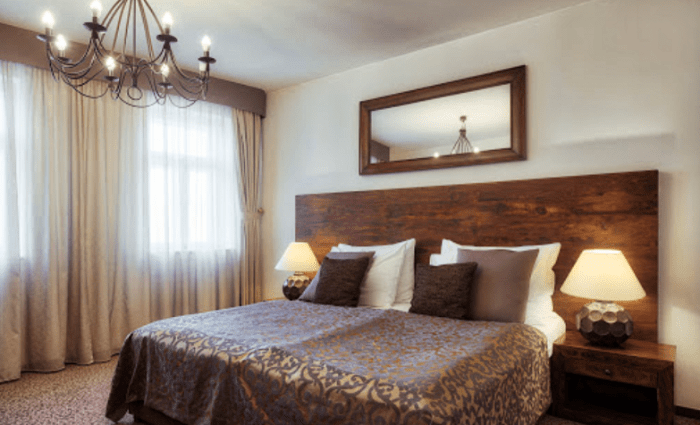 €€€€ | 4 Star | Best Service | Historical Building
The best thing about the hotel is the hospitality, friendly service and cleanliness and it has everything to make your stay pleasant, it is small but has its charm, in addition to its elegant decoration and comfortable rooms, it feels like a family atmosphere.
Josefov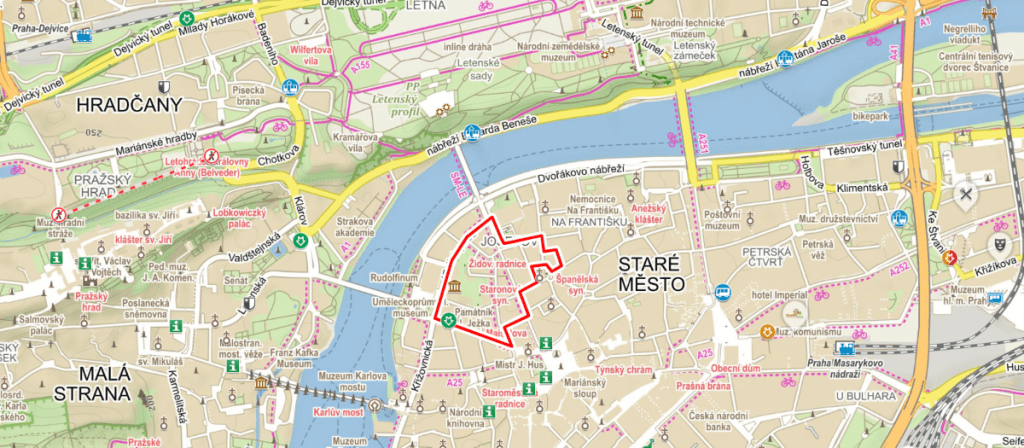 This district is the Jewish quarter of Prague and is located within the old town. The district was renamed Josefov in 1850 in honor of the Holy Roman Emperor Joseph II. It is a small district that holds many mysteries, secrets and sad stories of a Jewish people that had suffered for a long time. All the civil buildings in the Jewish quarter were razed and only a few houses have been preserved, the town hall, the statue of Moses by Frantisek Bilek, and the old Jewish cemetery.
Many buildings were modernized giving a Parisian appearance. There is an emblematic street called Parizka where many luxury shops and well-known designer brands abound. Throughout this beautiful neighborhood you will find quality restaurants as well as cafes and souvenir shops. During the spring and summer months you will see the carriages walk with the horses giving a touch of romance to its streets. You will also observe the synagogues, many historical monuments. This neighborhood was the birthplace of the famous Franz Kafka.
Why I love Josefov:
Jewish Ghetto
Gothic buildings
Luxury shops
Attractions near Josefov:
Best Hotels in Josefov:
The President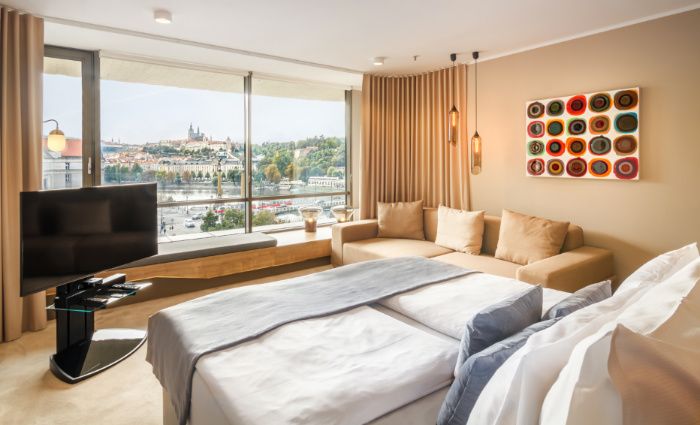 €€€€+ | 5 Star | Luxury | Stunning Views | Wellness
This hotel is home to luxurious rooms with nice views of the castle, an excellent place to make business, a harmonic bar with a view of the castle and river, a great restaurant, pool, saunas quality service to make your stay pleasant.
Mordecai 12 Apartments by Prague Residences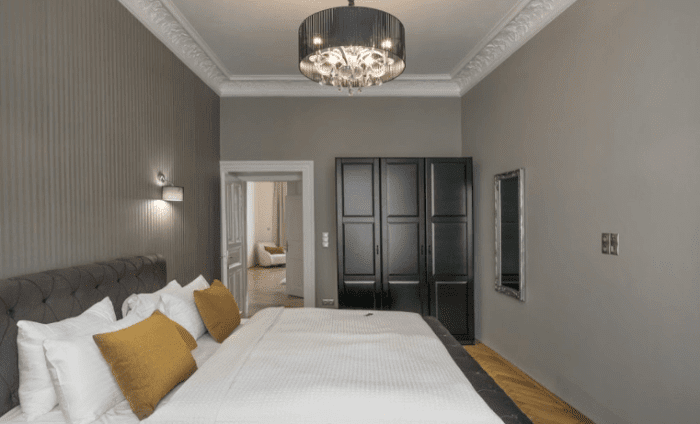 €€€ | 4 Star | Hotel Apartment | Comfortable Rooms
They currently have 18 apartments which have a beautiful decoration, comfortable and fully equipped spaces. The apartment house is located in the heart of the Jewish quarter and next to the historic center.
Myo Hotel Caruso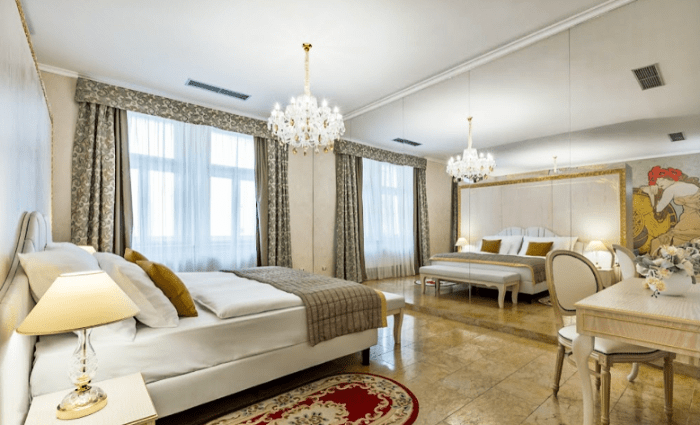 €€€€ | 4 Star | Italian Furniture | Belle Epoque
Boutique hotel in the Jewish quarter, close to the main attractions. The hotel interiors are decorated in contemporary style and also have original art nouveau frescoes, the restaurant has a vaulted brick ceiling.
Malá Strana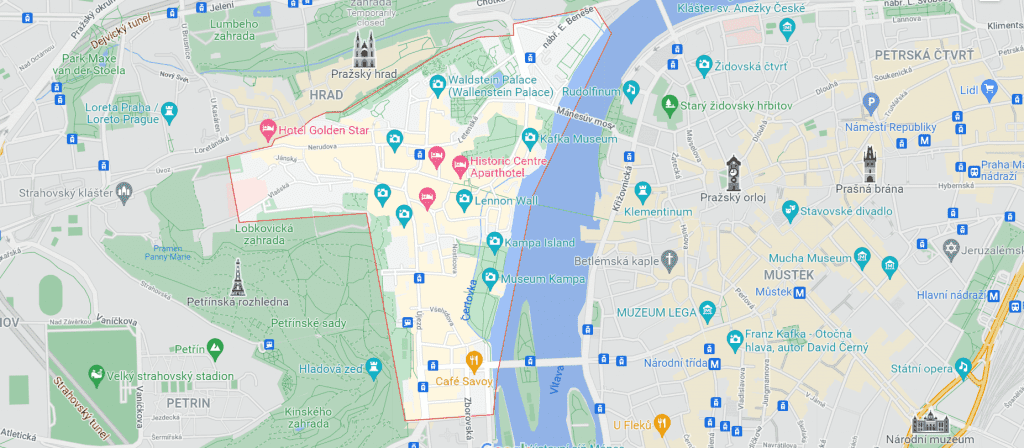 Considered the most beautiful neighborhood in Prague, with cobbled streets and bohemian style, its buildings. In this district many personalities of the nobility settled due to its proximity to the castle. One of the advantages of this neighborhood is that it is close to the Prague Castle, practically in the lower part. Crossing the famous Charles Bridge you will arrive directly at the old town square.
There is a very famous street called Nerudova in honor of the famous novelist Jan Neruda who was born and lived here. Throughout the area there are some important embassies, official buildings such as ministries, the Czech Parliament, beautiful churches, many souvenir and antique shops, typical restaurants, bars and cafes. It is very normal to see the people of the neighborhood meeting on the terraces or inside the small and cozy bars or wine bars that are in the area.
Why I love Mala Strana:
Romantic hotels
Cobblestone streets
Great restaurants
Attractions near Mala Strana:
Best Hotels in Mala Strana:
Aria Hotel Prague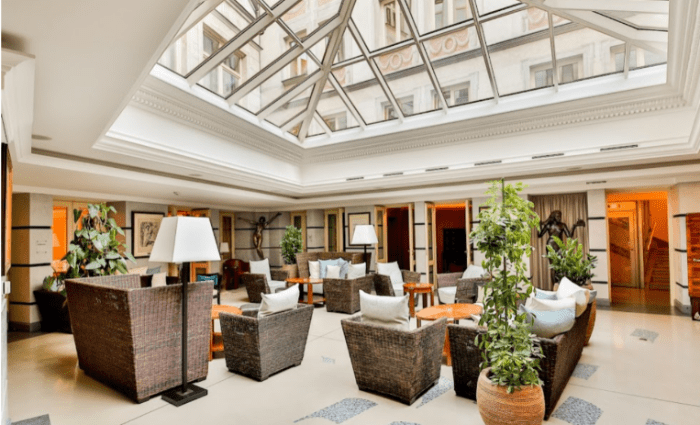 €€€€+ | 5 Star | Luxurious | Music Concept
Characterized by a elegant decoration with an exquisite design combining art with notes of the past and present, cozy atmosphere, inspired by music. Ideal for business trips, family or honeymoon. Direct connection to the beautiful Vrtba gardens, charming library.
Appia Hotel Residences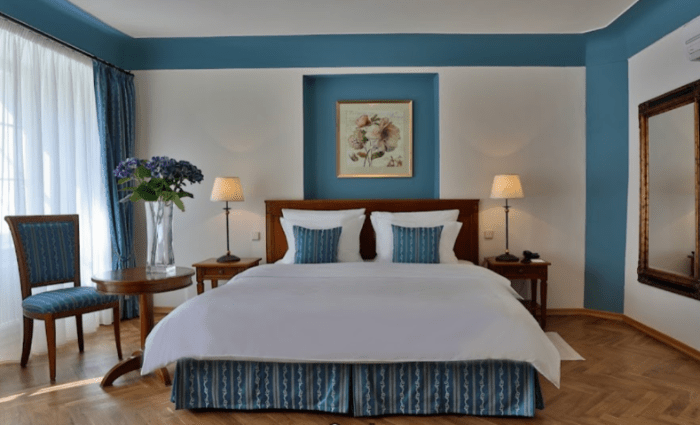 €€€ | 4 Star | Romantic Garden | Pleasant Lobby Bar
The Appia hotel offers suites and apartments with elegant decoration, you will also enjoy a romantic summer garden and a nice living room with an original design from the 12th century. Located next to the Nerudova street
MOOo By The Castle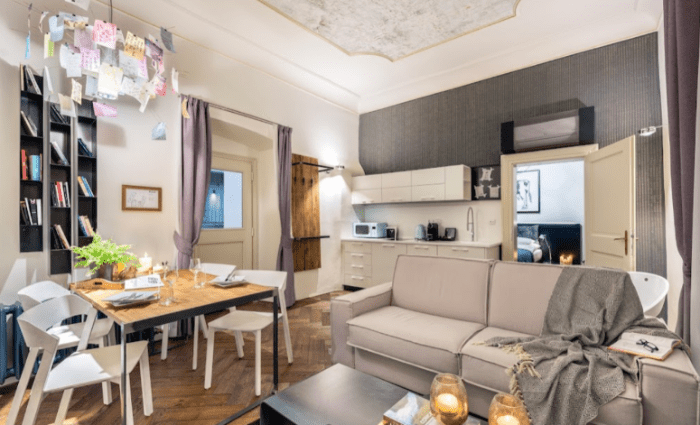 €€€€ | 4 Star | Luxury Apartments | Fully Equipped
Set of hotel apartments in an old building that has been renovated, the interior space of the apartment has modern facilities and luxurious decor with an intimate and cozy atmosphere also perfectly equipped.
Its surroundings of cobbled streets are beautiful.
Bishop's House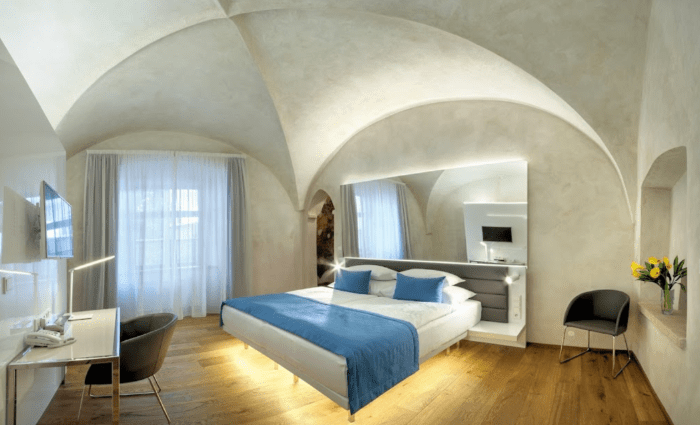 €€€€ | 4 Star | Great Location | Renovated Facilities
The facade of this hotel represents an imperial style, Located in an old and historical building which has been renovated inside with a very beautiful design. The best thing about the hotel is that it is literally next to the Charles Bridge.
Hotel Pod Věží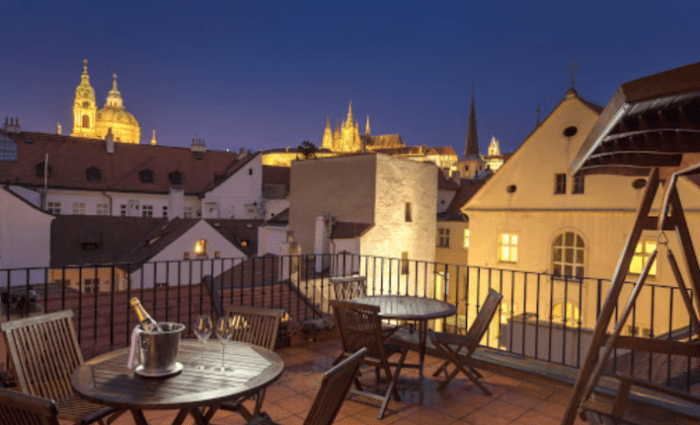 €€€€ | 4 Star | Terrace With Castle View | Elegant
The most charming thing about this hotel is its small terrace with a wonderful view of the castle, this hotel offers comfortable accommodation in two historical building that preserves a beautiful ceiling design, the hotel offers a restaurant and with delicious food.
New Town (Nové Město)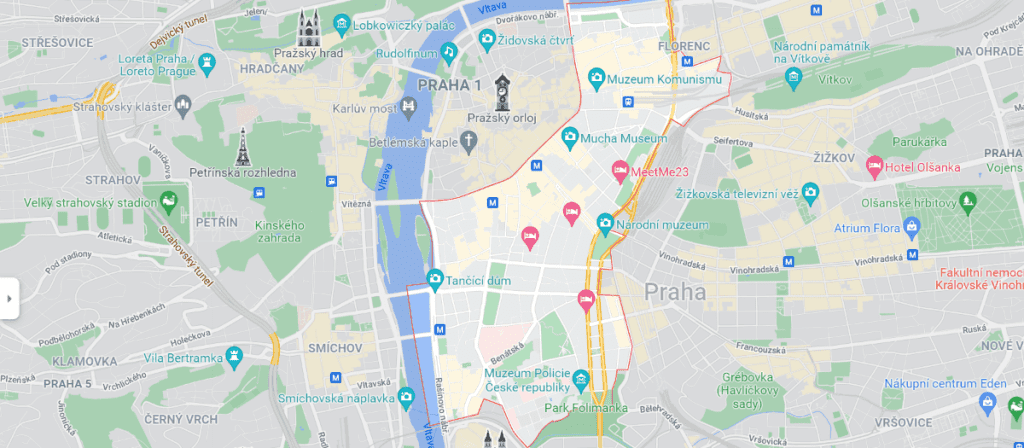 The Nove Mesto area has everything to choose the best option to stay, you will be out of the horde of tourists. The buildings in this district are modern and also old with beautiful facades. From Nove Mesto, you can walk to the old city observing in the distance the Prague Castle and the Charles Bridge.
Throughout this area, there is a wide variety of restaurants with different specialties, wine bars, beautiful cafes, and local shops.
There you will find many options for accommodation, leisure, and nightlife so you will not get bored. To the south of this beautiful district, you can see the Vysehrad hill, which is a park with a beautiful old cathedral, historical monuments, and places of entertainment.
Why I love New Town:
Shopping Centers
Architecture
Pubs
Attractions near New Town:
Best Hotels in New Town:
Almanac X Prague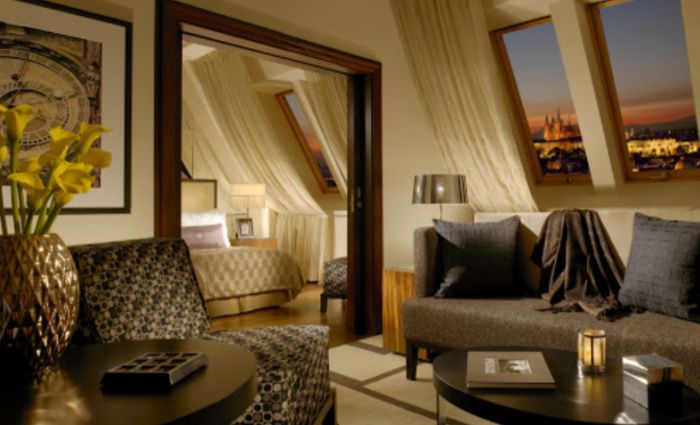 €€€€+ | 5 Star | World-Class Bar | Luxurious | Art Deco
Beautiful luxury hotel with Art Deco design rooms in a contemporary style. This hotel has become a favorite among people from the political and artistic world. Offers an excellent restaurant with the Michelin star award, The location of this hotel is great near to Wenceslas Square.
Radisson Blu Hotel Prague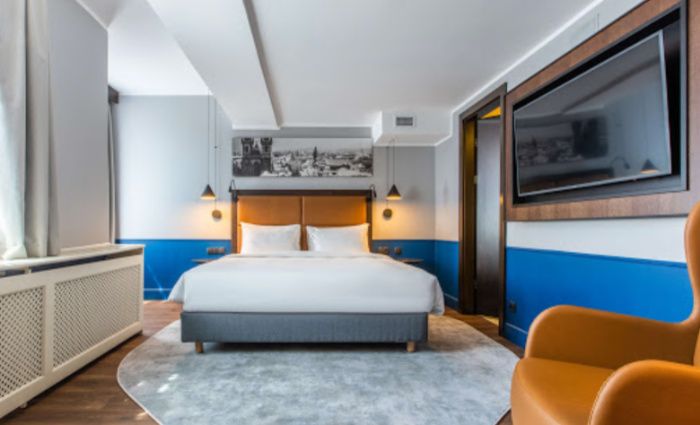 €€€€ | 5 Star | Elegant | Gym | Business | Modern
The hotel has a privileged location between Nové Město and Staré Město. Its style is modern combined with antique elegance, the rooms are spacious, decorated with a contemporary atmosphere and light colors.
Mosaic House Design Hotel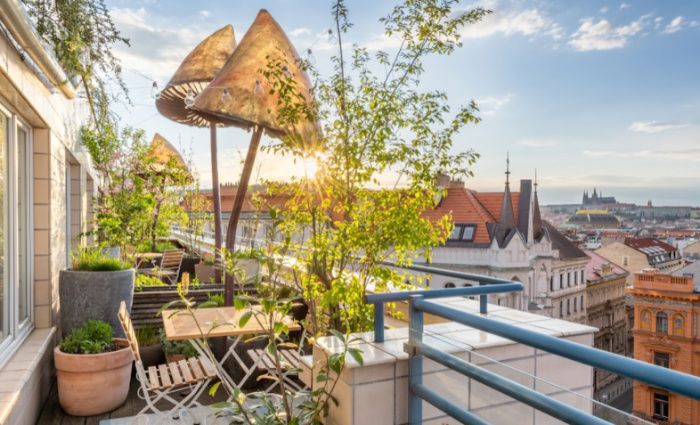 €€€ | 4 Star | Spa | Design and Art | Secret Garden
If you are looking for a comfortable place to rest and relax during your trip, whether for business or tourism, forget the stress and away from the hectic tourist center but at the same time in an excellent location in the metropolis then this is the right hotel. The interior has an elegant and fun design. Some rooms have a beautiful view of the city and Prague Castle.
Miss Sophie's New Town & Wellness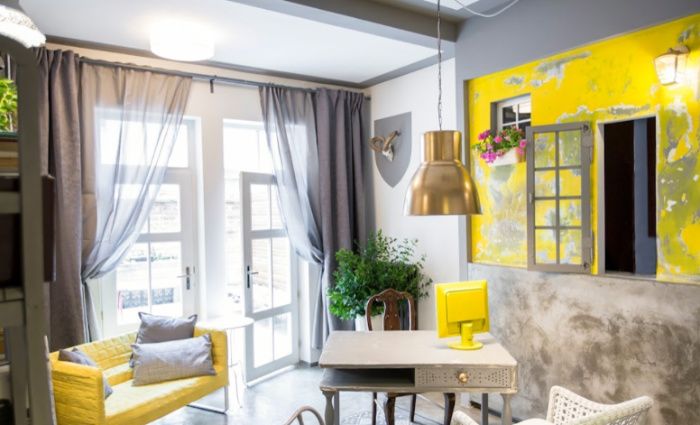 €€€ | 3 Star | Wellness | Hotel Boho Chic | Great Location
Ideal for tourist trips, this boutique hotel has a youthful atmosphere and offers a private wellness center, small garden, and a bar. Its closest attractions are Náměstí Míru square, the national museum, Charles square.
Pytloun Boutique Hotel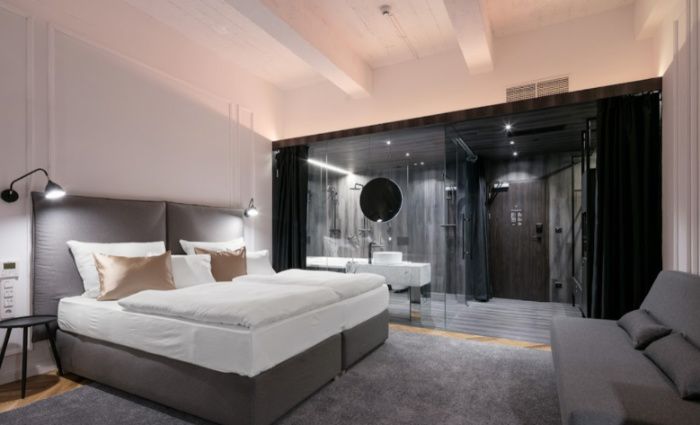 €€€€ | 4 star | Boutique Hotel | Luxurious Design
Very comfortable and elegant hotel, characterized by an excellent design combined with a little technology, you will also enjoy a great terrace with wonderful views towards the Franciscan gardens. The rooms are modern, spacious, and luxurious. The location is perfect right on Wenceslas Square.
Hradcany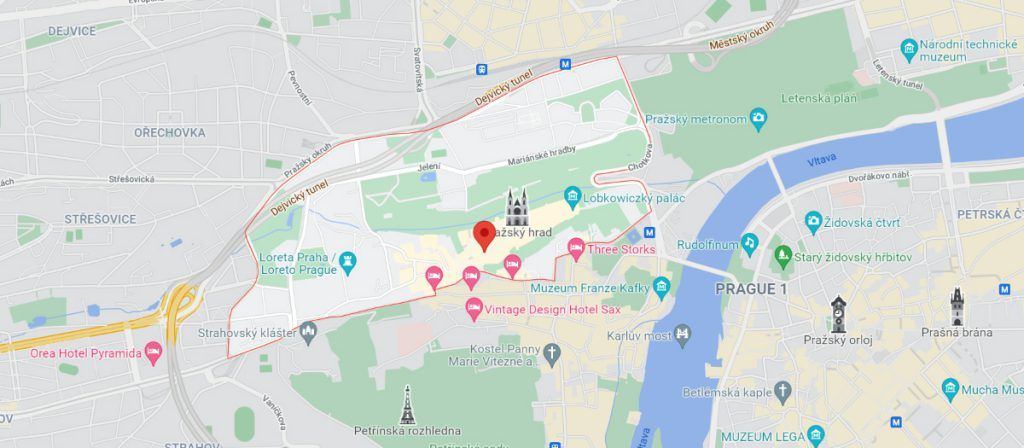 Neighborhood with a privileged location around Prague Castle and its gardens. In this district you will find important historical monuments, ministries and palaces as well as the Hradcanske square that connects to one of the courtyards of the castle, is surrounded by aristocratic and canonical houses in the northern part. As you walk through its streets, you will be able to see the characteristic street called Loretanska where the old town hall building is located. Another of the significant squares in this neighborhood is called Pohorelec, surrounded by Renaissance and Baroque houses.
It is an area that is very busy with tourists during the day, but is very quiet at night. This option is ideal if you are looking for more tranquility to stay. If you decide for this location, I recommend you also check out our article about The 10 Best Restaurants near Prague Castle.
Why I love Hradcany:
Romantic hotels
Vineyards
Castle
Attractions near Hradcany:
Best Hotels in Hradcany:
Romantik Hotel U Raka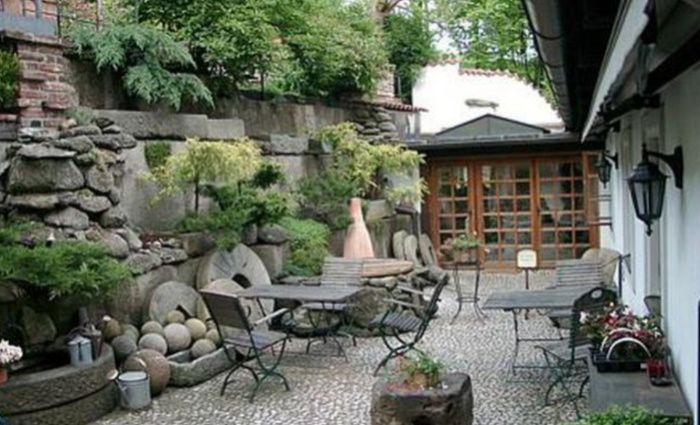 €€€ | 4 Star | Romantic | Rustic Decor | Cozy | Gallery
You will feel like staying in a story-house from the past, everything around it is simply beautiful, surrounded by the famous Nový svět neighborhood, a few steps from Prague Castle and historical monuments.Ideal to enjoy all the seasons of the year, its atmosphere is very romantic and relaxing. Its rooms are in an old and modern rustic style as well as a charming restaurant.
Questenberg Hotel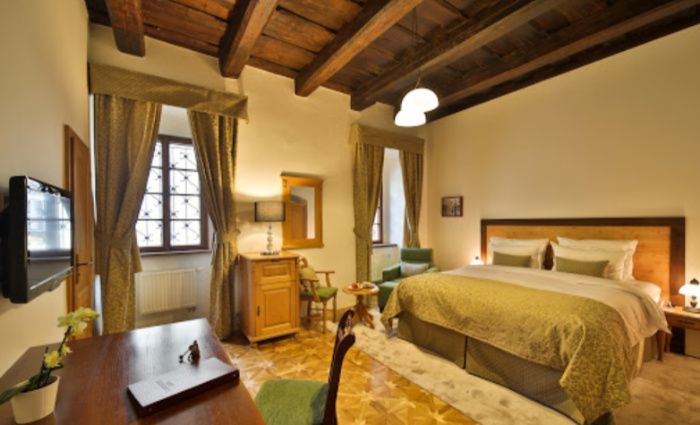 €€€ | 4 Star | Original Wooden Ceiling | Quiet Atmosphere
The historical building where the hotel is located dates from the year 1620 and in the past there was a private palace, the hotel is suitable for people who want to stay in a historical place. Its rooms are comfortable, clean, and nicely decorated. You will contemplate wonderful views of Prague Castle and the old town, near to the Strahov Monastery.
Golden Star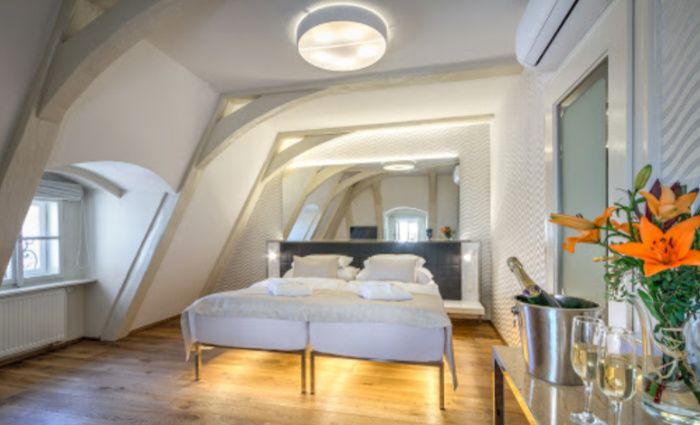 €€€ | 4 Star | Terrace | Historical Building | Baroque
Design hotel, with a baroque-style building, currently renovated and preserving a very well-maintained old staircase, the rooms have a modern decoration, the structure and style of the ceiling of this hotel are beautiful. During the summer you can enjoy eating sitting on the terrace of the restaurant, with a wonderful view.
Vinohrady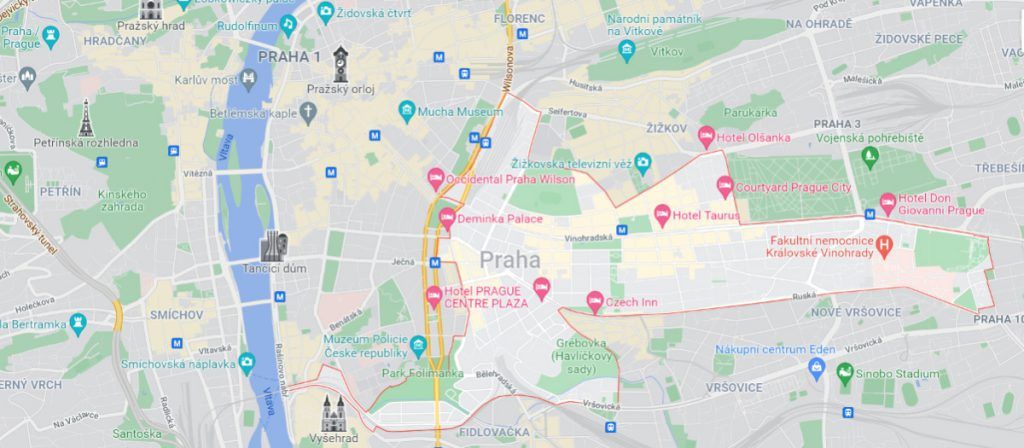 Vinohrady is located between the 2nd and 3rd districts of Prague. The name is due to the fact that in the past there were vineyards that surrounded the entire area. This residential district is beautiful and full of buildings with elegant architecture. There is the main square called Namesti Miru in the western part of Vinohrady, where the beautiful Church of Saint Ludmila with Gothic Revival architecture is located.
It is one of the most sought-after neighborhoods by ex-pats in Prague. There are a variety of parks, with extensive gardens and beautiful views, the most famous is Riegrovy Sady where you will find a beer garden. There are trendy bars, restaurants, and cafes throughout the area, including a variety of gay-friendly bars. All this makes it interesting to have a pleasant stay and that you will also be away from the crowds of tourists that are normally concentrated in the old town.
Why I love Vinohrady:
Expat community
Trendy restaurants and bars
Parks
Attractions near Vinohrady:
Best Hotels in Vinohrady:
Le Palais Art Hotel Prague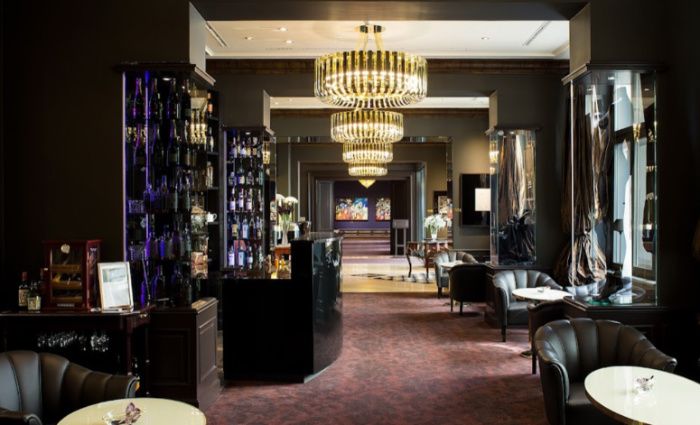 €€€€+ | 5 Star | Luxury | Art | Italian Style
The style of the hotel has a Belle Epoque atmosphere with some modern technology. You will be able to see some art exhibitions in the hotel. The rooms and suites are elegant, as well as a restaurant and a bar that are a good option to drink or eat something in the hotel.
Ametyst Hotel Praha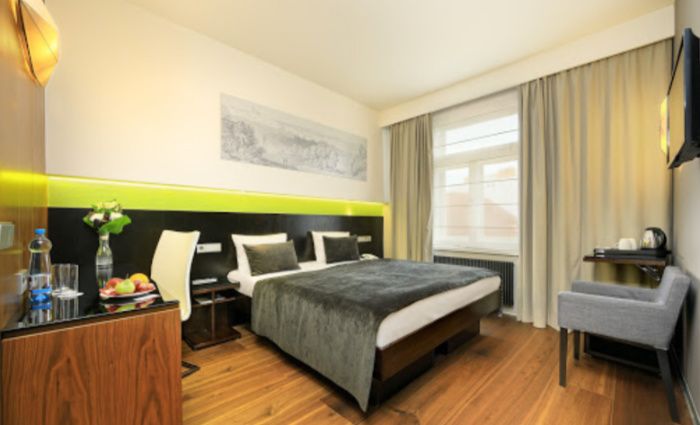 €€€ | 4 Star | Quiet Location | Clean & Comfortable
Cozy hotel with modern spaces, the rooms are well equipped and offer all the services to make you feel comfortable during your stay. Located in a quiet residential area, the hotel also offers a sauna. The metro and tram stations are close to the hotel.
Courtyard By Marriott Prague City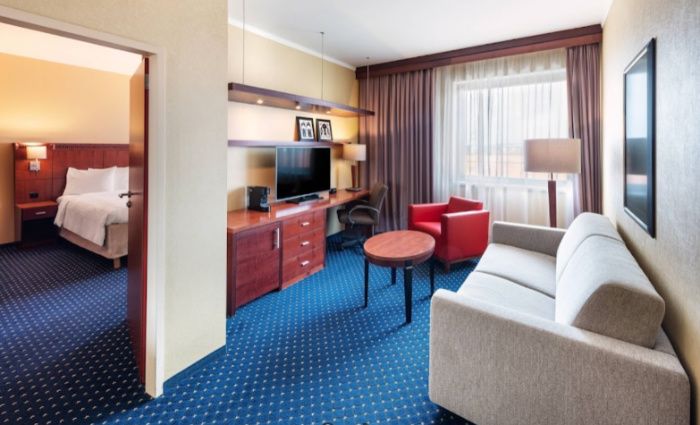 €€€ | 4 Star | Gym | Spacious | Contemporary | Bar and Grill
Hotel with contemporary design and urban atmosphere, spacious rooms, and well decorated. Perfect for a trip or business meeting, this hotel is also close to a shopping center.
Žižkov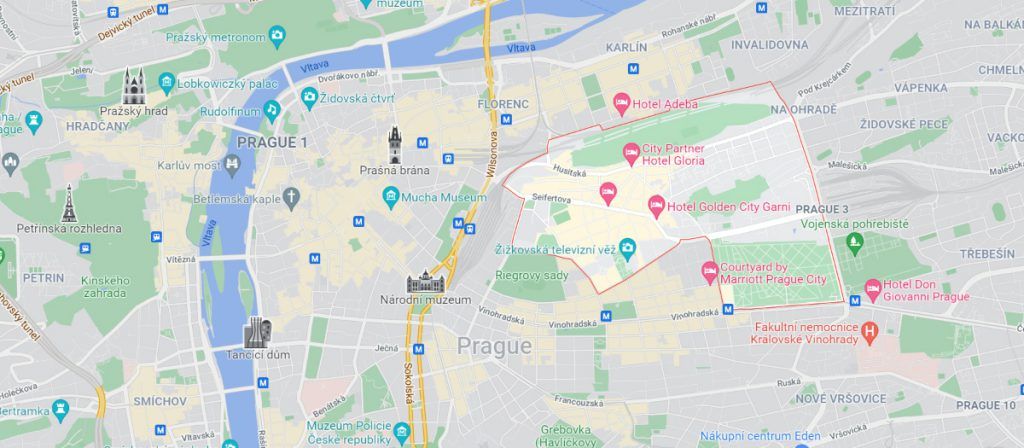 Very lively neighborhood, most of its old buildings and houses have been renovated, it is also characterized by some parks, the best known are Vrch sv. Kříže (Hill of the Holy Cross), Vítkov hill, and Rajská zahrada park (Paradise Garden Park).
This district was well known because in the past the working class people lived there and many of its residents supported the leftist parties.
In this part of Prague accommodation is usually a bit cheaper compared to the center, and in terms of location, it is not that far from it. If you decide to choose to stay in this area, you will get to know an environment closer to the authenticity of the local people. The most attractive point in the area is the famous television tower with a High – Tech architecture. It is characterized by its structure and babies crawling between the pillars, going up you will find restaurants, an events room, and a panoramic view of Prague.
The western part of the Zizkov district is known for its cheap bars, as well as nightclubs and strip clubs. Therefore, this area of the neighborhood is not highly recommended.
Why I love Žižkov:
Access to the TV Tower
Cheaper hotels
Prague atmosphere
Attractions near Žižkov:
Best Hotels in Žižkov:
Carlton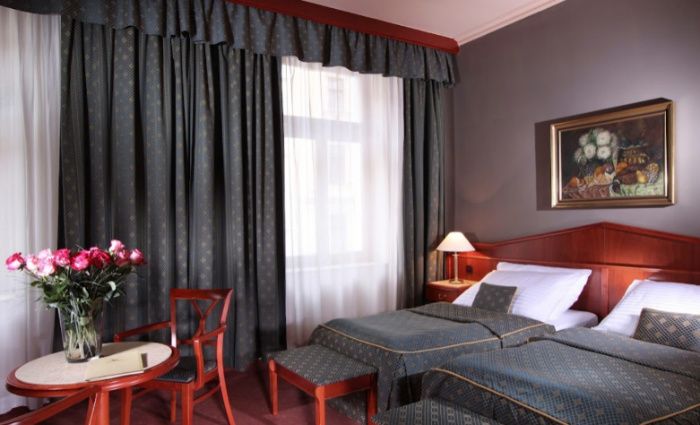 €€€ | 4 Star | Clean | Lobby Bar | Historical Location
The rooms are comfortable, and the hotel is located in a historical and quiet area of ​​the Žižkov district, it is an ideal hotel if you want to connect more with the local people and be away from all the hustle and bustle of the historical center.
Hotel Ariston Prague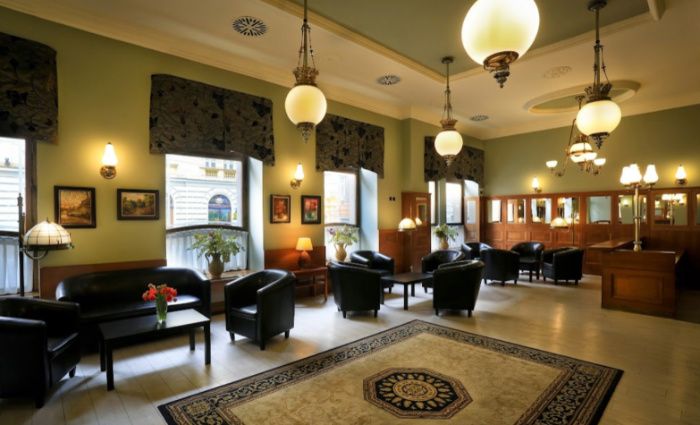 €€€ | 4 Star | Belle Epoque Style Rooms | Renovated
Nice hotel with spacious lounges, nice decoration, some rooms with Belle epoque style located in the courtyard of a typical house in the Žižkov district. In the surroundings, you can find shops, minimarkets, and restaurants and the tram passes in front.
Design Merrion Hotel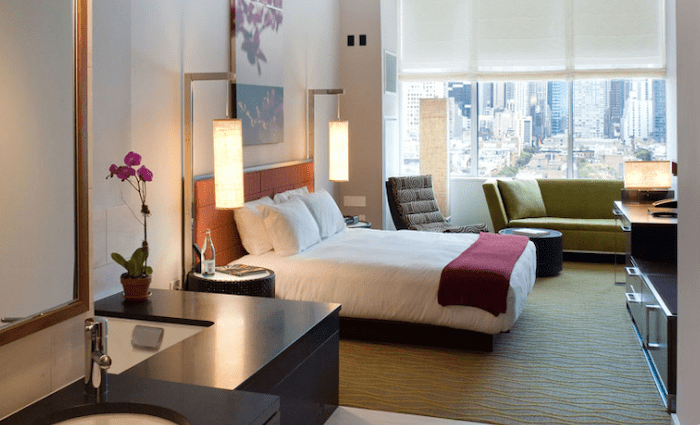 €€€ | 4 Star | Elegant Rooms | Italian Design Furniture
This can be a good option to stay in the Žižkov neighborhood, because the hotel has facilities with Italian design, offering comfort, you will enjoy breakfast in the winter garden and in the surroundings of the hotel, you can find restaurants, shops, and large parks.