Imagine your trip to Prague and relaxing in the hotel pool during the cold winter or taking a refreshing swim in the hot summer after a long day of walking and immersing yourself in a comforting pool. That said, which hotels in the center have pools worth dipping into? I am a local in Prague and made this list to help you find the best hotels in Prague with pools!
---
Our Partnership with Booking.com. If you like our content, please book by clicking on our Booking.com links. The price is the same for you and we get a small commission that helps support our helpful blog content. We've partnered with Booking.com because they have the most options, great prices, and a solid loyalty program.
Top Hotels with Pools Prague
In Prague it is not common to find hotels with large outdoor pools. But if you love recharging energy in the water, here I will give you a list of the best hotels with indoor pools to enjoy in this beautiful city.
Corinthia hotel Prague
$$$$$| 5 star | pool on the heights with panoramic views | Restaurant | Wellness
Relax in the swimming pool of the Corinthia hotel from the heights you will have incredible views of the city. You can enjoy a harmonious swim in the pool from the 24th floor of the hotel, as well as relax in the fabulous spa.
All the hotel rooms are comfortable and when you wake up you will have wonderful views. In the hotel's Lounge 62 bar-restaurant you will enjoy a delicious international menu.
Hilton Prague Old Town
$$$$$ | 5 star | Great location | Excellent Spa | Quality restaurant
If you come to Prague for a business trip or a family trip, this option offered by the Hilton is perfect. It is located near the old town and shopping centers. Hilton Prague Old Town is an elegant hotel with an Art Deco style. You can enjoy excellent varieties of cocktails at the hotel bar or taste an international menu at the Zinc restaurant.
The hotel pool is spacious with good lighting, the hotel also offers a sauna, a beauty treatment center, massages, and a gym.
NH Collection Carlo IV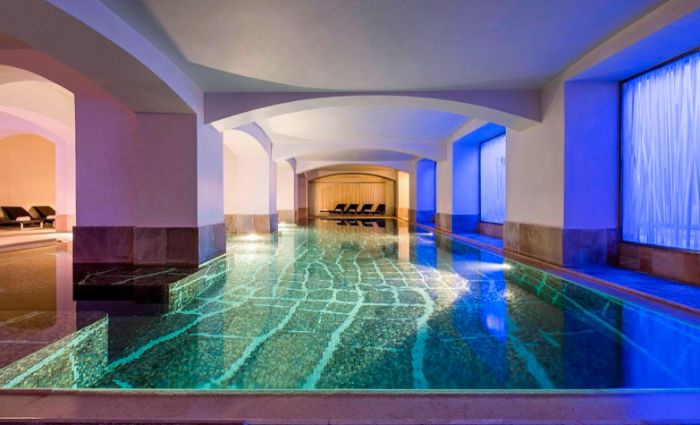 $$$$$ | 5 star | Hotel with one of the best Spa | Luxurious | Relaxing pool
NH Colletion Carlo V is a luxurious hotel with a contemporary style and offers spacious rooms, some with a classic historical style and others with a more modern style, with a spectacular presidential suite.
If you are tired of walking all over the city, dive into the hotel pool for a swim. The pool is 20 meters long, heated and has water massage beds. The hotel offers one of the best Spa in the city. You will enjoy an excellent breakfast in the elegant Inn Ox restaurant. To have a drink and spend a pleasant night there is the option of The Vault bar.
Hilton Prague Hotel
$$$$$ | 5 star | Rooftop bar | Excellent views of the river | Wellnes | Spa | Terrace
This famous hotel also has Hilton Prague in the beautiful Karlin district. It is a spacious hotel, offering modern, elegant rooms, a presidential suite and a terrace.
To comfort yourself, you can swim in the hotel's spacious indoor pool, as well as get a relaxing massage in the spa or use the sauna. When you wake up, you will enjoy the hotel breakfast in the Atrium restaurant, for lunch or dinner a Mediterranean dish is the hotel's cafe bistro, and to spend a pleasant night, have a drink with excellent views of the river there is the rooftop bar.
Orea Hotel Pyramida
$$$ | 4 star | Excellent bar | City views | Large indoor pool
After a stressful day of walking around the castle, enjoy a swim in the hotel pool with great views of the city, work out in the gym. At the hotel's spa you can get a Hawaiian lava stone massage or Swedish massage and more.
The rooms are renovated and comfortable. The hotel has luxury executive rooms, suites with a terrace, a Nebulosa restaurant where breakfast is served every day. In the spectacular hotel bar you can enjoy excellent drinks and a varied menu such as sandwiches, burgers, Czech food.
Hotel Kings Court
$$$$$ | 5 star | Indoor pool with counter-current | Ideal for Business or Pleasure | Luxurious
The luxurious Kings Court hotel has an excellent location close to the old town and Republic Square. The hotel pool is small but very relaxing, with whirlpools and a harmonious atmosphere. If you stay in its luxury suites you will have complimentary snacks, desserts and access to the hotel's pool and spa.
The hotel bar has a cozy and intimate elegant atmosphere. You can taste exquisite Italian food and views of the street from inside or from the terrace of the hotel's restaurant.
Alchymist Grand Hotel and Spa
$$$$$ | 5 star | Indonesian-style pool and spa | Interior patio restaurant
Feel like a member of the bourgeoisie in the elegant rooms offered by this baroque-style hotel. The luxury hotel is distributed between 4 historical bourgeois houses. You will taste an exquisite dinner from a Czech and international menu in the Aquarius Restaurant decorated with hand-painted murals, Venetian stucco, and antique furniture.
The pool and spa have an Indonesian atmosphere. You will listen to relaxing music while admiring the atmosphere of the elegant Spa Exotica. 
Kosher Hotel King David Prague
 $$$$$ | 5 stars | Indoor pool with Jacuzzi | Mikveh | High-quality restaurant
This 5-star hotel offers luxurious rooms and suites. If you stay in the hotel's suites or executive rooms, you will have complimentary access to the pool and spa.
In the Kosher King David restaurant, you will enjoy exquisite dishes of the highest quality, buffet dinners, and varied breakfasts. If you want to eat a snack or drink a coffee you can sit in the lobby bar. The hotel is close to the central train station and shopping centers.
Hotel BoHo
$$$$ | 4 star | Luxurious boutique hotel | Small but relaxing pool
Luxury and comfort characterize this boutique hotel. Imagine relaxing in a calm environment from the pool of the Boho hotel.
 Inside the hotel, you will feel an exclusive atmosphere with impeccable and comfortable rooms. Boho hotel offers a spacious restaurant with open show cooking and a varied menu of international food.
Novotel Praha Wenceslas Square
$$$$ | 4 star | Rooftop terrace | Heated pool
Novotel Praha is located near Wenceslas Square, here you can take a walk in the Prague Botanical Garden which is close to the hotel, or stroll through the I. P. Pavlova area is surrounded by restaurants and cafes.
This modern hotel has a heated indoor pool where you can dive and gain energy. It is ideal for business or pleasure trips. You can eat a local and international menu in the hotel restaurant and enjoy drinks on the roof terrace.