You've probably heard of Singapore as a city-state with exorbitant living expenses. Not to worry, here are some suggestions on the best hotels in & around Singapore! With this handy list, you can have first dibs on future travels and prepare ahead of time.
---
Best Hotels in Singapore at Every Price Point
Choosing where to stay in Singapore may be tough with so many alternatives. You may focus your attention on price, landmarks, dining choices, and other things. Pricing will be the factor discussed in this list. So, while this list does contain some of Singapore's most pricey hotels, it doesn't solely cover the most expensive.
In the order of most to least expensive, we have:
In the list below, we will use the price of a single night stay during peak seasons, such as the holidays, as a benchmark.
Our Partnership with Booking.com. If you like our content, please book by clicking on our Booking.com links. The price is the same for you and we get a small commission that helps support our helpful blog content. We've partnered with Booking.com because they have the most options, great prices, and a solid loyalty program.
The Best "Most Expensive" Hotels In Singapore
Singapore has repeatedly been called one of the world's wealthiest cities. No thanks to a specific Kevin Kwan novel – Crazy Rich Asians, showcasing the country's wealthiest, which ended in a scene shot on Marina Bay Sands' rooftop.
If you can bear to part with the money, there is always room for indulgence. Here are some of the most expensive, luxurious hotels in Singapore with insanely high prices for international visitors with cash to burn and splurge. Expect to pay more than $1000 in these hotels at "Most Expensive" pricing. That will certainly vary if you choose to stay for more days or a non-peak season, so click the "Booking" link which will take you to Booking.com to see prices.
Capella Singapore
$$$$$ | 5 Star | Suitable for Couples | Sentosa Island
Head to Capella Singapore, a verdant hideaway on Sentosa Island, to get away from the city center. If you want to surprise your significant other with a romantic vacay, we recommend staying at one of the 38 villas for a peaceful retreat. Each villa includes an outdoor terrace with its own plunge pool, which is a real pleasure!
Although it is quite costly, if you decide to stay here, you should definitely attempt these things. Taking a long bath with the hotel's famed Aesop products, having afternoon tea in the Capella Living Room, dining at their Chinese restaurant Cassia, swimming in one of the resort's three cascading pools, or simply taking a romantic night stroll around the grounds.
Raffles Singapore
$$$$$ | 5 Star | Super Luxurious | City Hall MRT
Without mentioning the Raffles Hotel, this list would be incomplete. Singapore's grand dame is not just a five-star hotel, but also a national landmark! So, arrange a stay at the renowned hotel and immerse yourself in its vintage charm.
The renowned Raffles Hotel, housed in a magnificently renovated colonial structure, offers a peaceful escape in the center of the city. City Hall MRT Station and Raffles City Shopping Centre are both within a 5-minute walk of the hotel.
The Best "Expensive" Hotels In Singapore
These hotels aren't as "Super Expensive" as those in the previous section, but they're also not as cheap. We certainly won't be seeing it at "Mid-Range Affordable" prices anytime soon.
While hotel prices fluctuate frequently, expect to pay more than $500 in these hotels at "Expensive" pricing. That will certainly vary if you choose to stay for more days or a non-peak season, so click the "Booking" link which will take you to Booking.com to see prices.
Marina Bay Sands Singapore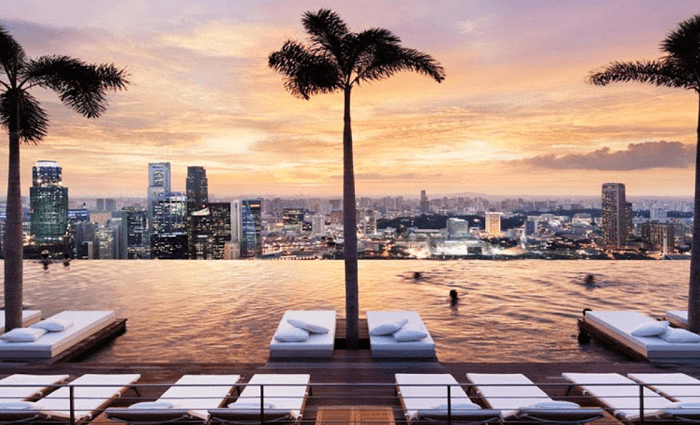 $$$$ | 5 Star | Million Dollar View | Bayfront MRT
The Marina Bay Sands, which was featured in the film Crazy Rich Asians, is a contemporary, super luxurious hotel with world-class service, so don't miss out on your chance to live like a crazy rich Asian for at least one night! At Marina Bay Sands, if you're holidaying in town for the first time, definitely check out their nearby attractions and dining selections.
The hotel is only a few MRT stations from Singapore's CBD, which is well-known for its nightly city skyline (as a hotel guest, you'll get access to the infinity pool on the 57th level, where you'll get to enjoy that magnificent view). The Bayfront MRT Station is also nicely located within the building, which is excellent!
Mandarin Oriental, Singapore
$$$$ | 5 Star | Great for Business Travellers | Promenade/Esplanade MRT
Singapore has a plethora of premium business hotels, the most of which are clustered around the Marina Bay region, near to the CBD. The Ritz Carlton, Fullerton Bay Hotel, Fullerton Hotel… the list goes on and on, but the Mandarin Oriental may be the finest of them all.
The hotel has fantastic Italian cuisine from Dolce Vita. There are also numerous pubs like MO BAR and classy restaurants like Melt Café within the hotel that you won't want to leave for a business meeting or a formal dinner.
Meanwhile, this opulent hotel overlooks Marina Bay and is located just across from the Esplanade, and a 12-minute walk from Marina Bay Sands.
Sofitel Singapore Sentosa Resort & Spa
$$$$ | 5 Star | Sentosa Island | Harbourfront MRT
This hotel ought to be on your bucket list. If you choose to stay at this family-friendly hotel, you will have an unforgettable experience! It's Sentosa, the hottest hotspot for families, children can surely look forward to some adventure in and around the hotel!
If you choose the Infinite Family Experience package, the hotel has a children's activity program that includes everything from art jamming to face painting to accessory making and tote bag painting (spread across different days of the week).
In no time, you will feel at peace in this location. Although it is a little out of the way from the city, if you are visiting the nation for the first time and are prepared to pay a little extra on lodging, Sofitel Singapore is the place to stay. You'll have access to connecting rooms, which is always a bonus for families, and this is before we even get started on the gourmet cuisine options! Even choosy diners will be pleased because the hotel serves almost every cuisine.
W Singapore – Sentosa Cove
$$$$ | 5 Star | Resort Living | Sentosa Island
Regardless of the extra one needed to pay every night, W Singapore delivered undoubtedly one of the greatest 5-star hotel stays I've had in Singapore so far. Even the pool, which has 24 underwater speakers playing handpicked music, works hard to create a 'destination' vibe.
Booking a vacation inside Singapore is simple, but actually immersing oneself in a hotel stay that is distinct from our little island is a very different story. What I really want from a local vacay is the feeling of being in a different place; an island within an island. W Singapore definitely ticks this box strongly.
The Fullerton Hotel Singapore
$$$$ | 5 Star | Classic | Raffles Place MRT
The Fullerton Hotel is a traditional choice for anyone seeking to live the suite life. It is one of Singapore's longest and most refined hotels. The heritage building, which has seen several significant events in Singapore's history, has been meticulously conserved.
What better reason to book a vacation at this great dame for their luxe rooms and suites, outstanding eating places, and a gorgeous pool overlooking the surrounding landscape? Convenience is also just outside your door. The hotel is a 5-minute walk from the Raffles Place MRT Station.
The Best "Mid-Range Affordable" Hotels In Singapore
While staying in a super-expensive 5-star hotel is a privilege, some of us may not want to spend so much money. This section presents comfy nice hotel accommodations that are neither super cheap nor super expensive, but will definitely make you feel good about your stay.
While hotel prices fluctuate frequently, expect to pay a range from $300 – $500 per night in these hotels at "Mid-Range Affordable" pricing. That will certainly vary if you choose to stay for more days or a non-peak season, so click the "Booking" link which will take you to Booking.com to see prices.
Naumi Hotel Singapore
$$$ | 5 Star | Artistic style | Esplanade MRT
A refreshing plunge in an infinity pool against the backdrop of the sparkling city lights is a must-do during a Singapore vacation. Choose your favorite room from Naumi Hotel's collection. Each room category has been meticulously designed and lavishly furnished with eye-catching furniture pieces.
What better way to finish off a wonderful day out than with a Singapore Sling in your hand, taking in the breathtaking skyline views? You'll be glad to know that this modest boutique hotel, with 73 sleek luxury rooms, is also in the heart of Singapore's CBD.
The Capitol Kempinski Hotel Singapore
$$$ | 5 Star | Venetian Renaissance-style | City Hall MRT
Travel back in time to the 1930s at The Capitol Kempinski Hotel Singapore. This premium 157-room luxury hotel ensures serenity and solitude, as well as offers Singapore's first saltwater relaxation pool, which opens from 8 am to 8 pm.
This hotel is also ideally positioned in the City Hall area, opposite St Andrew's Cathedral. Raffles City shopping mall, the National Gallery Singapore, and the Singapore Art Museum are some popular attractions close to the hotel.
The Best "Most Affordable" Hotels In Singapore
Singapore is perhaps one of the top expensive places to live, however that doesn't mean there aren't any low-cost options available. We've compiled some of the top hotels in Singapore under $300 that are full of charm.
Expect to pay a range from less than $100 to $300 per night in these hotels at "Most Affordable" pricing. That will certainly vary if you choose to stay for more days or a non-peak season, so click the "Booking" link which will take you to Booking.com to see prices.
The Scarlet Singapore
$$ | 4 Star | Good for Couples | Chinatown
The inside of the hotel has a classy, romantic atmosphere, and there are quiet spots to unwind while admiring the city views, such as an outdoor hot tub and a rooftop bar. The rooms are also trendy and inviting, albeit some are tiny; the suites are larger and more stylish.
The Scarlet Hotel, located near the vibrant Chinatown neighborhood, is an upmarket hotel that is ideal for couples. Despite the location being a little off—those prepared to spend a little extra might want to try Hotel Mono.
Hotel Mono
$$ | 3 Star | Monochrome style | Chinatown MRT
Hotel Mono, as the name implies, is a trendy hotel with a contemporary, minimalist style. The décor is (surprise, surprise!) monochrome and quite elegant for a budget Singapore hotel, in my opinion. With 46 modern guestrooms, both locals and tourists can enjoy comfy lodgings and a good night's sleep after experiencing the bustling city.
We'd suggest this location for a new vibe to your hotel experience, not only because it's literally a second's walk to Chinatown MRT, but also because you're still in the heart of Chinatown's busy streets.
KēSa House
$$ | 4 Star | Eclectic | Chinatown – Keong Saik Road
The three-story KēSa House is a striking property with a stunning Mediterranean turquoise façade. Each of the five-room types is distinctive in layout and contains intelligent space concepts with a touch of home comfort.
KēSa House is a clever change from the traditional short-stay 'hotel' experience, with an appealing 60-room flexible-living concept and six foreign F&B outlets all under one stunning roof. The property, which is close to the CBD and many coworking spaces, will appeal to young professionals, business travelers, and those looking to fit into the Singaporean way of life comfortably and easily.
Porcelain Hotel Singapore
$$ | 3 Star | Suitable for Couples | Chinatown MRT
Experience the rich traditions of Chinese porcelains mixed with modern stunning hues at Porcelain Hotel, the ideal destination for people seeking a balance of modern décor and ancient charm. The hotel is made out of a few neighboring historic shop-houses that represent the rich history of the area. Guestrooms are properly built to meet that standard.
Porcelain Hotel is brilliantly positioned on Mosque Street, one of Chinatown's most well-known historical alleyways, accompanied by traditional and charming businesses. It's also a one-minute walk from the Chinatown MRT Station, and close to Hotel Mono.