It's no secret that having a car is difficult in San Francisco. With numerous parking laws and minimal parking spaces, getting a ticket—or even towed—is common when visiting this City by the Bay. So, how are you supposed to get around to see the sights? This post will tell you all about how to get around San Francisco, so you can spend time enjoying your trip.
---
Pro Tip: It's easier to organize your trip when you have all your resources in one place. Bookmark this post along with our San Francisco Guide for more planning resources, our best San Francisco tours for a memorable trip, and how to spend 3 days in San Fran (with itinerary).
Your Options For Getting Around San Francisco: Bus, Trains, Bikes, Ferries, Uber/Lyft
San Francisco is only 7 miles by 7 miles, but within those 7 miles, there's a lot to see. Despite its famous hills, it's actually a pretty walkable city. However, 7 miles is still a fairly long way, so it's helpful to have another mode of transportation to get around.
Many of the types of transportation we will discuss in this article are also helpful for getting you to the many famous cities that are close to San Francisco. Read on to learn all about how to get around San Francisco!
MUNI Bus and Train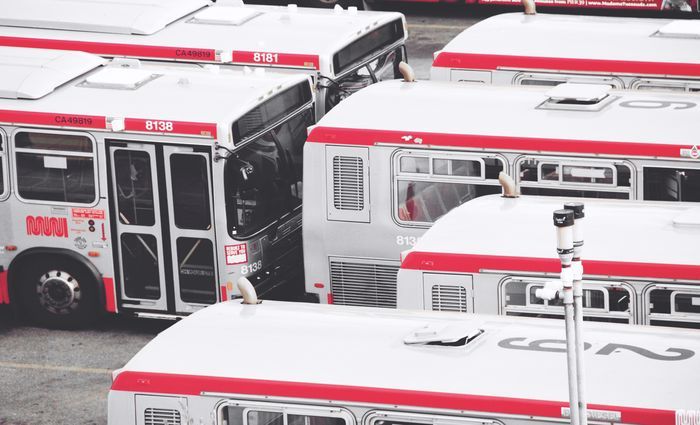 To get around most neighborhoods in San Francisco, you will be using the MUNI system. Short for "San Francisco Municipal Railway," the MUNI system is made up of both buses and underground trains.
Here's how you tell the difference: the underground trains are all named with letters, like K, L, or N. The above-ground buses are named with letters (1, 23, 29, etc.).
The best way to determine which bus or train to use to take you where you are going is by checking the route on Google Maps. There are also helpful map signs posted on the street next to the train and bus stops.
MUNI Ticket Info
There are three ways to pay for the MUNI trains and buses. Firstly, you can give cash to the conductor when you get on the train, or pay with cash or card in a machine inside the station. Please keep in mind that the conductors do not give change. You will get a paper transfer that will last for two hours, and it will cost $3.00. There are discounts for seniors and children.
Alternatively, you can use the MuniMobile app to get a digital pass on your phone, which will also last 2 hours and costs $2.50. You can also use the MuniMobile app to purchase a day-long pass for $5. This is totally worth it if you will be using the MUNI bus or train more than once in a day!
Lastly, you can purchase a Clipper Card. This is a plastic card you can load money onto. The card itself costs $3. You can buy it at stands around the city, inside any MUNI stations, and at select stores. Each 2-hour MUNI ride costs $2.50.
Otherwise, you can download the Clipper Card app and pay from your phone. We recommend buying a Clipper Card if you will be taking the BART train for any reason. What's the BART train, you ask? It's another way to get around San Francisco!
Popular San Francisco Tours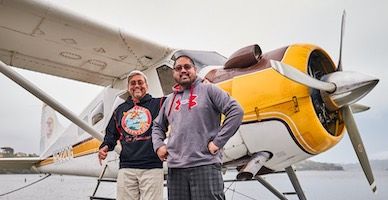 Best Selling Tour
Morning in Marin: Muir Woods, Seaplane, and Sausalito Ferry Tour
A VIP experience with a local storytelling guide. With hotel pickup included from San Francisco, begin your day in style. Head to the Muir Woods before the crowds and spend an hour amongst thousand-year-old Giant Sequoia trees. Next, hop onto a seaplane, take in the beauty of the bay, and see the top sights from above. Once landed, enjoy a locally-sourced lunch in Marin. The day ends in Sausalito for free time to explore before ferrying back to San Francisco.





Starting at $449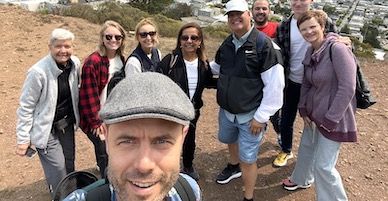 Likely to Sell Out
San Francisco in a Day Tour with Golden Gate Bridge and Alcatraz
In a small group, hop on board and see San Francisco with a local expert. Visit the Golden Gate Bridge, the Twin Peaks, and countless hidden gems on this full-day exploration. The last stop of the day is Alcatraz. Embark the ferry and see the stunning surroundings of San Francisco Bay before reaching the infamous prison. Once you disembark, enjoy the famous Cellhouse Audio Tour where you can explore the entire prison and island. Hotel Pickup Included.





Starting at $179
Not ready to book a tour? Find out if San Francisco tours are worth it.
BART Trains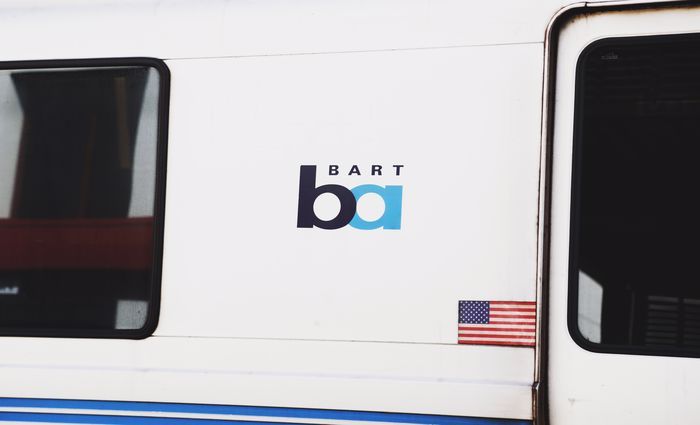 The BART trains are solely underground. The only way to pay for BART is with a Clipper Card, which costs $3 to purchase regardless of if you use it for MUNI or BART. And you can add money at the same machine you bought the ticket at. The Bay Area Rapid Transit system is the only public transportation to get into San Francisco from the SFO Airport.
If you're heading to any of the best hotels in San Francisco, you will take the BART train from SFO to either Powell, Montgomery, or Embarcadero stations. These are all the downtown San Francisco stations, and taking BART to any of them will cost $9.65 from the airport. Get on the BART train in the "Antioch" direction, not Millbrae! That will take you in the opposite direction away from downtown SF.

You can also use BART trains to get to Oakland and other cities in the East Bay, such as Richmond, Walnut Creek, and Berkeley. Inside all BART stations, there are helpful maps to tell you which BART trains you can take to which city and how much it costs.
The trains are separated by colors: yellow, blue, etc. Each one goes to different East Bay cities. Getting to other Bay Area cities from downtown San Francisco is usually pretty affordable on BART. For example, you can get from downtown San Francisco to downtown Berkeley for just $4.35 one-way! It's an easy solution for how to get around San Francisco.
Not ready to book a tour? Read more in our San Francisco Guide.
Caltrain

Caltrain is another transportation system that can take you to cities just outside San Francisco. There is a Caltrain station in San Francisco close to Oracle Park (home of the San Francisco Giants).
The Caltrain doesn't take you anywhere within San Francisco, but it takes you to the South Bay. This is where Silicon Valley is located, so if you're planning on visiting Silicon Valley while in San Francisco, Caltrain is the easiest way to get there.

You can also use a Clipper Card to pay for Caltrain, or you can use the app, Caltrain Mobile. If you don't have a Clipper Card or the app, you can use the ticket machine inside the Caltrain station. There is no way to buy a ticket on the train, so you must buy it either from the machine or on the app before you get on the train.

To travel to Silicon Valley from San Francisco, it costs between $8 and $11 one-way, depending on where exactly you are going. If you use the Clipper Card, it is a little cheaper, and will cost between $7 and $10 instead. Just like with the BART train, there is a map inside the Caltrain station to help you determine the cost of your Caltrain ride.
Cable Cars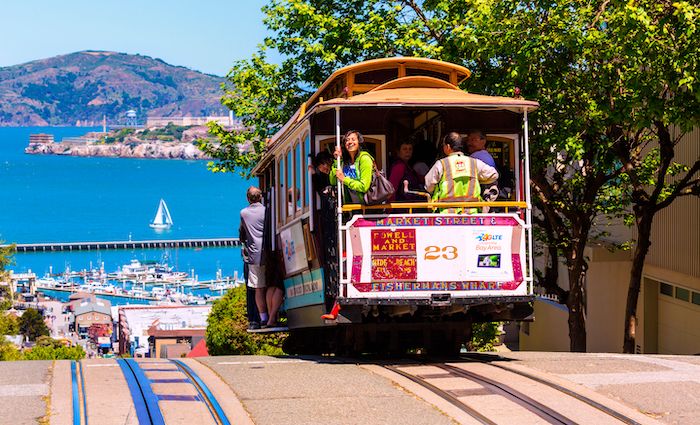 Contrary to what many people believe, the famous cable cars are not a typical way to get around San Francisco. They will stop between several popular destinations, but each time you get on a cable car, it costs $8 one-way, so it's not exactly cost-effective. Nevertheless, it makes for fun photos and an iconic memory for how to get around San Francisco.
There are three cable car lines. Two of them start at Powell and Market, and can take you to Fisherman's Wharf, passing the iconic Lombard Street. The third one starts at California and Market streets and takes you to Van Ness Avenue.
Whichever cable car route you choose, you can board at the cable car turntable and pay with either cash, MuniMobile, or a Clipper Card. Although the cable car isn't a practical way to get around the city all day long, it's definitely an "only in San Francisco" activity to do once when you're visiting the city!
Planning your trip to San Francisco? Check out our top things to do in San Francisco, plus the top foods to try, and the best hotels in the city!
Ferry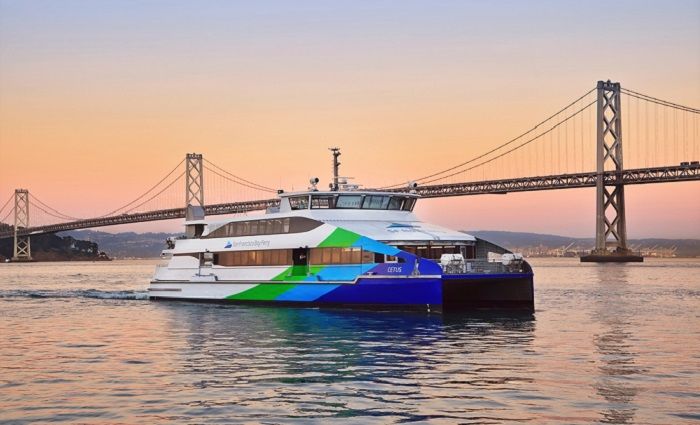 Just like with Caltrain and the cable cars, using the ferry isn't a practical way to get around San Francisco proper. However, you can use either of San Francisco's two ferry systems to take you to Oakland, Sausalito, Berkeley, and other popular destinations. It's ideal if you want to venture out of the city, but you didn't rent a car.

San Francisco Bay Ferry can take you to Oakland, Alameda, Vallejo, Richmond, and South San Francisco. There are several ferry stops in San Francisco depending on where you're going. You can use your Clipper Card, cash, or mobile apps, and it will cost between $4.50 and $11.25 one-way. Children under 5 ride the ferry for free.
The other ferry system, Golden Gate Bridge Highway & Transportation District, can take you to Sausalito, Larkspur, Tiburon, and Angel Island. The price of adults is around $13.50 or $14.00 one-way, unless you use your Clipper Card, and then it's between $7.50 and $9.00 one-way.
E-Bikes & Bikes
Although there used to be electric bike stands all over San Francisco, these seem to have all been replaced by Bay Wheels, an e-bike sharing program managed by the ride-share company Lyft. The Bay Wheels e-bikes are available on the Lyft app for as low as $3, and they are a popular way to get around San Francisco.
Regular bikes are also a great way to get around the city. Many hotels offer bike rentals, and there are also many places around the city to rent a bike for a day. Prices for a day-long bike rental start at around $26. San Francisco's many hills make biking around the city an adventure (thus the e-bikes are super handy), but with a bike, you don't have to worry about parking tickets or waiting for bus delays.
Many people like to rent a bike to cycle across the famous Golden Gate Bridge, end up in Sausalito, have lunch and then bike back over to the city. Don't forget your helmet!
Not ready to book a tour? Find out if San Francisco tours are worth it.
Uber/Lyft and Taxis
Uber and Lyft are popular ride-share services that can take you around San Francisco with ease. These might be good to use if you are with a bigger group, or you're out late at night when it's difficult to get a bus. A Lyft or Uber ride all the way across town—say, between Ocean Beach and the Embarcadero Waterfront—typically costs between $20-30 and takes around half an hour.
The prices are subject to change at popular hours, and the ride may take longer when there's a lot of traffic. People frequently use Lyft or Uber to travel to and from the airport if they are in a hurry and don't want to wait for the BART train to arrive. It usually costs between $15 – $30 to get to the city from the airport.
Even in the age of ride-share apps, taxis are still used in San Francisco. One of the most famous cab companies in the city, Yellow Cab, has its own app called YoTaxi. With this app, you can head to the airport from anywhere in San Francisco for a flat rate of $35. It's a great deal to avoid surge pricing or when you're a little further from the airport.
Walking
Like we mentioned above, San Francisco is a very walkable city within each neighborhood. It is also very popular among joggers. If you're a walker and staying in downtown San Francisco, you should be able to get to many surrounding areas in half an hour or less.
Keep in mind that the hills may be difficult for some. Look both ways before crossing the street and wear comfortable walking shoes!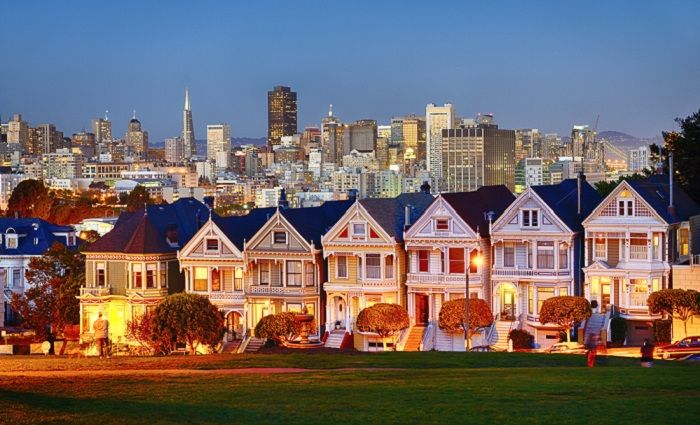 Find the best places to stay
Where to Stay in San Francisco
Make the most of your visit to San Francisco by choosing to stay in the best neighborhoods for seeing all this iconic city has to offer. You'll love our hotel recommendations.