The Mission District is one of the most vibrant and culturally diverse neighborhoods in San Francisco. Discover the top places to eat in this trendy part of town.
---
Pro Tip: It's easier to organize your trip when you have all your resources in one place. Bookmark this post along with our guide to San Francisco for more planning resources, our best San Francisco tours for a memorable trip, and how to spend 3 days in San Fran (with itinerary).
The Best Restaurants in San Francisco's Mission District
A trip to San Francisco is not complete without visiting the Mission. Known as a historically Latino neighborhood, the Mission has also recently become known as a trendy spot for nightlife and events, due in part to the complicated gentrification in the city.
You'll find amazing Mexican and Latin American food in the Mission (the most famous item being the super burrito) as well as a mix of other cuisines. Another great thing about the Mission is that it offers a wide array of dining options within just a few streets, from hole in the walls to Michelin star dining. Read on to discover the best restaurants in the Mission District of San Francisco
If you love food and travel, you'll love going on a food tour! Check out our local food tours in San Fran—they're a great way to explore a new city and eat good authentic food.
Not ready to book a tour? Find out if San Francisco tours are worth it.
Loló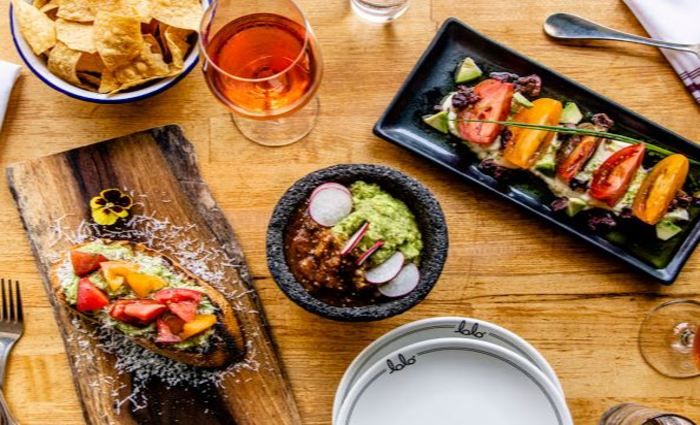 $$ | Mexican Food with a twist | Some Outdoor Seating
A family-owned Mexican restaurant that prides itself on serving non-traditional food. You'll find menu items like fried avocado tacos, cauliflower tacos, or their "taco tropical" with spicy panko crusted shrimp on jicama tortillas. They also serve cricket tacos for those willing to eat outside the box. Loló describes its food as Jaliscan-Californian inspired cuisine, so think Mexican flavors with a twist.
The presentation is sleek, with most plates on the smaller side. The interior is casual but colorful, and they have a patio dining area as well. This is a good spot if you're craving a more upscale Mexican restaurant dining experience.
Address: 974 Valencia St, San Francisco
Foreign Cinema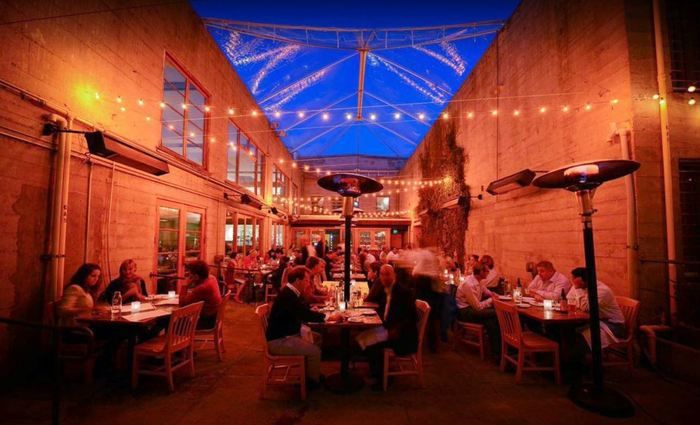 $$$ | Californian Cuisine | Some Outdoor Seating
Foreign Cinema is somewhat of an icon in San Francisco. It's been a San Francisco Chronicle "Top 100 Restaurant" for eighteen consecutive years. Plus, September 18th was actually proclaimed "Foreign Cinema Day" in San Francisco! What makes it special? Part of its uniqueness comes from the fact that the indoor dining room features a fireplace and open kitchen, while movies are screened against a white wall in their covered outdoor patio.
Food-wise, Foreign Cinema offers a California-Mediterranean influenced menu and full oyster bar. The menu changes regularly but expect to find plates such as peppercorn duck breast, Wagyu flat iron steak and a charcuterie board. This is a great spot for a romantic date night in the city.
Address: 2534 Mission St, San Francisco
Top San Francisco Tours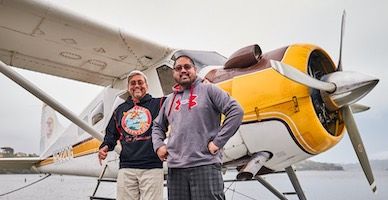 Best Selling Tour
Morning in Marin: Muir Woods, Seaplane, and Sausalito Ferry Tour
A VIP experience with a local storytelling guide. With hotel pickup included from San Francisco, begin your day in style. Head to the Muir Woods before the crowds and spend an hour amongst thousand-year-old Giant Sequoia trees. Next, hop onto a seaplane, take in the beauty of the bay, and see the top sights from above. Once landed, enjoy a locally-sourced lunch in Marin. The day ends in Sausalito for free time to explore before ferrying back to San Francisco.





Starting at $449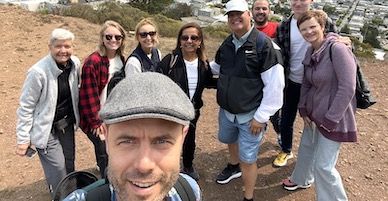 Likely to Sell Out
San Francisco in a Day Tour with Golden Gate Bridge and Alcatraz
In a small group, hop on board and see San Francisco with a local expert. Visit the Golden Gate Bridge, the Twin Peaks, and countless hidden gems on this full-day exploration. The last stop of the day is Alcatraz. Embark the ferry and see the stunning surroundings of San Francisco Bay before reaching the infamous prison. Once you disembark, enjoy the famous Cellhouse Audio Tour where you can explore the entire prison and island. Hotel Pickup Included.





Starting at $179
Not ready to book a tour? Find out if San Francisco tours are worth it.
Taquería El Farolito
$ | Casual Mexican | No Outdoor Seating
Home of the infamous Mission-style super burrito! If you like burritos, a trip to San Francisco is simply not complete without trying one of these. Mission burritos became popular in San Francisco in the 1960s and are arguably one of the city's most famous foods – they're basically extra huge burritos filled with more ingredients than a normal burrito. You can find them in multiple locations, but we love this place.
This is an extremely no-frills taqueria. While it's popular throughout the day, it's open late and is a perfect choice when late night hunger hits. There's not a ton of seating and it's usually fairly crowded so it's better to plan on grabbing your burrito to-go. Note that this place accepts cash only.
Address: 2779 Mission St, San Francisco
Bi-Rite Creamery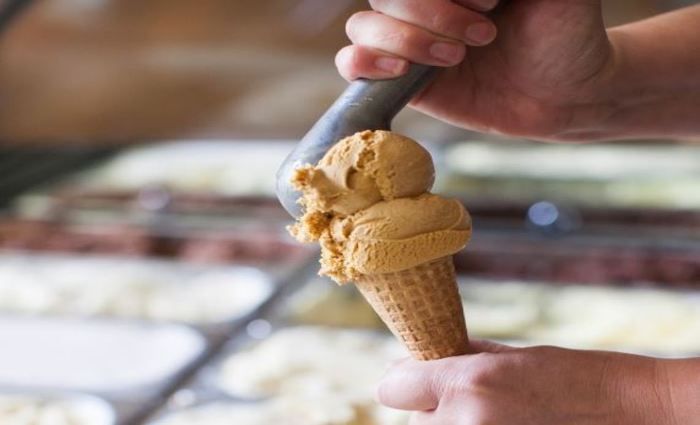 $$ | Ice Cream | No Outdoor Seating
Bi-Rite Creamery is an infamous sweet tooth stop in San Francisco. It's the first ice cream shop in the city to use local, organic dairy from the Straus Family Creamery, located just 45 miles north of San Francisco, and make all recipes from scratch. They make everything that goes into their ice cream, including the brownies, peanut brittle, marshmallows, and the snickerdoodles. The result is incredibly good ice cream that tastes fresh and more flavorful than your average ice cream shop.
We recommend trying one of their signature flavors, like salted caramel or balsamic strawberry flavor. If you stop by on a sunny day, you'll most likely have to wait in line, but it's worth it!
Address: 3692 18th St, San Francisco
Flour + Water
$$$ | Italian | Some Outdoor Seating
Open since 2009 in the heart of the Mission, Flour + Water focuses on Italian specialties with a bit of Northern California flavor mixed in. The main menu items are Neapolitan-style pizzas cooked in a wood-fired oven and a variety of pastas. If you have a soft spot for pasta, we encourage you to try the six-course pasta tasting menu, which are usually extremely creative and change on a daily basis. This is our top vote for Italian food in the neighborhood!
Address: 2401 Harrison St, San Francisco
El Techo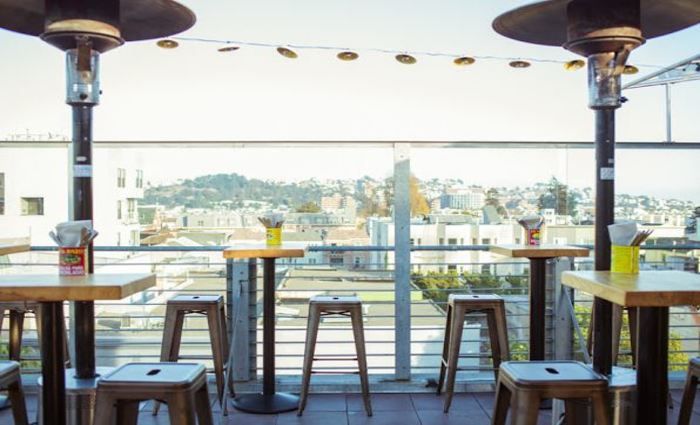 $$ | Latin American Street Food and Drinks | Outdoor Seating
Cocktails, street food and rooftop views. Need we say more? El Techo's rooftop offers expansive views of the city, and has wind screens and heat lamps for those chilly San Francisco nights. While the food here is good, this spot made our list more for its ambiance and drinks. Happy hour is on weekdays from 4pm to 6pm, when margaritas are offered for seven dollars and sangria pitchers for eighteen dollars. They also have brunch on Saturdays and Sundays, which was named one of the 100 best brunch restaurants in America by OpenTable.
One downside here is that they only accept reservations for brunch. If you're thinking about having dinner here, we highly encourage you to arrive early, or be prepared to be on the wait list for a while.
Address: 2516 Mission St, San Francisco
Planning your trip to San Francisco? Check out our top things to do in San Francisco, plus the top foods to try, and the best hotels in the city!
St. Francis Fountain
$ | Latin American Street Food & Drinks | Outdoor Seating
Over one hundred years old, St. Francis Fountain is San Francisco's oldest diner. They serve all the classics like burgers, sandwiches, pancakes and old-fashioned milkshakes. Prices are cheap and the food is consistently good, but don't expect anything fancy here. This is a good choice if you're looking for some comfort food with zero pretentiousness.
Address: 2801 24th St, San Francisco
Lazy Bear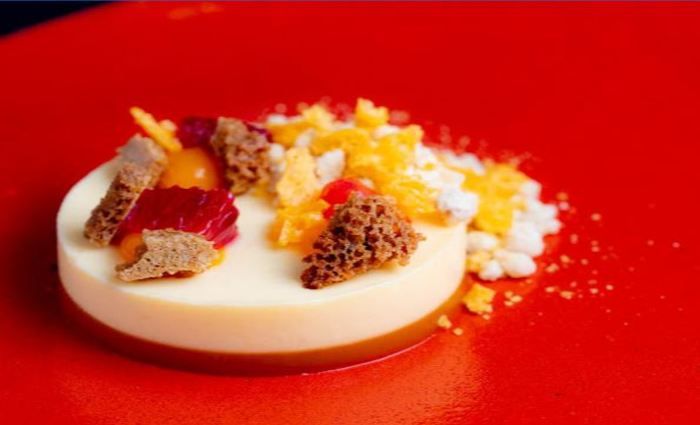 $$$$ | Latin American Street Food & Drinks | Two Michelin Stars
What started as an underground restaurant in a chef's apartment has now become a two star Michelin restaurant. This is by far the most expensive place to eat on our list. Prices range from 245 to 265 per person depending on the day of the week, and reservations are sold in ticket form. The menu changes daily, but past dishes include petrale sole with aged white burgundy, coal-roasted oxtail, scallop hot pot and sunchoke fondue.
While this is certainly a fine dining experience, Lazy Bear is a bit more relaxed and creative than your average fancy restaurant. Groups start out upstairs over small bites in a space that feels a bit like a speakeasy, then head downstairs to large communal tables for dinner.
Address: 3416 19th St, San Francisco
Farmhouse Kitchen Thai Cuisine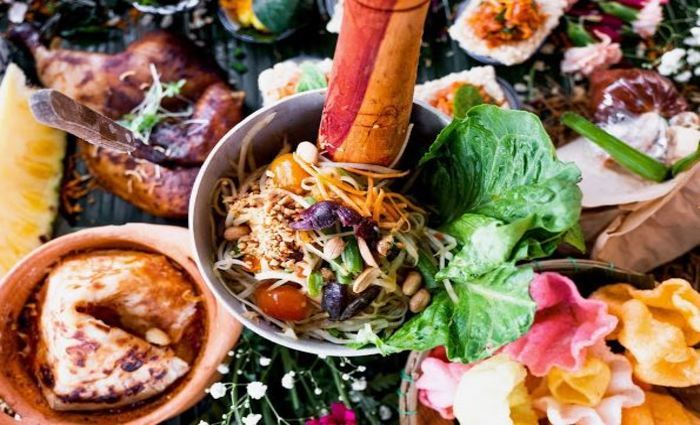 $$ | Thai | Some Outdoor Seating
Customers rave about the decor and ambiance at this spot. The atmosphere is lively, with friendly service and a large focus on phenomenal food presentation. Classic Thai dishes and street food are served with lots of flavor and heaping servings. If you're in the mood for Asian cuisine, this is our top vote in the Mission neighborhood. As a plus, if you happen to be celebrating a birthday here, you'll be treated to an awesome performance of Thai songs and music.
Address: 710 Florida St, San Francisco
Not ready to book a tour? Find out if San Francisco tours are worth it.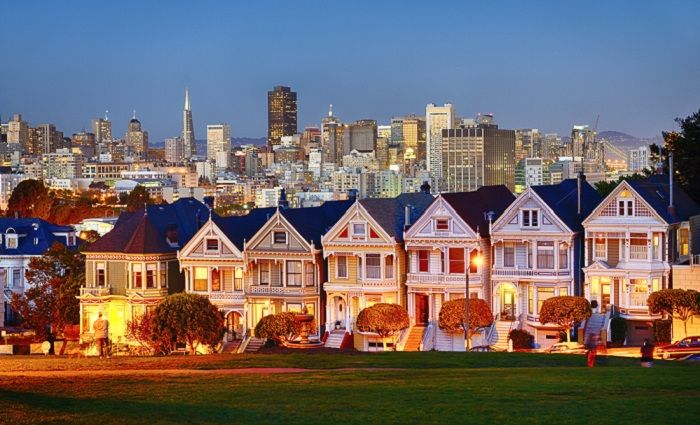 Find the best places to stay
Where To Stay in San Francisco
Make the most of your visit to San Francisco by choosing to stay in the best neighborhoods for seeing all this iconic city has to offer. You'll love our hotel recommendations.