If you're headed to Athens, you'll want to know the best spots to grab a drink and enjoy the atmosphere of the city. There's no better place to do that than in the heart of the Athens—the Plaka District. Our local expert shares the coolest bars, restaurants, and cafés in Plaka for great food, drinks, and vibes.
---
Pro Tip: It's easier to organize your trip when you have all your resources in one place. Bookmark this post along with our Athens Guide for more planning resources, our top Athens tours for an easy way to see the best of this historic city, plus the best Greek dishes to try.
Top 11 Places To Eat in Plaka, Athens
Plaka is the most amazing spot in the very center of Athens. We Athenians love it because it reminds us of a Greek island. The cobbled streets and beautiful neoclassical buildings create a unique atmosphere.
Don't miss out on the chance to spend some time discovering this central neighborhood as you'll likely be amazed by all its different characteristics. Plaka is also the ideal place to find great places to eat or meet locals in bars.
In Plaka, you'll find some of the coolest bars, restaurants, and cafés at every price range. Most people choose to spend some time there to relax and enjoy the heart of Athens.
Not ready to book a tour? See our Best Athens Tours to Take and Why.
Amygdalo
€ | Health Bar | Coffee | Take Away | Vegan Options
Amygdalo is the perfect place to stop first thing in the morning for a cup of coffee and a healthy snack. This is one of my favorite take-away coffee shops. It's really cute and very Instagrammable. You can sit on the swing outside the café and take some beautiful shots!
Most importantly though, their coffee is really tasty and affordable. Plus, you'll find different traditional and local health products including options for vegans. I recommend accompanying your coffee with a delicious grain bar made of Greek nuts.
Address: Epimenidou, 1
Melina Mercouri Café
€€ | Vintage Style | Indoor and Outdoor Seating
Melina Mercouri Café is a really beautiful spot in the heart of Plaka. The interior is decorated to honor Melina Mercouri, a beloved local actress, activist, and politician, with portraits and photos. The café owner was a close friend of Mercouri, which is why he's dedicated this vintage café to her.
If the weather is sunny, you can enjoy your coffee outside and admire the beautiful street and enjoy a quality cup of coffee and tasty sweets. For an extra-nice experience, you can also ask for some meze. In Greek, meze are small plates of food often accompanied by a glass of ouzo or wine.
Address: Lysiou, 22
Check Out Our Best Athens Tours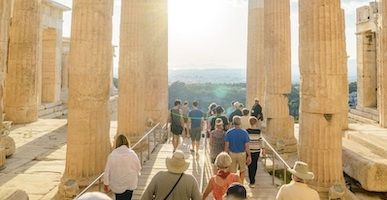 Top Rated Tour
Skip the Line Acropolis Tour with Parthenon and Museum

Towering above the modern city of Athens, explore the ancient forum home to the relics of Classical Greece. From the world's oldest theatre to the iconic Parthenon, the Acropolis is a beacon of civilization and philosophy. Head back in time to the time of Plato and Socrates on this Skip-the-Line tour.





Starting at €80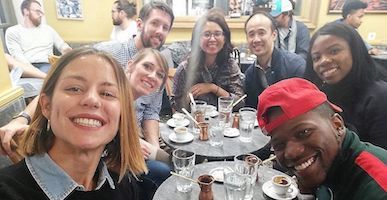 Likely to Sell Out
Athens "Locals" Food Tour in Monastiraki

Explore the gastronomic world of Athens through the city's central market. Enjoy homemade pastries, authentic wines, cheeses, honey-soaked donuts, and much more. Your local guide will lead you through the best spots in the lively Monastiraki neighborhood for a delicious experience in Athens.





Starting at €68
Not ready to book a tour? Check out our Best Tours to Take in Athens and Why.
Eat At Milton's
€€ | Greek Cuisine | Modern Dishes
If you're looking to try Greek dishes with a modern twist, Eat At Milton's is the place to go. Here, you can choose from a menu of dishes prepared with Greek products and contemporary style. Cooking is certainly a work of art here. After finishing your meal, don't leave without trying a dessert!
What's also exciting about Eat At Milton's is the atmosphere of the place. The food is modern but the decor is timeless and very relaxing. You'll find the staff friendly and helpful, so don't hesitate to reserve a table for lunch or dinner. They're open late, which is nice if you're looking for one last place to stop that isn't a busy bar or nightclub.
Address: Adrianou, 91
Platanos Tavern
€€ | Outdoor Seating | Family Friendly | Authentic and Hearty
If you visit Athens, you can't leave without having your lunch or dinner at Platanos Taverna in Plaka. Since 1932, a lot of famous people have visited Platanos Tavern, such as Kostis Palamas, Marika Kotopouli, and Henry Miller, among others. It is a great place to enjoy your meals and live the experience to taste your dishes like a Greek.
Platanos Tavern offers only traditional, homemade dishes. That means you'll have the chance to taste authentic Greek cuisines such as moussaka, horiatiki salad, fresh seasonal fruits, and Greek desserts like karidopita. Don't hesitate to ask for a glass of tsipouro or ouzo but be careful. This is not your typical shot! Drink it slowly.
Address: Diogenous, 4
Yiasemi
€€ | Indoor and Outdoor Seating | Roof Garden
Yiasemi is one of the most picturesque café-bistros in Plaka. In Greek, Yiasemi translates to "jasmine flower". It's such a beautiful place to relax and take in local life. You can choose to sit either indoors or outdoors.
Naturally, the café's outdoor space is more popular with tables and chairs placed on Plaka's steps. You can also choose to sit in the roof garden where it's a little quieter and really picturesque.
If you head to Yiasemi early in the morning, get an authentic cup of Greek coffee and accompany it with a traditional sweet pie. As a bonus for some tourists, Yiasemi also offers a vegetarian buffet breakfast.
Address: Mnisikleous, 23
Not ready to book a tour? Check out our Athens Guide and Best Tours to Take in Athens and Why.
Brettos
€€ | Bar | Historic Distillery | Vintage Vibes | Great Atmosphere
If you are a liqueur lover and wondering where to taste some unique liqueurs, you must visit Brettos bar. In 1909, Brettos operated as a distillery for the production of ouzo, brandy, and liqueur for about 20 years. Today, it is a super cool bar where you can try a variety of liqueur flavors.
The place is totally different from the typical bars. Colorful backlit bottles decorate the bar, which means it's another totally instagrammable place. What I really like about this bar is that it's the best place to buy my favorite bottle of liqueur and enjoy some great company.
Address: Kydathineon, 41
Thea Terrace Bar
€€€ | Rooftop Terrace | Cocktails | Acropolis View
A top reason why I love Athens has to be the great Parthenon monument. An amazing place to enjoy a drink or a cocktail at night is Thea Terrace Bar since it offers the best views from the rooftop terrace. This bar is a bit more expensive than others, but the Acropolis views make it worth it.
Thea Terrace Bar is the ideal place to spend summer evenings. The weather in Athens during the summer months is really hot, but the evenings with a breeze on a rooftop terrace are delightful. The bar is also open in the morning, so you can start your day here by having a cup of coffee overlooking the Parthenon too!
Address: Apollonos, 21
Not ready to book a tour? Check out how to visit the Acropolis or The Best Tours to Take in Athens and Why.
2 Mazi Restaurant
€€€ | Upscale | Contemporary Greek Cuisine | Outdoor Seating
2 Mazi Restaurant is on the edge of Plaka in an old neoclassical building. You can choose to reserve a table either indoors or outside in the restaurant's garden. I would choose outside. It's a really beautiful place that gives you Greek-island vibes.
The restaurant serves modern gourmet Mediterranean dishes. Whether you order fish or meat, the dishes are cooked with great spices and fresh Greek ingredients. They are all also beautifully presented, making this a fabulous dining experience.
Address: Nikis, 48
Warehouse CO2
€€ | Wine Bar | Signature Cocktails | Great Snacks
Warehouse CO2 is a great choice if you want to taste different types of wine. However, even if you aren't a wine lover, you'll find some amazing signature cocktails to try too. Accompany your drink with one of their gourmet dishes. My favorite is the crab—it's so tasty.
The bar has an industrial-modern feel. It definitely combines the old with the new and is a special place in the heart of Plaka. The low lighting is relaxing so you can enjoy your wine with friends and enjoy some great food too.
Address: Hyperidou, 1
Odos Lysiou
€€ | Rooftop Terrace | Acropolis Views | Live Music
Odos Lysiou is one of the coolest spots in Plaka, especially for its rooftop terrace and killer views of the Acropolis and Lycabettus hills. Go for a mid-day coffee, for lunch, dinner, or even for a drink at night.
The restaurant regularly has live music concerts, which are great fun while enjoying the gourmet Mediterranean dishes and tasty drinks. It's a great way to experience even more of local Greek life!
Address: Mnisikleous, 22 & Lysiou Corner
Not ready to book a tour? Check out our Athens Guide or The Best Tours to Take in Athens and Why.
Cafe Plaka
€€ | Rooftop Terrace | Cozy Vibe | Pet Friendly
At Cafe Plaka, you'll enjoy great views of Lycabettus Hill and the whole city of Athens from their cute rooftop. It's certainly an ideal place to start your day.
I recommend spending the morning here. They serve a variety of delicious sweet and savory options that are perfect for breakfast. brunch, or lunch. The waffles are a firm favorite.
Address: Tripodon, 1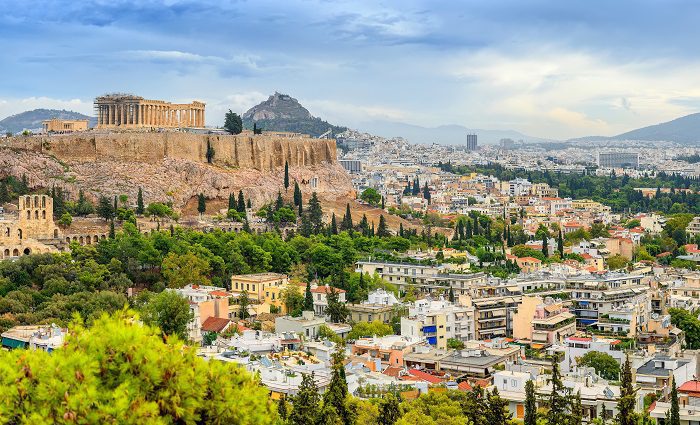 Find the best places to stay
Where To Stay in Athens
A great hotel at a great price has become the norm in this internet era. Our article explains what areas are the best in Athens, so you can get a great deal in the perfect location!