Traveling to Amsterdam soon and want to visit some cool places? There's never a dull moment in this city! It's full of possibilities and there's always something to do on every street! Here's a curated list of the coolest bars in Amsterdam for a few interesting nights out.
---
Pro Tip: It's easier to organize your trip when you have all your resources in one place. Bookmark this post along with our guide to Amsterdam for more planning resources, our best Amsterdam tours for a memorable trip, and the top things to do in Amsterdam.
Unique Bars To Try in Amsterdam
Spice up your Amsterdam trip or impress your travel buddies by taking them to the coolest spots in Amsterdam. If you're up for trying out unique and quirky bars, this list is for you. Read on to discover our favorite bars for a memorable experience on your trip to Amsterdam.
Xtracold Icebar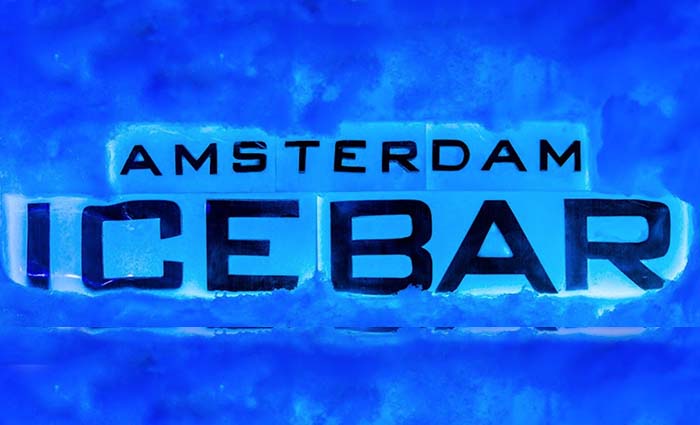 €€ | Ice Bar
This bar maintains a steady temperature of -10 degrees Celsius and absolutely everything from the walls to the glasses is made of ice. You may be wondering if this is a bit too far on the cold side. Not to worry, the bar provides you with a warm coat, warm gloves, and a warm welcome!
Once the ice bar gets too cold for you, head to their regular bar and enjoy great cocktails. This is definitely a unique experience on its own and a must-try! How many people get to say they've visited an ice bar in Amsterdam?
Address: Amstel 194
Ton Ton Club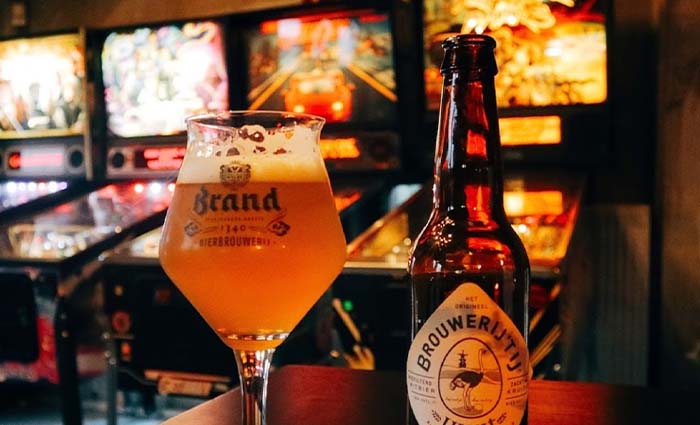 €€ | Arcade and Board Game Bar
Arcade games plus drinks? Talk about an adult paradise! Right behind the beautiful Oude Kerk in the city, you will find the TonTon Club. This unique bar in Amsterdam is a retro arcade and board game bar. It's the perfect place to enjoy a fun night out in the city.
Enjoy a few drinks while playing arcade or board games against your friends. You're guaranteed a fun night of playing, eating, and drinking. This place is the ultimate playground for adults. Let the games begin!
Address: Polonceaukade 27
Bar Rouge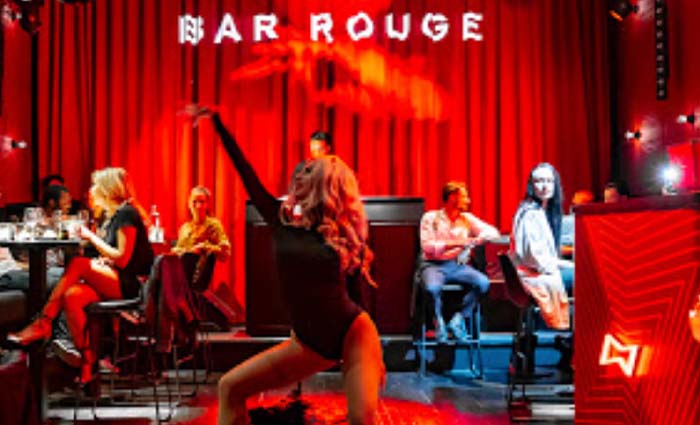 €€€ | Cocktails and Shows
Right in the heart of the city, you'll find it all in one place. Bar Rouge is an intimate Parisian restaurant, bar, and nightclub. However, this is no regular place. Here, you'll enjoy some delicious cocktails plus a show.
Everything you need for the perfect night out can be found at Bar Rouge. Start the night off by enjoying Asian cuisine, cocktails, and dance into the night.
Address: Singel 460
Not ready to book a tour? Check out our Amsterdam Guide for more resources.
SkyLounge Amsterdam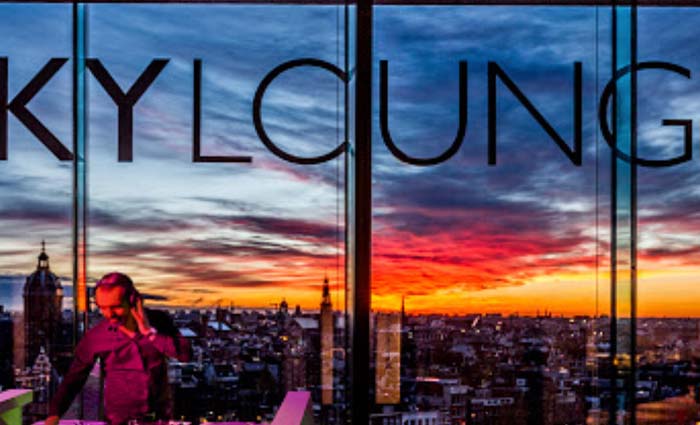 €€€ | Fantastic Rooftop View
The SkyLounge is definitely a must on your visit to Amsterdam. During the day, it's the perfect place to enjoy a meal with a view. At night, it offers an unforgettable experience!
Indulge in the outstanding cocktails this bar has to offer and also experience Amsterdam's nightlife. The SkyLounge offers panoramic views of the energetic city of Amsterdam.
Address: Oosterdoksstraat 4
The Tara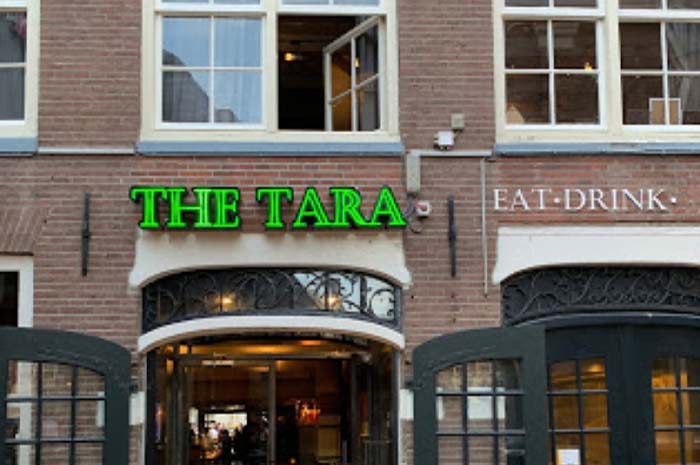 €€ | Multiple Bars
From the outside, the bar looks like any other location—a nice quaint place to grab a bite to eat or for a quick drink. However, this astonishing bar actually has multiple bars inside, each offering a different atmosphere.
The owners of the bar managed to create five different rooms that are playfully connected to each other yet all providing a different experience. This bar is perfect for larger groups and you're guaranteed a great ambiance.
Address: Robin 85
Door 74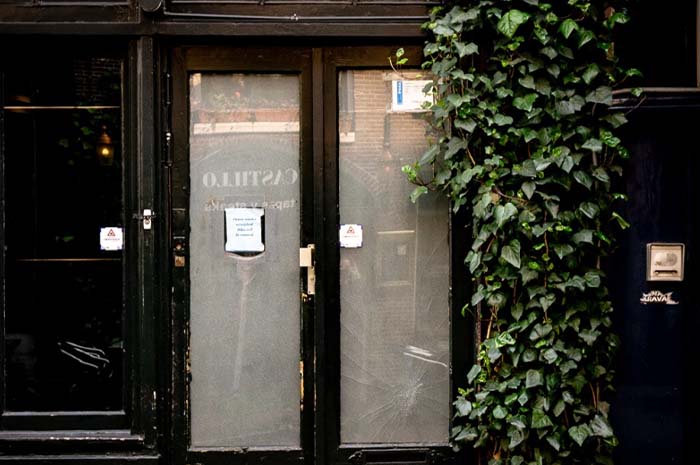 €€€ | Speakeasy
Hidden in the busy center of Amsterdam, you'll find the first speakeasy-style cocktail bar in the Netherlands. Door74 is an exclusive bar that guarantees a sophisticated atmosphere with charming and antique bar decor.
Come for the classic and creative cocktails. Just make sure not to miss the entrance of the bar as it can easily be mistaken for any other ordinary door. However, once inside, you'll have an unforgettable experience.
Address: Reguliersdwarsstraat 74
Supperclub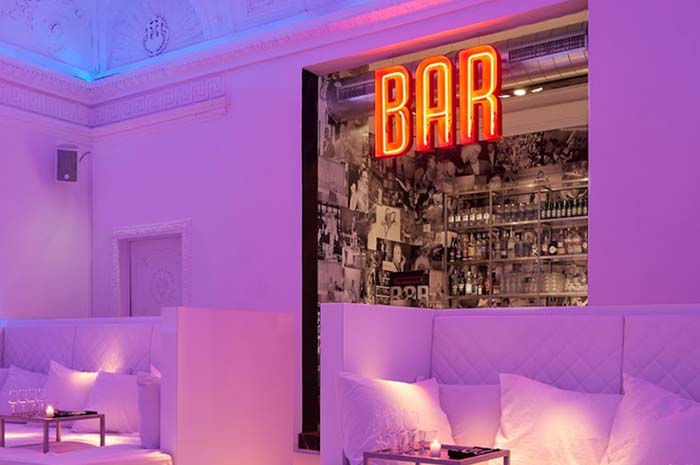 €€€ | Bar and Nightclub
Enjoy some tasty cocktails from the comfort of a bed! Supperclub is the ideal place for guests to enjoy some exquisite food and drinks and an evening full of spectacle.
You'll be sure to go home with a story at the end of the night. The place offers an amazing ambiance, great music, and exciting acts. Supperclub is definitely a unique experience, so don't miss this bar when you visit the city of Amsterdam.
Address: Singel 460
Bar TwentySeven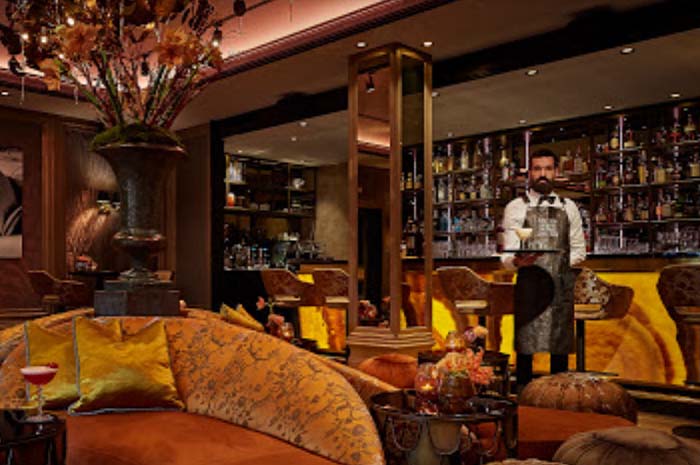 €€€ | Cozy Atmosphere
Bar TwentySeven is a fine cocktail bar right in the heart of the city where you can enjoy your drink with the best view of Amsterdam's canals! This bar will charm you with the creative creations of their mind-blowing cocktails. It has a luxurious atmosphere with signature drinks created by its own bartenders!
Address: Dam 27
Duke of Tokyo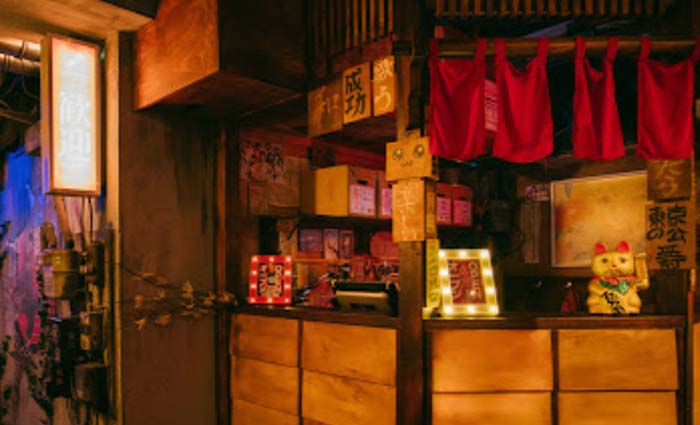 €€ | Karaoke Bar
If you're visiting the city and looking for a fun night out with your travel partner or friends, this karaoke bar is definitely the place to be! Duke of Tokyo offers private booths for you and your friends to sing your hearts out. Their cocktail bar features Japanese flavors, cocktails, and even sake! You'll feel as though you've been transported to Tokyo for the evening.
Address: Reguliersdwarsstraat 37
Hiding in Plain Sight
€€€ | Award-Winning Bar
This is an award-winning cocktail bar right in the heart of the city. Hiding in Plain Sight is where they serve tempting drinks in an intimate setting. The bar almost makes you feel as though you've entered the roaring 20s with its interior decor.
The beautiful chandeliers, ice coolers, and crystal glasses all complement the look. This cocktail bar has been recognized and listed as number one in the city of Amsterdam by a famous Dutch magazine. After you've tasted one of their exquisite drinks, you won't disagree!
Address: Rapenburg 18
Not ready to book a tour? Check out our Amsterdam Guide for more resources.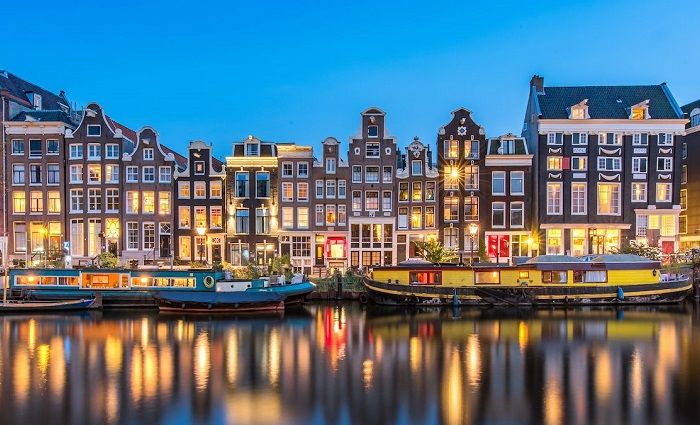 Find the best places to stay
Where To Stay in Amsterdam
Amsterdam is a vast city with many areas to stay in, including beyond the downtown area. Choose a hotel near the top things you want to see in this beautiful old city.