If you're planning a long trip with friends or family to New York City, you'll want a comfortable place to stay. That's where spacious vacation rentals come in. There are plenty to choose from in the city, which can make it hard to weed out the good from the bad, especially if you're not familiar with the area. Let us be your guide! We've rounded up the 12 coolest vacation rentals in Manhattan.
---
Pro Tip: Get to know the city even better by checking out our guide to the five boroughs and learning what all the acronyms mean.
Best Apartment Vacation Rentals in Manhattan, NYC
Sometimes a regular hotel room will do. But other times a vacation rental is best. With a vacation rental, you are likely to get more space (and more than just one standard guest room) that can accommodate any of your extended family. Plus, you can experience a neighborhood more like a local when you're hanging out in an actual NYC apartment.
If you're looking for vacation rentals in the area, you're in luck. We have 12 cool spots to check out in various neighborhoods. Whether you want to stay in Harlem to enjoy its jazz roots or are looking to park it in Midtown so you're close to the theaters, we have options for you. Here are our picks for the best vacation rentals in Manhattan right now.
Our Partnership with Booking.com. If you like our content, please book by clicking on our Booking.com links. The price is the same for you, and we get a small commission that helps support our helpful blog content. We've partnered with Booking.com because they have the most options, great prices, and a solid loyalty program.
1830s Historic Merchant House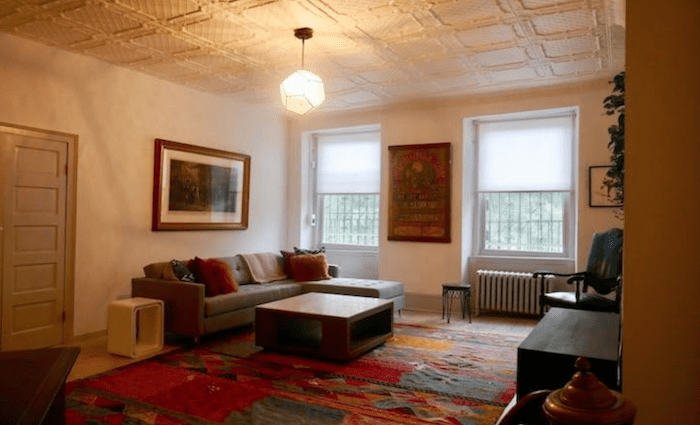 $$$ | Great Location | Best for Families | Ample Space
The 1830s Historic Merchant House is a 3-bedroom apartment on the Lower East Side. It also has a spacious living room and a dining area with a table that can fit more than four. We especially love the brick walls and narrow spiral staircase that offer some real city charm. And the dishwasher and washing machine come in handy, too.
As for location, this apartment is in a prime spot. The East Broadway subway station is just a few steps away, which makes getting to some of the city's major attractions easy. Enjoy a short ride to the Brooklyn Bridge, One World Trade Center, and the Statue of Liberty. There are also plenty of places to eat nearby (and within walking distance), such as Empanada Mama which is a must-try.
Sanctuary NYC Retreats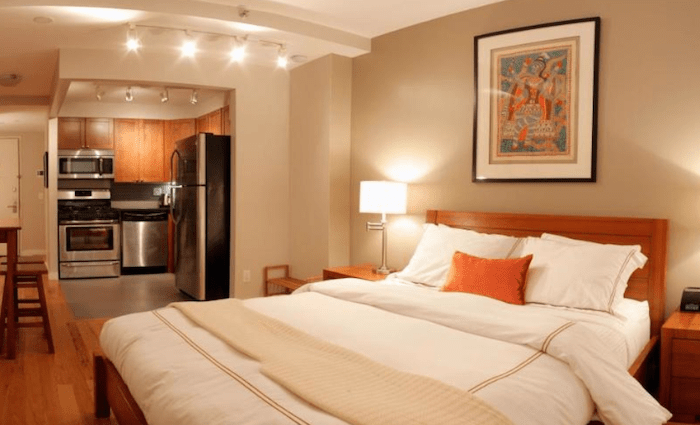 $$ | Close to Top Restaurants | Great for Relaxation | Yoga Included
Sanctuary NYC Retreats is also on the Lower East Side but has a yoga studio where you can take free classes during your stay. It also has a cool, bohemian vibe with funky art and calming colors. All of the suites are pretty big and come with kitchens. Some also come with your own balcony and allow you to see the city without leaving your space.
You have a good amount of attractions close by that are within walking distance, such as Washington Square and Bowery Mural. But you're also a close subway ride to Brooklyn and only have to walk less than 10 minutes to get to Essex Street station.
Speaking of quick walks: there are plenty of must-try restaurants within strolling distance. Also, you can't leave the area without trying Katz Delicatessen or Beauty & Essex.
Mint House at 70 Pine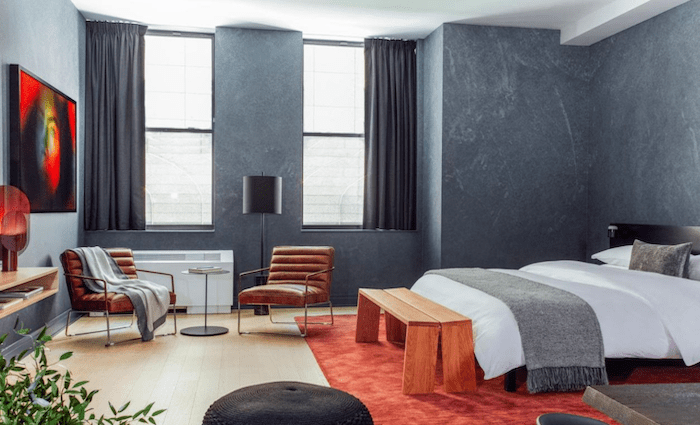 $$$ | Close To World Trade Center | Nice for Couples | 24-Hour Front Desk
If you're looking to check out the Financial District, this is your rental. Mint House at 70 Pine is located right in the center of it all, making it easy to get to World Trade Center Memorial and the New York Stock Exchange by foot. You can also walk to One World Observatory and the FDNY Memorial Wall. And when you need it, the Wall Street subway station is right there.
Set in a historic NYC building, this place is comfortable yet stylish. It's cozy and charming, but has modern decor for an updated appeal. It comes with a kitchen and private bathroom and there is a laundry room in the building.
You'll also find some of the biggest closets we have ever seen in New York! The 24-hour front desk comes in handy when you need something, as does the on-site fitness center when you're looking to get a quick workout in before your night out.
Richards Place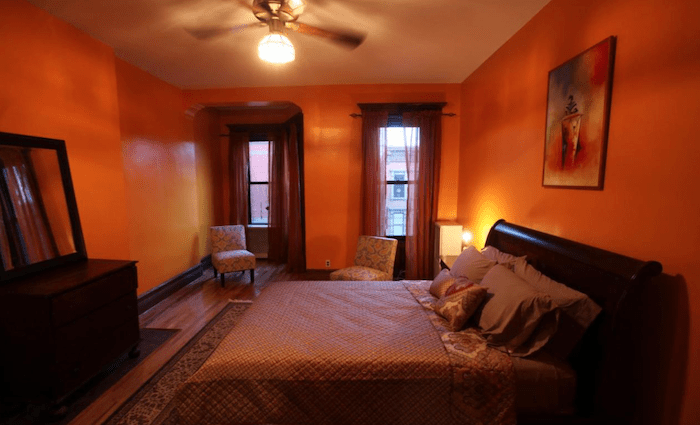 $ | Close To Apollo Theater | Best for Jazz Lovers | Free Parking Included
Interested in checking out all that Harlem has to offer? Richard's Place is a solid option. This apartment is welcoming with its cozy lighting, vibrant art, and accommodating owners who are all about killer customer service. You'll enjoy a living room, bathroom, and bedroom when you rent here, along with a kitchen and dining area ready for four. Plus, if you're driving into the city, there is free on-site parking.
The 125th Street station is close by, as are the Apollo Theater and The Ravine in Central Park—all within walking distance. Harlem is known for its jazz, so when you're here you have to check out some of the clubs. That will be easy since so many are just steps away from where you're staying, including Showman's Jazz Club, Bill's Place, and Minton's Playhouse.
Murray Hill East Suites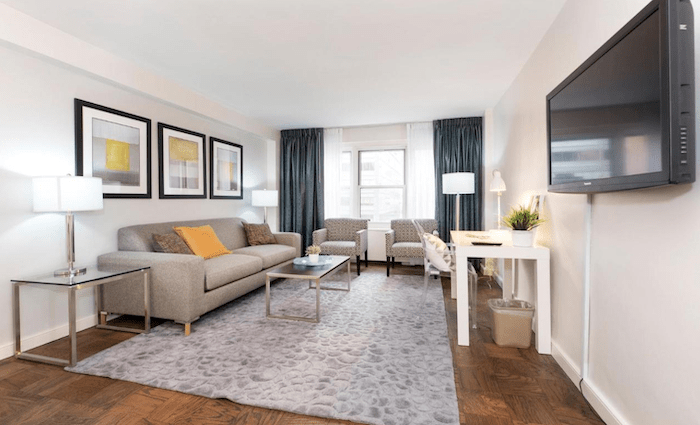 $$ | Close To Bryant Park | Ideal for Attraction Junkies | Fitness Center
Anyone coming into the city from Grand Central will surely appreciate The Murry Hill East Suites. Getting here from the train station will only take a few minutes on foot. You can also walk to Bryant Park, the Empire State Building, and Times Square.
But besides being close to so many attractions in the Midtown area, the accommodations at these suites are nice, too. Here, you'll find everything you need, including a kitchen, private bath, and seating area. There's also a 24-hour concierge desk, fitness center, and dry cleaning service. The overall vibe is a mix of old-school New York with a modern twist, making it an ideal spot for just about anyone.
Studios Midtown Manhattan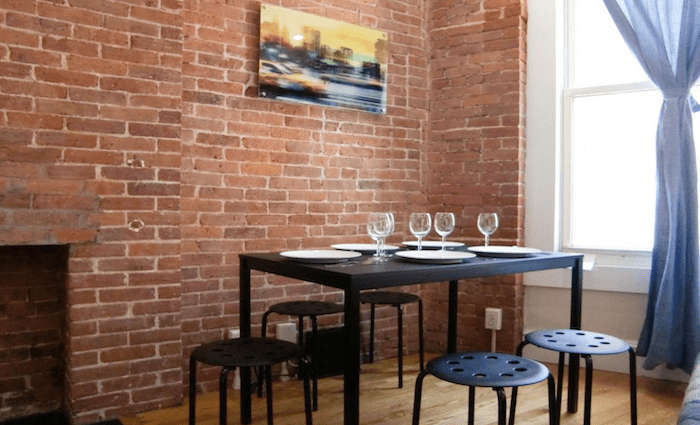 $$ | Close To Madison Square Garden | Best for Groups | Bunk Beds
Studios Midtown Manhattan has everything you need for a comfortable stay in the city. You'll get a spacious, brick-lined wall studio with a seating area, a kitchenette with a microwave, and a private bathroom. A studio can fit up to three twin beds and even a bunk bed if you need more sleeping options for your crew.
But what makes this place really desirable is the location. It's just a hop, skip, and a jump from Madison Square Garden and Macy's, and about a 20-minute walk from Rockefeller Center. You also have the 33rd Street station right there to pop in the subway when you're looking to get elsewhere.
Sonder Battery Park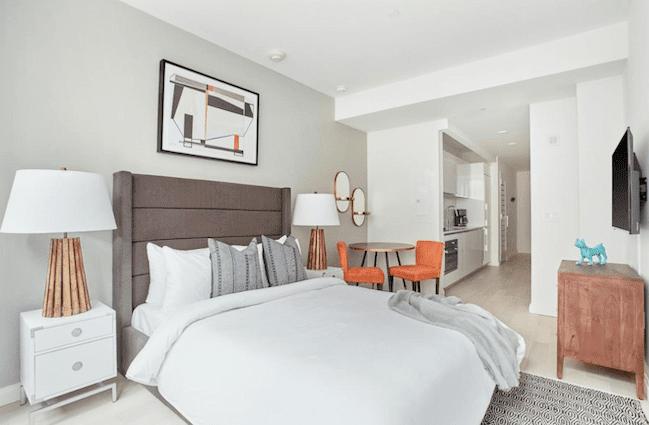 $$$$ | Near 9/11 Memorial | Ideal for History Buffs | Rooftop Pool
Sonder Battery Park has a lot to enjoy. First of all, it's incredibly well dressed. It's ultra-sleek with neutral tones and modern accents. It's also nice and bright, so it always feels cheery. You have the standard apartment-style accommodations: kitchen, dining area, and private bath.
But you can also enjoy the convenience of a dishwasher and exercise equipment. And we have to mention the rooftop pool for evening hangouts that offers insane views of the city.
When you're not chilling in your rental pad, you're out exploring all that Wall Street (and its history) has to offer. And there is plenty right within close range, such as the National September 11 Memorial and Museum and One World Trade Center. The Bowling Green subway station is also a few feet away from the apartments so getting around is easy.
AKA Central Park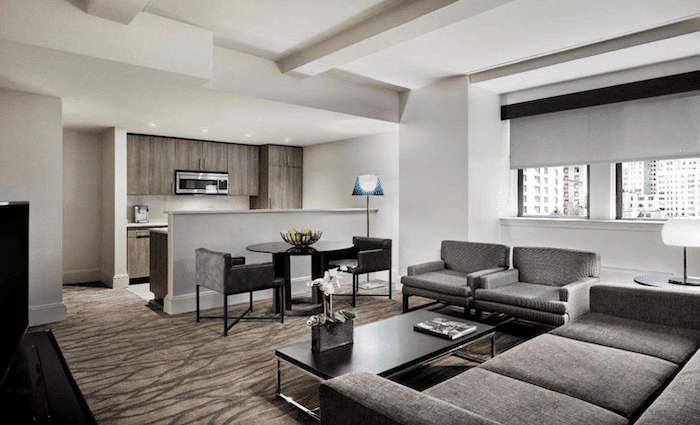 $$$$ | Close To Radio City | Best for Luxury Travelers | Private Cinema
Central Park is a huge attraction in NYC for locals and visitors alike. AKA Central Park offers stylish apartment-style suite accommodations right next to the park for easy access to the city's best outdoor recreational space. So easy, you have to walk less than five minutes to get there.
Speaking of, walking to Carnegie Hall and Radio City Music Hall will only take about 10 minutes or less, and making your way to Lincoln Center for the Performing Arts is only a 15-minute walk. There's also Fifth Avenue with all the big designer stores and department retailers. Plus, the 57th Street subway station is only a few steps away.
As for the suites, they are pretty swanky. Expect stainless steel appliances in the kitchen and marble accents in the bathroom. There's a fitness center on-site where you can choose to work out with a personal trainer. And if you're looking to stay in for a movie, the property has its own private cinema.
The Beekman Tower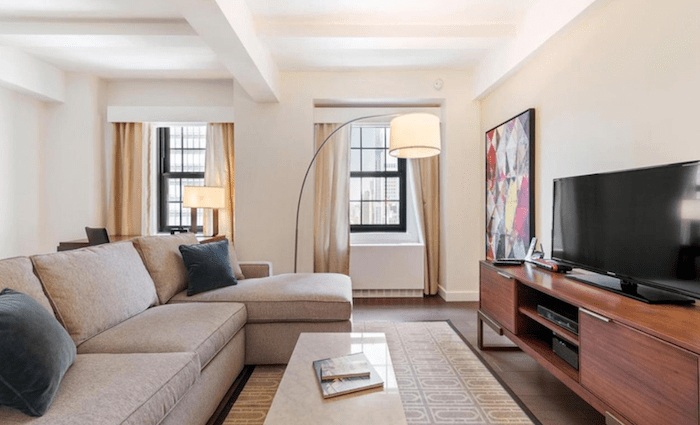 $$$ | Close To The Chrysler Building | Best for Traveling in Pairs | City Views
Anyone looking to enjoy their own space but with upscale hotel accommodations should check out The Beekman Tower in Midtown. Staying at this condo hotel allows you to rent your own unit with a kitchen and private bath. You also have the option of getting one with a terrace that offers nice views of the city.
Regardless of which unit you choose, you'll enjoy hardwood floors and plenty of space. There's also a restaurant and bar on-site, making for an easy decision on where to eat and drink before you head out exploring.
And when you do make it out, you'll find Top of The Rock, Chrysler Building, and The Channel Gardens are all right there in walking distance. As for subways, you have your pick. There are Lexington Ave/53rd St and 51st St stations within 10 minutes or Grand Central clocking in around 15 minutes on foot.
Upper West Apartment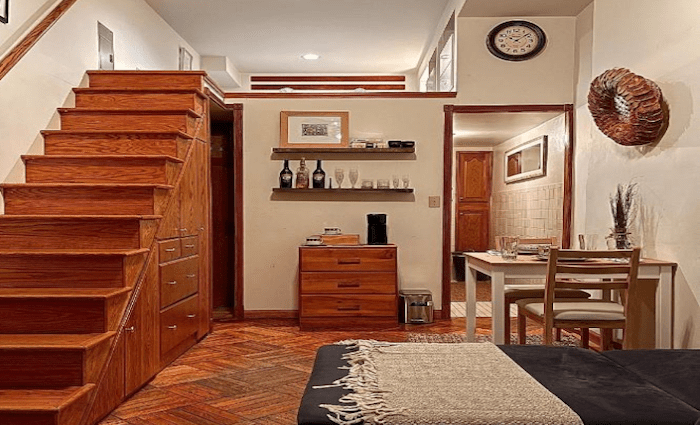 $$$ | Close To Metropolitan Museum of Art | Best for a Quiet Stay | Loft-Style Bedroom
Those looking for a lot of room will love this Upper West Side apartment. You'll have a kitchen, dining area, bathroom (with tub), and living space. The loft-style bedroom is great for when you need some privacy. When you stay here, you really feel like you're at home. Not only is it spacious but it's tastefully decorated and overall really inviting.
Now, let's talk about the area. You're so close to all the fun attractions on the UWS. Take a nice 15-minute stroll over to the Metropolitan Museum of Art or make your way to Central Park in about 5 minutes.
As for restaurants, you have many options. Choose from Good Enough to Eat, Jacob's Pickles, and Cilantro, all less than 10 minutes away on foot. There's also the 86th Street station when you want to hop on the subway to head downtown.
Modern 2-Bedroom Apartment NYC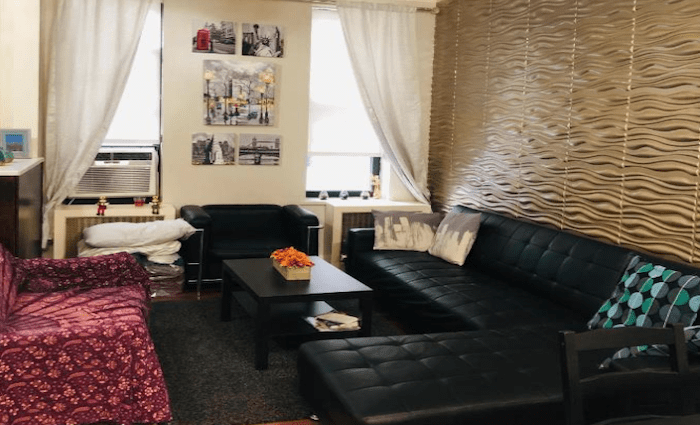 $$$ | Close To Museum of Modern Art | Best for Museum Lovers | Dishwasher Included
This modern 2-bedroom apartment on the Upper East Side will make your stay in the city a comfy one. You'll enjoy a bathroom equipped with slippers and a living room to lounge around in. The kitchen has a dishwasher and a microwave while the dining area seats up to four people. Colorful artwork and accent prints are seen throughout the apartment and give off a fun and casual vibe.
You're a quick walk to some of the best shopping, including Bloomingdales. And if you're a museum buff, you have plenty of cool spaces to check out. We love the Museum of Comic and Cartoon Art and Society of Illustrators (all just about 5 minutes away).
But you're also close to the more well-known Museum of Modern Art (MoMA) and St. Patrick's Cathedral. The 59th St/Lexington Ave subway station is close by, too.
AKA Times Square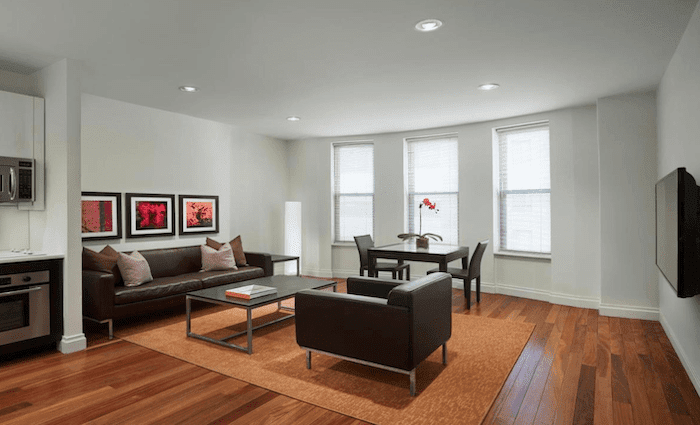 $$$$ | Close To Broadway | Best for Theater-Goers | Washer and Dryer Included
Travelers looking for some luxury accommodations while staying in the middle of Times Square will want to book a furnished apartment here. The AKA Times Square offers modern digs with lots of space. Feel fancy with hardwood floors and a glass shower while using the washer and dryer in your unit. You'll also enjoy views of Times Square pretty much wherever you go on the property.
When leaving the property, you're right smack in the middle of everything. You're a short distance to Bryant Park along with Radio City, and of course, all of the Broadway shows at the Theater District. There's Junior's and Carmine's nearby to eat. The subway you'll use to get around the city is 42nd St/Bryant Park, which is right by your rental.