New York's cultural offerings are vast, and the sheer number can be overwhelming for visitors. If you're looking to narrow down the options during your trip, we have plenty of recommendations that can help you decide where to go and when. From space simulations to impressionist paintings, here are the best museums in New York City.
---
Pro Tip: Planning your trip to New York City? Bookmark this post in your browser so you can easily find it when you're in the city. See our guide to New York City for more planning resources, our best NYC tours for a memorable trip, and how to spend three days in NYC.
The Absolute Best Museums to Visit in New York City
According to Museum Hack, there are 145 museums in New York City, covering subjects that range from dogs and toys to world-renowned works of art. Lovers of photography, dinosaurs, design, the Gilded Age, and more will find something that sparks their interest within the five boroughs. While there are many impressive institutions to choose from, read on for our selection of the best of the best museums in New York City.
12. El Museo del Barrio
El Museo del Barrio, located along Museum Mile in upper Manhattan, is dedicated to the preservation of Latino culture. Their permanent collection of over 8,000 objects is a testament to the richness of Latin American heritage. In addition to its impressive collection, El Museo del Barrio offers an active calendar of events that includes dance performances, artist talks, and film screenings.
A walk through the museum's galleries gives insight into hundreds of years of history. What you can expect to see here is a representation of many artists who have been left out of collections at other major museums, especially modern and contemporary works. While it is technically encyclopedic in scope, it is less overwhelming than other museums, and can be enjoyed even if your visit is on the shorter side.
Visitors can reserve a timed ticket, although walk-ins are also welcome. Adult admission is $9; children $5.
Address: 1230 Fifth Avenue, New York, NY
Hours: 11 am – 5 pm (closed Monday – Thursday)
11. The Rubin Museum
One of the newer museums on this list, The Rubin Museum is an in-depth exploration of Himalayan culture. The museum looks at over 1,500 years of history, religion, art, and music throughout the Himalayas. The collection includes textiles, pottery, sculptures, scrolls, and other art objects displayed through the permanent collection and special exhibitions.
The feel of this museum is closer to looking at art in a friend's home. Best of all, crowds are rare here, and you'll find that the subject matter — which includes a Tibetan Buddhist Shrine Room — leaves visitors feeling peaceful and reflective.
Admission is $19 for adults and free of charge for children. As a bonus, anyone can enter the museum for free on Friday evenings from 6-10 pm.
Address: 150 West 17th Street, New York, NY
Hours: Thursday – Sunday, 11 am – 5 pm (open until 10 pm on Fridays)
10. The Jewish Museum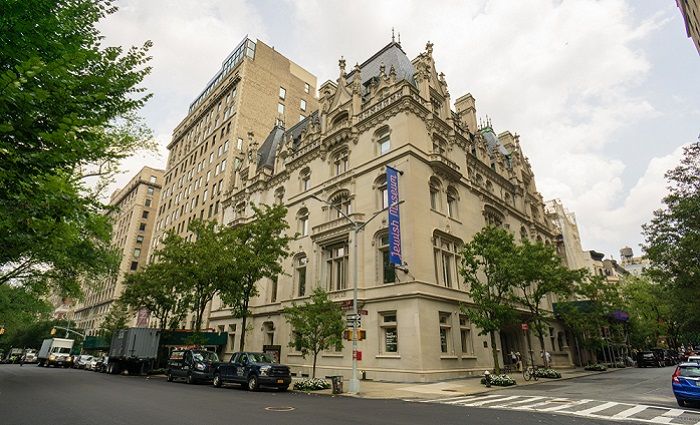 While The Jewish Museum focuses on art, artifacts, and media related to Judaica, it is really a museum for everyone. Its extensive collection, which covers 4,000 years of Jewish art and culture, is a reminder of the extraordinary history of the Jewish people.
Highlights include photographs by Alfred Stieglitz, paintings by Marc Chagall, ancient religious artifacts, and contemporary installations. The museum's exhibitions are particularly interesting to explore and have included retrospectives of Helena Rubenstein and Florine Stettheimer, as well as explorations of religious rituals and artifacts.
Admission is free for anyone under the age of 18, and adults can purchase timed entry tickets for $18. Students and seniors receive discounted tickets at $8 and $12, respectively.
Address: 1109 Fifth Avenue, New York, NY
Hours: Monday and Thursday, 11 am – 6 pm; Friday, 11 am – 4 pm; Saturday and Sunday, 10 am – 6 pm (closed Tuesdays and Wednesdays)
9. The Frick Collection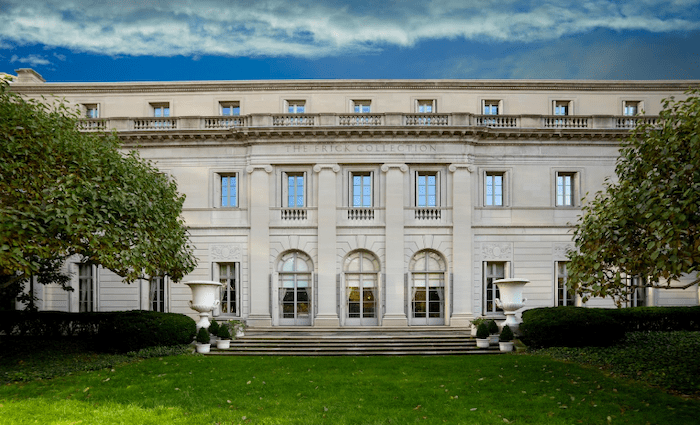 Housed in the former mansion of Henry Clay Frick, the Frick Museum is a lesser-known gem with a collection that spans from the Renaissance to the early twentieth century. If you are looking for masterpieces without the crowds, this museum should be at the top of your list.
Must-see works include four Rembrandts, two paintings by Vermeer, and Giovanni Bellini's "St. Francis in Ecstasy." That's right, you can view Rembrandts at The Frick Collection. Though these Old Master selections are extremely famous, the Frick's collection is just as extensive as it is impressive. Visitors will also enjoy works by Manet, Turner, Whistler, and Renoir, to name but a few.
Beyond the paintings, The Frick boasts a top-tier collection of decorative arts, which is why it's on our list of the best museums in New York City. There are few places that offer better examples of furniture, ceramics, and textiles, and the ornate architecture of this former Gilded Age home beautifully compliments the works within its walls.
Admission to the Frick is $22 for adults, $12 for children or college students, and $17 for seniors (65+).
Address: 1 East 70th Street, New York, NY
Note: The Frick Museum has temporarily relocated to 945 Madison Avenue, New York, NY
Hours: 10 am – 6 pm (closed Mondays, Tuesdays, and Wednesdays)
Not ready to book a tour? Check out our New York Guide for more resources.
8. The Noguchi Museum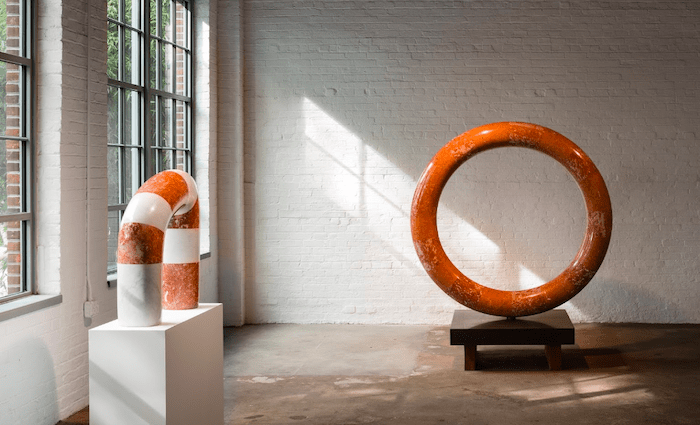 The Noguchi Museum is one of the cultural jewels of Queens and thus on our list of the best museums in New York City. Located on Long Island City, it is also one of the only museums in the country established by a living artist. Multi-media artist Isamu Noguchi first opened the institution in 1985, and it is home to the largest collection of his works in the world.
What's remarkable is that Noguchi chose the location and designed the building and sculpture garden himself. Comprised of sculptures, drawings, models, photographs, and designs, the collection shows the depth and breadth of his oeuvre. Noguchi was not only a renowned sculptor, but he also collaborated with institutions like New York City Ballet, designed theater sets and light displays, and was an accomplished ceramicist.
The museum's industrial setting (it is located in a former photo engraving plant) is an unexpected and delightful contrast to Noguchi's abstract and ethereal aesthetic. The twelve galleries and adjacent garden were intended to be a pocket of serenity amidst the chaos of the city, and visitors will enjoy an uncrowded, relaxed atmosphere.
General admission is $12, or $6 for seniors and students with a valid ID. Museum entry is free on the first Friday of every month; however, you'll need to make advance reservations.
Address: 9-01 33rd Road, Queens, NY
Hours: 11 am – 6 pm (closed Mondays and Tuesdays)
7. The Brooklyn Museum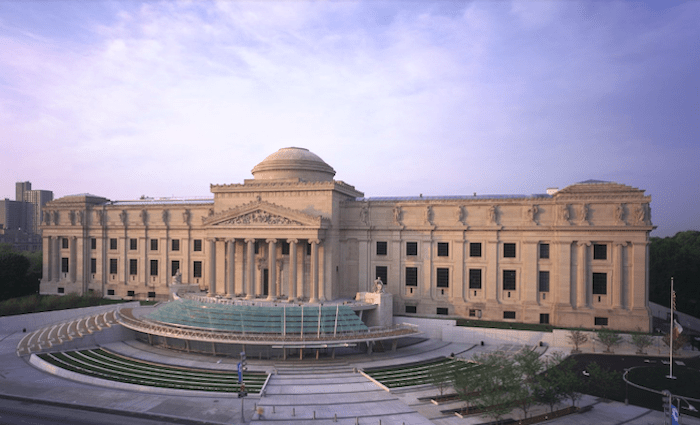 The Brooklyn Museum is the cultural heartbeat of Brooklyn. With an encyclopedic collection of about 500,000 objects housed in a sprawling, Beaux-Art building, this institution is the outer borough's answer to The Met. On your visit, you'll move between galleries dedicated to the Arts of Africa, European paintings, photography, and more, so you'll have an excellent variety to view.
There is also a 5,000-square-foot visible storage study center that holds thousands of years of art objects. Beyond the permanent collection, the museum prides itself on blockbuster exhibitions on subjects ranging from religion to fashion.
Vast and dense, this museum is worthy of an entire day. However, if you can't squeeze a multi-hour visit in, there are a few must-see cornerstones of the collection. Spend time at the ancient mummy casing and the contemporary mural by Kehinde Wiley entitled "Go." Other exhibits to seek out include Picasso's Women in Gray, Gilbert Stuart's portrait of George Washington, The Peaceable Kingdom by Edward Hicks, and The Dinner Party, a permanent installation by artist Judy Chicago.
Admission is $16 for adults and free for children. Seniors and students with a valid school ID can purchase tickets for $10. Special exhibitions require a separate ticket and are at a different price point (but it includes entry to all other museum galleries).
Address: 200 Eastern Parkway, Brooklyn, NY
Hours: Wednesday, Thursday, and Sunday: 11 am – 6 pm; Friday and Saturday: 11 am – 8 pm (closed Mondays and Tuesdays)
6. The Whitney Museum of American Art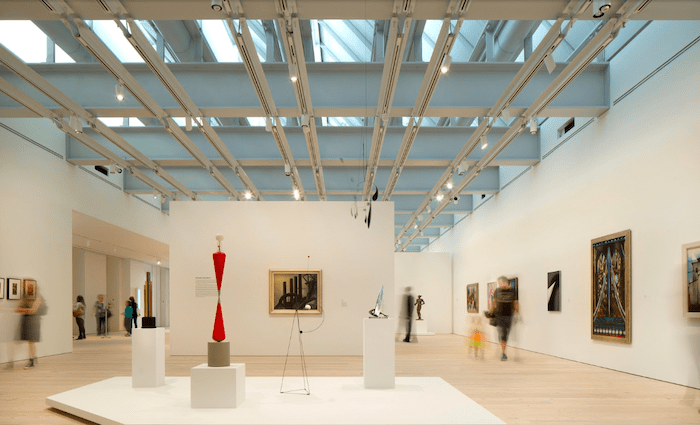 The Whitney's move downtown marked a revolution for this American art museum. Now located on the far west side of Manhattan just steps from the High Line, it is the new harbinger of cool. While the views of the city skyline are enough to make a visit worthwhile, it is the galleries that keep people coming back.
Big names like Marsden Hartley, Edward Hopper, Georgia O'Keeffe, and Louise Nevelson cover the walls, in addition to a large cache of work by lesser-known artists. Alongside a permanent collection of nearly 15,000 art objects by about 2,000 artists, the museum's rotating exhibitions are also especially popular.
The Whitney Biennial, in particular, is one of the more famous showcases of contemporary American artists working today. As the longest-running survey of American art, it is responsible for launching the careers of countless artists over its 90-year history.
Adults can purchase timed entry tickets for $25, seniors and students can get discounted rates of $18. Children's admission is free.
Address: 99 Gansevoort Street, New York, NY
Hours: Monday, Wednesday, and Thursday: 10:30 am – 6 pm; Friday: 10:30 am – 10 pm; Saturday and Sunday: 11am – 6 pm (closed Tuesdays)
5. Cooper-Hewitt, Smithsonian Design Museum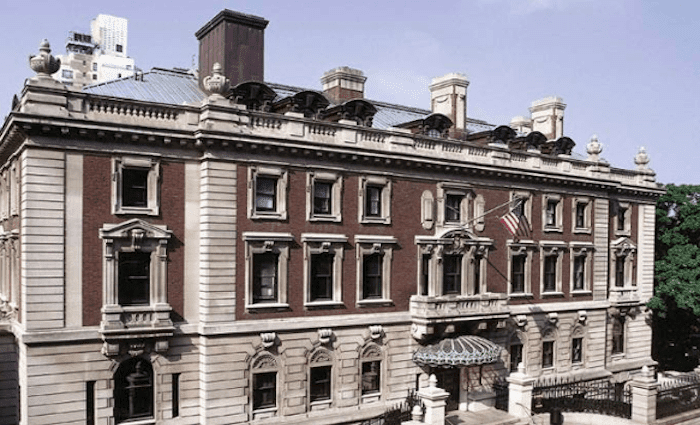 How can design enhance, and even reshape, our lives? For the answer, go to The Cooper-Hewitt. Housed in the former mansion of industrial titan Robert Carnegie, the setting of this museum is just as impressive as its collection. As one of only two Smithsonian institutions in New York City, Cooper-Hewitt focuses on design in all its forms. The permanent collection, composed of works that span over 30 centuries, includes objects from Roman marble and Renaissance drawings to digital code.
A recent renovation transformed the mansion into a 21st-century museum space while still maintaining the integrity of the original structure. As the museum believes in design as a quality of life enhancement, many of the galleries encourage interaction or include an immersive element. Visitors receive pens upon arrival to engage with touchscreens and bookmark objects of interest, among other things.
Crowds are minimal here, which makes the overall experience enjoyable. This is a museum that is as much about learning as it is viewing. Adults can reserve timed tickets for $18, and discounts are available for students and seniors.
Address: 2 East 91st Street, New York, NY
Hours: 10 am – 6 pm (closed Tuesdays and Wednesdays)
4. The American Museum of Natural History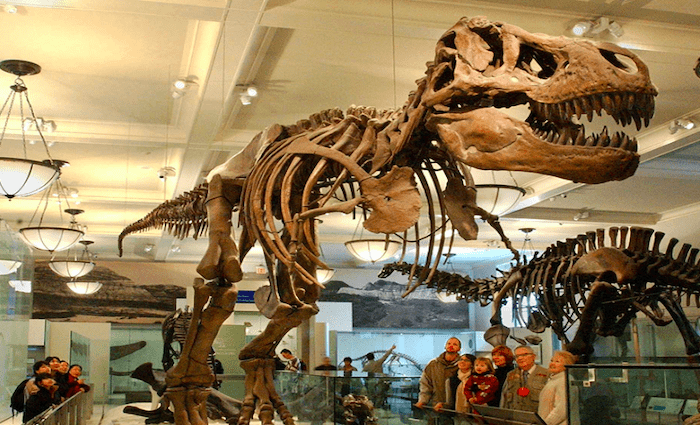 Dinosaur bones and African elephants, a hominid skeleton, a Galápagos tortoise, and a 94-foot whale are just some of the objects visitors can expect from this scientific and cultural museum. The collection, which includes over 33 million specimens and artifacts, is a physical record of life. This museum is dedicated to documenting the earth as well as the mysteries in the cosmos.
What is unique about the American Museum of Natural History in particular is its many interactive elements, which makes it ideal for families. From an immersive exploration of color to a 3D IMAX show, this museum is an unparalleled learning experience for visitors of all ages.
For residents of the states of New York, New Jersey, and Connecticut, admission is pay-what-you-wish. For others, adult tickets are $23, student (with ID) and senior tickets are $18, and children (ages 3-12) are admitted for $12.
Address: 200 Central Park West, New York, NY
Hours: 10 am – 5:30 pm (closed Mondays and Tuesdays)
3. The Solomon R. Guggenheim Museum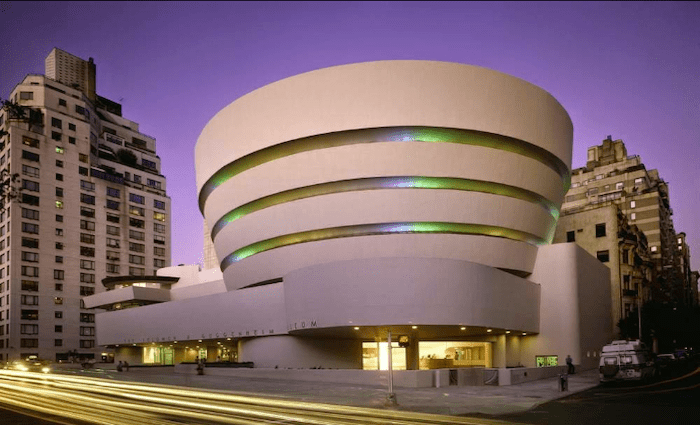 Although this Frank Lloyd Wright building caused a scandal when first unveiled, The Solomon R. Guggenheim Museum remains one of the world's most compelling venues for art. The eye-catching spiral design at the center creates an incomparable way to view the renowned collection or any temporary exhibition.
Magritte, Pollock, Bourgeois, Kandinsky, Mapplethrope, and Manet are all represented in the museum collection, which began with a focus on 20th-century modernism and has expanded through the decades to include contemporary art. The Guggenheim is without doubt one of the best museums in New York City.
Located along Museum Mile on the Upper East Side of Manhattan, the Guggenheim remains distinct from its neighboring institutions. Its unique structure, boundary-pushing exhibitions, and range of programming set it apart. The Guggenheim not only presents physical art, but is also committed to exploring the creative process and artistic innovation. Programs like Works & Process, which focuses on the performing arts, give visitors a deeper understanding of culture and its greater meaning.
Visitors can pay what they wish on Saturdays from 4-6pm. Otherwise, adult tickets are $25, however, discounts are available for seniors and students. Children under the age of 12 enter for free.
Address: 1071 Fifth Avenue, New York, NY
Hours: 11 am – 6 pm (closed Tuesdays and Wednesdays)
2. The Museum of Modern Art (MoMA)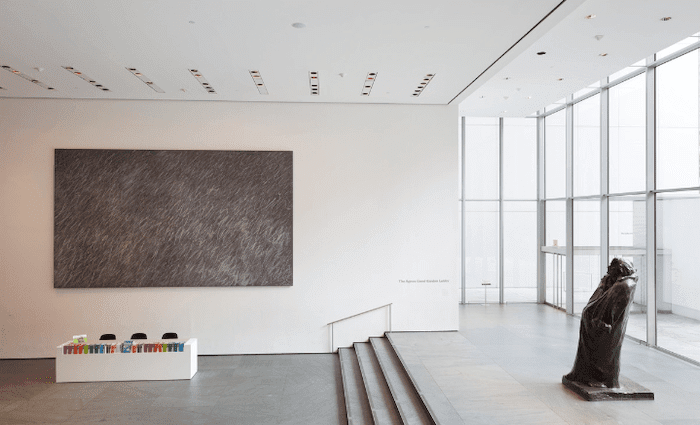 This is the museum for modern art. From Van Gogh's Starry Night to Frida Kahlo's Self Portrait with Cropped Hair, MoMa houses some of the most iconic works of all time. While the collection is incredible, what is best about this museum is its surprisingly manageable size. MoMA can be seen in a few hours, and the galleries have a wonderful flow that is easy to navigate, which makes it easy to add to a short trip to NYC.
Because of its popularity and relatively smaller size (compared to behemoths like The Brooklyn Museum and The Met), MoMA gets crowded. To get the best experience possible, try to go first thing in the morning. After all, how can one truly appreciate Monet's Water Lillies triptych if forty other people are blocking it from view?
Timed tickets can be purchased for $25 and discounts are available for seniors and students. Children (16 and under) are granted free admission.
Address: 11 West 53rd Street, New York, NY
Hours: 10:30 am – 5:30 pm; open until 7 pm on Saturdays
1. The Metropolitan Museum of Art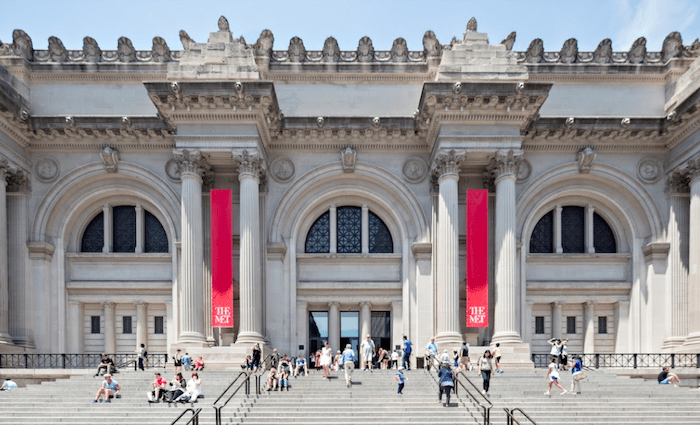 The Metropolitan Museum of Art is the cornerstone of New York City's cultural landscape. With over 2 million objects that span 5,000 years of history, it's no wonder that this museum attracts over 1 million visitors each year. Whether you're interested in Ancient Egypt, arms and armor, fashion, or modern painting, The Met will exceed your expectations.
Because the museum is so big, it could take days to see in full and can be difficult for first-timers to navigate. However, some of the unmissable parts include the Vermeer Collection, Caravaggio's The Musicians, The Greek and Roman Sculpture Court, Emmanuel Leutz's Washington Crossing The Delaware, and the impressionist gallery.
While The Met is fun to wander around and get lost in, it is recommended to take a tour if you are unfamiliar with the museum. If you want to maximize your experience, check out a guided tour here.
Address: 1000 Fifth Avenue, New York, NY
Hours: 10 am – 5 pm; open until 9 pm on Fridays and Saturdays (closed Wednesdays)
Not ready to book a tour? Find out if a tour of the Met is worth it.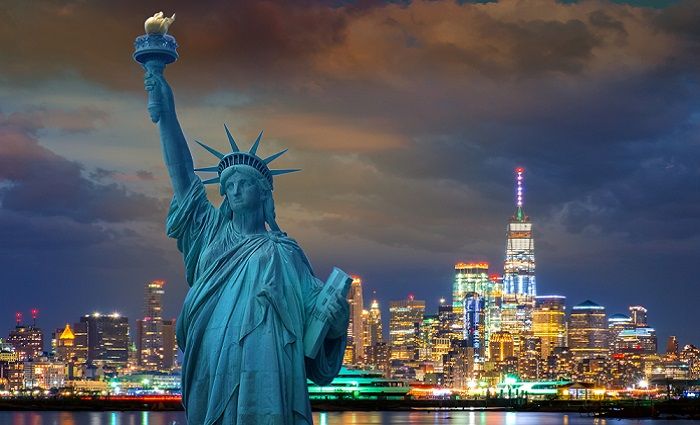 Find the best places to stay
Where to Stay in NYC
New York City is the center of the universe to those who adore this iconic city. Choose the best neighborhood to stay in as you plan your upcoming trip to the Big Apple.