You've heard all about New York City's biggest attractions: the Empire State Building, Times Square, and Central Park. If it's your first time visiting or you only have a few days, it can be difficult to know the best way to spend your time in the Big Apple. To save you the trouble, we've planned out the most epic 3-day itinerary (with hotel and restaurant recommendations) for the best weekend getaway in NYC.
---
Pro Tip: Planning your trip to NYC? Bookmark this post in your browser so you can easily find it when you're in the city. See our guide to New York City for more planning resources, our best NYC tours for a memorable trip, and the top things to do in NYC.
Tips for Spending the Best 3-Day Weekend in New York City
New York City has a lot to offer visitors beyond its most popular attractions. To help you make the most of your trip, we've prepared a 3-day itinerary for the best weekend getaway in NYC. With tips for first-time visitors, guided tours worth taking, where to eat, and the best hotels for your stay, here's what we'll cover:
Our Partnership with Booking.com. If you like our content, please book by clicking on our Booking.com links. The price is the same for you and we get a small commission that helps support our helpful blog content. We've partnered with Booking.com because they have the most options, great prices, and a solid loyalty program.
Not ready to book a tour? Check out our New York Guide for more resources.
Tips for First-Time Visitors to NYC
The Seasons in New York City
New York City has all four seasons to enjoy, but the weather can be dicey. In the middle of the summer (July and August), you could experience some serious heat waves. And the humidity is thick. You'll need water and lots of it. Come winter, the weather turns cold—really cold. And let's not forget the wind. You'll want to wear a heavy jacket (preferably anything goose-down) and don't forget a hat, gloves, and scarf.
If you're coming to NYC and want to experience ideal weather, the best times are usually in fall and spring. The temperatures are perfect (not too hot, not too cold), and you'll only need one layer to get around. Of course, nothing is more magical than the winter holidays in New York City and the temperature usually cooperates, ranging around the 30s-40s.
Getting Around New York City
Regardless of the time of year, you'll need good walking shoes. New York is a walking city, so expect to get a lot of steps in while you're here. And if you're not walking, you'll likely be taking the subway, which is the easiest, fastest, and cheapest way to get around all five boroughs. Many of the subways are now handicap accessible. There are also taxis and ride-sharing services along with pedicabs and horse-drawn carriages. Just be warned these will cost you, so use them wisely.
Driving around the city is usually less than ideal. The traffic is intense and so are the drivers. If you're not from here, be prepared to get honked at by the drivers who are. The subway is reliable (usually, unless there are delays) and the most affordable ($2.75 per ride) way to get around the city.
You can buy a MetroCard at a ticket machine in the subway stations, airports, or train terminals. However, you can also simply use the latest Omni payment, which allows you to use a credit card from your phone to pay for your ride. It's contactless and easy, and you don't have to worry about adding more money to your MetroCard. Just tap your phone on the Omni reader near the turnstile and go.
If it's your first time taking the subway here, it can feel intimidating but it's not bad once you get the hang of it. Check out our helpful guide to the New York City subway. Also, another great resource is the MTA Website, especially when trying to determine the best travel routes. Add your departure and destination information and you'll be able to find a wide range of public transportation options near you.
New York City Itinerary: Day One
Morning
This is likely when you'll be making your way to the airport for your departure to the city. Get ready for your weekend getaway in NYC! Don't forget your walking shoes, umbrella, and any layers you may need depending on the time of year you're traveling. See you soon!
Afternoon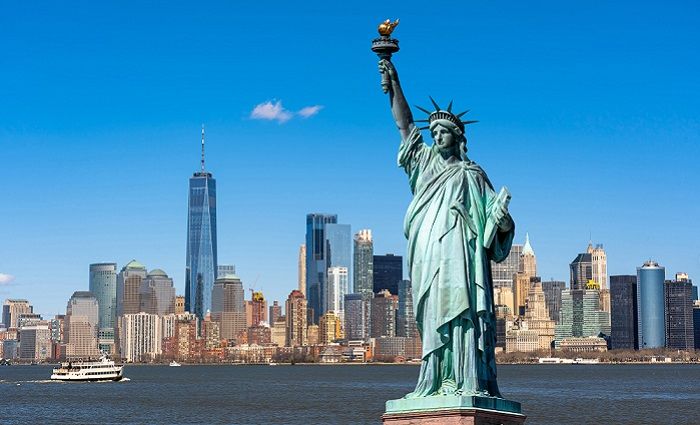 Welcome to New York City! Once you check into your hotel and drop your bags off in your room, you'll want to get exploring. No matter where you're staying, you're likely to be close to one or more subway lines. Make sure you have your MetroCard or credit card ready for the Omni reader.
After your flight, you probably want to grab something to eat first. Luckily, New York City has so many options when it comes to places to grab some grub no matter where you are staying. We like Gigino at Wagner Park, since they have delicious food and epic sunset views. It may be small and crowded, but it's close to one of the most sought-after attractions: the Statue of Liberty.
The first thing most tourists want to see when they get to New York is the Statue of Liberty and for good reason. It's a marvel to see coming in at 154 feet high and it also has a lot of history to unpack. You can't come to New York without seeing it.
Evening
Come evening, there's a good chance you're still in the area of the Statue of Liberty as it'll take a while to explore this large landmark. If so, why not hit up the nearby Ground Zero and National September 11 Memorial Museum?
Here, you can discover much of New York's (and America's) history by exploring the 9/11 Memorial Pools, the FDNY Memorial Wall, and the One World Trade Center. Check out our helpful guide on how to visit the 9/11 memorial sites for information on hours, tours, and admission.
When you get hungry, there are many great restaurants in the area to check out within easy walking distance. Anything from a simple New York slice from Majestic Pizza to some guacamole and burritos at Tajin will get the job done.
Places To Eat (Lunch or Dinner):
New York City Itinerary: Day Two
Morning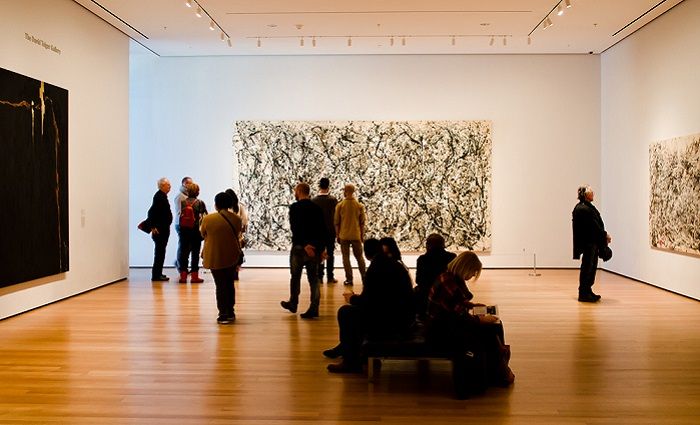 Start the morning off by checking out some artwork at The Metropolitan Museum of Art. This world-renowned museum has a massive art collection that spans over 5,000 years. It's a big space to explore, measuring 2.2 million square feet. Here, you'll find both permanent and rotating exhibits, along with film screenings and live performances. Since there's so much to cover here, you'll definitely appreciate having a guided Met tour to see and learn as much as possible.
On a guided tour, you'll discover the Greek and Roman Art located on the first floor with over 30,000 different works on display going back to the Neolithic period. Also, weave in and out of the Dutch paintings, catching sight of work from all the greats, including Rembrandt and Johannes Vermeer. Then, see the 2,000-year-old Egyptian Temple of Dendur and a replica of the Nile River located in the Sackler Wing. Oh, and of course, the great works of modern artists like Jackson Pollack.
The Met is a famous landmark in the city, not only known for its art but also its celebrity red carpet event—the annual Met Gala. We're sure you've seen photos of the extravagant outfits taken on the iconic steps. Expect to spend a good chunk of time here as there's a lot to do and see. Finally, head to the rooftop bar to grab a drink and get a view of Central Park.
Afternoon
Speaking of Central Park, the afternoon is a great time to take a stroll through the tree-lined pathways and get some vitamin D after being indoors for hours. The 843-acre park extends from 59th to 106th street and borders a number of very different uptown neighborhoods, including the Upper West Side and Harlem. Not only is it pretty, but the park has a lot of fun facts and history. Did you know it was built by hand?
Once you've worked up an appetite, choose from the plenty of spots to grab a bite to eat. Barney Greengrass is a famous Jewish deli that's great for when you have a hankering for smoked fish or a bagel and lox. If you're looking for something more picturesque with a truly unique history, there's Tavern On The Green. With a storied history dating back to 1870 when it housed 200 sheep in the middle of NYC, this American icon of a restaurant has established itself as the place to eat in Central Park for decades. Experience life as an NYC socialite by dining here after your morning Met tour.
Evening
Since you're in the area, you have to check out the Plaza. You know this hotel from many films, including "Home Alone" and "Sex and the City," and now it's time for you to check it out for yourself. It's located at the southern entrance of Central Park and close to some of the most sought-after shopping destinations around, including Bergdorf Goodman. Walk through the iconic lobby and grab a glass of bubbles at the Champagne Bar if you're feeling really fancy.
You're so close to both Carnegie Hall and the Lincoln Center for the Performing Arts that you should definitely take in a show in the evening. Depending on what time the show is, you'll need to schedule dinner before or after. Flex Mussels is great for when you feel like wine and shellfish, and is a great spot for happy hour. If you're more in the mood for steak, Quality Meats will not disappoint and serves until midnight on Fridays and Saturdays.
Places To Eat (Lunch or Dinner):
New York City Itinerary: Day Three
Morning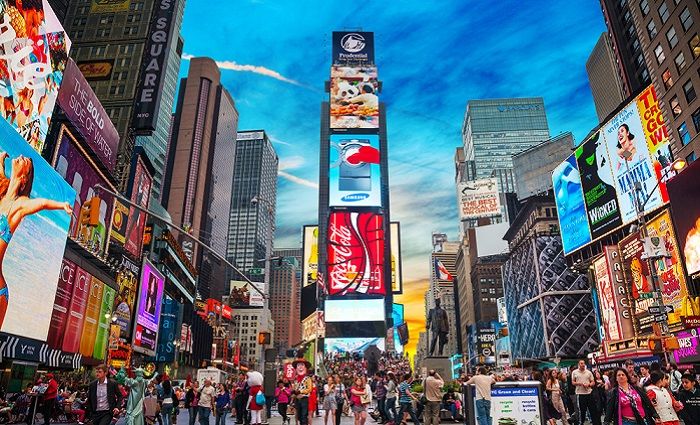 We know you didn't come to New York City to leave without experiencing Times Square. Get an early start and head over to Victor's Cafe for a Cuban brunch. Order the Florida red snapper ceviche and the tortilla cubana—you'll be happy that you did.
If you're here during the summer months, the restaurant also offers its special Summer Restaurant Week Brunch on Saturdays and Sundays, from July 18 to August 21. Choose an appetizer, entrée, and dessert for $30 per person.
Afternoon
When the afternoon rolls around, it's time to hit the streets. Sure, you can see the sights on foot while pushing through the crowds. Or, you can see it all by bus, and not just any bus—a theater bus called The Ride NYC. This baby has a built-in theater with stadium seating and floor-to-ceiling windows. From your seat, you can watch the street performers while your comedic hosts provide some funny commentary.
While New York has plenty of people watching to enjoy, you'll also see some of the area's major attractions and landmarks on this bus. Sit back and relax as you roll by Rockefeller Center and Radio City Music Hall. You'll also see the Empire State Building but since it's such a big deal you might want to check it out on your own after the bus tour.
When there, make your way to the 86th floor where there's an open-air observation deck. Catch 360-degree views of New York and surrounding areas, including Delaware if the weather is clear enough.
Evening
It's your last night in the Big Apple and you're spending it in Times Square. You're in the center of the theatre world and are definitely going to see a Broadway (or Off-Broadway) show. Get a chance to check out Hamilton to see if it lives up to the hype (spoiler: it does!) or Hugh Jackman's The Music Man. No matter what you see, you'll walk away happy (and singing, no doubt).
While you could pay a lot to get a drink at the theater, you could always wait until after the show to hit up Rudy's Bar & Grill. This local dive has been around since the 30s and has cheap drinks and free hot dogs, too. It's small and always packed, but the eclectic mix of characters and solid service all make it worthwhile.
Places To Eat (Lunch or Dinner):
Guided Tours For The Perfect New York City Vacation
If you're looking for the best way to experience more of your favorite destinations in the city, guided tours are the way to go. A local guide can help you more deeply appreciate what makes these landmarks and attractions so historic and special. Also, you may even see things you might not get to witness on your own. Here are some of our favorite tours for your weekend getaway in NYC.
Exploration Tours:
Food Tours:
Best Weekend Getaway Hotels in New York City
When hitting up New York City for the weekend, you'll need a place to stay. We've rounded up our favorite hotels in the city that range from budget-friendly to cool and trendy. Check them out below and be sure to take a peek at even more suggestions for the best hotels in New York City.
JW Marriott Essex House New York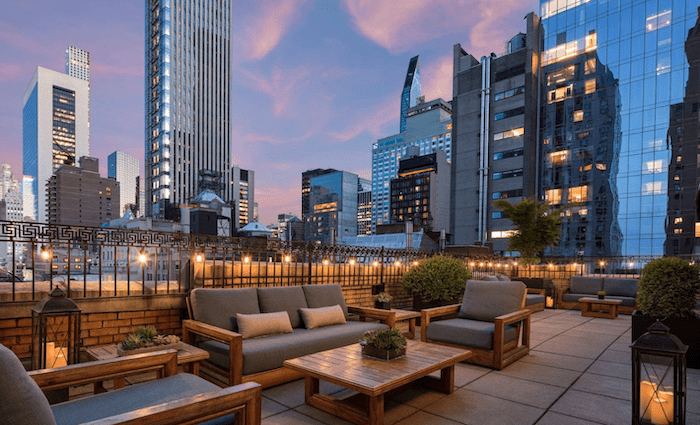 $$$$ | 5 Star | Elegant Stunner | Private Terrace
The JW Marriott Essex House New York is a city landmark in hotels. Housed in a 1931 art deco building and facing Central Park, expect an interior that is rich and luxurious with impressive views. Especially on the private terraces in the suites. The location is also key as it's close to the Lincoln Center, Carnegie Hall, and Columbus Circle, and not a far walk from Times Square.
The Bowery Hotel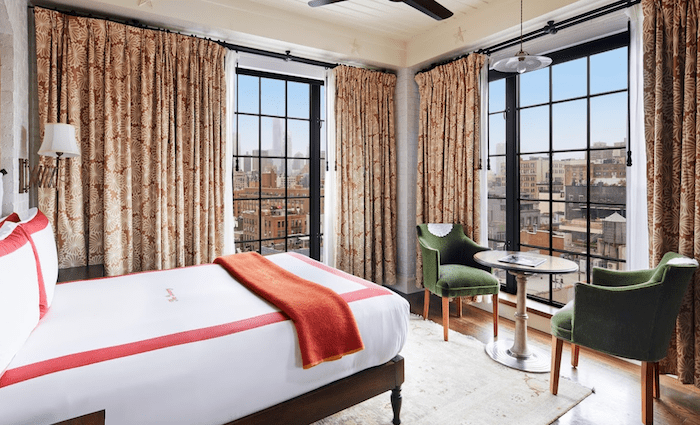 $$$$ | 5 Star | Sexy Sophistication | Marble Bathrooms
The Bowery Hotel is New York class all the way! It has a lobby bar equipped with sultry velvet couches and guest rooms that have marble bathrooms and antique brass fixtures. Speaking of rooms, you have your choice of those that come with a private terrace or a loft-like suite that has a spacious sitting area. Plus, you'll find live music venue Blue Note and The Public Theater down the street.
Freehand New York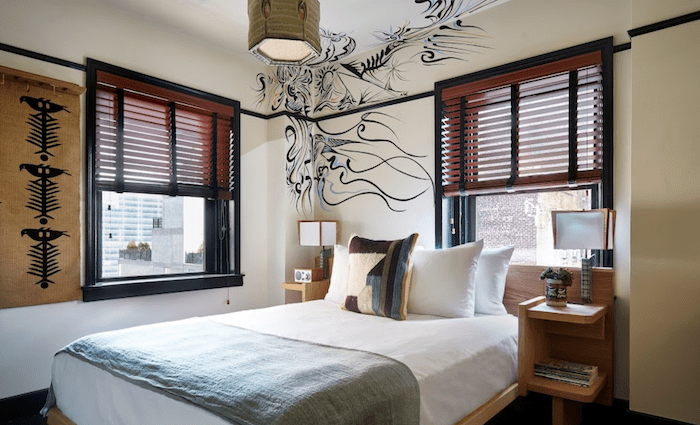 $$ | 4 Star | Happening Hotspot | Rooftop Tiki Bar
Located in the former George Washington Hotel, the guest rooms come in your choice of a standard with a queen or king bed or a triple that holds three bunk beds. There are also apartment-style suites that are fully furnished with the trendiest decor and pretty city views. While here, be sure to head up to the rooftop to have a tiki cocktail at Broken Shaker.
Conrad New York Downtown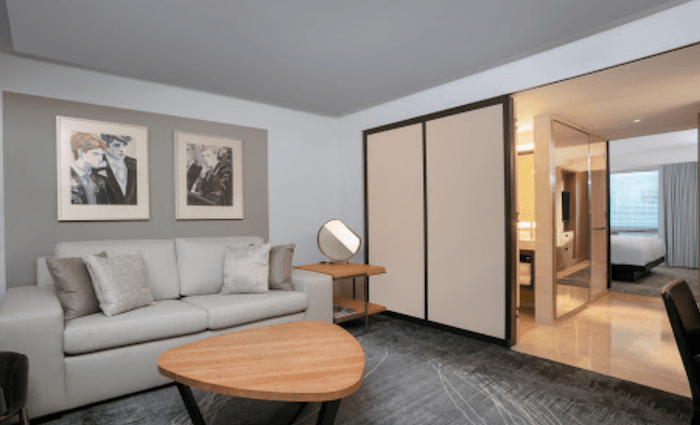 $$$ | 5 Star | Two Room Suites | Connecting Rooms
If you're planning to spend some time at One World Trade Center, the Conrad New York Downtown is a solid option with views of the Hudson River. The connecting suites are great when traveling with the family. On the 16th floor, you'll find the seasonal Loopy Doopy Rooftop Bar, which offers cocktail popsicles and views of the Statue of Liberty.
The William Vale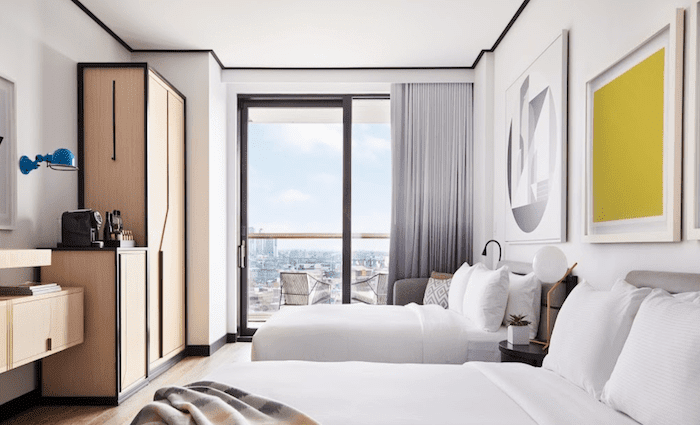 $$$$ | 5 Star | Contemporary Cool | Private Balconies
This fun and modern hotel in Brooklyn has a rooftop bar on the 22nd floor and the longest outdoor pool found in any New York City hotel. Also, the guest rooms all come with a balcony and view. The Vale Garden Residence provides the true VIP experience with a large loft and a terrace that's 1,632 square feet with an outdoor jacuzzi.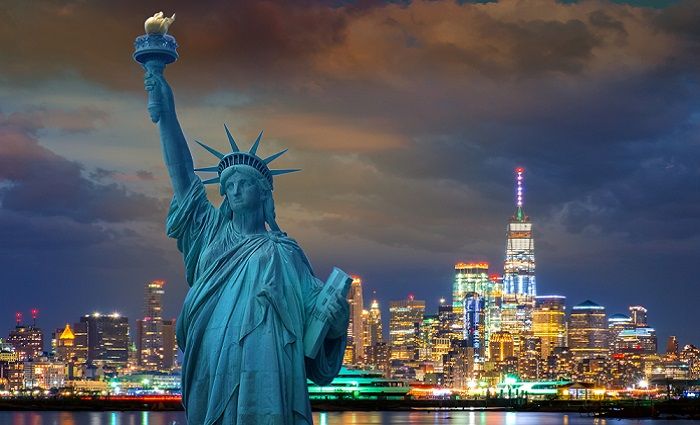 Find the best places to stay
Where To Stay in NYC
New York City is the center of the universe to those who adore this iconic city. Choose the best neighborhood to stay in as you plan your upcoming trip to the Big Apple.