If visiting the 9/11 Memorial is on your agenda for your next New York City trip you'll want to know where to eat when you grow hungry. Luckily, there are ample restaurants to choose from in the area. Here are our top picks for the best restaurants near the 9/11 Memorial in NYC.
---
Where to Eat Near the 9/11 Memorial in New York City
From pizza to Mexican, fancy to casual, there are many dining options near the 9/11 Memorial and the nearby Financial District. If you're visiting the area, we have you covered. Here are the best restaurants near the 9/11 Memorial in NYC.
Majestic Pizza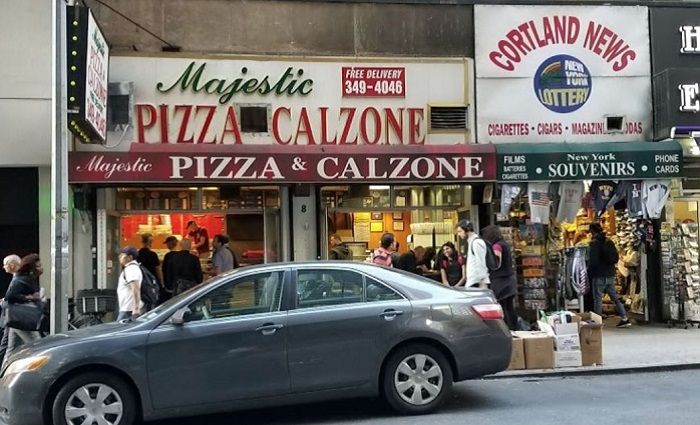 $$ | Pizza | Grab-and-Go
If you have a hankering for a good New York slice, Majestic Pizza has you covered. Just a short walk from the 9/11 Memorial, this low-key pizzeria is your go-to for classic cheese pizza but also has some decent calzones, too. There are only a few seats so you may not always get to stay and sit. We like to take our slice to-go as we walk around and continue on our journey through this busy area of Lower Manhattan.
Address: 8 Cortlandt St, New York
George's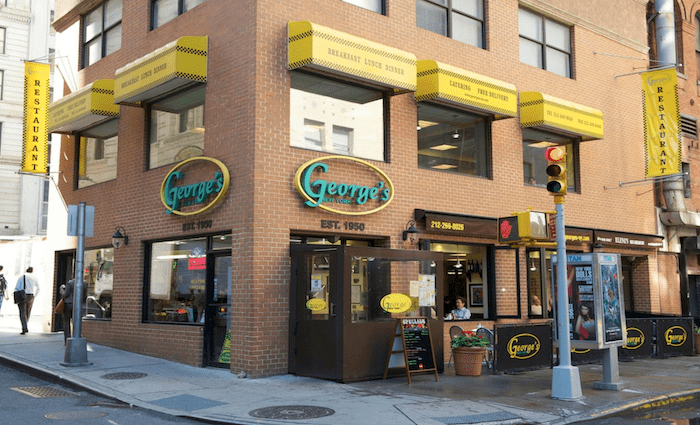 $$ | Diner | Breakfast Go-To
A no-frills diner that has been a staple for years, George's is where you go when you want a big ol' breakfast. After suffering damages from the 9/11 attacks, the space had to be rebuilt and now pays homage to that fateful day. The vibe is comfy and the food is plenty (we're talking ginormous portions).
While you can get dinner dishes of pasta or kabobs, it's the hearty breakfast options that really count. You can't go wrong with any of the egg sandwiches or all the pancakes to choose from.
Address: 89 Greenwich St, New York
Tajin
$$ | Mexican | Margarita Haven
Exploring the city can make you thirsty. That's where Tajin comes in. This relaxed Mexican joint has refreshing margaritas that will be sure to quench your thirst — and get you slightly buzzed. The guacamole served in a taco shell is a must, and so are the burritos that are well stuffed. We love sitting at the bar, but the ample outdoor sidewalk seating is great for the warmer days.
Address: 85 Greenwich St, New York
Felice 15 Gold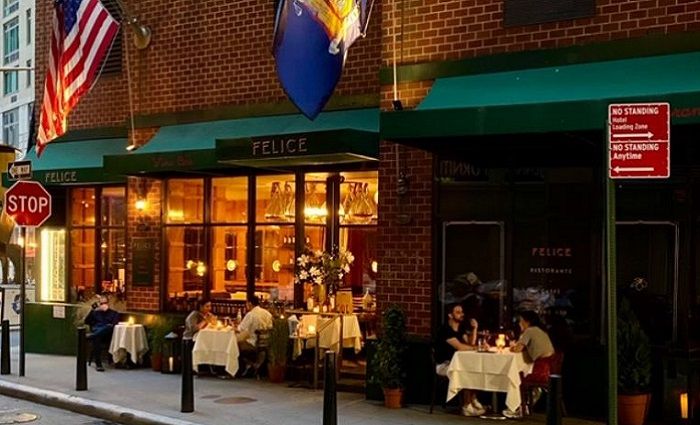 $$ | Italian | Upscale Wine Bar
If you're looking for a night out, Felice 15 Gold is a great option. The interior is rich with wood paneling and dim lighting with walls lined with wine bottles. Speaking of wines, there are many to choose from with more than 30 options by the glass. Most of the pasta is handmade while many of the ingredients come from local farms. We go for dinner but brunch is available as well as a pre-fixe lunch.
Address: 15 Gold St, New York
Sant Ambroeus
$$$ | Italian | A Place to Linger
When you visit Sant Ambroeus you'll want to stay for a while. Inside, you'll find a cheerful ambiance with bold colors and lots of light. But the outdoor seating is also just as charming, lined with trees and umbrellas.
We love the tea sandwiches cut in a triangle and stuffed with crab or salmon. It's also a cocktail bar so you can expect to sip on well-crafted drinks, both classic and signature of the restaurant.
Address: 200 Vesey St, New York
O'Hara's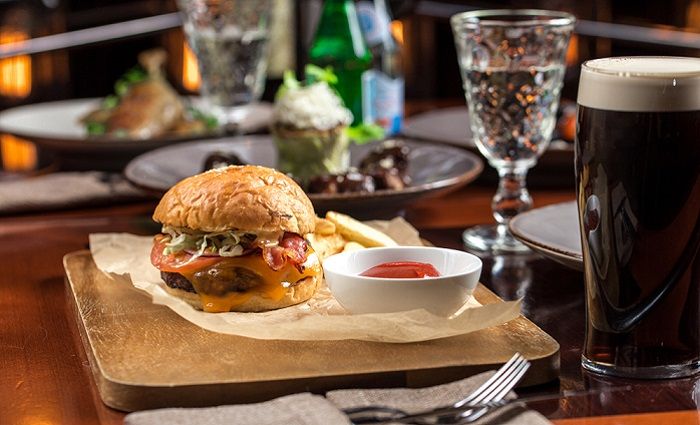 $$ | Irish Pub | Neighborhood Drinking Den
You're not going to get anything fancy when you visit O'Hara's, which is why we like it. We pull up a seat at the bar when we're craving a cold beer and chicken wings. And the burgers are also worth biting into. There's a lot of history in this place. It's another building that was damaged during 9/11 and had to be rebuilt.
It now houses colorful walls adorned with patches from fire and police uniforms to honor those who sacrificed their lives to help others. While it's a great place to park and drink, we also love how it honors first responders. It's one of our favorite restaurants near the 9/11 Memorial for that reason.
Address: 120 Cedar St, New York
ONE Dine at One World Observatory
$$$ | American | City Views
Sitting all the way atop the One World Trade Center, you'll find ONE Dine. The layout is modest but airy thanks to the walls of floor-to-ceiling windows. The American menu is fine but pricey. For instance, a NY strip steak will cost you more than $60.
But to be fair, we don't really go here for the expensive eats. We go here for the skyline views of the city. Share a smoked salmon flatbread with your group, order a few fancy drinks, and enjoy the view.
Address: 117 West St, New York
Wasabi Sushi & Bento
$$ | Sushi | Quick & Easy
For anyone looking for a quick meal that is tasty and light, Wasabi Sushi & Bento is the right choice. Its location is convenient as it's found in the Westfield World Trade Center. The food is freshly prepared and delicious, so it's easily one of the best restaurants near the 9/11 Memorial if you want tasty food to-go.
Choose from noodle soups to sushi rolls, bento boxes, and salads. There are also plenty of tables to sit at both inside the venue and out. We recommend out since this location overlooks the 9/11 Memorial Pools, with the One World Trade Center to its right.
Address: 185 Greenwich St Suit LL3115, New York
Trinity Place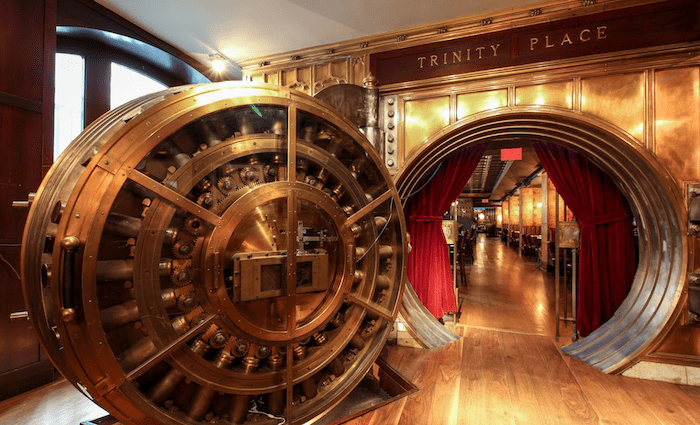 $$ | American | Cool Location
What makes Trinity Place stand out has to be its nearly hidden location. Housed in a former bank vault from the early 1900s, the place is pretty cool to visit. It has an old-world feel throughout thanks to the dark woods and velvet curtains.
You'll have your selection of solid American cuisines like spaghetti carbonara and pan-seared salmon. There's also a bar menu with plenty of fancy cocktails to sip on.
This restaurant is about half-way between the memorial pools and the New York Stock Exchange, so it's perfect if you're planning to visit both areas in one day.
Address: 15 Broadway, New York
St. George Tavern
$$ | Pub & Chinese | Something for Everyone
Housed inside an old church, St. George Tavern is definitely one of a kind. But it's not just the historic space that makes it unique. There's also the menu. It's a mix of classic pub grub, traditional French, and even some Chinese food.
So you can have your crab cake, French onion soup, and spring rolls all in one sitting. If that's your thing. Sure, it seems random, but it makes for the perfect spot with a group of picky eaters. That means it might just be perfect if you're here with the kids.
Address: 103 Washington St, New York
Suspenders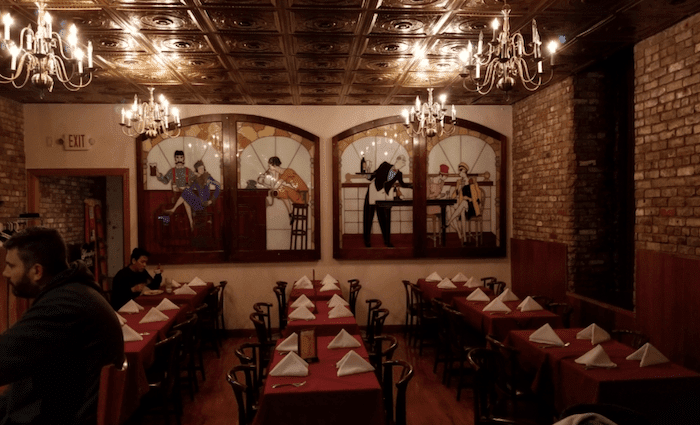 $$ | American | Basement Hideaway
A comfy restaurant with a local pub feel, Suspenders is a great spot to simply hang. You'll enjoy traditional eats here from mozzarella sticks to a Philly cheesesteak, which pairs nicely with whatever you're sipping from the bar. It's located in a basement so it feels far from all the bustle happening on the street outside. A bonus for us. Plus, it has a notorious happy hour scene.
Address: 108 Greenwich St, New York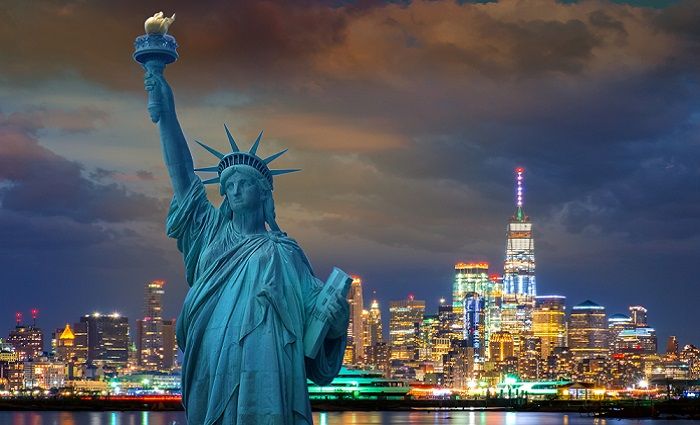 Find the best places to stay
Where to Stay in NYC
New York City is the center of the universe to those who adore this iconic city. Choose the best neighborhood to stay in as you plan your upcoming trip to the Big Apple.