The Metropolitan Museum of Art (or the Met) is world-renowned with a vast art collection that spans over 5,000 years. This sprawling museum is one of the most visited, and you may be wondering: what's the best way to see it all? We're here to help you decide if a guided tour of the Met is the way for you!
---
Pro Tip: Planning your trip to NYC? Bookmark this post in your browser so you can easily find it when you're in the city. See our guide to New York City for more planning resources, our best MET and NYC tours for a memorable trip, and the top things to do in NYC.
Why You Should Take a Met Tour
The Metropolitan Museum of Art is one of the largest museums of its kind. Measuring 2.2 million square feet (according to the website), there's a lot of ground to cover! The Met has been showcasing rare artwork from around the globe since it was founded in 1870. It features permanent and rotating exhibits, film screenings, live performances, and more.
The space is lit up with over 60,000 lights, ensuring you get the best possible view of everything on display. The website states that the Met has more lights combined than the lights seen on that sparkly New Year's Eve ball that drops in Times Square!
There's a lot to do and see in this museum. This is why many choose to take a guided tour of the Met. Read on to learn more about what a tour of the Met includes and why you might want to take one.
Not ready to book a tour? Find out more about how to visit the MET museum.
Top Areas You'll Visit During a Guided Met Tour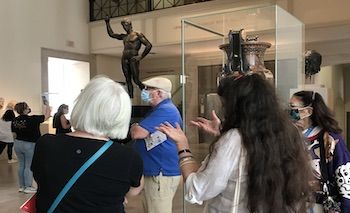 Greek and Roman Art
The first exhibit you will likely encounter on your tour is the Greek and Roman Art located on the first floor. Here, you will see classical art from Greece and Italy with grand marble statues and bronze portrait busts along with some items made out of bone.
There are over 30,000 different works on display here, dating all the way back to the Neolithic period.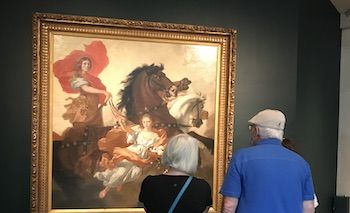 In Praise of Painting: Dutch Masterpieces at the Met
The Dutch paintings located at the Met are pretty impressive as some have been on the walls since around the time the museum originally opened. You'll see paintings from all the greats, including Rembrandt and Johannes Vermeer.
There are sixty-seven different works in this current exhibit that all relate to themes regarding religion and women. This is where you'll be able to check out Rembrandt's famous Apollo and Aurora and Margareta Haverman's A Vase of Flowers, the only painting in the Met that was created by an early modern Dutch woman.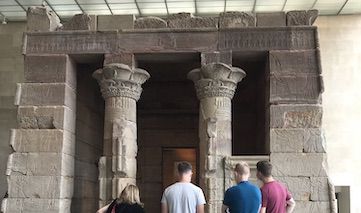 Egyptian Temple
While you might not spend a lot of time with Egyptian art during this tour, you will get a chance to check out the impressive 2,000-year-old Egyptian Temple of Dendur located in the Sackler Wing.
The temple used to be located along the Nile River and had to be taken down and recreated when it was brought to the Met. The wing actually has its own replica of the Nile River which you'll see directly in front of the temple. It's a fascinating look at ancient history in a modern city.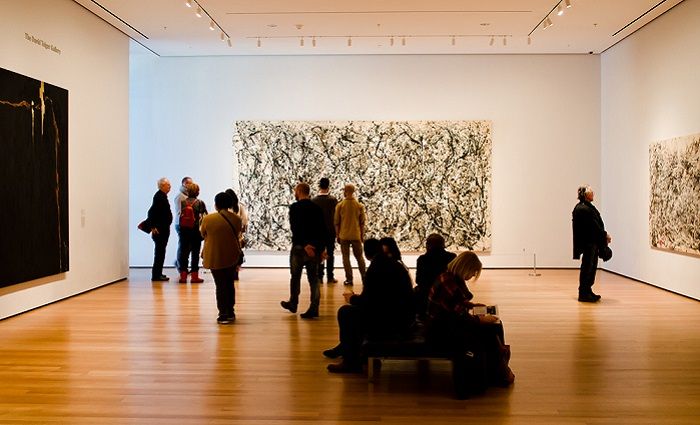 Modern and Contemporary Art
Whether you fancy a look at abstract expressionism or French modernism, The Met has a wing for you. The Modern and Contemporary Art collection is where you'll find famous pieces like Jackson Pollock's Autumn Rhythm or Picasso's Gertrude Stein.
There are also sculptures and other pieces carefully selected to celebrate artists from areas ranging from South America to North Africa. While modern art might not be everyone's cup of tea, the artwork here is incredibly diverse and will come to life as your guide helps explain the history behind these notable pieces.
Not ready to book a tour? Check out our MET Guide for more resources.
Why Seeing the Met Is A Good Idea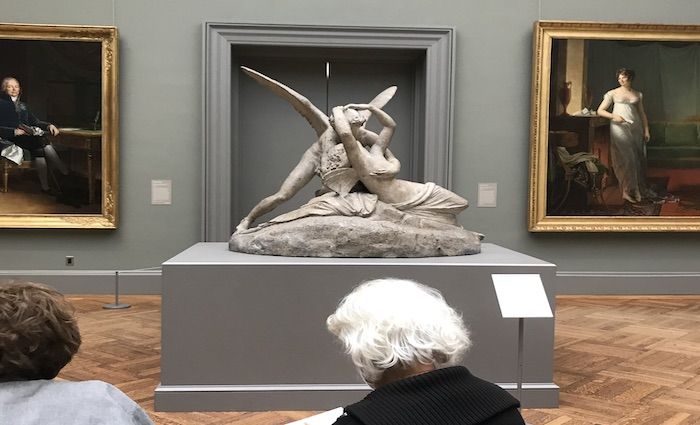 We now know how cool the Met is and all the important exhibits and artwork it holds. But why should you schedule in time to check it out when you're visiting New York City? We have a few good reasons you'll want to explore the Met.
Prime Location
The Met is located on Fifth Avenue on the Upper East Side. It can be easily reached by subway getting off the 86th street station with a ten minute walk to the museum. But what we really love about this location is that Central Park is in the museum's backyard. You can enjoy killer views from The Met, especailly when you hit up the rooftop bar. And since you're so close to the park, you can easily head over there after you finish exploring everything the museum has to offer.
It's Famous
This is not just your everyday art museum. The Met is known for having some of the most rare and unique artwork from around the globe and it is one of the largest around. However, it is also home of the Met Gala where all the celebrities hit those iconic steps in some of the most daring fashion trends. You know you want to walk those very steps Beyoncé did.
Tours Make it Easy
Sure, you can check out The Met on your own. However, since it's so large with many exhibits to see, it can be hard to know where to go. That's where a guided tour comes in to help. You won't have to navigate this massive space on your own but instead will have a tour guide show you around. What's even better is you'll be able to learn more about the museum and the art collections, picking up interesting facts you wouldn't uncover otherwise.
Fun for All
Whether you are traveling with your family, friends, or a significant other, a tour of the Met is great for just about anyone. It's informative, educational, and fun. Plus, you'll work up a big appetite walking from room to room. And when that hunger strikes, we have great recommendations for restaurants near the Met for you to check out.
Why A Met Tour Is Worth It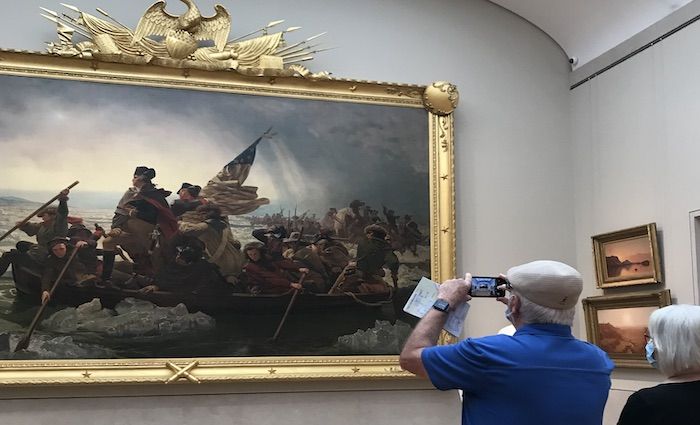 Now that you know why you should visit the Met, you may be wondering: is a guided tour worth it? We say, it sure is! Here's why it's a good idea to take a guided tour rather than exploring the Met on your own.
Small Group Tour
With a tour of no more than 15 people, you can enjoy a more intimate experience without getting lost in a large group. You can interact with your guide and ask questions if any should come up during your tour. Another bonus with a small group is your tour can be tailored to what everyone wants to see and do as the guide will ask if there are any preferences before you begin exploring the exhibits.
Skip the Line
Rather than waiting in that long line to get into the Met, you will meet your guide outside away from the crowd. From there, you will skip the line and head straight into the museum—that's the advantage of a pre-paid ticket and a local guide to lead the way!
Stories and Histories
Not only is your guide knowledgeable about the Met itself, but they have the inside scoop on the art you see. For example, our tour guide told us about the history behind Vincent van Gogh's friendship with the French Post-Impressionist artist Eugène Henri Paul Gauguin. Did you know Gauguin may have been the person who cut off van Gogh's ear? We didn't either.
Good Value
The Met has so much to see and lots of interesting tidbits to learn. When you explore this space with a guide, you'll not only see so much more in your three hours but you'll understand what it is you're looking at and why it's so significant to the art world. Plus, you have your ticket for the entire day. Once the tour is over, you can continue to explore any areas you may not have seen during the tour.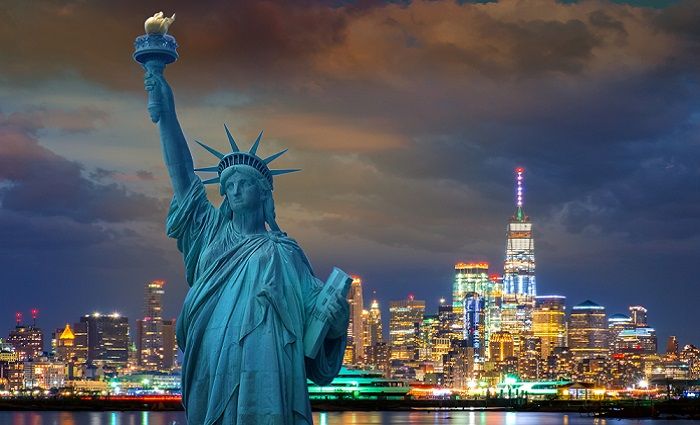 Find the best places to stay
Where to Stay in NYC
New York City is the center of the universe to those who adore this iconic city. Choose the best neighborhood to stay in as you plan your upcoming trip to the Big Apple.