Planning to visit Milan and want to know if a guided tour of the Last Supper worth it? This article will go over what to expect from a Last Supper tour and the benefits. This way, you can decide if it's right for you.
---
Pro Tip: Planning what to do on your trip to Milan? Bookmark this post in your browser so you can easily find it when you're in the city. See our guide to Milan for more resources to help you plan your trip. Also, don't miss our tours of the Last Supper and more around Milan!
What Does It Mean to "See the Last Supper"?
The Last Supper is one of the most recognizable art pieces from the Renaissance and recognized worldwide as one of the greatest art masterpieces of all time. This artwork by Leonardo da Vinci has been the subject of various Hollywood movies, history books, novels, and essays. The image is forever emblazoned in our collective consciousness and is part of the story of humanity.
I grew up staring at the piece my whole life as my parents had a replica above our dining room table. The action and dramatic scene painted by da Vinci were a sharp contrast to the somber religious works my mother had around the house, and it reminded me of my brothers and I at the dinner table. I always wondered if the actual painting looked like the print in my parents' home. One thing I did know is that I had to see it for myself.
The Last Supper is found in a small church in Milan called the Basilica of Santa Maria Della Grazie. It's the most notable piece of art here, but there is also a museum dedicated to this masterpiece, its history, and restoration projects that you can also explore. Your guide will share the fascinating stories behind this painting and the painstaking restoration.
Not ready to jump into a tour? Read more about The Last Supper.
Areas of Interest
The Last Supper by Da Vinci has survived major chaotic historical events like the French Revolution with the subsequent invasion of Napoleon and miraculously WW2. The precious masterpiece also underwent a painstaking 20-year restoration that finally ended in 1999.
So you can imagine that you can't just walk in to see this piece of art like many works found in churches throughout Italy. Since this is such a unique piece of art, the length of each visit and the number of people allowed to enter are strictly limited. Here are the key areas you'll want to make sure you explore when you go see The Last Supper.
The Dining Hall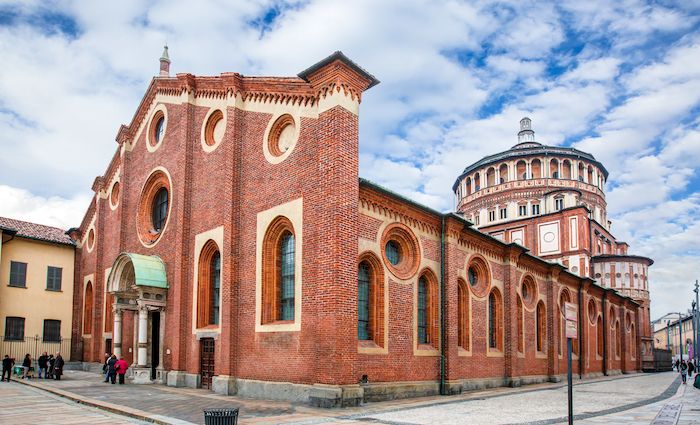 The famous mural is inside the Dominican Dining Hall of the Basilica of Santa Maria Della Grazie. The long rectangular hall with white-washed walls is where Leonardo da Vinci worked from 1495-1498 to complete his masterpiece.
The room is dimly lit, and the wall with The Last Supper is on the right. Photographs are allowed, but video is prohibited.
Small Exhibition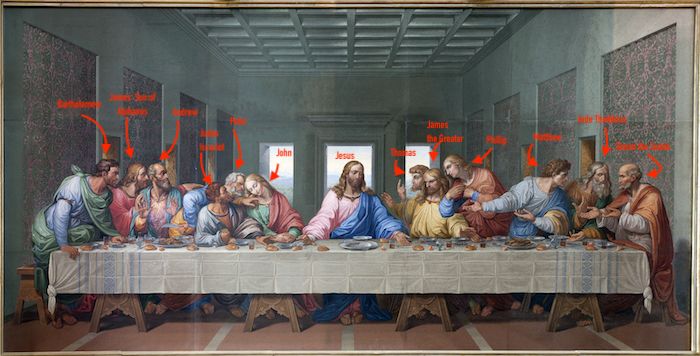 Once your timed session is over, all visitors enter the small museum adjacent to the dining hall. This room is a small exhibition with photos and information about the meticulous restoration of this unique piece of art.
Here your guide will continue sharing stories about The Last Supper and give you an overview of the delicate repair process. You will have time to examine several before and after displays.
The Small Garden and Courtyard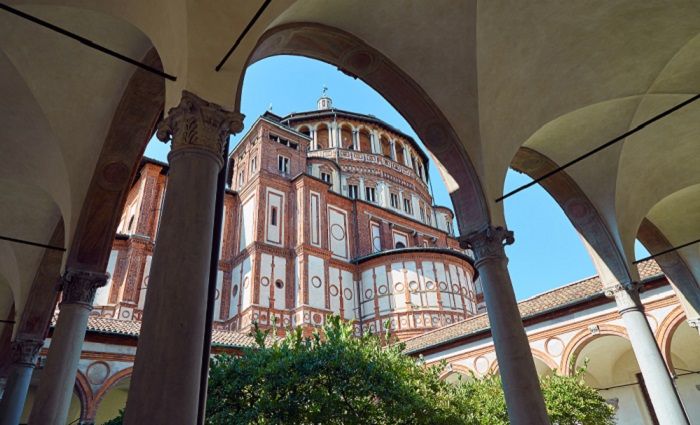 There is a small garden and courtyard outside of the church and dining hall. This area is where you will exit and where the guided tour will end.
Take time to reflect on the opportunity to see one of the most significant art pieces once you're outside again.
Is a Tour of The Last Supper Worth It?
Short answer: Yes, it is worth it for a few reasons.
We're a tour company, so we believe in the value of a professional guide, but we don't sell tours of everything on Earth—just the most noteworthy. A great tour guide can make history come alive and fun, but not everything needs a guided tour.
However, The Last Supper is one of the most famous paintings made by a fascinating artist. Since you only get 15 minutes with da Vinci's Last Supper, why not maximize your time and experience?
Not only that, but there is much to learn. We have a couple articles on The Last Supper written by a Ph.D. historian to help you understand this masterpiece. These are a must-read for anyone visiting Milan. Ultimately, our goal is to enrich the global community with culture and knowledge.
You can purchase tickets to visit The Last Supper independently, so your main question should be, whether or not a licensed guide is worth it. Here are a few key reasons why a guided tour of The Last Supper is your best bet.
Guaranteed, Skip-the-Line Tickets
The timed-entry tickets to see The Last Supper means there is only one line that all visitors can enter. There are two reasons why booking with us is the most beneficial option. Tickets for the general public sell out quickly, often weeks in advance. We pre-purchase our tickets, so you're guaranteed entry if you reserve a tour with us.
Your guide also makes it easy to get through the line and ticketing process while preparing you with informative context before entering the church. While inside, the guide will maximize the precious 15 minutes you have inside to view the masterpiece. I didn't take my eyes off it for the solid 15 minutes while enjoying the fun factoids from the tour guide.
See More Than Expected
There are two works of art in the church dining hall. One you already know, and the other you probably don't. That's where your guide will really come in handy since they'll enlighten you about this other unique piece that's also one of da Vinci's.
The second painting is found opposite to The Last Supper by da Vinci, so be sure to take just a moment to appreciate this piece too. Another piece of art you'll see is the fresco of the crucifixion painted by Giovanni Donato da Montorfano.
A guided tour will ensure you maximize your understanding of da Vinci and The Last Supper since you traveled so far to see this masterpiece. When you leave, you'll be confident you had the entire experience of all that's available in this little church.
Great Tour Guides
We run small group and private tours that are of higher quality than most due to our excellent guides who have a passion for their city and a deep understanding of their subject. A guide can elevate your experience at a museum or on a city walking tour since they'll keep you engaged with stories and helpful information to enrich your time in a new city.
The Most Popular Tours of The Last Supper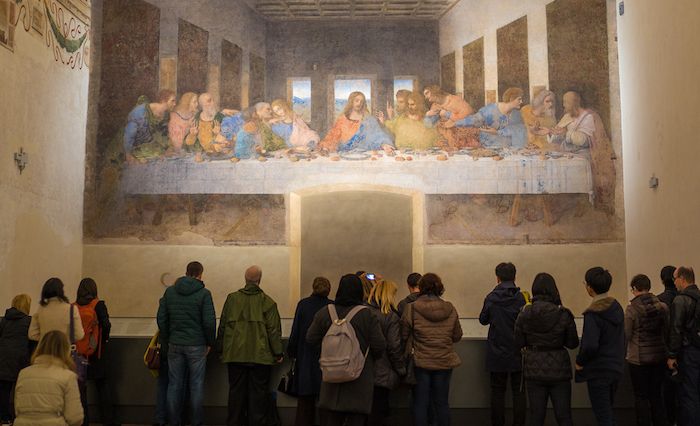 Which tour is best for you? That depends on budget, time, energy, and your travel goals. Below are our most popular tours of The Last Supper.
On this tour, you'll have skip-the-line access to both the Duomo and The Last Supper. Your English-speaking guide will share fascinating stories of the tragic history and restoration of da Vinci's mural, bring to life the epic history of the Milan cathedral, and lead you through the most iconic mall and neighborhoods of Milan. Read more about it on the tour page.

See tour itinerary, price, and description
If you prefer guaranteed access to The Last Supper without other attractions included, this is your best bet. You'll meet your tour guide outside the church where they'll help verify your ticket then escort you into the church. Tickets to The Last Supper usually sell out months in advance, so booking this quick tour is a good idea if you want to see Leonardo da Vinci's restored painting without any other activities.
See tour itinerary, price, and description
Not ready to jump into a tour? Read more about the Last Supper.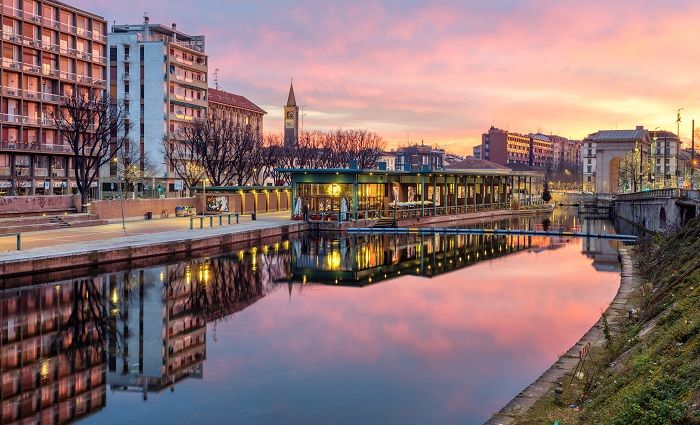 Find the best places to stay
Where To Stay in Milan
Milan is a small city with plenty to explore from iconic landmarks to a vibrant art and design scene and old-world charm. Plan where to stay in the best neighborhoods in this beautiful city.