Leonardo da Vinci's masterpiece, the Last Supper, is the hottest ticket in Milan—and it has been since the late 1490s! So, why are people so fascinated by this artwork? Read on to find out three reasons why the Last Supper is so famous and why you'll definitely want to see it for yourself.
---
Pro Tip: Planning your trip to Milan? It's easier to organize your trip when you have all your resources in one place. Bookmark this post along with our Milan Guide for more info, our tours of the Last Supper and Milan for a memorable trip, and how to see Milan in a day.
The Fascinating History of The Last Supper
Few artworks are as instantly recognizable as Leonardo da Vinci's Last Supper. There are many reasons why the work is notable. Did you know the Last Supper is a mural, not a fresco? Historian Lillian Cespedes Gonzalez shares this and other interesting facts you may not know about this work of art.
The Last Supper has inspired a great deal of study and art historians and scholars are far from the only people fascinated by this work. It has attracted widespread attention since its completion in 1498, noted art historian Ian Chilvers.
But why exactly has it captivated us so? In this article, we'll share three important reasons why the Last Supper is so famous. We'll also get to know Leonardo da Vinci, the man behind the work, and the background story of this legendary masterpiece ahead of your visit.
Then, when you're standing in front of it, you'll know why the Last Supper is so famous! There's no better way to appreciate it—except for seeing it with an expert guide, of course.
Not ready to book a tour? Find out if a tour of the Last Supper is worth it.
A Brief History of Leonardo da Vinci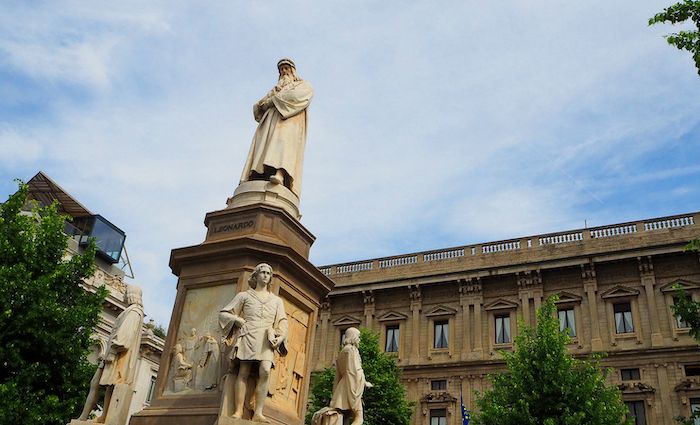 Artist | Engineer | Musician and More
Studying the life of Leonardo da Vinci from any perspective reveals he was a true visionary. The label "Renaissance man" certainly applies to da Vinci's career and talents. Like so many other famous Renaissance names, da Vinci's life and career began in Florence. However, as art historian Ian Chilvers explains, Leonardo really left his mark on Milan.
Personally, I feel Milan's monument dedicated to da Vinci perfectly captures Leonardo's varied skills that extended far beyond artistic abilities. For example, young Leonardo's musical talents attracted many admirers. Da Vinci's engineering abilities, says art historian Ross King, also brought many work opportunities.
Of all these talents, however, da Vinci is best known for his art. While he produced many acclaimed portraits (the Mona Lisa in the Louvre is but one example), arguably Leonardo's most famous work is the Last Supper, commissioned by the Duke of Milan Lodovico Sforza for the refectory of the Santa Maria delle Grazie monastery.
Da Vinci's Time in Milan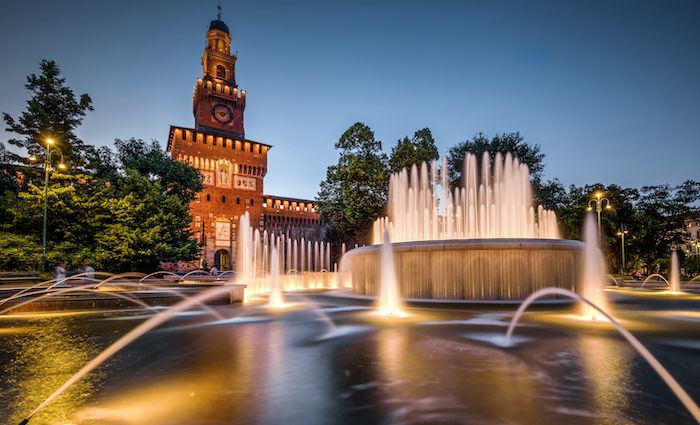 To better understand Leonardo's Last Supper, let's take a look at the time he spent in Milan. Leonardo first arrived in Milan from Florence in the early 1480s when the Sforza family ruled Milan says historian David Gilmour.
Leonardo primarily worked in the court of Duke Lodovico II (Il Moro), writes Chilvers. Lodovico ruled over the wealthy city from the massive Sforza Castle. However, Milan's fortunes, as well as those of the Sforzas, declined shortly after da Vinci completed the Last Supper.
In fact, as historian Jeremy Black explains, Milan fell to French invaders in 1499. As a result, Chilvers says Leonardo embarked on a winding journey through multiple Italian cities and then France.
Da Vinci did return briefly to work in Milan during the early 16th century. However, Milan experienced several centuries of foreign rule, according to Gilmour. For a deeper dive into Milan's fascinating history, check out our brief history of Milan! Now, on to our three reasons why the Last Supper is so famous!
Not ready to book a tour? See our Milan Guide for more info.
3 Reasons Why Da Vinci's Last Supper Is So Famous
Have you ever wondered why Leonardo da Vinci's Last Supper is so famous? Take a closer look at the interesting techniques da Vinci used to create this work of art and the incredible things it has endured. You'll definitely want to see it for yourself!
3. Da Vinci's Last Supper Technique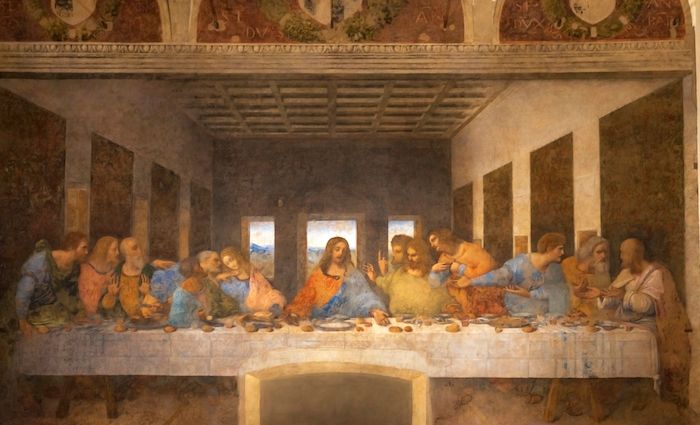 Sfumato | Unorthodox | Deterioration
You could say that Leonardo's Last Supper should not exist. In fact, da Vinci encountered major hurdles before work even began. Why? Well, Chilvers explains that Leonardo's slow-working style meant that from the onset, creating the Last Supper to its planned dimensions in its location would be challenging.
In fact, the traditional fresco method of mural painting required an approach Leonardo was unwilling to use. The difference partly has to do with Leonardo's choice of materials. Rather than paint in the more durable fresco method of mixing pigment with plaster, da Vinci relied on tempera.
Thus, as art historian Tara Heffernan explains, da Vinci turned to an experimental technique to complete the project. Leonardo pioneered the blurring of tones from light to dark. It's a process referred to as sfumato, art historian Ross King tells us. Leonardo himself described the process as "without lines or borders, in the manner of smoke."
Leonardo's technique was certainly a gamble. In fact, Polzer says that much of the mural deteriorated by the late 16th century. In 1550 for instance, art historian Vasari described Leonardo's work as a "dazzling blotch." In other words, people like Vasari reluctantly gave up believing the Last Supper would survive. Yet survive it did.
Not ready to book a tour? Read up on how to visit the Last Supper.
2. The Survival of the Last Supper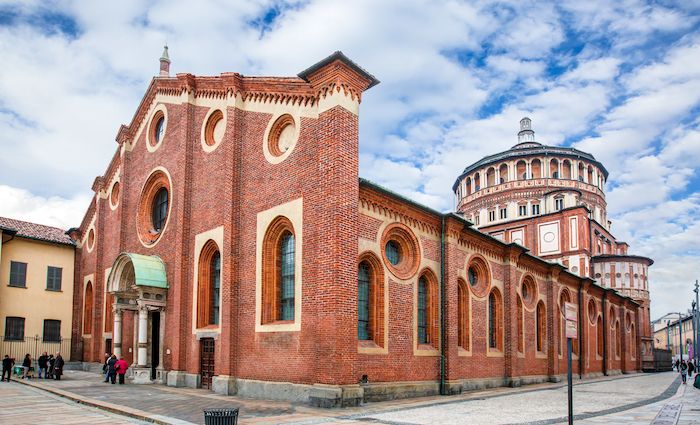 Accidents | Target Practice | Bombardment
Leonardo's technique is not the only challenge to the durability of the Last Supper. The masterpiece has survived potential destruction on numerous occasions.
For starters, the Last Supper endured multiple accidents. Art historian Tara Heffernan tells us a door once accidentally knocked out the bottom part of the mural. Da Vinci's masterpiece has also outlived military occupations. For several centuries, Milan and much of Italy became a battleground for major European powers.
However, the French Revolutionary and Napoleonic military occupations in Milan proved particularly dangerous for da Vinci's work. Historian Andrew Roberts tells us that Napoleon's troops used the refectory's walls for target practice, endangering the Last Supper.
Finally and quite miraculously, Leonardo's Last Supper survived devastating bombing raids during WWII. In fact, Gilmour tells us one raid in 1943 nearly destroyed the entire structure. The one area that remained when the smoke cleared contained the Last Supper.
1. Realism in Da Vinci's Last Supper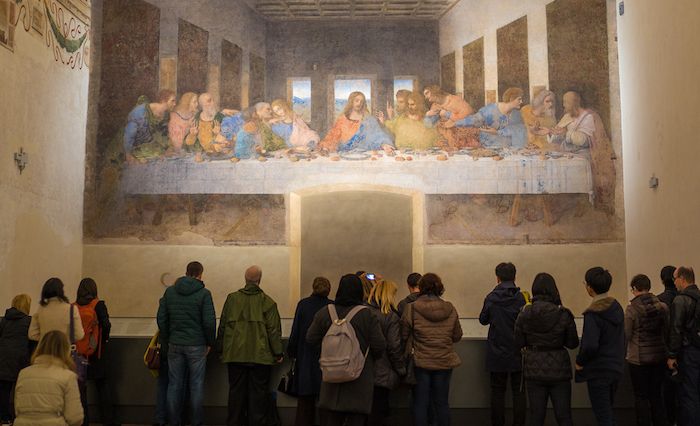 Gestures | Emotion | Authenticity
Arguably, the most significant aspect of Leonardo's work is its striking realism. It has fascinated contemporary observers, later scholars, and generations of visitors.
Early viewers, according to Polzer, marveled at the mural's realistic and emotional depiction of Christ and the Apostles. He also noted that Leonardo's Christ in the Last Supper is steeped in his last sermon.
However, there's been a lot of debate about the precise moment da Vinci captures in the Last Supper. That said, the scholarly consensus is that Leonardo depicts the moment when Christ tells of a betrayal by one of his disciples, says Chilvers.
Da Vinci's genius is evident in the emotions and expressions captured in the piece. In fact, Polzer also tells us that many critics say the reactions are so authentic it's as if da Vinci's subjects are speaking to the viewers.
Much has been written about da Vinci's inspiration for these facial expressions. Da Vinci is believed to have drawn inspiration from studying faces he passed in Milan's streets, says art historian Tara Heffernan who believes many related sketches survive today at the Royal Library in Windsor, UK.
And that's why the Last Supper is so famous! Now, you're all set for your visit to Leonardo da Vinci's Last Supper! Heading to Milan? Don't miss our guide to the must-see art in Milan!
Not ready to book a tour? Find out if a tour of the Last Supper is worth it.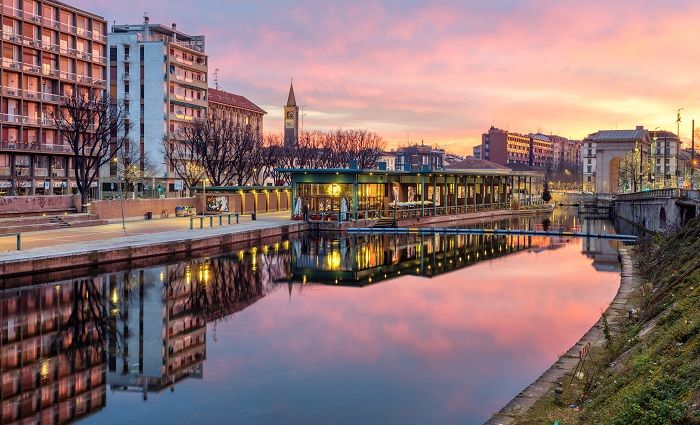 Find the best places to stay
Where To Stay in Milan
Milan is a small city with plenty to explore from iconic landmarks to a vibrant art and design scene and old-world charm. Plan where to stay in the best neighborhoods in this beautiful city.