Munich has a traditional charm bursting with medieval attractions juxtaposed against modern amenities. The ancient churches, majestic castles, and monuments dotted around the city and its surroundings are history encapsulated in a moment. So where should you stay in Munich? In this city, you'll be spoiled with many choices from wellness hotels to rooms with a view and more. Here are our picks for where to stay in Munich.
---
The Best Hotels and Places to Stay in Munich
Munich can be slightly intimidating for new visitors with bars, restaurants, and hotels tucked away in the many corners of the city. So here is a breakdown of the best neighborhoods or districts to find accommodations for your next city break.
The best places to stay in the city are located in District 5 (Au–Haidhausen) With the Isar river at the border of this neighborhood and a hive of activities from sunbathing, cycling, trendy bars and restaurants, Au-Haidhausen is undoubtedly one of the best places to stay in Munich. You can walk or cycle, and of course, there is a good public transport system across the entire city in general.
Districts 1 and 2 (Altstadt–Lehel) and (Ludwigsvorstadt-Isarvorstadt) are equally close by, just 10 minutes by car or train and a 25-minute walk from Au-Haidhausen. We recommend you take your time and walk across the town and take in the sights along the way.
Districts 11 and 12 (Milbertshofen-Am Hart) and (Schwabing-Freimann) are slightly further away from the main city center but not more than 30 minutes by train, which is the fastest way to get around Munich. Other fast transport modes are driving (be aware of limited parking), tram, bus, cycling, and scooters. Here are the best areas to stay in Munich:
Our Partnership with Booking.com. If you like our content, please book by clicking on our Booking.com links. The price is the same for you and we get a small commission that helps support our blog. We've partnered with Booking.com because they have the most options, great prices, and a solid loyalty program.
Au-Haidhausen – District 5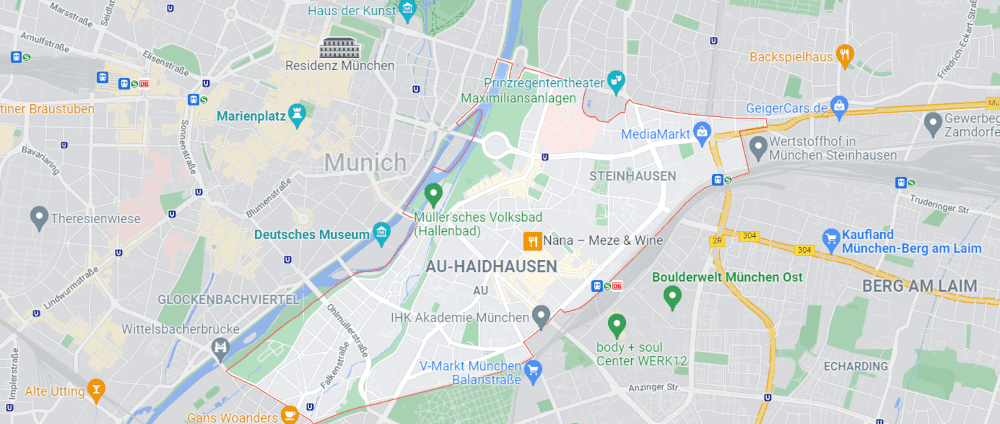 Central | Vibrant Atmosphere | Great Food & Bars
Au-Haidhausen is probably one of the most central suburbs that gives visitors a taste of city life with a dash of nature. Its main attraction in the summer is the Isar river that flows along its borders. You get lots of sunbathing, picnicking, and even scenic cycling opportunities here. Most of the trendy bars and best restaurants in Munich can also be found in this area.
It's a great location to stay in because you can easily walk to other popular areas of Munich, such as Altstadt (Old Town) and the neighboring district of Ludwigsvorstadt-Isarvorstadt. We've put together a few great hotels in Munich below.
Attractions Near Au-Haidhausen:
Best Restaurants in Au-Haidhausen:
metz7 Restaurant
Oliver Israel
Pizzaesco
Gaststätte Zum Kloster
Vinaiolo München
Best Hotels in Au-Haidhausen:
JAMS Music Hotel Munich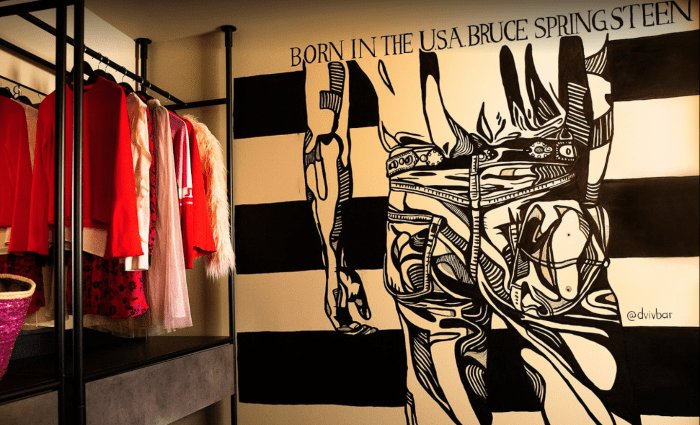 €€€ | Music Themed | Award Winning | Design Hotel
This quirky rock-music-themed hotel is the definition of alternative with retro art of some of the legendary rock-stars at every turn. If winding down to some music in your room is your idea of a jam session, you'll love choosing from one of 250 available LPs to use on the record player in your room. JAMS is the perfect blend of modern hospitality, food, music, culture, and decor.
Marias Platzl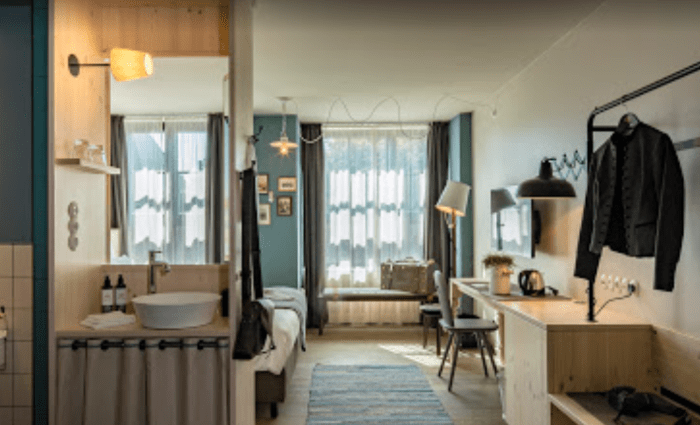 €€€ | Bavarian-themed | Pet Friendly | Church View
An eloquent Bavarian-themed hotel in the most popular part of Munich that also happens to hold a rich local history. Here you'll enjoy classic rooms with touches of Bavarian decor and views of Mariahilfkirche (Maria Hilf church). And the hotel restaurant offers a spread of the finest local delicacies to fully immerse yourself like a native Bavarian. You might even be able to borrow lederhosen (leather shorts) for Oktoberfest, if you ask nicely!
MOMA1890 (formerly Design Hotel Stadt Rosenheim)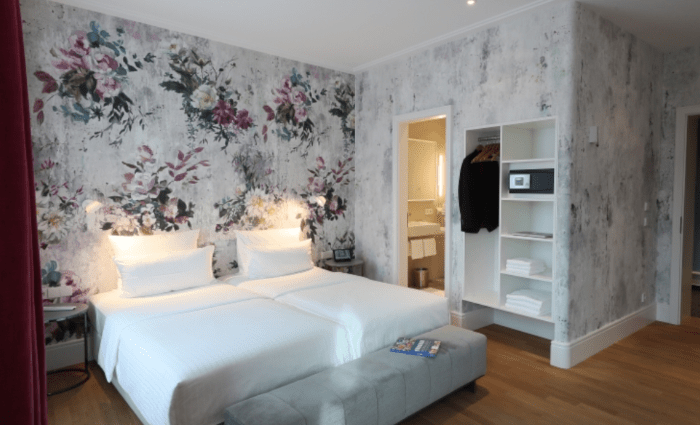 €€€ | 4 Star | Period Building | Easy City Access | Unique Rooms
The MOMA1890 has clean, unique rooms housed in a period building dating back to the 1890s. The hotel is located next to the Munich East Station which gives you access to areas beyond the city center. We love the artsy rooms in this hotel that are also clean and fairly spacious.
Hotel München Palace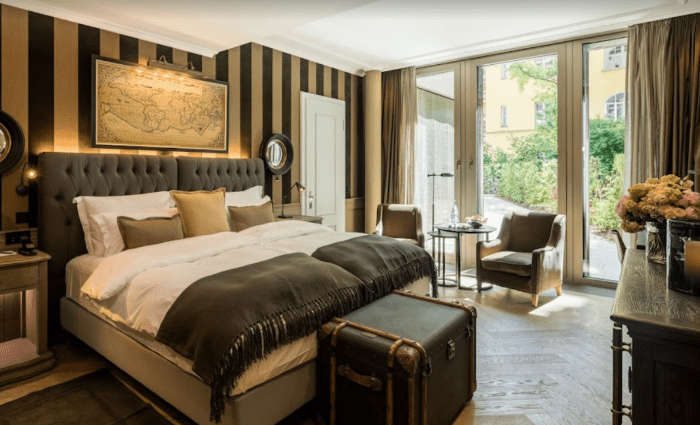 €€€ | 5 Star | Rooftop Terrance | Chic Rooms
An elegant, family-owned boutique hotel with modern decor and a beautiful summer courtyard. The cozy rooms and secluded location make it a perfect hideaway for a break from the city—just 15 minutes by train. Spend the morning on the rooftop terrace for a truly relaxing morning before heading out.
Altstadt-Lehel (Old Town City Centre) – District 1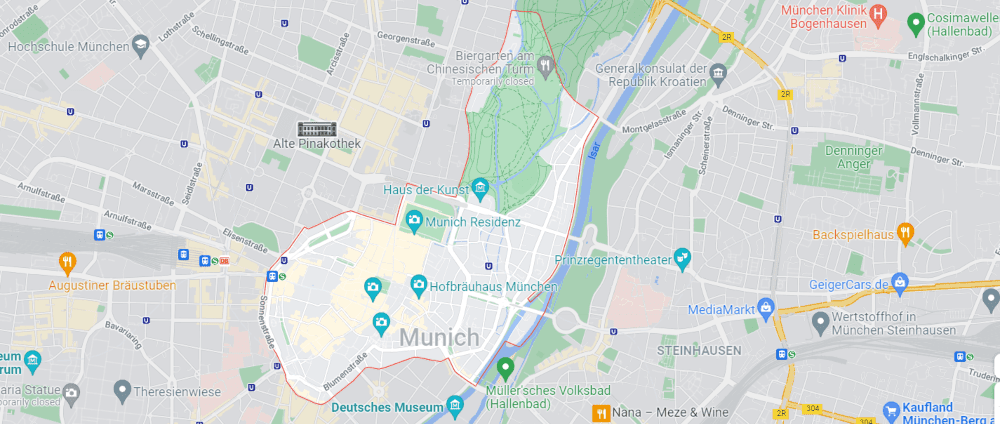 City Centre | Tourist Attractions | Shopping District
Altstadt-Lehel is where every tourist's journey to discover Munich typically begins. Most of the traditional charm comes from the neo-gothic churches and monuments found near the Marienplatz and other corners of the Old Town. We've put together a few great options for where to stay in Munich if you want to stay in old town city centre.
The Munich Christmas Market stalls are set up in this location, which usually creates an unforgettably dreamy atmosphere. The aromas of roasted chestnuts and spicy Glühwein (mulled spice wine) mingled with the fairy lights are something out of a fairytale.
If shopping is what makes your day, then Kaufingerstraße (main shopping strip), Sendlinger Straße (hidden gem off the main strip), and Maximilianstraße (extremely high-end shopping street) will not disappoint. You also won't be short of food options from Viktualienmarkt. Here you'll find gourmet street food, multiple coffee shops, and every restaurant you can imagine.
Attractions Near Altstadt-Lehel:
Best Restaurants in Altstadt-Lehel:
Ruff's Burger Marienplatz
Sababa
Il Sogno
Maggie Sushi Bar
Der kleine flo
Wirtshaus Zum Straubinger
Best Hotels in Altstadt-Lehel:
Mandarin Oriental, Munich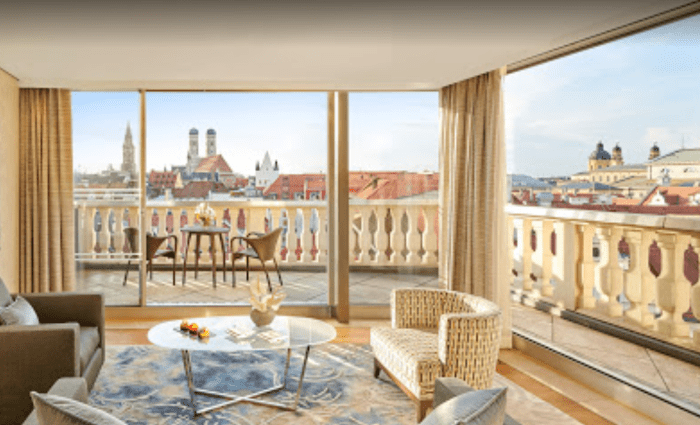 €€€€ | 5 Star | Fine Dining | Exceptional City Views
If an opulent experience is what you are looking for, then this hotel is where you need to be. You'll have large, well-lit rooms with grand terraces that have a 360-degree view of some of Munich's iconic attractions, such as the Frauenkirche (Cathedral of Our Lady). The resident restaurant, Matsuhisa, serves fine Japanese-Peruvian cuisine. The hotel also offers limousine services for exploring the city in style.
Mercure Hotel Muenchen Altstadt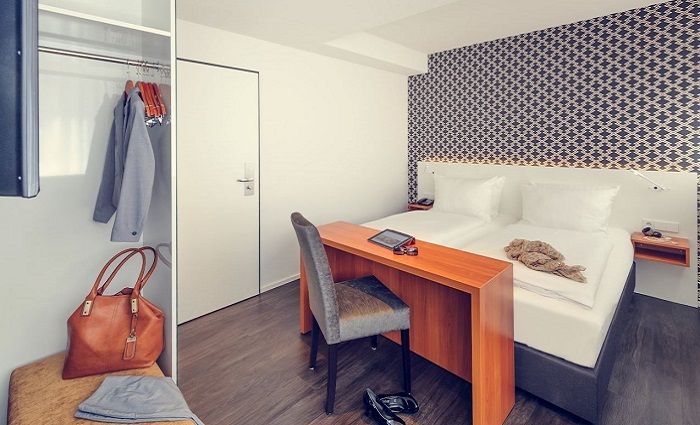 €€ | 3 Star | Affordable Option | Close to Marienplatz
If you're looking for an affordable option that's close to all the best sites in old town Munich, then stay at Mercure Hotel in Altstadt. It's a fun little hotel where every room is a little different and most are recently renovated. Breakfast is included and the view of the Frauenkirche is a bonus from some rooms!
Platzl Hotel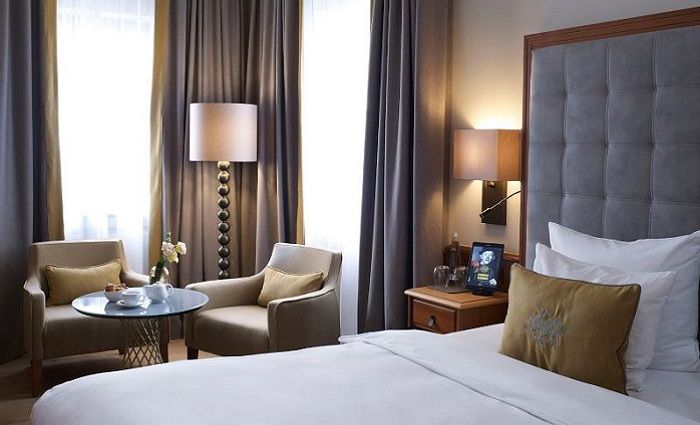 €€ | 4 Star | Classically Modern | Wellness Room with Sauna
Get totally relaxed in the heart of Munich at this classic hotel that's just the right amount of luxurious at a great price. Many rooms have a great view of the Marienplatz and the Hofbräuhaus. And at the end of your day exploring historic München, enjoy the sauna and steam baths.
Ludwigsvorstadt-Isarvorstadt – District 2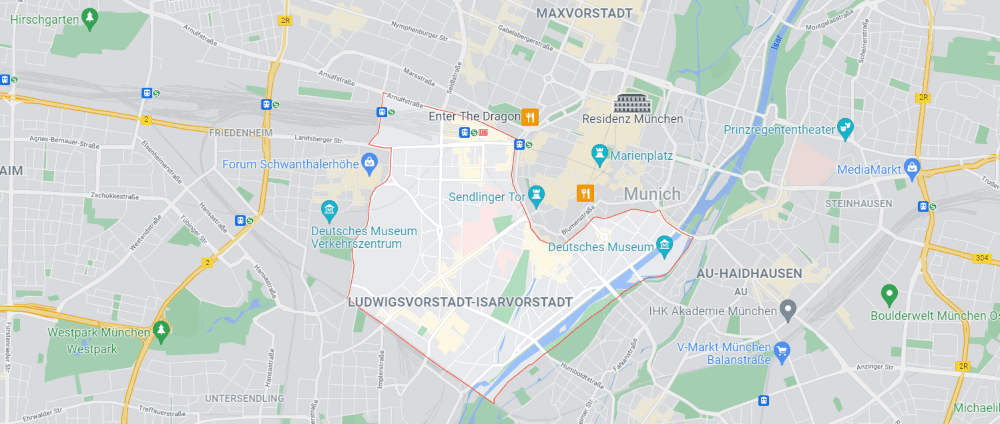 Nightlife | LGBTQ+ Scene | Art & Culture
Ludwigsvorstadt-Isarvorstadt is, without a doubt, Munich's top arts and culture scene. Here you'll find theatres, beautiful ancient cemeteries, museums, and more. Theresienwiese is located in this area which hosts the world-famous Oktoberfest and other activities such as SpringFest in spring and The Tollwood Winter Festival.
If you are looking for an LGBTQ+ scene, Glockenbachviertel is the best area. Here you'll find the trendy gay bars, the Gender-Ampel (gender traffic lights), and pride celebrations in July. Exclusive boutiques, street food festivals, eclectic street art, and local design shops complete the aura of this area.
Most of the best restaurants in Munich are also found on Fraunhoferstraße, which leads to the Isar River and basically overlaps into Au-Haidhausen. Getting around is easy because the Hauptbahnhof München (Munich Central Station) is located in this area. That means getting back to the airport or the main bus station is no problem.
We recommend walking, cycling, or using a scooter while staying here. For long trips, rental cars are easily accessible and the local public transport is the cheapest and most efficient option.
Attractions Near Ludwigsvorstadt-Isarvorstadt:
Best Restaurants in Ludwigsvorstadt-Isarvorstadt:
Soul Kitchen
Ferdings
Fink's Südtiroler Knödelküche
Restaurant Irmi München
Banyan
Bodhi | München (vegan)
Oleo Pazz
Makassar
Best Hotels in Ludwigsvorstadt-Isarvorstadt:
Living Hotel Prinzessin Elisabeth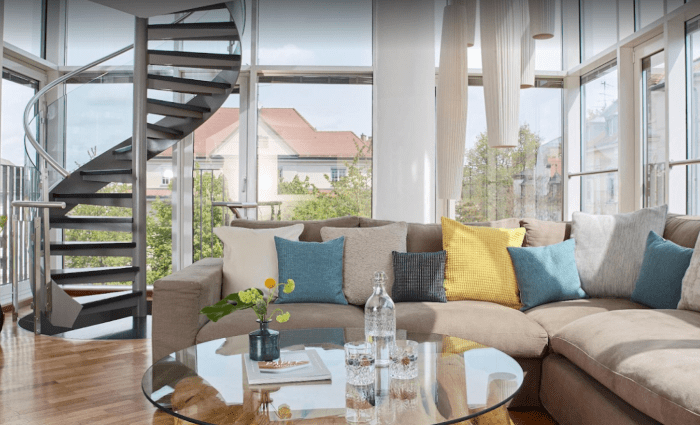 €€ | French Cuisine | Isar River | Ayurvedic Massages
Located in Glockenbachviertel, where all the summer parties and festivals start, this modern-living hotel offers apartment-style accommodation with exceptional views. The Isar River is within walking distance, and you can choose from a wide range of restaurants and bars all within close proximity to the hotel. Or eat on-site at Makassar, which is a top French restaurant.
25hours Hotel The Royal Bavarian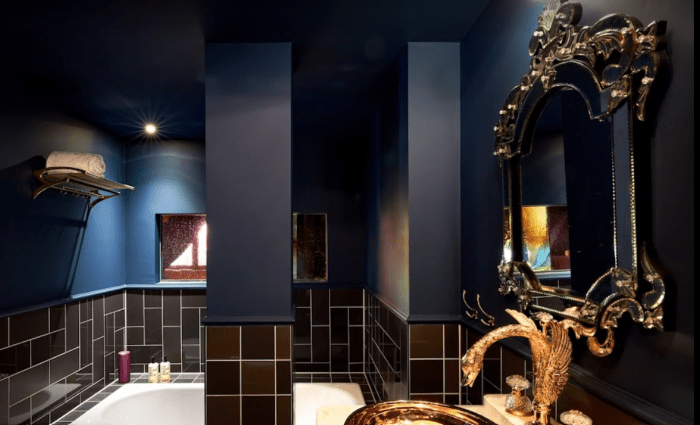 €€ | Solo Traveler Friendly | Sauna | Lobby Bar | Bicycle Rentals
Located in the heart of Munich's social scene, this hotel is a perfect place to stay for solo travelers. Featuring a newly refurbished interior with touches of Victorian-esque decor, guests are sure to feel like royalty upon arrival. The Boilerman Bar offers a wide range of drink options and a great ambiance that comes highly recommended by visitors and locals alike.
Le Méridien Munich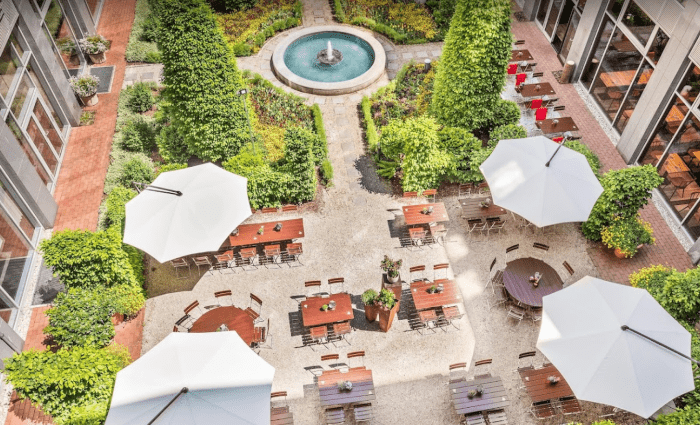 €€ | Central | Indoor Pool | Creative Work Spaces
Find this vibrant escape in the heart of the city center and only a stone's throw away from München Hauptbahnhof (central station). This is a perfect place if you're here on business or a remote worker since there are lots of spaces for working. At the end of the work day, use the spa, gym, or large pool to relax or exercise. The key attractions of Munich like Marienplatz are also within walking distance.
Milbertshofen-Am Hart – District 11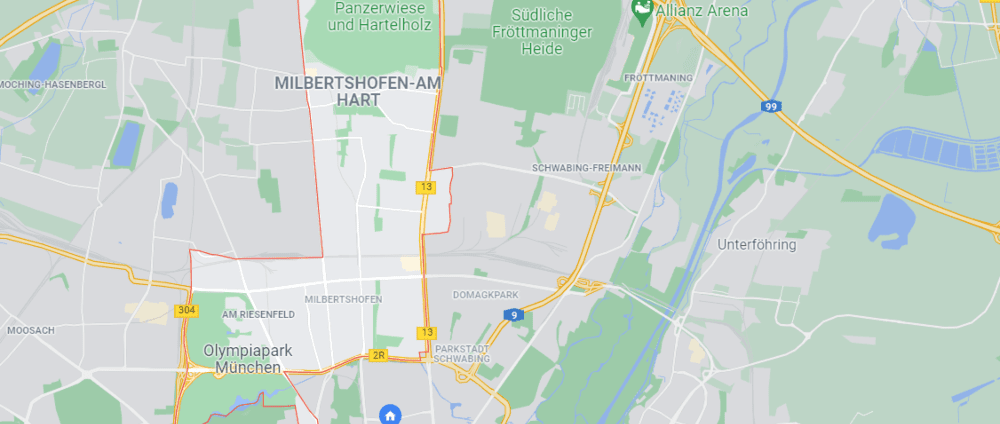 BMW HQ | Nature & Outdoors | Family friendly
A 25-minute drive out of the bustling city center lies the district of Milbertshofen-Am Hart. You'll find serene meadows and the striking green hills of Olympia Park. It's also where the iconic BMW headquarters calls home, which makes it a top location for business travelers.
BMW Welt is a perfect example of the contemporary architecture in Munich, and you can enjoy complimentary access to the futuristic building. BMW Museum is an epic adventure through time since it depicts the history and changes to one of the world's favorite car brands. Tickets should be purchased online or on-site.
If the outdoors are calling, Olympia Park offers hiking, cycling, restaurants, a biergarten, and panoramic views from the Olympic Tower or the viewing point on the hill. The park consists mainly of the stadium, the former home of FC Bayern, and the main hall where concerts are held. It also has a large swimming hall containing a lap pool and kids splash pads. Sea Life is an interactive aquarium the kids are sure to enjoy. Discover where to stay in Munich if you opt for this district.
Attractions Near Milbertshofen-Am Hart:
Best Restaurants in Milbertshofen-Am Hart:
Nur Einmal Leben
Kitchen Bar Billys
Taverna Synantisis
Cafe Blücher
Best Hotels in Milbertshofen-Am Hart:
Arthotel Ana im Olympiapark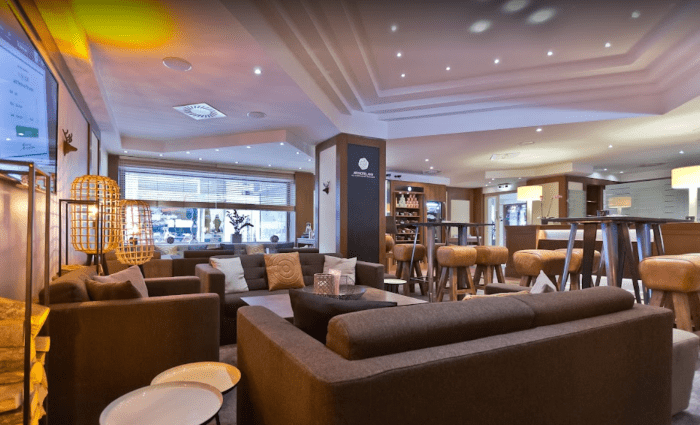 €€ | Family Friendly | Highspeed Wi-Fi | Park
This hotel has modest, spacious, and functional rooms—some with views of Olympiapark. This well-equipped hotel is within walking distance of the main train routes too. There is also a large mall (Olympia-Einkaufszentrum) only one train stop away from where shopping, restaurants, and other amenities can be found. That means it's a great location for families.
Leonardo Royal Hotel Munich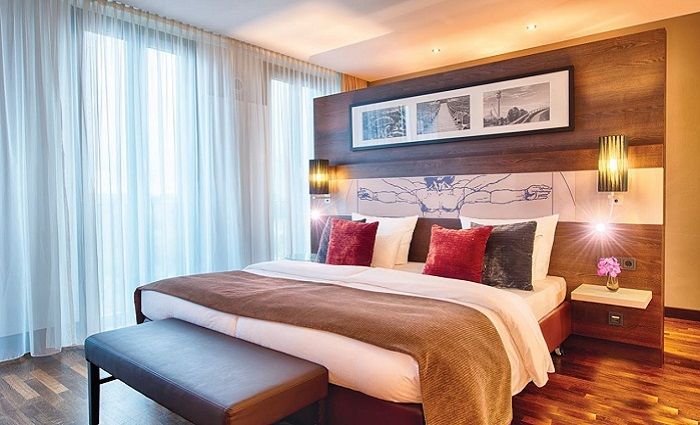 €+ | 4 Star | Restaurant with Garden Terrace | Super Affordable
If you're looking for a budget-friendly hotel that's close to transportation, then the Leonardo is a top choice. With great rates and a relaxing location, this hotel offers a lot for travelers who need a breakfast, on-site restaurant, and a relaxing sauna. The rooms are quite spacious too, which is a nice touch.
Schwabing-Freimann – District 12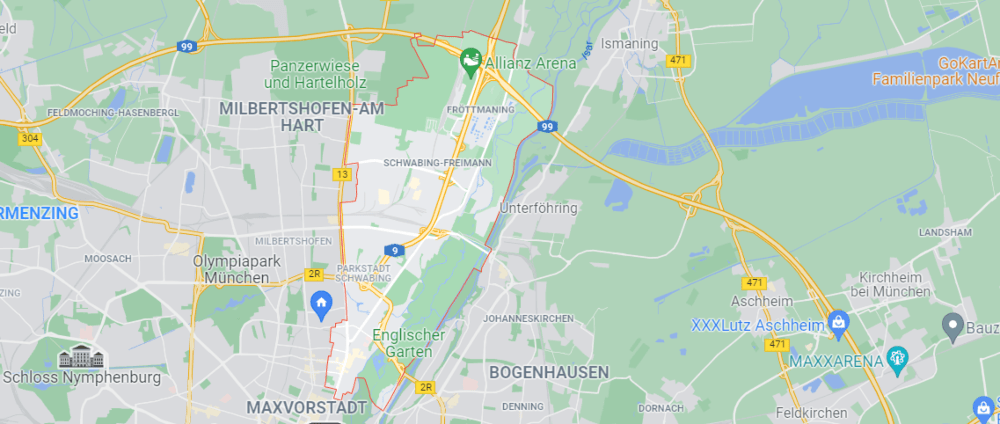 Expat Community | Trendy Restaurants & Bars | Parks
Schwabing-Freimann is the heartbeat of Munich's international scene. Most expats choose to live in this district due to the easy access to the English Garden and the trendy Münchner Freiheit where various bars, restaurants, and clubs can be found. It's also only 20 minutes from the city center and has direct access to the Munich main station via the underground.
It's also where the Allianz Arena is located, which means easy access to all the football matches in Munich. You also find that Munich's rich and famous live in this area, so you're sure to spot your favorite FC Bayern player cruising down Leopoldstraße in a convertible sports car. Here's where to stay in Munich in the Schwabing district.
Attractions Near Schwabing-Freimann:
Best Restaurants in Schwabing-Freimann:
Gasthaus zum Maibaum
Zum Metzger Rudi
Aloi's Wirtshaus
Trattoria de Fausto
Condessa
The Lonely Broccoli & Terrasse
Tantris
Cevicheria Pez
Best Hotels in Schwabing-Freimann:
Andaz Munich Schwabinger Tor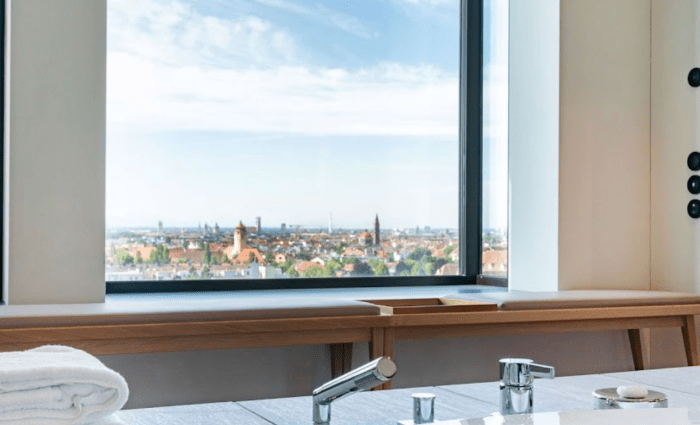 €€€ | Rooftop Bar | Fine Dining | Views
A high-end hotel located in the trendy Schwabinger Tor area. The hotel aesthetic is eloquent and offers breathtaking views of Munich city from a distance. The hotel is also located in a square where a selection of fine dining restaurants are within walking distance. The Lonely Broccoli & Terrasse restaurant is worth the splurge, and M'Uniqo Rooftop Bar offers great cocktails, views, and good vibes.
Steigenberger Hotel München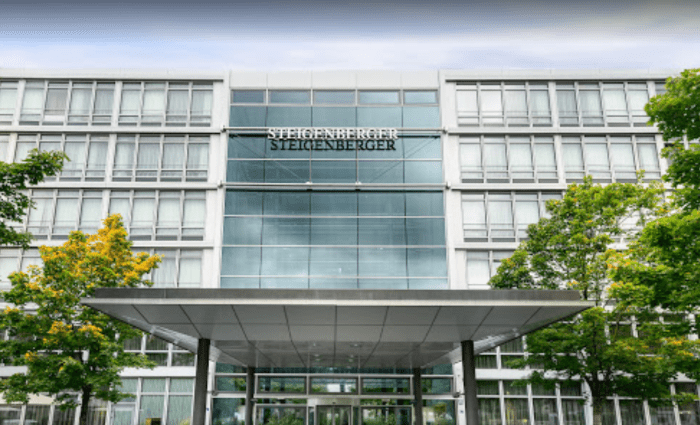 €€ | Spa Hotel | Modern and Quiet | Vegan Restaurant
A modern Bavarian hotel located not too far from the BMW Museum and English Garden. The hotel restaurant serves local food with vegan and gluten-free options. Guests can also enjoy breakfast daily, beer-tasting, free Wi-Fi and access to a spa and gym within the property. We also like that the rooms are bright and airy here, so give it a try.