Milan's leading fashion, financial, and commercial enterprises are synonymous with innovation and the latest trends. But don't think that Milan's story is all about the here and now. Learn more about the city's fascinating history below!
---
This article isn't meant to replace a guided visit—quite the opposite! Reading up on an attraction will make a guided tour more memorable and interesting! You will impress your travel partners and engage more with the guide. Check out our guided tours of Milan!
A Short History of Northern Italy's Fashionable Financial Powerhouse
Scholar Steve Hendricks reminds us of an old saying: "for every church in Rome, there is a bank in Milan." Indeed, Milanese are proud of their city's financial clout. And as you might suspect from that saying, there's a healthy rivalry between Milan and Rome. In fact, as historian John Foot explains, Milan's rivalry with Rome goes well beyond soccer clubs.
For example, Foot cites the popular Milanese claim to be Italy's "moral capital." Thus, Milanese view their city as ambitious but also efficient and trustworthy. In other words, Foot continues, the opposite of how many Milanese think about their Roman compatriots.
Rivalry with Rome aside, Milan boasts a long and fascinating history. Yet, those in search of ancient ruins in Milan will find they are few and far between. That's because centuries of foreign invasions and domination don't help preservation efforts. Furthermore, the current city center largely dates to 19th century development projects shortly after Italian Unification.
Nevertheless, as historian Roger Rees reminds us, Milan does have an important story from the later stages of the Roman Empire. Moreover, Milan's history is part of many major moments in the story of Europe. From the height of the Renaissance to the French Revolution and from the devastation of WWII to postwar developments, Milan's history has it all.
So, let's get a taste of Milan's history!
c. 600 BC-286 AD
Gauls & Celts | Roman Rule | Mediolanum
Milan's origins are as hazy as a foggy morning in Lombardy's plains. What we do know though according to historian Alberto Lecco, is that Milan's first inhabitants were Gauls. Moreover, it's likely, Lecco continues, that the Gauls first settled there around 600 BC.
However, by 400 BC Lecco says the area became the capital of a Celtic tribe called the Insubres. Indeed, modern Milan is built upon the ruins of this Insubrian settlement. Within a few centuries, Rome came calling and conquered the area. In 222 BC the Romans named what is now Milan Mediolanum (meaning "central place").
The name Mediolanum as historian John Foot explains suggests Milan has long been considered of strategic importance. Indeed, as we'll see below, Milan's been coveted by many invading armies over the centuries.
286-774 AD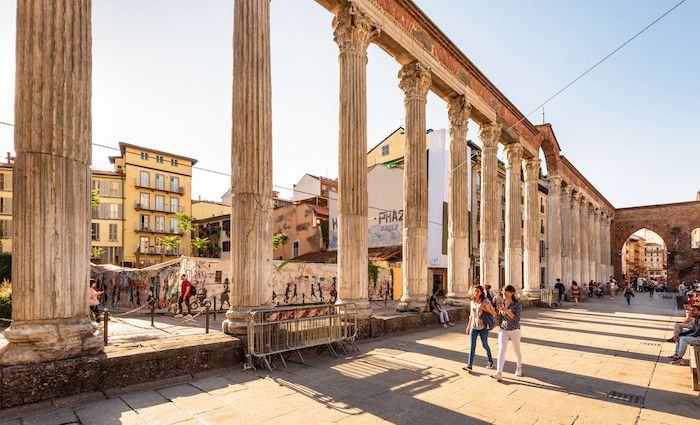 Roman Capital | Christianity Legalized | Here Come the Franks
Indeed, Milan became even more important in the twilight years of the Western Roman Empire. In fact, since the reign of Emperor Augustus (27 BC-AD 14), Milan or Mediolanum increasingly gained prestige until it became the Western Roman Empire's second city behind Rome. What is more, historian Christopher Kelly tells us the city got its next big break from Emperor Diocletian.
Under Diocletian's watch, the Roman Empire split into separate administrative parts in the 3rd century AD. Historian Roger Rees tells us Milan took over for Rome as the western half's capital city. About a decade later, Diocletian decided to get out of the Roman emperor business and retire to his homeland in present-day Croatia. Imperial successors shuttled between different cities, including Milan.
Thus, Milan got a facelift worthy of an imperial capital, including a palace. However, Milan's most famous moment in Roman times dates to the year 313 AD. In that year as historian Christopher Kelly tells us, Emperors Constantine and Licinius issued the Edict of Milan, legalizing Christianity across the Roman Empire.
In later centuries, the city's importance made it an enticing target for Rome's enemies. For example, historian Alberto Lecco tells us that Attila the Hun raided the city in the year 452. Moreover, by 539 the Goths had devastated much of the city. By 774 AD Charlemagne and the Franks incorporated Milan into his imperial territory.
774-1395 AD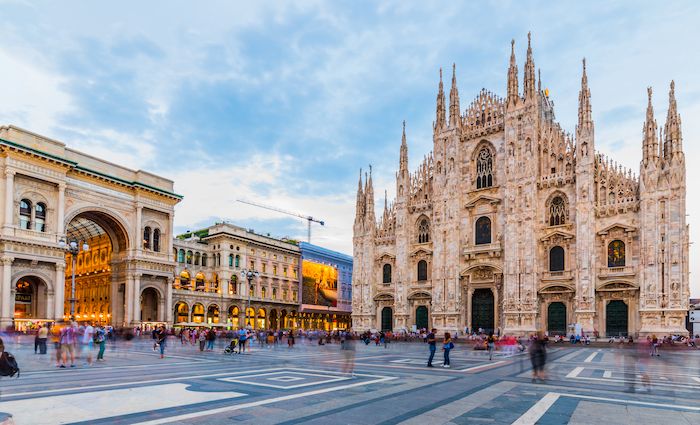 Political Change | Duomo Started | Rise of the Visconti
Milan became a minor county seat after the onset of Charlemagne's rule. However, the city gradually recovered from devastating raids in subsequent centuries through a reaction against the ruling Holy Roman Empire (Charlemagne's German successor empire). According to historian Alberto Lecco, this upheaval resulted in the birth of Italian city-states by the 11th century.
However, Lecco points out it did not take long for the city-states to begin fighting each other. For example, Milan destroyed nearby Lodi and frequently fought other neighboring cities. Moreover, as historian David Gilmour points out, Milan's growing power produced major symbols of its status. Such symbols included the city's famous cathedral.
Begun in 1386, Milan's Cathedral or Duomo would not be completed until 1810! According to historian Ernesto Brivio, Milan's Cathedral is Gothic in architectural style to impress German and French rulers and merchants. It also became a pet project of the growing power of the day in Milan: the Visconti family.
1395-1450 AD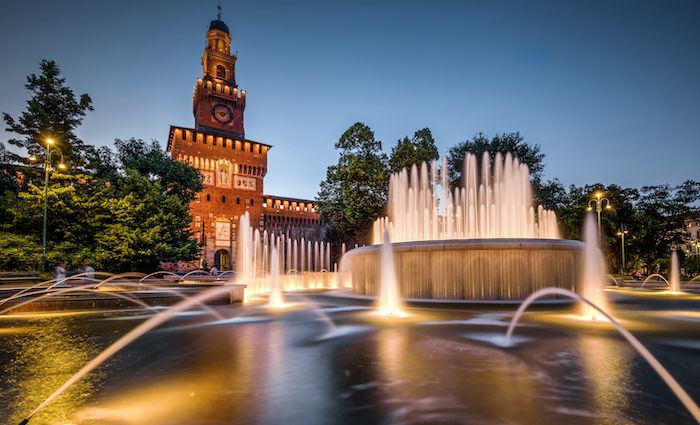 Milan's a Duchy | Political Rivalries | No, Milan's a Republic
The Visconti's rose to power over the course of the 13th century. As historian Alberto Lecco tells us, the Visconti's backed Milan's aristocrats in their support for the Holy Roman Empire against the papacy. Collectively called Ghibellines, these backers of the Holy Roman Empire duked it out against papal sympathizers called Guelfs in what Lecco explains was part of a major international struggle.
Ultimately, Milan's Ghibellines led by the Visconti triumphed on the battlefield. However, the zenith of Visconti power came in 1395. In that year, Gian Galeazzo Visconti purchased the title of Duke of Milan from the Holy Roman Emperor. At the same time Milan expanded its influence in northern Italy, it made powerful enemies in states like Venice. However, as historian David Gilmour explains, Gian Galeazzo died of the plague in 1402 and damaged Visconti political fortunes.
Indeed, the death of the last Visconti duke, Filippo Maria in 1447 plunged Milan into a political crisis. For example, historian Lauro Martines tells us the city's inhabitants ruptured the political order and founded the Golden Ambrosian Republic. The republic, however, would be short-lived. In part, this was due to attacks from rival city-states.
1450-1796 AD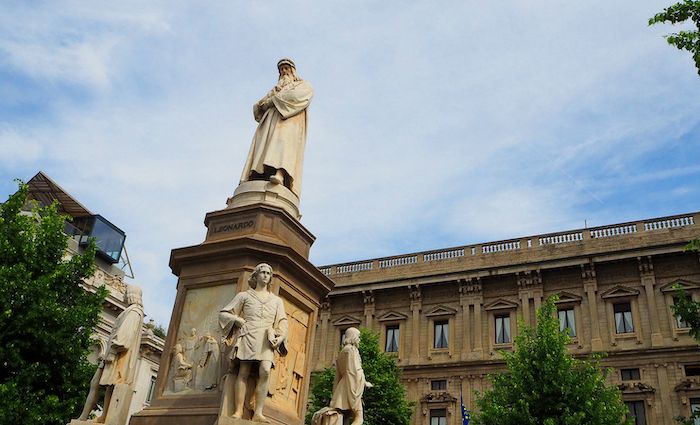 Sforza Power | Leonardo's Genius | Foreign Rulers
Under pressure, Milan quickly ditched the republic for a dukedom under the Sforza family. As historian Lauro Martines explains, in 1450 mercenary captain Francesco Sforza (who had married Filippo Maria Visconti's illegitimate daughter) conquered the city.
You would not know it today, but Milan under Sforza rule was a major port city. As scholar Paulo Galluzzi explains, the man responsible for critical innovations to Milan's port was none other than Leonardo da Vinci…the engineer? That's right not just a famous painter or talented musician, da Vinci as historian David Gilmour explains had many skills. Furthermore, a statue of da Vinci in Milan today pays tribute to the many talents of this legendary Renaissance figure.
Indeed, under the Sforzas, Renaissance intellectual and cultural pursuits thrived. For instance, art historian Ian Chilvers explains Leonardo spent some of his most productive artistic years in Milan. Thus, at this point, Leonardo painted his famous Last Supper (c. 1495-1498).
Sforza power though yielded to several centuries of foreign domination. As historian David Gilmour explains, the French became the first of these foreign rulers in the early 16th century. In fact, historian Alberto Lecco explains, the French arrived first at the invitation of Milan's last independent ruler, Lodovico il Moro. Lodovico needed French help during a major conflict involving various Italian states called the Italian Wars (1494-1559).
However, just a few years later in 1500, French King Louis XII strolled into northern Italy and conquered Milan. Furthermore, historian David Gilmour says Spanish and Austrian rulers followed the French in later centuries.
1796-1815 AD
More Invasions | Napoleon's Map Making | Republics & Kingdoms
As historian David A. Bell tells us, the end of the 18th century brought great change to much of Europe including Milan. By 1792 the French Revolution that began in 1789 sparked a massive conflict between France and a coalition of states. Austria led the way in this alliance against the French revolutionaries. As a result, Austrian territories including Milan became fair game for their French enemies.
As the 18th century closed Milan again braced for new foreign rulers. Although the French returned to Milan, this was a very different regime. In fact, it was revolutionary. Indeed, Napoleon and the French swept away much of the existing order in Milan. What is more, historian Andrew Roberts explains Milan became the capital of the Cisalpine Republic created by none other than that Napoleon guy.
Over the next roughly two decades, Napoleon made many changes to the map of Italy (and Europe). As a result, Milan bounced through different iterations of French satellite states. Regardless, historian Alexander Grab explains Milan always served as an administrative capital under Napoleon.
You could say the most famous of these states is Napoleon's short-lived Kingdom of Italy. Founded in 1805, the year after he became French emperor, Napoleon's coronation took place in Milan's Cathedral. In fact, as historian David A. Bell tells us, Napoleon wore the crown supposedly once held by Charlemagne, called the Iron Crown of Lombardy.
1815-1859 AD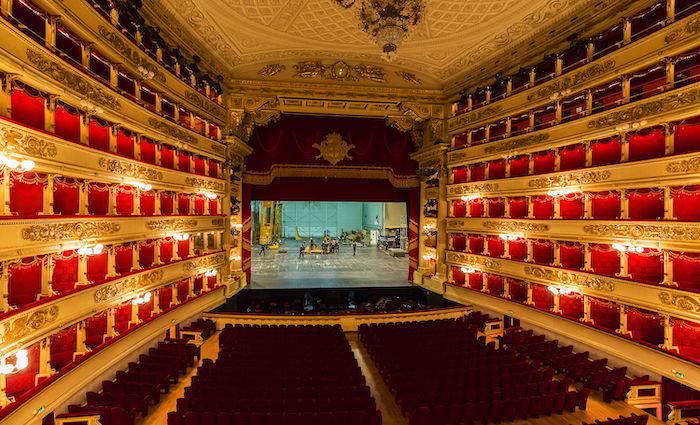 Restoration? | Upheaval | New Rulers
Napoleon's time as a monarch in Italy didn't last long. In fact, by 1815 Austria again entered the picture in Milan. However, although Austrian rule returned, the legacy of revolution persevered. Historian Chris Duggan says the revolutionary cause became bound up in anti-Austrian sentiment but more importantly Italian Unification.
Moreover, in this era of revolutionary tumult, Milan's celebrated La Scala Theater became one of the places for expressions of anti-Austrian and Italian nationalist feelings. Indeed, as scholar Jonathan Keates explains, opera enabled artists to evade Austrian censorship with greater success than through literature.
Indeed, revolutionary fervor swept across much of Europe in 1848. For instance, historian Jonathan Sperber tells us revolts broke out across German, Italian, and French territories among others. However, Milan became the center of one of the more famous revolutionary outbreaks of the time.
Despite defeating rebels in 1848-49, Austrian rule in Milan was never the same. Indeed, by 1859 Milan joined the Kingdom of Piedmont-Sardinia, ruled by royals from Torino (Turin). Within two years, historian David Gilmour tells us the Piedmontese set the course for much of the Italian peninsula to be unified.
1859-1945 AD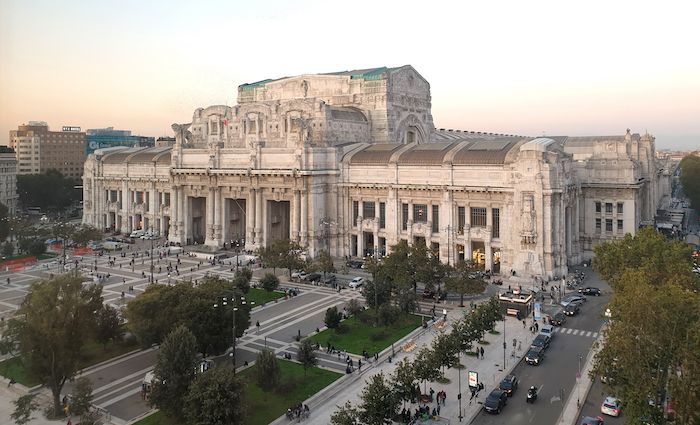 Unified Italy | Industrial Boom | Mussolini's Milan
Milan celebrated the unification of Italy in the 1860s and 1870s with a massive construction boom. Much of it as historian John Foot tells us, served as nation-building material for the new Italian kingdom. The best example is Milan's famous shopping arcade the Galleria Vittorio Emmanuele II. Named after the first king of unified Italy, historian Spencer M. Di Scala says the Galleria was Milan's first building with electric lighting. (How a monarch designated the second could be the first king of a country is a story for another time).
Moreover, Milan took center stage for Italy's industrial boom in the first decades of unification. However, as historian Spencer M. Di Scala tells us, industrial growth came with turbulence between workers and employers. As a result, Di Scala explains labor disputes became commonplace in Milan and other industrial centers in Italy. This conflict became part of wider domestic political upheaval until Benito Mussolini's rise to power in 1922.
Milan enjoyed a special place in Mussolini's mind. Indeed, the city had been where he launched his successful career as a nationalist journalist advocating for Italy's entry into WWI. Furthermore, as historian R.J.B. Bosworth explains, Milan witnessed the first gathering of Mussolini's nascent Fascist Party in 1919.
As a result, historian Lucy Maulsby explains the city received much attention from Mussolini's regime. As such, the regime spared no expense on development projects in Milan. Some of the more famous and (still extant) include Milan's massive central train station. The outbreak of WWII though ended these projects and soon brought destruction to Milan.
1945-Present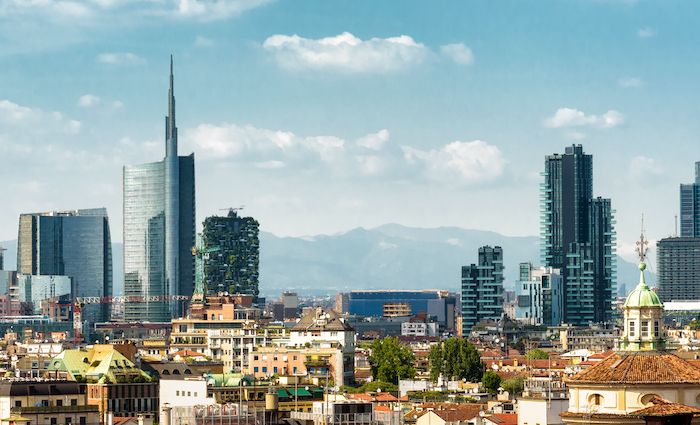 Mussolini's Downfall | Migration | Fashion Capital
In April 1945, Mussolini and Italy's Fascist dictatorship met a grisly end in Milan and its environs. Post-WWII reconstruction brought economic recovery to Milan and other major Italian cities by the 1950s and 1960s. One reason for this growth according to historian Paul Ginsborg involved the stream of migrants from Italy's war-torn southern regions to Milan.
There's no better example of Milan's postwar economic growth than the 1959 Pirelli Tower. Moreover, historian John Foot says by the 1980s Milan fashion houses like Armani, Versace, and Dolce & Gabbana brought international acclaim. As a result, Foot continues international tourism and foreign investment skyrocketed in Milan.
Finally, postwar economic growth fueled new business districts and greater attention to diverse revenue sources like publishing, finance, banking, logistics, and tourism. As historian John Foot says, all these forces created the bustling metropolis you'll encounter today.
You can learn more about Milan's history through our look at the city's most famous must-see art.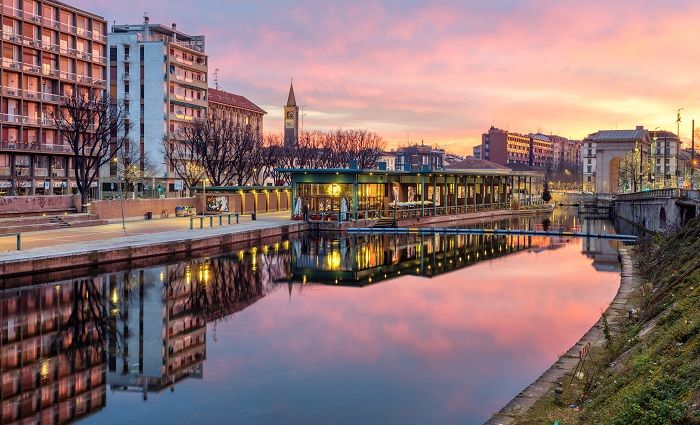 Find the best places to stay
Where To Stay in Milan
Milan is a small city with plenty to explore from iconic landmarks to a vibrant art and design scene and old-world charm. Plan where to stay in the best neighborhoods in this beautiful city.