Both iconic symbols of the American Dream, Ellis Island and the Statue of Liberty represent unparalleled opportunities to learn about the immigrant experience in America. From historical archives to contemporary art exhibitions, breathtaking views of the New York City skyline, and museum tours, there is something for everyone at these important sites. Use this guide to discover the top things to see at the Statue of Liberty and Ellis Island.
---
What to See and Do at Ellis Island and the Statue of Liberty
World-class museums, historic artifacts, hard hat tours, stunning views, and insightful stories are what make these two islands some of the city's top tourist destinations. Because of the logistics involved in getting to each of these outposts as well as their entwined histories, the two are usually visited together, one after the other, and we recommend that you do so.
Planning a trip to Ellis Island and the Statue of Liberty at the same time allows visitors a more detailed understanding of their combined history and the greater historical context around their importance. Visitors will find the most variety of things to see at Ellis Island, but the Statue of Liberty holds its own with its few iconic stops.
For information on tickets, travel, and planning, see How to Visit Ellis Island. For details on the top things to see at Ellis Island and the Statue of Liberty once on-site, read on!
Things to See at Ellis Island
Don't miss these key attractions and historical artifacts at Ellis Island that exhibit the history, feelings, and overall experience of a bygone era.
8. Island of Hope, Island of Tears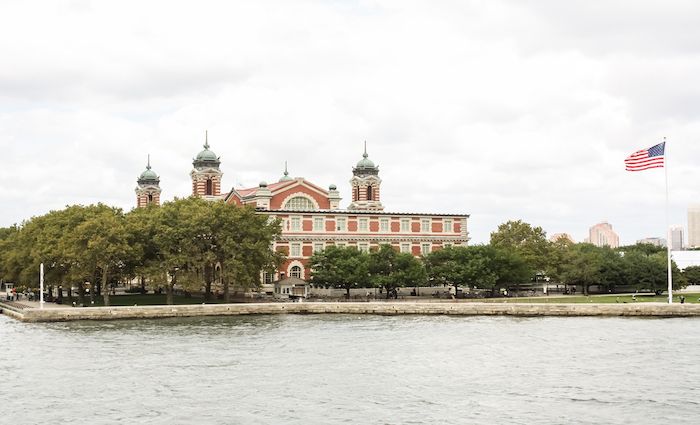 "Island of Hope, Island of Tears" is a 30-minute, award-winning documentary about Ellis Island. The film provides context and examines the stories of the millions of immigrants who passed through Ellis Island. The film plays every half hour in the immigration museum, making it easy to catch during a walk through. A 5-minute ranger talk precedes the screening. For in-depth background and fascinating historical footage, this film is a must-see.
7. Groundswell Murals
Groundswell, a New York City-based organization, uses public art projects for change. In 2015, Groundswell and Ellis Island collaborated to sponsor 23 teenagers to produce murals around the island, according to the National Park Service website for Ellis Island.
As part of a project entitled "Our American Narrative Continues Today," students researched immigration and the history of Ellis Island, then looked to their own heritage to create mural designs that consider centuries of immigration experiences in the United States. Today, all six murals can be seen and enjoyed by visitors to the island.
6. The Ferry Building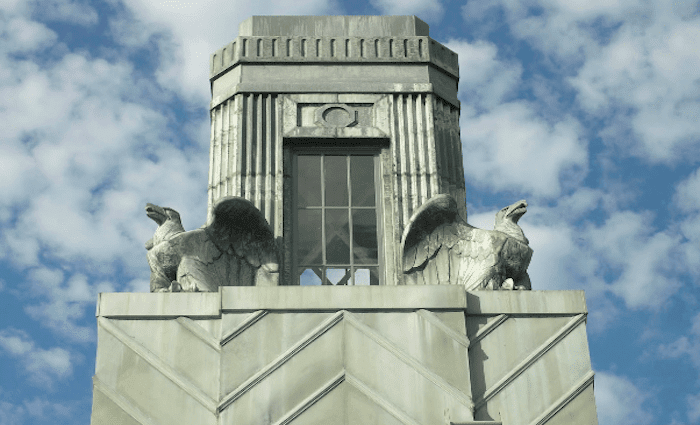 Often referred to as the "New" Ferry Building, this art deco structure on Ellis Island was constructed in 1936 by the Works Progress Administration. While Ellis Island was still in use, this building housed a waiting room, space for the United States Customs Service, and kitchen facilities.
The National Park Service mentions that in 1999, the Statue of Liberty National Monument/Ellis Island was granted $1.2 million to restore the structure. While visitors are not permitted to enter the building, it is still worth investigating the unique architectural structure around it.
5. "Unframed – Ellis Island" by JR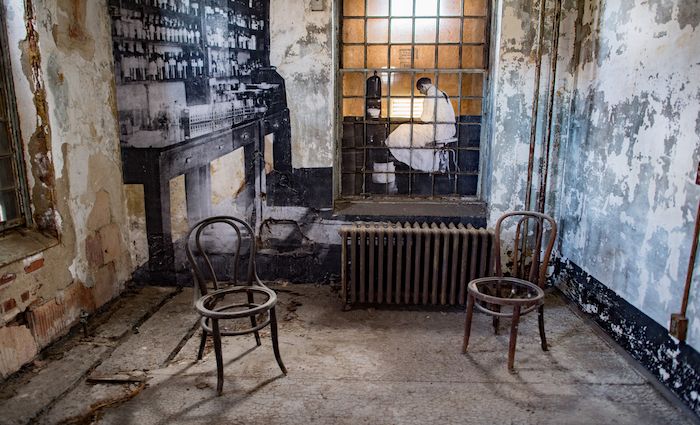 For those looking to delve deeper into Ellis Island's history, a visit to the hospital complex is a must. A hard hat tour takes visitors through several abandoned buildings, including a hospital on the island's south end. This tour also includes an on-site exhibition by famed French artist JR.
Using his signature medium of wheat paste, JR has created "Unframed – Ellis Island" throughout the abandoned hospital complex. The artist has taken life-sized historic photographs of immigrants on Ellis Island and displayed them throughout the building's various rooms.
With its incorporation of actual people, the exhibit helps to contextualize the human experience of the island. It will remain in place until the wheat paste photographs fade naturally.
4. The Abandoned Hospital Complex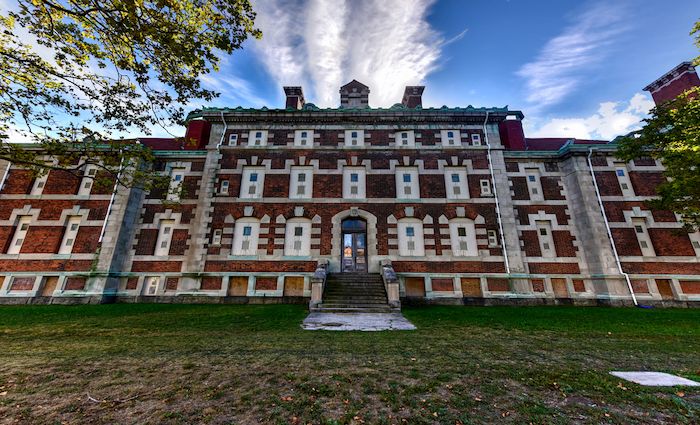 There are over 29 abandoned buildings on Ellis Island that have been inaccessible for decades. These days, however, curious explorers can visit some of these unrestored places on foot. This includes a hospital where immigrants would stay until they were healthy enough to enter the country.
The Hard Hat Tour, which must be reserved in advance, gives background and insight into infectious diseases that many suffered from and the treatments available to the immigrant population. The exhibit "Unframed" by artist JR is also on view and will give visitors an interesting perspective as they move through the building's crumbling interior.
3. The Great Hall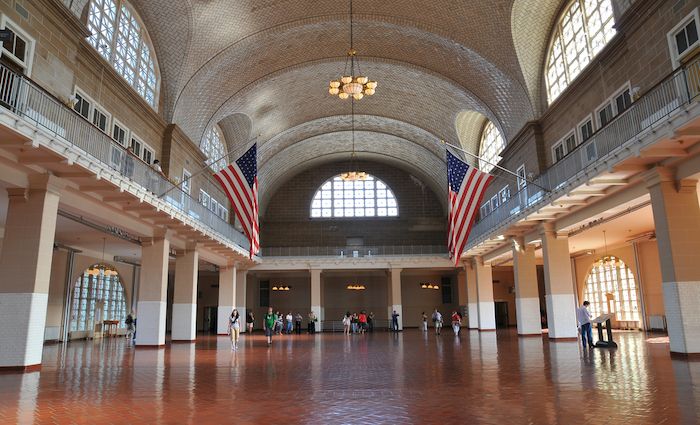 The Registry Room or "Great Hall" was often the first space to greet new immigrants as they disembarked from ships. With its high, vaulted ceilings and arched windows, the room was glamorous on the surface but often loud and overwhelming.
At times, the room held over 5,000 immigrants as they awaited inspection and registration. Historic photographs also give a great idea of what it felt like a century ago. The Great Hall is considered by many to be the epitome of Ellis Island. Without doubt, it's one of the top things to see at Ellis Island.
2. Wall of Honor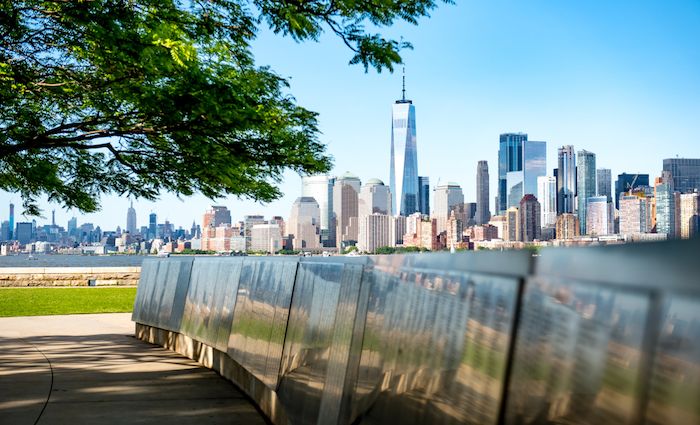 It's difficult to comprehend just how many people came through Ellis Island when it was a major immigration center. The Wall of Honor helps to visualize just how many people came to America seeking a better way of life. It doesn't include every name of those who came through Ellis Island, but it commemorates them in a physical way.
Today, the Wall of Honor is inscribed with over 775,000 names representing immigrants from all time periods, including early settlers, indigenous peoples, slaves, and others, with new names added all the time.
1. National Immigration Museum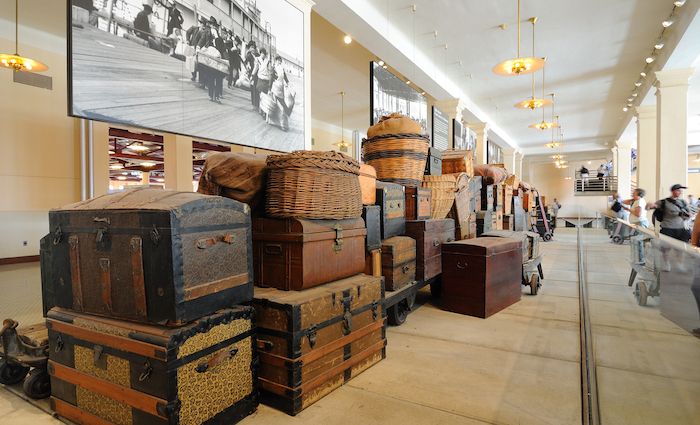 Both museum and memorial, Ellis Island is one of the best places in the country to understand America's immigration history. At the Ellis Island National Immigration Museum, the immigrant experience from the 1500s to today is chronicled through artifacts like photos and family heirlooms, written histories, and special exhibitions.
You can also do a little digging into your own family tree at the American Family Immigration History Center, which is a database of about 65 million searchable records. If there is one activity you don't skip on your trip to Ellis Island, make sure this is it. This remarkable museum ranks high as the top thing to see at Ellis Island.
Getting ready for your trip to New York City? Let us help! Use our guide to the top things to do in NYC, where to stay in NYC, plus the best restaurants around the city!
Things to See at the Statue of Liberty
Historically, there haven't been a large number of things to see at the Statue of Liberty, but here are the things you can expect to see and do during your visit.
3. The Statue of Liberty Pedestal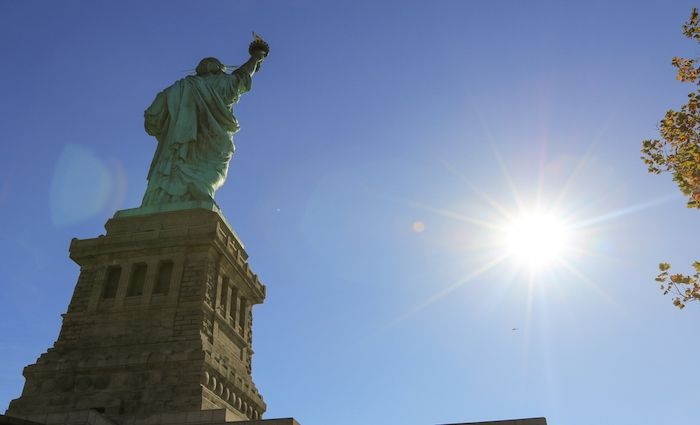 The Statue of Liberty's pedestal, on which Lady Liberty stands, has an observation deck that is 215 steps up (about 10 stories high). This pedestal access gives great views of Liberty Island as well as Manhattan.
If you want to experience the statue from a different vantage point, but aren't up for the grueling climb to the crown, this is a particularly good option. Pedestal access does require an additional ticket and must be reserved in advance but is not available for groups. Still, if you're heading here solo, it's not something to skip!
2. The Statue of Liberty Crown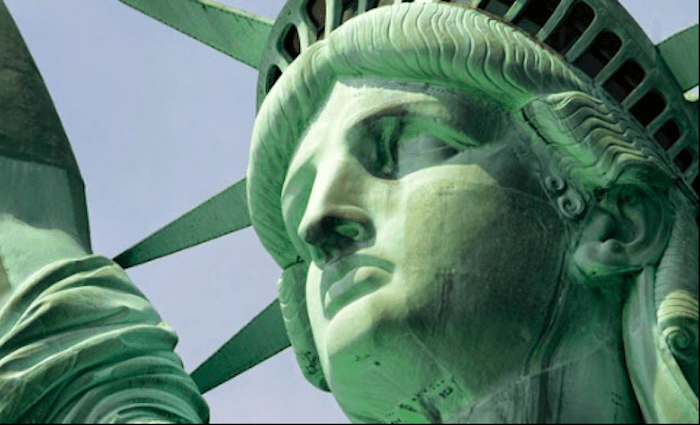 Rising up hundreds of steps and over 245 feet beyond the pedestal, the Statue of Liberty's crown offers unparalleled views of New York City. The climb also gives important insights into the design of the statue.
As you ascend, you can see design elements and the unique interior structuring of the statue. It's worth noting that, while there is an elevator, visitors cannot reach the crown unless they can climb stairs. If you are hoping to climb to the crown, be sure to reserve passes, as access requires a separate ticket that must be booked in advance.
1. The Statue of Liberty Museum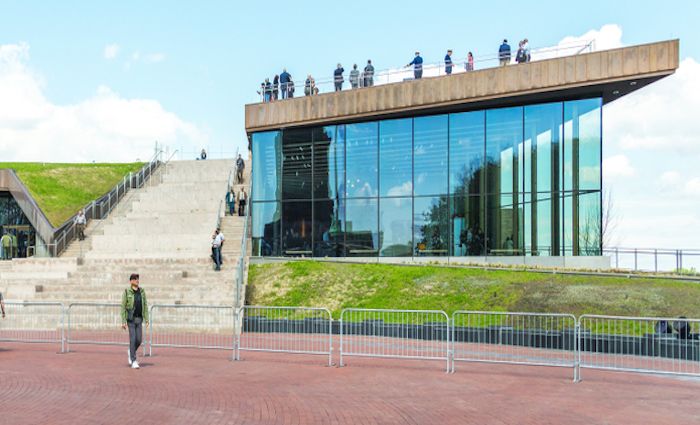 A relative newcomer to Liberty Island, the Statue of Liberty Museum opened in 2019. Spanning 26,000 square feet, the museum allows visitors to engage with the history of Lady Liberty. Not to mention, they'll also get an up-close view of her original torch.
The permanent collection and special exhibitions look at the statue's construction in France, design plans, and historical documents related to the planning and execution of the statue's installation. It is also a great place for tired tourists to take a break and grab a bite to eat. This recent addition offers a lot for tourist looking for more things to see at the Statue of Liberty, especially if climbing stairs isn't ideal.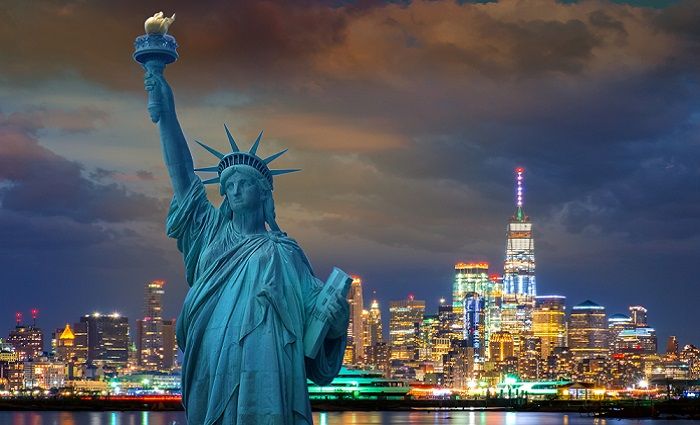 Find the best places to stay
Where to Stay in NYC
New York City is the center of the universe to those who adore this iconic city. Choose the best neighborhood to stay in as you plan your upcoming trip to the Big Apple.